Last updated on January 27, 2023
Here are the top 40 modular and prefab homes that are leading the industry. This digest will help you get your way around this new and rapidly growing market.
Deciding to build a prefab and then choosing one is not a trivial matter. You will find many manufacturers who do this and many designs they offer. Ultimately, you will have to convince your spouse that choosing a manufactured home is the way to go.
This list will serve as guidance and as an inspiration that shows prefab homes can look like site-built homes and sometimes even better. They can serve as your primary home but they cost a lot less to build.
Here is the latest digest. You can find a match to your closest location and budget here. The list is not ranked. We do not receive any commission for these listings so there's no special treatment.
Table of Contents
CleverHomes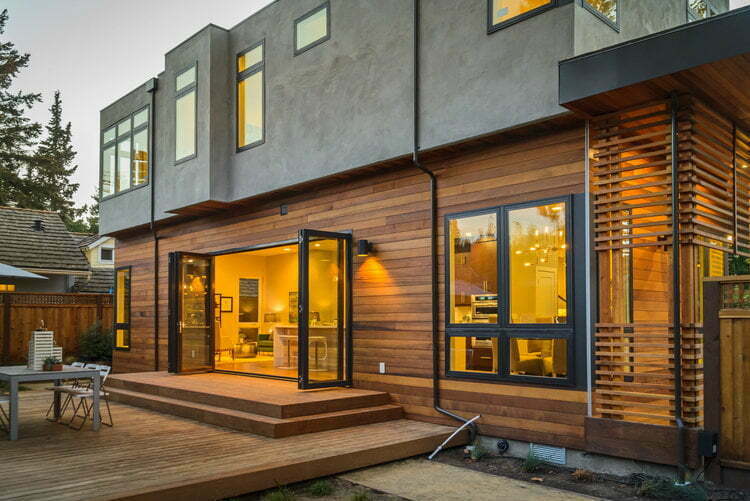 CleverHomes specializes in the green construction of highly affordable prefab homes. The company's services include custom design, engineering, permitting processes, and using prefabricated systems to reduce costs and speed completion.
The company has more than 20 years of experience in the prefab home industry.
Each project begins based on the vision of the homeowner and standard design templates that can be altered to meet your design preferences and budget considerations.
Using open-source construction provides an amazingly transparent experience, and the company uses a network of factories across the United States to save on construction and shipping costs.
Location: Oakland, California.
Price range: from $200-250 per square foot.
Clayton Homes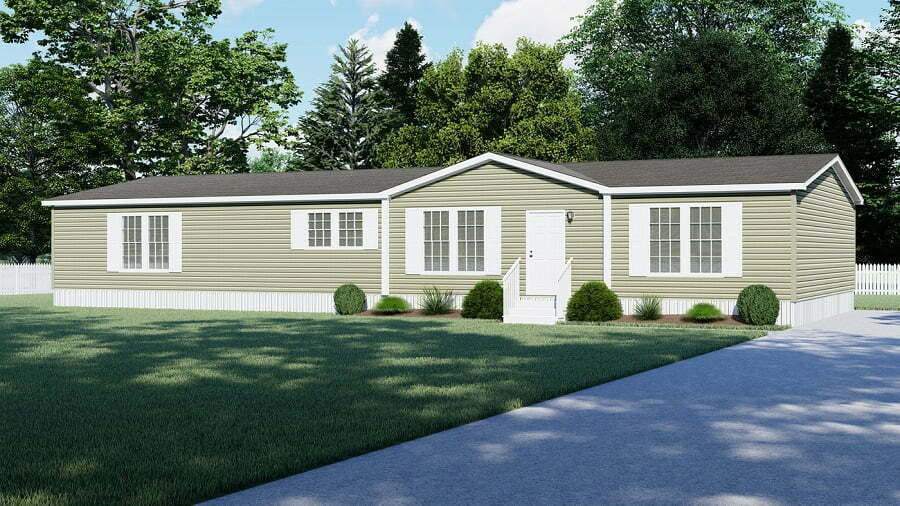 Clayton Homes offers you the ability to customize any of its designs with special features and upgrades based on your budget and tastes. You can easily commission your dream home instead of settling for a one-size-fits-all template.
Clayton Homes advertises its customization options prominently, but that doesn't mean the homes aren't affordable. You can get more bang for your buck while building a home that matches the lifestyle of your dreams.
The company's curated homes include farmhouse homes, stylish front porch homes, and homes under $150,000.
Location: Hollins, Virginia.
Price range: starting under $150,000.
Champion Homes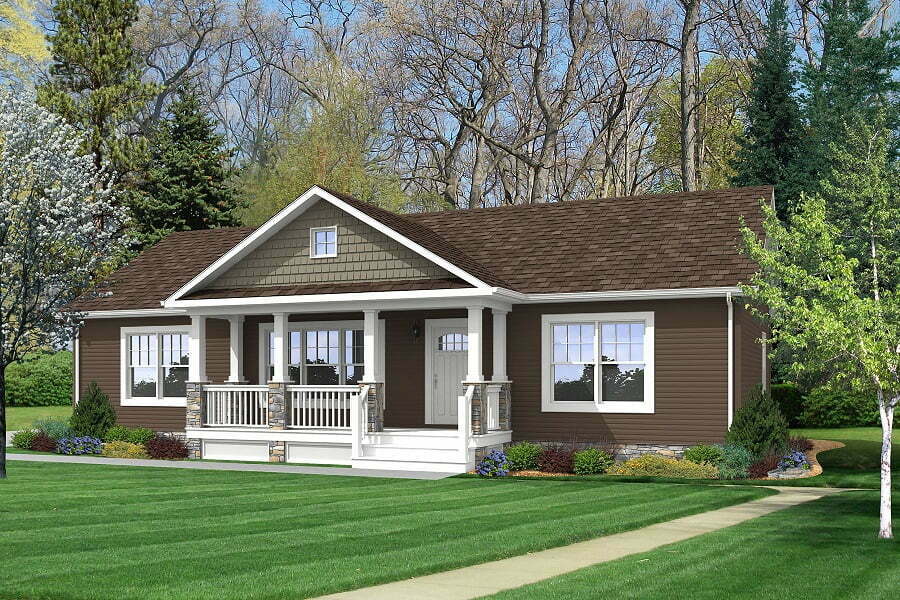 Champion Homes manufactures modular homes through a proprietary network of independent agents and builders.
Built-in a factory environment, these homes are built one section at a time before being immediately shipped to your site. You install your home on permanent foundations, and your home won't differ substantially from a custom build.
Modular homes can reduce construction time by up to 35% at substantial cost savings based on the company's bulk prices on construction materials.
Location: Headquartered in Auburn, Michigan. Also has a network of retailers all around the country.
Price range: starts under $150,000.
Pacific Model Homes, Inc.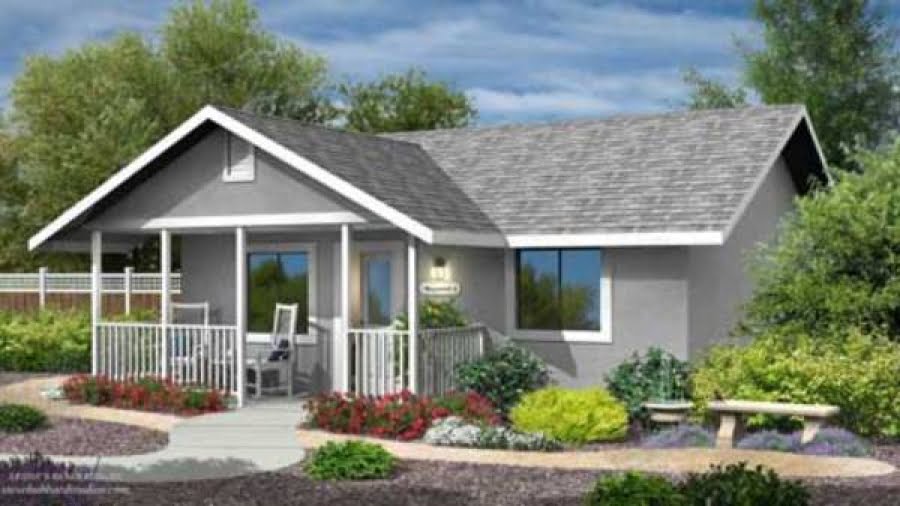 Pacific Model Homes, Inc. offers you the option of using your own plans or their custom blueprints that are designed to your specifications. Unlike most builders, PMHI will modify any standard designs to meet your needs using its unique panelized building system.
The company also offers an age-in-place system for people who expect to live in their homes for a lifetime. Homes in this category are designed with building flexibility to expand, downsize, add automation features, etc.
Location: Headquartered in Elk Grove, California. Also has dealerships in Hawaii, Nevada, Oregon, and Washington.
Price range: $200,000 to $450,000.
Unity Homes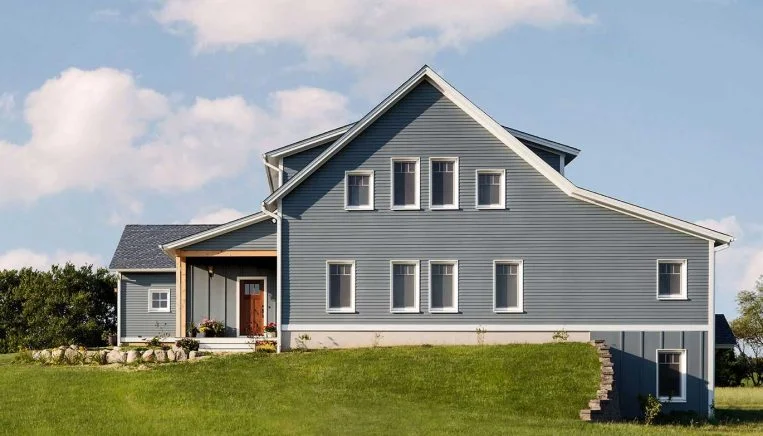 Unity Homes begins the custom fabricated home building process by creating a 3D computer model of your home's design. The design process includes a high level of customization and flexibility and expandable design platforms in five styles to match any size project.
Prefabricated components are shipped to your building site, where skilled carpenters assemble your home with expertise and reduce stress for you. Homes receive the finishing touches inside and outside from local building crews using Unity-supplied materials.
Location: Walpole, New Hampshire.
Price range: $200,000 to $600,000.
Method Homes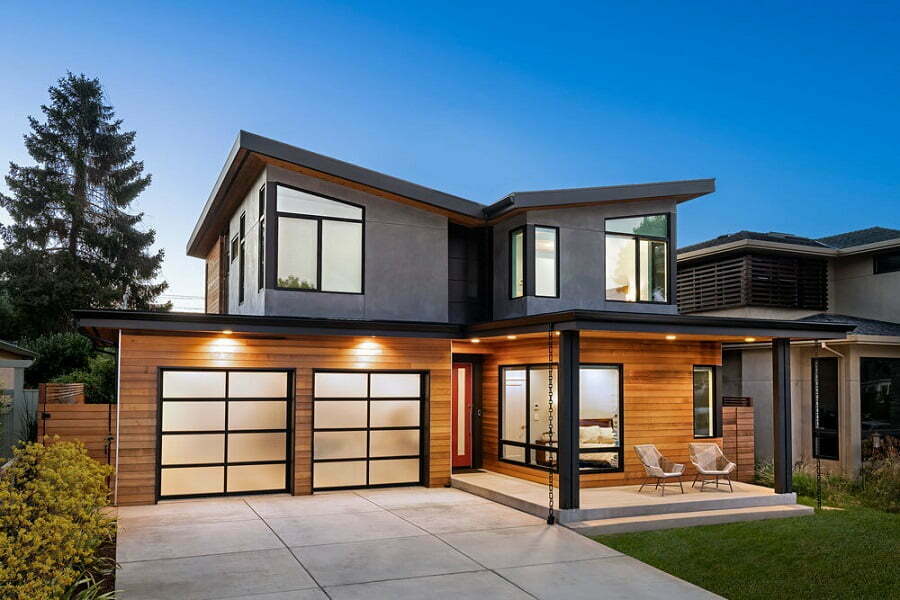 Method Homes encourages prospective clients to work closely with local real estate agents for experience in site assessment, knowledge of new construction regulations, and recommendations of financing options.
Method Homes takes this approach to smooth the development of detailed plans for building in areas where construction regulations often have strict building guidelines and special concerns that require feasibility studies, which you might expect in an area known for green practices like Seattle.
Feasibility studies help clients understand any special infrastructure requirements, the scope of work required, and the local building costs of assembling Method Homes modular creations.
Location: Seattle, Washington.
Price range: $180-$350 per square foot.
Impresa Modular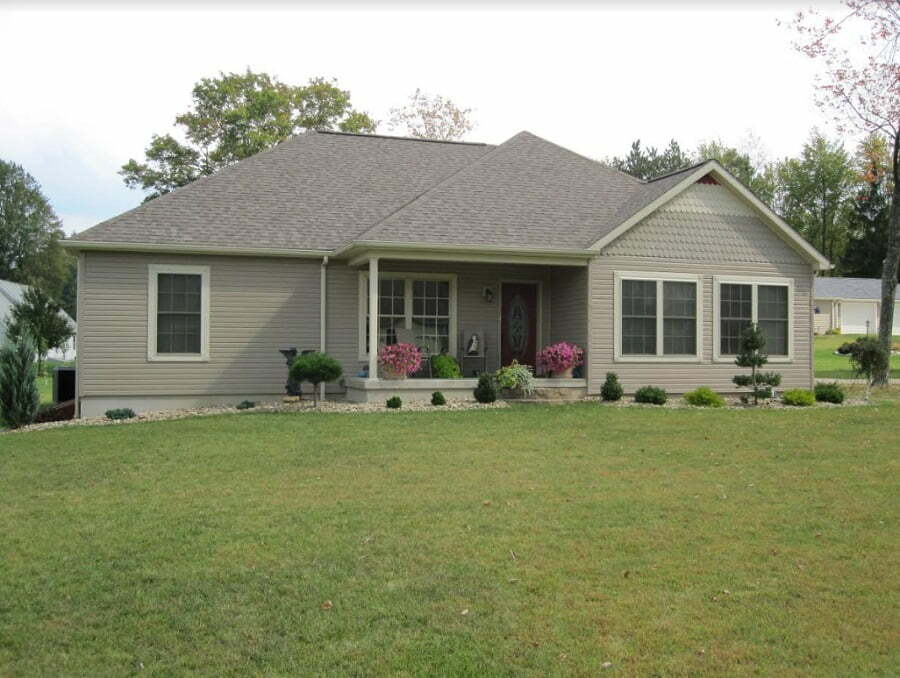 Impresa Modular creates stunning homes from various sales offices across the country. The homes are known for their level of automation using modern, smart technology.
The modular manufacturing process reduces wasted materials, supports custom kitchen options, and produces highly pleasing aesthetic designs
Using Impresa Modular ensures better management of materials and resources that are stored in protected warehouses to prevent damage and deterioration.
Location: Martinsburg, West Virginia, but they build nationwide.
Price range: from $110 per square foot.
Nelson Homes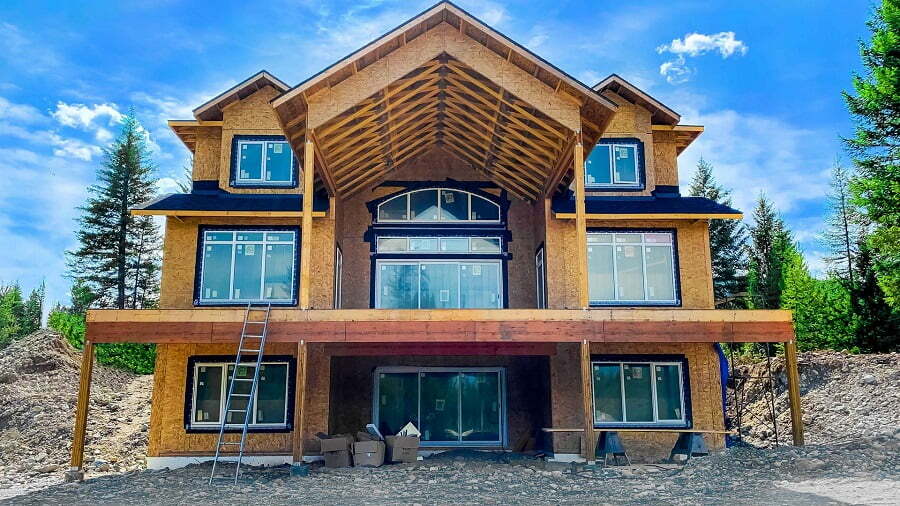 Nelson Homes builds prefab homes and ships them directly to your building site. Features of these homes include panelized walls, roofs, and flooring components that speed up the building process and reduce costs.
Prefab homes require 60% less time for framing than homes built on-site. Customers can buy a Nelson Home without worrying about minimum orders, but you will need a local contractor to assemble your new home.
Location: Alberta, Canada, but has many U.S. sales offices.
Price range: starting at $200,000.
Florida Modular Homes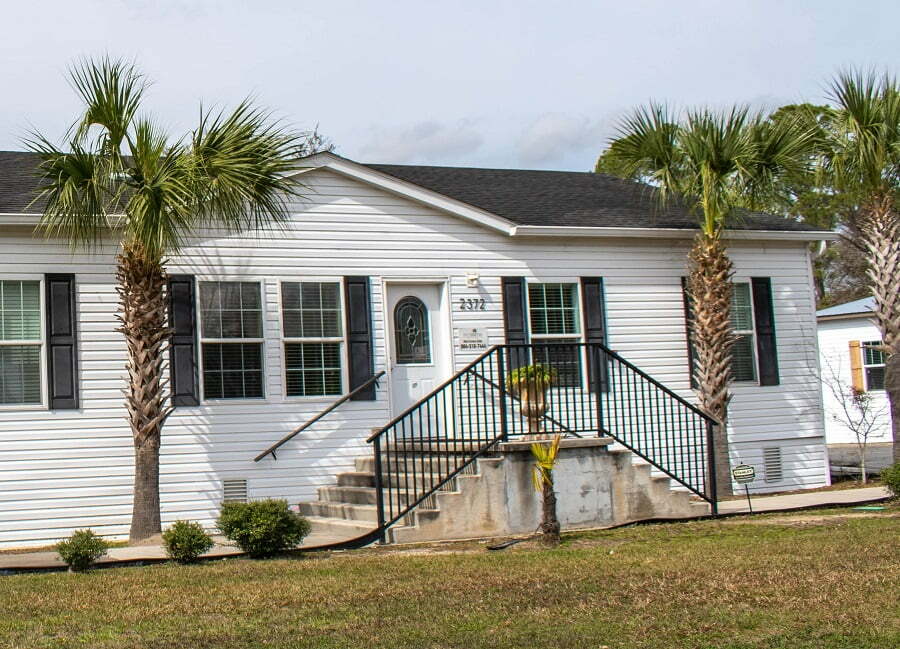 Florida Modular Homes sells its own brand and other brands of prefab homes. The company sells Franklin Homes, Jacobsen Homes, Scotbilt Homes, Southern Estate Homes, and Energy Homes.
The company also offers its own brand of Frame Modular Homes and accompanying Stem Wall Foundations, HUD Code Homes, and On Frame Modular Homes. The company serves central and southern Florida residents with multiple brands of homes.
Location: St. Augustine, Florida.
Price range: starting under $100,000.
Stillwater Dwellings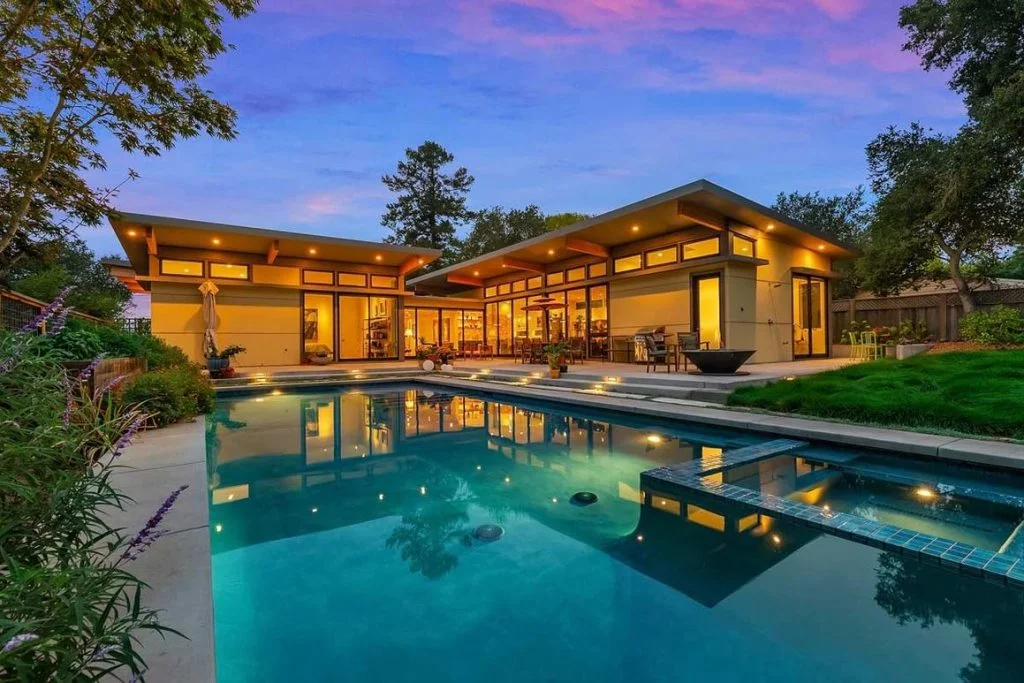 Stillwater Dwellings has developed a unique three-stage process of building a new home. In the first phase, you work closely with architects and managers to select and customize a design.
The second phase consists of signing the purchase agreement and developing detailed floor plans. The third phase consists of fabricating the components, shipping them to your site, and assembling your home.
Location: Seattle, Washington.
Price range: $475-$700 per square foot.
Dvele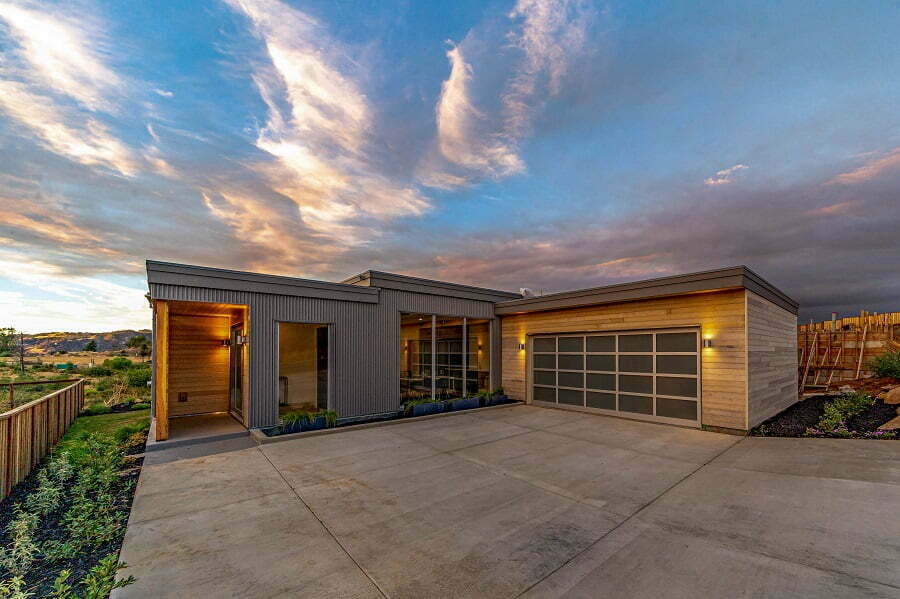 Dvele advertises that you can choose a home template and customize your home in less than 10 minutes, but you probably need to have a clear vision of what you want.
The reputation of the company speaks for itself as one of the best-known fabricators of luxurious homes.
Location: La Jolla, California.
Price range: $215,000 to $775,000.
Pratt Homes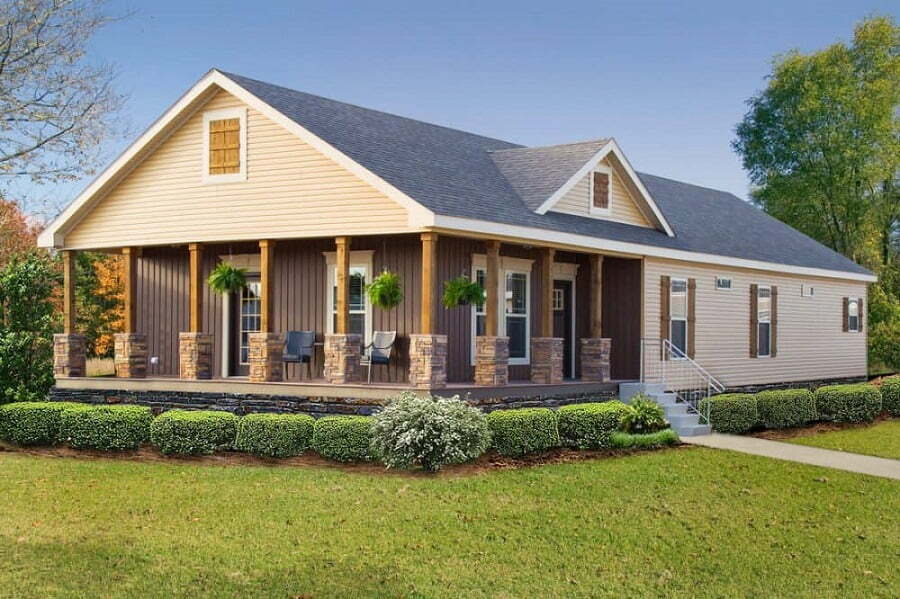 Pratt Homes offers an incredible range of home design options and customizations that make your home unique. Homes are available for all tastes and budgets.
Pratt Homes take pride in its Texas roots and are the only builder that belongs to the Tyler Chamber of Commerce, Better Business Bureau, and Tyler Area Builders Association. The company also offers in-house financing options.
Location: Tyler, Texas.
Price range: starting from $100,000.
A-Fold Houses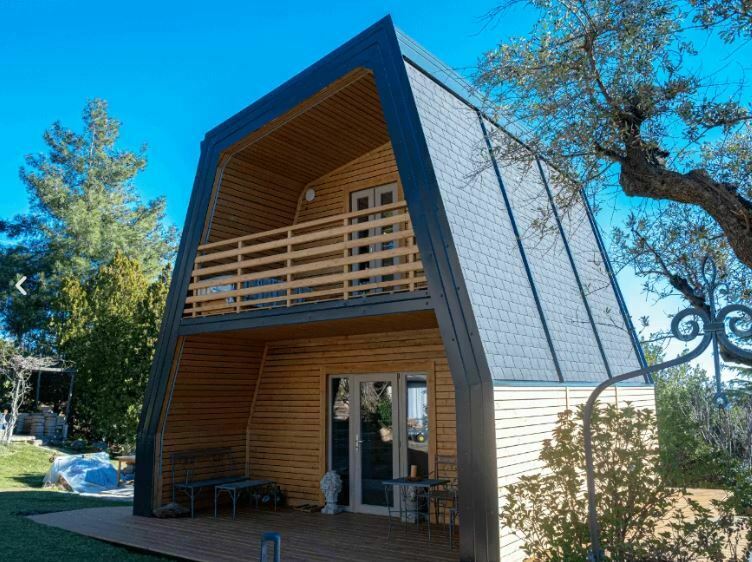 A-Fold Houses offers a unique construction process. Using A-Fold wood of the highest quality, the company builds modular housing with its patented construction system that reinforces the wood with a mineral fiber for superior strength, sustainability, and green construction.
The homes conduct heat and electricity with expanded efficiency, and they also provide vapor permeability and decreased external noise conductivity.
Location: Pescara, Abruzzo, Italy.
Price range: $70,000 to $140,000.
Design Build Modulars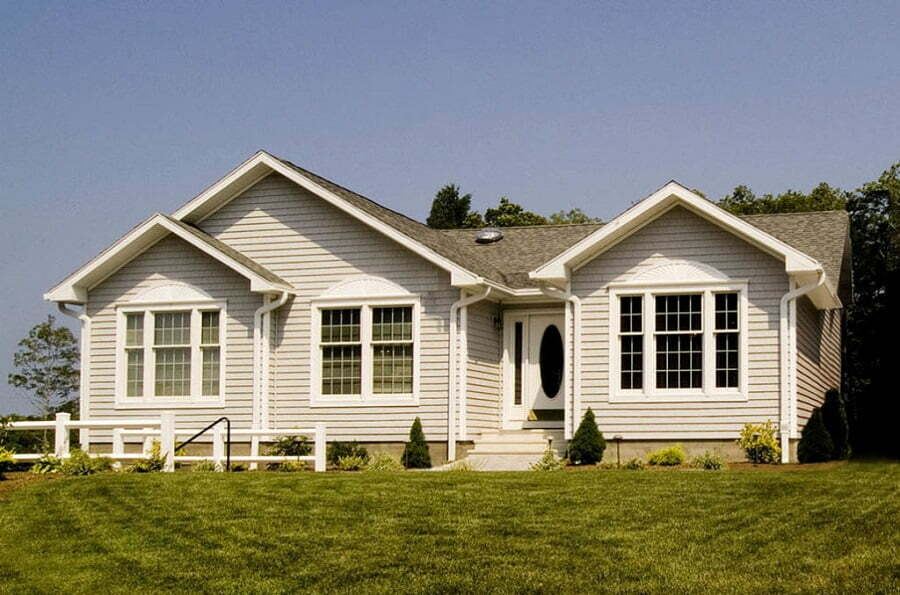 Design Build Modulars offer exceptional value in its single-family modular homes that routinely qualify for low-interest loans because the homes are known for quality and long-term residency.
The company never compromises its quality-control process and offers a 10-year structural warranty on all its homes and buildings.
Locations: Bethel, Connecticut, Charlestown, Massachusetts, and Rhode Island.
Price range: $200 to $400 per square foot.
Western Modular Homes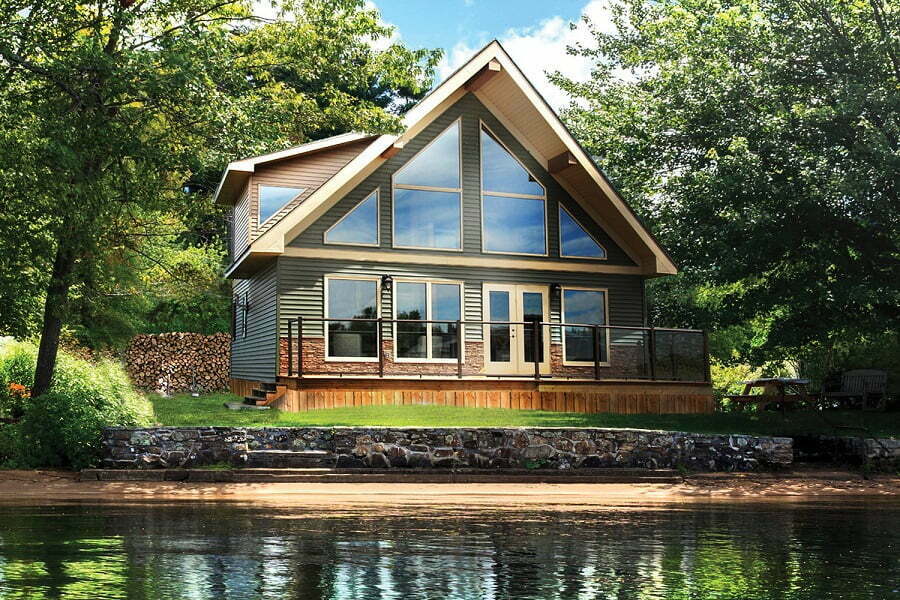 Western Modular Homes has more than 30 years of experience designing and manufacturing modular homes.
All design plans can be modified, reversed, combined, and re-sized to suit any taste and deliver a truly custom modular home experience.
The best part is that the company adds no surcharges for customizations except for the cost of additional construction materials.
Location: Nisku, Alberta, Canada.
Price range: starting at $275,000.
CompactLiving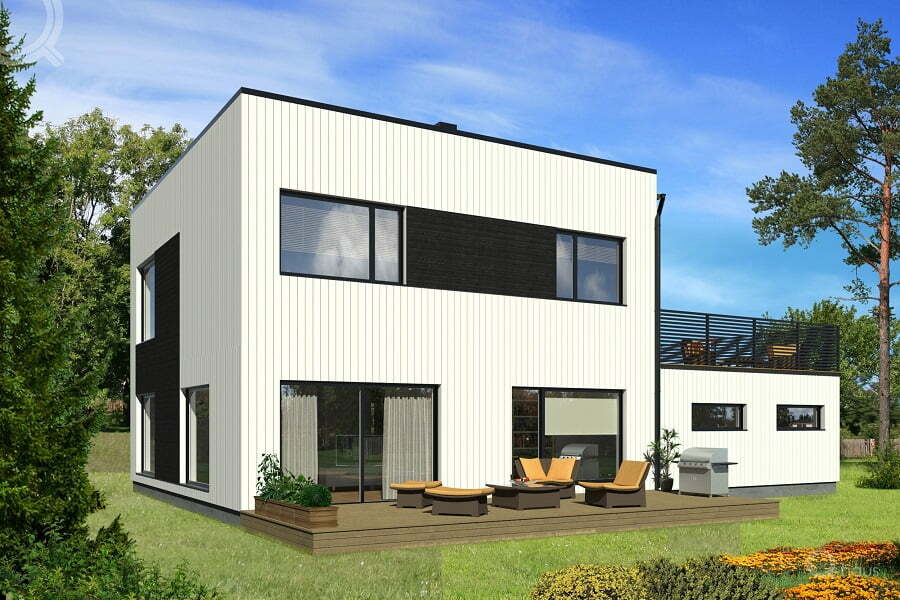 CompactLiving developed the TEO modular system and Cliff Nodule for family prefab homes. The company focuses heavily on customer satisfaction, so it strives to learn how its customers think to determine their real-world needs.
The company provides design services, technical support, and prefabricated components that fit together in modular combinations that allow you to expand your living space as needed.
Location: Tallinn, Estonia.
Price range: starting under $100,000.
Huf Haus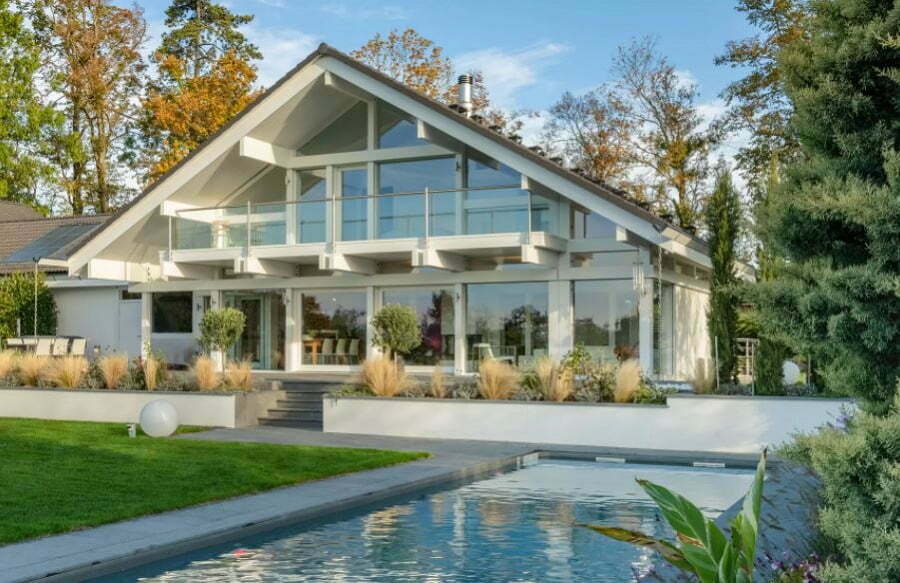 Huf Haus uses post-and-beam architecture to build detached and duplex homes. The technology can also be used to construct buildings.
Huf Haus homes distinguish themselves with their attractive architecture featuring wood, glass, and dramatic arches.
Also known for their smartly designed interior spaces, these homes generate a feel-good effect with the sophisticated use of glass and timber.
Location: Franz-Huf-Straße, Hartenfels, Germany.
Price range: starting from $200,000.
Weber Haus
Weber Haus takes great pride in building architecturally complex prefab homes using master craftsmen.
Designs are bespoke inside and externally using precision engineering, high-quality fixtures, and sustainably sourced natural wood.
The company has built more than 36,000 prefabricated homes since 1960, and it always focuses on providing excellence in both the prefabrication and building processes.
Location: Sunna, Nordrhein-Westfalen, Germany.
Price range: starting from $200,000.
Turkel Design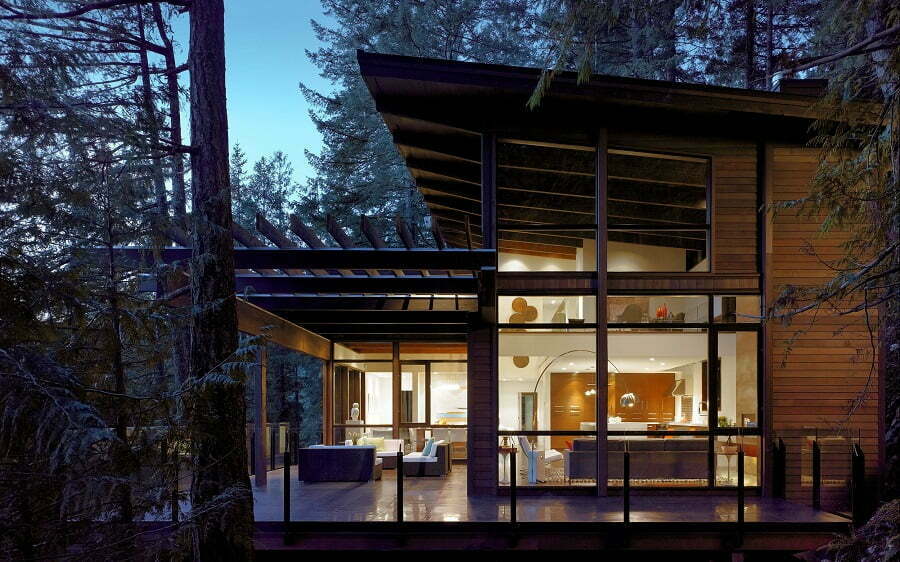 Turkel Design works as a contemporary residential architecture firm that specializes in building prefabricated homes of the highest quality. The company offers you a streamlined process that rapidly translates your dream home into real-world construction.
Working with a global clientele, the company uses the predictability and control of the prefabricated process and interactive design technology to build luxurious custom residences.
Location: Boston, Massachusetts.
Price range: starting at $1.7 million.
Alchemy Designs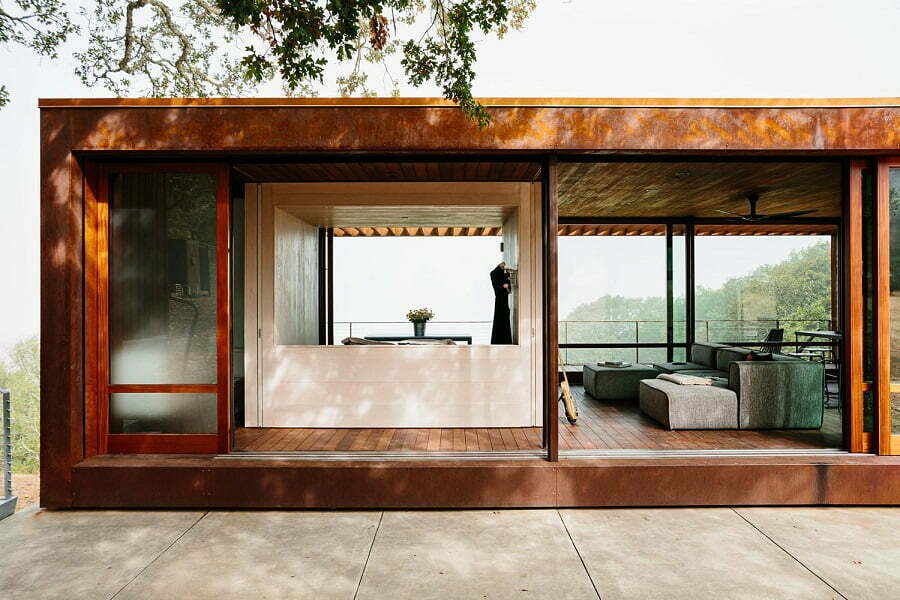 Alchemy Designs operates under this concept: making architecture and design more affordable by employing advanced technologies and a hands-on approach.
The company cultivates special collaborative relationships with suppliers, fabricators, and builders to translate your dream home into workable and affordable designs. Their specialty is focused on designing a harmonious blend of landscaping, home design, and community focal points.
Location: St. Paul, Minnesota.
Price range: $250,000 to $700,000.
Hybrid Prefab Homes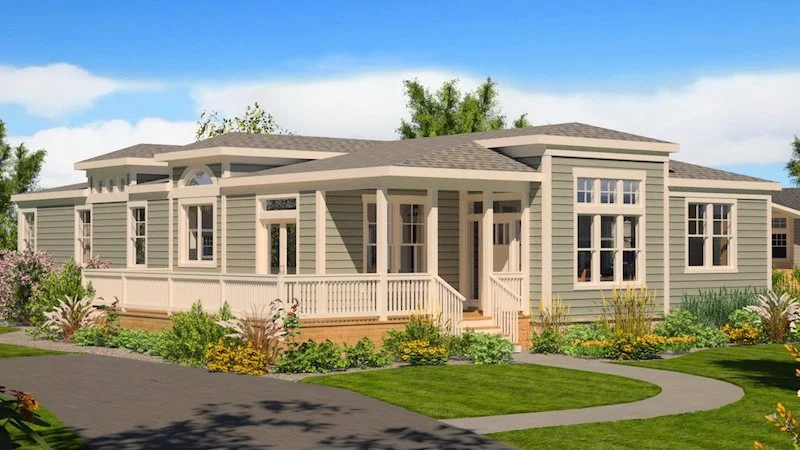 Hybrid Prefab Homes uses the exact same materials, quality components, building codes, and specifications used in a traditionally built home. The company prefabricates both dry and wet modules in their factory while building the remainder of your home on-site.
Hybrid specializes in providing a final blueprint that incorporates the best of prefabrication technology with the stability and permanence of traditional building processes.
Location: Santa Rosa, California.
Price range: starting from $200,000.
Ecohabitation Kit Homes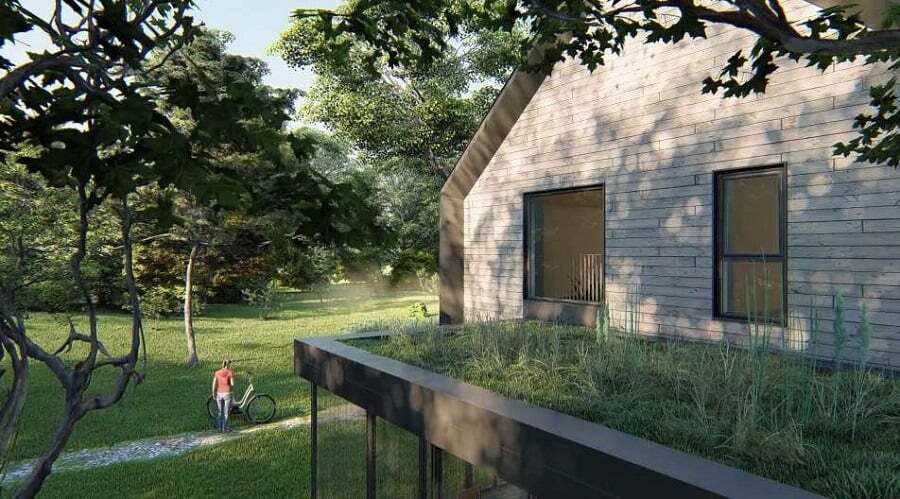 Ecohabitation Kit Homes market prefab home building kits for remarkably luxurious homes using green technology, sustainable sourcing, and superior architectural designs. These homes often qualify for A zero net energy rating and Passive House certification.
The company built its business proactively by recruiting and training local building professionals in its proprietary construction processes to build a selection of high-performance home kits at affordable prices.
Location: Quebec, Canada.
Price range: starting from $100,000.
Eco Prefab Homes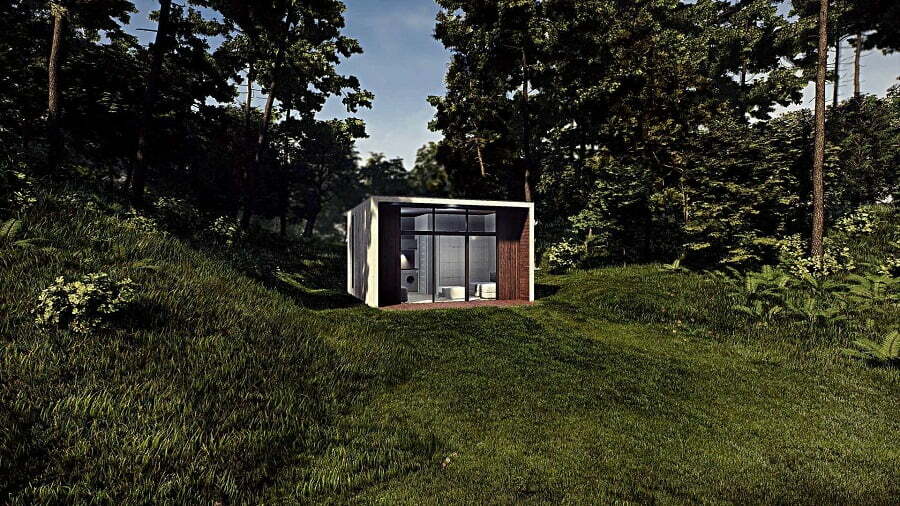 Eco Prefab Homes which markets several brands of prefabricated homes, has a reputation for building quirky homes like Attefalls Hus, a house so small that it doesn't require planning commission approval.
Other signature products include Modulhouse, which was developed using healthy, green techniques. All of the company's prefab homes use particular materials that provide outstanding performance and low maintenance.
Location: Lithuania.
Price range: starting at $14,500.
OpenHome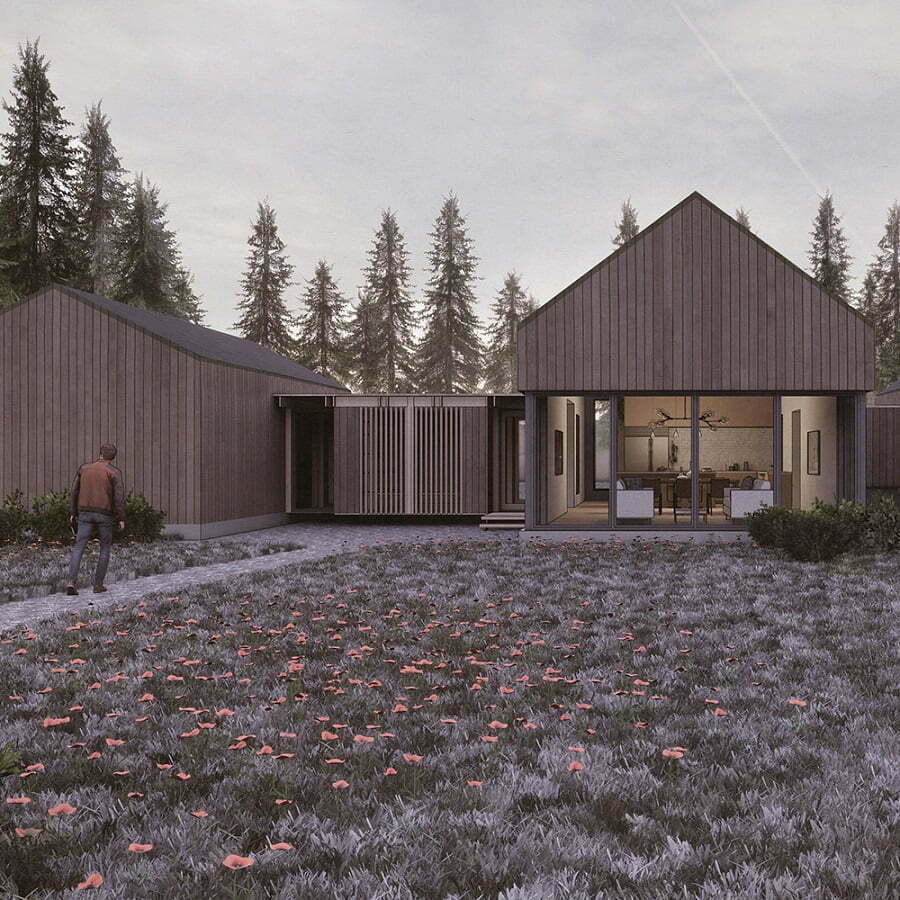 OpenHome, which offers sustainable home choices uses several custom templates as the starting point for your prefab home. Each home is designed with comfort, health, and style uppermost in mind.
Your prefab home can be built to qualify for Passive Home certification because OpenHome strongly believes in sustainability and does not require any investment at the expense of future generations.
Location: Bensonwood, Lake Flato, and Kieran Timberlake.
Price range: starting at $120-$160 sq. ft.
Lindal Cedar Homes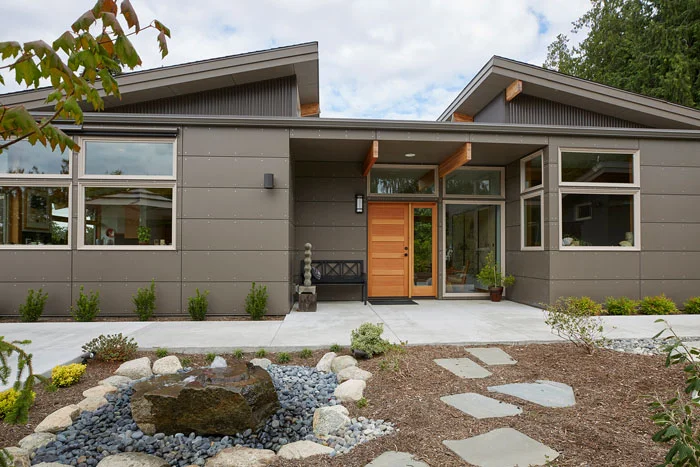 Lindal Cedar Homes is widely recognized for its commitment to sustainable building practices and green technology.
The company's cedar homes are designed to complement the natural environment by building on sites with spectacular views, using sustainable techniques, and creating a line of green prefab homes.
Lindal Cedar Homes were the first to be selected by the National Association of Homebuilders Research Center for its green policies.
Locations: Perth, Australia, Bulgaria, and the Czech Republic.
Price range: $100 to $175 per square foot.
Greenfab Homes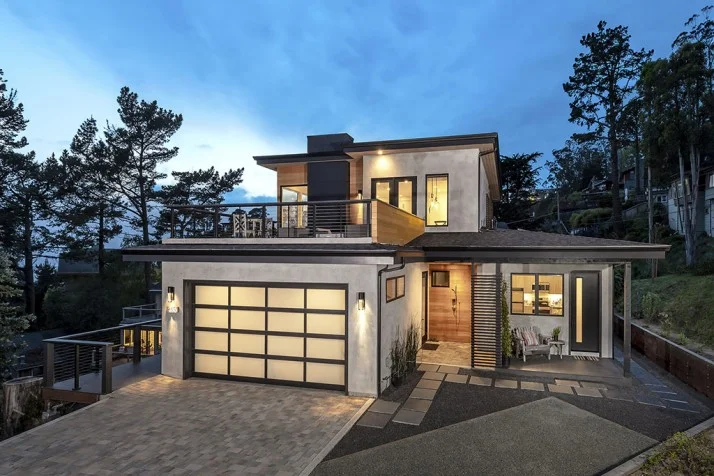 Greenfab Homes are especially attractive to prospective homeowners who want to design green home options from scratch.
Most of their homes range in price from $125,000 to $200,000 for larger homes that incorporate green technology. The company offers a range of upgrade packages, certifications, and smart home options.
Location: Seattle, Washington.
Price range: starting at $350 to $500 per square foot.
Lloyoll Prefabs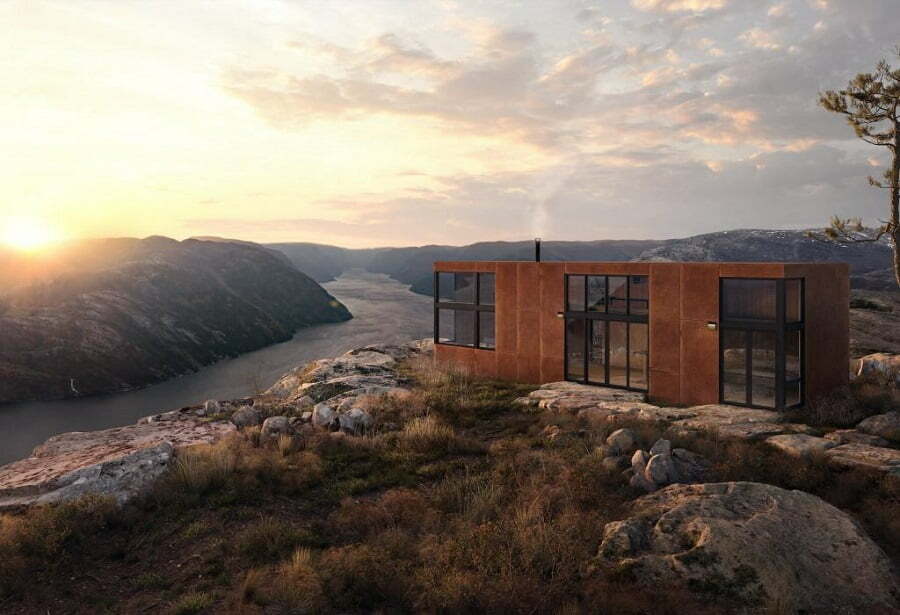 Lloyoll Prefabs include the Skali, Salti, and Sitka models. Their prices include design services, materials, finishes, delivery, and appliances and fixtures.
Prices range from $150,000 to $500,000 depending on your shipping address, choice of home style, and other factors.
The manufacturer offers a 5-year warranty on structural components. Most of the homes range from 400 square feet to 800 square feet.
Location: Brooklyn, Nova Scotia, Canada.
Price range: $150,000 to $500,000.
Our FabHouse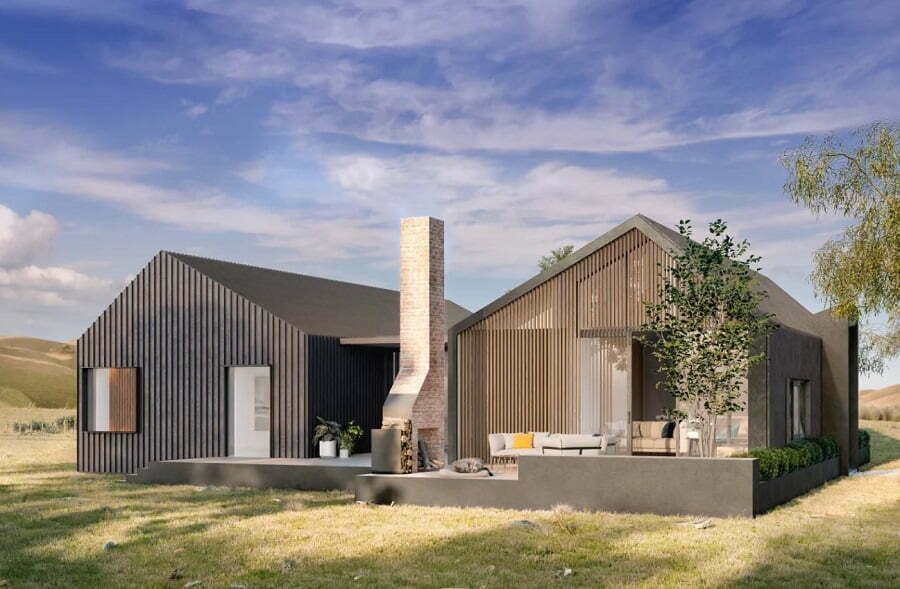 Our FabHouse uses precision German engineering in its designs of prefab homes. The homes are sustainable and more affordable than most people think.
The average cost of a 1-bedroom modular home runs $40,000 to $75,000 for components and $120,000 to $260,000 for full construction costs.
A 3-bedroom home runs $75,000 to $150,000 for components and $180,000 to $460,000 for all construction costs.
Location: Melbourne and Byron Bay, Australia.
Price range: $120,000 to $460,000.
Plant Prefab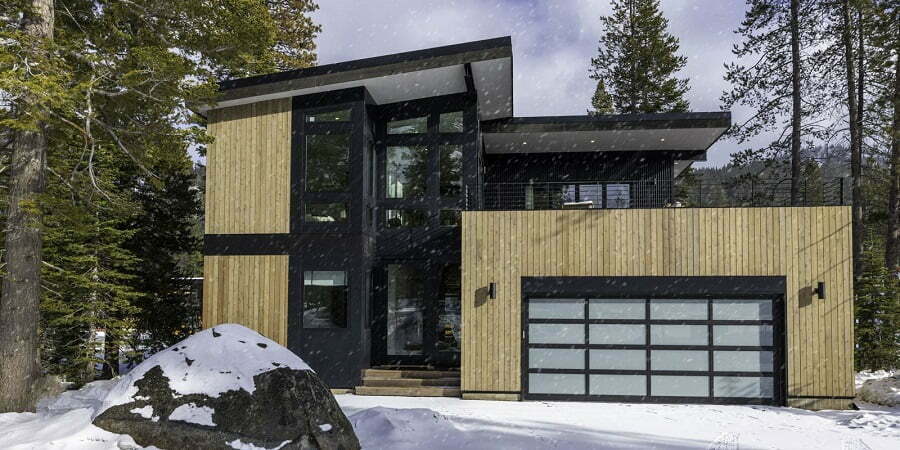 Plant Prefab partners with top architects and designers from all over the world to make affordable prefab homes available to most working families. The homes generally sell at between $250 and $350 per square foot.
That covers the prefabricated components, but you need to pay for assembly, foundation, etc. Sizes range from efficiencies to homes for multiple families. Some models can be immediately customized on the Plant Prefab website.
Location: Rialto, California.
Price range: $250 and $350 per square foot.
Go Logic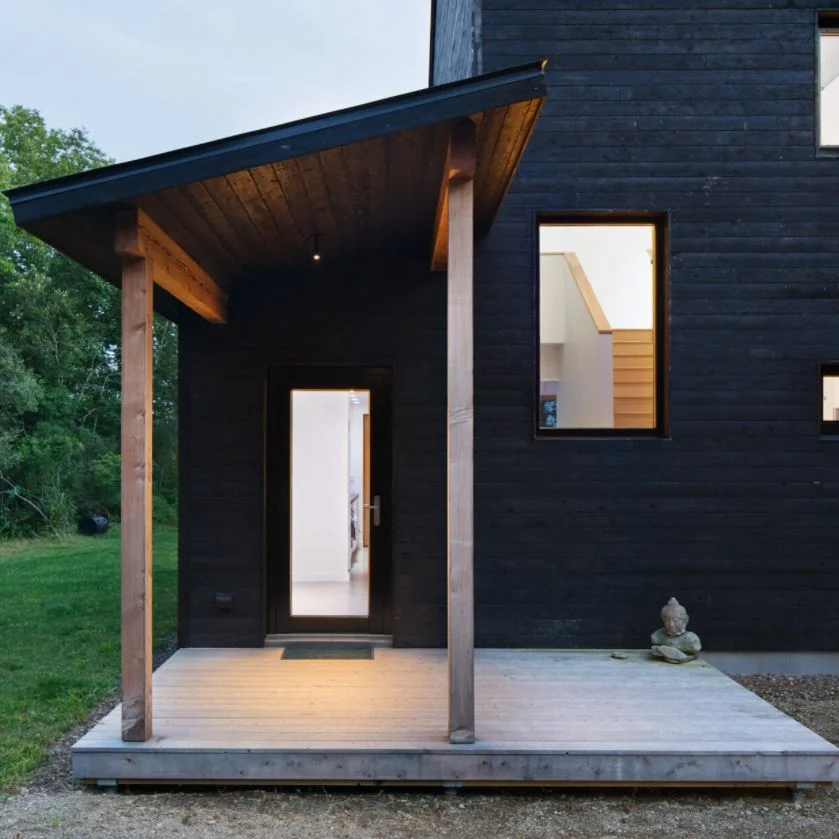 Go Logic embraces Passive House principles of using prefab components to speed construction and reduce costs. The sustainable designs range from $240,000 for 600 sq.ft. to $576,000 for 1,500 sq.ft.
The homes feature triple-glazed German windows, super-insulated walls and foundations, and patented economical home systems. The homes typically deliver 1000% better results than required by code regulations.
Location: Belfast, Maine.
Price range: $240,000 to $576,000.
Solsken by Ecocor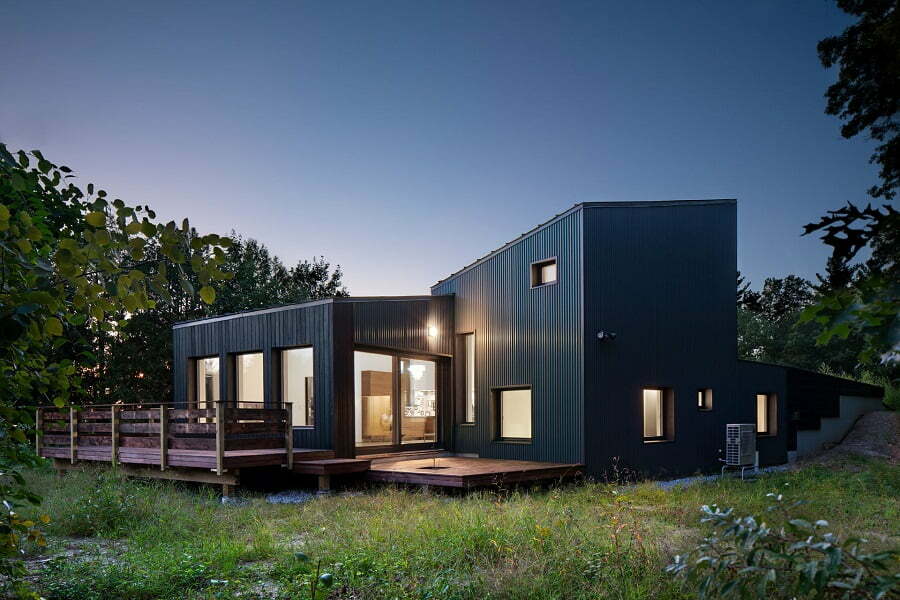 Solsken by Ecocor is a construction company that specializes in building energy-efficient buildings and homes in North America. The buildings feature low-carbon and zero-net-ready footprints that reinforce the company's concept of protecting resources for future generations.
The costs of homes run about $237 per square foot, and the company has been in operation for more than 10 years.
Location: Searsmont, Maine.
Price range: from $237 per sq. ft.
Deltec Homes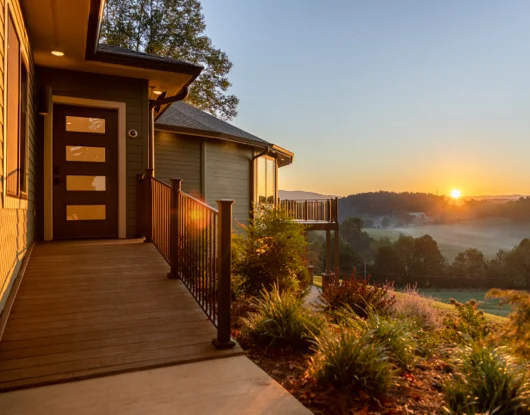 Deltec Homes provide a structural shell, and you can use any of the company's optional services to customize the interior, install green technologies and develop the best floor plan for your family's needs.
The company also features singular ways to personalize your space. Deltec Homes range in price from $250 to $500 per square foot.
Location: Asheville, North Carolina.
Price range: $250 to $500 per sq. ft.
Build with Nature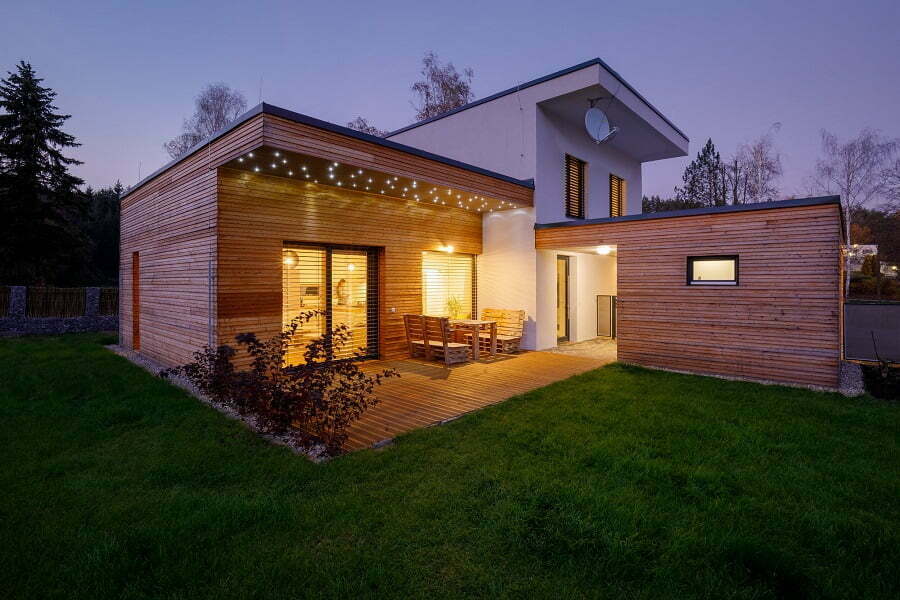 Build with Nature specializes in passive designs for ultra-low energy usage in homes and buildings.
Passive House designs use 90% less energy than conventional homes, which is a major advantage in building home equity, paying off your loan, and supporting ecological efforts.
The aesthetically appealing designs qualify for Passive House certification with airtight construction, heating, and cooling using recycled heat and timber-straw elements used to insulate walls.
Location: New York City.
Price range: $250 to $350 per sq. ft.
Blu Homes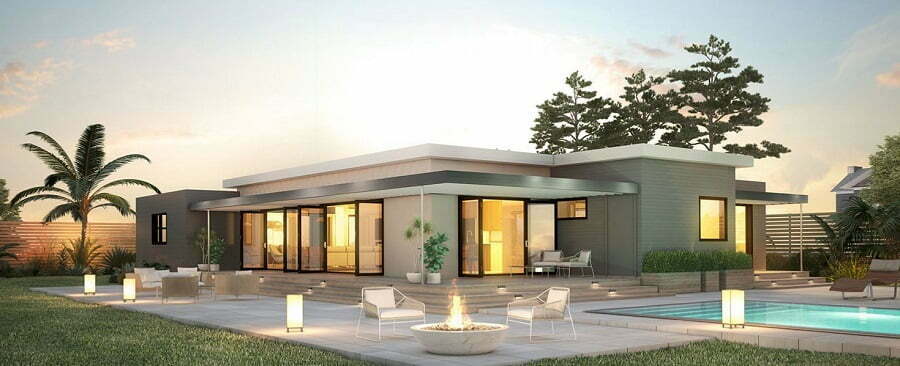 Blu Homes offers homes with iconic designs like the Breezehouse 2100, the Origin 1900, and Cabana 600.
The costs of these fabulous prefab homes run $250,000 for the 605 sq. ft. Cabana, $550,000 for the 1,900 sq. ft. Origin 1900, and $625,000 for the 2,140 sq. ft. Breezehouse model.
You will appreciate the design specifics like open, airy interior spaces, glass-filled breeze spaces, and outdoor living areas to increase your livable space.
Location: Vallejo, California.
Price range: $250,000 to $625,000.
Artisans Group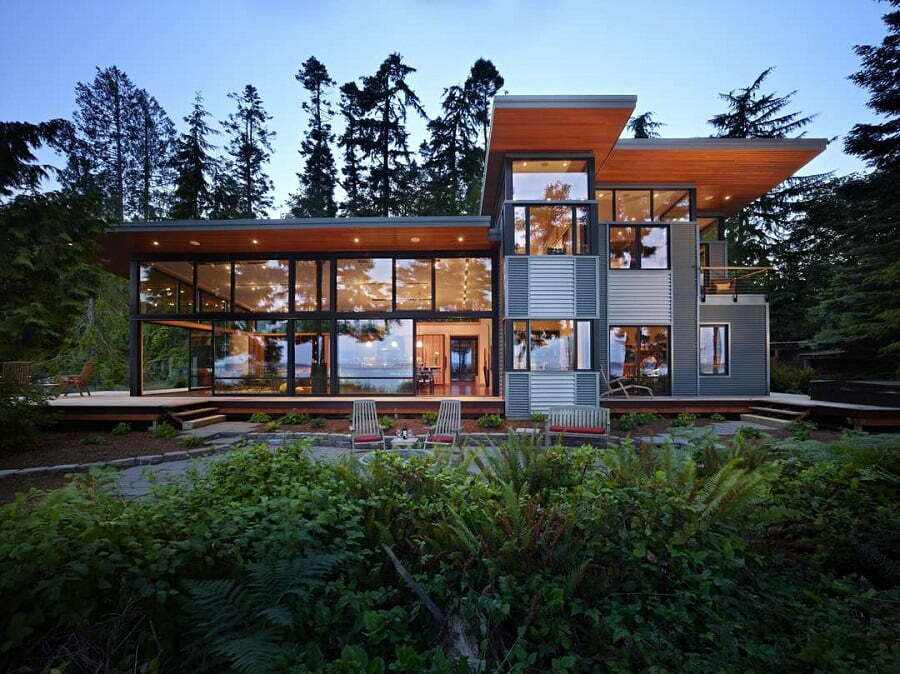 Artisans Group designs and builds prefab homes that run between $375 and $448 per square foot. The price is inclusive of design service, labor, materials, and site preparation work, which is rarely included.
The company focuses primarily on its sustainable architecture, green design, and planning efficiency, which is aimed at designing net-zero homes and communities.
Location: Olympia, Washington.
Price range: $375 and $448 per square foot.
Bone Structure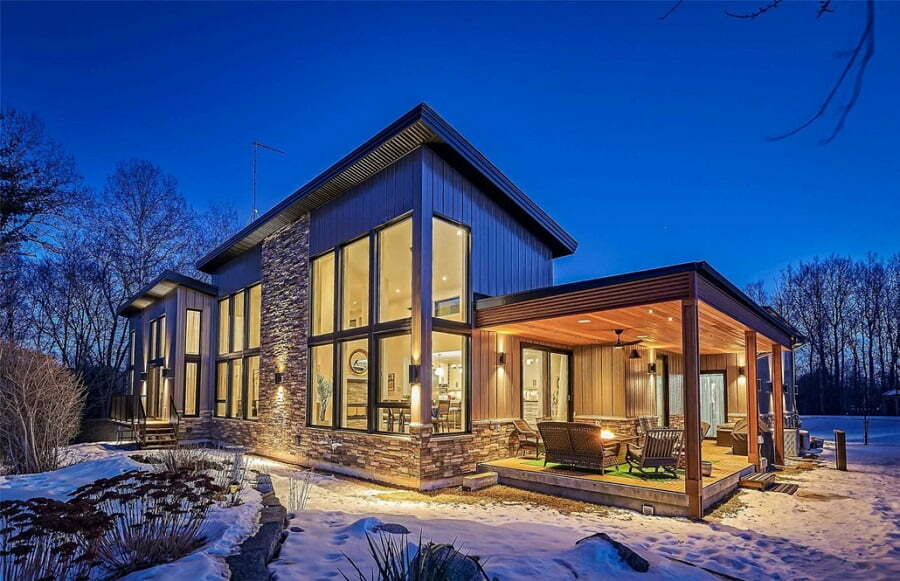 Bone Structure homes' mission is to help people build their dream home with integrated prefab services that streamline the processes from design to seeding the lawn.
The company takes time to determine optimal home placement, projected energy use, and other key details to design a custom home that fits your family. Prices run between $500 and $600 per square foot.
Locations: Laval, Quebec, Canada, and San Francisco, California.
Price range: $500 and $600 per square foot.
Connect Homes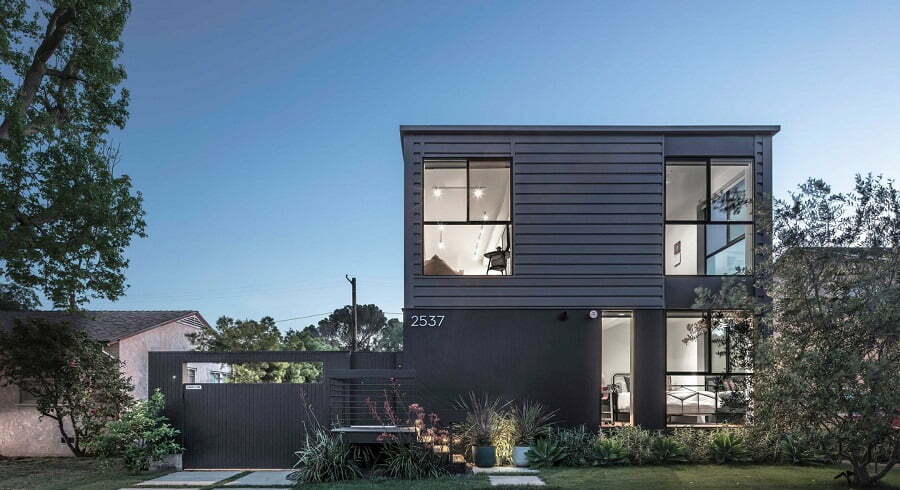 Connect Homes specializes in reimagining every aspect of homebuilding. Modern living can be more accessible, integrated with technology, and personalized to your taste when you buy a prefab home from Connect Homes, which is headquartered in Los Angeles.
Connect Homes makes every effort to estimate an accurate price and manage those pesky details like getting permits, laying a stable foundation, and eliminating unnecessary delays.
Connect Homes estimates the costs of its open plan, energy-efficient homes between $250 and $400 per square foot.
Location: Los Angeles, CA.
Price range: $250 and $400 per square foot.
Haus.me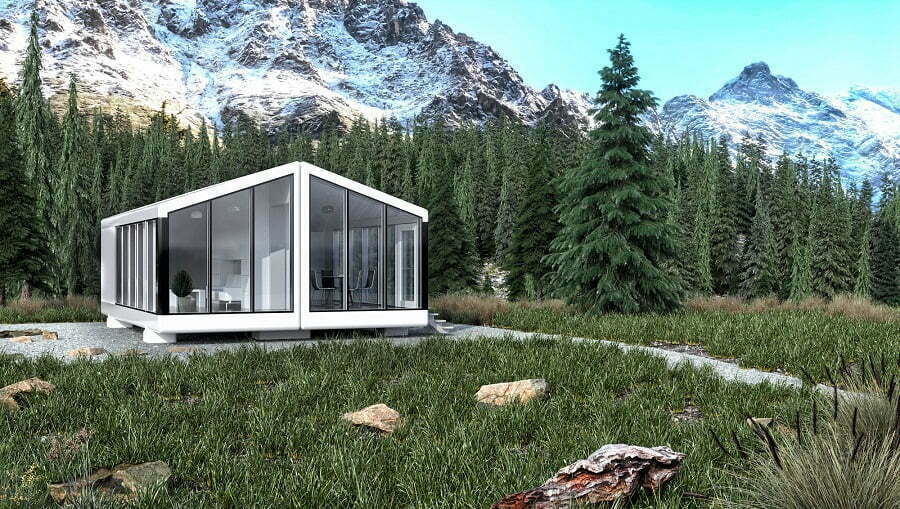 Haus.me designs smart homes with an incredible range of features. From small micro-homes of 120 sq. ft. to an 800 sq. ft. home with all the bells and whistles, you'll enjoy an energy-efficient autonomous home that's 100% furnished and ready for short-term rentals or sales.
The latter choice runs $417,999 and features remote control operations, advanced HEPA air quality control, ITC certification, and 99.9% antivirus and anti-bacterial protection.
The micro-home has similar features and sells for an astonishing $60,000.
Location: Seattle, Washington.
Price range: $60,000 to $418,000.
BrightBuilt Home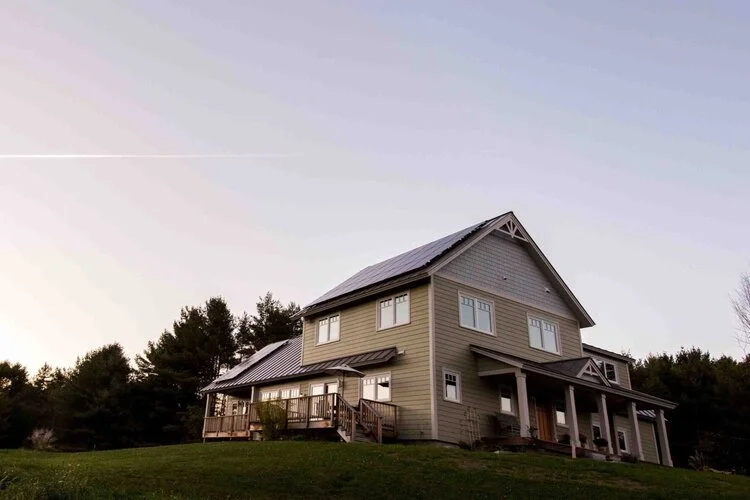 BrightBuilt Home believes that the construction industry is stuck in a rut. However, the company thinks that it has the solution for bringing back excitement to homebuilding.
It requires design excellence, advanced green tech like solar energy, spectacular home views, and an affordable price.
Location: Portland, Maine.
Price range: $275 and $325 per square foot.
Built Prefab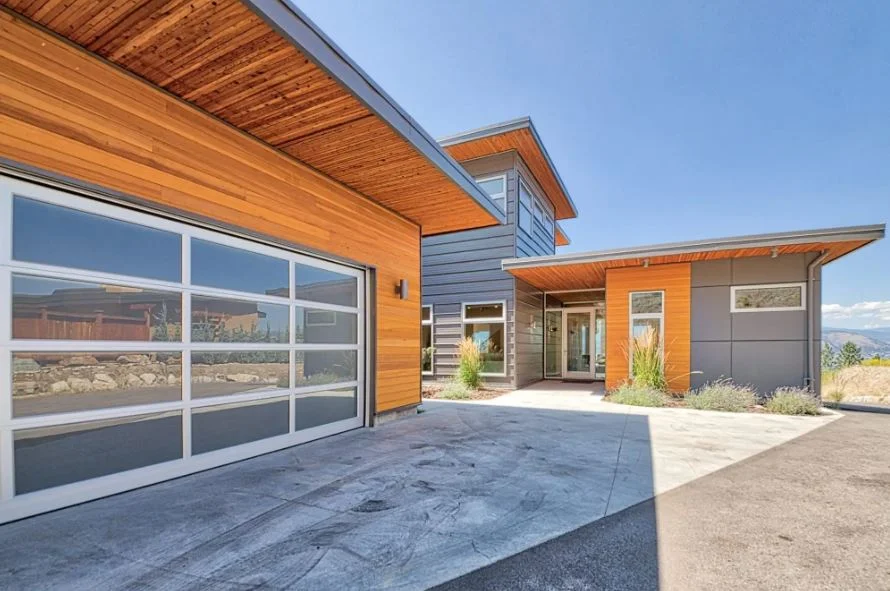 Built Prefab manufactures modular homes to exacting specifications. You can opt for a standard design or a modified design. The company provides a 3D computer rendering of what your home will look like.
Built Prefab ships the components of your modular home and provides custom foundation engineering, detailed floor plans, and conceptual design aesthetics.
Location: Kelowna, British Columbia, Canada.
Price range: starting at $270,000.
Related reading: