Last updated on September 11, 2023
Expect to pay $100 to $250 per square foot to build an average prefab home of most types. Read on for the complete cost breakdown and learn how to save.
Prefabs can save you thousands of dollars over building a custom house from scratch. They are pre-built houses that come ready to assemble. They are usually manufactured at factories and then shipped to your location. This means you have to spend less time or money on site preparation.
While some people prefer to build their own home, others want something that's already built and waiting for them. If you fall into this category, prefabricated housing might be the cheaper solution for you.
Here's a look at the costs involved in building a prefab home.
Table of Contents
The Average Prefab Home Cost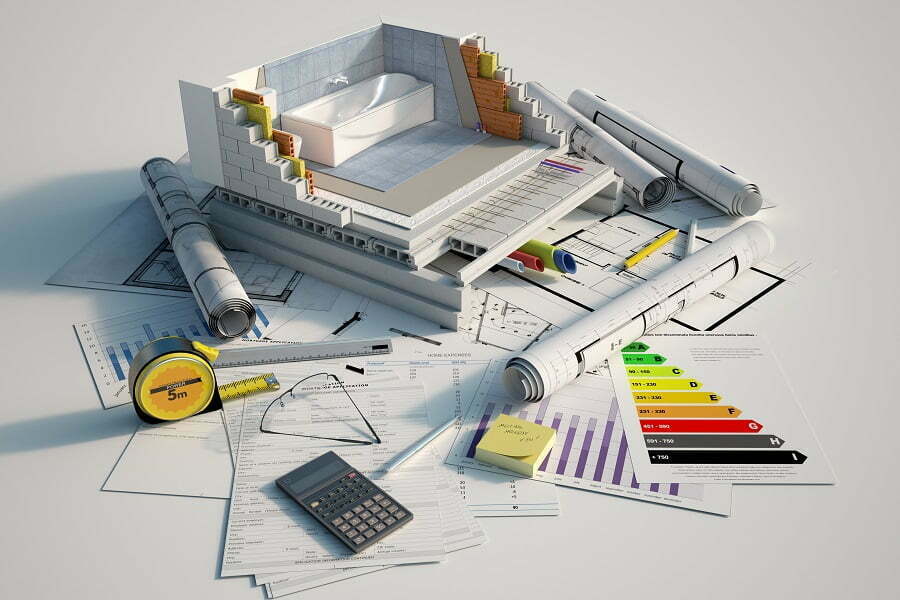 The average cost to build a prefab home costs more than some people expect because the advances in the industry are astonishing. You can find home designs that look fabulous and meet the highest energy efficiency standards. The home costs still come in lower than ground-built models. According to Home Advisor, typical costs range from $100 to $250 per square foot. This averages about 15% less than traditionally built homes.
There are also additional costs involved with both traditional and prefabricated homes. These include utility-based repairs, septic systems, local permits, inspection costs, connecting to a reliable water source, and making repairs to any structural problems.
Prefab Home Cost Per Square Foot
The average cost to build a prefab home ranges from $80 to $160 per square foot, translating from $120,000 to $270,00 for average-sized homes. A good part of the ultimate price depends on the cost of your home prefab kit because homes vary tremendously in their design, architectural plans, and finishing touches.
The cost of custom design prefabricated homes runs higher than standard models — about $100 to $250 per square foot. After all installation, site work, and finishing touches are added, the total cost of a custom home runs between $200,000 and $500,000. Requesting a custom design is a relatively painless process because most modular builders willingly incorporate your design suggestions into the modular home blueprints.
Cost by Type of Prefab Home
Home costs also vary by the style of prefab home you choose. The average prices of these modular home types of homes give you a better idea.
Modular Homes
Modular homes run from $50 to $100 per square foot, and the total cost of a house averages between $60,000 and $200,000. These are the prices of base models and include only delivery. Cats can run much higher with customizations, tricky installations, and setup costs.
Panelized Homes
The costs of panelized homes can be misleading. The average price runs from $40 to $60 per square foot, but that's because you must still perform lots of basic construction services to stall the panels to create a home. See how it compares to modular homes.
More on-site labor is required, which can be expensive and intimidating for people inexperienced with basic construction.
Pre-cut Homes
Again, precut homes require that you do much of the work assembling and installing your new home. Precut homes were more prevalent during the first half of the 20th century in the United States and Canada. The precut kits cost between $30 and $100 per square foot, which is the lowest for kits. The final price of your home, however, could escalate dramatically. People often choose precut kits to build log cabins and their rustic-type homes.
Shipping Container Homes
Shipping container homes can be built at meager prices because you could make a few alterations to a large shipping container and call it home. Tiny, basic container homes can be built from $10,000 to $35,00. Larger homes and 2-story homes range between $100,000 and $175,000. That's because you must do the following:
Weld containers together
Fabricate space for doors, windows, interior plumbing, electrical connections, etc.
Choose wall finishes
Install exterior siding and insulation
Install substructure and appliances and fixtures for kitchens and bathrooms
Home Package Inclusions
Home kits contain varying amounts of inclusions, from all-inclusive kits to relatively basic kits for precut homes. The size of the home also varies from tiny modular construction kits for one person to five bathrooms and bedroom "McMansions" of 3,000 square feet.
Cost by Materials Used
All sorts of materials are used in prefab homes. Concrete has become increasingly popular for its sturdiness and expanded decorative uses. The cost of precast concrete homes ranges from $129,560 to $391,210.
Wood is also commonly used and costs an average of $150 per square foot to build a basic wooden home. Bamboo is inexpensive, and you can find lovely bamboo designs for your home.
Steel is often used as a support frame for prefab homes. Using steel in frames runs between $9.50 and $11 per square foot, but wood frames cost between $1 and $5 per square foot.
What's Typically Not Included in the Cost
The cost of prefab homes can mislead you because the price doesn't typically include the land, certain types of finishes, or many decorative items, which most traditional homes rely on heavily for appeal. If you want custom steel frames, you must pay extra.
You also might need to make changes to qualify for electric, gas, sewer, water, and other services. Your home might require an architectural inspection, utility inspections, building permits, and other administrative expenses.
So it is important to know what is included in your prefab home before buying.
Resale Value of a Prefab House
The resale value of your prefabricated home shouldn't be any different than a traditional home of a similar style that's been similarly maintained. A modern prefabricated home that's been well-maintained often generates better prices than comparably built stick homes.
Your prefab home is often manufactured to exact quality standards and meets local building codes. The land is the same regardless, so expect your prefab home to gain or lose value as similar homes in the area do.
Location Impact on Prefab Price
Location affects the price of your prefab home more than any other single factor. Depending on where you decide to build, the cost of your prefab kit varies considerably. The costs also reflect inspections, building permits, and other administrative expenses. Any customization will add hundreds or thousands of dollars to your price.
Cost Breakdown
Your cost breakdown includes many incidentals, as you probably expect. These include the lands, cost of permits, site setup expenses, and those costs associated with the details of design, finishes, etc.
Cost of Land
The cost of land for your home can vary tremendously depending on its location and size. You might buy property extensive enough for a farm or property with only room for a postage-stamp yard. That affects your price. You should pay attention to whether you need support structures like septic tanks, wells, barns, garages, a private driveway, etc. Make sure you own enough land to build what you need.
Permits
The average cost of building permits for a prefab home run is about $1,300. These can vary from $400 to $2,000. The costs tend to run higher in heavily populated metro areas.
Foundation
The cost of preparing your new home's foundation averages between $5,128 and $19,350. The cost ranges widely because some foundations include basements. The costs also vary considerably based on your choice of construction materials. Concrete slab foundations run $7 per square foot. Pier and beam construction runs $33 a square foot, and basic crawlspaces run $13 per square foot.
Site Prep
Site prep is often included in the estimates for building a prefab home. However, if site prep is not included, the cost could run about $25,000 for a relatively level lot with ready-made utility connections nearby. If your property is rural, you'll probably have other site prep expenses like digging a well or setting up utility services. The cost of adding a well runs between $8,000 and $12,000.
Transportation
The transportation costs of delivering the sections of a prefabricated home run between $5,000 and $15,000.
Assembly
The assembly cost runs between $5 and $35 per square foot. You can do some of the work yourself, but you don't want to put your home security at risk because of a poor installation job. Setting up your home includes:
Connecting modules together securely
Installing stairs and exterior features
Finishing interior work such as drywall
Handling miscellaneous carpentry work like finishing the trim
Connecting appliances
Troubleshooting the fit of windows and doors
Exterior sanding, guttering, and roofing work
Utilities
The costs of ensuring that your utility connections are compatible with local services might cost little or nothing, but it could require extensive work. Ideally, you should check these requirements before you begin building your prefab home. You're pretty much stuck with the requirements of local utility companies and housing authorities for setting up sewer, water, gas, and electricity services.
Interior Finishes
The average cost of finishing interiors is often included in prefab home estimates, but if not, you should expect to pay anywhere from $10 to $150 per square foot extra for the services. Custom floor plans, special designs, and unique finishing ideas can cost extra in an all-inclusive estimate.
FAQ
Is prefab cheaper than building?
The general rule is that prefab building is cheaper than traditional construction by 10% to 25%. Most of the site prep, foundation, and building permit fees would apply equally to building a new home, so these extra expenses should not be added to your totals for comparisons. Your cost of labor usually drops in prefab housing, which is another reason to exclude extra expenses from comparisons.
Can you build a modular home for 100k?
You can undoubtedly find a modular home kit for well under $100,000. The difficulty is finding a company that offers turnkey service for building, installing, and finishing the home for under $100,000. However, companies offer such deals, and you can also do much of the finishing work yourself to keep the total costs under $100,000.
Is it cheaper to build a house or buy a modular one?
Buying a modular house is often cheaper than building one on-site. But buying a modular home requires careful research to ensure that you get what you need. A good builder will provide a detailed list of options for each module.
Related reading: