Last updated on February 9, 2022
If you're looking for both land and home, a prefab home and land package might be the ideal solution. Read on to learn all about it.
Prefab homes offer a quick and cost-effective solution for building stylish homes strong enough to last even longer than traditional houses. There are many custom designs you can choose from. While they were initially built as temporary shelters, prefab homes have become the industry standard for home construction.
Prefab home and land packages offer great value for money. They allow you to purchase a home without having to worry about how you'll finance the deal. They also provide you with the peace of mind that comes with knowing that your home is already constructed.
Table of Contents
What are Prefab Home and Land Packages?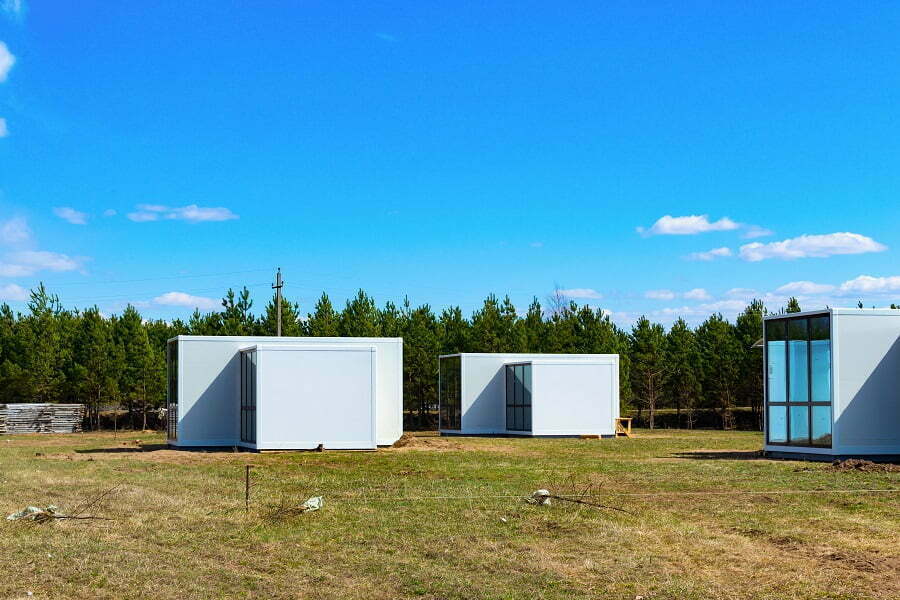 Prefab home and land packages are simply financing plans for both an empty lot of land on which the house will be built and the actual prefab home.
The manufacturer can provide turnkey services with their land in your desired location and assemble the prefab house on that land. You can then buy the two as a bundled package. The alternative is to choose an empty lot in the desired location on your own, have the manufacturer buy the land, and build the desired home on that empty lot. You can then get a mortgage to pay for both the land and the house.
Pros and Cons
The main advantage of prefab home and land packages is that they offer an opportunity for prospective homeowners to acquire the home of their dream in their desired location.
Secondly, buyers who want a larger parcel of land can choose larger pieces of land on which the house will be built.
This is a much cheaper option because you will only pay taxes for the empty lot and not the house, which is yet to be built. The savings can be thousands of dollars. You will also save a lot of time because the home of your dream will be built on an available piece of land, so you won't spend weeks or months searching for a dream home to buy.
These packages also come with transparent upfront pricing. Add the prefab home cost to the land and land preparation cost to get the final price. These packages also come with a warranty. After all, the prefab house is a new home.
The main disadvantage of prefab home and land packages is that most empty lots are located in the city's outskirts, in rural areas.
This is because it's not easy to find an empty lot in the city suburbs. After all, almost every empty lot is either developed or is under development. This means that you may have to live away from the city.
Secondly, there are additional costs you need to be aware of. This includes land preparation, landscaping, connecting the home to the grid, sewer system, water supply, and gas supply line, among other things.
These costs are not easy to estimate upfront accurately, so you'll have to pay for them at the end of the project. If there is no sewer system in the area, you will need a septic tank system installed.
How It Works
When looking for prefab home and land packages, there are two options to choose from. The first option is to pick an empty lot from the manufacturer's list of empty lots. You can visit those lots to find the perfect one for your needs. Land preparation and construction will begin once you've chosen the empty lot. Your new home will be ready in just a few weeks. You can pay for the house and land out of pocket if you have the cash. If not, you can get a mortgage to pay for the same.
The second option is to search for a suitable empty lot for sale. Once you've found the right plot of land, the manufacturer will acquire the empty lot at the agreed price and build the prefab home on that land. You can pay for the land and house out of pocket or get a mortgage when the house is ready.
Where to Get Prefab Home and Land Packages
Many of the top manufacturers of prefab homes offer prefab home and land packages. Since they are all different, you should first check the prices they have quoted for different types of prefab homes.
Next, check and compare the empty lots different firms have. Since you have a general idea of where you want your home to be, you'll need to choose the right empty lot for your needs. The warranties offered by different manufacturers should also be compared.
Check with the real estate broker you're using to see if he has any prefab home and land package deals. He might have some good deals for you to consider.
If you don't know anyone who owns a prefab home, you could always ask around. Most people would love to share their experiences with others. They may even give you a referral fee.
How Much It Costs
Prefab homes with land can be 20 to 40 percent cheaper than homes built on-site. Most homes cost around $100 per square foot to assemble compared to the average of $150 per square foot for homes built on site.
Financing Options
If you need financing, it is recommended you have your mortgage preapproved and pay a deposit of around 20% of the total cost. Mortgage companies usually finance the purchase of prefab homes, so you will not have an issue getting financing.
Financing with land equity is another option. In this case, you don't need to put down a large amount as a deposit. Instead, you can use the money saved from selling your old home to buy land for the new prefab home. This way, you won't have any problems getting financing.
FAQ
Is it cheaper to put a prefab home on your land?
Prefab home and land packages have three cost components; the cost of purchasing land, prepping the land, and home assembly. If you want the prefab home built on your land, you will avoid the cost of purchasing land. This makes it a cheaper option.
Is it cheaper to buy a house and land package?
Yes, it is cheaper to buy a house with a land package. However, if you're buying a prefab home, you will be paying more for the land.
Related reading: