Last updated on February 28, 2022
The first thing you need to know about building a prefab home is that it is manufactured in the factory by definition. But there are the stages that precede the manufacturing and those needed to complete the project.
The first thing you need is a foundation. This can be one of several prefab foundation types. Next up is the framing (prefab shell), which basically puts together all the walls and roof trusses. It's quite similar to construction in a normal house, except these come in prefab panels assembled on site.
Once the frame is complete, the next step is to install the siding. In most cases, this will be engineered wood that has been cut to size and nailed onto the structure. However, if you want something more permanent, you can use a brick or stone veneer.
Finally comes the finishing touches – like windows and doors. You'll probably want to add some trim around the edges of your home as well.
There are two ways to go about building your own prefabricated house:
Build it yourself.
Hire contractors.
Prefabricated houses usually require fewer materials and therefore produce less waste than custom-made ones. They're also easier to transport since they don't take up much space.
A small prefabricated modular home may require fewer building materials than a traditional stick-built home so that it might cost less overall. However, they usually take longer to construct because each module needs to be assembled separately before being attached.
Table of Contents
What Is a Prefab Home Made of?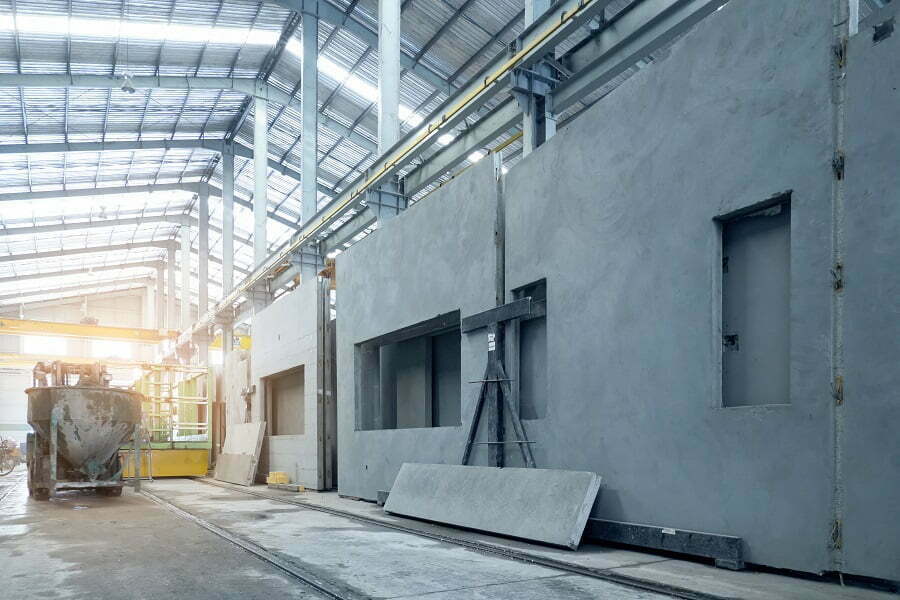 When people hear prefab, they think of cheap, mass-produced housing. But, prefabrication refers to any method where components are manufactured offsite and then transported to their final location.
Most prefabs are constructed using standard structural elements like beams, columns, rafters, etc. These are then combined to form larger structures like prefab panels, roofs, floors, etc.
Some prefabricated homes are made entirely from wood. Others are made from metal, plastic, composite material, etc. Some even incorporate recycled materials.
The Building Process
To start, you'll need to find a place to build. Most prefabricated homes come with plans that show how many modules you need to build your home. Make sure you get those plans approved by your local building department.
You'll also need to make sure that you have enough land to build your home. Many prefabricated homes can only fit in certain areas due to zoning restrictions.
The first thing you'll need to do when building a prefabricated modular house is to choose a manufacturer. This company will design, manufacture, and ship your prefabricated home.
They'll provide you with all the necessary blueprints, instructions, and tools to assemble your prefabricated house.
In general, there's no limit to how big a prefabricated home is.
A modular home is typically built by assembling prefabricated modules at a manufacturing facility before being shipped to the construction site where homeowners install them. Modular homes are generally more expensive than other types of prefabricated homes.
Modular homes are also more complicated to build because they require more planning and coordination between multiple parties.
Building a prefabricated residential structure involves several stages:
Planning the Budget
Most manufacturers don't offer complete homes; they'll install the home on the foundation provided by you. So you need to plan the budget for the entire construction project. You'll need to figure out how much money you want to spend on the home itself, as well as the costs associated with shipping, installation, and finishing.
Designing the Project
After having your sketch, some samples, a rough idea of your budget, you can contact an architect near you and start working on the project. They will give you suggestions for floor planning, energy efficiency, design considerations and create the blueprints for the manufacturer to use.
Obtaining Permits
Building a home is subject to your local zoning codes, building codes, and permits, so you need to take care of those. In most cases, you'll need to obtain a permit from your city or county government.
Selecting a Manufacturer
It's one of the most important steps, so you need to take your time choosing a manufacturer. There are different factors to consider, such as quality, cost, delivery times, warranties, etc. If you're looking for a prefabricated home builder, you should check out our list of top prefabricated home builders.
Manufacturing the Prefab Shell and Components
In this stage, the house design is divided into its basic components. When designing the components of the home, architects must consider the layout of electrical wiring, gas piping, and water supply systems. The manufacturer then builds these parts using their own designs and specifications.
When it comes to installing the prefabricated shell, you might be wondering if it's really worth it. After all, it's not like it will be any easier than building a conventional home. But there are advantages to building a prefabrication home. For example, it's cheaper, faster, and simpler to construct a prefabrication house than a traditional one.
Building the Foundation
The construction site must be ready before any engineering designs are made. Once the foundations for the house have been poured and measured by the builder, construction can start. The type of foundation must match the requirements of the manufacturer. Since most prefab makers don't develop the foundations themselves, this process must be coordinated with the contractor.
Transporting and Installing the Prefab Shell
Once the shell arrives at the construction site, the workers begin setting up the home. The first step is usually to unload the shell and set it up in place. Then the workers will connect the plumbing and electricity lines to make sure everything works properly. Finally, the roof, walls, and windows are installed.
Installing Doors and Windows
Once the walls and roof are in place, the doors and windows are installed. This is usually done by subcontractors specializing in prefabricated homes, but it may vary depending on the manufacturer.
Finishing the Exterior
This step is optional. Some people prefer to finish the exterior of the home, while others leave it unfinished. However, when you choose to finish the exterior, make sure you coordinate with the manufacturer regarding the materials used.
Finishing the Interior
While the exterior of the prefabricated home looks great, the interior needs to look even better. Most manufacturers provide interior designers to help you select colors, fabrics, furniture, appliances, etc.
How Long Does It Take to Build a Prefabricated House?
This really depends on what kind of prefabricated home you decide to build. A basic prefabricated home can be completed within a dozen weeks. More complex models can take months, and it can even take years from the planning stages to finish, depending on how many parties are involved and how fast you can put all parts together.
Most prefabricated houses are delivered to the job site and assembled there. Some prefabricated homes may require additional time to complete their installation. For example, if you want to add a deck to your prefabricated manufactured home, you'll need to wait until after the home has been installed.
The most time-consuming stages are planning the design, budgeting, and choosing the manufacturer. This can take months, depending on how picky you are, how much due diligence you do, and how easy it is to get the financing.
Next is the stage of creating the blueprints and engineering the design of the components. The actual production of the prefab may only take days to weeks, depending on the manufacturer. The assembly and finishing of the home will take a few weeks more.
Financing Loan Options
Loan options for prefabricated homes include conventional loans, FHA loans, VA loans, USDA loans, and low-interest mortgages.
Conventional loans are offered through banks and mortgage companies. These loans offer lower rates than other loan programs.
FHA Loans are insured by the federal government. They allow borrowers to buy a manufactured home without paying private mortgage insurance.
VA Loans are guaranteed by the Department of Veterans Affairs.
USDA Loans are made possible by the United States Department of Agriculture.
These loans can be used to purchase both new and existing manufactured homes.
Manufactured housing communities often offer financing packages that combine different types of loans into one package. This allows buyers to get the best deal possible.
The Total Cost
You're looking to spend $30 to $150 per square foot and more to build a prefab home.
The cost of building a prefabrication home varies widely based on the type of home being constructed and local labor costs. Manufacturers often charge a premium price for prefabricated homes over site-built homes. This extra money goes towards things like shipping, marketing, and advertising.
Some manufacturers offer financing options so that buyers can pay for their prefabricated home upfront. When comparing prices, be sure to consider all fees associated with buying and installing a prefabricated home.
Related reading: