Last updated on February 8, 2022
Manufactured homes can use several types of siding depending on the structure and design needs. Let's discuss the popular types of siding.
Any prefab home will most likely use prefabricated siding (made in a factory specifically for that home). But it's important to make a distinction between the manufactured siding and siding used on manufactured homes. The difference is that most traditional types of siding can be used on prefab homes and vice versa. In contrast, manufactured siding refers to siding made of engineered wood.
You can also add siding and skirting to your home after being assembled on your site. You may want to do that if your prefab doesn't include siding and you want to increase the curb appeal (make it look like a real home) or if you want to save money by getting a cheaper option.
There are many different types of siding available for prefabs, including fiber cement, aluminum, vinyl, steel, and others. Let's discuss them.
Table of Contents
Siding vs. Skirting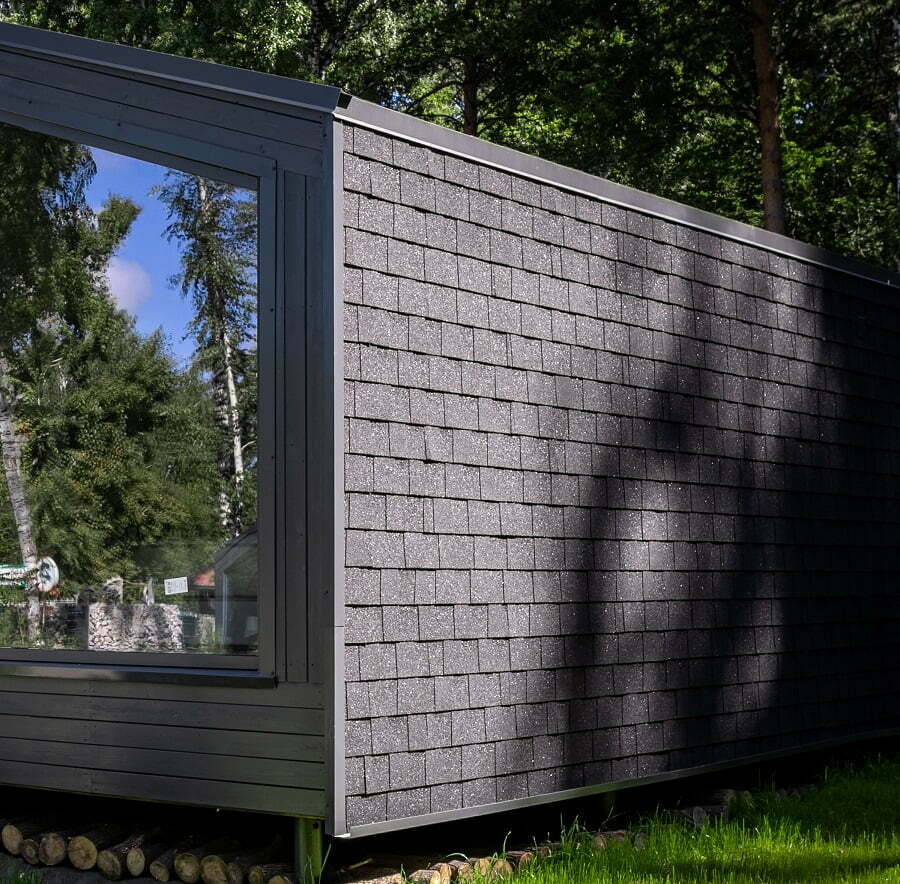 First of all, let's establish the distinction between siding and skirting. Both can be used on a prefab home.
Siding is a protective covering installed on the outer walls of a building. It is meant to protect the material used in the wall against the adverse effects of the elements, including; harmful rays from the sun, heat, cold, and rain/snow. Most water-resistant siding materials can perform well in extreme heat or cold. 
Skirting is basically a long thin board that runs along the foundation or the base of interior walls and rests on the floor. Skirting protects the wall from scratches, helps to improve the decor of a room, and covers imperfect edges. 
As you can see, siding is installed outside the building to protect the outer wall of the building, while skirting is installed inside the house at the base of interior walls. Many materials can be used as manufactured home siding. 
Aluminum Siding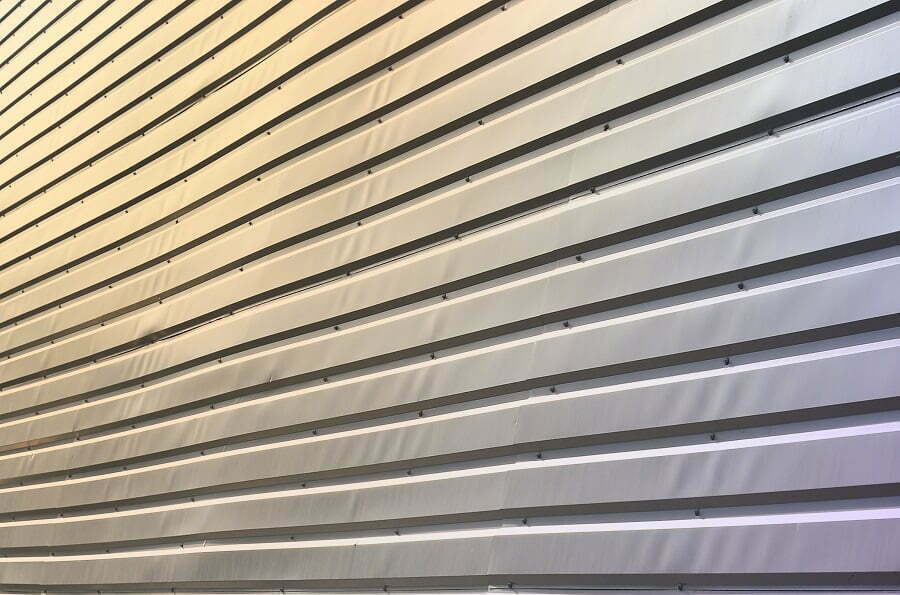 This is the best siding material for homes, especially coastal areas. Aluminum, unlike steel, does not rust. It is also lighter in weight than steel. In terms of durability, aluminum is extremely durable. It reacts with air to form aluminum oxide, which is an extremely hard and durable protective coating. This means that aluminum siding can last decades with little maintenance. On average, you can expect aluminum siding to last the entire life of your prefab home.
Aluminum siding comes in a variety of designs and colors. In fact, it can be painted to give your manufactured home the kind of look you desire. It is also one of the oldest siding materials ever used.
The cost of metal siding is usually higher than other siding materials, particularly vinyl siding.
Aluminum siding has several disadvantages. For starters, the siding can easily be dented. Secondly, the siding has to be repainted every 5-10 years, and a lot of work usually goes into removing the oxidized paint from the siding material. With an R-value of 0.61, aluminum siding is just as energy efficient as vinyl siding. 
Vinyl Siding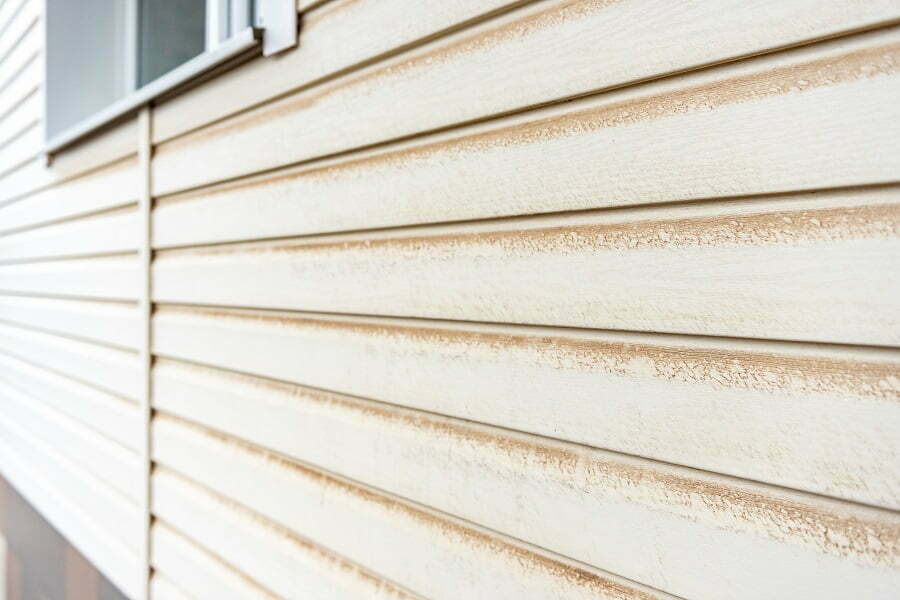 This is one of the most popular siding materials. Vinyl siding is lighter in weight than aluminum siding and all other types of siding materials. The siding material is extremely durable and can last more than 50 years. In fact, most manufacturers offer 50-year warranties on their vinyl siding materials.
Vinyl siding comes in a wide range of colors and textures. Some of the designs mimic wood paneling and cedar shakes, among other types of siding.
Vinyl siding is cheaper than stucco, engineered wood, stone, and steel. While other siding materials require a lot of work and time to take care of, vinyl siding only requires an annual cleanup to keep it looking new.
Vinyl siding is a great insulating material. During winter, this siding will prevent heated air in the house from escaping to the outside. During summer, the siding will prevent cooled air from escaping outside.
The material is easy to install and can be put up quickly as the material is easy to cut. 
Wood Panel Siding
Wood panel siding is light in weight compared to other types of siding, except aluminum and vinyl siding. The material can be durable if properly treated and maintained. After all, ants, termites, and other types of pests may want to dig into the material and eat it.
Wood panels come in various sizes and designs and can be painted every couple of years. A coat of varnish can also be applied to the wood panel siding.
Wood panel siding is more expensive than vinyl and aluminum siding, with the cost per square foot averaging $7, compared to the $2 per square foot for vinyl siding. Unfortunately, you will incur additional costs to maintain the wood panels because you need pest treatments and regular painting.
The good news is that wood panels are energy efficient, but they are not as efficient as vinyl siding because the latter completely seals the house. 
Fiber Cement Siding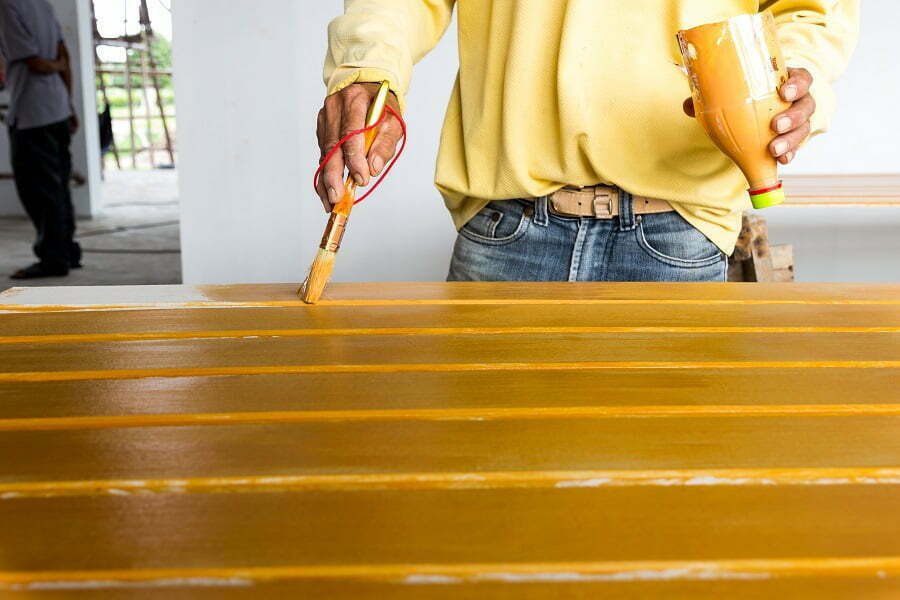 Fiber cement siding weighs four times the weight of vinyl siding. The material is just as durable as cement, is fire resistant, and does not affect water, weather, or insects. It is extremely durable.
The siding comes in a variety of textures and colors. It is more costly than wood panel siding, averaging $5-$13.50 per square foot.
It requires little maintenance as only pressure-washing is required. The material is durable and can last well over 50 years. It is easy to install, but professionals should only do the installation. 
Cedar Siding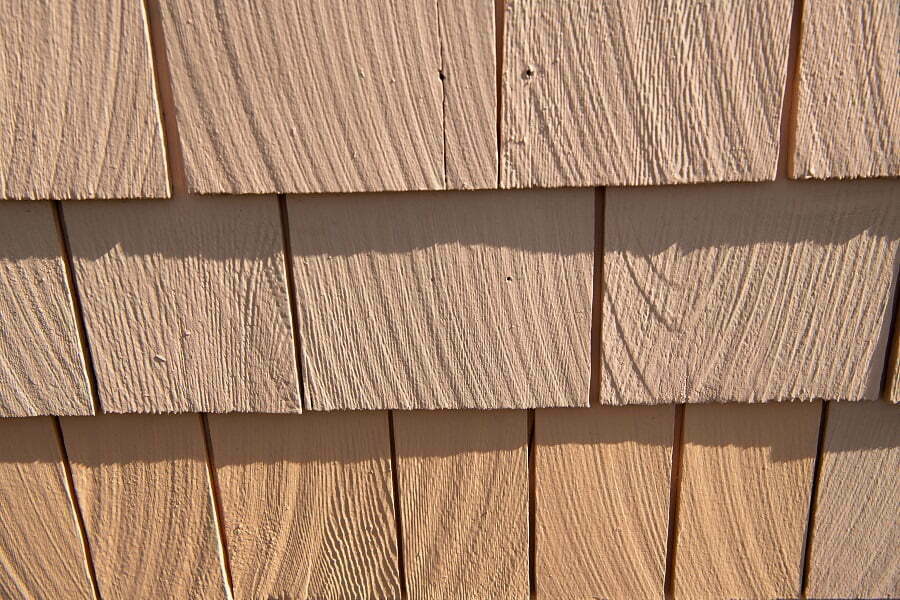 This is a lightweight material weighing just 23 pounds per cubic foot. Cedar siding planks need to be replaced after 10-15 years, but well-maintained planks can last up to 30 years.
Cedar siding comes in a variety of stain colors. It costs $6-$10 per square foot to put cedar siding on the house.
Cedar siding requires regular cleaning with soap and water. If there is mold or mildew, some bleach can be added to the cleaning solution. Cedar siding is more efficient than metal siding but less efficient than vinyl siding and is easy to install. 
Brick Siding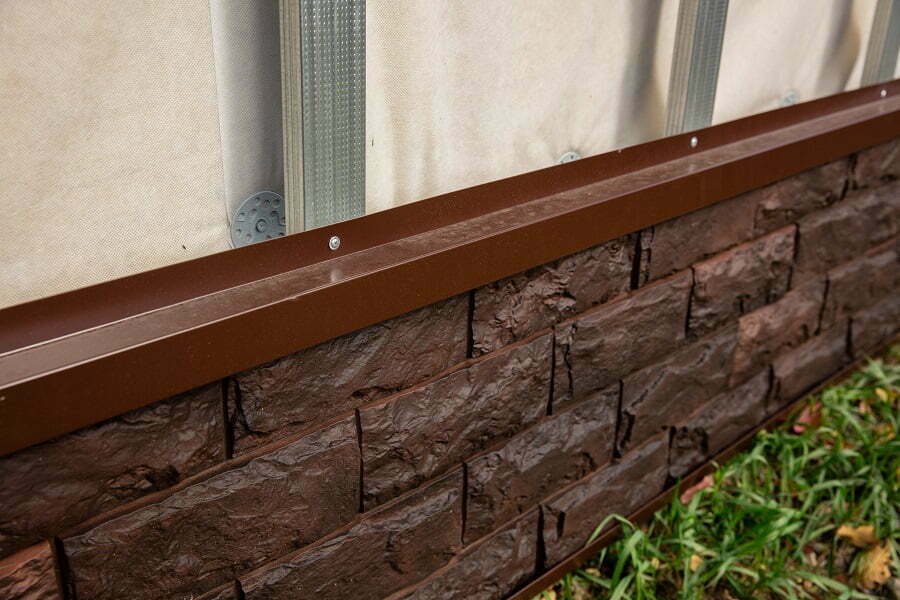 Brick clay veneer siding weighs 39 pounds per square foot, making it one of the heaviest siding materials. However, the material is extremely durable, lasting over a century.
Red is the most common color of brick siding, but this material comes in various shades. Solid brick siding costs $9-$20, while brick veneer costs $5-$12.
This is an almost maintenance-free siding material. It is highly energy-efficient as it prevents airflow in and out of the house, sealing the home completely. The material requires a lot of work to install, and an expert mason can only do this. 
Foam Siding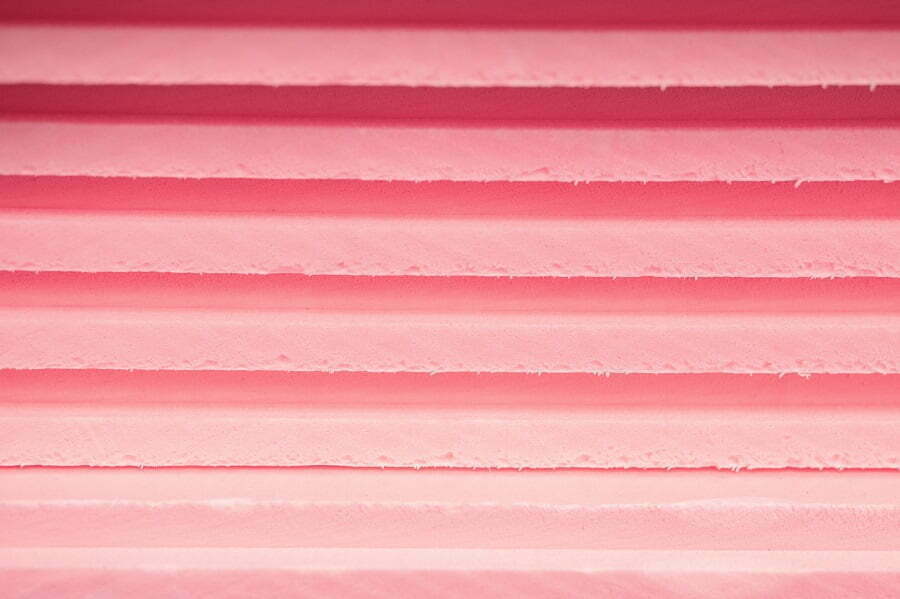 Foam is a lightweight material that can be used to protect the exterior wall while reinforcing insulation at the same time. It is an affordable material that requires little maintenance. Foam siding can last up to 80 years when properly maintained. It is easy to install and very energy-efficient.
Faux Stone Siding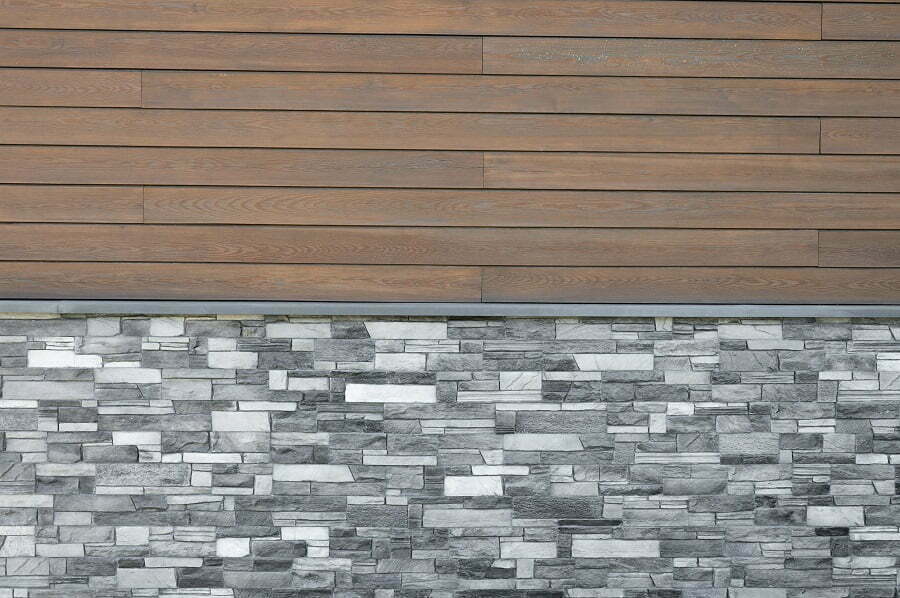 Natural stone has the disadvantage of being extremely heavy. Faux stone siding, however, is lighter in weight and easy to install. Faux stone averages 10-15 pounds per square foot. They only require glue to attach to the outer walls of the prefab home.
However, they are not as durable as natural stone. Faux stone comes in various designs and colors and costs $5.50 to $10.75 per square foot to install. This type of siding is highly efficient but cannot be compared to vinyl siding. 
Mobile Home Siding Tips for Flat Roofs
If you own a mobile home with a flat roof, you should look for a durable, energy-efficient, and weather-resistant siding material. The ideal siding material should be resistant to UV rays and not rot or warp due to excessive moisture.
Vinyl siding is the best siding material for flat roofs, but other options can be considered.
The Cost
The average price of replacing siding on manufactured homes ranges from $2 to $20 per square foot, depending on the type of siding. Manufactured (engineered wood) is the cheapest siding, while stone tends to be the most expensive.
FAQ
What is manufactured siding?
Manufactured siding is a type of siding made of engineered wood (usually particles bound by resin). It can be used on homes of any kind, including traditional and prefab homes.
What type of siding is used on manufactured homes?
Manufactured homes typically have different types of siding: fiber cement, aluminum, vinyl, and wood. Each type of siding has its advantages and disadvantages. For example, vinyl siding is an expensive option, but it's less durable. Aluminum siding is the easiest to install. 
Can you replace siding on a manufactured home?
Yes, you can replace your existing siding if you want to improve the appearance of your home. You will first have to remove your old siding before installing new siding. If you don't know how to do this, you may hire a professional. After removing the old siding, you can choose from several different types of siding, including fiber cement, aluminum, metal, vinyl, and wood. You can even add decorative skirting and trim around the edges of your home.
What is under the siding of a mobile home?
The siding of a manufactured home covers the home's sheathing (the frame). Manufactured homes come in two basic styles, stick-built and modular. In a stick-built home, the entire frame of the home is covered with plywood. A modular home consists of pre-fabricated parts that are assembled on site. Once the home is fully constructed, the siding is installed.
Why is my siding peeling off?
Siding can peel off because of improper installation. Make sure that the nails are driven into the studs firmly. Also, ensure that the siding is nailed onto the framing members using galvanized screws. If the nails are too long, the siding could pull away from the house.
What kind of siding is best for a mobile home?
Vinyl siding is the best choice for a mobile home. It protects against rain, wind, and snow. Vinyl siding is available in many different colors and patterns. 30% of mobile homes in the US use vinyl siding.
Is Hardie board too heavy for a mobile home?
Hardie boards are also known as cement siding panels, and they are cumbersome. The weight makes the mobile home too heavy to move. But if you're not planning to move it, you can install Hardie board for its siding.
Related reading: