Last updated on September 11, 2023
How do you turn a typical manufactured home into a real site-built house? Our guide dives deep to discover the keys to the most amazing transformation. Read on!
So you have ordered a manufactured house and had it delivered to your site. Now you have a home. It's mobile in the sense that you can move it if needed (it's got the chassis for it anyway), but it also looks like a mobile home (or even a trailer) and that's not exactly a dream home you would want.
Indeed, making a manufactured home look like a real home (stick-built) is quite a challenge. The manufacturing process dictates how the building looks, and it looks (traditionally) ugly.
Though the factory-built home industry is rapidly moving in the right direction as far as the style (many homes already look like regular houses), there's a lot left to be desired if you have an older or a cheaper model.
We went ahead and made this detailed guide that takes a deep look at the main differences between a "real" home and a manufactured home. Can you fix up the mobile home to look like a site-built house?
Let's dig in. It's going to be fun!
Table of Contents
The Difference Between Mobile and Manufactured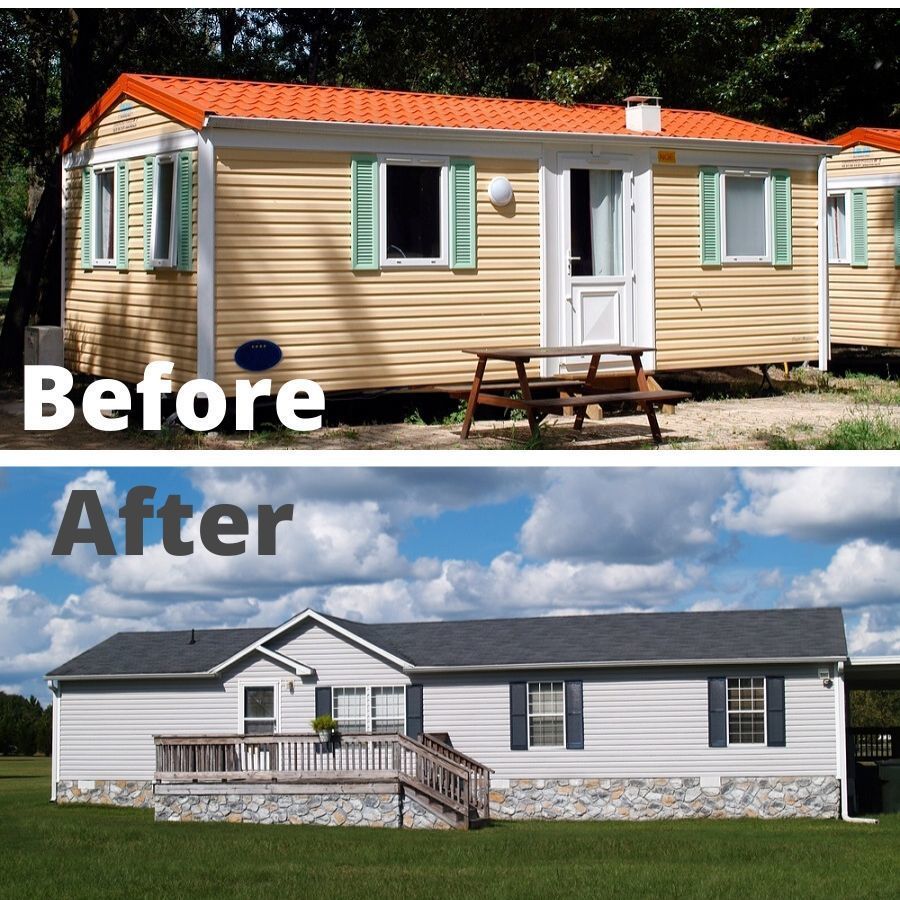 First things first, let's clarify these two terms. If you go on Google and look up "manufactured home" you soon find that it offers you "mobile home" as a synonymous term. Curbed has a lengthy article on the full story of manufactured homes as well (it's an interesting read).
Technically, the only difference is in the date. Homes factory-built before June 15th, 1976 are labeled mobile homes by the Housing and Urban Development division of the federal government. Homes built after the date are already labeled manufactured homes.
Aside from that, what are the real differences? It's not only the label. Older models did not adhere to any regulations, so we're looking at more efficient and sustainable manufactured homes and less so older mobile homes.
For the purpose of this article, we will use the term interchangeably because all of the same ideas apply to any type of manufactured home that needs a facelift.
Manufactured Home Styles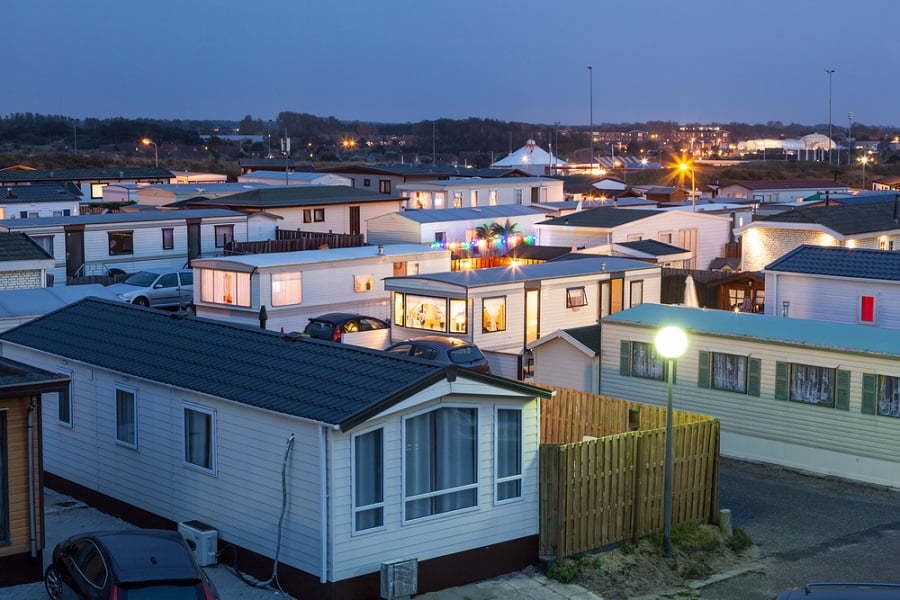 It can be tricky to make a manufactured home look like a house, a stick-built house built on the site, or in situ. One of the best ways to do it is to choose the right manufactured home style. The style often depends on the property, neighborhood, and how much money your neighbors have. If you build a McMansion in a neighborhood of shacks, it won't look as if it belongs and vice versa.
Popular manufactured home styles include those that already look like site-built homes. These include:
Farmhouse
Rustic
Log cabin
Ranch style
Cape Cod
Modular chalet home
Contemporary modular

Colonial two-storey
You should choose a style of home that fits in your neighborhood. That's one of the most potent ways to begin making your mobile home look like a house built on-site.
Farmhouse Mobile Home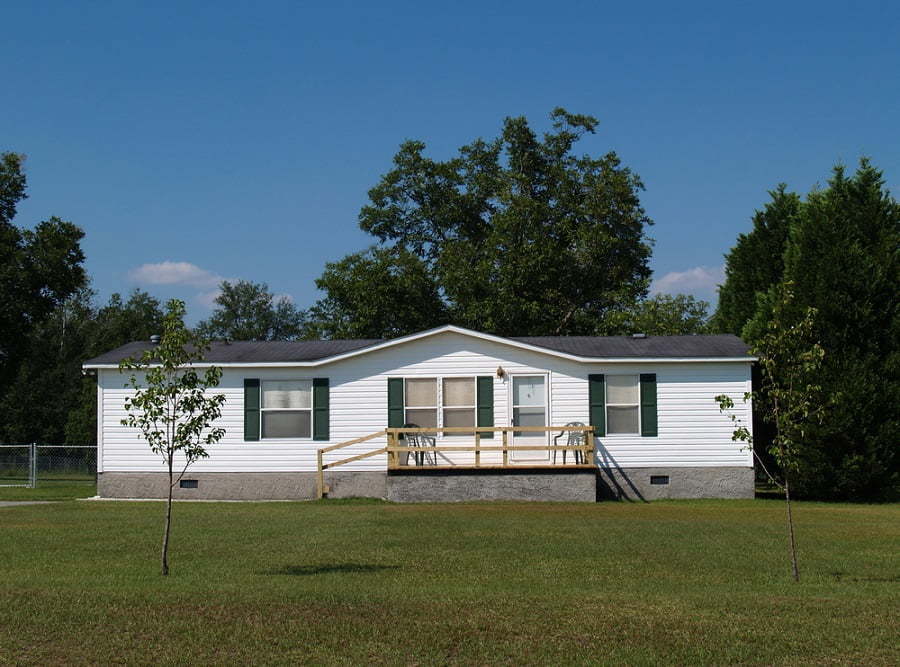 You can easily make a farmhouse mobile home look like a custom-built house if you choose the right style and place it in a farm setting. Surrounding the home with farming equipment and farm buildings makes the home look and feel like a working farmhouse.
Placing farm buildings nearby reduces the 360-degree visibility of the manufactured home so that it blends better into the farming landscape.
Farmhouse double-wides give you room to adopt the trendy shabby chic style for decorating inexpensively, so you have more money to spend on exterior upgrades to make your home look more like a stick-built house.
Rustic Mobile Home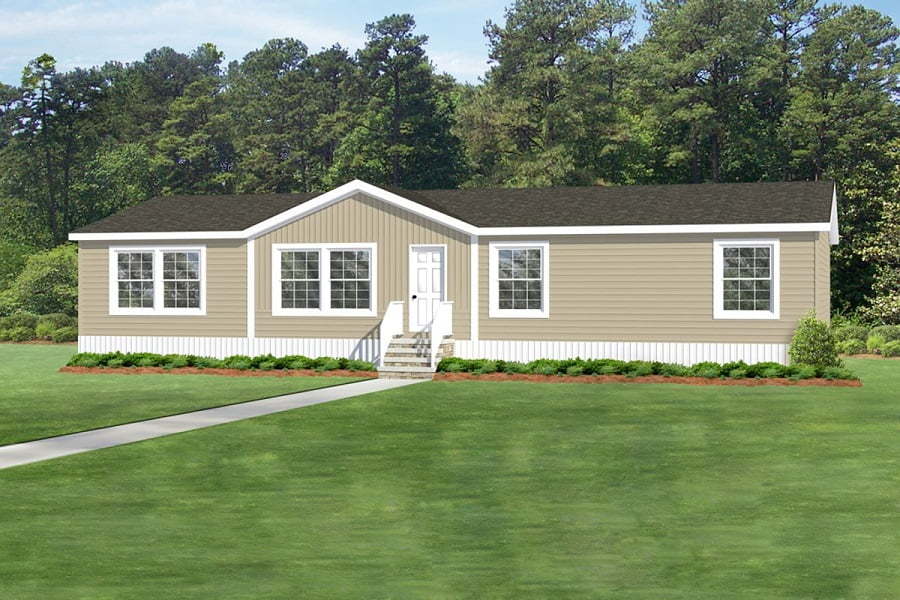 The American Farm House Series combines rustic design with open floor plans. Other companies offer a variety of rustic homes. You can make your manufactured home charming and rustic by getting spare parts at a parts store.
These include windows and doors, skirting, and outdoor enhancements. You can give your home a rustic look by building an extended porch or creating a patio for outdoor living. Other strategies include adding an awning, skirting around the house, and new trim around the doors and windows.
Ranch Style Mobile Home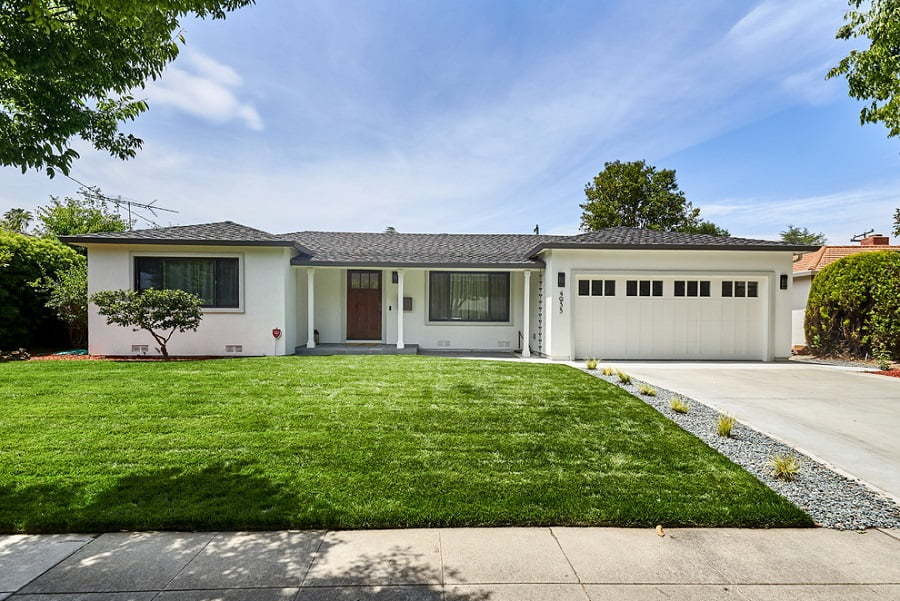 Ranch-style manufactured homes generally feature larger windows, and the double-wide or modular homes are often put together in "L" or "U" shapes. Charming porches are usually built-in, but you can build your porch or patio to give your house a homey vibe like stick-built houses. You add living space as your family grows.
Additions can be built to a manufactured home though they must be separate units. However, you can create a covered pathway between buildings or hide the space with landscaping.
Log Cabin Style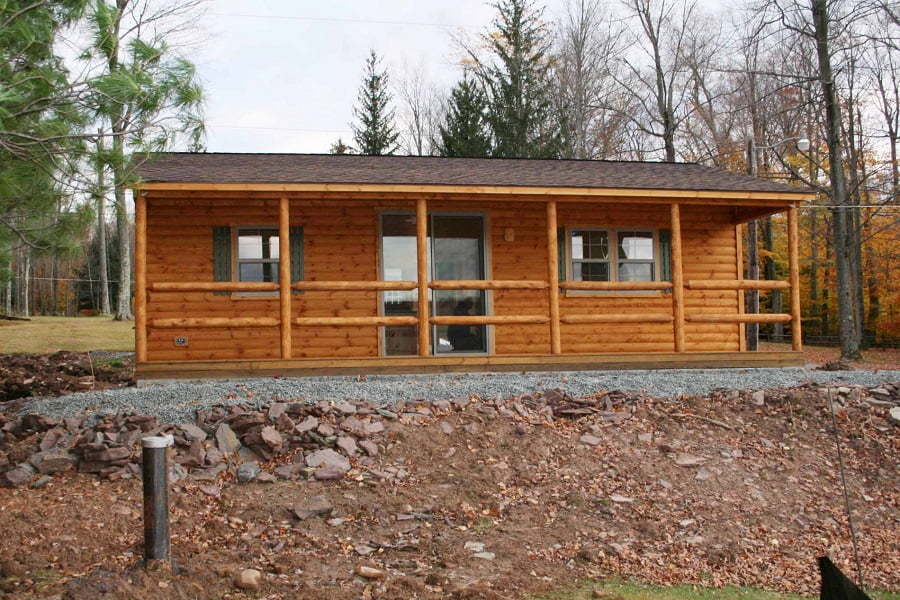 Log cabin style manufactured homes ooze charm and require little effort to look like a custom-built house because cabins are naturally small and compact. You can actually move a log cabin style mobile home easily and even transform any home into this style by adding rustic wood panels to the exterior. Adding a deck, porch, or patio can complete the transformation.
Double Wide vs. Single Wide Manufactured Homes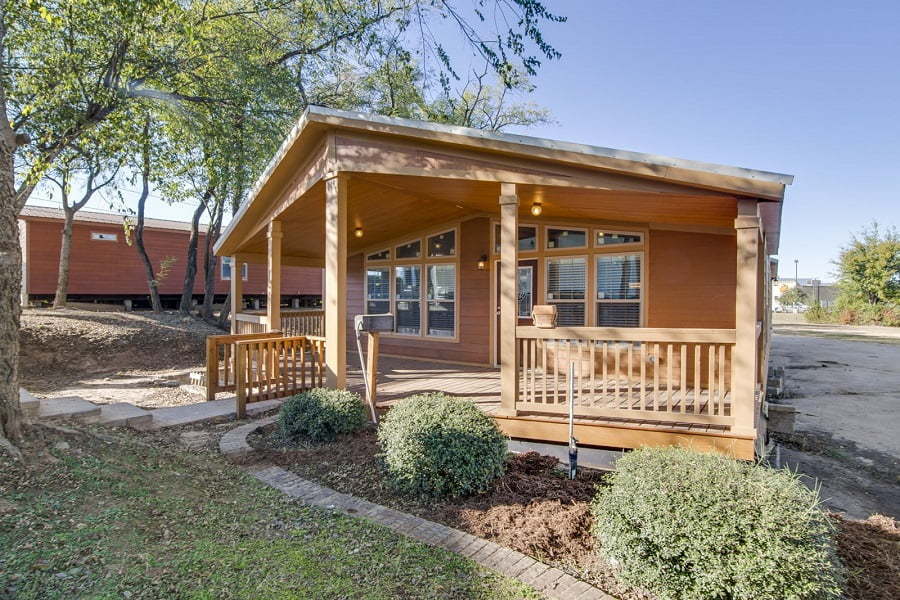 One of the first decisions you have to make is whether to buy a single-wide (under 18×90 feet) or double-wide home (there's the triple-wide too but it's rather uncommon). In general, it's much easier to make a double-wide look like a regular house, but a single-wide is not impossible either.
Many double wides are large enough to look like custom houses, but you can make your manufactured home look more like a house by adding exterior shutters, a driveway, and a garage. You might have some work making your single-wide home look like a house, but the following strategies can help:
Add a garage or outbuilding beside the home.
Install a basement and foundation.
Upgrade the style to include a higher-pitched roof.
Extend the eaves.
Add crown molding.
Install larger doors.
Get a manufactured home with enough room for your needs, whether it's a single or double-wide or modular home. Use the above techniques, and position the house so that the back and sides are somewhat camouflaged by foliage or landscaping features.
Exterior Paint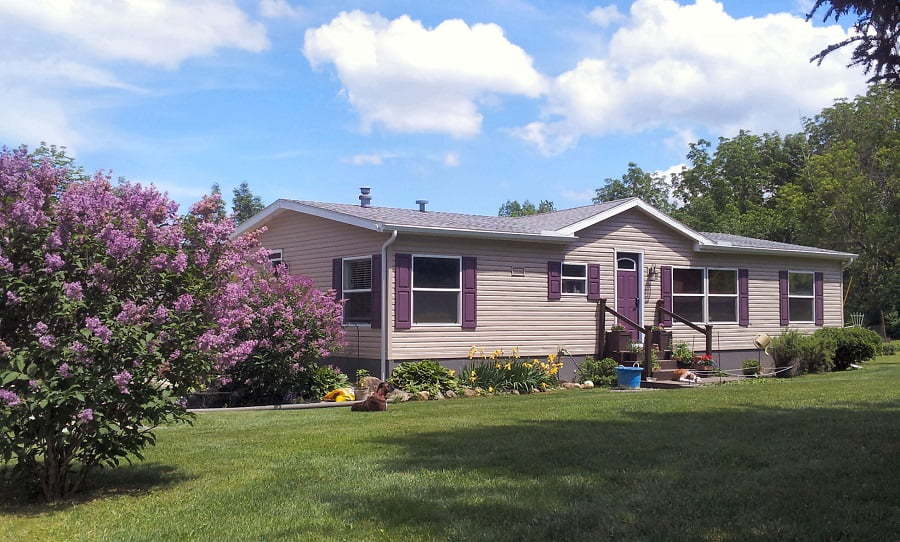 The most important way to make your home look like a stick-built house is to add homey touches, and the best way to do that is with exterior paint. Behr Premium Plus Ultra Exterior Stain Blocking Paint and Primer in One is an excellent choice because it cleans up with just soap and water. You can use the paint for multiple surfaces and upgrade ideas, such as painting fences, outbuildings, and masonry.
Mobile Home Paneling and Skirting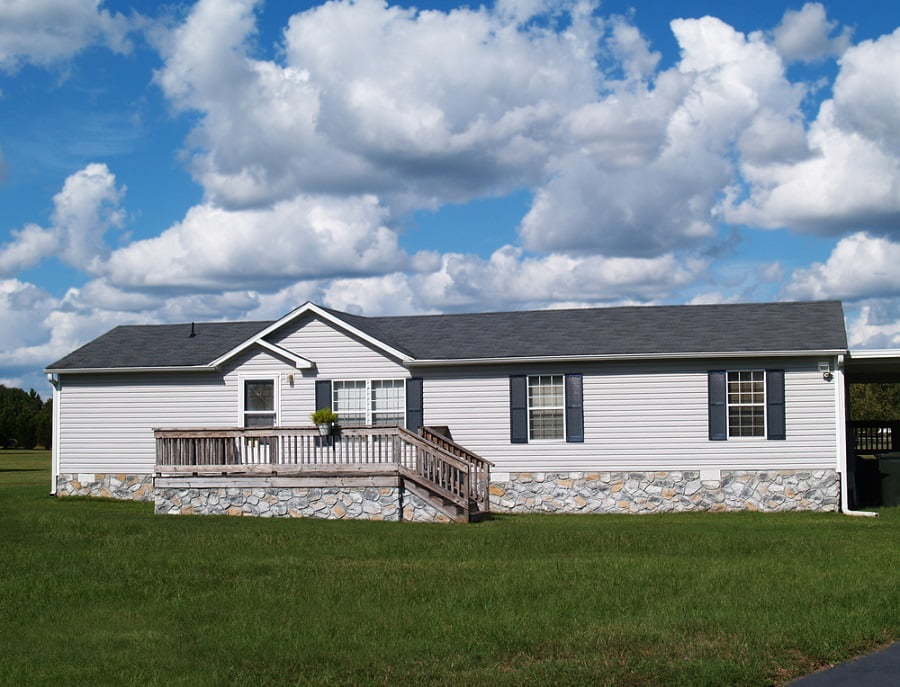 Paneling (siding) and skirting can undoubtedly make it look more like a house that was built on-site. Concrete skirting, in particular, gives your home a look of permanence. The panels are usually made of VOG, or vinyl-on-gypsum panels. Replacing these panels gives you many decorative options for a personal touch.
Mobile Home Porch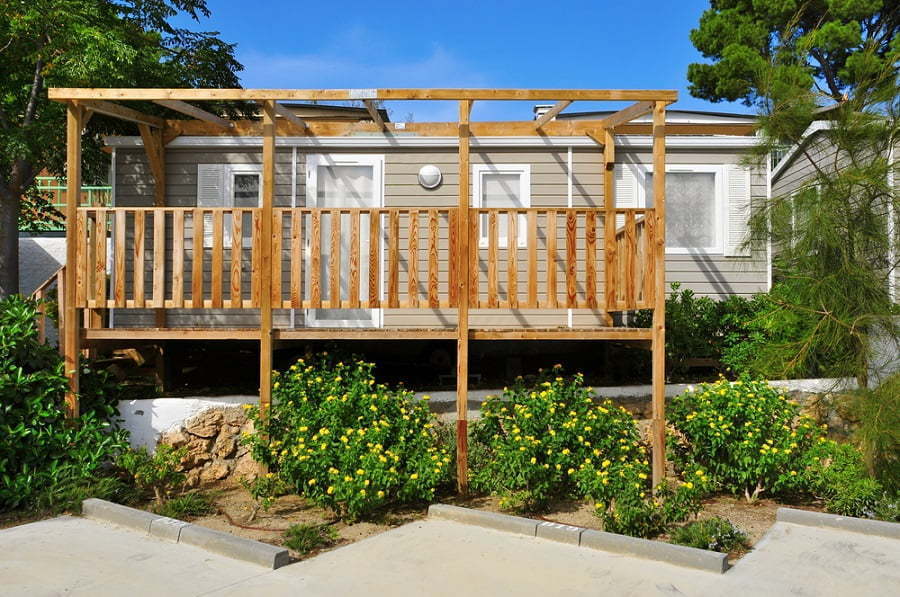 A mobile home porch provides many benefits for gracious mobile living. Porches increase living space and provide a more permanent appearance for your home.
Screened-in porches can be a significant benefit for those who live in hot, humid areas where flying insects ruin the prospect of enjoying the outdoors.
Entrance Steps for Mobile Homes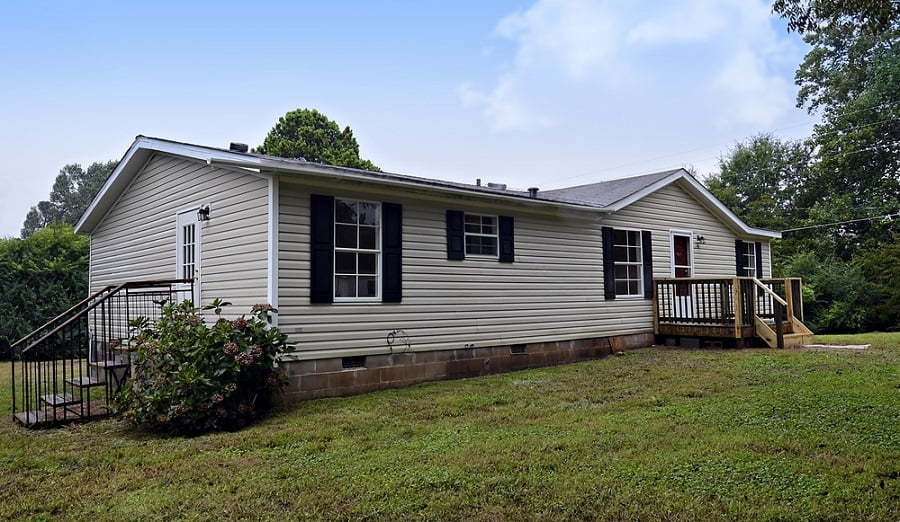 Entrance steps can improve your home's appearance and increase safety. If you build a porch or deck, sturdy steps are a necessity. You can choose bargain options – such as portable steel steps – but these won't really give you the look of permanence. Handrails improve the look and safety of any kind of steps. You can choose natural stone, concrete, wood, and polycarbonate materials.
Mobile Home Eaves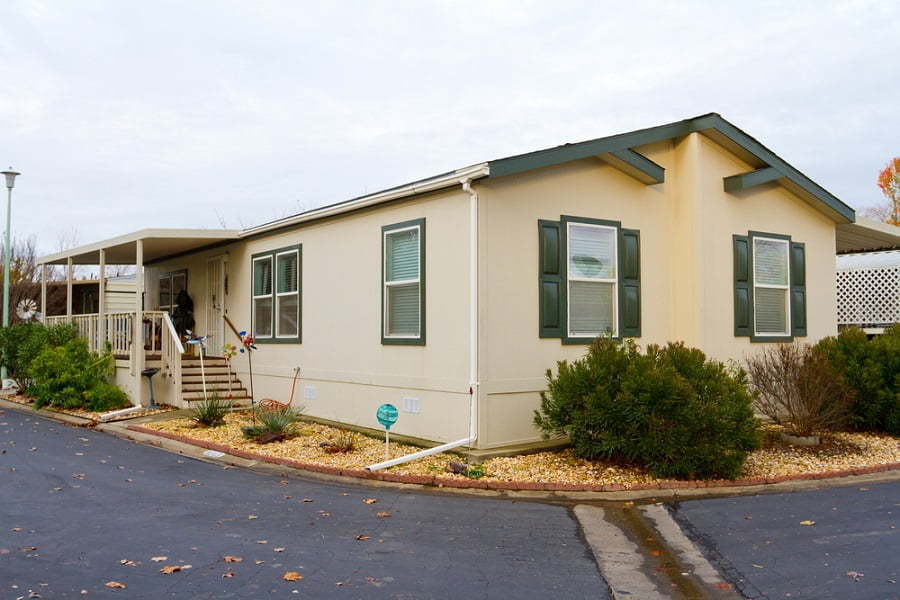 The lack of eaves overhanging the exterior walls of your home is a dead giveaway that it's a manufactured home and not a house constructed on-site. It might be necessary to replace your flat roof to support the eaves properly.
Mobile Home Roof Over
Mobile homes can be easily identified because of their flat roofs. Fortunately, that design trend is disappearing as more and more manufacturers build homes with attractive and functional, steeply pitched roofs. Replacing your roof makes your home look more like a stick-built house.
Mobile Home Interior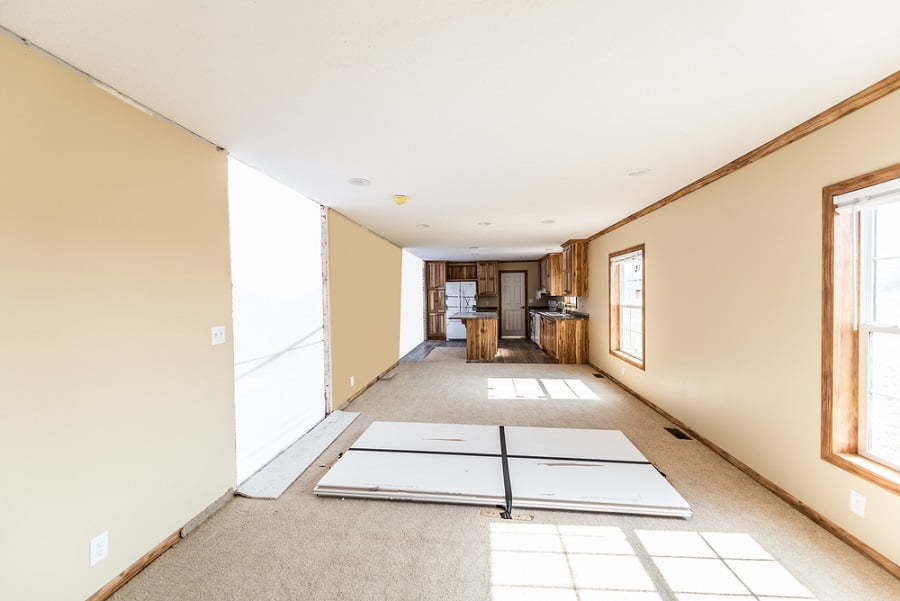 Your home's interior is critical because that's the part you see the most. If you want to feel as though you're living in a stick-built home, focus on interior upgrades.
In general, replacing the existing walls is one of the essential remodeling jobs. Most manufactured homes feature gypsum, paper, vinyl, or POG wallboards. You can replace the existing walls with better insulation and drywall for a significant improvement.
Mobile Home Kitchen Cabinets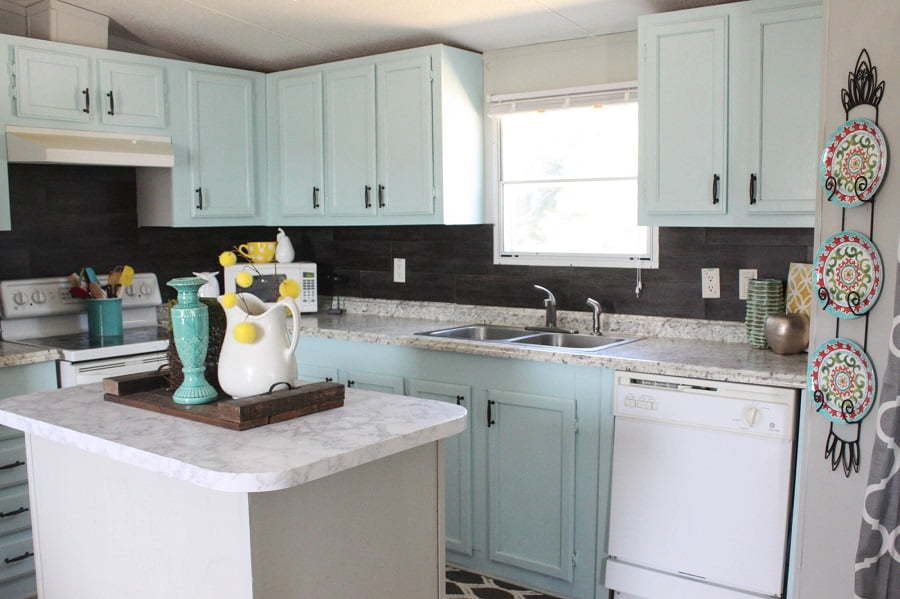 Replacing your mobile home kitchen cabinets puts an unforgettable personal touch on your home. The options depend on space limitations and your home's structure. Structural support isn't the same in manufactured homes, so it's crucial to find out if the structure will support your choice of cabinets.
Measuring the space is critical, whether you buy premade cabinets or build them from scratch. Don't forget to consider how much space the cabinets will use because they will usually decrease kitchen working space.
Mobile Home Bathroom Ideas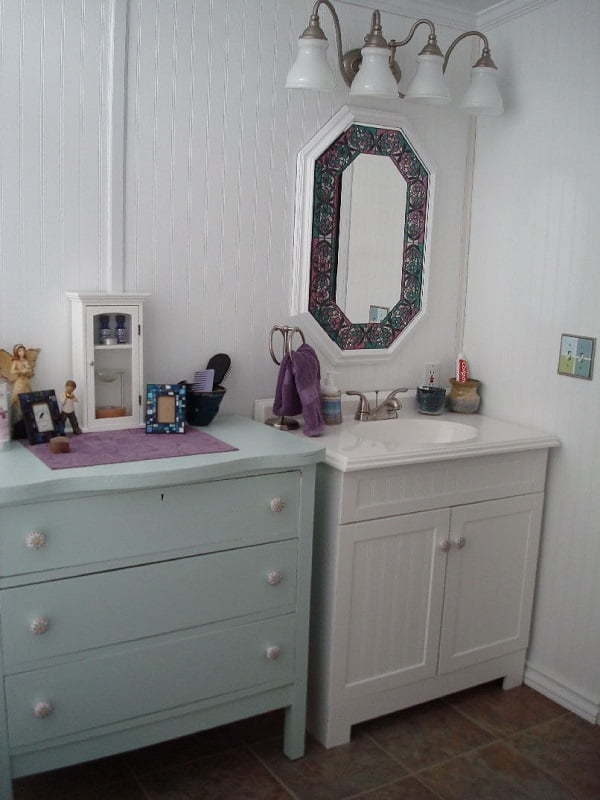 The bathroom is often overlooked when decorating your home, but the design is important because of all the time spent in the bathroom.
There are increasingly sophisticated ideas for bathrooms that include spas, garden tubs and tiled showers that rival those of stick-built houses.
Bathroom tile takes time to install, but a quick fix is to line your bathroom floor with teak.
Mobile Home Living Room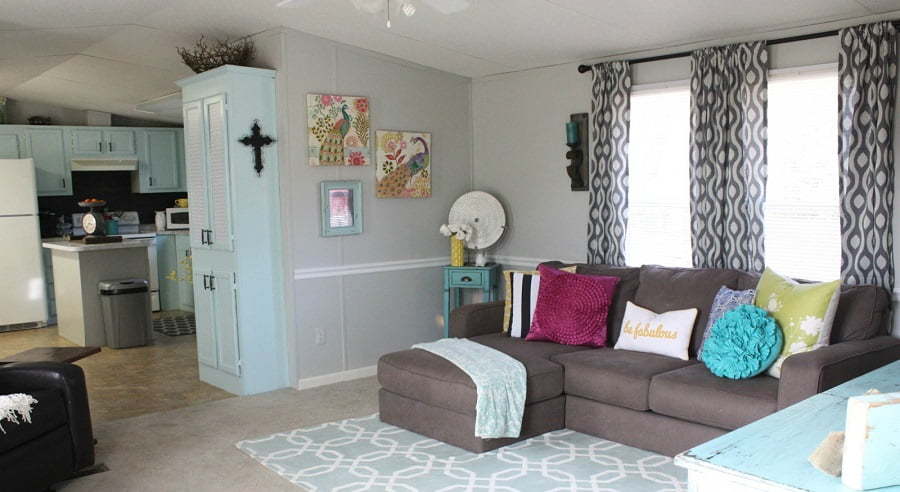 Creative living room ideas for your mobile home are often the best way to create a stick-built home ambiance. You can use any decorating style you prefer, but keep in mind that space and structural limitations affect what is possible.
It's essential to consider the shape of the space, how much space you have, and any necessary accommodations needed for doors, windows, and entryways.
The function is also important, based on whether the family watches TV and videos, reads quietly, plays board games, etc.
Mobile Home Flooring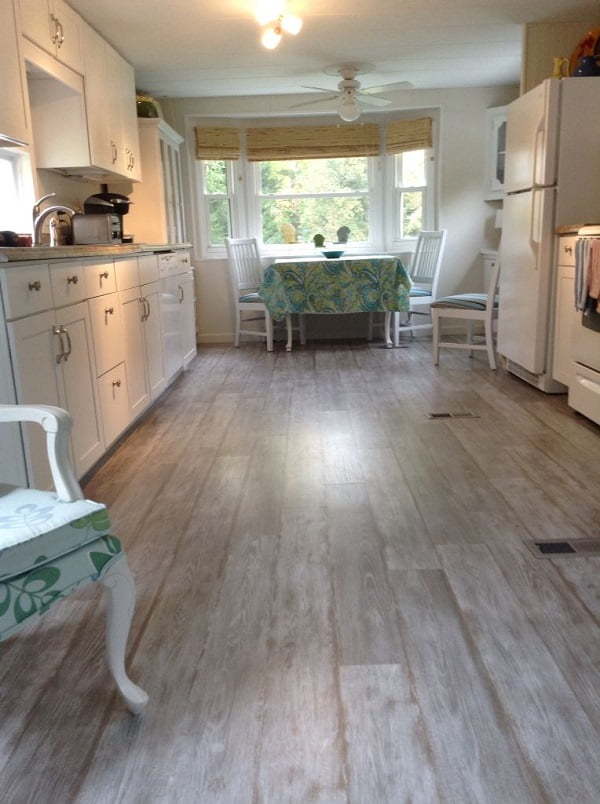 Flooring plays a significant role in making a manufactured home seem like a site-built home. Flooring is a critical part of decor, comfort, and energy.
The right floor can reduce heating and cooling costs, but you have to consider structural limitations. These are your main flooring options:
Hardwood
Laminate
Linoleum
Tile
Carpet
Lightweight vinyl tiles have become increasingly popular when replacing manufactured home floors.
Linoleum is also a popular option because it's made entirely of natural ingredients. But you may also consider carpeting as an extra layer of insulation.
Mobile Home Drywall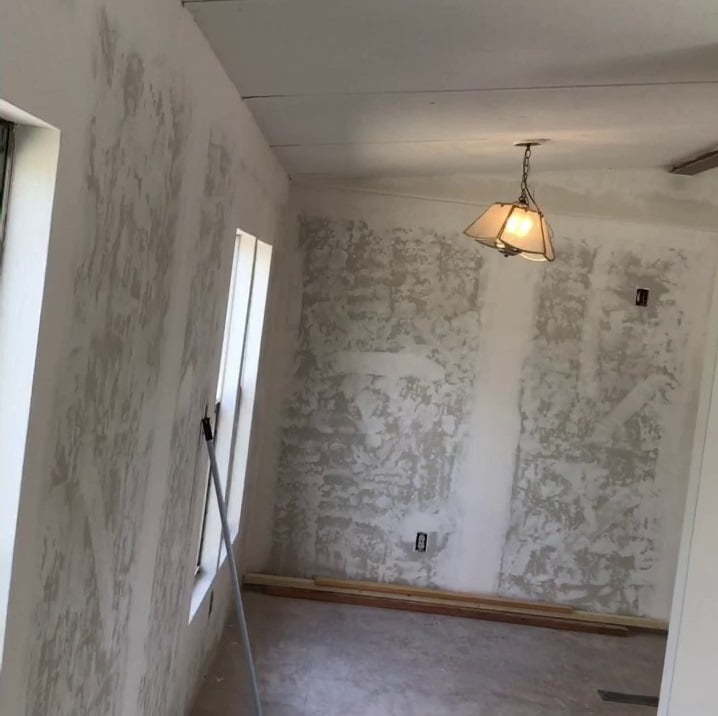 Replacing your existing walls with drywall gives you lots of additional painting and decorating options to make your home look like a site-built house.
Mobile Home Decorating Ideas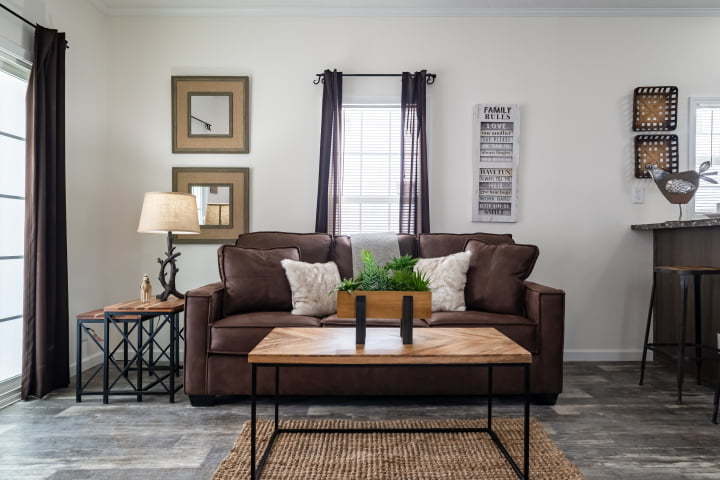 Mobile home decorating ideas include painting the walls a light color to open up space. Choose furniture that serves dual purposes. Any wasted space can be used for storage. High-gloss white paint on your home's ceilings makes the room appear taller.
Here's a shortlist of more affordable ideas you can apply in your manufacture home:
Use large drapes
Add wall trim and wainscotting
DIY your own wall art and decor
Create showcases and displays of your collectibles
Separate room with dividers
Larger Exterior Doors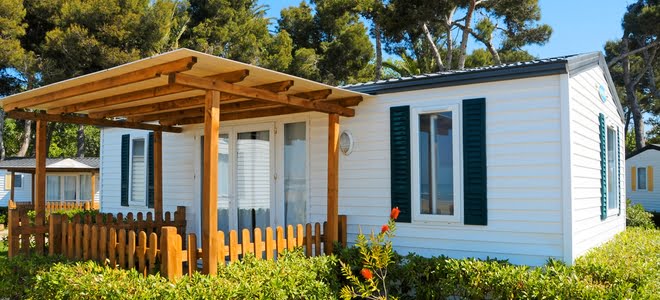 Installing larger exterior doors on your house makes it look like a traditional site-built home. You should also consider the return on your investment, or ROI, of any improvement project. The return can be intangible or tangible, such as greater comfort, more convenience, or an increase in your home's value. A Zillow survey of the ROI of common remodeling projects lists replacing the front door in the top spot – generating an 85% to 100% ROI.
Crown Molding and Trim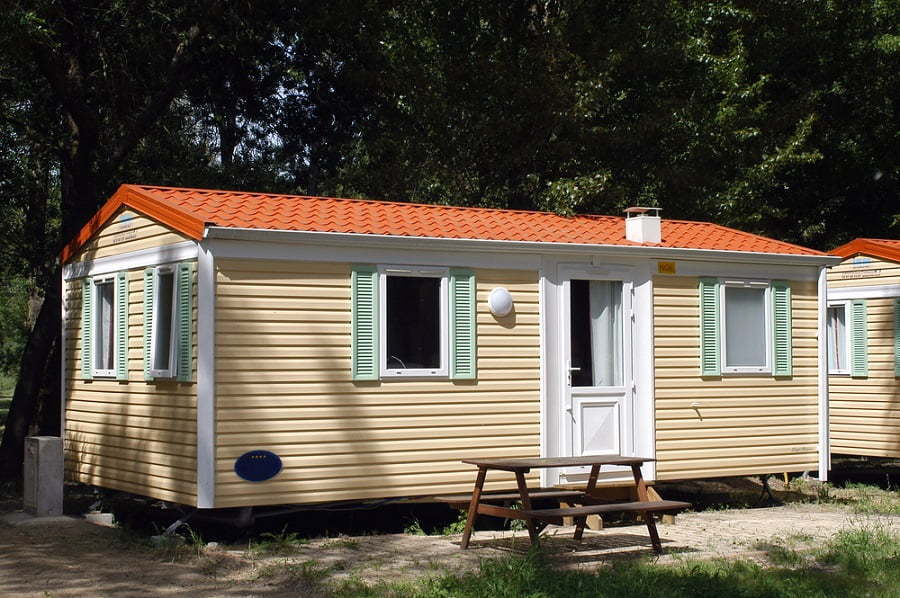 Crown molding and trim provide a touch of classic elegance and make your home seem more like a site-built residence. Structural concerns include the weight of the materials used. Styrofoam, often used in mobile homes, cracks frequently. Polyurethane is a better choice for molding and trim because it's safer to install in rooms with high moisture content.
Basement Foundation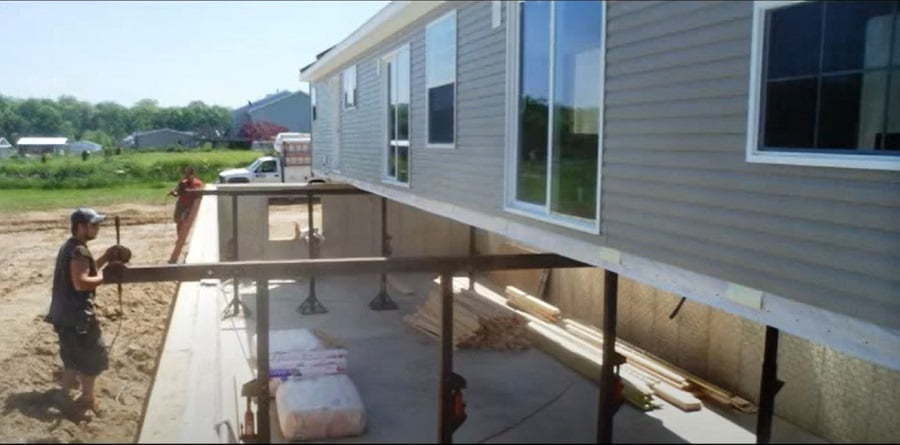 Basement foundations make your manufactured home appear more permanent, and a basement increases your living and storage space dramatically.
The foundation provides more reliable structural support of your manufactured home and allows you to manage pesky slopes. A basement increases your home's value considerably – especially in areas where tornadoes are common.
Garage Addition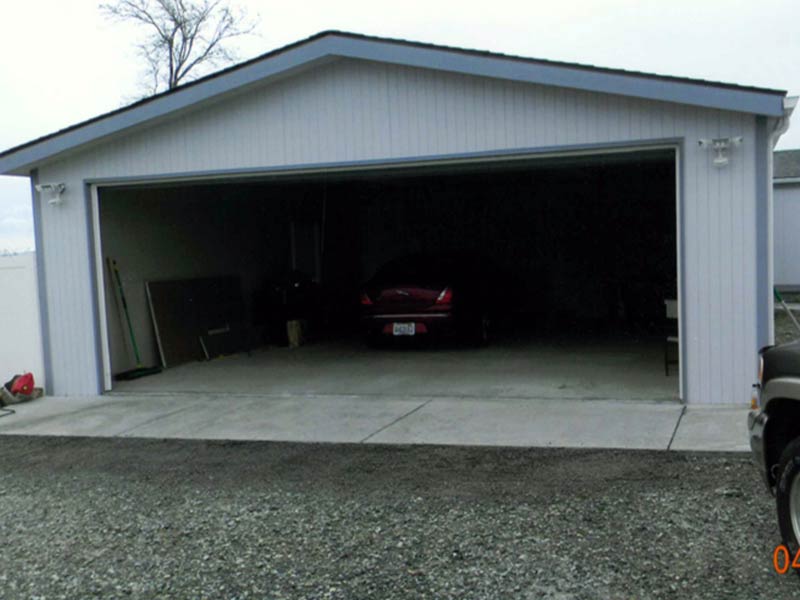 Adding a garage can increase your manufactured home's value by an average of 13% compared to similar homes without garages. A garage makes your home seem larger and more permanent while increasing curb appeal. It's one of many mobile home additions you can build.
Driveway and Landscape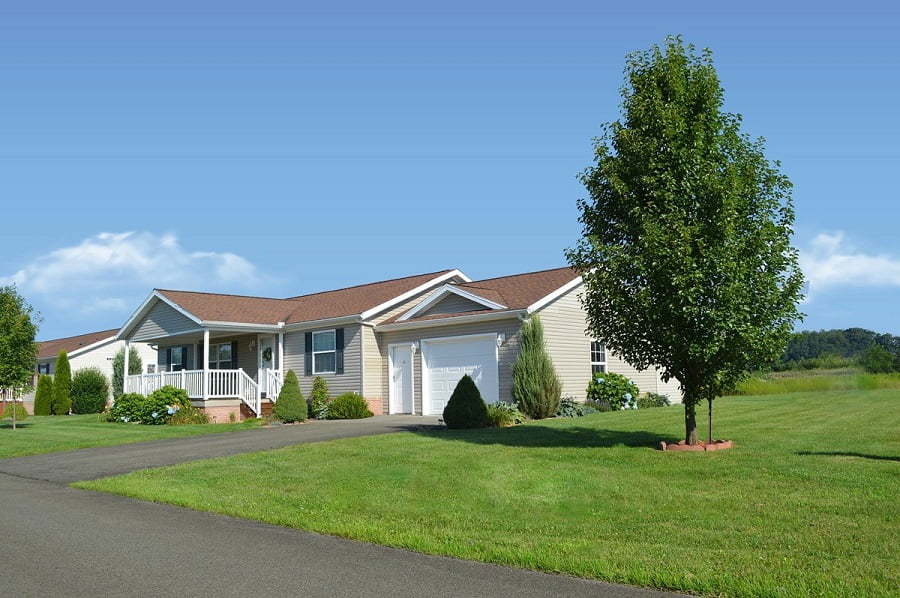 Convenient driveways and appealing landscapes are great ideas to make a manufactured home look like a house. Both driveways and landscaping features can increase the curb appeal and value of your home.
The hardscape and softscape ideas for landscaping are limitless, so you can build an ideal landscape no matter where you live. Hardscapes are composed of non-living features, such as brick, metal, and stone, and they're perfect for dry environments, small yards, outdoor living areas, and those homeowners who don't have the time or inclination for yard maintenance.
Related reading: