Last updated on August 8, 2022
Use these mobile home porch ideas to create a valuable addition to your home and increase your living space. Read on!
A porch is one of the best additions to a mobile home. Not only does it make it look more like a traditional house, but it also adds immense value to your property.
You can even add to your living space with a covered porch or a sunroom. Or create a brilliant outdoor space for your activities.
Whatever your preference, the following ideas will serve you as great food for thought. Our goal here is to inspire you and give you some valuable reference points.
Table of Contents
Site Built vs. Manufactured Home Porches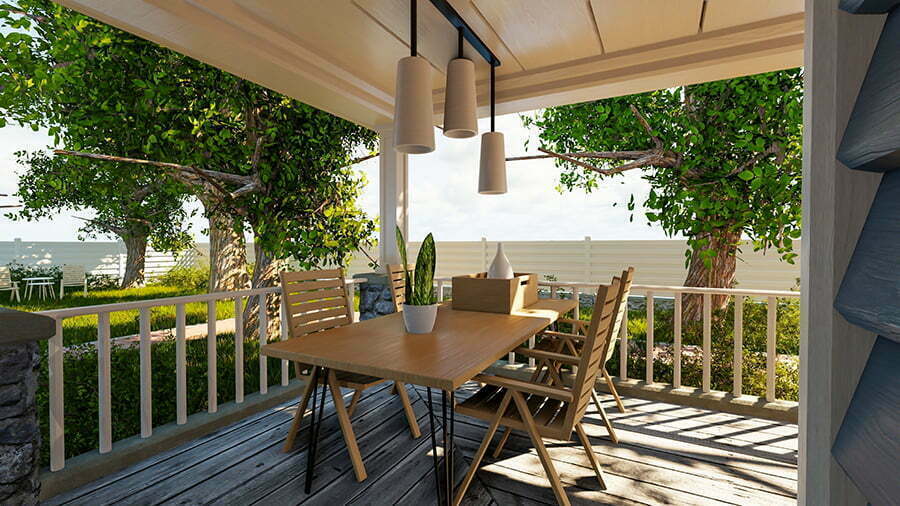 Prefab porch kits arrive ready to assemble with everything you need. Prices range from $10,000 and up.
The national average cost for porches built the traditional way is $20,000 and up. The cost depends on materials, geographic location, and red tape.
What Is the Right Size of the Mobile Home Porch?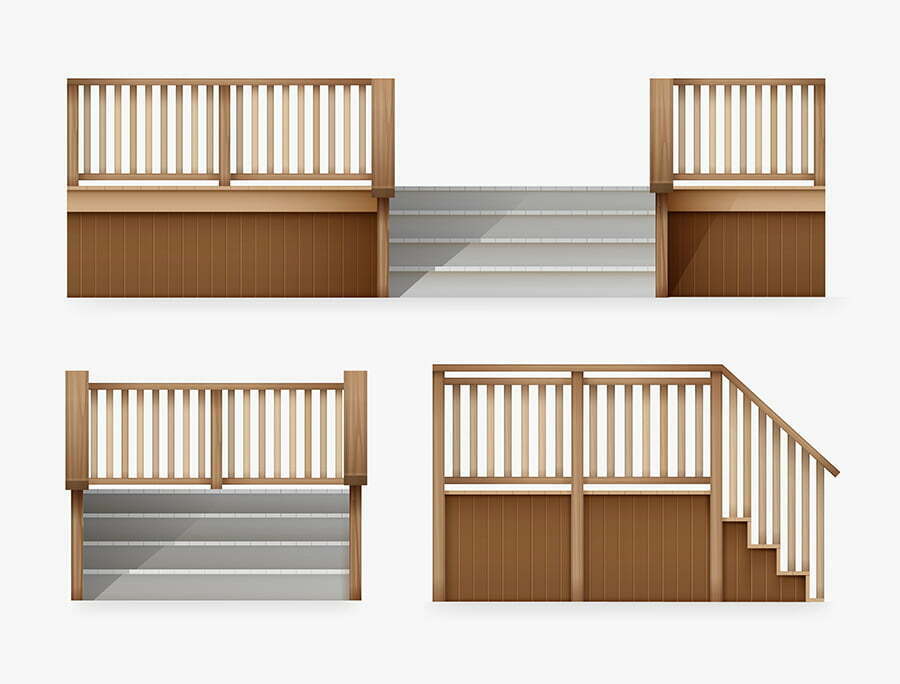 The right size for a mobile home porch can vary tremendously depending on your home style, your personal preferences, and any logistical limitations.
Most building experts suggest that a porch requires a minimum of six feet of depth. That allows easier access and room for chairs, potted plants, and other furniture.
Porch size depends on the location of the porch and the shape and size of the house. If you want, you can wrap around your house with an infinity porch, which might be desirable with 360-degree water views.
You might prefer a minimally sized porch for convenience in maintaining it.
Roofing Considerations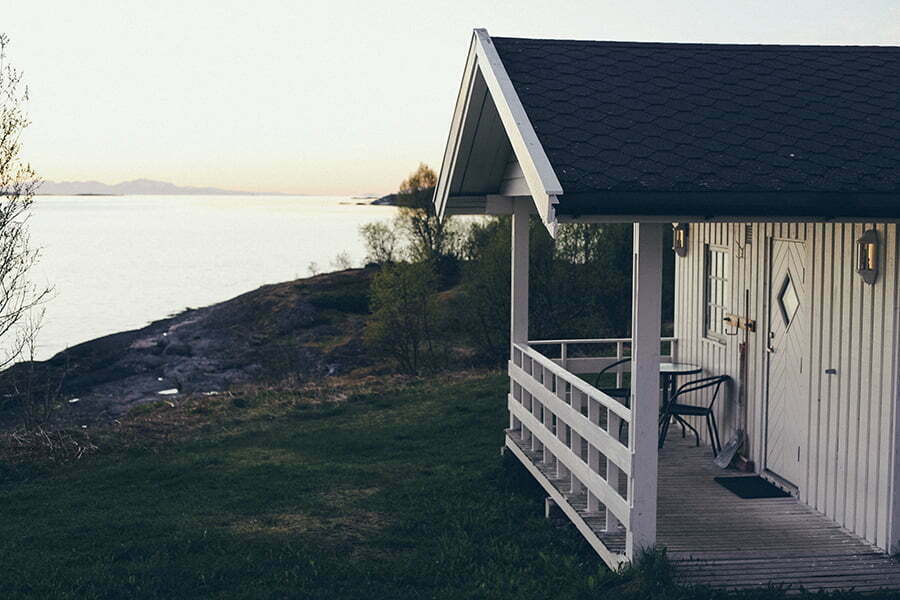 Roofing considerations for your porch include matching the design of your home, getting essential permits for building an addition to your home, and choosing between flat or sloped roofs. You must also choose the pitch of any sloped roof.
Your choice of roofing materials for a porch includes wooden shingles and shakes, thatch, various metals, slate, asphalt shingles, and ceramic tiles.
Ceramic tiles and wooden shingles dramatically enhance your porch's appearance. You can simplify the process by choosing a prefab porch.
Gable Roof Porch Design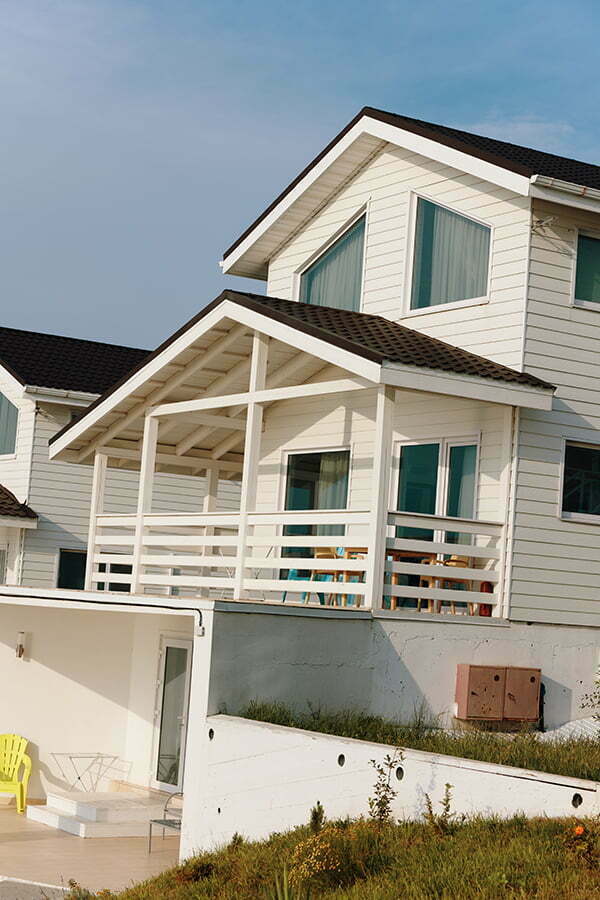 A gable roof design is when two sides slope downward to the walls while the other walls extend from the eaves to the ridge peak. You can expect to pay from $2,200 to $13,500 or more for just a gable porch roof.
The height, pitch, materials, and square footage also affect prices. Gable roofs need additional framing support to resist high winds, but they provide superior drainage for rain, ice, and snow.
Flat Roof Porches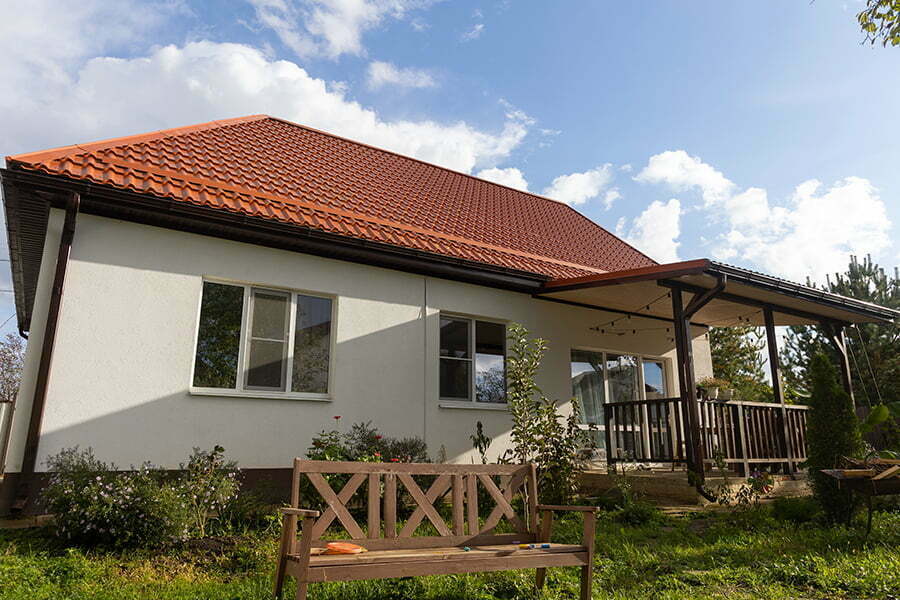 Flat roof porches provide many homeowner benefits like a cheaper building price and easier construction. Flat porch roofs can even appear attractive on larger roofs.
Sloped roofs require more materials, special frames, and precise engineering. Flat porch roofs offer the advantage of using the space for heating or cooling units or as an alternative deck area.
Porch-deck Combination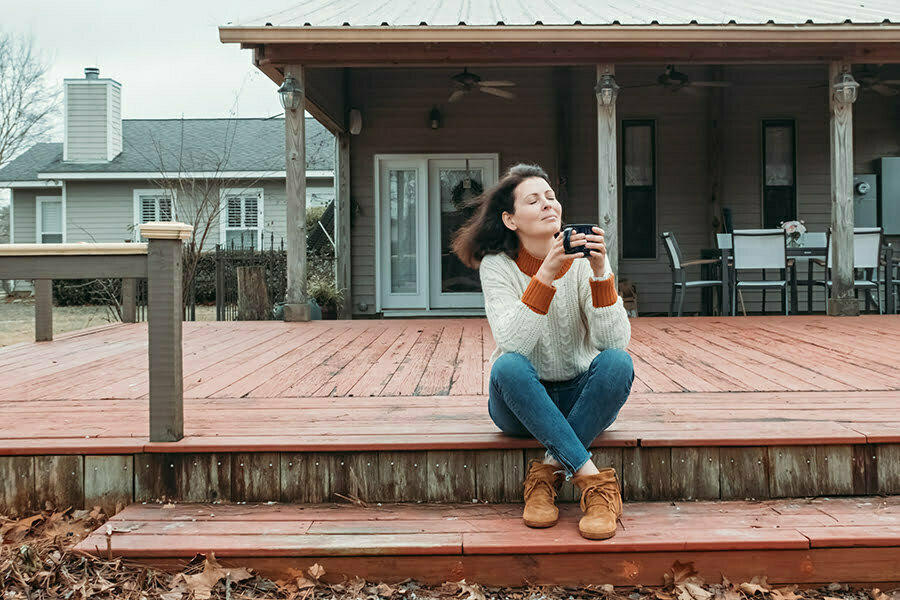 Choosing a porch deck combination offers additional seating, greater comfort for relaxing, and more outdoor opportunities for entertaining. The benefits of ordering a prefab porch deck combo or building one include:
Additional living space
A private outdoor area for an intimate tête-à-tête
Adding character to your home
Great views of outdoor sports and entertainment
Ability to screen out pests and insects while enjoying the outdoors
Screened Porch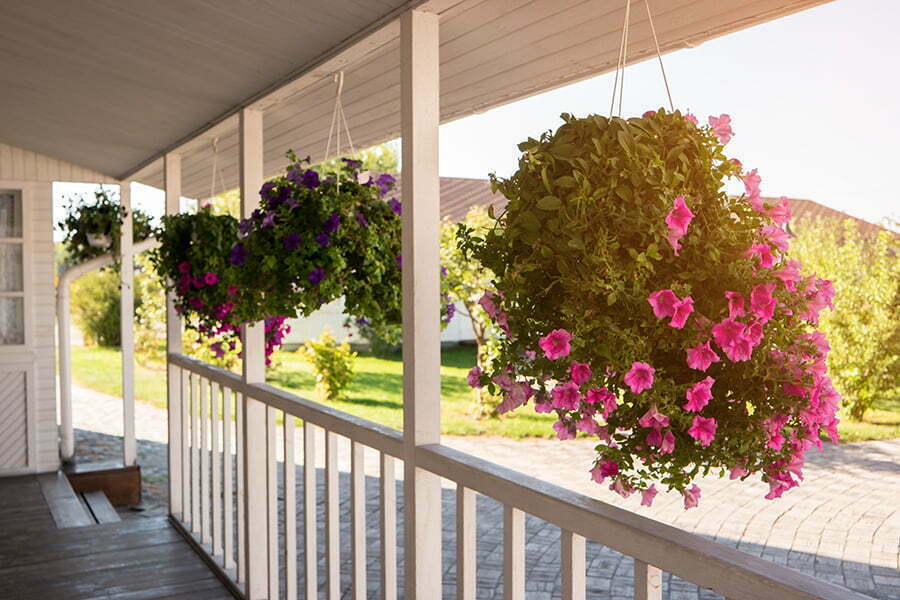 You can buy a prefab screened porch or build your own. The average cost of building a screened porch runs between $3 and $5 per square foot, which is about $2,400.
At one time screened porches seemed outdated, but they're making a big comeback as protected areas for WiFi communications. Screened-in porches have become a smart investment that adds value to your home.
Freestanding Porch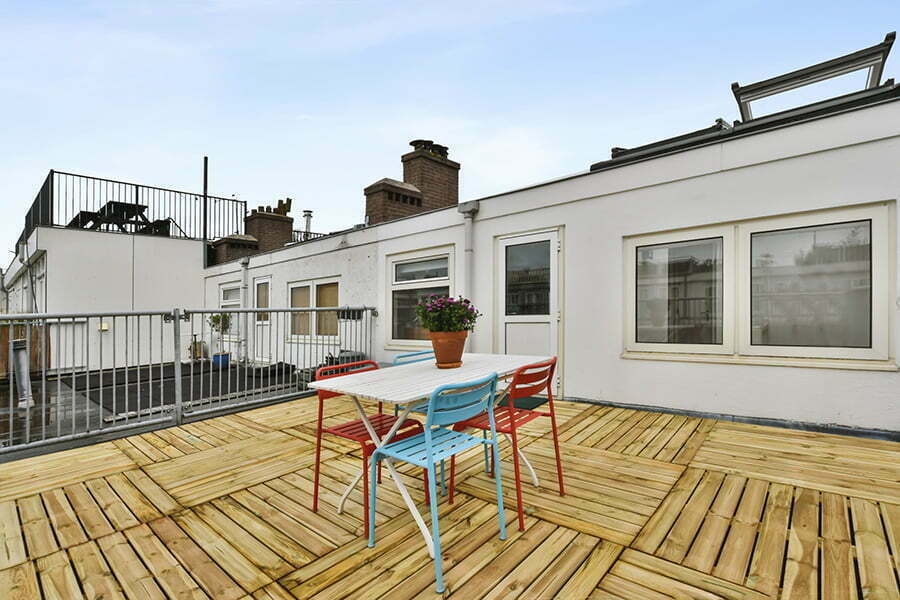 A freestanding porch is a deck structure that stands independently without using your house's walls for support. These porches don't even need to be immediately adjacent to the door.
Many homeowners choose to locate these freestanding decks in open areas near swimming pools or flower gardens. You can buy a prefab freestanding porch or build your own.
Mobile Home Sunroom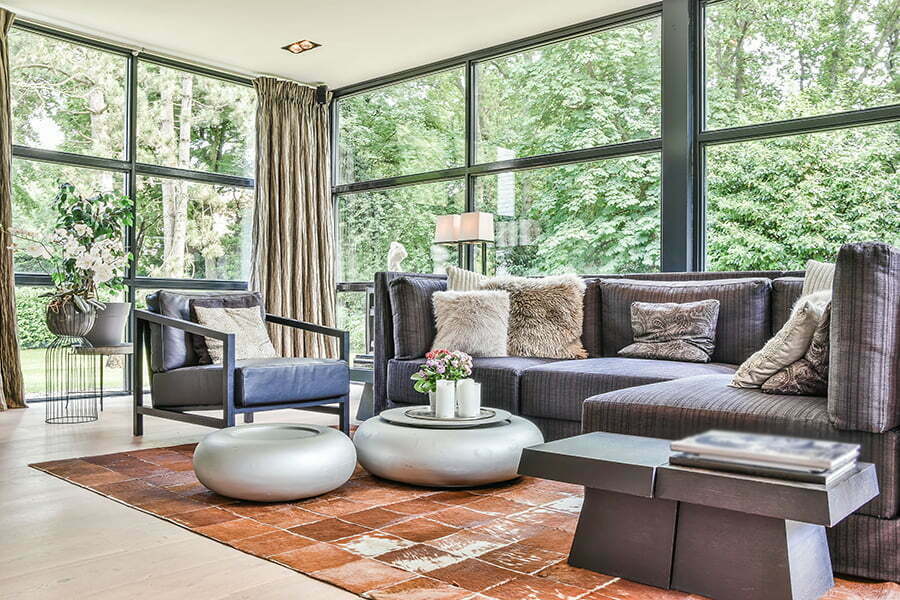 Sunrooms are open, airy spaces that can be used as alternative porches, patios, greenhouses, and extra living space.
You can choose between three-season and four-season sunrooms. The four-season sunroom includes all the regular wiring, ductwork, plumbing, and insulation of a regular room in your house.
These premium structures cost between $25,000 and $80,000. Three-season sunrooms cost between $10,000 and $40,000. Sunrooms differ from freestanding porches because sunrooms use more rigid materials as an integral part of your home.
Porch Railing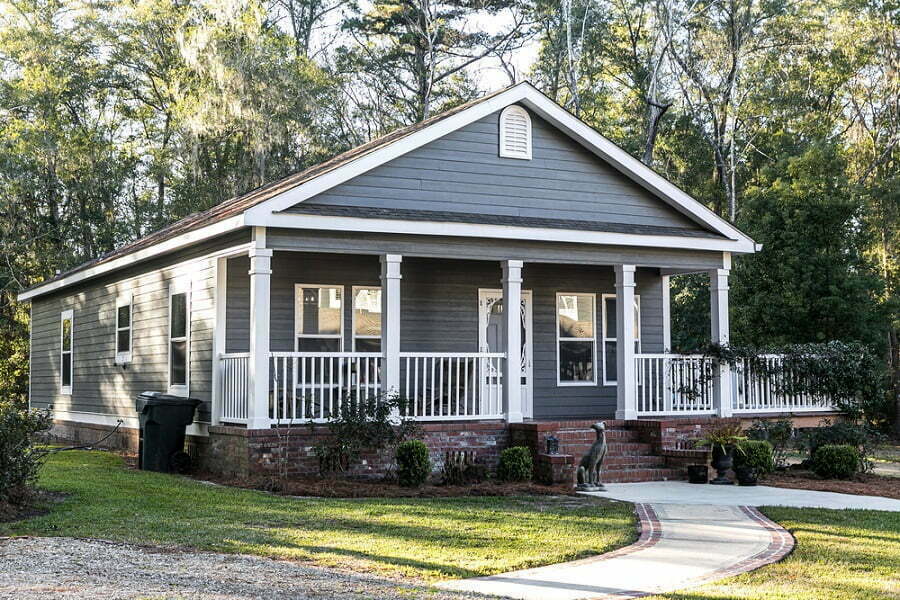 The entire railing system of your porch is called the balustrade. The average cost of fabricating or replacing a porch railing system runs about $925, but fancy scrollwork and materials could run up to $6,500.
Regulations across the United States require porch railings for any porch that is more than 30 inches off the ground.
Mobile Home Decking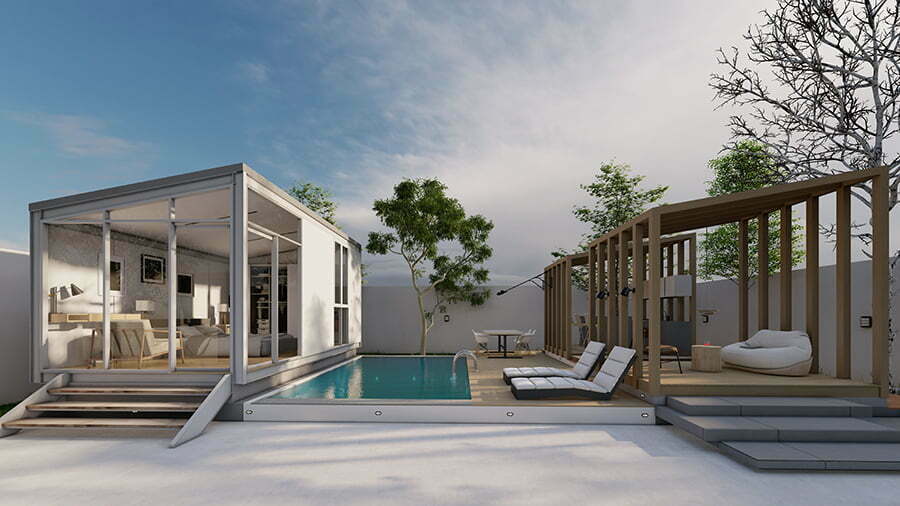 Decking is wood, treated lumber, composite material, and aluminum that is used to extend the living area of your home. Decks are most often made of treated lumber and composite materials to extend the living area of the backyard.
Porches usually have an awning and other protective capabilities and are located in the front of the house.
Porches serve primarily as entryways while decks often serve as recreational additions to regular living space. The average cost of building a deck runs between $4,153 and $11,219, and the overall average cost is $7,686.
Labor costs between $30 and $60 per square foot, and about 50% of your costs go for materials.
Mobile Home Skirting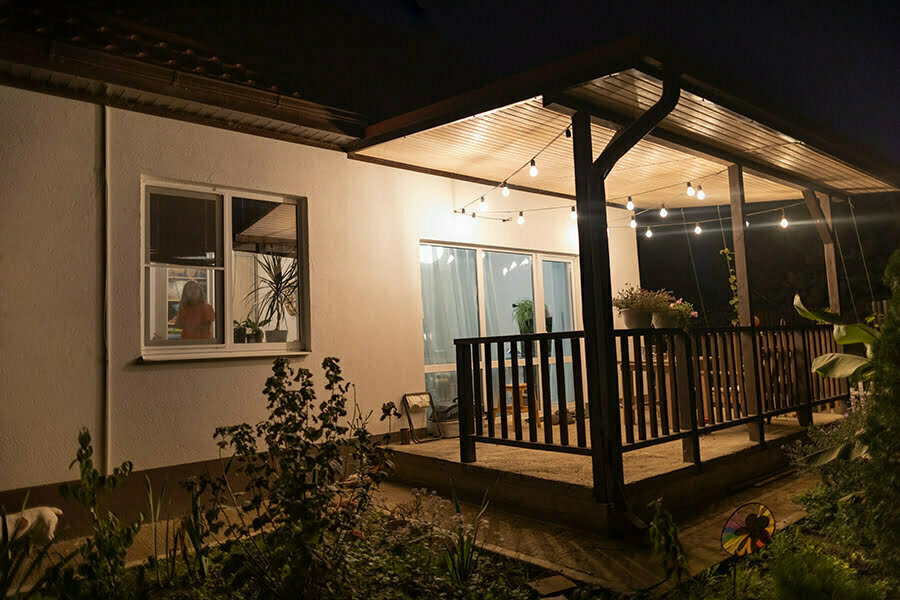 Skirting is the protective structure used around the bottom of a porch, primarily for aesthetic appeal. Most skirting uses a lattice type of crisscrossing lightweight woods, but you can choose other patterns, vertical stripes, wood slats, or shiplap designs.
The cost of skirting a deck or porch runs between $3 and $50 per square foot. The great difference in price is based on your choice of materials and skirting pattern. Skirting a porch or deck offers these benefits:
Hide trash and debris.
Protect children from the dangers of crawling under the porch.
Discourage animals and insect pests from nesting.
Mobile Home Accessibility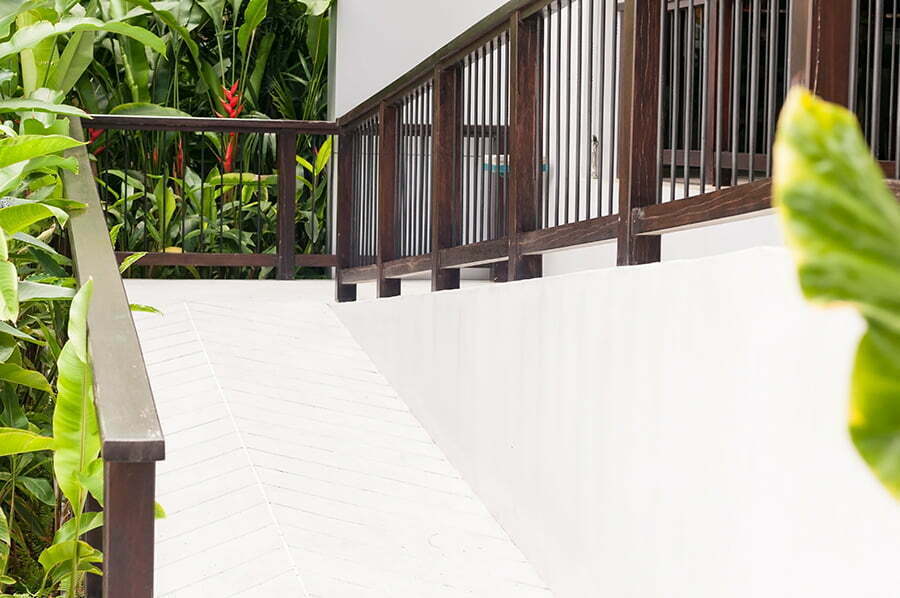 Accessibility is often an important concern for families who want to demonstrate politically correct habits or provide accessibility for a handicapped member of the family or friend.
Decks and porches can be transformed into accessible entryways by installing a ramp to cover any area accessible only by stairs. Decks or porches should leave plenty of room for maneuverability.
The average cost of installing a wheelchair ramp for your deck or porch runs between $1,000 and $3,000. You can expect a higher cost in bigger cities where labor and materials costs run higher.
Front Steps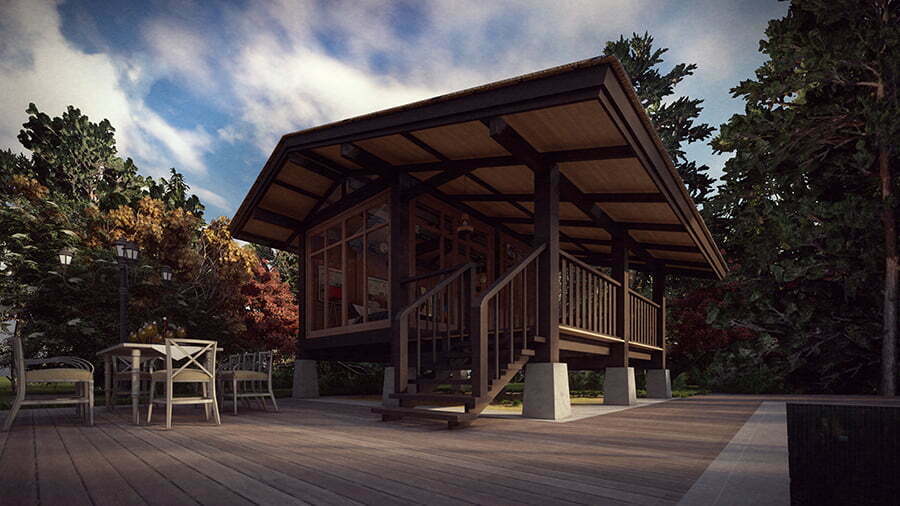 You can build your own front steps for your porch, but many people choose to buy premade deck or porch steps. Porch steps can be made of stone, cement, wood, metal, or composite materials.
The cost of building front porch steps averages between $115 to $210 per stair, which averages $440 to $1,350 for most porches and decks. Take care not to make the steps too long or too short because both options can cause people to trip.
Buying prefab stairs usually runs between $1,000 and $2,000, but that doesn't include the costs of posts and railings.
A Place for Plants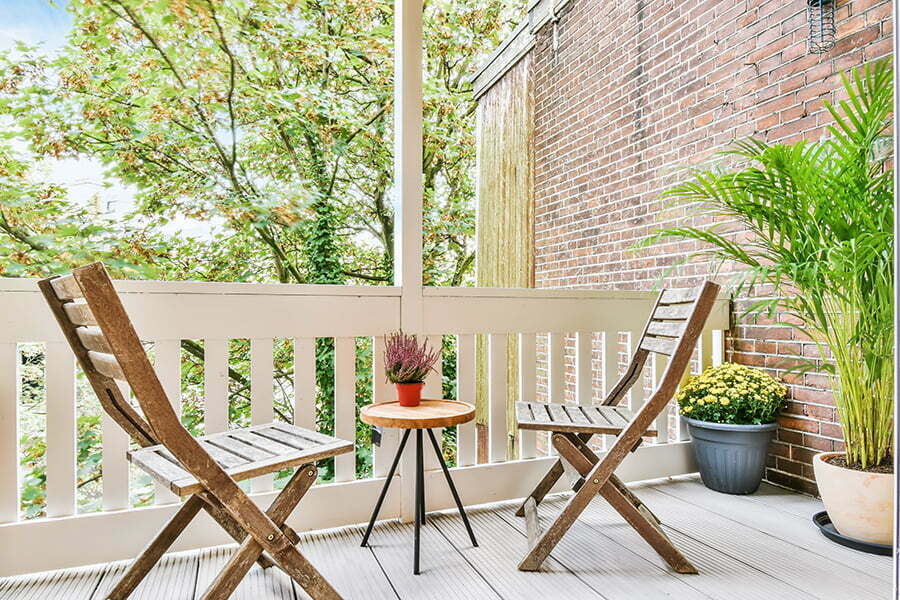 A place for plants on your porch or deck can be made from bricks, stones, cinder blocks, milk crates, old tables, and bookcases to display your plants. Choose plants that complement your home design or porch furniture colors.
You can also use hanging planters like macrame or hang plants from porch walls. Freestanding plants can be placed on porch walls and floors, but leave the railings clear for safety.
FAQ
How do you attach a porch to a mobile home?
You need to anchor the mobile home first, to attach a porch to it. The footings must be below the frost line. Secure the deck first, then attach the roofing to the side wall of the mobile house.
How do you build a freestanding deck for a mobile home?
A freestanding deck is a post and beam construction that has support on its own. It does need to be attached to a mobile home.
Related reading: