Last updated on April 12, 2022
A prefab modular sunroom is a home addition that is manufactured in a factory and delivered to the home site. It is a cheaper option than having one built on-site.
A sunroom is a popular home addition or a bump-out. Sometimes people decide to convert a patio into a sunroom (especially in the case of enclosed patios.) But having a sunroom built on-site can be an expensive construction project. Is the prefab option worth it?
Prefab sunrooms provide the benefits of prefabricated construction and offer a pre-ordered solution. Modular and prefab sunrooms are the same, except that a sunroom module comes to the site assembled. A prefab addition needs to be assembled on-site, but it allows more customization.
Here's everything to know about these types of sunrooms.
Table of Contents
The Benefits and Drawbacks of a Prefab Modular Sunroom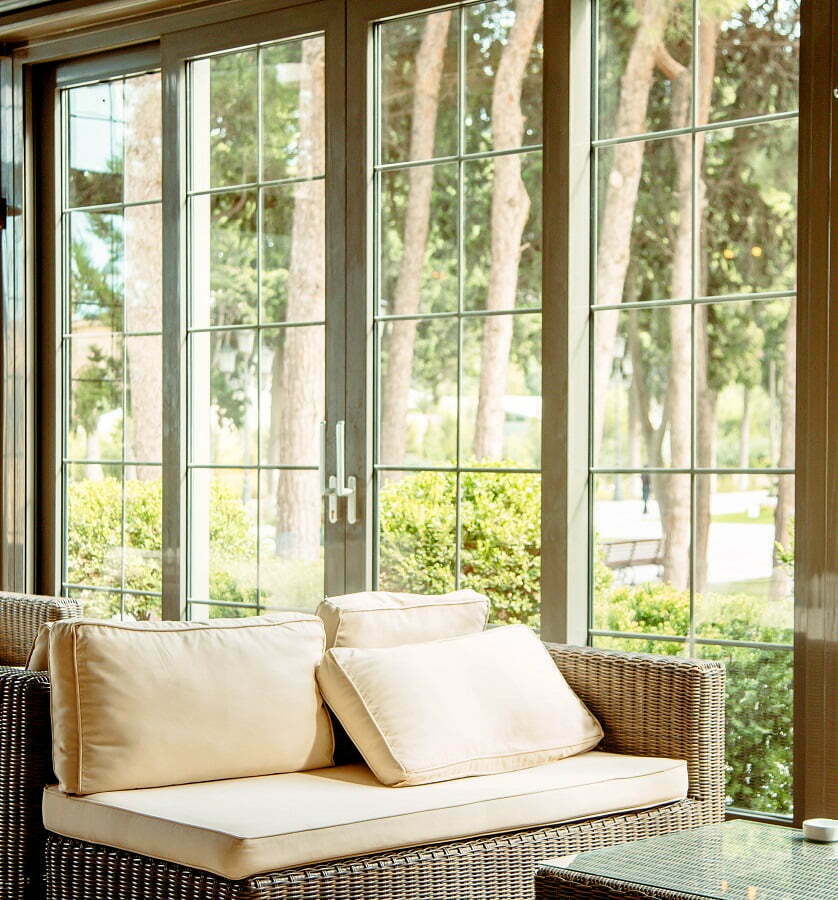 Here are the most significant benefits and some caveats of prefab sunroom additions.
Save Money
The majority of homeowners have to work within a budget to add a sunroom. As such, prefab sunrooms have become more and more commonplace in recent years. Even the most intricately-designed models are typically a fraction of the price of a custom-built addition. In certain cases, a structure like a patio or a deck can be used to form the foundation of a prefab sunroom; this will lower the cost even more.
Save Time
Another awesome benefit of prefab sunrooms is the fast rate at which they can be installed. A custom-built addition could take several months to complete, while prefab models can typically be assembled in one or two days; this leads to additional savings related to labor costs. Additionally, it minimizes the impact of inclement weather on the speed of construction.
Finally, since the greater portion of the construction is completed off-site, the debris on your property is far less, decreasing clutter and its effects on the landscaping.
Drawbacks
With prefab sunrooms, you will find that the choice of colors, design, and other customization options are limited. In addition, you may not have available options and styles that complement the rest of the home. If you have a concept of how you would like your sunroom to look and feel and it does not fit into any prefab designs, you will have to make certain compromises.
Different Types of Prefab Sunrooms
There are a few types of prefab sunrooms, and they relate to the function of the sunroom and how it is constructed.
Three Season Sunroom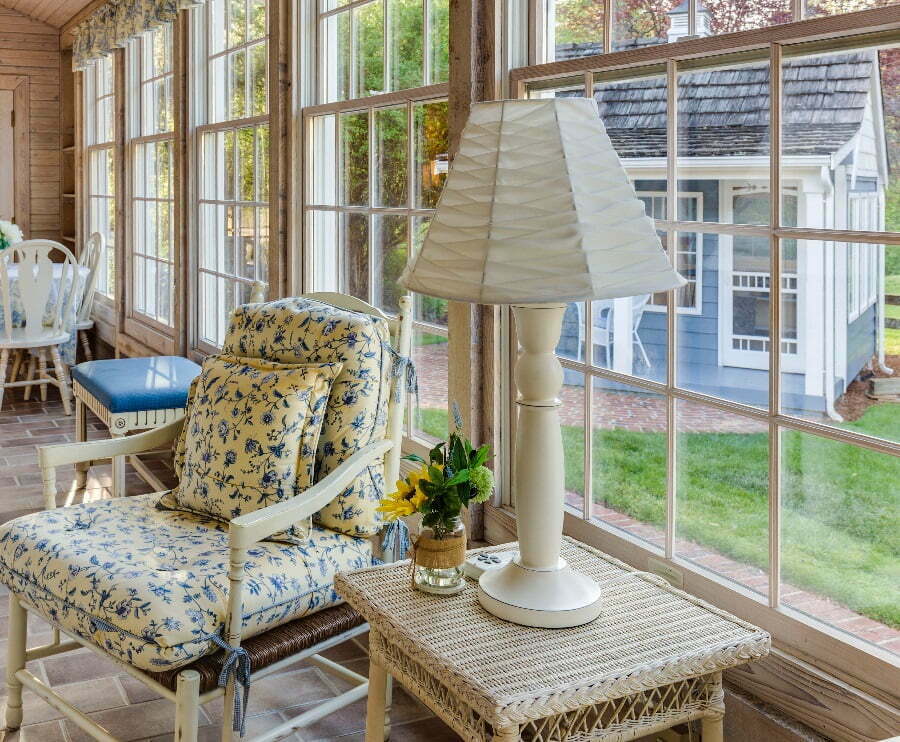 Enclosed with glass, a three-season sunroom typically features floor-to-ceiling doors and windows. Depending on where you are located, this type of sunroom can be used for most of the year. However, these rooms are not formulated to be cooled or heated on a long-term basis.
Four Season Sunroom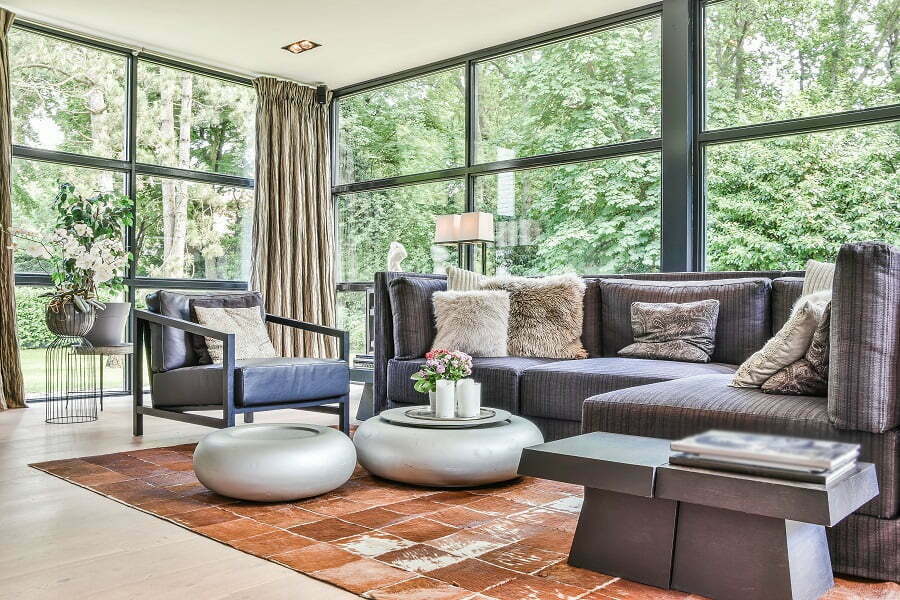 This type of sunroom is built with structurally insulated panes designed to keep the space warm in the winter and cool in the summer. Typically, the room has a variety of HVAC or climate control systems. In a 4 season room, the glass used in the windows is advanced at regulating the indoor temperatures.
Conservatories and Solarium Sunrooms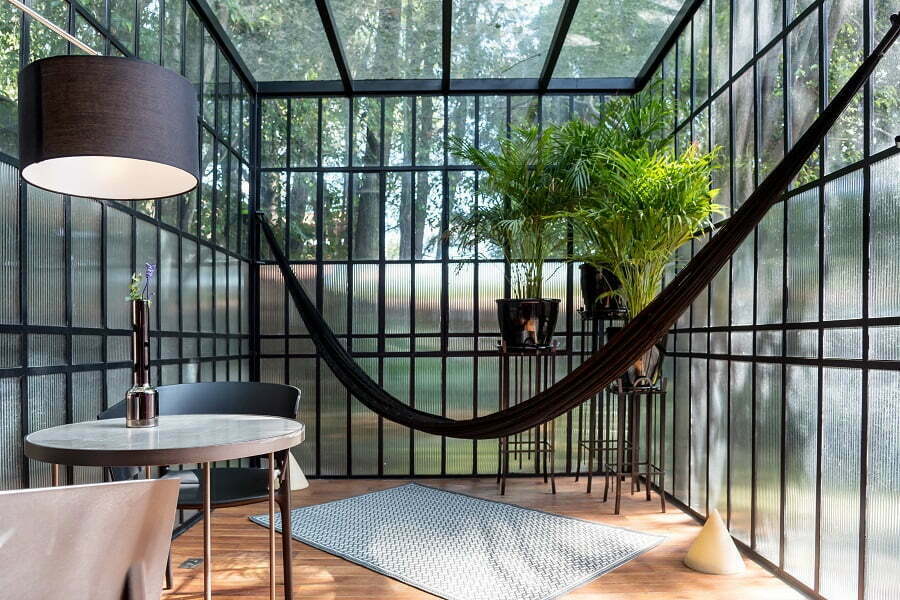 Solarium sunrooms and conservatories designs typically have glass roofs, while standard sunrooms are made with covered roofs and glass walls. The glass roof results in brighter interior lighting; however, the cost and complexity of installation are usually greater if you take on the installation as a DIY project.
Sunroom Kits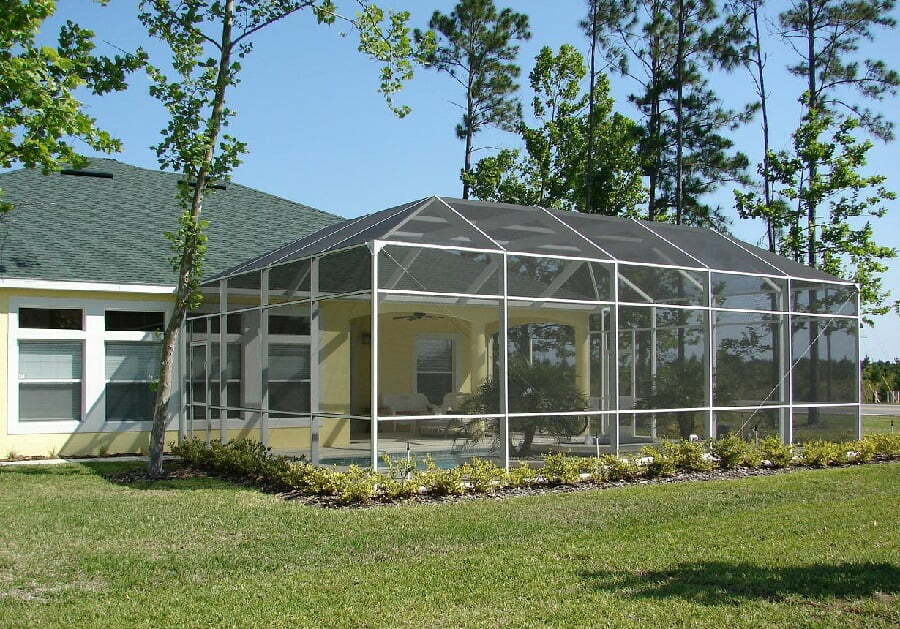 Sunroom kits can be tailored to the specification and size you need. However, rather than arriving already constructed, they reach your destination as a set of components. The kits are equipped with all the structural parts required to build the sunroom, but additional supplies like flashing, gutters, and damp courses may be needed to finish the project.
In addition, you will typically be required to supply cables and power outlets. Each kit has clear instructions and the required tools, including a drill, saw, hammer, ladder, and a level.
Is It Cheaper to Buy a Prefab Modular Sunroom or Custom-built?
The cost of a prefab sunroom is usually lower than its custom-built counterparts. It all depends on what type of prefab sunroom you are getting and what is the alternative custom-built project cost. It is important to note, however, that in some cases custom-built can cost less.
Even the most basic custom-built sunroom with a small floor area and poor weather resistance could cost a minimum of $10,000 for labor and materials. However, the price may easily increase to $50,000.
Based on the rigors of the local weather, a 4 season sunroom that has the capacity to withstand snow, hail, and strong winds, while maintaining a comfy indoor temperature ranges between $20,000 and $80,000 for labor and materials. Other luxurious, expensive types of sunrooms like a conservatory or solarium could range between $30,000 and $100,000.
Compared to custom-built models, prefab sunroom costs are considerably lower even when contractor services are involved. Some brands sell prefabricated sunrooms at costs between $5,000 and $25,000. Best of all, these costs include payment for contractors from the manufacturer to install your sunroom.
Typically, the cost of prefab sunrooms does not exceed more than the high-end $50,000 models, which usually come with a limited lifetime warranty. If you have the skill and desire to take on the construction of the sunroom as a DIY project, the process can be even cheaper.
How Prefab Modular Sunrooms Are Built (Construction Process)
Prefab sunrooms are built from kits that include framework pieces, typically vinyl or aluminum, along with the wall panels and roof. The parts are manufactured in a factory, transported in separate pieces to the homeowner, and often put together by a contractor associated with the manufacturer or a skilled homeowner.
In the case of modular sunrooms, they are already assembled in the factory and come as a unit. Such a module is added to the home when delivered.
Prefab Sunroom Sizes
Sunrooms can range in size between small comfy nooks and palatial additions. Regardless of size, all sunrooms can add curb appeal and, more importantly, add square footage and function and boost the property's resale value.
The best method of figuring out the right size for your sunroom is to determine how it will be used primarily. A 14 x 18-foot addition can provide adequate space to fit two chairs, a loveseat, and an end table to give you an idea of size capability.
An 18 x 18-foot sunroom should be sufficiently roomy for a large couch, armchair, recliner, television stand, coffee table, and an end table.
Prefab Sunroom Costs
Typically, prefab sunrooms cost a lot less when compared to their custom-built counterparts. On average, adding a prefab modular sunroom to your home costs from $5,000 to $50,000, based on its size and other factors.
Where to Get Prefab Modular Sunrooms?
There are many prefab modular sunrooms manufacturers from whom these structures can be purchased. Just ensure that before committing, you compare the value and cost of a sunroom and find out about the electrical raceways.
Additionally, you should ask about insurance and determine if the sunroom is Energy Star rated. Go for a sunroom with glare-free screens and ensure that you get the necessary inspections and the right permits.
Here are some popular prefab sunroom manufacturers:
FAQ
Are prefab sunrooms worth it?
Yes, a sunroom can increase the value of your house and make it look better. It also provides a place for you and your family to relax during hot summer days.
What is the best type of sunroom?
It depends on what you want in a sunroom. A four-season sunroom might be considered the best type because it provides thermal insulation and heating during winter. But depending on the climate, a three-season sunroom might be good enough. On the other hand, a conservatory might be the best option in sunny climates.
What is the difference between a sunroom and a patio enclosure?
A sunroom is a more permanent structure, and it's a separate home addition. A patio enclosure is basically a sunroom that has been converted from a patio.
How do you keep a sunroom warm in the winter?
You can use heaters to keep your sunroom comfortable. Some people prefer using electric heaters instead of gas heaters.
How much does a DIY sunroom kit cost?
DIY kits usually start at around $5,000. However, they can go up to $10,000 and more depending on the size of the structure.
Does the sunroom need a foundation?
No, but it needs to be attached to the house. If you have a concrete slab, you can attach it directly. If you have a crawlspace, then you can install a subfloor over the crawlspace.
Can a sunroom be built on a deck?
You can build a sunroom on a deck or even on a porch. Conversion kits are available.
Is a sunroom considered a living space?
Sunrooms are considered part of the living space if it uses the same HVAC system as the rest of the home.
Is a sunroom considered an addition?
Yes, it is considered an addition.
Related reading: