Last updated on October 12, 2023
Increase your home's value with a prefab deck. Here's to more space for entertainment, relaxation, and family/friends bonding!
Prefab decks are trendy for a reason. They are factory-made modular decks that only take a few hours to assemble in your backyard. Building decks have never been quicker and easier with prefab decks.
Enjoy the warm weather with your family and friends on your deck. It's more than just an outdoor space; it's an addition to your home's whole aesthetic and increases your home's value.
It only takes a few seconds to impress visitors and passersby. Ensure that you can capture attention in that few seconds with a great-looking prefab deck. Improve your curb appeal with modular prefab decks.
Read below for more information on modular prefab decks and trusted prefab deck manufacturers.
Table of Contents
What Is a Modular Prefab Deck?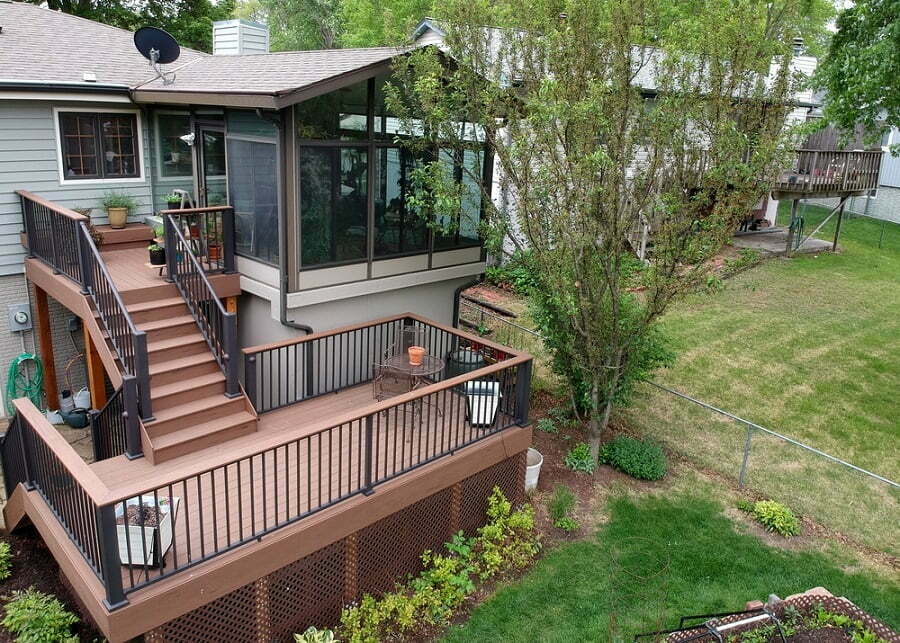 A deck is a wooden platform raised off the ground for outdoor relaxation and entertainment. Modular prefab decks are factory-made of treated lumber and can be assembled in any outdoor space within a few hours. If you want to increase the living space on your property, consider installing a prefab deck.
A prefab deck can be installed next to the swimming pool or backyard. While most decks are usually attached to the house, this is not always the case. Modern prefab deck kits also come with a fence.
Prefab Deck Tiles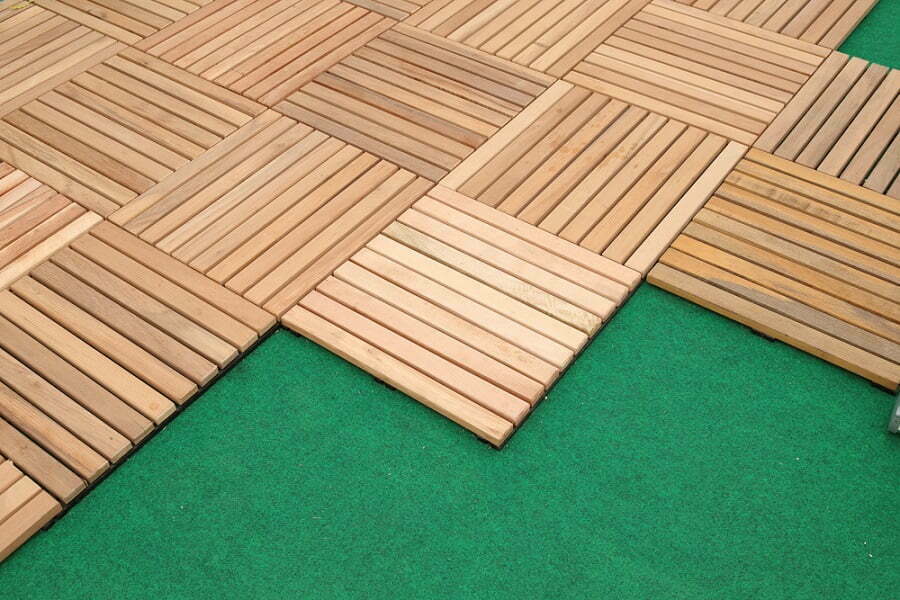 Deck tiles cover unsightly concrete surfaces in outdoor spaces. This can be on a patio, faded decking, entryways, and balconies, among other flat surfaces outside the house.
Prefab deck tiles come in elaborate designs and patterns, which allow you to create a deck with a finished appearance. Mix up different patterns and designs to create a superior look. Install the tiles without gluing, nailing, or screwing.
Prefab Deck Kits
Prefab deck kits are more than just tiles. The manufacturer provides you with the foundation, the decking, and the tiles that only need to be assembled in your space.
Below is the digest of the top prefab deck manufacturers that deliver to your home.
UDECX Inc.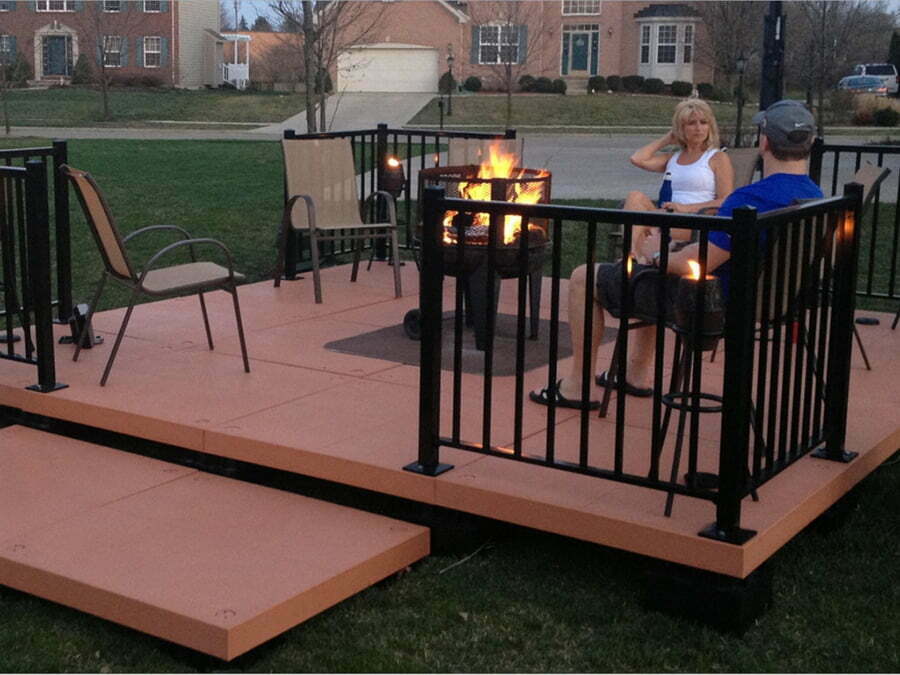 This is a manufacturer of portable, modular DIY composite decking that is easy to install. The UDECX surface decking is made up of square pads measuring 40X40 inches. The places are made of composite material to ensure maximum strength and durability.
The square pads can support up to 100 pounds per square foot and come with a 15-year manufacturer warranty. Installation does not require cutting, drilling, nailing, or screwing and can be done by two people in a few hours. Since the UDECX is a temporary structure raised below 30 inches, no permit is required before installation.
If you would like to live carefree in the outdoors, the UDECX would be the perfect option for you. Since the unit does not contain any lumber, there is no rotting or infestation of termites. In addition to that, no contractor is needed to do the installation.
Modular Deck + Fence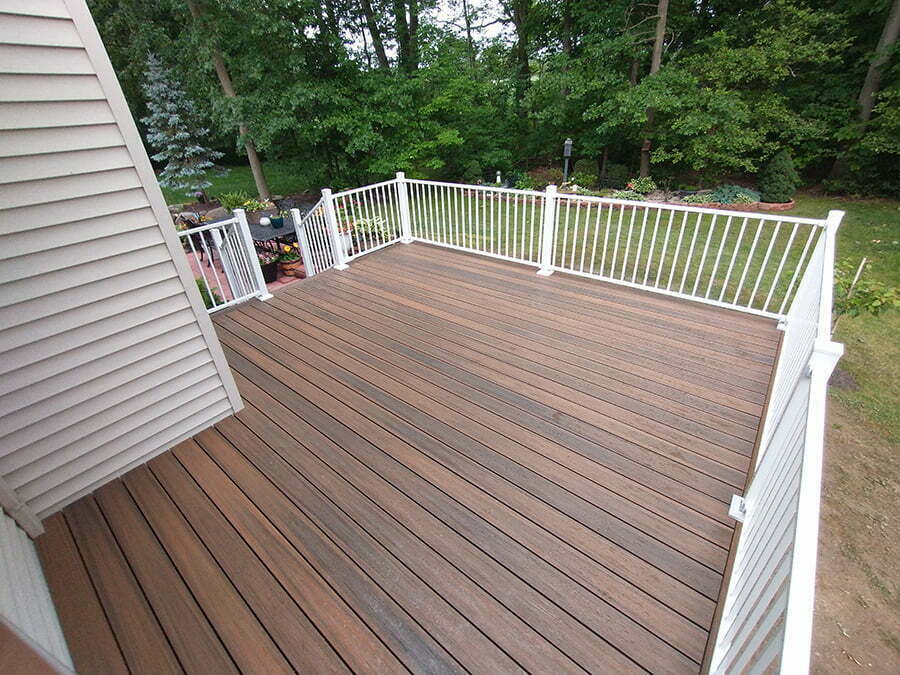 Modular Deck + Fence manufactures more robust deck kits that come with better craftsmanship and are easy to install. The company manufactures deck kits to suit the needs of every client. They come in different colors and sizes.
These deck kits come with 6×6 inch footers instead of 4×4 footers, which makes them stronger. In addition, decking joists are 12 inches instead of the traditional 16 inches, making them stronger and more durable. These deck kits are available at the most competitive rates.
Archatrak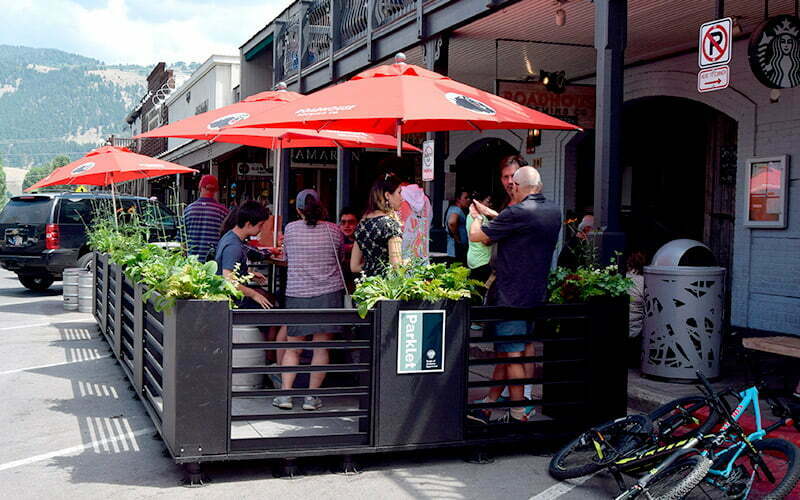 Archatrak manufactures the "streetdec," which is a modular decking system that is ready to assemble. Street decks are perfect for outdoor restaurants. Order a street deck for your porch or patio if you love outdoor dining.
Depending on your preference, you can choose between the wood tile surface and the porcelain paver deck surface. The deck kit also contains galvanized steel perimeter fence modules. With this Deck, you can bring the experience of outdoor dining strategies into your home.
Prefab decks are available in various sizes, including 1-car and 2-car sizes. The units are customizable and come at reasonable prices. Be sure to contact Archatrak to ask for a detailed quote.
Prefab Decks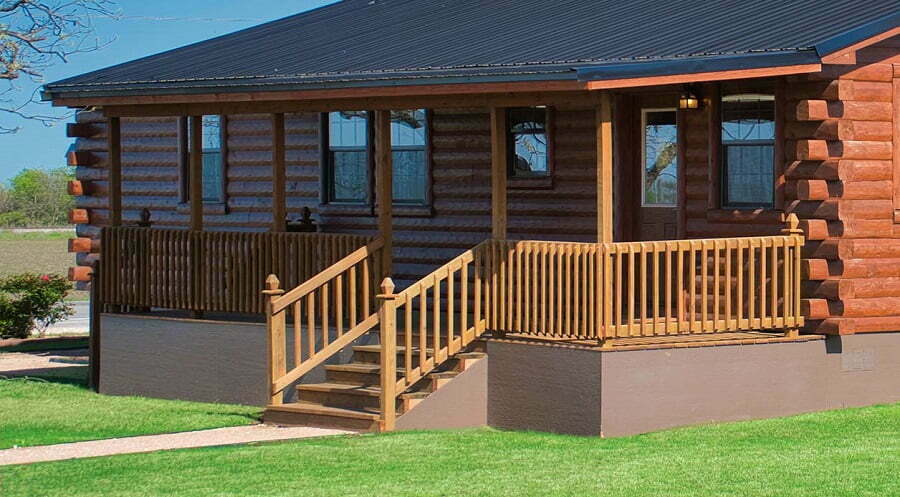 Prefab Decks is one of the country's leading manufacturers of prefab decks. The company manufactures deck kits that are easy to install and are perfect for DIY projects. Decks are available at different prices, which are provided on request.
NRC Fence & Deck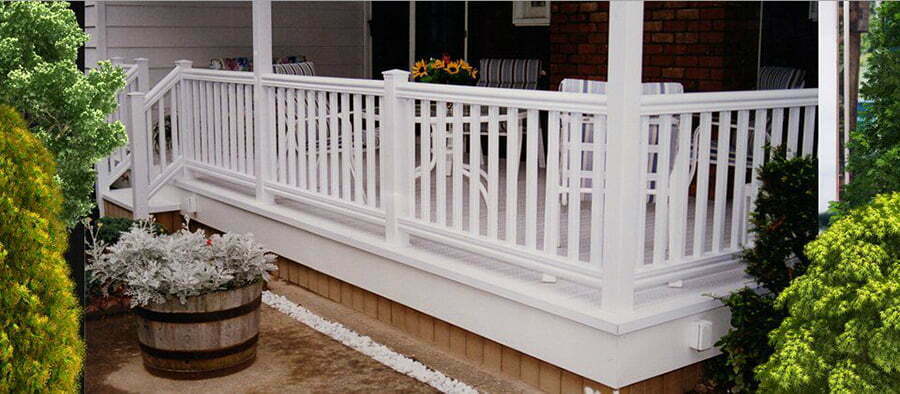 NRC Fence & Decks build prefab decks on permanent foundations and typically take eight days to complete. It costs 60% less to build a deck using a deck kit from NRC than building a traditional deck. Popular deck designs are 10×10, 10×20 long and 10×20 short.
Contact NRC for a detailed quote if you want a spectacular deck on your property. The team from NRC will provide you with two quotes; one for the prefab deck you like and another one for a traditional deck. This will give you more information that will help you make an informed decision faster.
Versadeck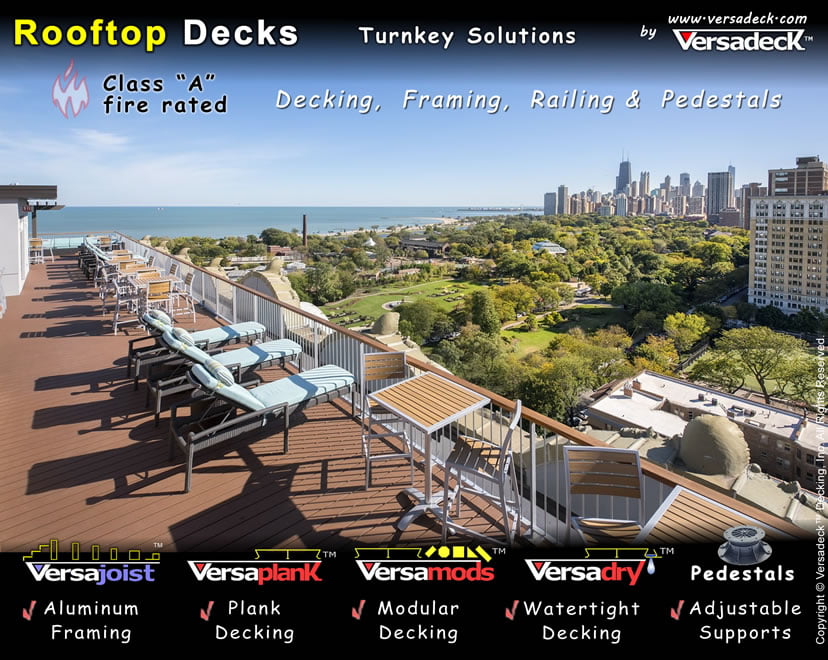 Versadeck manufactures Versamods, modular deck systems for rooftop decks, marina decks, docks, and do-it-yourself projects. These deck systems are made of aluminum panels that can support up to 100 pounds per square foot. In addition, these modules can easily be assembled to create octagonal decking with stairs and benches.
Versadeck kits have all the necessary materials, components, assembly instructions, and design plans. These aluminum prefab decks have a limited lifetime warranty, offering excellent value. In addition, Versadeck offers flexible payment plans and guarantees transparency in its pricing.
Oakley Portable Buildings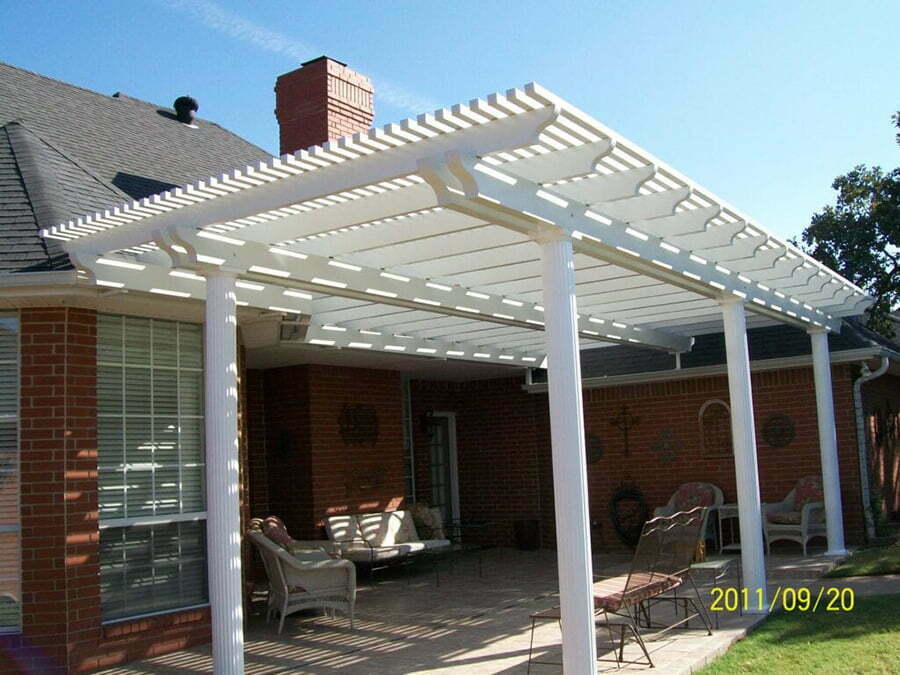 For over 50 years, Oakley Portable Buildings has been manufacturing the highest quality pergolas, decks, and porches. They also make sheds, barns, and other types of portable buildings. In addition, they make top-quality prefab decks and portable buildings at affordable prices.
Decks are available in various sizes, including 4×4, 4×6, and 4×8 up to 10×16, and prices start from $550 up to $2,455. There might be additional costs, so be sure to obtain a more accurate estimate from the company.
Ready Decks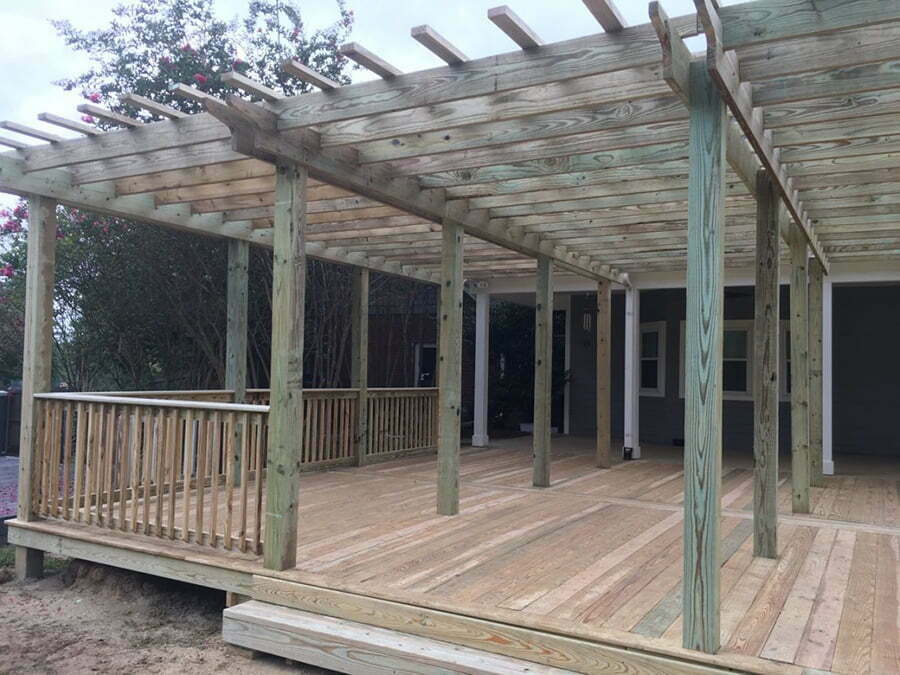 A Ready Deck is a pre-priced, complete deck that is custom fit at the factory. These decks are made with premium-grade treated lumber and are built to meet Federal Safety Standards. A Ready Deck can increase the living space on your property and raise its resale value.
The manufacturer offers affordable financing to customers, so you can have the Deck built now and pay later. You do not need to wait months or years to save for the project.
FAQ
Can you buy pre-built decks?
Yes. You can find companies that sell ready-made decks. These decks are typically cheaper than a custom-built deck.
How much is a pre-built deck?
This depends on the size of the deck. If it's a small deck, then a ready-built deck may cost around $5,000. However, if it's a large deck, then the price could go as high as $15,000.
What is a floating deck?
A floating deck is a freestanding deck not attached to a building. It seemingly "floats" above the ground. This type of Deck is common with prefab decks.
Related reading: