Last updated on July 14, 2022
Find some of the most helpful ideas for decorating your mobile home living room. Read on to learn how to make it look like a traditional room.
Mobile homes are much like tiny homes. These homes look so cozy and warm. However, you need to compromise that aesthetic with the size. Mobile homes are far smaller than typical homes.
The key to mobile home living room decor is working within your limits. Small rooms require a lot of thought. You have to decorate so that the living room looks more significant than it is.
The first step in decorating your mobile home is to start in your living room area. Declutter and let go of unnecessary items. This gives way to more space for decorating. Combine different styles to create the kind of look you're looking for.
We've compiled awesome mobile home living room ideas for you. Read more below!
Table of Contents
Consider the Traffic Patterns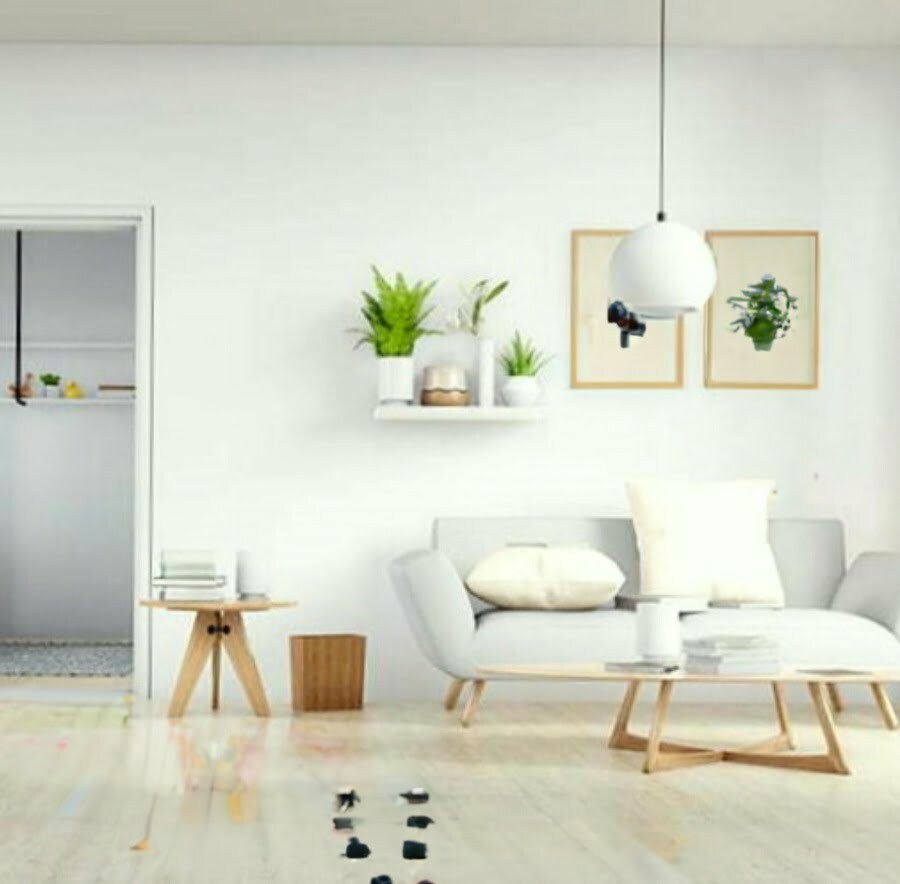 Arrange your living rooms for accessibility. Figure out ways to make the living room more functional and aesthetically appealing by considering the traffic patterns in your mobile home's living room.
Most of the traffic in the living room is between the door and the kitchen, as well as from the couch to the door. The living room design should ensure there are no obstructions along these paths.
Focal Point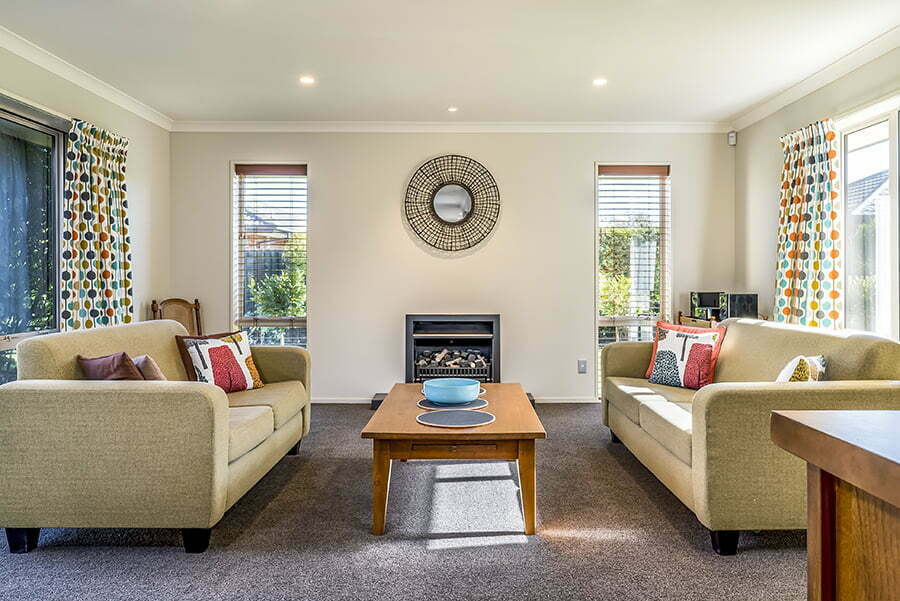 Transform some of your living room features into focal points or centers of attraction in your home. As the focal point, you can add a large fish tank to the living room. This can be a piece of wallpaper, artwork, or the fireplace. Note that some unique fish tank designs can fit into small living rooms.
Arrange and organize your furniture in a way that's aesthetically pleasing to look at. Consider your focal points when designing your living room. You can have multiple focal points. However, pick one and accentuate it fully.
Conversation Areas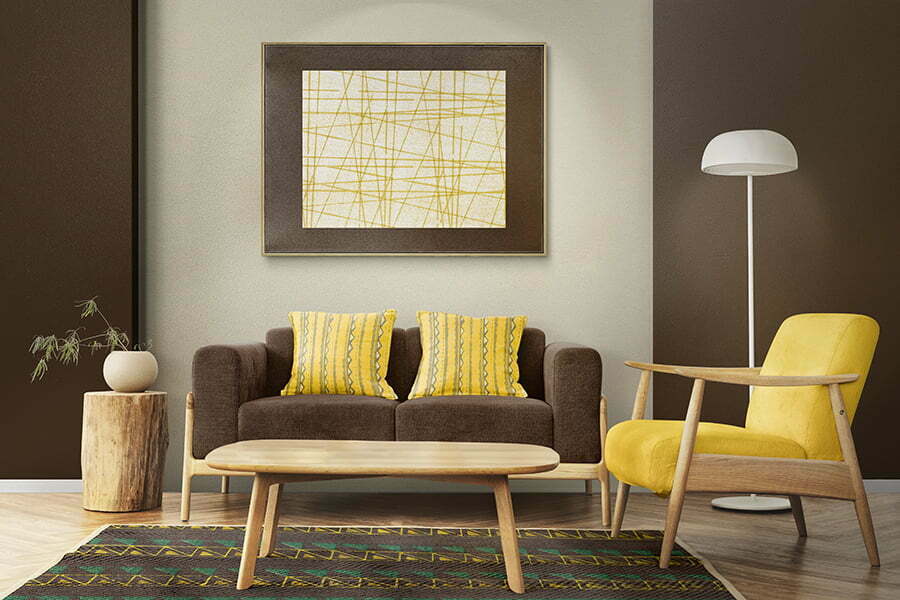 For starters, this is where most of the entertainment takes place. People also eat and have their beverages in the living rooms. In addition, most meetings and conversations in a mobile home usually occur in the living room. Be sure to identify and design conversation areas.
This is a separate part of the living room with seats facing away from the TV and central focal point. The area should have different seating spaces. For instance, you can place two or three upholstered armchairs around a small coffee table next to the window. This type of setting encourages conversations in your mobile home living room.
Single Wide Floor Plan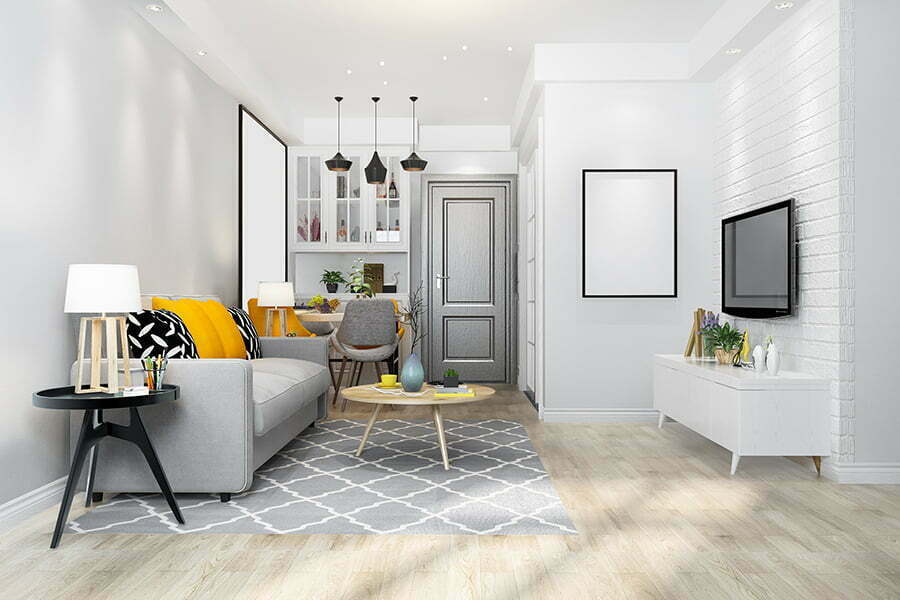 A single comprehensive floor plan for a mobile home can range from just 379 sqft to around 1,026 sqft. A 1-bedroom, 1-bath single comprehensive floor plan will have the bedroom and the living room on the other.
The kitchen and bathroom will be at the center. In the case of a 3-bedroom mobile home, the master bedroom will be on one end and the other two bedrooms on the other. The kitchen and dining area will be in between.
Double Wide Plan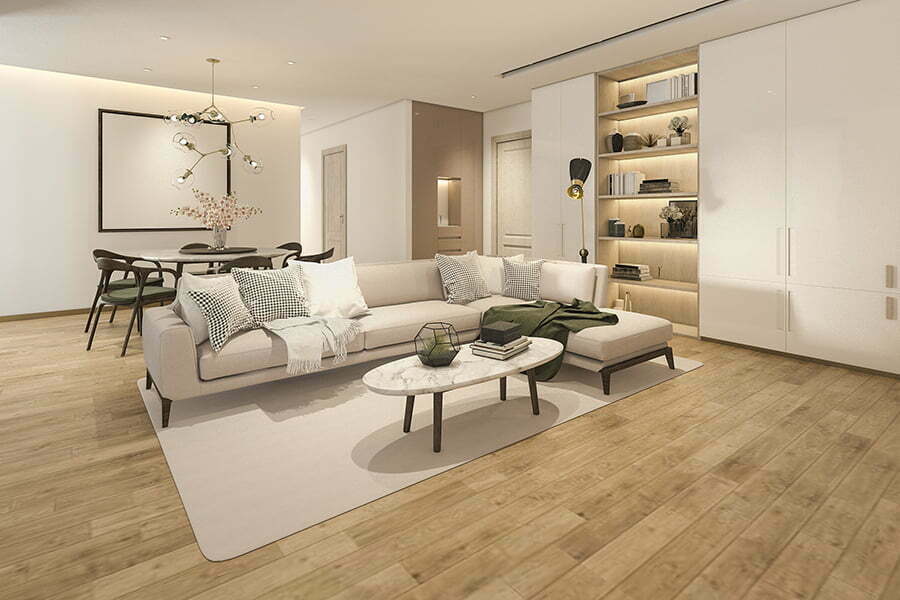 Double-wide or two-section mobile homes are joint two-single wide sections creating a larger mobile home. These are the most popular mobile home types because they meet most American families' needs.
Double wides come in a variety of sizes to match the unique needs of different types of buyers. However, they measure 1,800 sqft on average.
Mobile Home Living Room Walls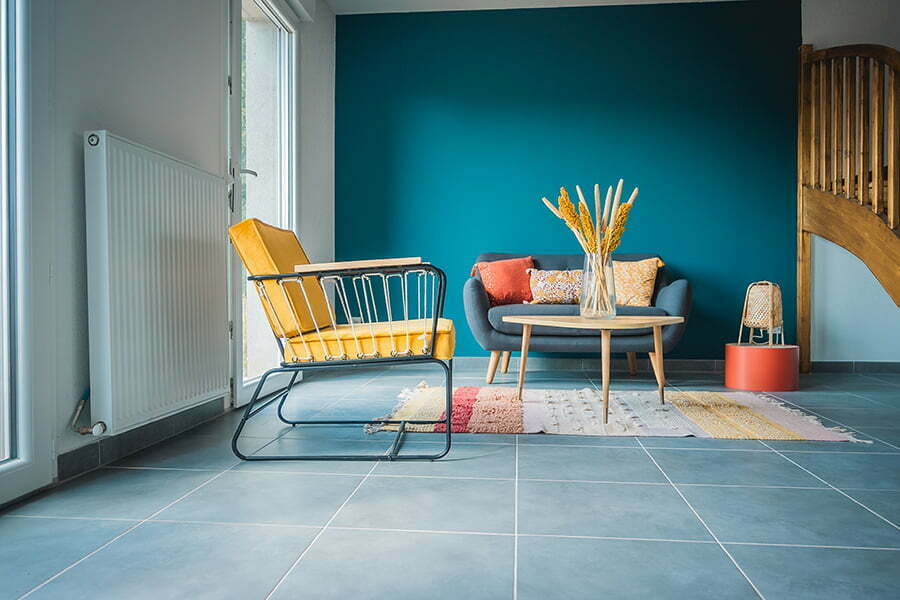 When brainstorming mobile home living room ideas, you must consider the floor plan and the choice of walls. The two most popular types of walls for manufactured homes are; full tape-and-texture and vinyl-on-gypsum, or VOG.
VOG is popular because it has neatly printed vinyl layers over the gypsum. These walls can be up to half an inch thick. They are light in weight and easy to install. It is important to note that VOG comes in various colors and patterns.
Choosing Colors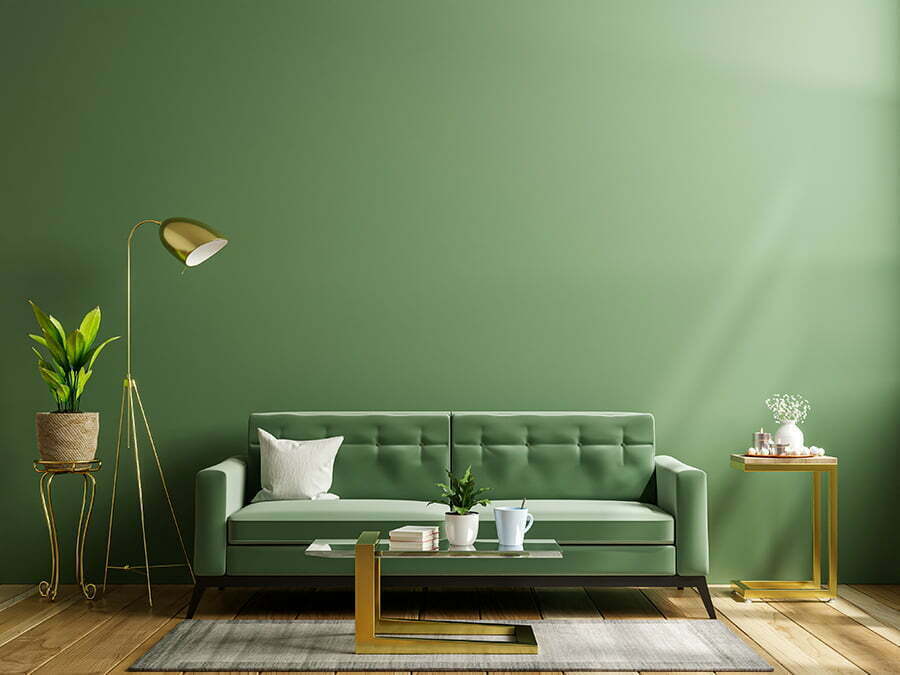 The walls of the living room will need to be painted to personalize the space and improve its aesthetic appeal. Be sure to choose colors depending on the atmosphere you want to create in the living room.
Please note that not all mobile home walls can be painted easily. For instance, painting VOG panel walls can be tricky. Ideally, you should consult an expert when planning to change the color of your VOG walls.
Dark Colors vs. Warm Colors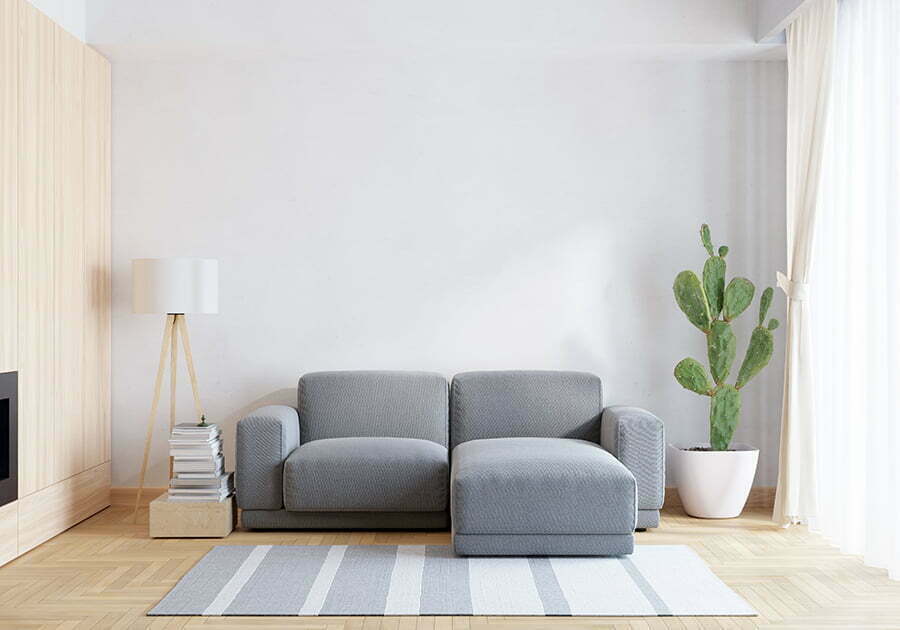 Painting is perhaps the most popular type of do-it-yourself project for homeowners. All that is needed is some paint, roller, or paintbrush. The trick, however, is choosing the right paint color. There are dark colors as well as warm colors.
The general rule of thumb is to choose colors you love. Examples of dark colors include; dark purple, blue, dark green, slate, and gray. You'll need to specify the tint or color shades to ensure you develop a color scheme that works well together.
Warm colors include; creamy neutrals, brown, beige, tan, yellow, red, orange, and gold. It is usually good practice to use warmer colors in large rooms and cool colors in smaller rooms to make them look larger.
Pops of Color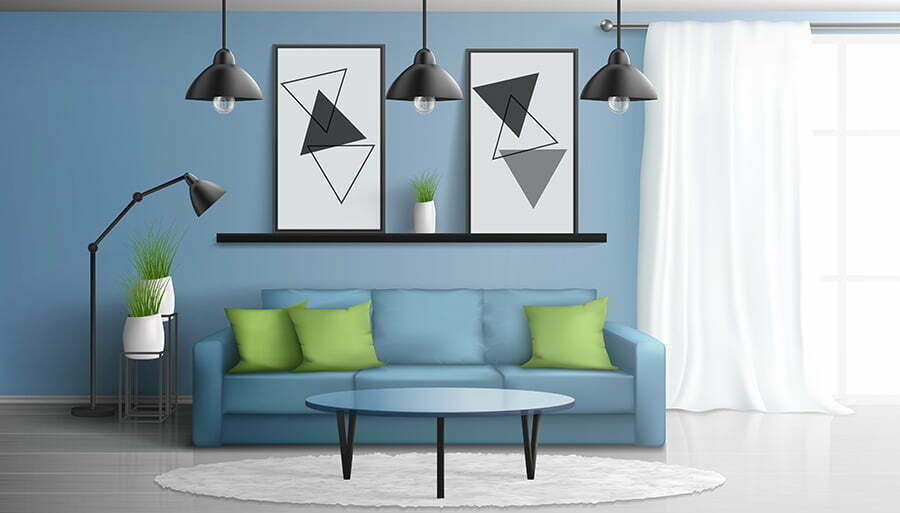 There are many ways of adding a pop of color to a neutral space. For starters, you can stick colorful stickers and wall decals on the walls.
Secondly, you can use a stencil design with an intricate pattern, matching neutral color, and pop color. Colored paintings, photos, and metal artwork can also add a pop of color to a neutral living space.
Consider also using colorful vases and flowers to add color to a room. Using brightly colored pillows and cushions on the couch can also add a pop of color to the living room.
Organization and Storage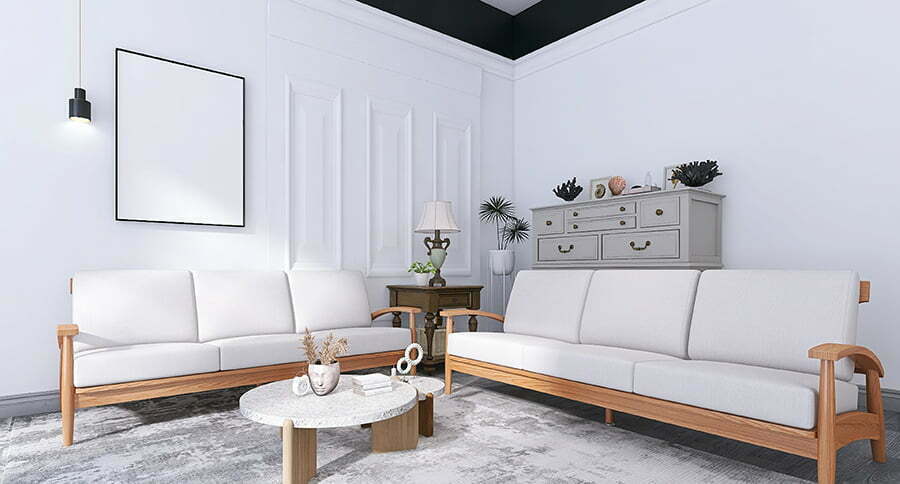 A well-organized living room creates the illusion of space. Free-standing cabinets, living room shelving, and side tables can effectively organize a living room. Be sure to use the space under the staircase as a storage area.
Furniture Size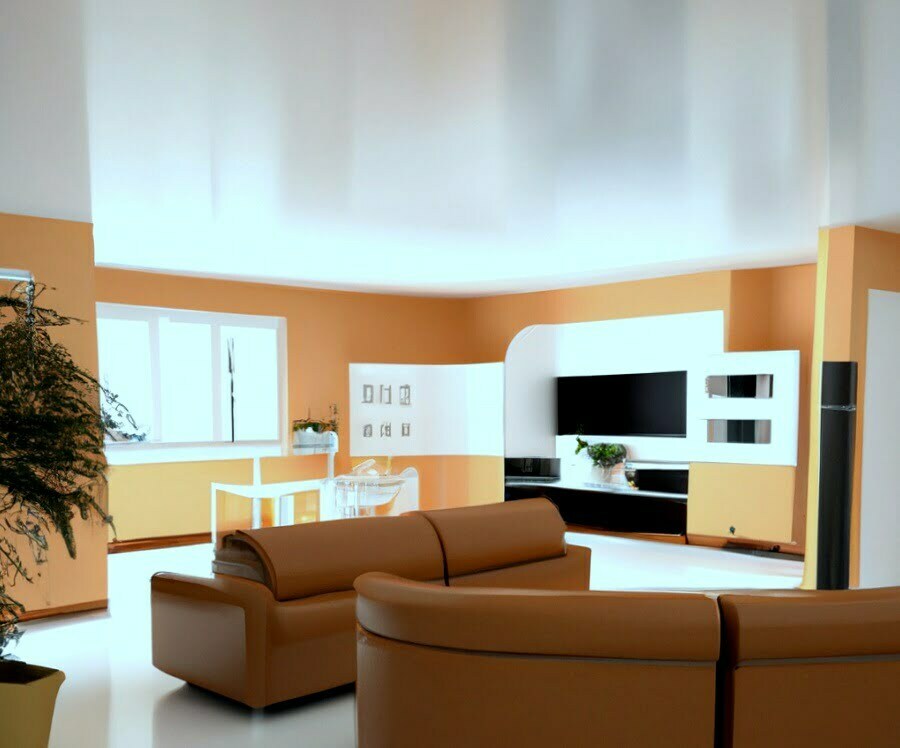 Before buying furniture for your mobile home living room, you must measure the space first. Next, you have to decide on the preferred layout of the table. This will give you a good idea of the furniture size to buy. The ideal furniture size should maximize living room space.
How to Arrange Furniture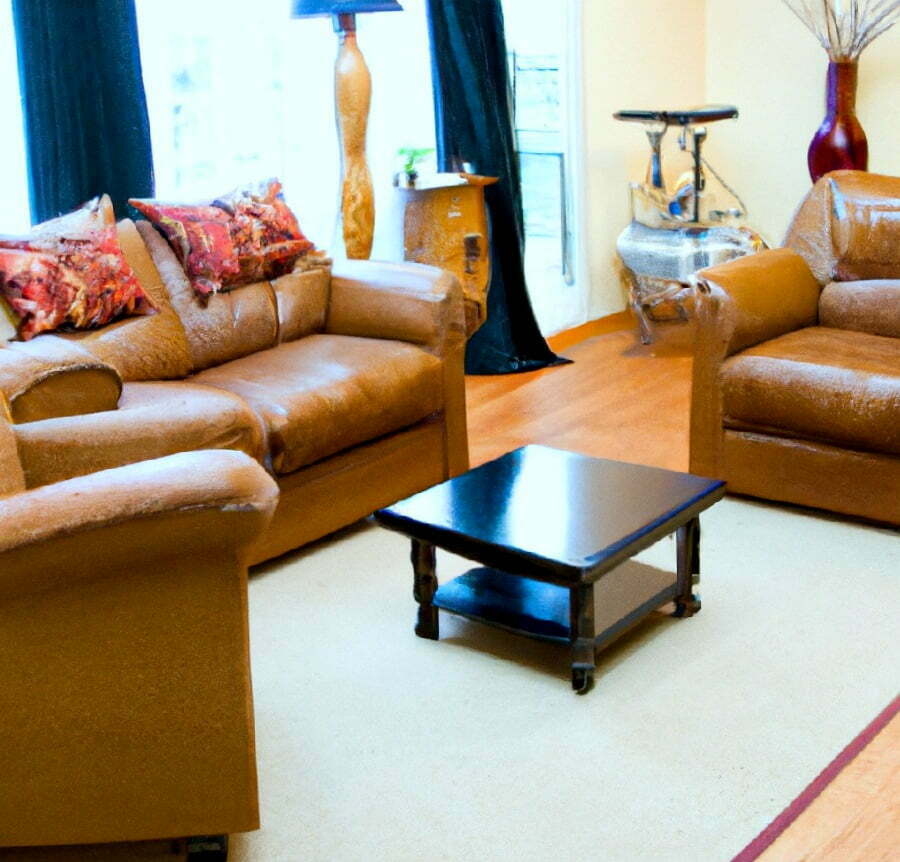 The sofa set in your living room should be arranged to face the room's focal point. This could be the fireplace, fish tank, window, or large flat-screen TV. The furniture should be set to allow easy movement within the living room.
TV Placement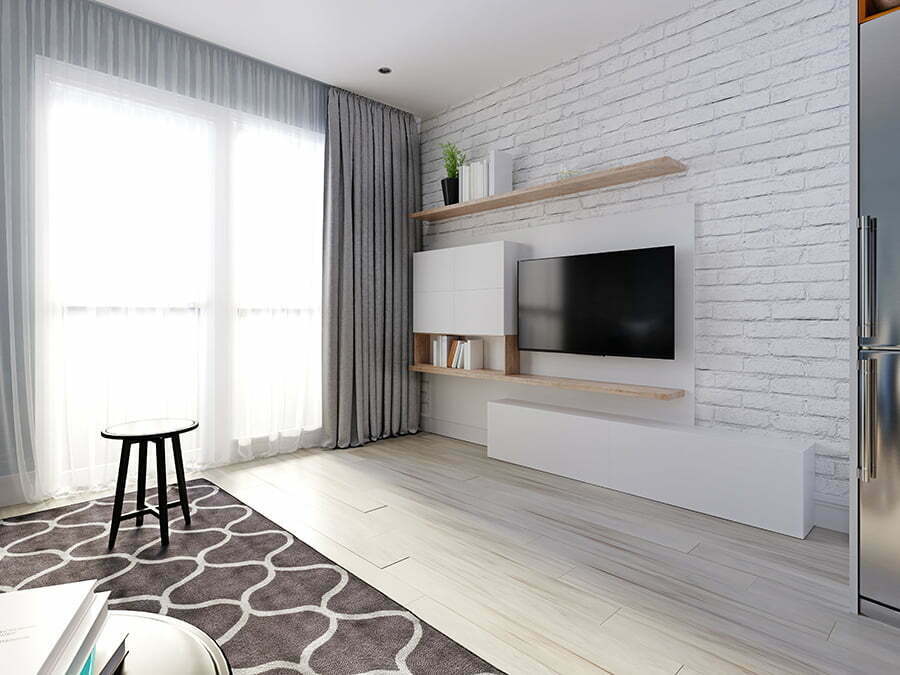 When watching the news, TV series, movies, or an important event on TV, everyone in the living room should have a clear view regardless of where they are seated. The TV should be placed along the inner wall of the mobile home to face the windows.
The size of the TV will dictate how close the seats should be away from the TV. If you have a 50-inch TV, the seats should be 7 feet away.
Coffee Tables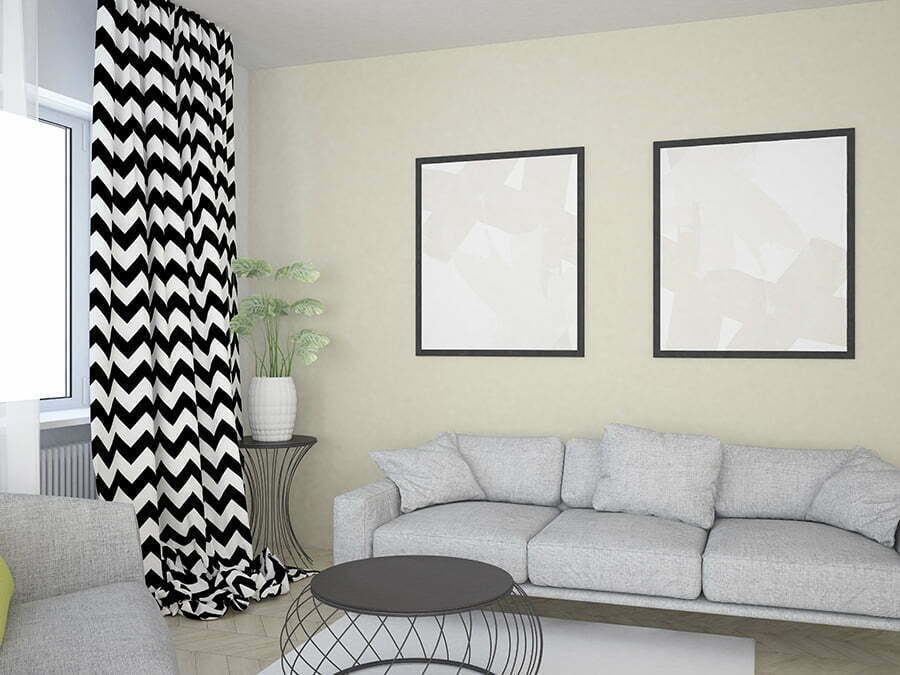 Coffee tables come in a variety of shapes and sizes. There are various sizes of rectangular, square, round, and oval coffee tables. You can have several medium-sized coffee tables in a large mobile home living room. Each coffee table should be at least one and a half feet away from the closest seat.
Mobile Home Living Room Ceiling Height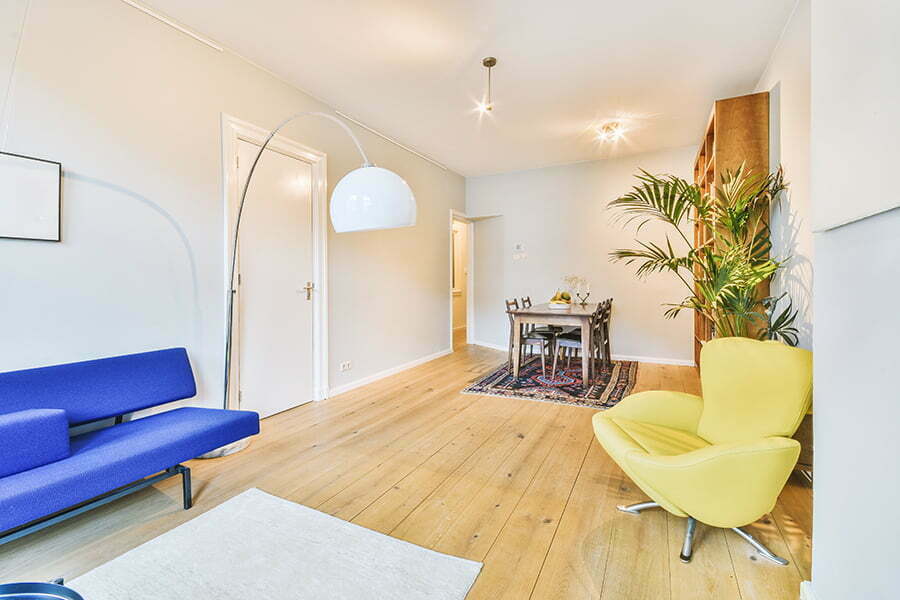 While some mobile homes have ceilings just 7 feet above the ground, the standard ceiling height is 8-9 feet. Be sure to keep this in mind when ordering your mobile home.
Dining Space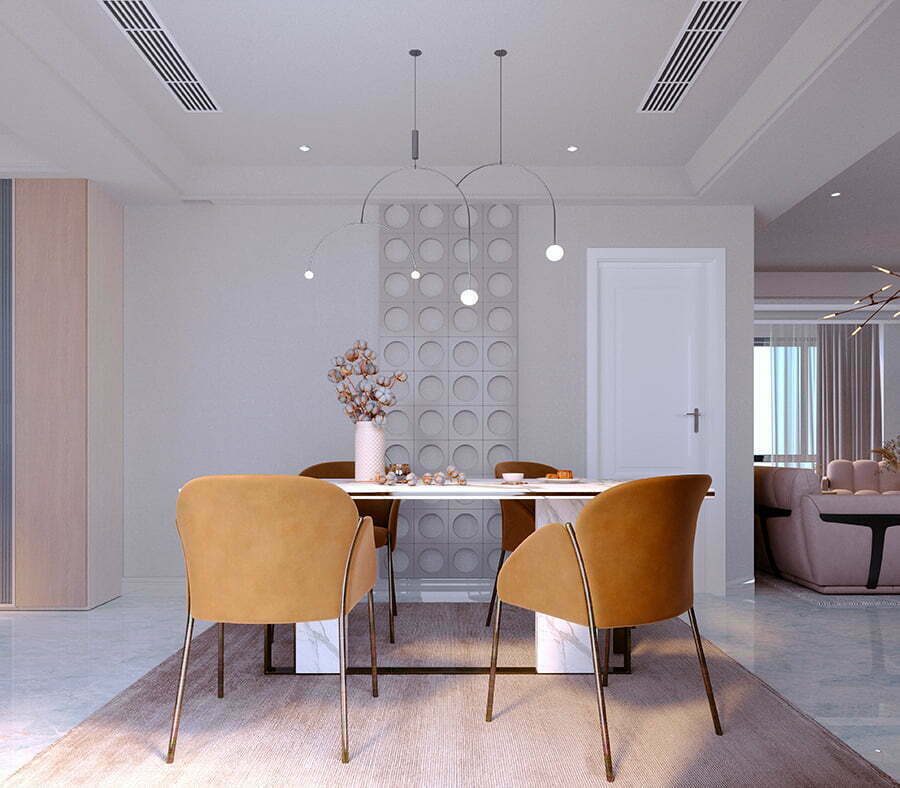 Depending on the size of your family, you can design your living room to have ample dining space. You can use the kitchen island as the dining space if it's just you and your partner. This layout can be modified later on as required.
Using Vertical Space
The vertical space on the walls of a mobile home living room can be utilized in various ways. For starters, extra shelving can be installed on the walls to store items, such as books, decorative items, and wall clocks.
Mobile Home Fireplace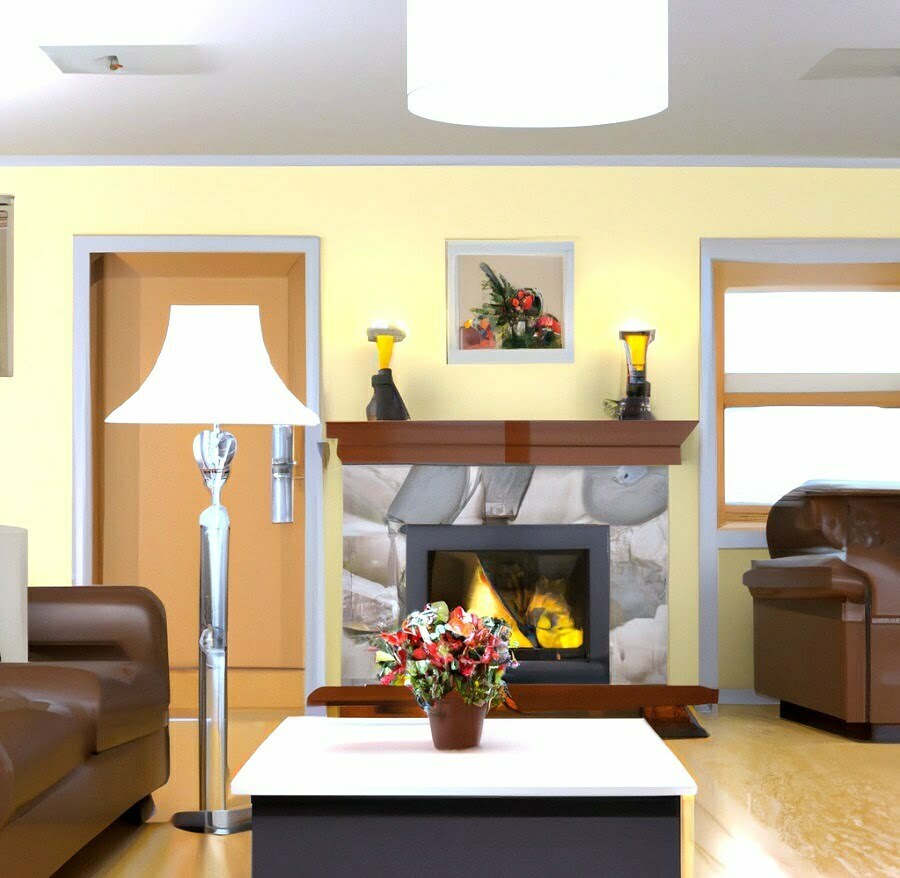 The fireplace can be used as the focal point of the living room. A fireplace can be an excellent addition to any mobile home living room. Be sure to search the internet for the most eye-catching fireplaces for sale.
This is the best type of flooring for mobile homes. Wood flooring has exceptional heat insulation properties, looks excellent, and can be waterproof if treated and adequately sealed. Proper installation of wood floors is necessary.
Mirrors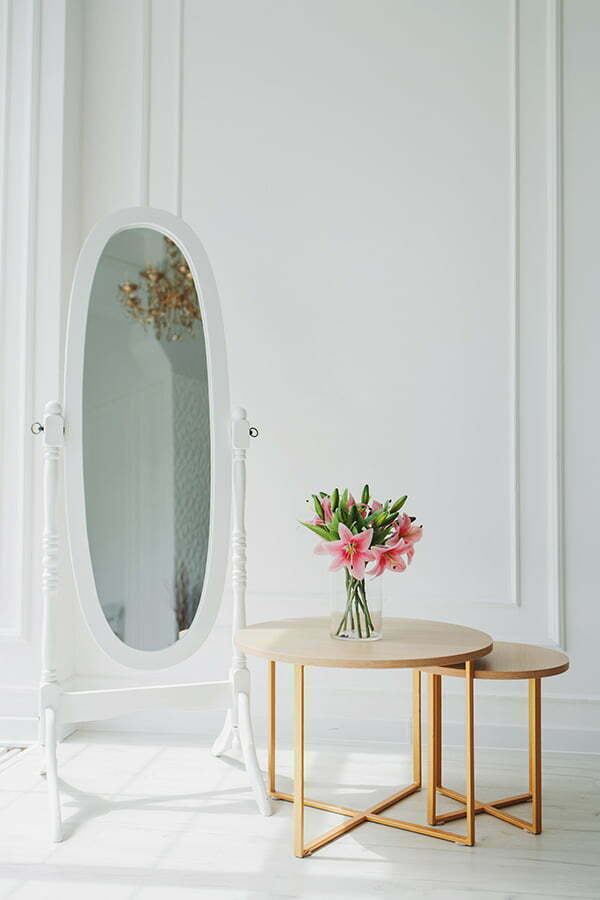 Mirrors can be an excellent addition to any mobile home living room. This is because they reflect light and create the illusion of a larger space.
There go some of the best and most space-efficient mobile home living room ideas you can start trying out for your own home.
What to Do with Off-Centered and Small Windows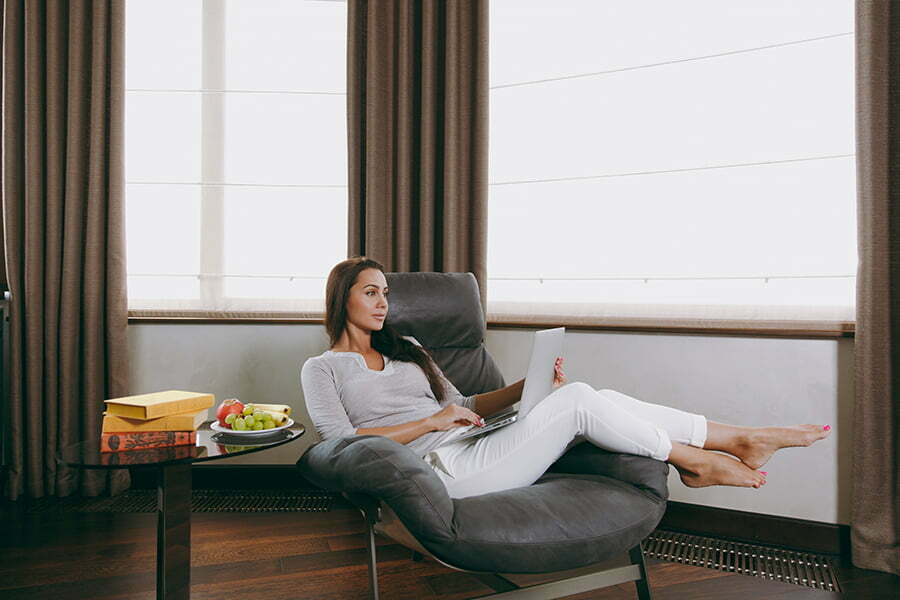 An off-centered window can create an imbalance in the interior decor of a room. Fortunately, there are some tips to resolve this imperfection. For instance, you can restore balance using drapes. A decorative curtain can create symmetry. It is also possible to strike a balance with wall art.
Related reading: