Last updated on March 3, 2023
Use these mobile home kitchen ideas to remodel your mobile house and make the best of the limited space. Read on!
Most mobile homes are manufactured, so they come with a prefab kitchen. Usually, they are made of cheaper materials and only the essential amenities to cut costs. You may want to change that.
Whether it's a single wide or double wide, a mobile home is not a large dwelling. And using kitchen space effectively is important — no corner must be left unused. Double-purpose units and strategically placed cabinetry and appliances make the most significant impact.
If you're planning a mobile house kitchen remodel or a new home, use these ideas for inspiration that will help you create a dream kitchen even in the smallest space.
Table of Contents
Mobile Home Kitchen Cabinets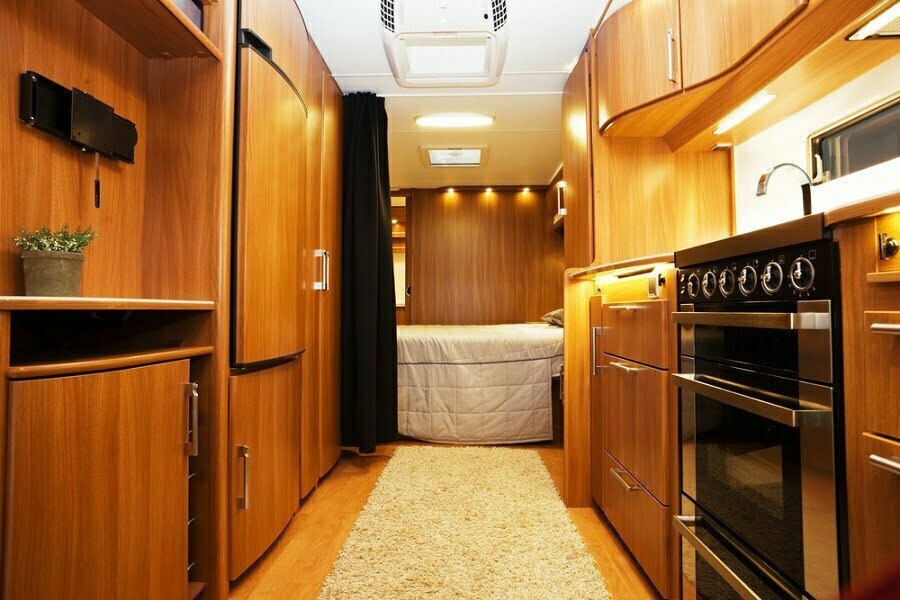 If you already have cabinets installed and want an upgrade, there are a few ways to do this without spending a lot. A fresh coat of paint can make all the difference in refreshing the look of kitchen cabinets.
Next, consider hardware replacement. Old, worn, or even non-matching hardware can be replaced with a new set of knobs and pulls. If you want to go all the way, consider replacing older kitchen cabinets and replacing them with new ones to match or complement the interior of your mobile home kitchen.
Shaker Cabinets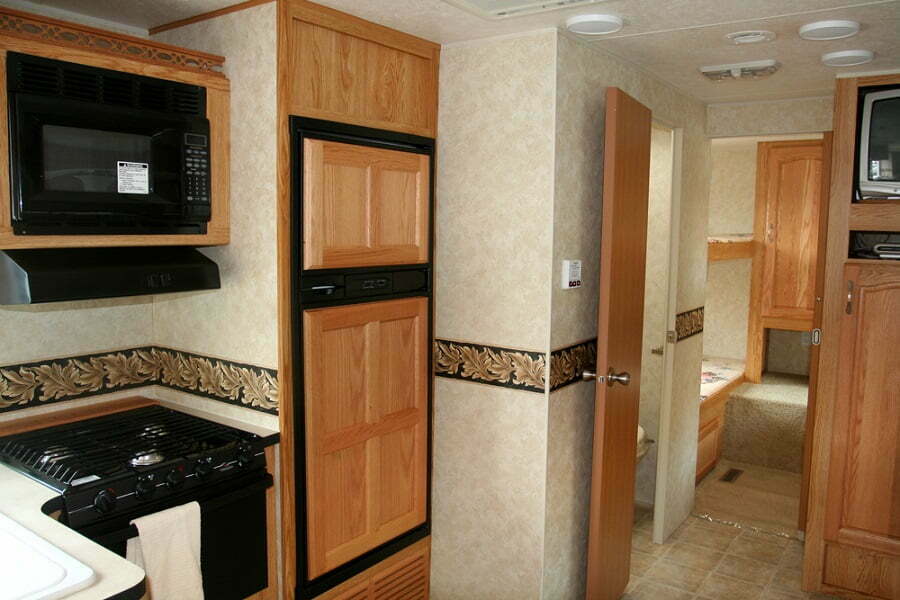 Shaker cabinets are a great choice if you like simple, basic lines of classic kitchen design. They feature a clean design for both the exterior and the interior but are still aesthetically pleasing. Shaker cabinets are perfect for mobile home kitchens because of their practical design, flat-paneled doors, and solid construction. They also come in a variety of styles. 
Can You Put Regular Cabinets in a Mobile Home?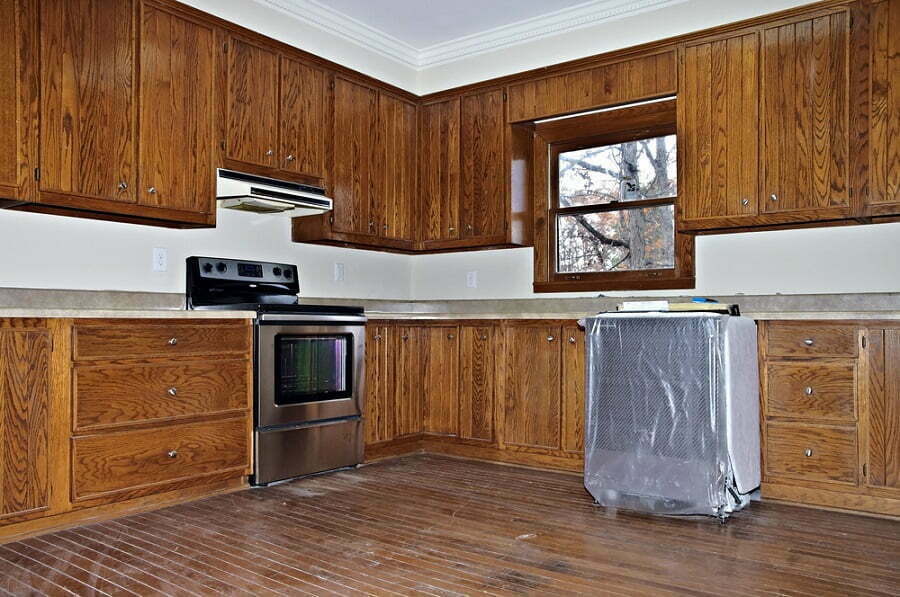 Some types of regular cabinets can be installed in a mobile home, provided that certain factors are considered, such as the size of the cabinets, the color and style, and electric/plumbing connections. Size is of particular concern because some regular cabinets may be too big for the limited space within a mobile home kitchen. It is crucial to choose only sets with the proper specifications for the space available.
Double Wide Kitchen Layout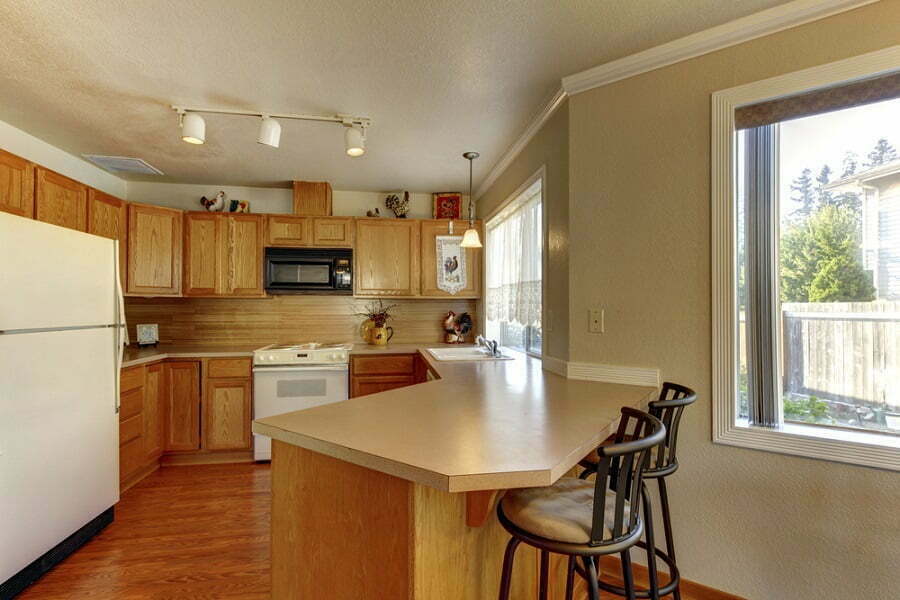 A double-wide kitchen offers square footage, which means you have more room to move and more space for cabinetry, appliances, and furniture. With more space, you could consider adding a more significant major appliance such as a refrigerator or oven, depending on your needs.
You could also consider installing a kitchen island to expand your work/food prep space. You could also add more cabinetry and shelves. If the interior allows it, why not consider using a U-shaped kitchen layout to maximize all the space for appliances and cabinets?
Single Wide Kitchen Layout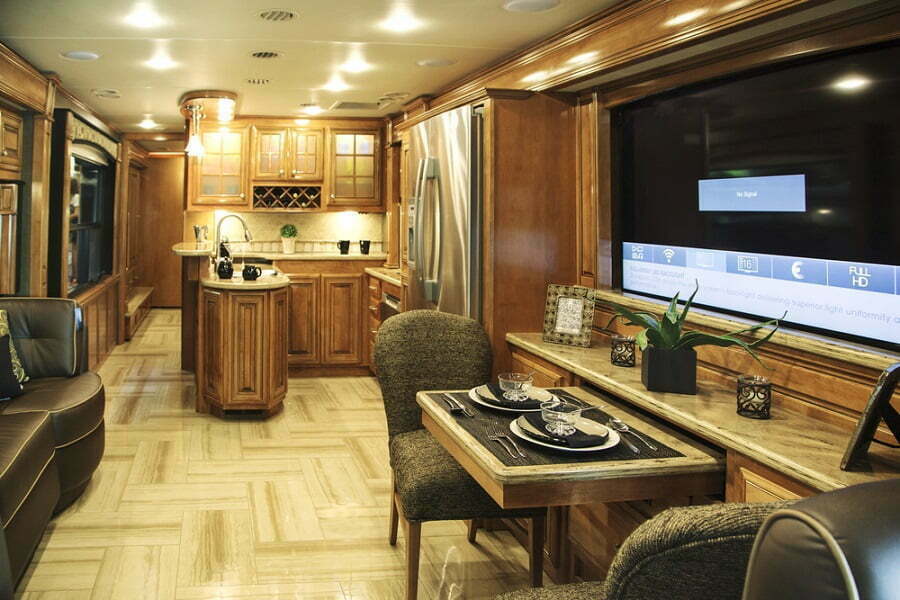 With a single wide kitchen, maximizing space is a necessity. As such, consider installing only the most essential appliances and cabinetry. Go for functionality over form. Look for multi-purpose and multi-function furniture and appliances since these will help save space while ensuring that you have everything you need within reach.
Stove and Refrigerator Placement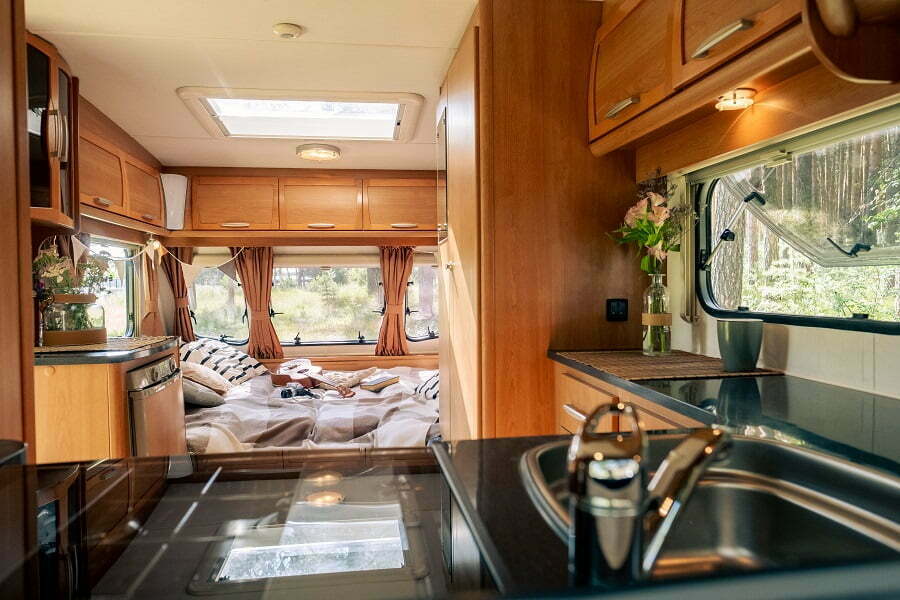 Consider putting some space between the stove and the refrigerator in a mobile home. Refrigerators must be able to dissipate heat, and placing one next to a source of heat (the oven) will force the compressor to work doubly hard. Fridges are also tall appliances, and placing them next to a stove will severely limit your cooking space.
Mobile Home Kitchen Paint Colors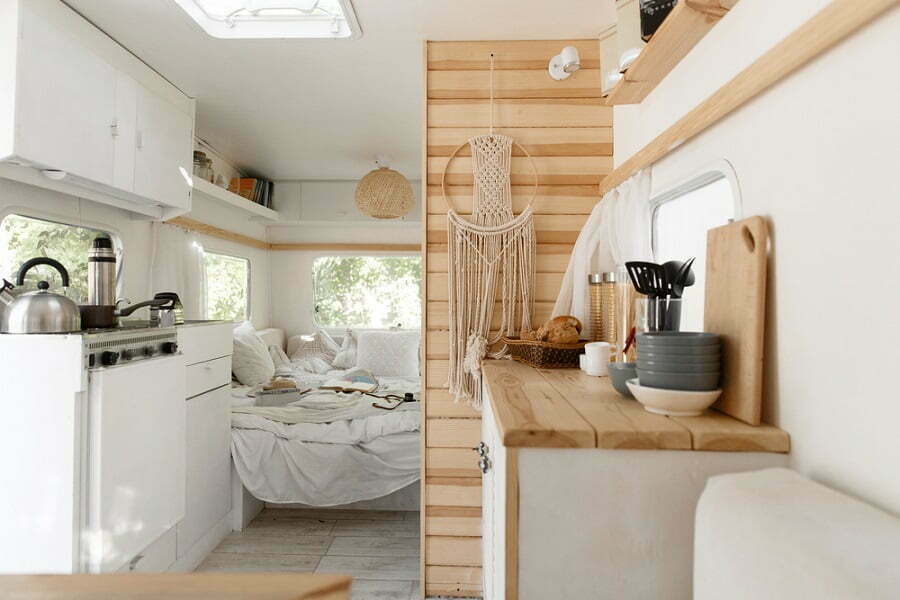 The best color for your mobile home kitchen is your favorite color. It's your kitchen, after all. However, you could consider safe choices that keep your kitchen looking clean and crisp. Consider coral, beige, dusty pink, mint, or cranberry. You could also look into painting contrasting colors to create interest and depth and expand the area visually.
Farmhouse Style Mobile Home Kitchen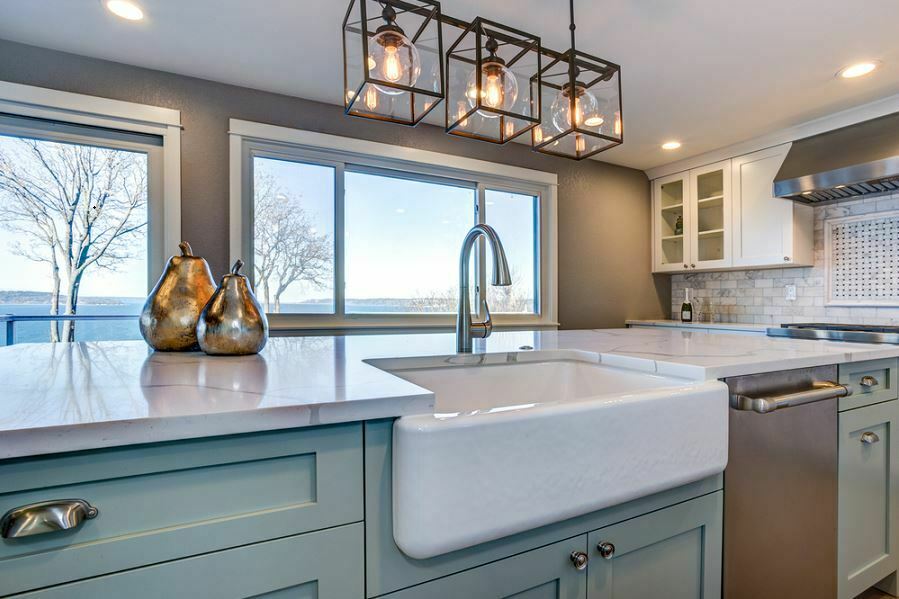 A farmhouse-style kitchen design for a mobile home adds a homey, rustic feel. Choose warm and rich colors for walls and furniture, including coffee, wood, rust, or wine. You could also consider contrasting colors such as bone white and cream. Consider using recycled wood for a more aged look and have it painted or sealed with clear varnish.
Countertops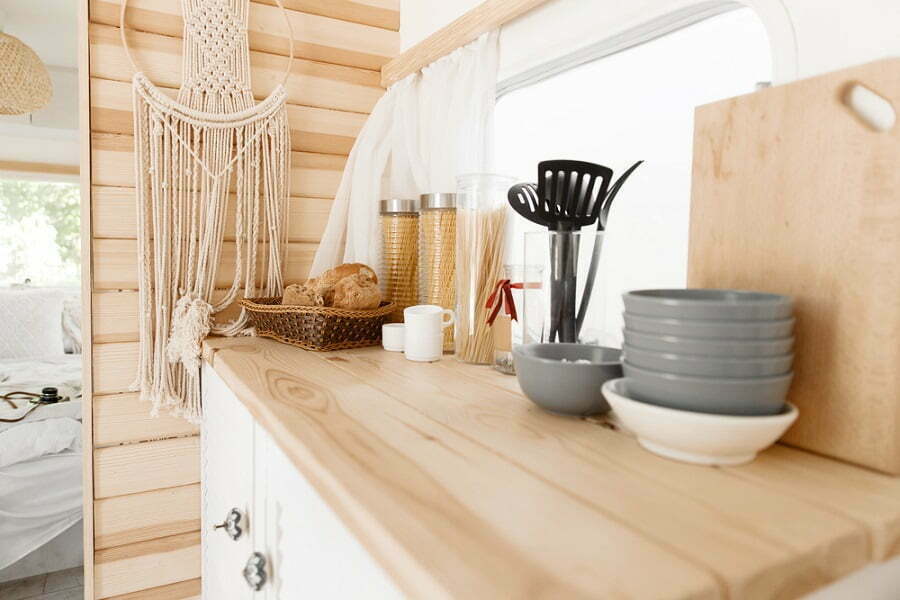 From granite to wood to metal, there are plenty of options to choose from for countertops for a mobile home kitchen. Several factors do come into play, including size, type of material, and finish. Keep in mind that some materials come in pre-cut sizes, although there are manufacturers who are willing to customize sizes to your specifications.
The type of material you use will also impact its functionality, maintenance, and appearance. Wood countertops, for example, have to be finished and sealed to keep them waterproof. If you prefer stone such as granite, consider having it sealed to prevent water from seeping in.
Backsplash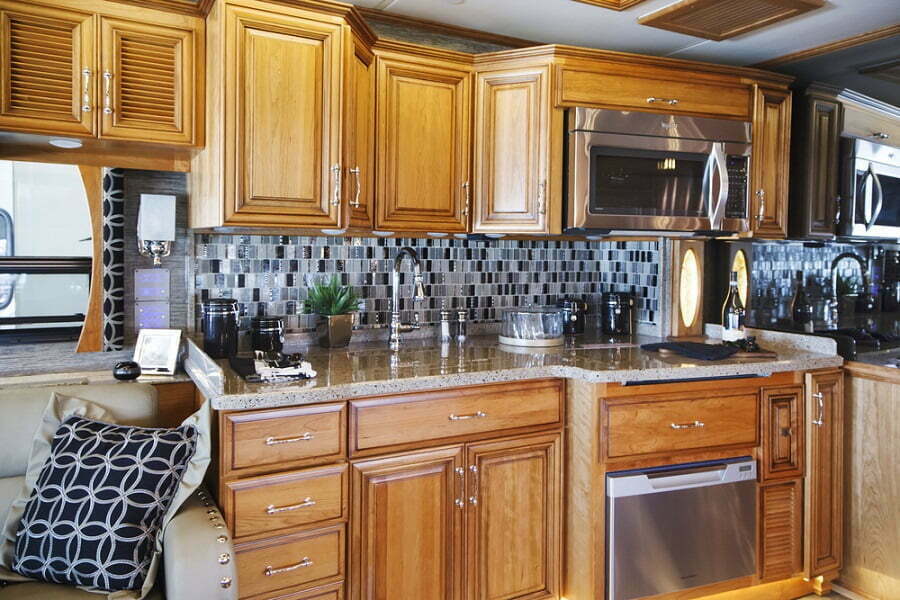 A backsplash is necessary because it prevents debris, water, and oil damage on the wall directly in front of the stove. Backsplashes can be any material, provided it is waterproof, non-porous, and easy to clean. Popular backsplash materials include ceramic, glass, and even stainless metal sheets. They are relatively easy to install as a DIY project, considering that the work requires only some accurate measurements, suitable materials, and some elbow grease.
Kitchen Island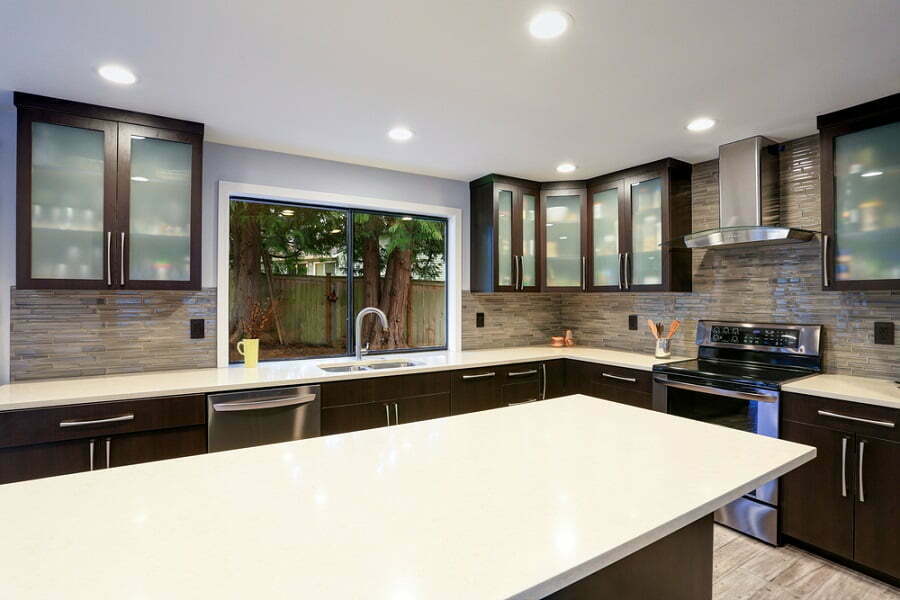 A kitchen island is a good option for your mobile home kitchen if you have enough space. It maximizes available space in your kitchen, but it also helps expand your existing storage area. Adding a kitchen island is an excellent choice if you love working in the kitchen and have enough space to spare.
Walls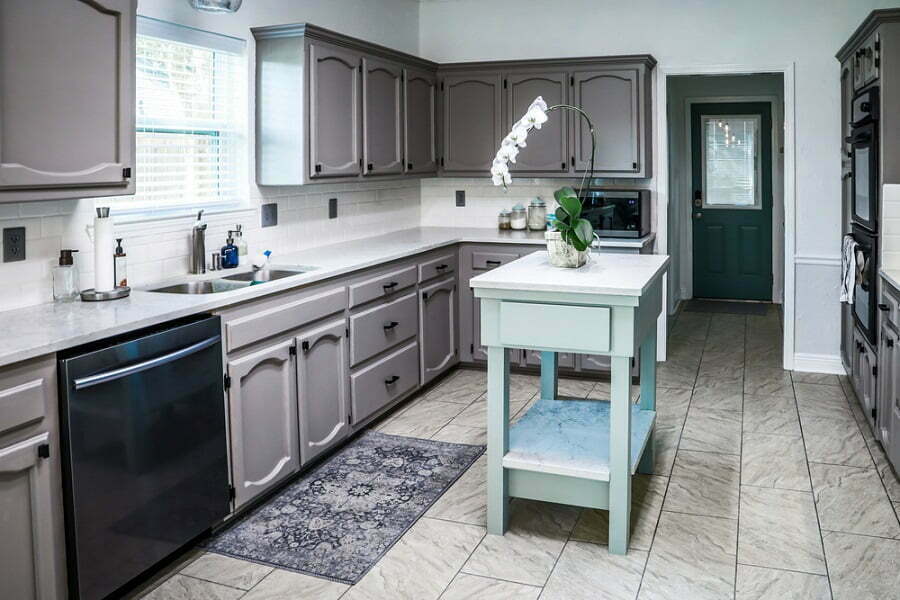 Mobile home walls do not have to be boring. You can spruce them up to brighten up the space, create a focal point, or simply change the mood of the place. Try a new coat of paint, add new lighting fixtures, or put up framed photos or art. If certain wall parts can be utilized for additional shelving, you could put up extra units for more storage.
Building drywall separators in a mobile home are not recommended to separate the kitchen from the living area. Open-plan kitchens allow you to make use of the limited space most effectively. Uses vertical wall space up to the ceiling. Shelving installed to the utmost corners will give you the storage you need.
Windows in a mobile house are of the utmost value, especially in the kitchen, where natural light can help make the space look bigger. If there's an extra door, consider converting it into a window.
Light Fixtures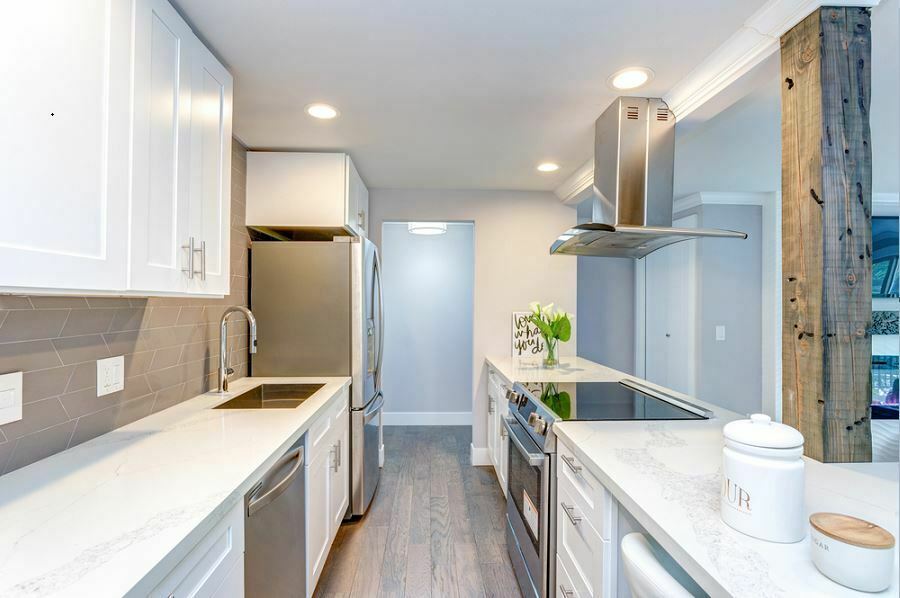 If you have existing light fixtures that work well, consider adding transparent shades or those retro iron covers that decorate the bulb but allow light to pass through. You could also change the lighting to more energy-efficient units or install recessed lighting. Check areas that need more lighting or consider putting spotlights to highlight focal spots.
Open Shelves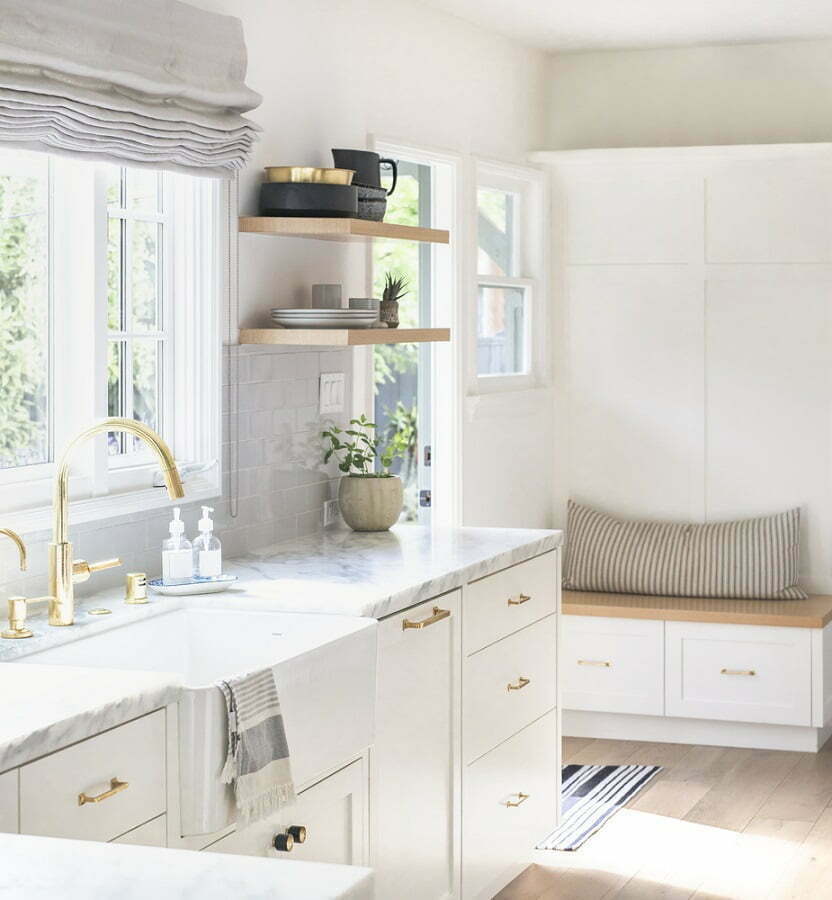 Open shelves are a good choice for small spaces because they help create more space, at least visually. Open shelves are easy to install, even as a DIY, and can even be purchased ready-made. Open shelving is a practical solution for a mobile home kitchen because it is stylish, practical, and convenient. Food, dishes, bottles, pots, cans, and pans are easy to find. Open shelves are also more affordable compared to closed shelves.
Mobile Home Kitchen Remodeling Cost
The cost of remodeling a mobile home kitchen will depend on several factors, such as the type of remodeling you want to do, materials, brand, and labor. The extent of the work that will be done will also affect the cost. In general, expect to spend about $100 for small jobs and $10,000 or $15,000 for more extensive remodeling work.
FAQ
How can I make my trailer look nice?
You can start by cleaning out all the junk and clutter. Then, get rid of old appliances and furniture. Replace them with modern pieces that match your style. Finally, replace the flooring and paint the walls.
What kind of cabinets do mobile homes have?
Most mobile homes have standard cabinetry made of particleboard. However, some trailers may come with laminate cabinets instead.
What kind of countertops are in mobile homes?
Most mobile homes come with metal, vinyl, or MDF countertops. Some luxury models may come with granite or other types of stone.
Can you knock down walls in a mobile home?
Yes, you can knock down walls in a trailer if you want to expand the size of the kitchen. However, it might take some time, so you'll have to hire a contractor to do this job.
How do you redo the outside of a mobile home?
You should always consult a professional before doing any exterior renovations. There are many things you can do to improve the appearance of your trailer, including painting, installing new windows, and adding siding and roof shingles.
Related reading: