Last updated on January 29, 2022
In a nutshell, you can put a prefab home anywhere where your local zoning codes allow it. That means you need to do some research before you pick a spot.
Researching zoning laws in your town may help you better understand local regulations for building permits. The good news is you don't need any special permits for building a modular house. You'll be able to get the same zoning approval as if you were building a conventional home.
Manufactured home construction requires stricter standards than mobile home construction because manufactured homes must be built to withstand extreme weather conditions like earthquakes and tornadoes.
Table of Contents
Can Modular Homes Be Built Anywhere?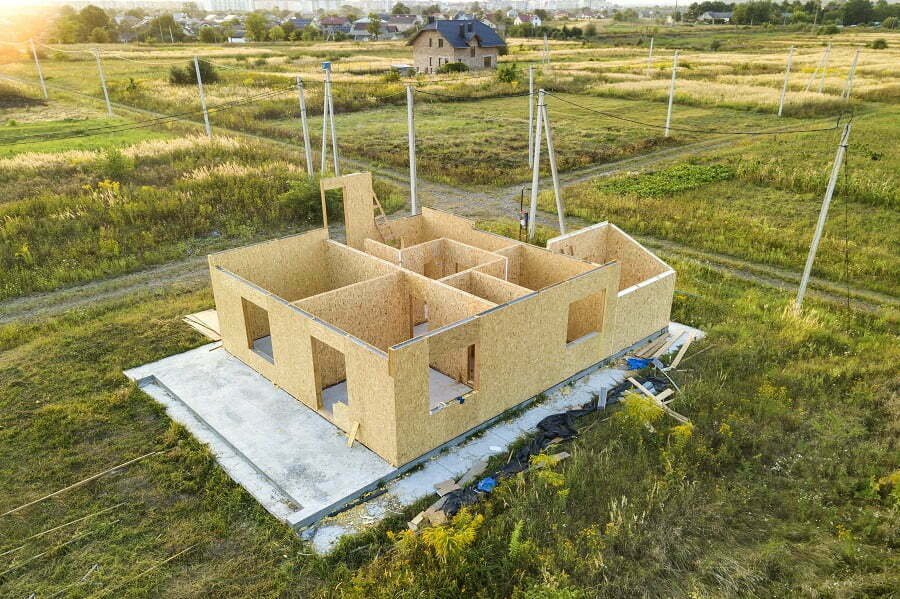 Yes, modular homes can be built almost anywhere. The only requirement is that the site must have enough space to accommodate the modules and provide access for them. In some cases, it may even make sense to build your modular home on top of an existing building or structure. This will allow you to take advantage of any existing utilities already in place.
If you are looking at a new construction site, look into pre-engineered buildings as they often come with all the necessary utilities already installed. Make sure that you comply with local building codes when doing any remodeling project.
The good news is that modular homes are typically treated just like traditional homes, so they have the same zoning laws as a stick-built home.
Zoning Restrictions
If you plan to build a modular home, make sure you check your local zoning laws to see if there are any restrictions regarding the structure's location. If you plan to build a modular home near an existing structure, be aware that some municipalities may require you to obtain permits to build additions.
Prefab Home on a Basement
Clay soils don't hold enough moisture to keep footings stable. Soil conditions must be considered carefully when designing basement foundations. In general, concrete slab foundations should not be used on basements unless reinforced with steel reinforcement bars. This will ensure that the foundation is strong enough to support the weight of the home above it.
The most common type of foundation system for basements is poured concrete slabs. These systems are relatively inexpensive and easy to construct. They are usually adequate for single-family dwellings. However, they are not suitable for multi-family buildings. Poured concrete slabs are heavy and difficult to transport. They are also susceptible to cracking and settling.
A reinforced concrete block wall is one alternative to poured concrete. It's also less expensive than a poured concrete slab. Blocks are easier to handle than concrete slabs and can be stacked without mortar. They are also lighter. Reinforced blocks are available in several sizes and shapes. For example, they can be made into rectangular boxes or columns.
How Are Modular Homes Different from Houses Built On-site?
Modular homes are made using standardized components that are then assembled on-site. On the other hand, traditional stick frame homes are constructed by framing out walls, floors, ceilings, and roof trusses before adding the exterior siding and finishing materials.
On the other hand, manufactured housing is more expensive than modular housing. You can customize the interior to suit your lifestyle, budget, and personal preferences with modular homes. You can also add features such as decks, patios, garages, fireplaces, and more.
When it comes to location, most zoning codes allow putting prefabs anywhere where stick-built houses are allowed. The same goes for modular homes. Mobile homes, on the other hand, have more restrictions.
There are many benefits to building your own modular home. You get complete control over every aspect of the process, including design, layout, finishings, and everything else. Plus, you can save thousands of dollars compared to buying a manufactured home.
How Much Does a Modular Home Cost to Build?
The cost of a modular home varies depending on many factors, including where you live, what type of home you want, how much land you need, etc. However, most modular home builders offer financing options, so you don't have to worry about paying upfront. They also offer different types of floor plans, which means you can choose the one that best suits your needs.
How Long It Takes to Build a Modular Home
This depends on several things such as the size of the house, the number of rooms, the number of customizations you want, etc. Most companies give you a rough estimate, but if you want to know precisely when you can expect to move in.
Is Building a Modular Home Easy?
It doesn't matter whether you're a seasoned DIYer or someone who's never done any carpentry work before. Building a modular home is easy. All you have to do is hire a professional builder to help you assemble the parts, install the plumbing, electrical wiring, and appliances. Once the home is complete, you unpack the modules and start living!
FAQ
Do I Have To Move Out While My Modular Home Is Being Built?
No, you don't have to move out while your home is being built. You can stay in your current home until the project is completed. Also, you don't have to pay rent because you are not occupying the property. You can either move back in or sell the home to another buyer when the project is finished.
Can I Rent My New Modular Home?
You can rent your new modular home immediately after it has been delivered and set up. Many people use their modular home as a vacation rental. Others use it as a second home. Either way, renting your new modular home is a great option.
Related reading: