Last updated on February 9, 2022
Modular homes are delivered by transporting the modules using special carriers and tow trucks. Compared to the delivery of other prefab homes, it is more expensive.
In this article, we will discuss the process of delivering a prefabricated modular home to its destination site. This process is different from other types of delivery because a modular house needs to be transported in relatively large modules.
As you can imagine, moving such large modules requires special equipment, carriers, and labor. Therefore this type of transportation tends to be more expensive, especially if the destination site is in a hard-to-access place.
Table of Contents
How Are Modular Homes Delivered?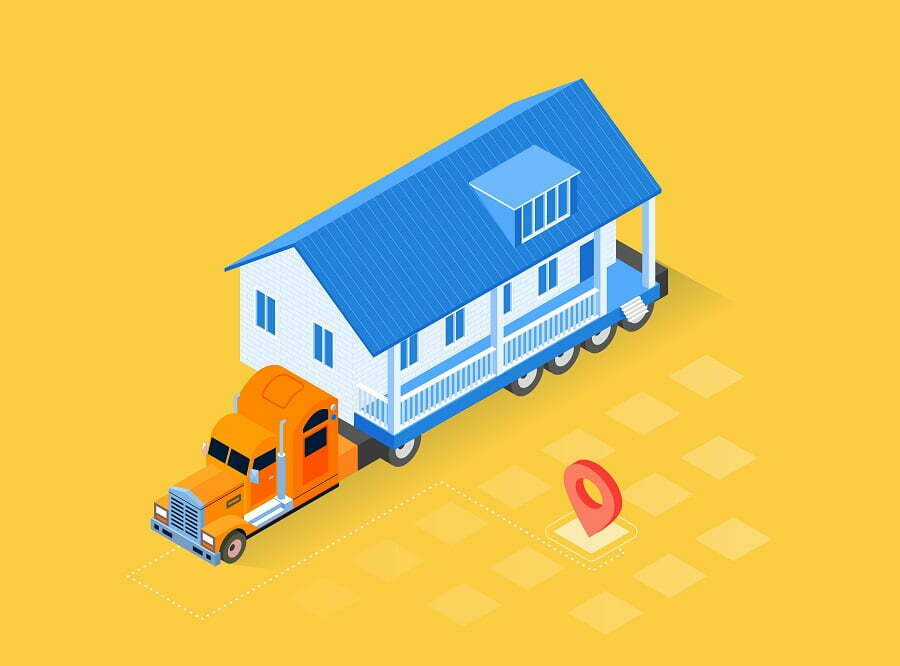 Modular houses can be delivered via flatbed trucks, railcars, or semi-trailers, depending on where you live. In most cases, the delivery will include all necessary materials such as steel framing, exterior siding, roofing, windows, and doors. Some manufacturers offer delivery services that include interior finishes such as flooring, cabinets, and prefab countertops. Depending on your location, modular homes can take anywhere from 6 weeks to 4 months to deliver. Most companies have a minimum order requirement, so make sure to get a quote well ahead of when you plan to build.
In contrast to other types of prefab homes delivered disassembled, modular homes are transported in separate modules. Because these tend to be larger, it can pose some transportation challenges if the home site is not easily accessible.
How a Module Is Delivered?
Modules are usually placed on a particular I-beam carrier, protecting them from road hazards like bumps, dips, and holes. They're not permanently affixed to the modules. Once at the site, the home modules are lifted off the transport vehicle and placed into their final position.
A specialized vehicle called a toter pulls the trailers carrying the modules from the manufacturing facility to the installation location. Most trailers come equipped with a tow bar for attaching them to vehicles. There are towable trailers that can turn the hitch into an extension arm to be used for pulling various types of vehicles. They are compact and work well when moving a modular home module through highly narrow spaces.
Building a house from scratch requires a lot of time and effort. You'll need to get all of the modules for a home to a single location before the building begins. Modular homes are usually delivered by truck, but some builders use helicopters because they know their clients want them there quickly. Other than using a crane, other specialized tools and equipment can be used to move large modules into place.
What Is Included in the Delivery Service?
When you purchase a modular home, you may receive some additional items with the shipment. These items include:
Modules – The actual modules of the modular house.
Framing – Steel beams, joists, trusses, posts, rafters, etc.
Exterior Siding – Usually vinyl, aluminum or composite siding
Roofing – Typically metal shingle or tile
Windows and Doors – Prehung or custom windows and doors
Cabinets – Custom or stock cabinetry
Flooring – Wood, carpet or laminate flooring
Countertop – Granite, quartz, stone, solid surface or other material
Kitchen Appliances – Range, refrigerator, dishwasher, garbage disposal, microwave oven, etc.
Plumbing – Water heater, sink faucet, toilet, shower/tub fixtures, etc.
Electrical – Lights, outlets, switches, receptacles, wiring, etc.
Heating and Cooling – Forced air heating and cooling systems
Interior Finishes – All wall coverings, trim, baseboards, crown molding, ceiling tiles, lighting, etc.
Other Items – Furniture, appliances, etc.
Modular Home Average Cost of Delivery
Delivery prices vary greatly based on the size and type of home shipped. For example, if you choose to have a two-bedroom, one-bathroom home delivered, you could expect to pay between $3,000-$12,000. If you want a three-bedroom, two-bathroom home delivered, you might spend up to $20,000. If you add more bedrooms, bathrooms, square footage, or amenities, prices go up significantly.
How a Modular House Is Installed
A modular home is a prefabricated building system made up of standardized panels or "modules" assembled on-site. The modules are transported to the construction site by truck and then stacked like giant Legos. Once complete, the structure is lifted off the ground using cranes and placed on its permanent foundation.
Assembling a modular home is similar to erecting a traditional stick-built home. However, for a modular house to be built quickly, it must be designed with standard components and prefabricated at an industrial facility. This allows builders to assemble the modules quickly and efficiently before arriving at their final destination.
How Long Does It Take to Install a Modular Home?
Most modular homes require about five days to set up. During this time, workers will unload the modules from the trailer and stack them onto a temporary foundation. They will then connect the plumbing, electrical, HVAC, and other utilities needed to finish the installation. After everything is connected, the builder will begin installing the walls and finishing touches. Depending on how many rooms there are in the home, it should only take a few hours to put together.
FAQ
Are modular homes green?
Yes. Modular homes use fewer resources than traditional homes because they don't need a lot of land to construct. Also, modular homes are usually smaller than traditional homes, which means they use less space. This helps reduce the amount of energy used during construction.
Is modular home insurance required?
Yes. It is always best to insure your new home before moving into it. However, if you decide not to buy coverage for your modular home, you will still be responsible for damage caused by fire, windstorm, and vandalism.
How are manufactured homes transported?
Manufactured homes are typically moved using semi-trailers. The trailers are specially designed to carry these types of homes. When the home arrives at its destination, the trailer is unloaded, and the home is placed on a foundation.
Related reading: