Last updated on February 9, 2022
Prefabricated countertops are made and finished in the factory. They are pre-cut to certain dimensions, and the end-user has to adjust the counters to fit them.
If you're getting new countertops for your kitchen, bathroom, or a remodel, a prefab option is a cheaper alternative to a custom slab. A popular option is getting prefab countertops together with a prefab home.
The key thing to understand is that when buying prefab countertops, you need to make sure you choose the right size of the already-made product. You have to match it to your counters and cabinets, not the other way around.
Table of Contents
The Difference Between Prefabricated and Slab Countertops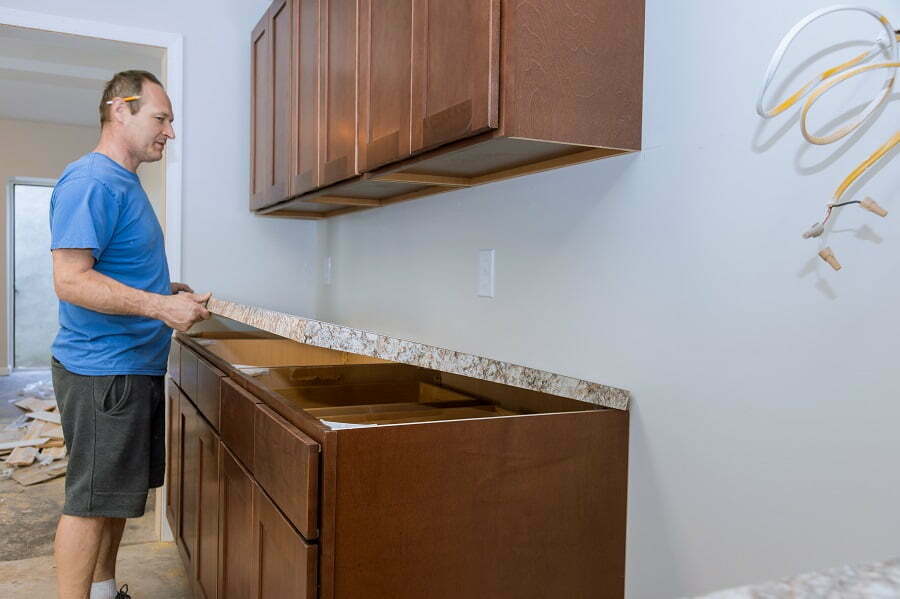 One of the most important features of any kitchen is the countertop. When designing a new kitchen or renovating your existing kitchen, there are many decisions you will need to make, but the choice of countertop is top on the list. You will have to decide whether to get slab or prefabricated countertops.
What's a Prefab Countertop?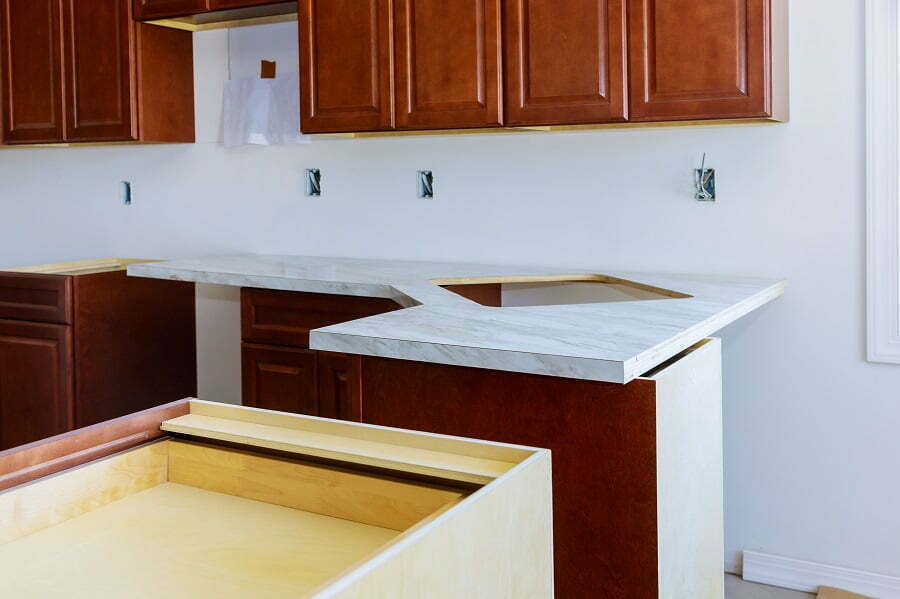 A prefab countertop material is made from quartz, marble, slab granite, soapstone, or any other type of natural stone. It is already cut to size to fit a standard countertop. Additionally, the edges of the countertop have already been finished. This means that they can be installed in a standard kitchen quickly without any adjustments.
Prefabricated countertops designed for bathrooms usually come with the hole for the sink already cut out. With kitchen prefab countertops, however, this is rarely the case.
Prefabricated granite and quartz are the most popular options. However, there's a wide range of finishes and a variety of styles.
Benefits, why it's a good choice for homeowners, include:
Easy to install – no cutting or fitting needed
Ready to use – no finishing work required
Quicker than installing a custom countertop
Lower cost
Can be used as part of a larger project such as a kitchen renovation
Can be combined with a prefab house
What's in a Slab?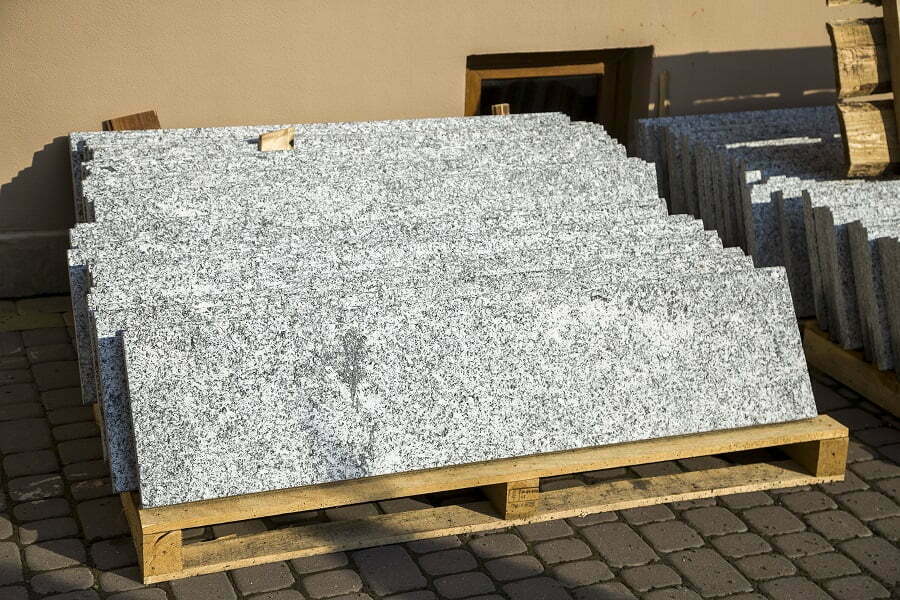 A slab is a large unfinished block of quartz or natural stone, usually granite or marble. After ordering the slab, the contractor must cut the block to size to suit your needs. You will have to specify the block's dimensions, finishing, and edging before custom cutting commences. Obviously, slab countertops require a lot of work on site. 
Custom vs. Prefab Countertops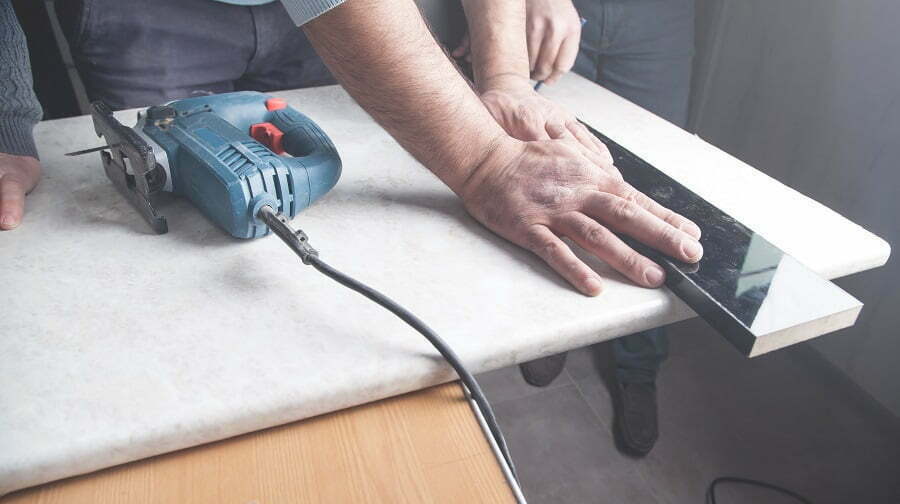 Before deciding whether to buy a prefab or custom countertop, you need to know all the pros and cons of the two options.
First and foremost, prefab countertops are less expensive than slab countertops. Despite all the cutting, edging, and finishing that the supplier has already done. The labor that goes into carving out a kitchen or bathroom countertop can increase the cost further.
Secondly, prefab countertops do not have any defects. In fact, the buyer inspects and chooses the perfect countertop for their needs. The fabricator can make a mistake with slab countertops while customizing the slab. 
However, if you want a custom kitchen or bathroom countertop, the best option is to buy a slab and customize it. You can choose the color, finishing, and edging to suit your taste. 
The Materials
Both slab and prefab countertops are made from either natural stone or engineered quartz. Natural stones include soapstone, granite, marble, etc. Several factors will decide the choice between these natural stone materials, including pricing, preferred color, size of the slabs, and personal preferences.  
The Dimensions
As noted earlier, prefab countertops come in standard countertop sizes. This includes; 96″ by 26″, 108″ by 26″, 84″ by 76″ and 48″ by 72″. If your kitchen or bathroom counter is larger or smaller than this, you may need to order a custom countertop.
Please note that you do not need to have the slab delivered to your home for it to be cut to size, as the supplier can cut it to the right size edge and finish it to meet your requirements. 
The Quality
The quality of a prefabricated countertop is measured in several ways. The first is the seamlessness of the countertop. You do not want a countertop that has seams. Countertops with seams or joints are low quality and should be avoided or purchased at a lower price. Secondly, the thickness of the countertop is a measure of quality. You want a thick, seamless prefabricated countertop on your kitchen island and the sides of your kitchen or bathroom sink. 
The Design Options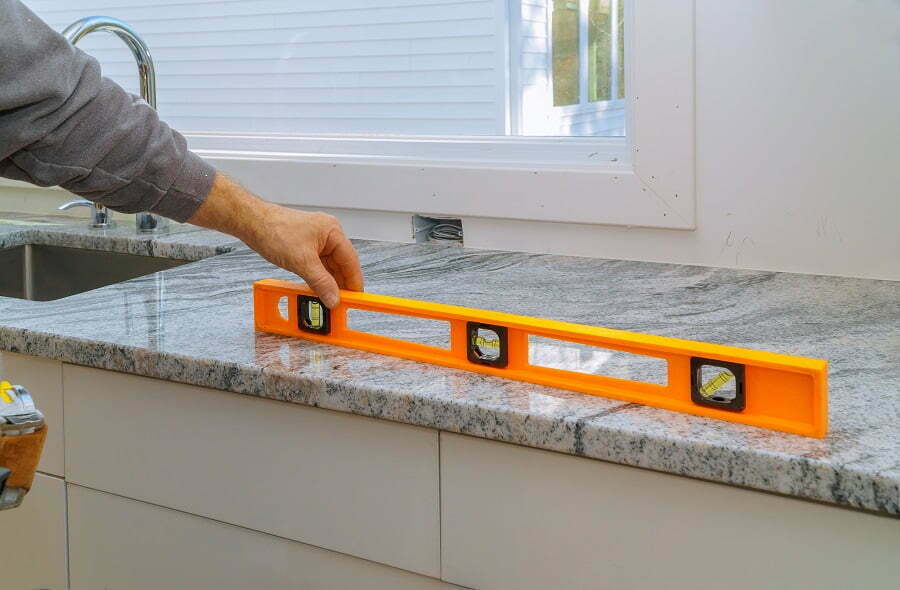 The colors and patterns on prefabricated countertops can distinguish one countertop from another. Therefore, you need to check the types of patterns and colors on the design of a countertop. Be sure to consider the following when assessing the quality of prefab countertops:
Veins
Fissures
Surface pitting
Shade variation
Color concentrations
Countertops and Cabinets
Prefabricated countertops are often used with cabinets. These include both wood and metal cabinets. When purchasing a prefabricated kitchen or bathroom countertop and cabinetry, you need to ensure that they match. The countertop and cabinet doors must match so that the overall look of the kitchen or bathroom matches. 
Backsplash Tile
A backsplash tile is an optional feature that adds visual appeal to a kitchen or bathroom. A backsplash tile is usually installed over the countertop and behind the sink. Backsplash tiles are available in different shapes and styles. They also come in different materials such as ceramic, porcelain, glass mosaic, slate, concrete, etc.
You can use a backsplash tile in many ways. For example, you can install a backsplash tile along the countertop perimeter. Or you can install a backslit tile above the countertop. The tile can go up to the ceiling.
The Cost
The cost of granite countertops depends on the thickness of the countertop and its dimensions. They range from $40 to $100 per square foot. If you opt for a granite slab, the thickness and size of the slab will determine the cost, which may range from $100 to $225. However, there is an added cost for cutting, finishing, edging, and installation. Please note that the installation cost will depend on the point of purchase of the countertops and dimensions. 
The Time to Install
Since slab countertops require cutting, edging, and finishing on-site, they take much longer to install than prefab countertops. If you are running short of time in your kitchen or bathroom renovation project, you cannot afford to waste more time buying an unfinished slab as it will take more time to finish the slab to make the custom countertop. 
If time is an issue, consider buying a prefabricated countertop as the installer will only take a few minutes to install the countertop once it's delivered. This will save you a lot of time.
When designing the kitchen, make sure your contractor knows the type of countertop you intend to install. This will help the contractor plan well for the installation. With sufficient time in their hand, the contractor will properly cut, edge, finish and install the slab.
The dimensions of the prefab countertop should also be specified early to enable the contractor to design and install the necessary supports and fittings. The ideal contractor should have plenty of experience in the industry.
FAQ
Can I cut prefabricated countertops?
Yes, you can cut them, but you must know how to do this. You should hire a professional who has done this before. Cutting a prefabricated countertop requires special tools and equipment. You can get these at any home improvement store. 
Is prefab quartz good?
Prefabricated quartz countertops are made of high-quality material. They are durable and easy to clean. Quartz countertops are stain-resistant and scratch-resistant. They are also heat-conductive, making them perfect for hot kitchens. 
What is the difference between granite countertops and quartz countertops?
Granite is one of the most popular choices among homeowners because of its durability, beauty, and long-lasting qualities. Granite comes in various colors, textures, and sizes. It is manufactured by heating natural rock until it becomes soft and then carving out the desired shape. 
Quartz countertops are also trendy because of their affordability and ease of maintenance. These countertops are available in different shapes and sizes. They come with a lifetime warranty against chipping, cracking, and fading. 
What does it mean to fabricate granite countertops?
Fabricating granite countertops means taking rough pieces of granite and shaping them into slabs using cutting machines. Fabrication involves removing excess stone from the edges and corners and smoothing the surface. Once the granite is shaped, it is polished to achieve the required shine. Professionals usually carry out fabrication. 
How do I choose a prefabricated granite countertop?
You need to consider several factors when choosing a prefabricated slab countertop. The first thing you need to look at is the size of the countertop. Make sure that the countertop size matches the size of the cabinets. Also, check if the countertop is suitable for use with your sink. Most prefabricated countertops have holes where the faucets are attached. Some manufacturers offer pre-drilled holes while others don't. When selecting a prefabricated quartz countertop, ensure that the manufacturer offers a lifetime warranty against breakage.
Related reading: