Last updated on February 2, 2022
Choosing the ceiling for your prefab home? You have many options. You can have most traditional ceiling options, but prefab manufacturing offers some unique opportunities. Read on!
You might have noticed that most prefab homes have traditional ceiling style options like site-built homes. That's because today, prefabs look like traditional homes from the inside out unless chosen otherwise. Most of the differences are in the ceiling structure and how it is installed.
In this article, you will learn all about the different options of prefab ceilings available. This will help you make the right choice of ceiling for your new prefabricated home.
Table of Contents
Prefab Ceiling Structure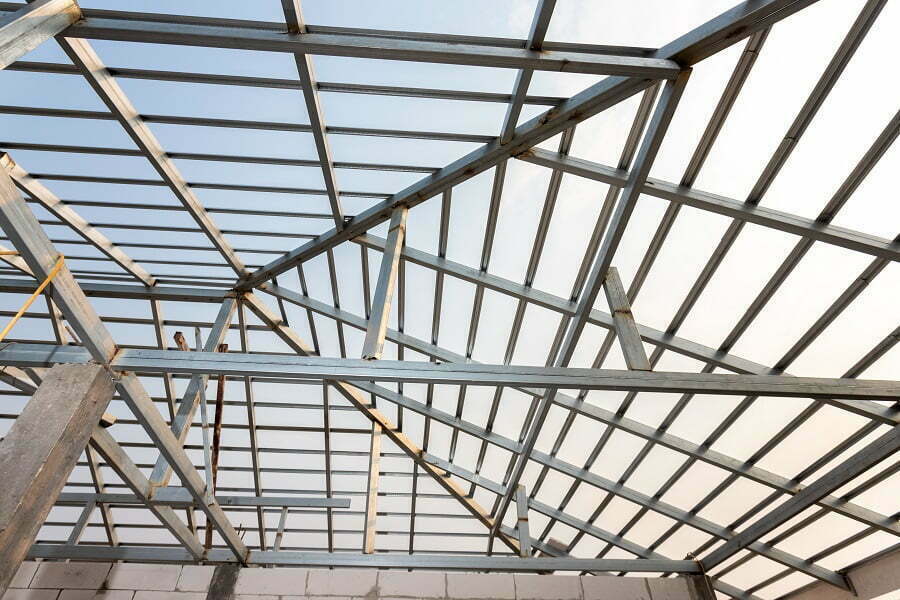 Prefab homes are just like regular site-built homes. They have a foundation, walls, roof, and ceiling. All these sections are usually manufactured off-site and delivered to the site for assembly. The ceiling structure is usually installed during roofing. This is usually made up of a grid of wooden frames supported by the inner and outer walls of the building as well as the trusses. A metal grid can also be used. With the ceiling structure installed, the ceiling material can be installed. 
Types of Prefab Ceilings
These are the most common types of ceilings used in the manufactured building process.
Vaulted Ceiling
The vaulted ceiling design is perhaps one of the oldest types of ceilings. Some designers consider them outdated. They are rated poorly based on energy efficiency. However, they are highly ranked for their lofty and grand flair. A vaulted ceiling is a self-supporting arched structure beneath the roof and above the house's walls. They are quite common in Gothic cathedrals and come in various designs, including; groin, barrel, fan, and rib. When ordering a prefab home, be sure to check out some of the available vaulted ceiling designs.
Cathedral Ceilings
Unlike the vaulted ceiling, which is arched, cathedral ceilings have two straight sloping sides that form the shape of an inverted letter V. They are best suited for large living rooms, bedrooms, and dining rooms.
Ceiling Panels
Ceiling panels are also known as ceiling tiles. These panels are normally placed in an aluminum or steel grid to cover ceilings. Ceiling panels offer some thermal insulation and can improve acoustics. The three most common materials for making ceiling panels include; thermoformed plastics, fiberglass, and mineral fiber. All these materials are light in weight, so they're suitable for use in the ceiling.
Coffered Ceiling
This type of ceiling is usually found in high-end homes, hotels, libraries, and even churches. They can make a room look classy and more luxurious. They come in different staining and finishing options.
Drop Ceiling
Dropped ceilings are common in offices, commercial buildings, and business premises. Drop ceilings hung from metal grids below an existing ceiling. They are used to regulate acoustics. These ceilings allow designers to hide mechanical, electrical, and plumbing fixtures. Experienced specialists can only install them.
Prefab Ceiling Kits
After choosing the perfect ceiling for your prefab home, the next step is to choose the best prefab home ceiling kit. These kits are usually packaged to fit accurately into the required space, so you will need to specify the floor area of your home. Whether you want a dome ceiling, radius ceilings, or asteroid curve ceilings, all you need to do is place your order, and the manufacturer will make it. These kits are pricey, but they are easy to install.
Prefab Ceiling Height Options
The vast majority of manufacturers offer 9-feet high prefab ceiling height options. Other height options are 8′ and 7'6″ ceilings. The design of your home and your personal preferences will dictate the ceiling height option to choose.
Prefab Ceiling Materials
The following materials are often used to manufacture prefab ceilings.
Beadboard
Beadboard is paneling that features decorative beading. They were originally used on the walls, but beadboard panels are also used in the ceiling nowadays. Beadboard panels are made from pine. The planks are 8′ wide and 3.5″ wide. The average price of beadboard is $1.5 per square foot. However, professional installation can be as much as $3.5 per square foot, increasing the cost considerably. Beadboard is relatively affordable, and there are ceiling kits that the average homeowner can easily install.
Wood Planks
Solid timber that's properly treated and finished can be a wonderful addition to the decor and ambiance of a room if installed on the roof. If you decide to install ceiling planks on the ceiling, you must order the kit from the right manufacturer. Wood planks are easy to install and are considered an eco-friendly option.
Wood Paneling
Wood panels can transform a room and make the ceiling the room's focal point. Wood paneling can be made of solid wood, engineered wood boards, or wood-like products. Wood paneling is great for both homes and commercial spaces. These panels are often treated to withstand the harsh conditions of living spaces.
Shiplap
This type of wooden board is commonly used for the exterior siding of barns, sheds, and homes. Shiplap paneling is made by joining long wood planks one after the other. Each plank overlaps the preceding plank, creating a weatherproof panel. Shiplap boards can be used as ceiling materials and wall and exterior siding material.
Drywall
Drywall is made of gypsum with or without other additives and extruded in-between two pieces of thick paper. Drywall comes in a standard length of 16 feet and varying widths of 48, 56, and 96 inches. The thickness can vary from a quarter of an inch to one inch. In addition to being used on the walls.
Ceiling Tiles
These are lightweight construction materials commonly referred to as ceiling panels. Ceiling tiles are usually placed in an aluminum or steel grid. There are four main ceiling tiles; acoustic ceiling tiles, plastic ceiling tiles, tin ceiling tiles, and cork ceiling tiles.
Metal Ceilings
The durability of metal and the wide range of available finishes make it a wonderful choice for ceilings. Tin, steel, and aluminum are the most popular materials for making metal ceilings. Metal roofs also come in a variety of configurations.
Ceiling Treatment
In addition to the four walls around your home, the ceiling serves as a fifth wall as it also protects your home from the elements. If your walls look great, but your ceiling is not noticeable, you should consider installing ceiling treatments. Most interior designers can recommend the best treatment for your prefab.
FAQ
Can you have high ceilings in a modular home?
Yes! You can have any height you want in a modular home, so long as it fits within the module size restrictions.
Can modular homes have 9 feet ceilings?
Modular homes can have 9 feet ceilings if designed for the height.
Related reading: