Last updated on February 14, 2022
Want to embrace the sustainable prefab home lifestyle by joining a prefab home community? Here's everything you need to know.
The biggest benefit of living in a prefab community is, of course, affordability. These parks and communities often offer the land and home package that is cheaper than building a prefab on your own land.
Of course, there's a stigma that prefab communities look like mobile parks. However, the modern prefab movement has sprung many locations that are a dream for a prefab, and they look nothing like the old trailer parks.
We will show you some great examples.
Table of Contents
Modular Home Communities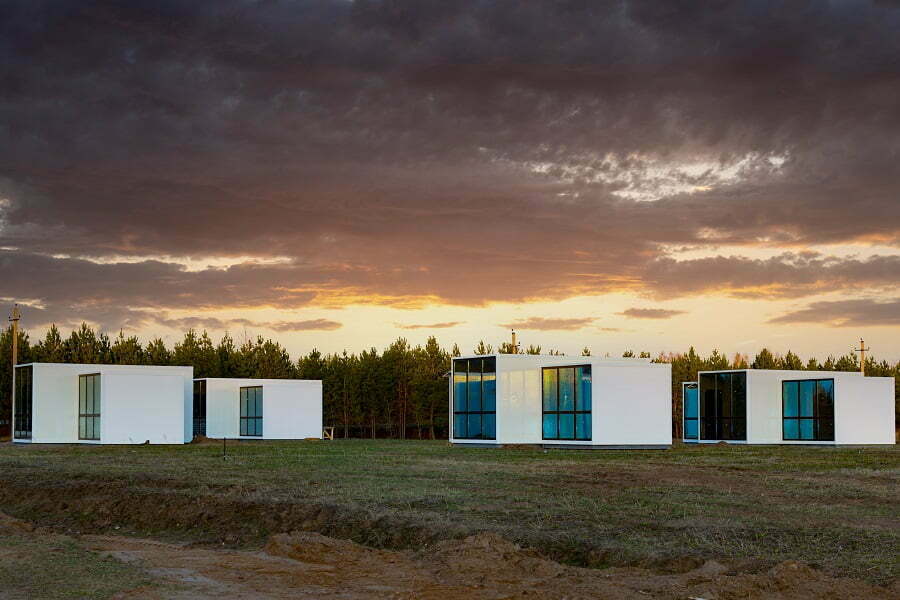 Modular home communities refer to what is more commonly known in the United States as manufactured housing communities or mobile home parks. There are a couple of reasons why the latter is often referred to as either modular home communities or prefab home communities today.
For one, most prefab homes in these communities are built following either the modular architecture method or other types of prefabricated home manufacturing techniques. The other reason is that many of the newly built manufactured home communities are actually designated as 'luxury communities,' and these luxury home parks feature some amazing designer homes built using the most cutting-edge and advanced modular home building technologies. If you've heard of Paradise Cove in Malibu (home to no less a celebrated figure than Mr. Matthew McConaughey!), there you have a prime example of a modern luxury manufactured home park.
Now, terminology out of the way here is some important facts and figures that you may want to check out regarding the US manufactured home communities.
At current, there are close to 43,000 manufactured home communities/ mobile home parks (hosting an estimated 4.3 million home sites) spread across the United States.
About 31% of all new prefab homes in the US are situated in manufactured housing communities (the rest being placed in private land).
Many believe mobile home parks or communities to be a long-term solution to the rising need for affordable housing in the country.
There are many varieties to be found within today's manufactured home communities. Some are resident-owned while others are managed by a land-lease system; there are family-focused communities meant primarily for families with kids while others exclusively serve seniors; there are budget communities as well as luxury or semi-luxury parks; etc.
Mobile Home Parks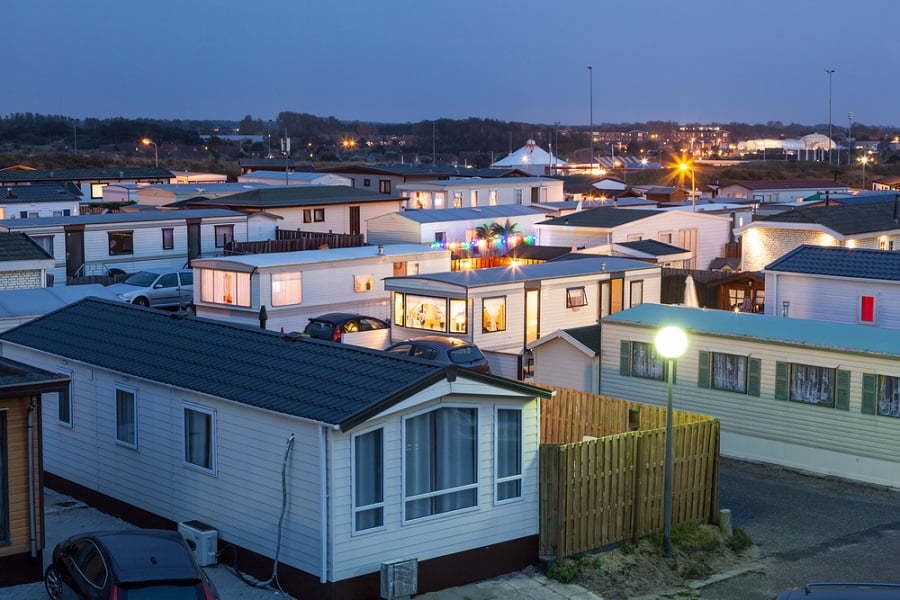 As mentioned above, mobile home parks are just another name for manufactured housing communities. However, here we would like to emphasize that the term 'mobile home' is a technically outdated one and that mobile home parks are NOT the so-called Trailer Parks of yesteryear. The association with trailer and mobile homes of the 1970s and earlier often attaches certain negative connotations to mobile home parks and influences our perceptions of these communities.
The truth is that 1976's federally adopted construction and safety standards for manufactured and prefab homes have officially rebranded mobile homes as prefabricated or manufactured homes. Again, technically, there IS a difference between standard prefab or modular homes and manufactured homes, with the former being seen as more permanent structures than strictly manufactured homes.
That said, even the manufactured homes of today (let alone the standard prefab/modular homes) are not really that mobile, to begin with; they last a long period when properly cared for, and the owners see these homes as fixed assets, and in many cases, the homes are converted to real estate.
For these reasons, almost all stakeholders in manufactured or prefab housing communities are dropping the term 'mobile home parks' altogether.
How Can I Find Prefab Home Communities Near Me?
Commonly, you can find a wealth of information regarding all types of different prefab home communities in the US through state manufactured home association websites. With the rising popularity of prefab and manufactured housing, the prefab home companies and other stakeholders, investors, etc., want interested people to find information as easily and quickly as possible.
Even so, if you can't find adequate information online, you can always pay a visit to your local municipality and request information about prefab or manufactured housing communities located in your region.
Examples of Prefab Communities
Different types of prefab communities in the US today include Land-Lease Communities, Resident-Owned Communities, Land-Owned Subdivision Communities, and Mobile Home Park Chains. And then, there are divisions according to the segments of the population that these communities are targeted at. So, you have family-focused communities, age-restricted or retirement communities, budget communities, luxury communities, and more.
For example, some popular retirement prefab home communities in the US:
Examples of premier luxury prefab communities:
Other communities:
Benefits of Prefab Communities
There are different benefits that one can enjoy living in a prefab community. To begin with, homes in both land-leased and residents-owned manufactured home communities are way more affordable than homes that you can buy/rent through traditional real estate.
Apart from that, many enjoy living in these modular home parks since the latter promote and foster a sense of community among the residents, in a fashion somewhat similar to suburban living, albeit at a smaller scale. Many of these communities feature nicely maintained resort-like amenities such as playgrounds, athletic courts, gyms, walking trails, swimming pools, picnic areas, and so on. And all these while you have your own lot, with your own yard and no shared walls.
Cons of Prefab Communities
The biggest downside to living in a prefab community (and this pertains to land-lease communities, by far the most common type in prefab/modular home communities in the US) is that residents have little to no say regarding the future of the community/park. And many of these manufactured home parks are being regularly bought out by large developers/corporations, and the land is then redeveloped for other uses.
Apart from that, municipalities often impose strict zoning restrictions on manufactured housing. This means that more than a few of these home parks are located a good distance away from the heart of the city or town, and this translates to more commute time to work as well as to other essential facilities, such as hospitals, clinics, shopping & entertainment facilities, for residents of these communities.
Related reading: