Last updated on October 4, 2022
Yes, you can design a prefab home yourself. Or at least have your say in the customization of the manufacturing process. Here's how it works.
Many manufacturers can give you the option to customize many aspects of your future prefab home. These can range from the choice of interior finishes to structural changes. Some companies will allow you to design the entire plans and blueprints for the unit to be manufactured.
Let's look at what parts of the prefab home you can design yourself and what you can customize later on.
Table of Contents
Architectural Style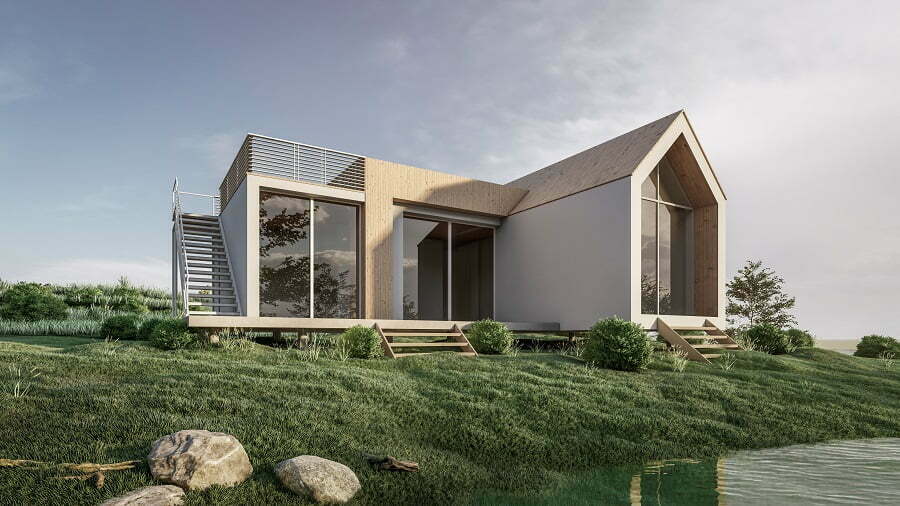 How to design your own prefab home? Individuals looking to custom-design their prefab or modular homes typically have two choices. The first is to customize a standard design offered by the company of your choice. With this approach, you can include additional features to the standard model or can tweak certain features in line with what you've already visualized in your head.
For example, you can flip certain layout features, such as choosing a different façade, increasing or decreasing the roof's slope, etc. Also, you can add a range of optional extras such as a porch, carport, deck, and so on. 
Most leading prefab home companies offer various standard designs conceived following different architectural styles. You can choose from modern and traditional designs and architectural styles suited to different landscapes and settings, such as urban, rural, beachside living, and so on.
The next option is to customize a design from the ground up. This involves more work on your part. However, this doesn't mean you've to draw the entire blueprint for the house.
You may have some general ideas as to what you want (for example, floor to ceiling windows, sloped roof, a floating canopy, etc.) as well as some rough sketches, magazine cutouts, etc.
You can then sit with the company architects and designers who will draft a design that will fit the ideas you have for your prefab home.  
Exterior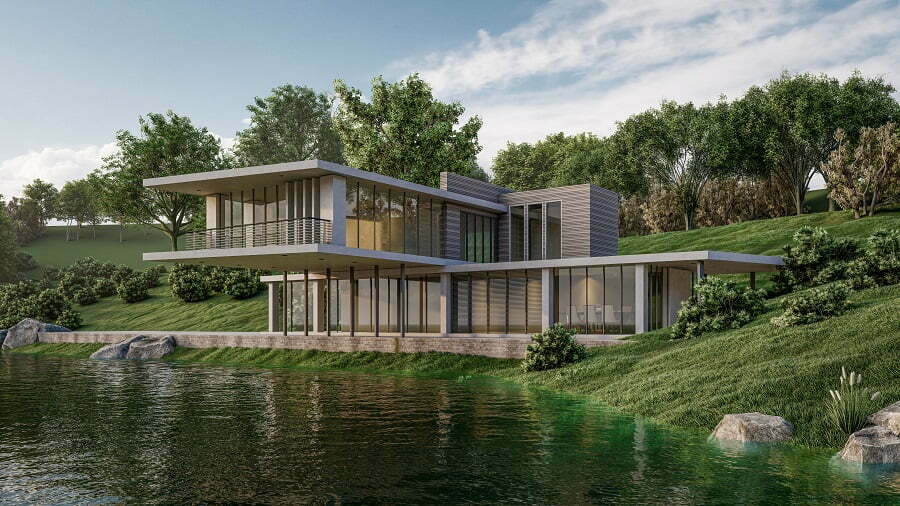 Do you want a porch for your exterior? A small garden space? A driveway? What size and shapes do you want them to be? Again, you can specify all these requirements to the architects of the prefab company you are working with, and they will draft a design in line with your requirements.
As for exterior design features, you must assess your existing site well and do a soil sample check to determine that your desired features are viable for your home's site.
Porch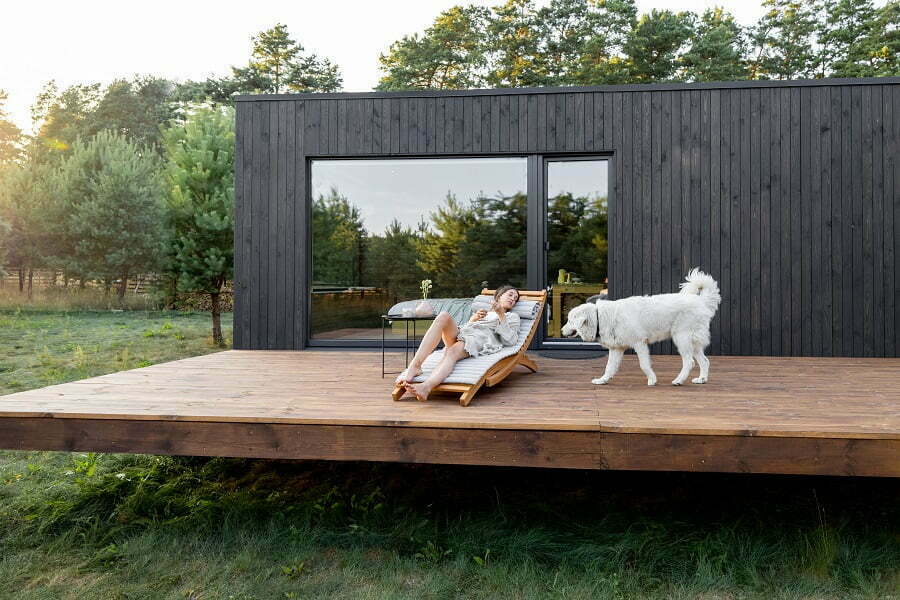 Do you want a large enough porch or a simple cozy deck for your new home? What materials will the porch be made of? How high do you want the ceiling to be? You should pay extra attention to these when designing your own prefab home.
Windows and Doors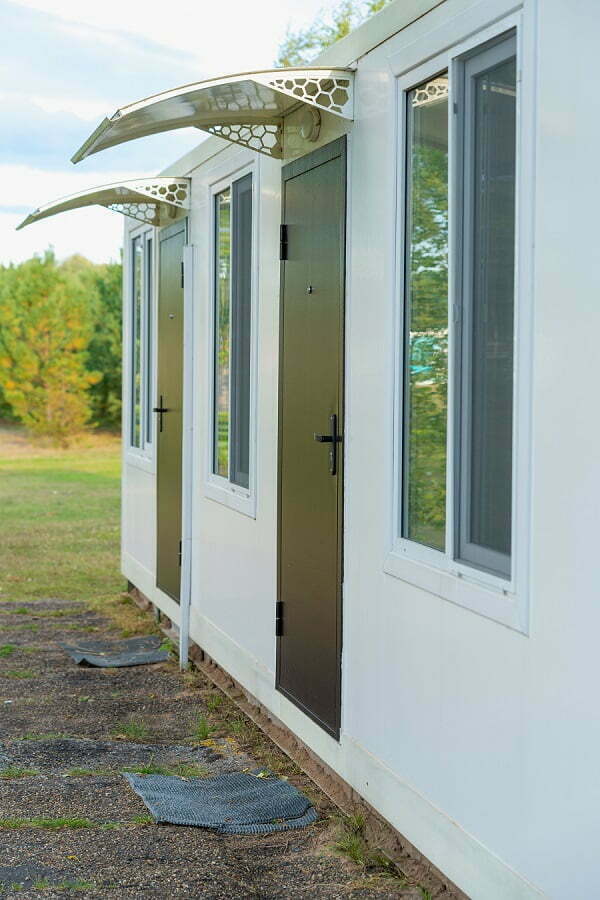 As mentioned earlier, designing your own modular home doesn't mean you have to design everything from scratch. In fact, for many people, it comes down to having the liberty to add certain design elements of their choice to an already standard design.
For example, you may have specific, well-defined preferences as to the windows and doors of your prefab home. You may want larger or more windows than what is there in the standard design of your choice. If that is the case, communicate this to the company designer, and he may be able to tweak the pre-existing design to make room for your choices.
Also, if you want special energy-efficient windows and doors for your home, let your prefab home company know that in advance since most wall modules already come fitted with windows.
Window and Door Locations
Determine the locations of your doors and windows according to the site location and light and wind direction. Additionally, make sure to adhere to all local building code requirements regarding minimum opening areas and the size of the windows.
Interior Design
Some prefab home kits or modular homes come fitted with interior design elements. Others do not. In the latter case, you can, of course, design your interior the way you want. However, if the former is the case, make sure to inspect the interior design elements of your chosen prefab kit before placing the order. If you want changes, communicate this in advance to the company.
Floor Plan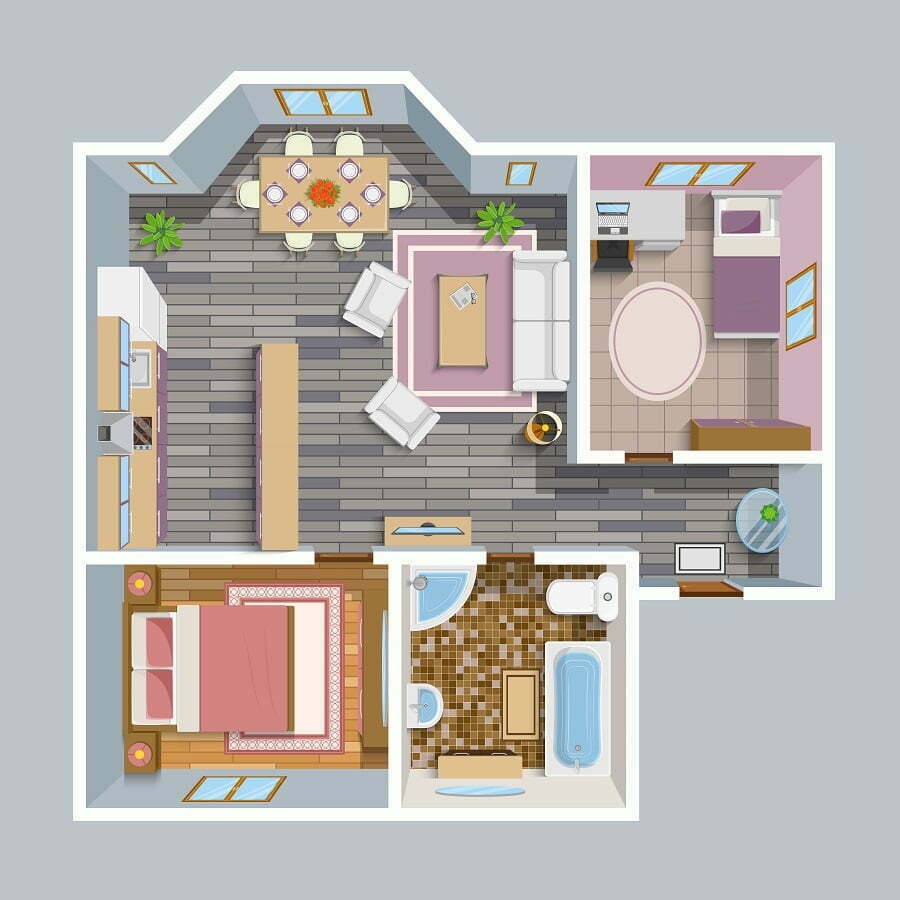 One doesn't need any special training to develop an initial floor plan. As long as you know how many rooms you want for your home and the location and the sizes of the rooms, you can quickly come up with a rough sketch of your custom modular floor plan.
These days, many prefab home manufacturers also offer simple and intuitive online designing tools on their websites. You can use them to draw your floor plan and for many other custom designing purposes.
Kitchen
We talked about design software programs, and one of our favorites is the interactive design editor Homestyler offered by Impresa Modular on their website. The software is loaded with features such as drag-and-drop furniture items and more, and you can use this design editor to design all the separate parts/rooms/spaces of your home, starting right from your kitchen.
For example, if you are not sure about the size of your kitchen, you can drag and drop different kitchen fixtures and furniture to find how they will fit inside a kitchen of a specific size and design.
Living Room
When it comes to your living room, size and the room's location are the two most important factors. So, make sure to get them right when you're custom designing your home. As for the size, a bare room (especially looked at from the floor plan) often appears smaller than it is.
However, consider that modern homes of today offer a variety of innovative storage ideas, and when you make good use of the latter, you'll have a lot of free space to work around. This is true for your living room as for bedrooms, kitchen, study, nursery, etc.
Bathrooms
What sort of fixtures do you want to be incorporated into your bathroom? Do you want a shower cabinet or a large tub? Consider these when coming up with a design and size for your bathroom(s).
As for the bathroom locations, design them according to your best convenience. Plumbing costs are relatively cheap, so there is no need to let plumbing expenses impact your plan.
Consider that a modular bathroom pod can be added to your home later as an additional extension.
Room Sizes
The size of your different rooms and your entire prefab home will, of course, ultimately depend on your lifestyle choices and requirements. That said, here is a basic guideline for room sizes that you can follow when designing your own prefab home.
Living room: Between 180-340 square-feet
Kitchen: 140-300 square-feet
Master bedroom: 145-300 square-feet
Dining room: 120-200 square-feet
Bathroom: 45-90 square-feet
The Size of Modules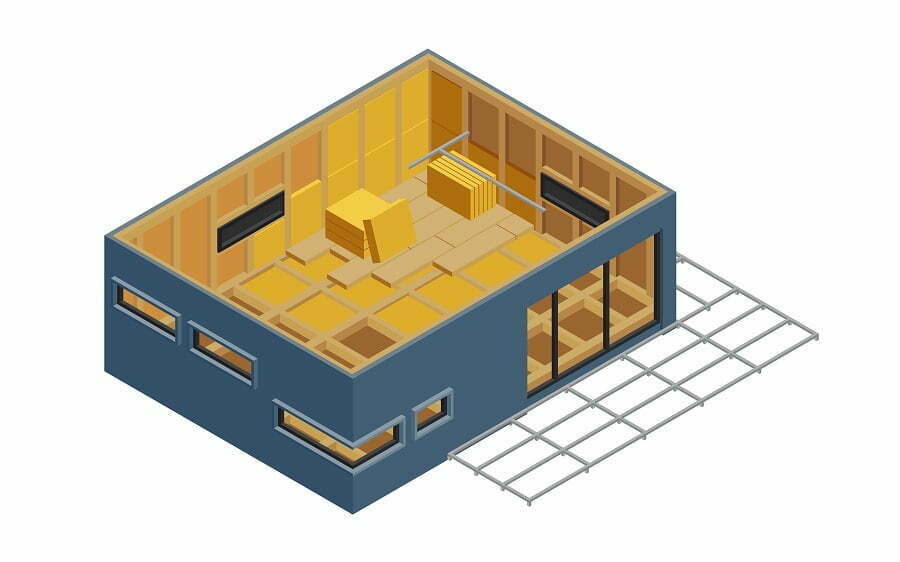 Modules for prefab modular homes are typically built in widths of 10, 12, 14, and 16 feet. Although not strictly necessary, if you are designing your prefab home on your own, it is recommended that the overall width of your prefab home be in the multiple standard module widths (for example, 24, 28, 32 feet, etc.). Also, consider the access to your site when determining the module sizes.
Rooflines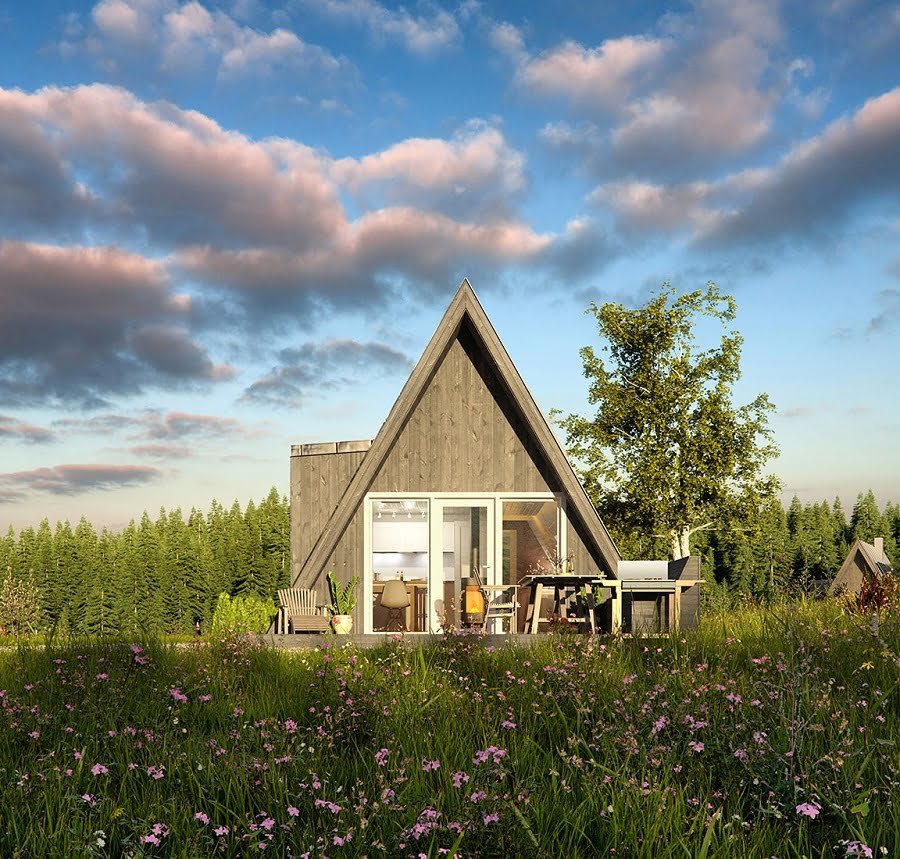 As with traditional homes, prefab models offer many complex and fashionable rooflines. However, keep in mind that fancier designs will add to the overall expense of your prefab construction.
So, if budget is one of the chief factors, we recommend settling for simplified but elegant rooflines. However, if you want your home to stand out from the rest, you are free to tread off the beaten track and may as well choose something uber-modern in the line of Avrame A-frames.
Ceiling Heights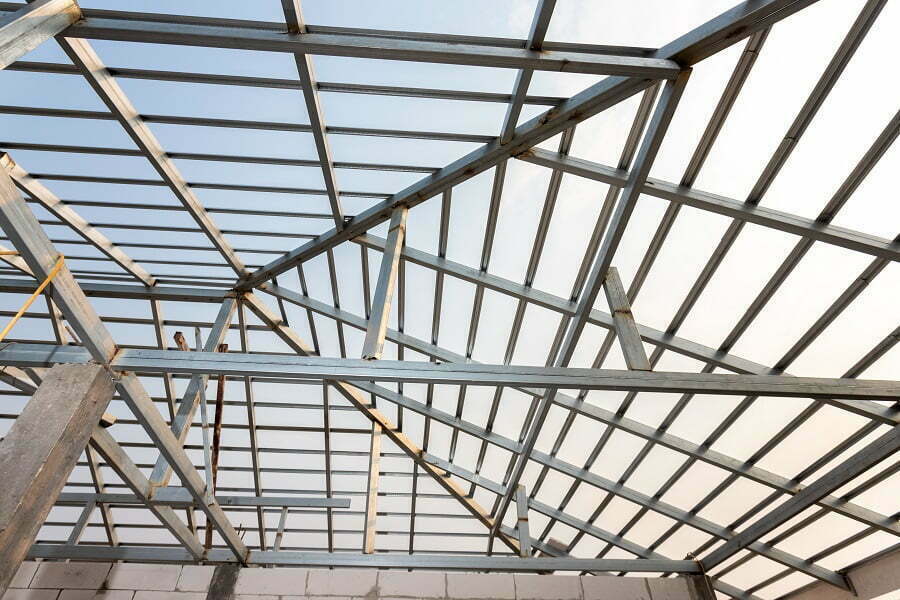 If you have a unique ceiling design in mind for your prefab home, make sure to discuss them in advance with the designing team. Typically, modular prefab homes allow for a 9-foot high ceiling, cathedral ceilings, and vaulted ceilings. Things, however, get tricky when it comes to the marriage walls, i.e., the structural joints where the separate modules meet. These walls have certain engineering restrictions, although you can still usually have 20 to 24-feet openings on these walls. If you want larger openings, decorative supports can be used for this purpose.
The Cost
If you make alterations to a standard, pre-existing design, most companies will not charge any extra fee for the service. However, full customization (where the designing team works with you to develop a suitable design, one that accords with your taste, preference, and imagination) often comes at a price. The exact amount will of cause vary from one company to the next, but expect to pay anything in the range of $2,000- $4,000 for the service.
Related reading: