Last updated on March 27, 2022
Prefabricated bathroom pods are modular bathroom units built in a factory and delivered to the end-user site.
With prefab and modular building getting more and more popular, it is an easy-to-add addition to your home, even if yours isn't a manufactured home. Bathroom pods are one of the examples of additions that allow you to install a bathroom quickly and cost-effectively.
Such modular bathrooms are used in private dwellings, ADUs, and commercial buildings. Let's discuss what they are, their benefits, and how you can get one too.
Table of Contents
What Is a Prefabricated Bathroom Pod?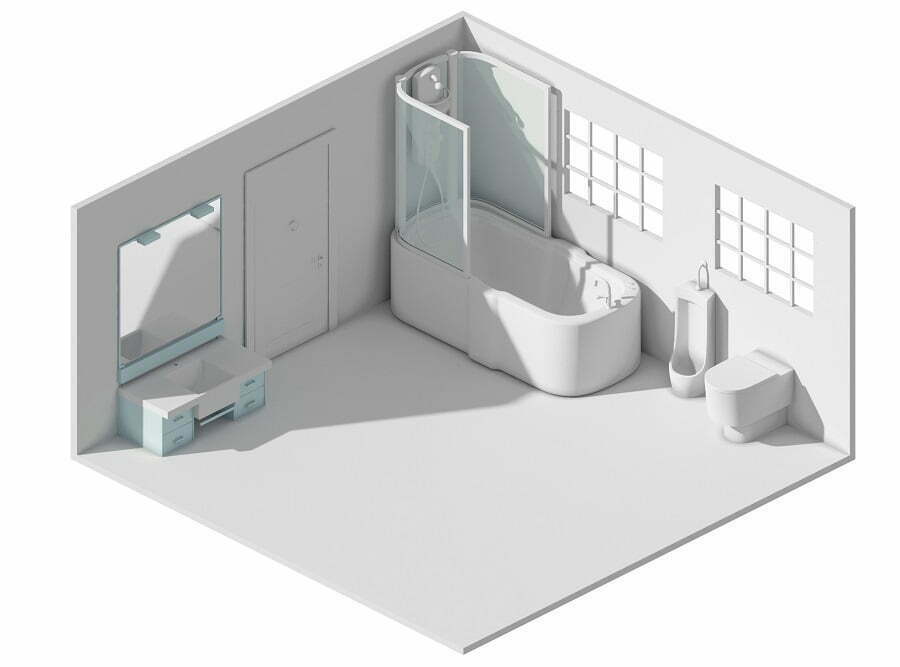 Prefabricated bathroom pods are factory-produced bathrooms ready to be installed in public or private places — anywhere a bathroom or a public restroom is needed. The units come with preinstalled electrical, plumbing, mechanical, and HVAC system elements that connect to exterior units quickly, like wiring and pipes.
Manufacturers can create bathroom pods to your specifications for installation in a modular home, cabin, business, and other public or private space. Once customizations are made, the finished unit is shipped to the construction site, ready to install. Prefabricated bathroom pods allow workers to work on different parts of your fabricated home simultaneously for faster project completions.
Benefits of Prefabricated Bathroom Pods
Each hour of the prefabricated construction process eliminates an hour of risk of installing bathroom equipment and components, which can be dangerous for amateurs. Amateur builders often lack the experience and training working with electrical, plumbing, and mechanical systems. The other benefits of using prefabricated bathroom pods include:
Concurrent construction processes save time and money.
You can schedule a just-in-time delivery of your bathroom.
Bathrooms can be installed first for practical benefits for the construction crew,
Reduction of hundreds or thousands of labor-hours streamlines the building process. 
Pod prefabrication reduces on-site injuries.
The noise of construction is reduced.
Construction
The construction process of bathroom prefabrication consolidates ten different construction areas into one specialized project. That reduces your need for construction specialists and eliminates waiting time. Your bathroom is ready just-in-time, which reduces non-productive time. Other benefits of modular construction include:
The process is especially valuable in a hotel, motel, and dormitory construction because identical units can be mass-produced.
Utilizing pods replaced the bathroom building process, which generated many troublespots involving fitting fixtures, matching pipes, and building a safe electrical system.
All on-site crews need to do is connect the plumbing, electrical connections, and mechanical systems. 
Efficient production technology generates faster work completion, better quality control, and cheaper costs.
Where They Are Used
Bathroom pods are commonly used in hotel and apartment building construction projects, remodeling projects like adding a guest room, or new construction. The pods can serve as toilet facilities for small and large construction projects, outdoor bathrooms at festivals, extensive landscaping facilities, and temporary sales booths. Anywhere you need a public, or private bathroom can benefit by using a modular prefab pod that meets all safety regulations.
Designs
Prefab bathroom designs minimize drainage points for more efficient drainage and better connectivity based on fewer connections. Aesthetic designs run the gamut from full bathrooms with shower and bathtub and more compact designs. You can choose your fittings, fixtures, and bathroom hardware to match any decorating style.
Vanities, mirrors, and cabinets give you many options for matching decorating styles like Victorian or Art Deco or matching your sense of style. Choose cabinets that reflect your personality and the type of vanity and sink that best suits your project's needs. Mirrors can add the illusion of greater space, and using stainless steel framing ensures longer-lasting durability.
Efficiency
The base designs of most prefabricated bathroom pods focus on efficiency. Bathrooms often waste energy, but bathroom pods use the latest energy-efficiency techniques and designs like low-flow toilets and showers, rainwater-type showers, and energy-efficient water heaters. Designs usually follow the maxim that bathroom structure and features should lend themselves to multiple types of use for efficiency — such as multiple purpose vanities that include a towel rack or storage compartment.
Using recycled materials can certainly be added for optional features, and your bathroom design can be personalized to use reclaimed wood and other popular bathroom accents. Using compact, efficient fixtures gives you more room in your bathroom. You can even fight bacteria by coating your bathroom's features with an antibacterial finish.
Ease of Assembly
Prefabricated bathroom pods come with preinstalled wiring, plumbing, and HVAC duct systems for conducting heated and cooled air. The design and prefabrication processes ensure very few things to do in setup — just positioning the pod, bolting it into place, and connecting the electrical wires, pipes, drains, and HVAC connections.
Drawings and step-by-step guides help you identify and perform each step. You might need a crane or forklift truck to lift the pod into place, and rollers help roll it to its final position. If installing bathroom pods in large-scale commercial projects, the pods can be lowered floor to floor by cranes. If there is no uncovered space available for loading, you need to secure a landing platform to the building.
Sustainability
Prefabricated bathroom pods often earn praise from energy experts for being one of the most sustainable options available when building a home or installing a new bathroom. The designs usually are energy-efficient, compact, and encourage multiple uses of bathroom features. Ready-to-install components of any project reduce energy usage in building activities compared to traditional construction.
There is no on-site waste, and expert quality control managers supervise efficiency throughout construction. All the materials you need are usually included, and you don't need to depend on multiple subcontractors for design, construction, project supervision, deliveries of support materials, and installation.
Customization
Prefabrication once meant mass production, which often meant relying on the most common design acceptable to the most people. Today, manufacturers can offer custom designing, total customization of colors, framing material, bathroom dimensions, type of bathtub, sink fixtures, toilet styles, mirrors, lighting, wall finishes, flooring material, and other end-user requirements.
Cost
Figuring the total cost for your bathroom project includes the price of the prefab unit, installation labor costs, and any costs of obtaining permits and inspections. The cost of installing a prefab unit runs several hundreds of dollars. The average cost of a prefabricated bathroom pod starts at around $1,500. Still, the price can rise for fancier cabinet designs, advanced fixtures and faucet designs, larger bathrooms, and your choice of finishing materials and decorative accents.
You could spend $10,000 or more on a prefabricated bathroom pod, but most companies offer appealing models from $2,000 to $5,000.
FAQ
How do pod bathrooms work?
A prefabricated bathroom is an assembly of modular parts shipped to the job site. Once installed, the parts become a single functional bathroom.
Are bathroom pods good?
Yes, they're great! They save time, money, and hassle by providing everything you need right out of the box.
Do I need a permit if I install a prefabricated pod?
No, you don't need a permit to install a prefabricated bathroom.
Can I customize my prefabricated bathroom?
Yes, you can customize your prefabricated bathroom to fit your needs and preferences.
How do you install a bathroom pod?
Installing a prefabricated unit requires some planning and preparation. It's essential to know how much room you have to maneuver the unit into place. A crane may be required to lower the unit onto the ground. Rollers help move the unit through doorways and hallways. Some units require special tools to assemble the pieces. You'll also want to consider where plumbing lines will run and where electrical outlets will go.
Can you buy bathroom pods?
Yes, you'll find many online retailers offering prefabricated bathroom modular solutions. Many of these sites offer free shipping and delivery within the United States.
Related reading: