Last updated on January 20, 2022
Looking for prefab home doors for your manufactured or mobile home? Here's what to look for and how to choose them. Read on!
Prefabricated doors are built by manufacturers specifically for use in prefab homes. They are typically made of wood, fiberglass, steel, vinyl, or composite materials. They are designed to fit perfectly inside the door openings on prefab homes. This means they don't require any modifications to the prefab home itself. 
Here's everything you need to know about choosing prefab home doors, their sizes, and what prefabs you can use them for.
Table of Contents
Are Manufactured Home Doors Different?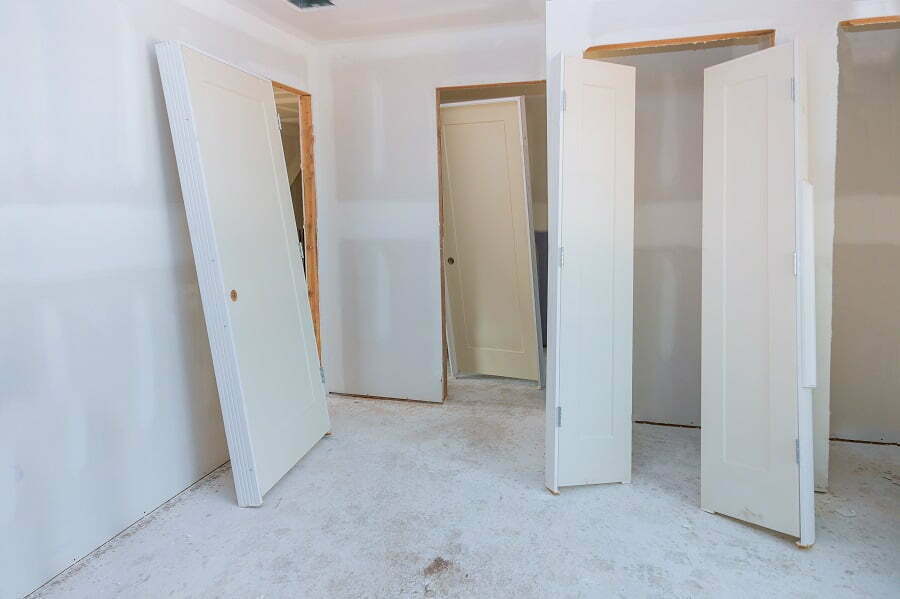 The main difference between manufactured home doors and site-built homes is how they are built, but visually they are the same. Manufactured homes are built off-site and assembled on-site, while site-built homes are constructed on-site from the ground up.
Another difference between the two types of homes is the size of the doors. Manufactured homes usually come with smaller doors than site-built homes. However, the materials used and designs are the same.
Prefab Home Exterior Door Sizes
The exterior doors of site-built homes are larger than those of prefab homes. The standard size of exterior doors for site-built homes is 36″ by 80″. However, most prefab homes have exterior doors measuring 34″ by 80″.
It is important to note that these sizes can differ from one manufacturer to another. Some prefab home manufacturers usually make and install standard-size doors in their prefabs. This means that you can still order a prefab home with a 36-inch wide door if you want.
There are also mobile home doors measuring 34″ by 76″, so be sure to keep this in mind when ordering your prefab home. 
Steel Doors
One of the most common doors for both prefab homes and site-built homes is steel. This is because steel doors are stronger than other types of doors. These doors also come in a wide range of designs. For instance, you can choose a panel steel door with no windows. There are also doors with small windows and those with larger windows. The number of window panes on the door differs from one door design to the next. 
Wooden Doors
Wood is the most popular material for making prefab home doors, including exterior doors. Wooden doors come in a variety of designs that differ greatly in price. However, the top choice for homeowners has always been solid wooden doors. The best wooden doors are usually made from hardwood oak slabs or softwood pine slabs, but frame and panel designs are also available on the market. Be sure to look at all the available wooden door options before committing yourself. 
Glass Doors
Glass doors have the advantage of being transparent. They allow natural light to flood the house and offer amazing views of the outdoors. They come in various designs ranging from swinging and hinged doors to folding and pivoting doors. The glass on the door may come with a metal or wooden frame around it. 
Mobile Home Combo Doors
Mobile homes usually have combination doors consisting of an outer glass door and an inner panel door. The inner door can be made from steel or aluminum. These doors offer the benefits of having glass doors and the benefits of metal or wooden doors. When buying combo doors, pay attention to the swinging direction of the shutters and the location of the hinges. Some doors swing to the right while others swing to the left. Whatever the case, you need to get the size right. 
Storm Doors for Mobile Homes
Having a storm door in your mobile home is crucial during a storm. The storm door will protect your exterior door from damage during storms, thereby helping to ensure it lasts long. Storm doors also preserve the beauty of your front door. They can also allow fresh air to enter the house during summer while keeping the cold at bay during winter.
Choosing the Right Door for a Prefab
There are several things to consider when selecting a door for a prefab, and it is part of the construction process. For one, you will need to choose the right door material. Solid wooden doors are the best, but you can choose a steel or glass door. It all depends on you. The size of the door opening and the location of the hinges are also key considerations. 
Cost of Replacing a Prefab Home Door
Mobile home combo doors cost around $750, while steel doors cost $250-$300, depending on the design. Obviously, you'll also need to pay for the installation service, which will differ from one installer to the next. 
Can You Install a Regular Door on a Prefab?
The answer is yes, but only if the size is right. However, it's best to install doors meant for prefabs on prefabricated homes.
Related reading: