Last updated on August 21, 2023
Here are the top prefab garages and their makers. They are manufactured and then can be delivered straight to your site. Read on!
Prefab garages are a great addition to your home. They are inexpensive and easy to deliver to your property. In some cases (if it is placed in your backyard), you don't even need a permit.
If you want to put it in your front yard, we will need a permit (check your local building codes.) But it is simple to get one. And so is to get a manufactured garage.
The following is a digest of all companies that can sell you a new prefab garage. You may choose the one you like that is close to your location.
Table of Contents
Studio Shed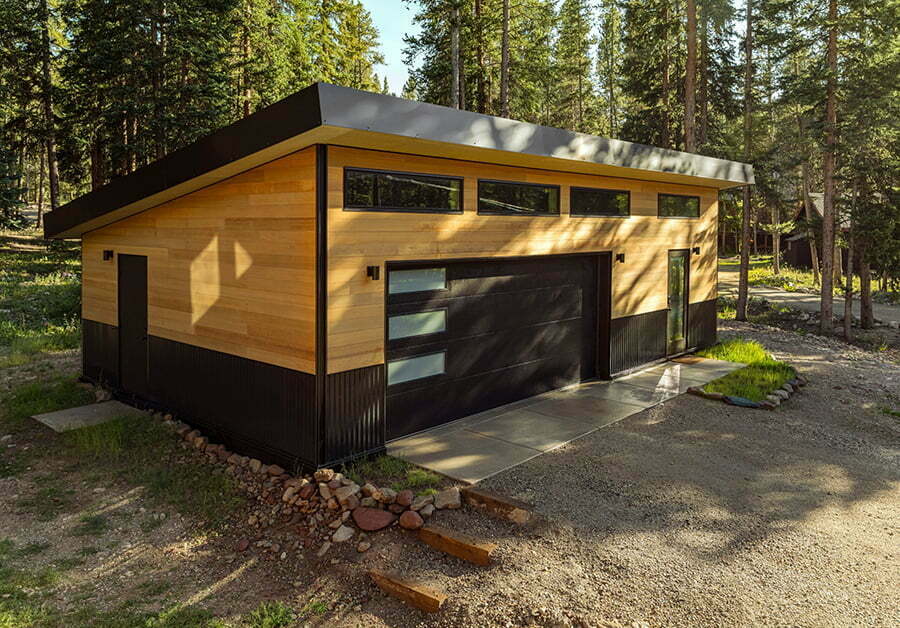 Studio Shed designs and builds backyard buildings from Boulder, Colorado. They ship their creations nationwide to all 50 states. You can also have them deliver to select locations in Canada, Hawaii, and the Caribbean.
The firm creates versatile prefab garage units with attractive finishes and abundant natural light. These robust structures come with 2x6in framing and engineered lumber. Choose among kit sizes ranging from 14x22ft to 20x50ft, starting from $13,861 to $38,727.
Location: Boulder, Colorado.
Price range: $13,861 to $38,727.
Eversafe Buildings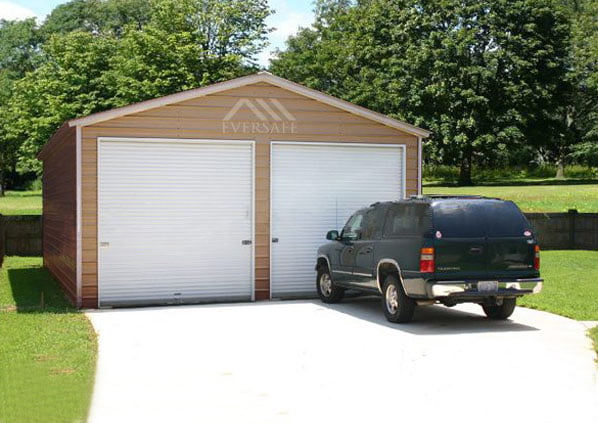 Eversafe Buildings is a US-based prefab steel garage builder with offices in Georgia, Florida, Texas, and California. They deliver nationwide. You can customize the walls, roof, colors, windows, doors, insulation, lean-tos, and trims.
A 18x20x8ft one-car metal garage kit goes for as low as $6,248, while a 22x25x9ft two-car model starts at $8,349. If you need more space for your car collection, choose the five-car model at $20,420 with free installation.
Location: Georgia, Florida, Texas, and California.
Price range: from $6,248 to $20,420.
Shed Unlimited
Shed Unlimited makes prefab garages from Morgantown, Pennsylvania. They serve areas within a 600-mile radius, including the Mid-Atlantic and Northeastern states. Delivery cost depends on distance and kit size, with the first 20 miles free of charge.
You can find garages with up to 4 bays in their catalog. Size ranges from 10x16ft to 32x60ft, while prices go from $5,859 to $137,574. High-end options feature two stories, so you can live on the second floor.
Location: Morgantown, Pennsylvania.
Price range: $5,859 to $137,574.
Summerwood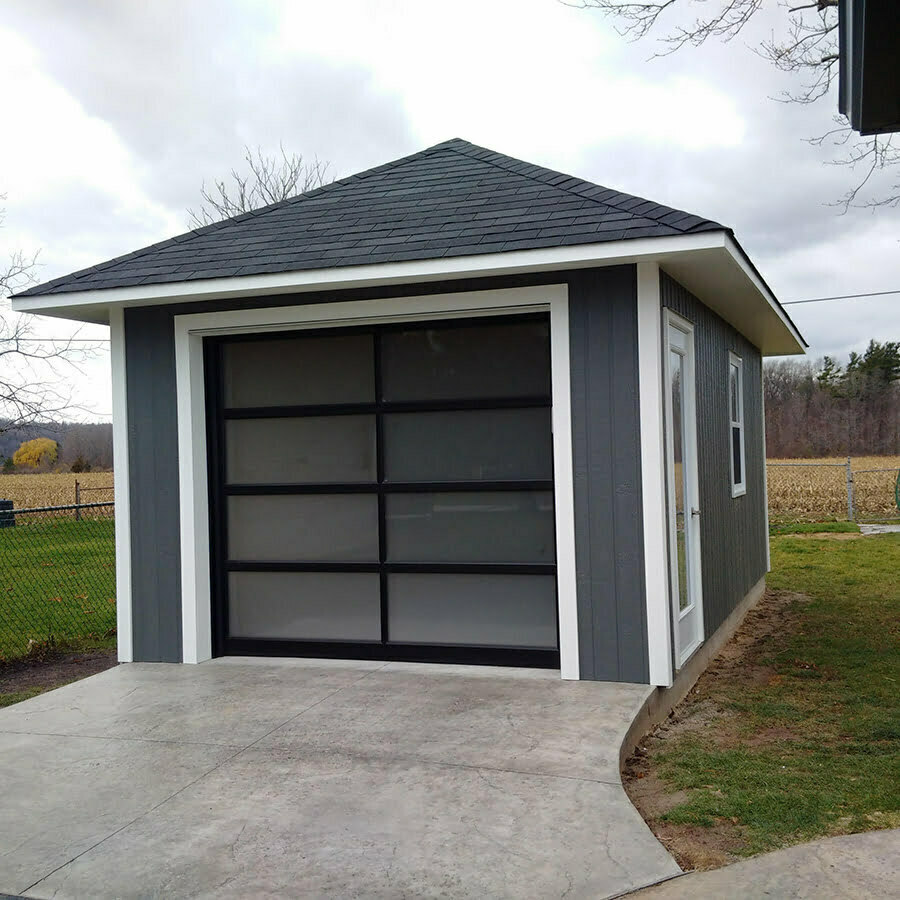 Summerwood is a Canadian firm that makes prefab structures like garage kits from Toronto, Ontario. These have fine materials such as high-grade western red cedar and CanExel siding. They deliver kits around the world.
A simple 10x14ft garage can cost $8,116 pre-cut and $8,956 pre-assembled. Meanwhile, a larger 26x48ft kit mat start at $61,176 pre-cut and $70,416 pre-assembled. You can also ask Summerwood to design and build a custom garage.
Location: Toronto, Ontario, Canada.
Price range: $8,116 to $70,416.
Countryside Barns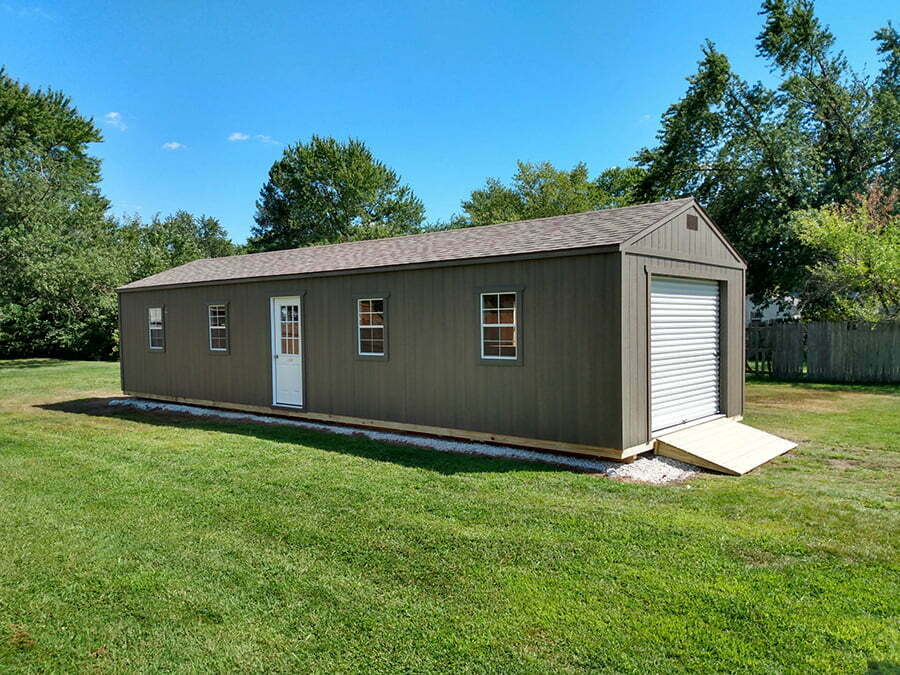 Countryside Barns offers durable yet affordable prefab garages made in Illinois and shipped across the Midwest. These are made from high-quality lumber to ensure longevity and visual appeal.
The smallest kit measures 12x20ft, while the largest is 14x44ft. Base prices range from $6,620 and go up to $16,330. Your siding options include urethane, vinyl, and metal.
Location: Illinois.
Price range: $6,620 to $16,330.
Leisure Buildings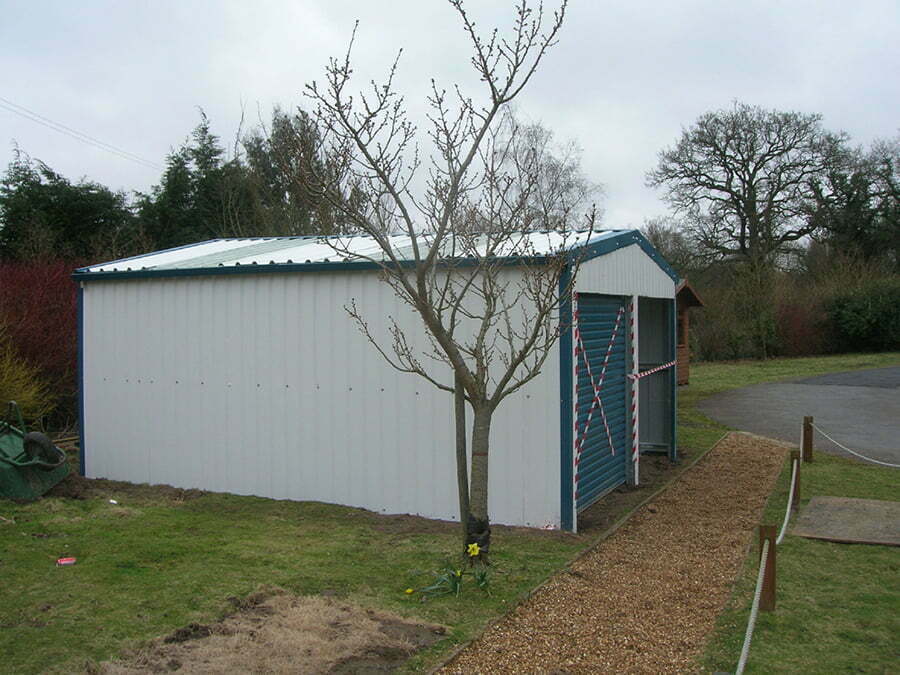 Leisure Buildings is a British company that offers free delivery of prefab concrete garages across the UK. They offer complete installation with a 10-year warranty. Construction features a vertical panel concrete system and galvanized steel roof.
Choose from building widths ranging from 8.5ft to 26.5ft. Base prices start at £3,980 and go up to £12,285. You can also design your garage and have the company build it for you.
Location: UK.
Price range: £3,980 to £12,285.
Kloter Farms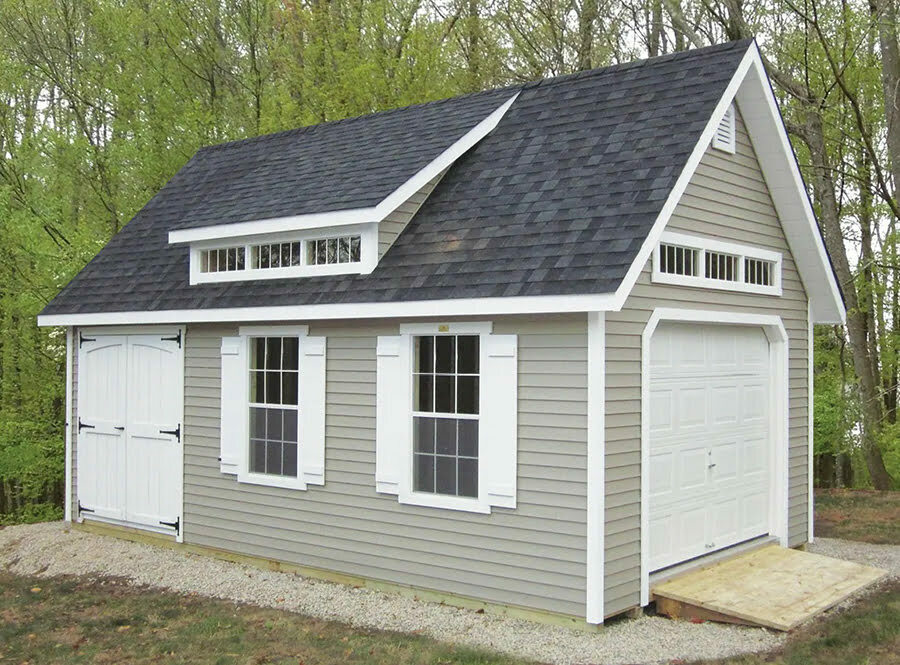 Kloter Farms prefab garages are made in Ellington, CT, and delivered nationwide. Shipping is free for nearby Connecticut, Massachusetts, and Rhode Island areas. One-car garages come fully assembled with an overhead door.
A small 12×20 unit starts at $11,365, while a 13×30 units sells for $16,397 and up. You may also purchase multi-car garages with a 20×20 unit starting at $24,054.
Location: Ellington, Connecticut.
Price range: $11,365 to $24,054.
Glick Woodworks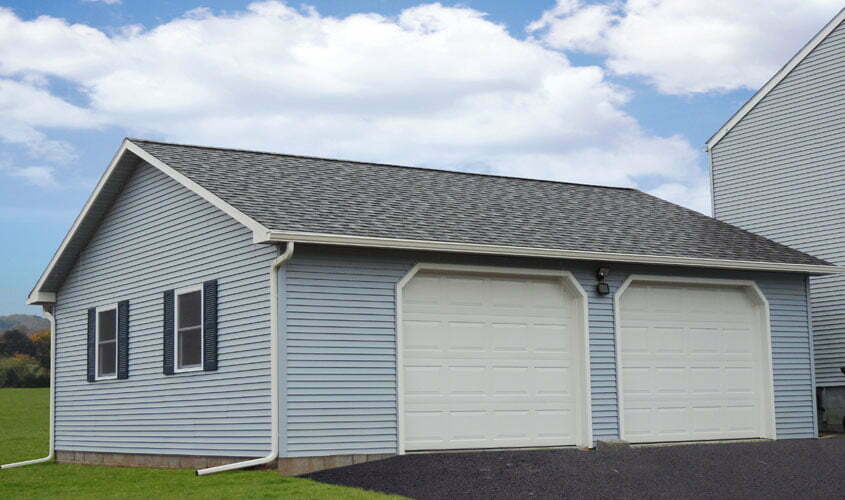 Glick Woodworks is an Amish family business that builds prefab garages in Lancaster, PA. They serve surrounding areas with the first 20 miles free of charge. Expert quality materials and expert craftsmanship.
Glick offers single-wide and double-wide garages, with options for two-story structures. Sizes range from 12x18ft to 24x40ft and base prices go from $5,760 to $58,850. You can order custom designs as well.
Location: Lancaster, PA.
Price range: $5,760 to $58,850.
Horizon Structures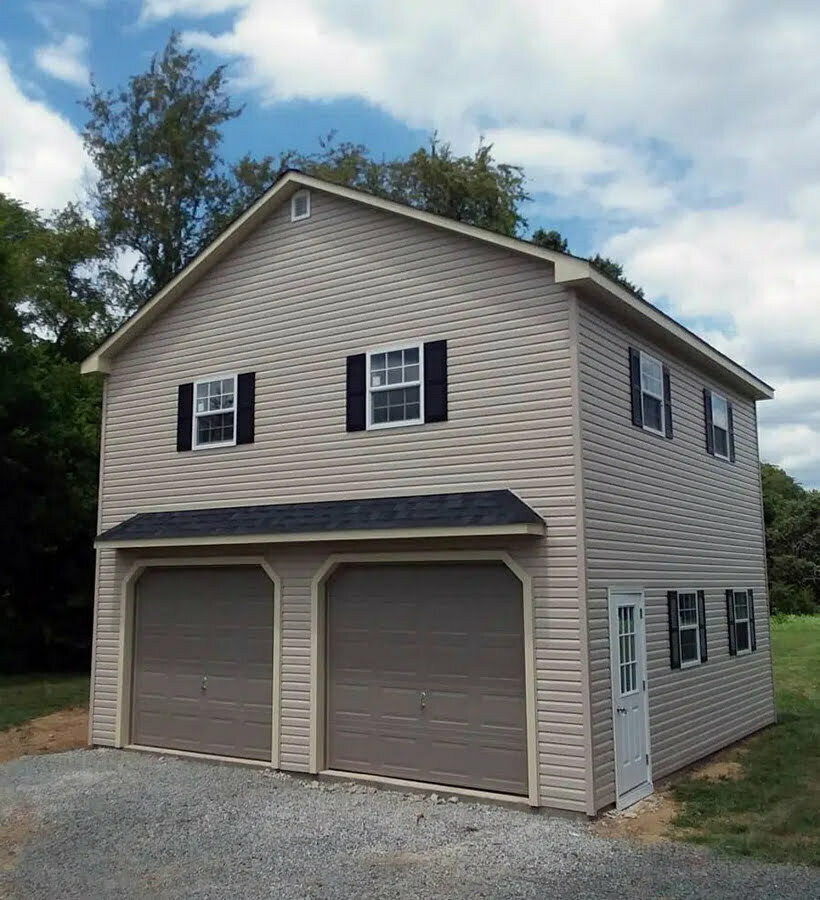 Horizon Structures is a family-owned prefab specialist from Atglen, PA. They have plenty of farm-focused structures like horse barns and dog kennels, but they also make wooden prefab garages. They can deliver to nearby areas.
Horizon combines car storage and living quarters in their 2-story prefab garage. These come in 20ft and 28ft wide options. They also have smaller run-in sheds, with the 10×20 model starting at $6,785.
Location: Atglen, PA.
Price range: from $6,785.
Millbrook Modular Homes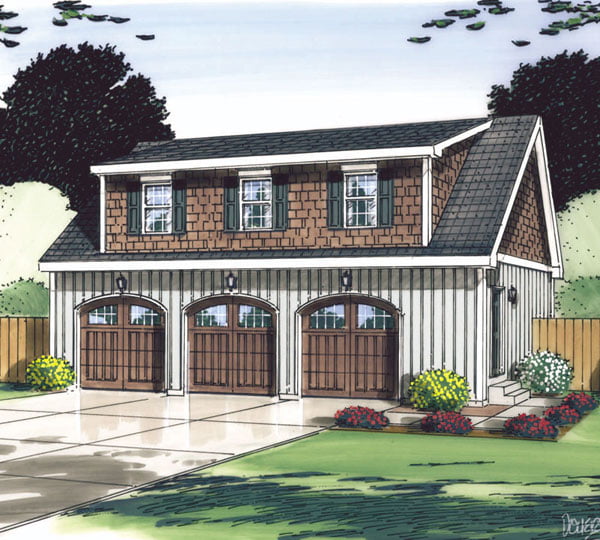 Millbrook Modular Homes makes prefab garages using precision-cut lumber in Walpole, MA. Aside from its home state, Millbrook also serves Rhode Island, New Hampshire, Maine, and Connecticut.
They have a 2-car 676sqft garage downstairs and a 580sqft studio upstairs. There's also a 3-car 1014sqft garage with a 955sqft studio. You get two bedrooms, a bath, and a kitchen.
Location: Walpole, MA.
The Carriage Shed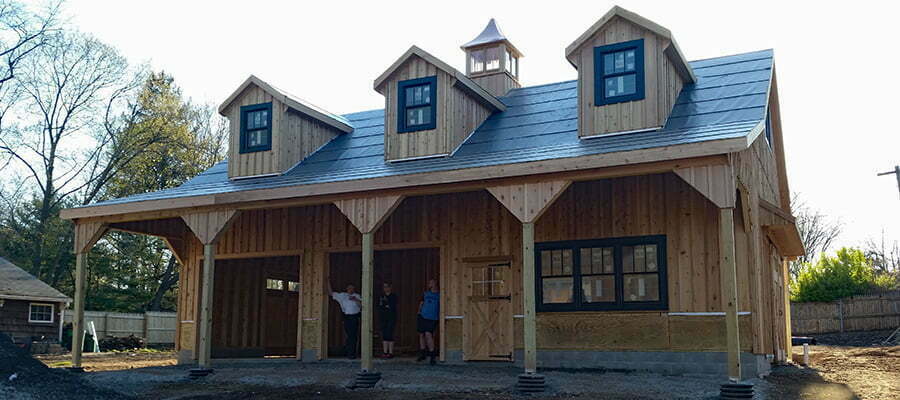 The Carriage Shed hails from White River Junction in Vermont. They can custom-build Amish sheds, barns, and garages using pressure-treated 4x4s. You can have these structures delivered anywhere in the US. 
The prefab garages often come with an upstairs living space. One of the smallest models accommodates a single car and measures 22x28ft. Meanwhile, their biggest model can fit two cars within a 40x60ft floor.
Location: White River Junction, Vermont.
Montana Shed Center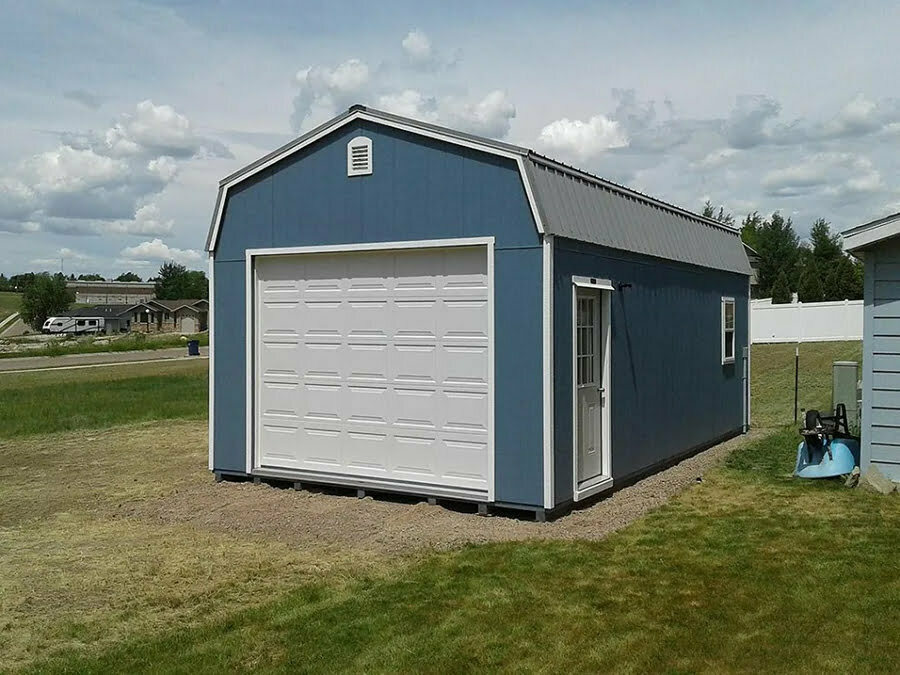 The Montana Shed Center operates out of Great Falls, Montana, and has dealers in Idaho, Nebraska, Utah, and Wyoming. Their prefab garages feature metal roofs, LP Smart Siding, and standard overhead doors.
MSC makes single-car garages ranging from 12x18ft to 16x54ft. Double-wide units are also available. If these are insufficient, you can ask them to build according to your needs with a custom design.
Location: Great Falls, MT.
ESH Utility Buildings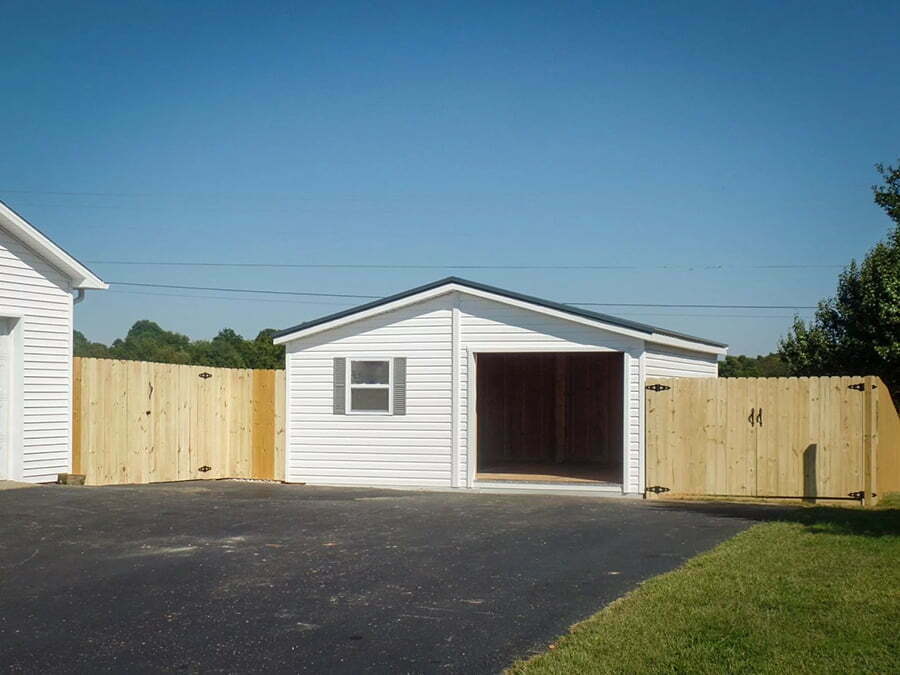 ESH Utility Buildings has multiple locations around Kentucky and Tennessee. They offer free delivery to nearby areas. The units feature 4×6 skids, tongue-and-groove flooring, and pressure-treated joists. Exteriors are completely customizable.
Among their smallest offerings is a 10×20 high barn garage which starts at $8,974. Meanwhile, their 12x28ft model sells for $10,334. They also have a 24x32ft double wide garage in stock that starts at $27,783.
Location: Kentucky and Tennessee.
Price range: $8,974 to $27,783.
Northland Sheds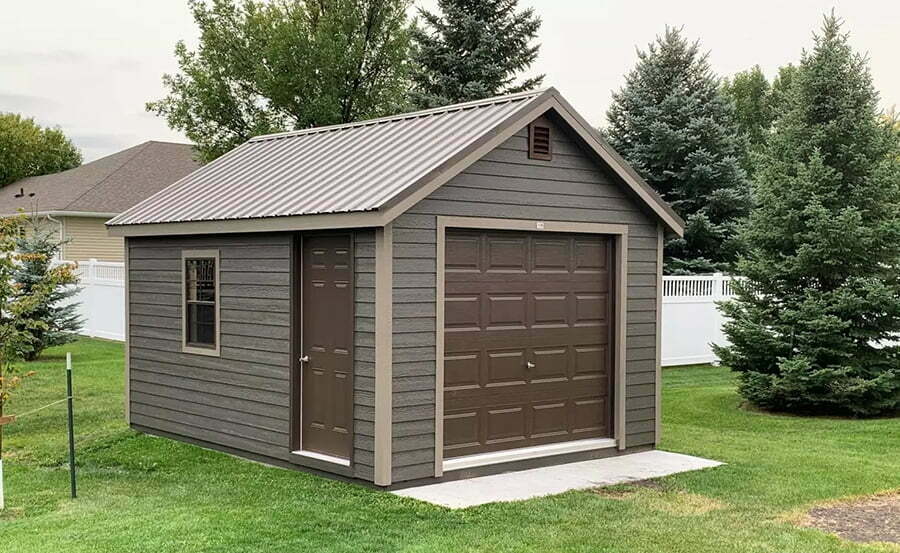 Northland Sheds makes prefab utility structures out of North Dakota. Its products are displayed across multiple shed lots in Minnesota, Iowa, and South Dakota. This enables quick delivery to surrounding areas using their Shed Mule.
All garage units come standard with a window, a side-entry door, premium lumber, and an insulated garage door. You can get 10ft to 16ft-wide models at varying lengths. Pricing starts at $14,574 for the 12x24ft ranch garage.
Location: North Dakota.
Price range: from $14,574.
Get Carports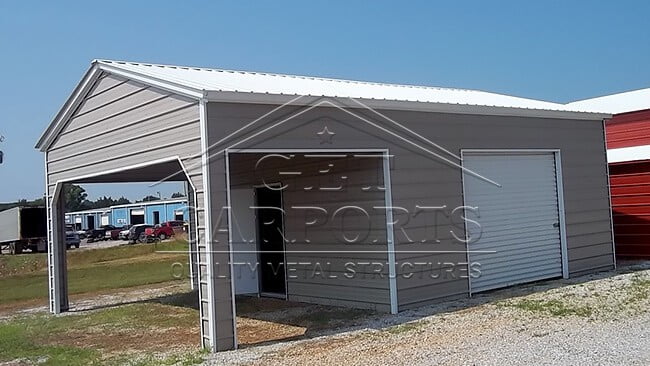 Get Carports is a steel building dealer from Knoxville, Arkansas, that delivers to most of the US. The company has an extensive network of distribution facilities from Texas to Montana so buyers can enjoy fast and affordable shipping.
Prices start at just $3,585 for a 12x20x8ft A-frame garage. If you need more space, consider the 30x70x10ft three-bay garage, which starts at $36,835. Customization is available.
Location: Knoxville, Arkansas.
Price range: $3,585 to $36,835.
Beachy Barns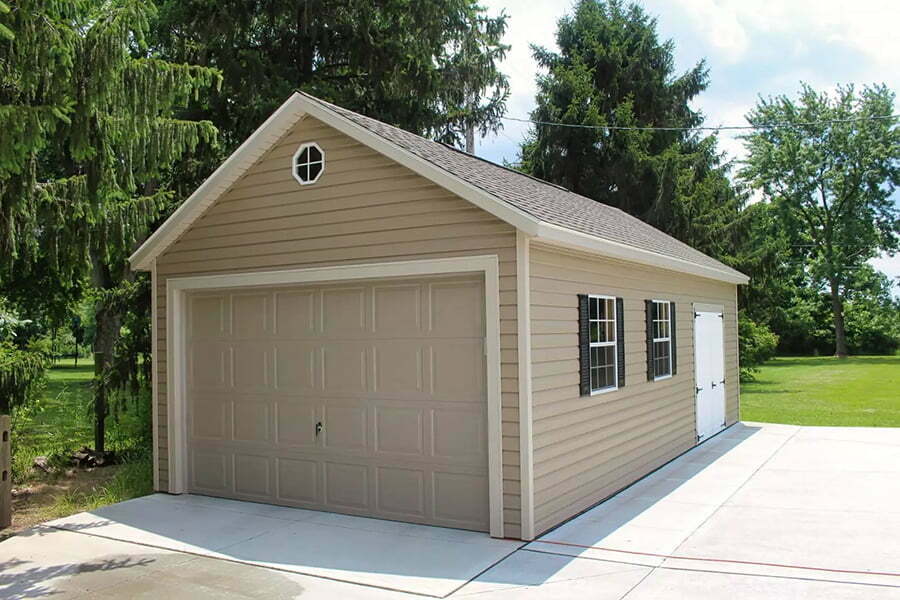 Beachy Barns will make your new garage from Plain City, Ohio. They offer free delivery within 50 miles, with structures under 12ft shipped prebuilt for immediate use. Larger units are assembled on site.
The portable garages can be as small as 10×16, which starts at $8,105, and as big as 16×32, which starts at $17,205. Check out ongoing promos and discounts.
Location: Plain City, Ohio.
Price range: $8,105 to $17,205.
Lone Star Structures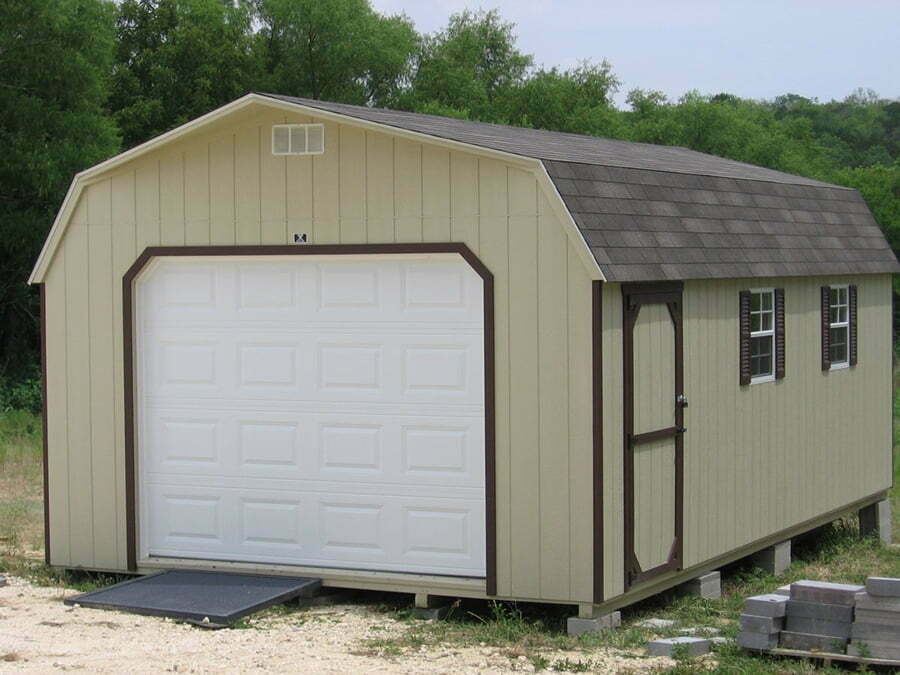 As the name suggests, Lone Star Structures is based in Texas, with locations in Lott and Temple if you wish to drop by. Construction features 4×4 skids and 2×6 floor joists.
There are three available widths: 12ft, 14ft, and 16ft. The shortest garage is 16ft, while the longest is 52ft. Use the onsite 3D shed designer to create a customized structure. Pricing for a 12x16ft workshop garage starts at $9,390.
Location: Texas.
Price range: from $9,390.
Hometown Structures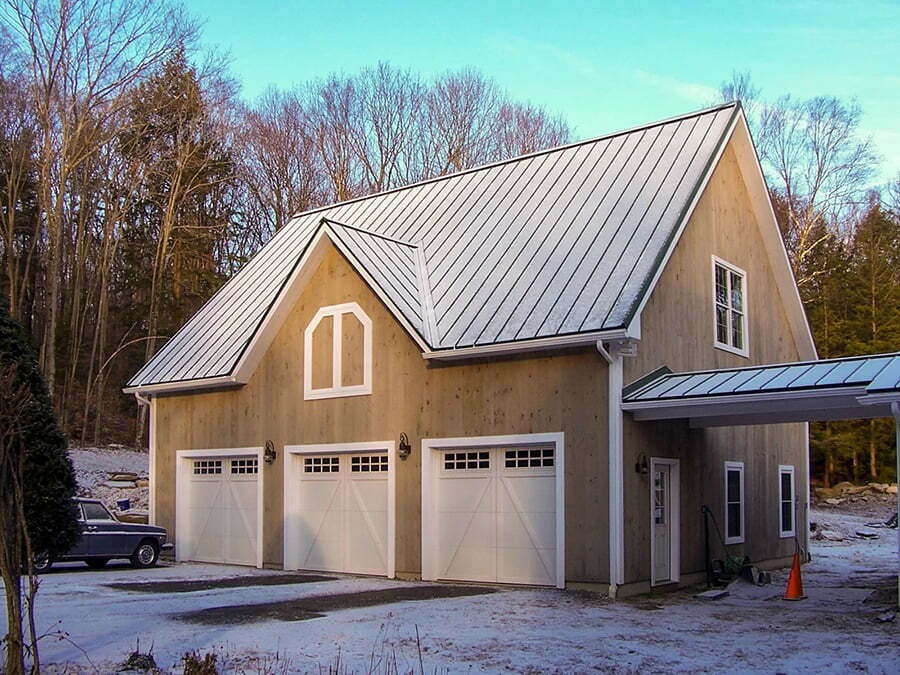 Out of Westfield, MA, comes prefab builder Hometown Structures. While they ship smaller structures to the whole of New England, garages are only available within southern Massachusetts.
Hometown Structures makes garages with up to four bays and two levels. They can also prepare the site and lay the concrete floor. A 24x28ft two-story vinyl garage has a base price of $52,980.
Location: Westfield, MA.
Price range: $52,980.
The Backyard Showcase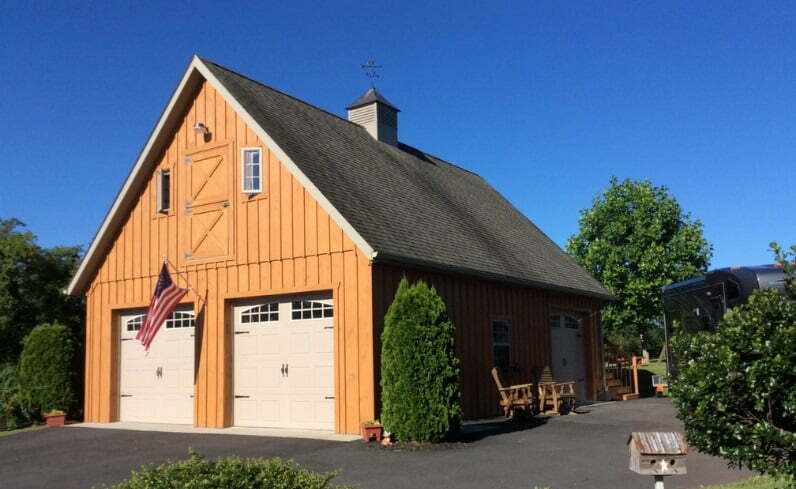 Check The Backyard Showcase from East Ronks, PA, if you want an eye-catching garage. Amish craftsmanship results in pleasant utility structures that should last long.
Size is the most significant factor to consider in terms of pricing. For a one-car single-story garage, expect to pay at least $7,000. For a two-car garage, this climbs to $10,000. If you want a living space above the garage, save up to $18,000.
Location: East Ronks, PA.
Price range: $7,000 to $18,000.
Colorado Shed Company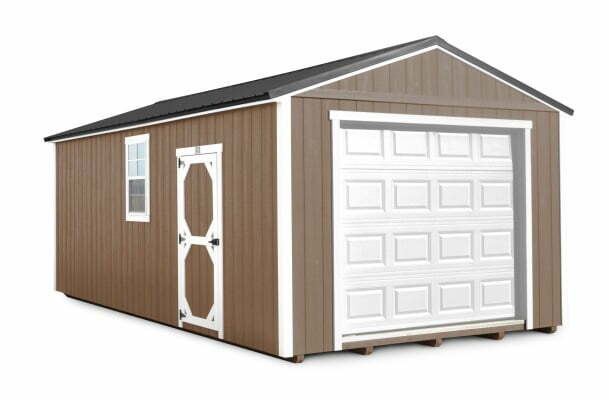 The Colorado Shed Company is based in Penrose and serves nearby counties. They make prefab garages using lumber construction. Delivery is $4/mile but free for the first 30 miles.
In their current inventory, a one-car 12×16 garage starts at $8,876. New builds will require fresh quotes due to rapidly changing lumber prices. You can get free quotes for custom designs.
Location: Penrose, Colorado.
Price range: from $8,876.
North Country Sheds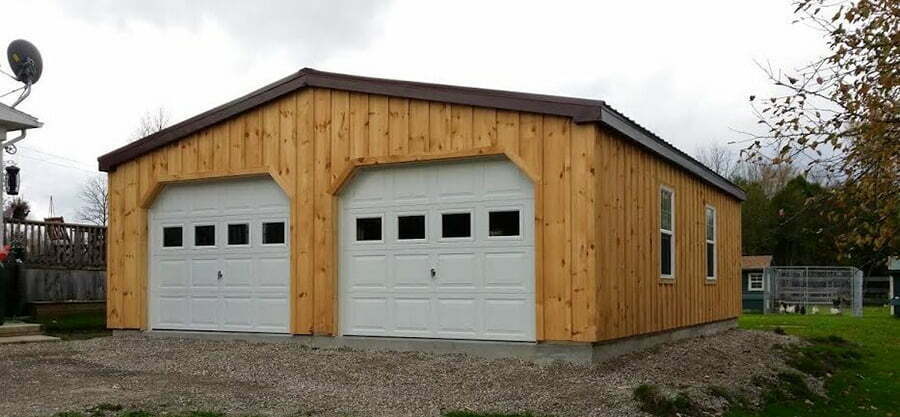 If you are Canadian, consider North Country Sheds when buying a prefab garage. They deliver throughout Ottawa, the Valley, Peterborough, Kingston, Belleville, and parts of Ontario. Units come fully assembled and ready to use.
The Value Series stretches your dollars with the 10x12ft garage starting at only $7,964 and the 12x40ft model selling for $20,353. Meanwhile, the Premium Series offers better features with prices ranging from $13,739 to $27,674.
Location: Ottawa, the Valley, Peterborough, Kingston, Belleville, Ontario, Canada.
Price range: $13,739 to $27,674.
Creative Outdoor Sheds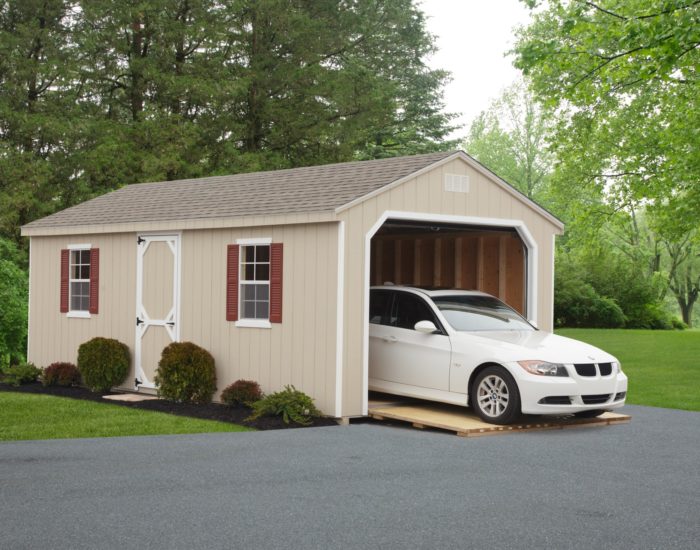 Creative Outdoor Sheds operates out of Gambrills, Maryland. If you are a resident of the state, then you may want to check out their quality Amish garages.
If all you have are ATVs, bikes, and motorcycles, then a 10x16ft cottage garage will do. For cars, a 12x24ft option is available. You may customize the fixtures and finishes based on your requirements.
Location: Gambrills, Maryland.
Viking Steel Structures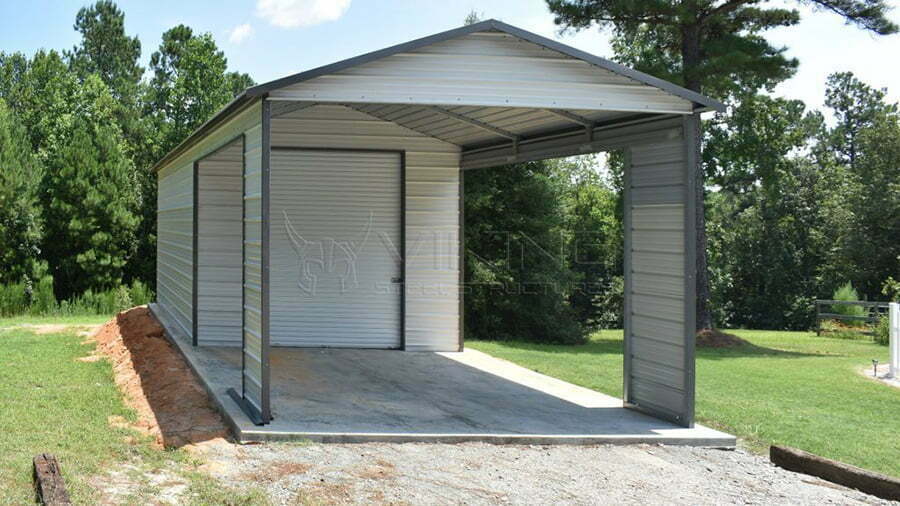 Viking Steel Structures make utilitarian home additions with excellent value for money. You can find their offices in Boonville, North Carolina. Delivery is possible throughout most of the continental US.
The garages come in three styles: regular, boxed eave, and a vertical roof. Size ranges from 12x21ft up to 36x52ft. The smallest model starts at only $1,095, while the largest starts at $14,795.
Location: Boonville, North Carolina.
Price range: $1,095 to $14,795.
Metal Pro Buildings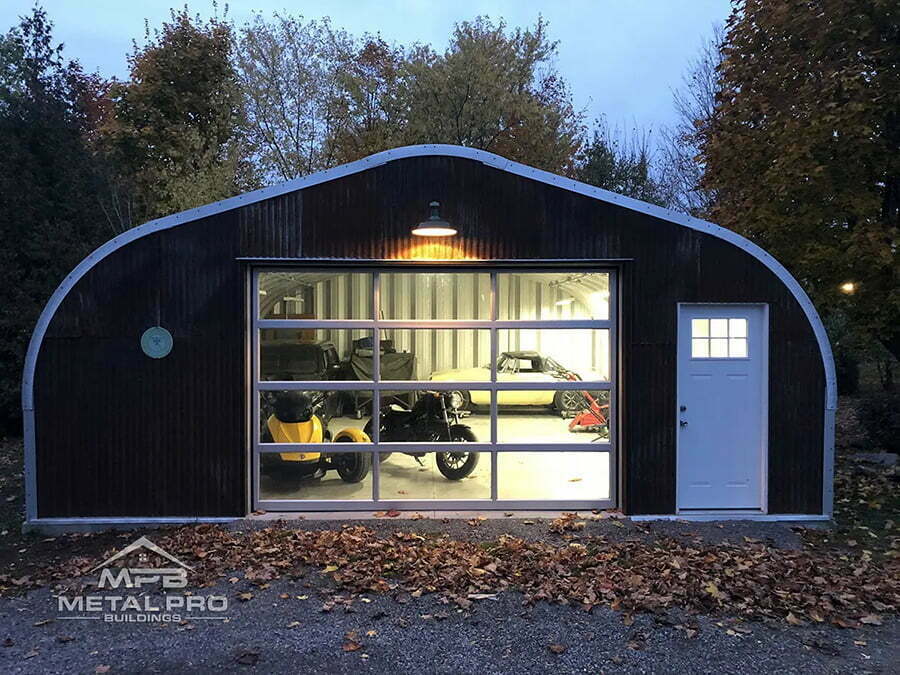 Metal Pro Buildings lets you add a prefab garage to your property without breaking the bank. This Canadian company makes garage kits from Ontario using high-grade steel and ships across North America.
On average, their 20×30 steel structures cost $14,890 before tax, while a 40×60 model starts at $47,300. The small kits are DIY-friendly, allowing you to save on labor costs. Bigger units may call for skilled assistance.
Location: Ontario, Canada.
Price range: $14,890 to $47,300.
Future Buildings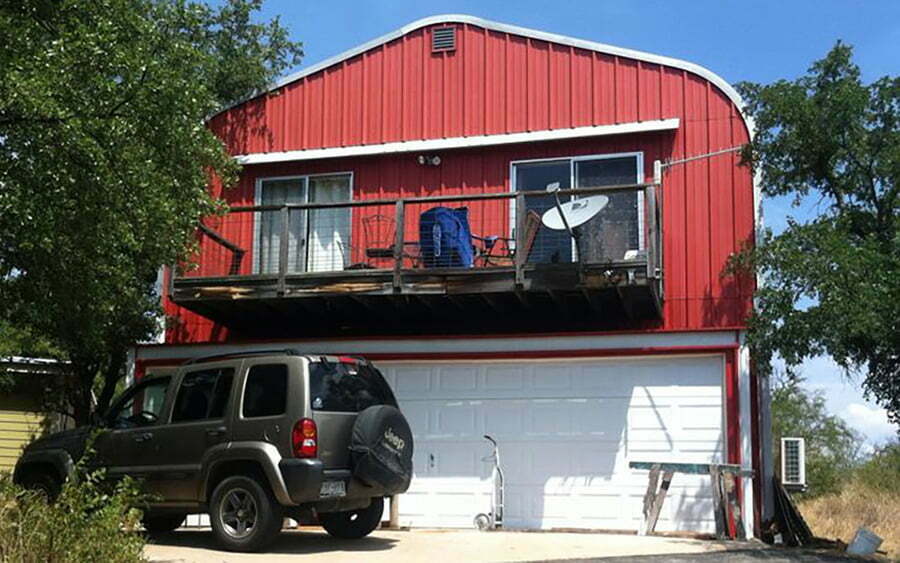 Future Buildings is a forward-looking supplier of fabricated steel structures with a factory in Brampton, Ontario. They can deliver to most locations in the US and Canada.
You can choose from single-door and multi-door garages. The arch design ensures high load strength, clear spaces, and low cost. You can assemble the parts quickly by yourself. Since each project is unique, the company offers free quotes for each design.
Location: Brampton, Ontario.
Related reading: