Last updated on December 8, 2022
Settle into a beautiful modular or prefab home in Ohio. Check out the top manufacturers that cater to your state.
Ohio is a great place to settle down. It's known as the mother of Presidents and the land of cornmeal. The state has much more to offer to ensure that you and your family feel safe, at home, and comfortable.
However, Ohio is also infamous for its continental climate. This means having cold winters and warm summers. Therefore, homes here need HVAC systems. The homes should be energy-efficient as well. Thus, the growth of the popularity of prefab homes.
With its accessible roads, delivering modular and prefab parts is easy. The homes here are also not as expensive compared to other states. With prefab homes, you're saving even more.
Table of Contents
Impresa Modular Ohio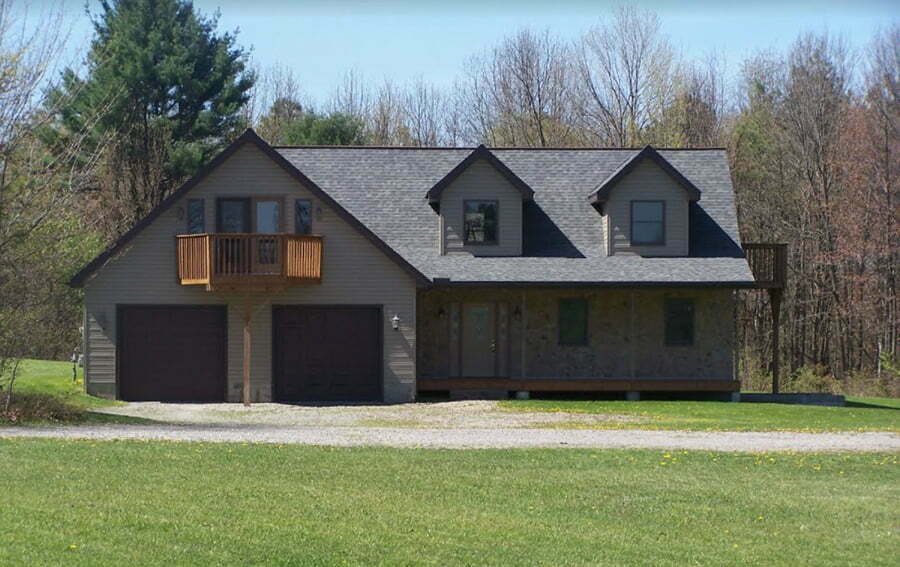 Impresa Modular is one of the biggest prefab home manufacturers in the country. Their website is also an excellent example of efficiency, as you can find your modular home plan in minutes.
The Brookside is a two-story home perfect for any area or lot with a view. If you want the best home near your lake, beach, or the mountainside, then you have the Brookside floor plan to check out.
It's a traditional southern-style home with 1789 sqft, three bedrooms, two full baths, and a half bath. It comes with two additional features: green certification and energy star.
DVELE Ohio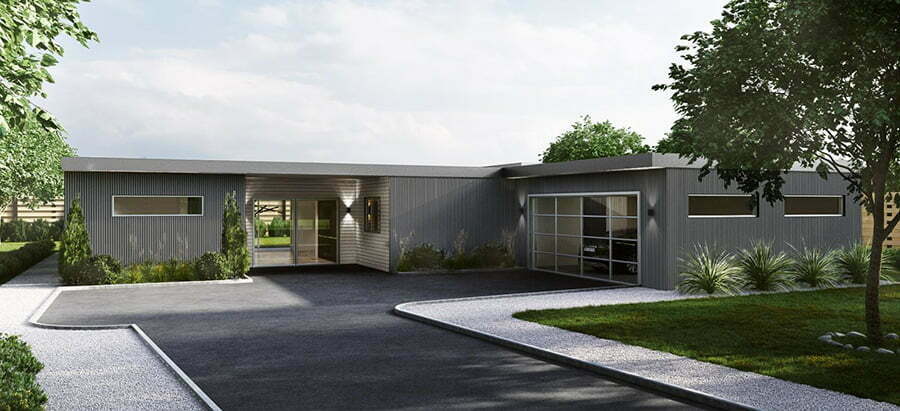 Classic, timeless, and minimalistic modern designs – these three things make Dvele a manufacturer of choice among homebuyers in Ohio. The company has modern full-sized homes, minis, and other prefab houses with customizable options.
For example, Salt Point is a modern, sleek open-space home with 2,775 sqft. It has four bedrooms and three full baths. The spacious kitchen and living area are also perfect for entertainment and getting the best of your everyday life experience.
Rochester Homes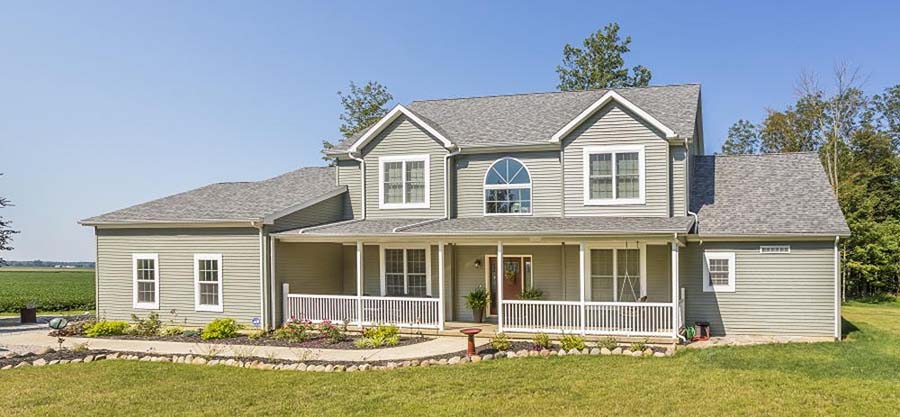 Rochester Homes has several factories and offices throughout the country. There's a headquarter in Indiana, Michigan, Illinois, Missouri, Iowa, Wisconsin, West Virginia, and Ohio. This company has climate-controlled home-building factories to ensure the quality of their structures.
Adelyn is a beautiful two-story home from the TS17-28 series. It has a total area of 1707 sqft, three bedrooms, and three baths. The ground floor houses the living room, dining, and kitchen. Beds are then found on the second floor. The primary bedroom has a spacious walk-in closet and a full bath.
Clayton Homes Ohio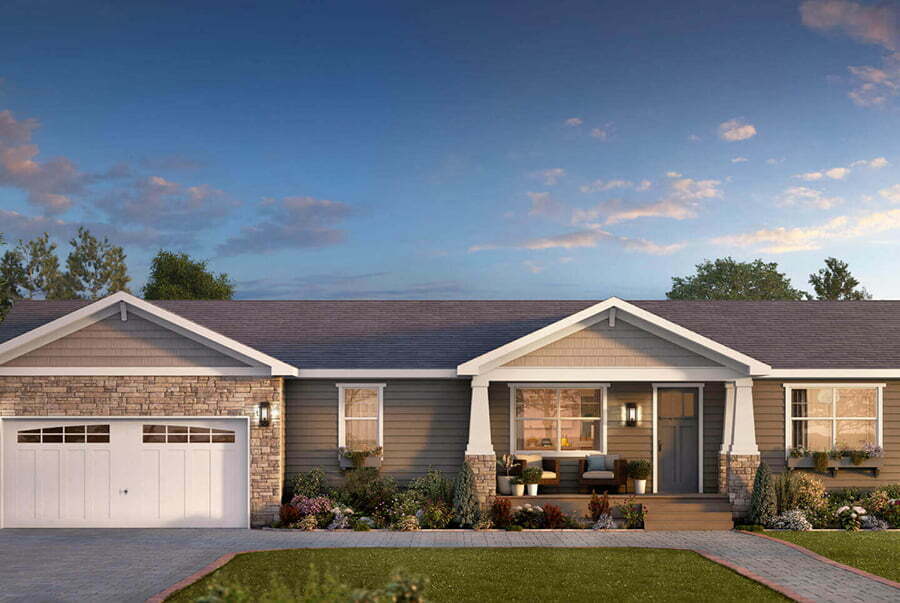 Clayton Homes build homes that last for generations to come. They have smart and energy-efficient houses with comfortability, modernity, and affordability at their core.
One of its featured homes is Delight. It has three beds, two baths, and a total floor area of 820 sqft. Both bedrooms are located at each end of the house. Each bedroom has its bath as well. In the center part of the home are the living area, dining, and kitchen. The starting price for this home is $66,296.
TriPoint Homes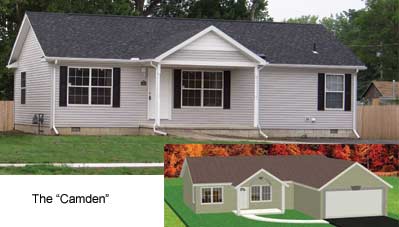 Tripoint Homes is one of Ohio's best manufacturers of modular homes. The company delivers prefabricated structures in all of the state's 80 counties. They have a collection of over 700 quality homes in different designs and sizes.
Aside from that, TriPoint Homes has had the best rating from the Better Business Bureau for two years. The T1OMHA home is a three-bedroom home with two baths, a dining room, two living rooms, and a total area of 2106 sqft.
Green Valley Homes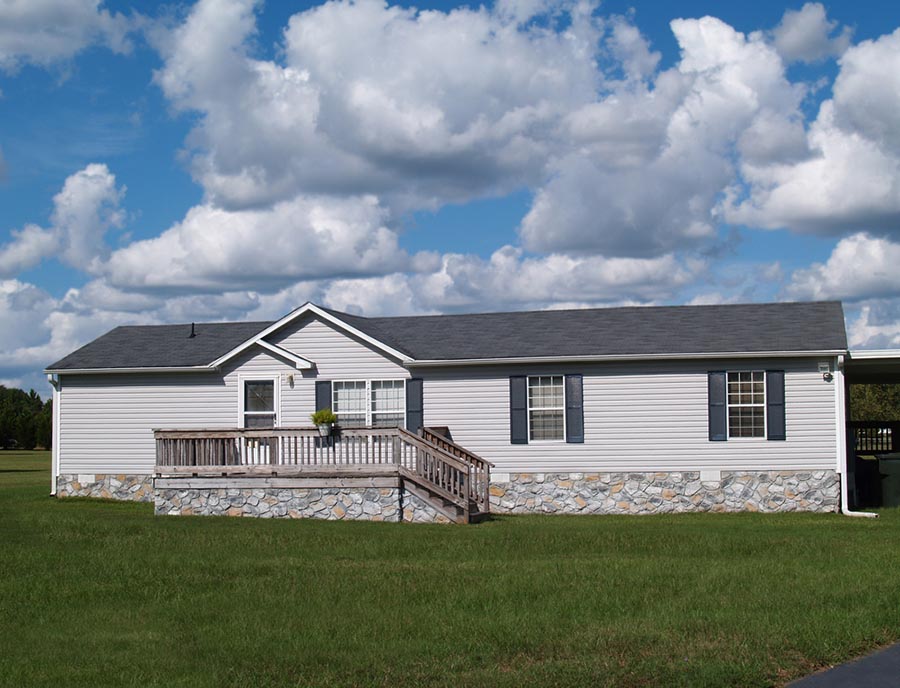 Find your dream home at Green Valley Homes. The company already has 50+ years of experience and can build multiple modular homes from single, multi-sectional, and more.
The Worthington is an elegant home with an open floor plan. It has a total of 1920 sqft, three beds, and two full baths. It features a dining bar island and a spacious family home.
ModWest Homes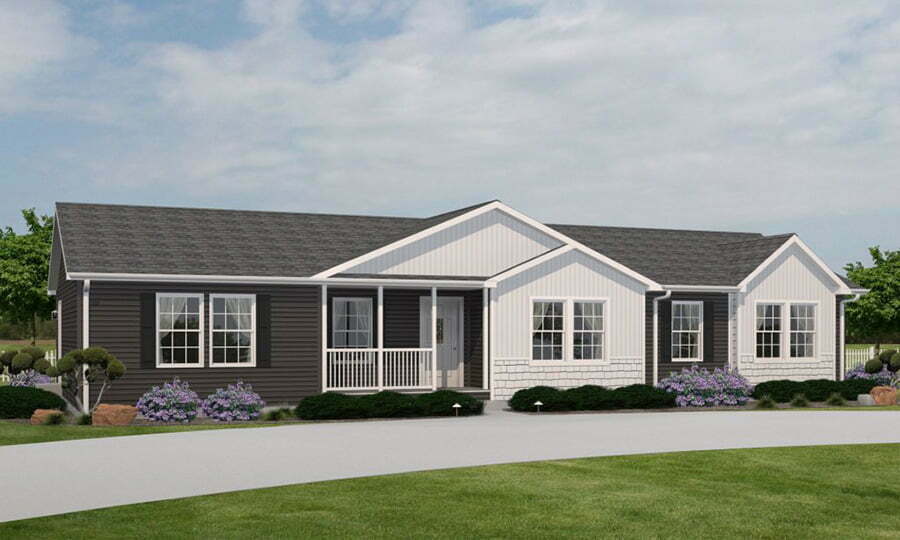 Modwest Homes provide you with so many options. They're a go-to manufacturer for homeowners and buyers in Ohio and Pennsylvania. Aside from prefab homes, they offer kitchen remodeling, house renovations, and financing options.
One of their featured homes is the Richland Elite. It's a ranch-style home with a 1,600 sqft floor area, three beds, and two full baths. Enjoy the standard features of this home, including the open-plan kitchen and nook. These spaces open to the living room. Check the website for the pricing.
Rona Communities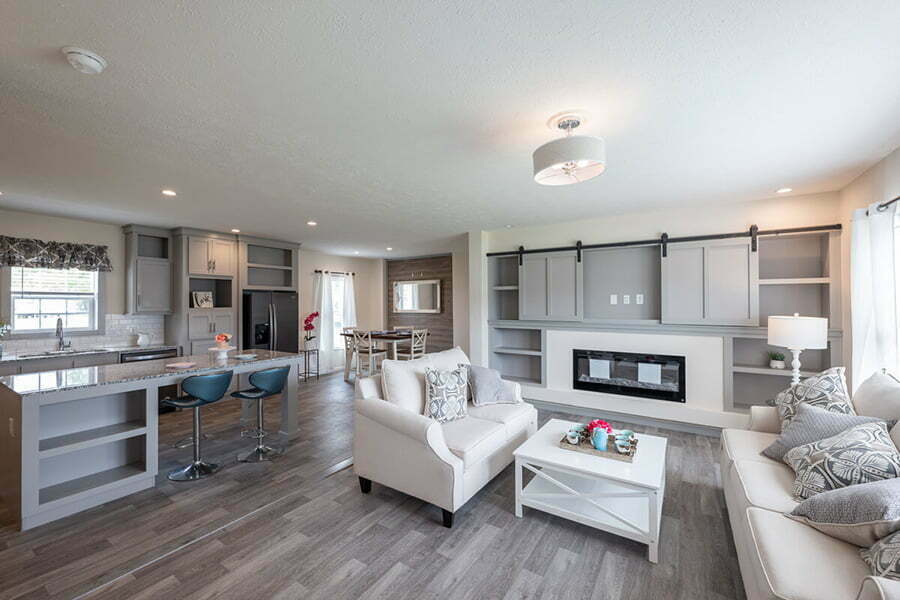 RC, or the Rona Communities, builds homes with trust as its primary foundation. They also value affordability, selection, and design. You can opt for a virtual tour with one of their featured homes before deciding on the best one for you and your family.
The Marvel is a four-bedroom home with two baths and an area of 1475 sqft. It's built by TRU and designed with an open floor plan. There's a kitchen, an island, a den, and a living room.
Fairmont Homes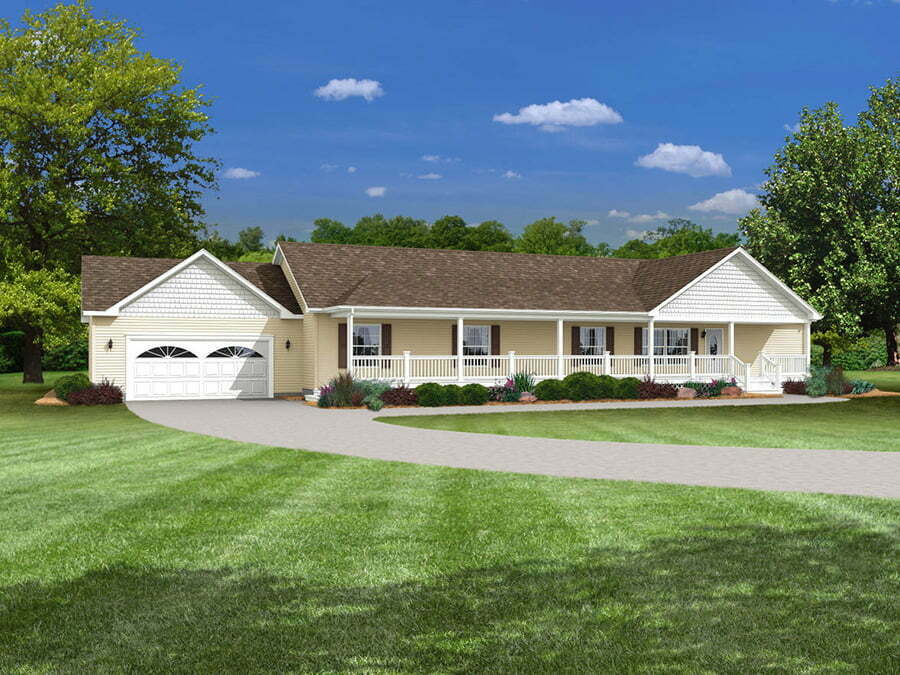 Fairmont Homes is a retailer of manufactured, modular, and park models. They have several locations throughout the country, including Illinois, Indiana, Iowa, Michigan, Missouri, Ohio, and more.
They have several featured homes, including the Harbor Town from the Kingsley Modular, with three beds and two baths. This home is spacious with a total of 2085 sqft. It's a single-section home with a beautifully-designed kitchen, a bar island, and a dining room that opens to the living area and porch.
You can visit their website to request more information and schedule a site visit.
Redman Homes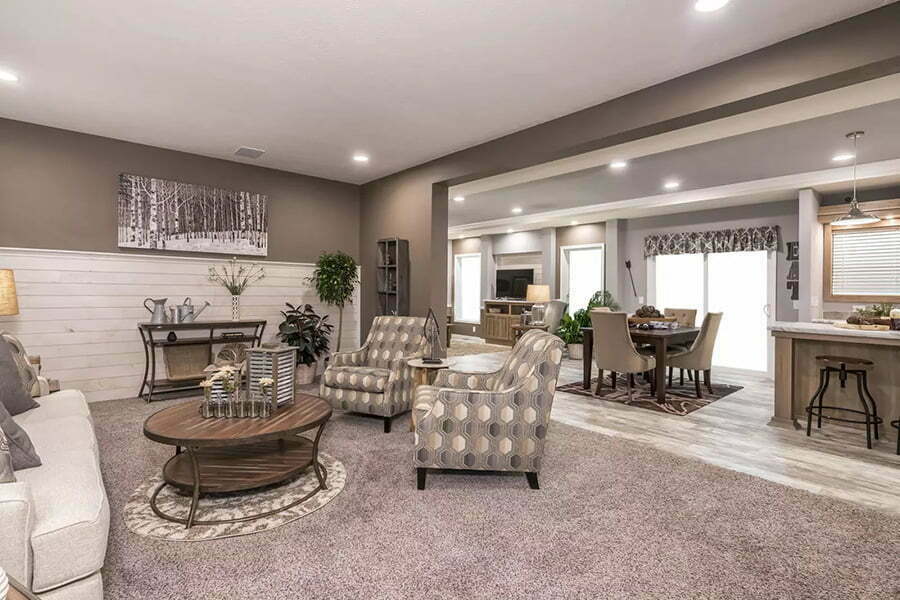 Redman Homes is a popular retailer of prefab homes in Ohio for several reasons, its expansive home lists for one. The company values quality, affordability, efficiency, and the buyer's style.
Brooklyn is an exquisite home with a total space of 1120 sqft. It has three beds and two baths. There's also a quaint porch for relaxing and enjoying the fresh air.
French City Homes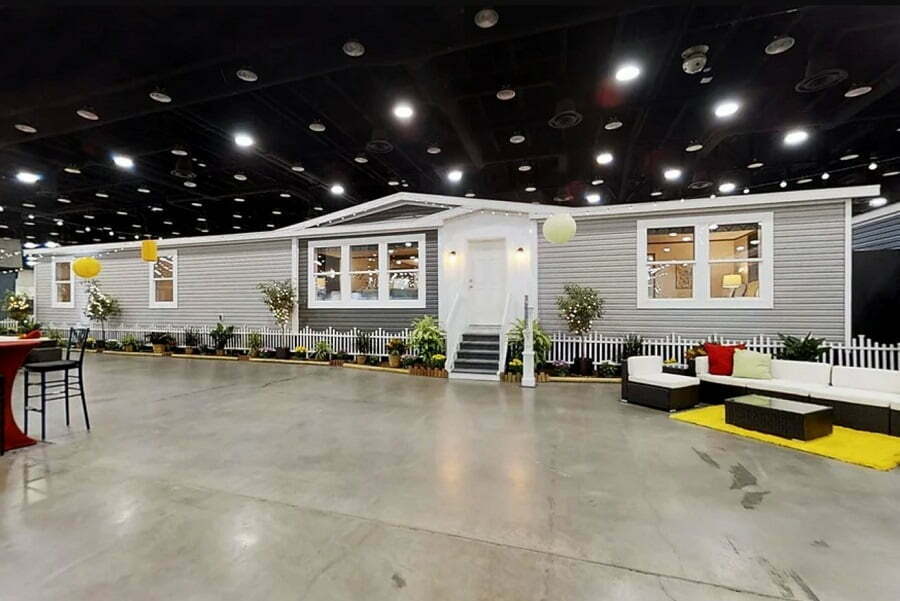 If you're looking for an inexpensive, full warranty and quality home in your area, you should check out French City Homes. The main office is on Upper River Road, Gallipolis, OH, but their homes are also available nearby.
Some of their featured homes include their All-American series homes. Homes in this series have a total living area of 1,545 sqft, three beds, and two baths. These ranch-style homes are designed to get the best of the home space. Every nook and cranny of the house serves its purpose.
UNIBILT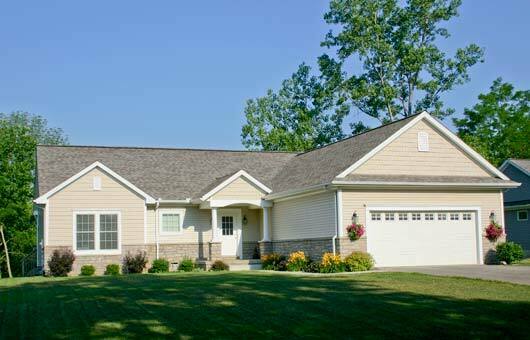 Unibilt homes are built using International Requirement standards. These houses are highly customizable and were completed in a controlled-factory setting for quality and efficiency.
One of their best floor plans is their floating homes. These homes have several features, including an island bar in the kitchen, a gathering room, maple cabinetry, pine painted interior, and more.
Freedom Homes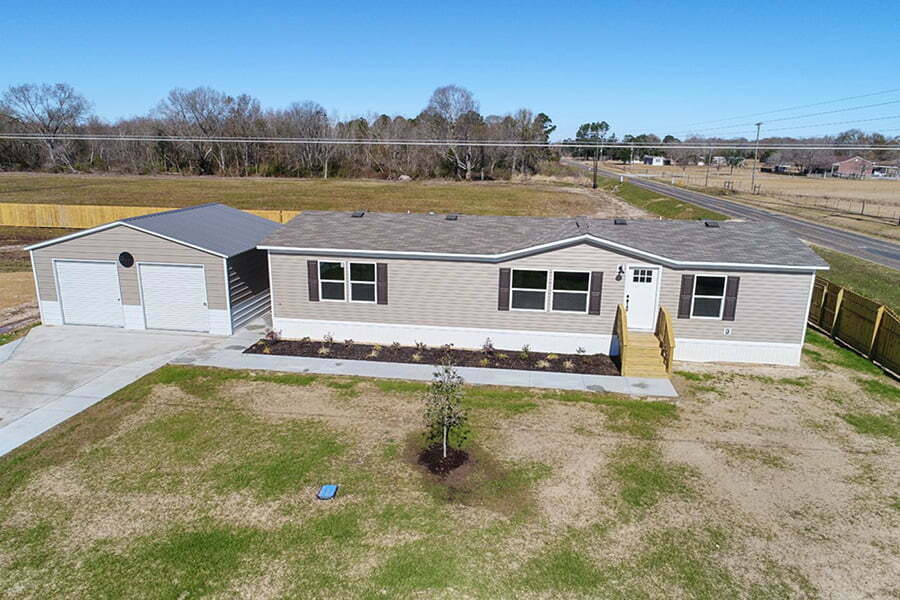 Are you looking for more prefabricated homes on this list? We've for Freedom Homes for you. Their homes are built to last. Everything is planned according to the buyers' preferences, from their design to the building process.
Delight is a featured home. Its price starts at $60,000. This home has a total area of 820 sqft, two beds, and two baths. Both beds are located at each end of the house to ensure maximum privacy. The open-space kitchen, dining, and kitchen are all in the center of the house.
Champion Home Builders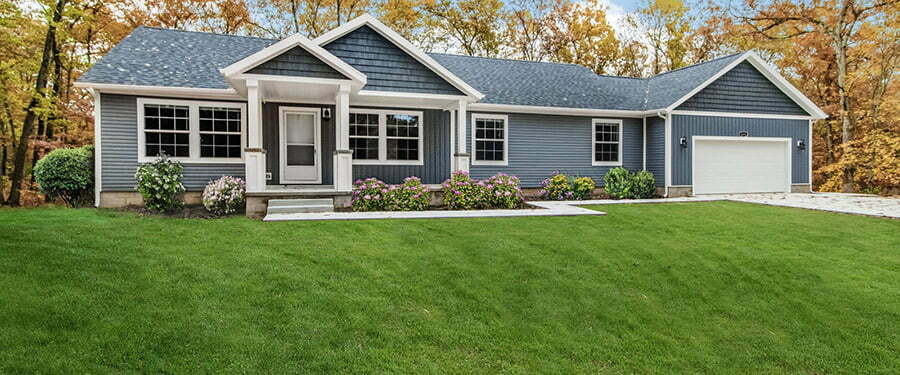 Champion Home Builders is a huge home manufacturing company in the US. It's been an industry leader for decades and is one of North America's biggest modular homebuilders. They also have mobile homes, park models, and commercial buildings you can choose from.
JDM Structures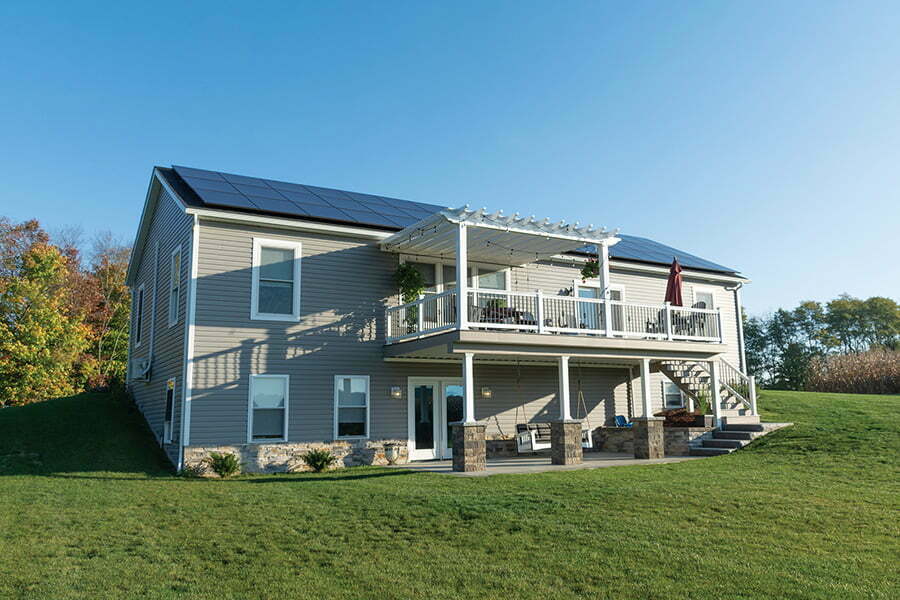 Get your new house built from JDM Structures' years of experience. Their main office is in Millersburg, Ohio, but you can order your prefab home from anywhere in the country.
Their Home on a Hill starts at $75,000. If you prefer a ready-to-live home, the price goes up to $280K. This home is perfect for valleys or for overlooking lots. It's an A-frame home with one long side porch and a basement.
Remy's Mobile Homes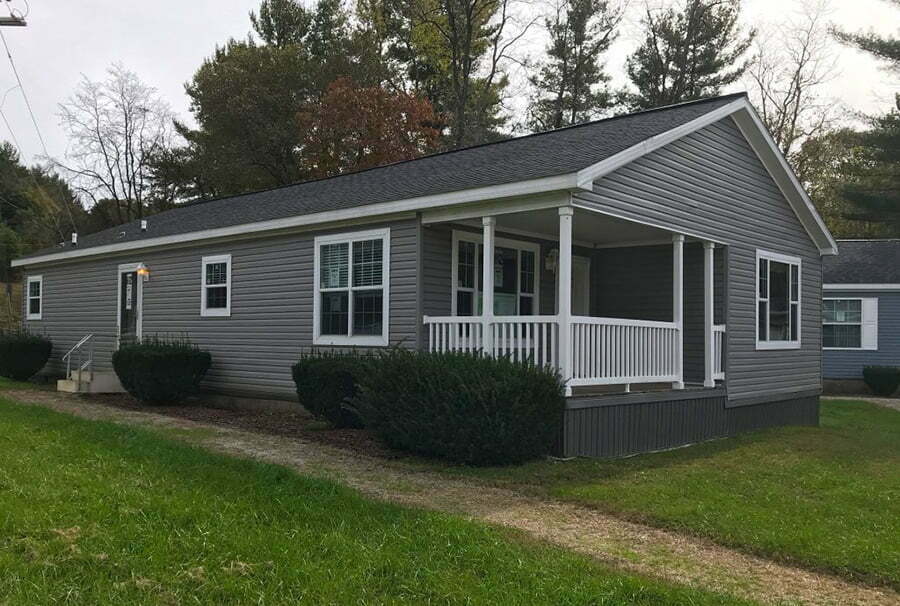 Remy's Mobile Homes have been serving families in Ohio for decades. They have single-wide homes, sectional, and modular homes for you to choose from. All the prefab structures are built with the federal codes in mind.
One example is Whispering Creek, a three-bedroom home with an open floor plan. The dining and the kitchen both share a one-floor area. The kitchen is connected to a spacious utility room as well. There are two full baths and a living room perfect for entertainment.
Evodomus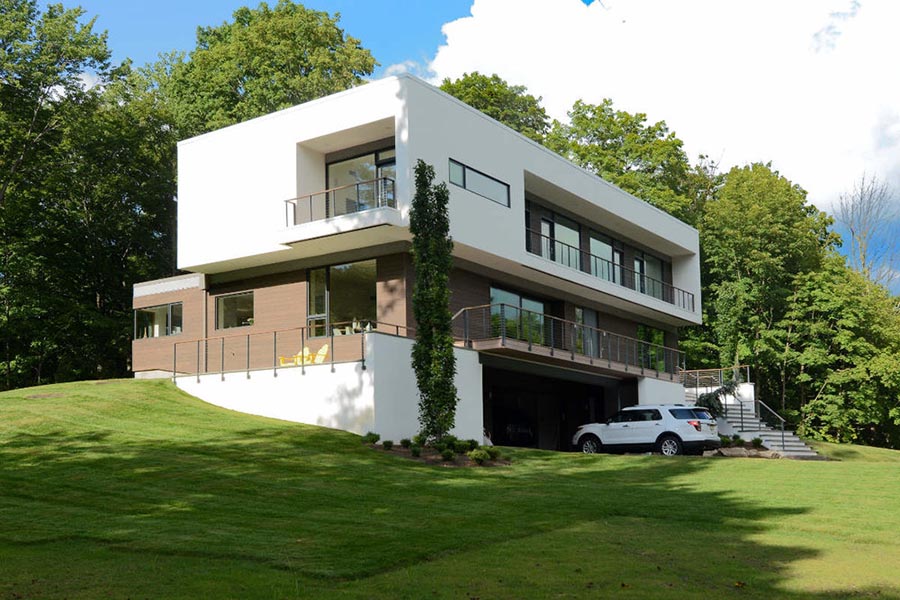 Evodomus is all about unique designs. The homes are refreshing, clean-lined, and packed with generous family space. Most of their homes use natural light, giving the owner that connection with their surroundings.
Their family residence home design in Philadephia is one of their best. It has a total space of 4,700 sqft and a sizeable living quarter with a gorgeous fireplace. There's also a kitchen with an adjacent pantry for efficiency. Everything about this home speaks of the highest level of family, entertainment, and comfort.
Dutch Housing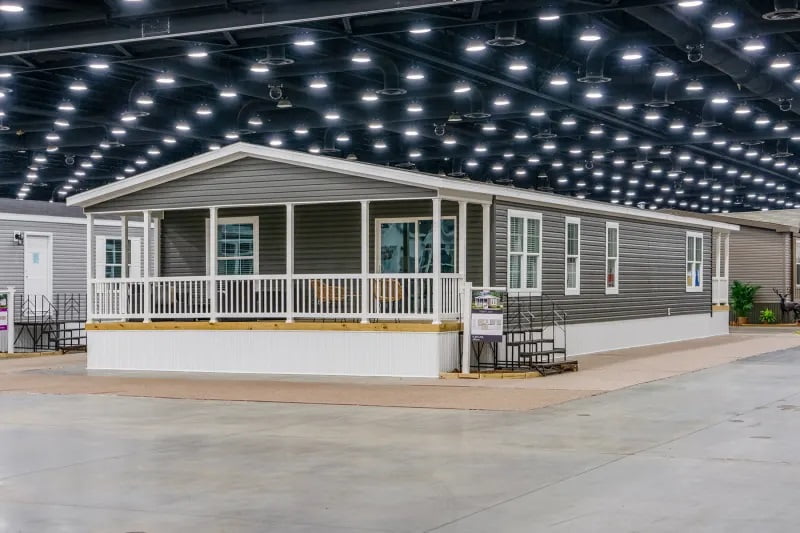 Dutch Housing is another prefab manufacturer in Ohio. The company was founded in 1991 and is recognized for its high-quality prefab homes. They carry on with their decades-long tradition of home building to create exceptional homes.
The Diamond Series is perfect for today's living. It has over fifty home designs, including the Easton. It's a beautiful and grand home with a total living area of 1493 sqft. This home has three beds and two full baths.
You also have three optional designs for the kitchen, the booth seat, and the double island. If you want a custom-design home, then here's your pick.
Buckhorn Builders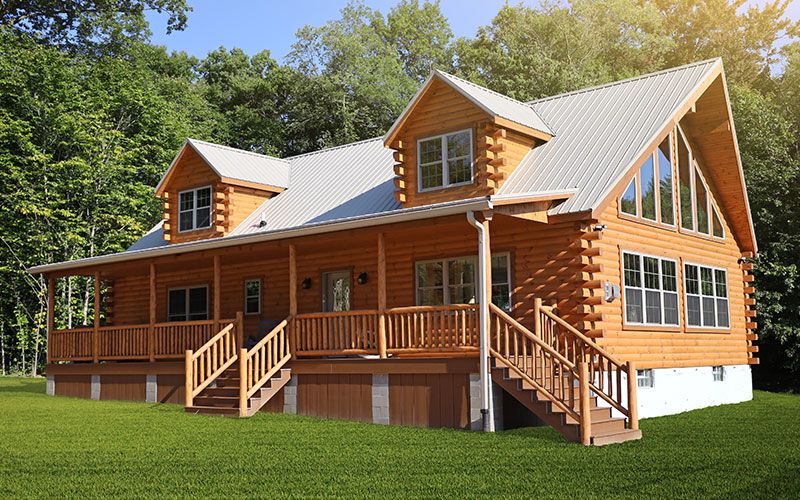 Buckhorn Builders is Ohio's log home builder. The company has perfected its log homes according to its every customer. Each prefab log house is built with attention to detail, and they only use high-quality materials.
Glacier is a two to five-bedroom home perfect for hillside lots. It comes in five different sizes for you to choose from. Square areas start from 1283 sqft to 2432 sqft. The cabin has a dramatic appearance. The caveat is the natural light that sheds through the entire home.
Hunter Modular Homes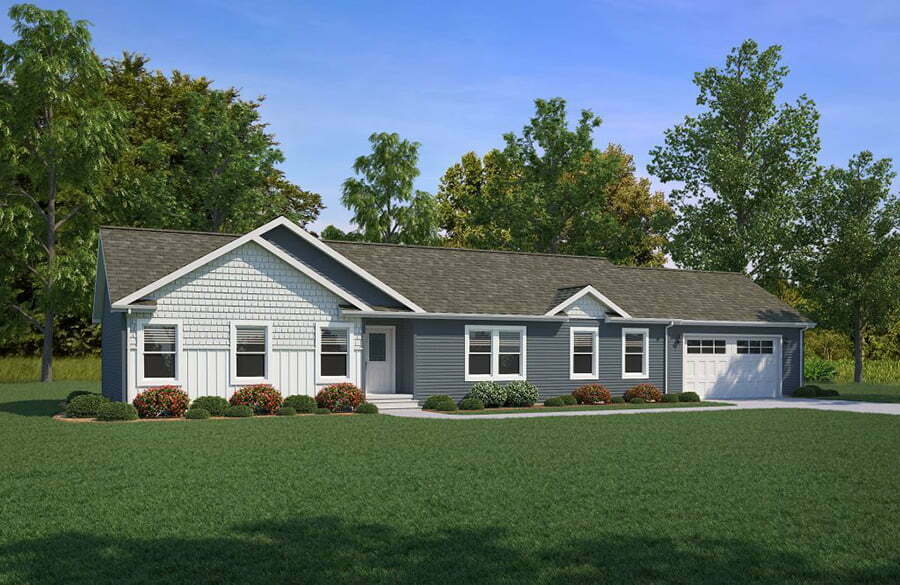 Hunter Modular Homes is your educated choice in housing. They have five home series, including the Landmark, Commodore, Landmark Forever, Landmark Signature, and Landmark Ultra. They have offices from Monday to Friday, but they also have appointments open on Sundays.
The Northport is from the Landmark series. It has two bedrooms and two full baths. It has a total living area of 1280 sqft. The kitchen and nook have a shared space. This then leads straight to the spacious living room. The other half of the house has a primary bedroom and the second bedroom.
Skyline Homes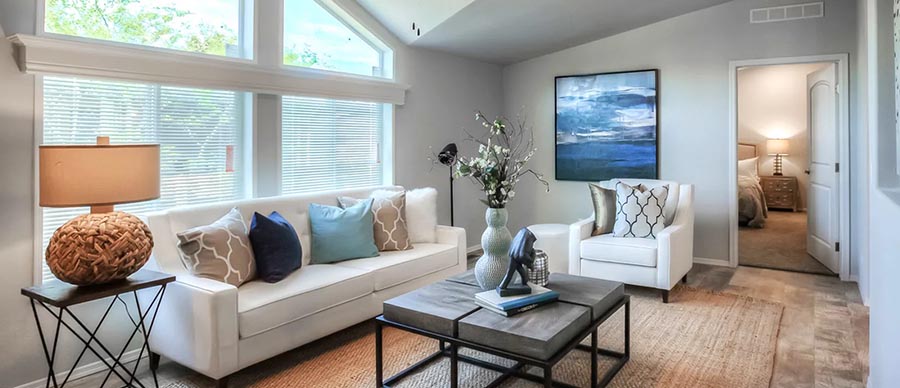 Skyline Homes has been around since the 1950s. The company commits itself to creating the best-manufactured home for homebuyers across the country. Their goal is to materialize every American dream of families in Ohio and other places.
Superior Homes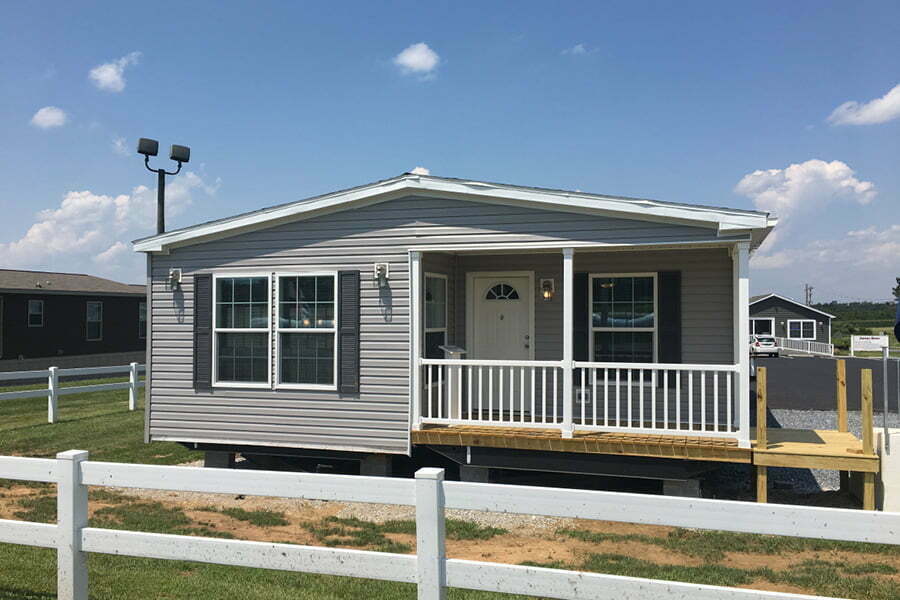 Superior Homes make dreams come true with their prefab homes. The founders want homebuyers to feel like their homes are sanctuaries, as they should be. All their homes have great features such as Whirlpool appliances, Crane sidings, premium Congoleum flooring, Owens-Corning insulations, and more.
One of their featured homes is the cape cod style house with a 1749 sqft living area. There's also another option for adding 960 sqft for your second floor. Enjoy the luxurious wood doors and rounded archways from the first level of your home!
Related reading: