Last updated on January 17, 2023
These are the top prefab ADU manufacturing companies around the US. Choose one closest to your location.
A prefab ADU or accessory dwelling unit is a tiny building that's just big enough to accommodate living in a backyard. They can serve many different purposes.
You can set up an ADU in any type as a guest house, a granny pod, a pool house, or a home office. Choices are unlimited to satisfy your specific needs.
They are small (usually ranging from 150 to 300 square feet), so they are very affordable. You can expect to pay under $10,000 for any such unit.
And because they are so small, the prefab technology allows most companies to ship it to your location, wherever in the US you are.
Here is our digest.
Table of Contents
Prefab ADU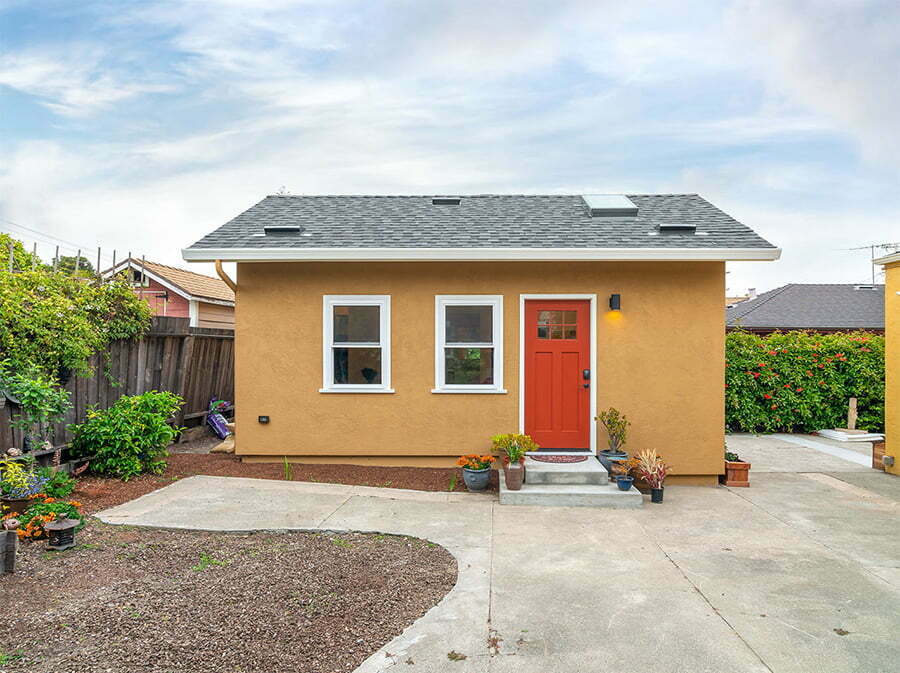 Prefab ADU kits can provide more affordable housing, and expansion can be done as needed. Using panel kits, you can build your own unit and work with a local contractor or hire subcontractors. Prefab ADU kits require no cranes, so you can manage the materials yourself for full accessibility.
The company can design and build an ADU as small as 150 square feet for spatially challenged homeowners. The ADU is built off-site and delivered directly to your home or alternate property location. The dwellings are solid and durable, often stronger than the rest of your home.
Location: Fairfield, California.
Studio Shed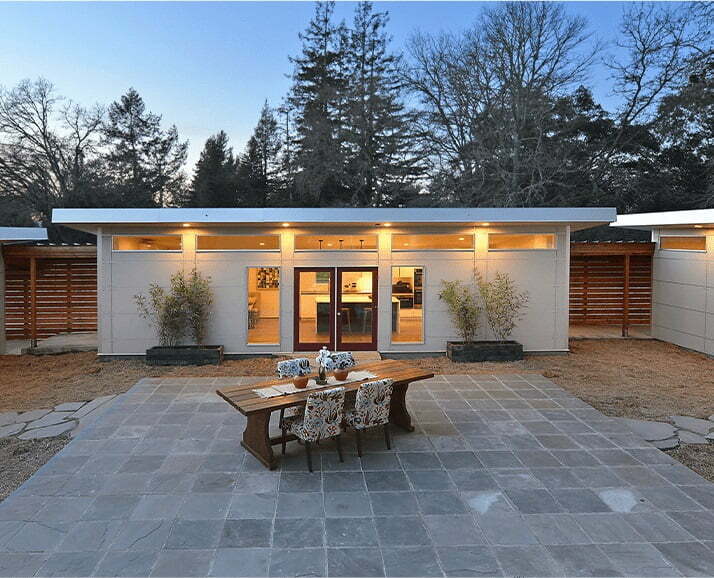 Buying a prefab shed building kit from Studio Shed provides extra living space for your home for storage, garden supplies, or a home office. Often called a "granny flat," these sheds can be roomy enough for additional living space. Designed to be stand-alone, these units can be designed to fit anywhere and serve any spatial need.
You can choose prefab models or all-in-one solutions at Studio Shed of Louisville, Colorado. You might want to design your shed using the Studio Shed 3D Design Center. Average prefab sheds cost between $1,500 and $4,000, but your project could run up to $10,000 for unique designs or specific models of farm sheds.
Location: Louisville, Colorado.
Price range: $1,500 to $10,000.
Bay Modular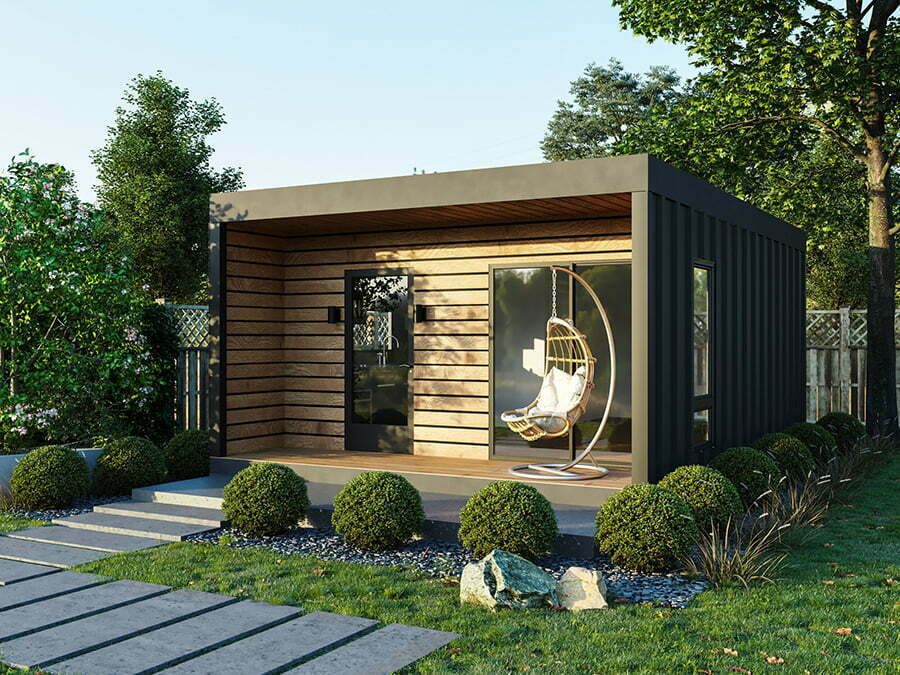 Bay Modular creates fully functional living spaces that can serve as a second bedroom, guest cottage, or professional office.
You can choose from different designs and fixtures for gracious living without breaking the bank. The entry-level home option consists of a stand-alone unit for your backyard for living or use as a studio.
The home comes with complete finishing touches and a modern kitchen and bath. The space is perfect for living, working, or renting out to a tenant. The prices start at $182,400, and everything's included.
Location: Hayward, California.
Price range: from $182,400.
Mighty Small Homes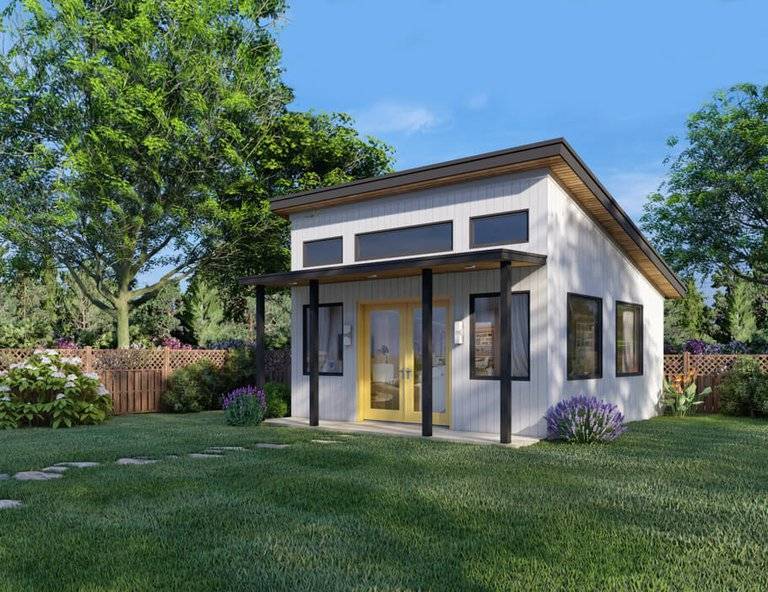 You can find tiny turnkey homes for use as additional dwelling units at Mighty Small Homes. It's fast and easy to install a mother-in-law suite, studio, office, or rental facility on any property you own. You can choose between six different models and customize the plans with personal touches.
Choose from modern, contemporary, ranch, cottage, carriage, and tiny designs. Prices range from $119 to $150 per square foot.
Location: Louisville, Kentucky.
Price range: $119 to $150 per sq. ft.
Modern Empathy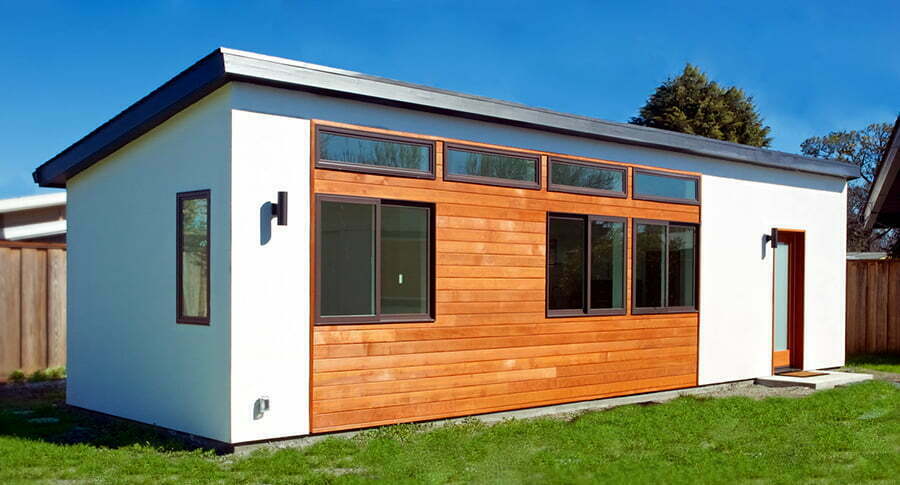 Modern Empathy builds modular housing that enables home builders to save considerably on homes designed to fit in the backyard. It's a great way to create a sustainable but private environment for children, parents, or other relatives or associates—these ADUs open various possibilities.
Each home is energy-efficient and sustainably sourced. The prices range from $325 to $513 per square foot, but the all-inclusive price includes custom design services.
Location: Los Altos, California.
Price range: $325 to $513 per square foot.
Villa Homes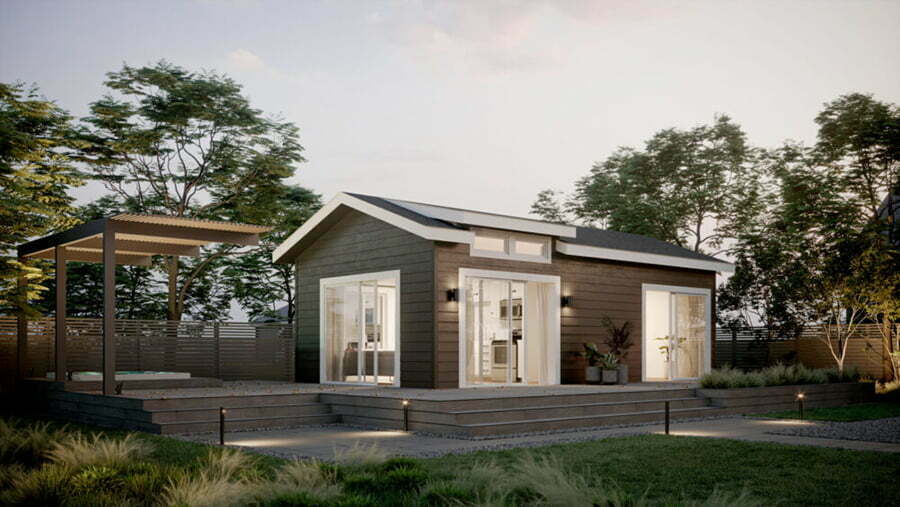 Villa Homes offers transparent pricing and prefab ADUs in more than 15-floor plans. You can choose from 1-, 2- and 3-bedroom homes, which enables you to find an ideal home that fits your property layout and budget. Headquartered in San Francisco, prices range from $258 to $452 per square foot.
Villa Homes employs design and contracting experts in all areas of the country, so you can access local experts with answers to any questions you might have. The team will also be happy to help you estimate the costs of planning, permitting, and site preparation.
Location: San Francisco, CA.
Price range: $258 to $452 per square foot.
My ADU 4 Less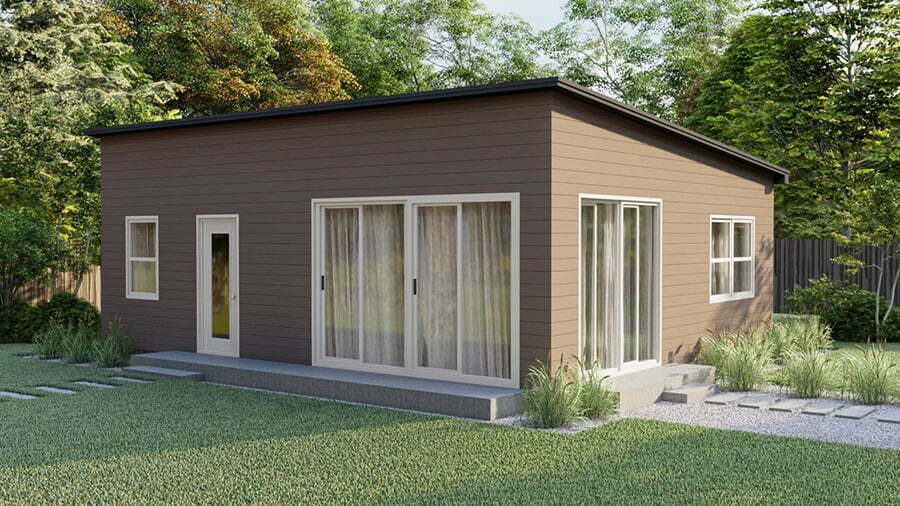 At My ADU 4 Less is a full-service design and building company that serves southern California by building Accessory Dwelling Units using Manufactured Homes built to federal regulations. Choosing ADUs speeds up the building and design processes and streamlines any disruptions.
Tiny homes are available starting at $63,850; other homes range from $155,000 to $365,000.
Location: California.
Price range: $63,850 to $365,000.
Steelbox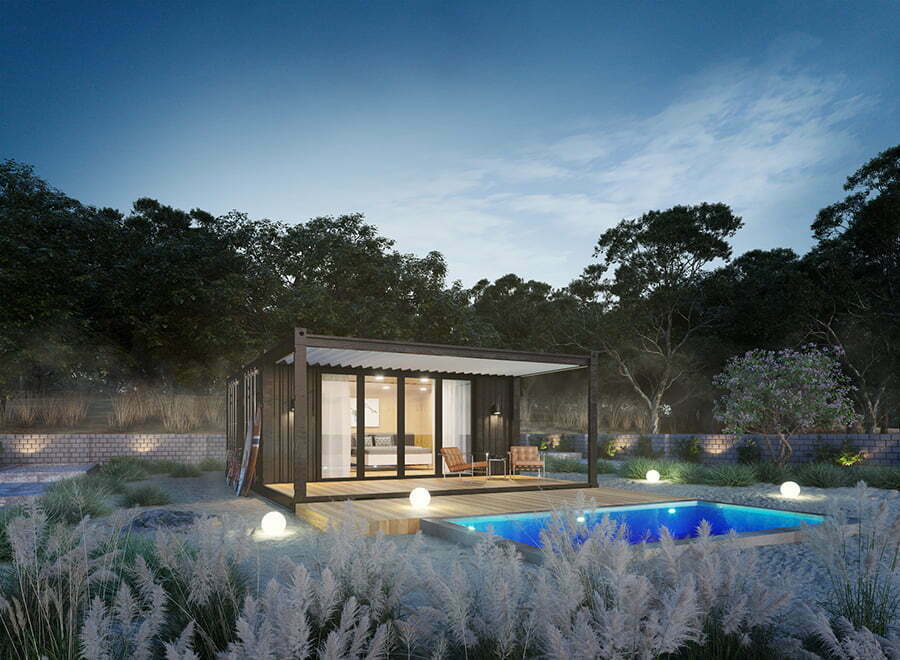 Steelbox offers ADUs with beautiful designs for adding a guest house, granny flat, man cave, she-shed or rental unit to your property. Headquartered in Newbury Park, California, the company ships prefab ADUs nationwide.
The company strives to design smaller homes that appear larger because of design efficiency. Steel Box offers competitive financing options, and prices range from $350 to $500 per square foot.
Location: Newbury Park, California.
Price range: $350 to $500 per sq. ft.
California Modulars
California Modulars is a manufacturer certified by California Housing & Community Development as a builder of the highest quality ADUs.
A family-owned and operated business, the company uses eco-friendly materials and energy-efficient appliances while enthusiastically following California Title 24 Guidelines.
The crews offer turnkey ADU building services in California — from design to finishing touches. Prices range from $360 to $450 per square foot.
Location: California.
Price range: $360 to $450 per square foot.
Plant Prefab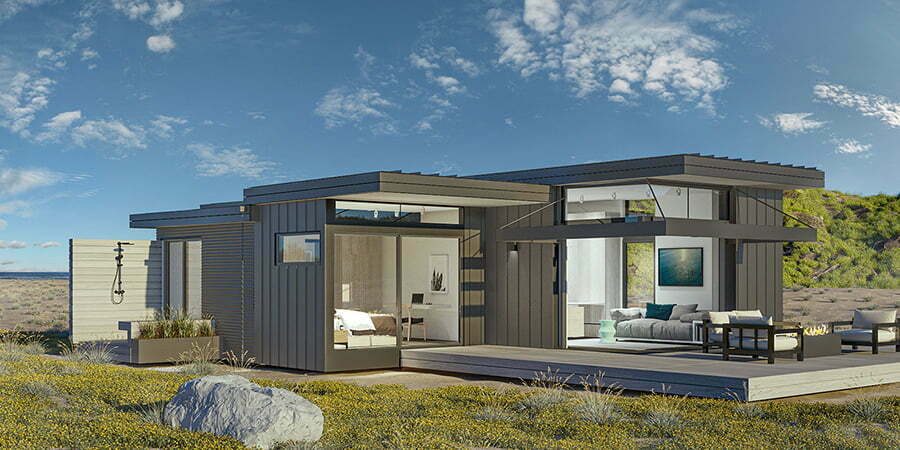 Plant Prefab manufactures prefab ADUs at its facility in Rialto, California, but the company can ship your prefab home anywhere. The manufacturer focuses on function without sacrificing aesthetic appeal.
The benefits of buying a home from Plant Prefab include customization, carefully curated finishing options, and smart home technology.
The company researches every product it uses, including stains, sealants, and zero-VOC paints. Designed for naturally optimized airflow, the traditional homes range in price from $250 to $350 per square foot or more with specific custom options.
Location: Rialto, CA.
Price range: $250 to $350 per square foot.
My Turnkey ADU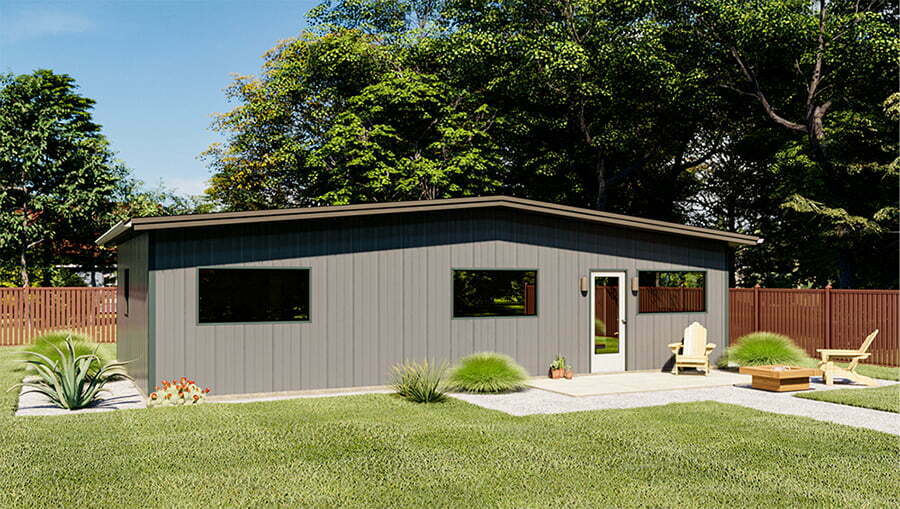 My Turnkey ADU, headquartered in Carlsbad, California, manufactures high-quality ADUs for southern California. The additional living space helps families stay together or offers money-making opportunities as a rental unit. The company uses cold-formed steel for framing, which is highly durable.
You can find move-in-ready ADU options and building kits based on your needs. Prices run about $220 per square foot and up, so you could probably expect to pay $27,000 to $55,000 for a 250-square-foot home.
Location: Carlsbad, California.
Price range: $27,000 to $55,000.
Masaya Homes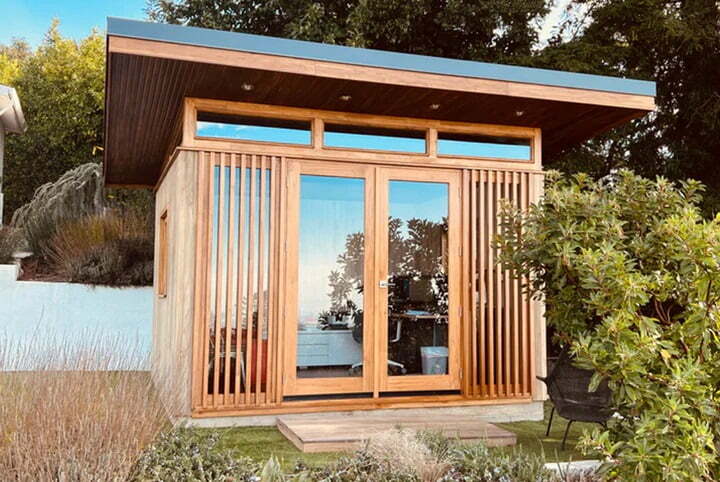 Masaya Homes, which developed from a firm student commitment to sustainability, started in Oakland, California. However, its ADUs are shipped worldwide because of their eco-friendly reputation — the homes all use wood from reforestation projects.
The wood includes high-quality teak grown on reforested farms. Prices for California homes have skyrocketed for low-quality dwellings, and Masaya Homes offers more affordable options like $50,000 for a studio and $200,000 for a modern prefab backyard ADU.
Location: Oakland, California.
Price range: $50,000 to $200,000.
Live Modal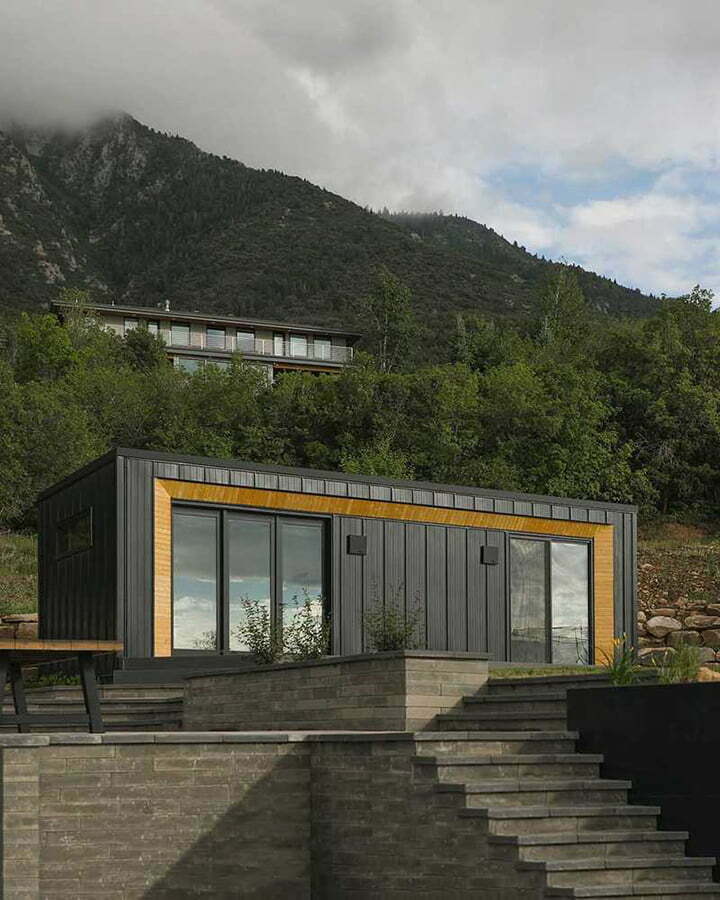 Live Modal designs fully functional ADUs in flexible designs that are easily expanded or added to at a later date. The company is headquartered in Salt Lake City, Utah. A single-room floor plan home runs $240,000, including getting necessary permits to finishing touches.
Location: Salt Lake City, Utah.
Price range: from $240,000.
Dweller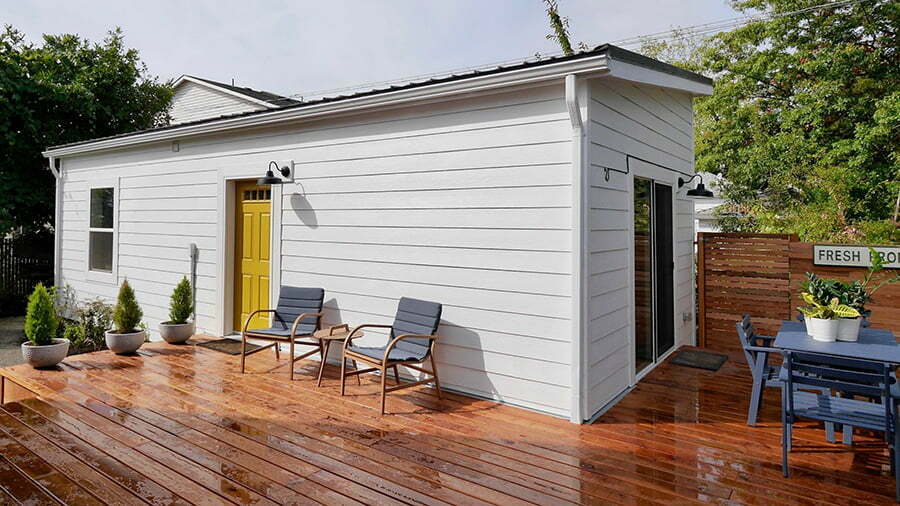 Dweller serves the Oregon market by building and managing ADUs. The company is not selling new ADUs, but they might have deferred ownership plans for previously built units.
Location: Portland, Oregon.
Meka Modular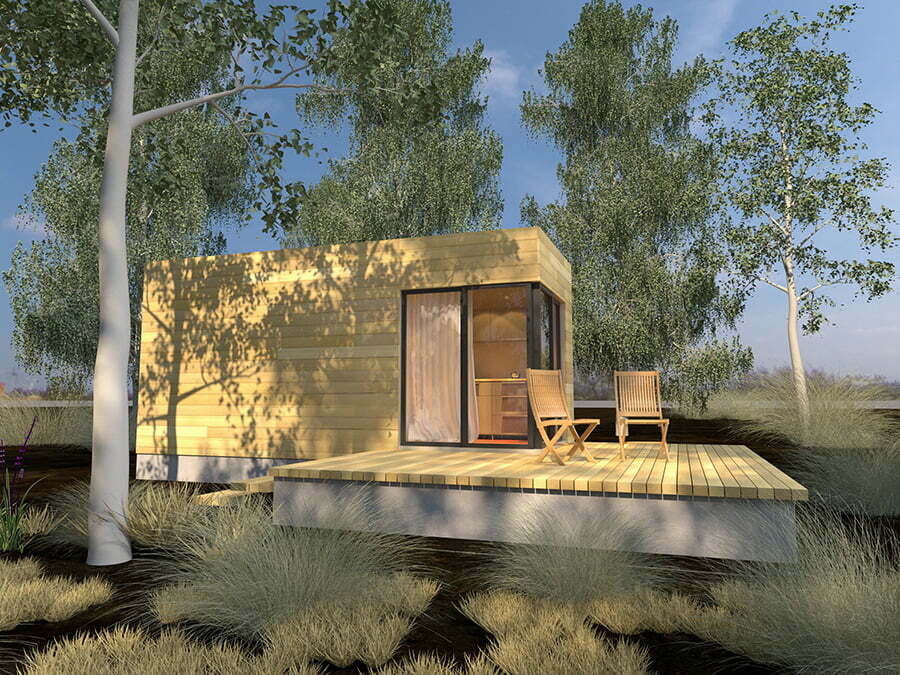 Meka Modular sells affordable ADUs that can be used as homes, offices, studios, and storage. The company is located in San Jose, California, but it includes meeting all your local building codes regardless of where you live. The inclusive price includes all interior finishes for walls, bathrooms, and flooring but doesn't include appliances.
The costs start at $59,200, and the company ships to the base location. The company does a location verification to ensure that the modules meet your local building requirements.
Location: San Jose, California.
Price range: from $59,200.
Abodu
Abodu sells ADUs, accessory dwelling units, to people of Redwood City, California, and other locations. The ADUs come in studio, one-bedroom, and two-bedroom designs and include a kitchen, bathroom, and living room. You can use these units for additional living space as an in-law residence, home office, additional bedroom, or guest cottage.
The company handles every aspect of the designing and building processes, including permitting, construction, and delivery. You can quickly finish the project in just six weeks because everything's designed to cause minimal disruption to your routine. Upfront, transparent pricing starts at $228,800.
Location: Redwood City, California.
Price range: from $228,800.
Design Mobile
Design Mobile promotes the advantages of modular housing tirelessly because prefab units can provide extra rental income, additional bedrooms, and guest homes.
Each standard model includes a bathroom, kitchen, living room, and laundry. Built-in California, these ADUs have the highest national energy standards.
Headquartered near Venice Beach, California, the ADUs are sold and shipped throughout the country. Prefabs usually run 10% to 20% less than comparable ground-built homes, and construction is finished much faster.
Location: Venice Beach, CA.
Yard ADU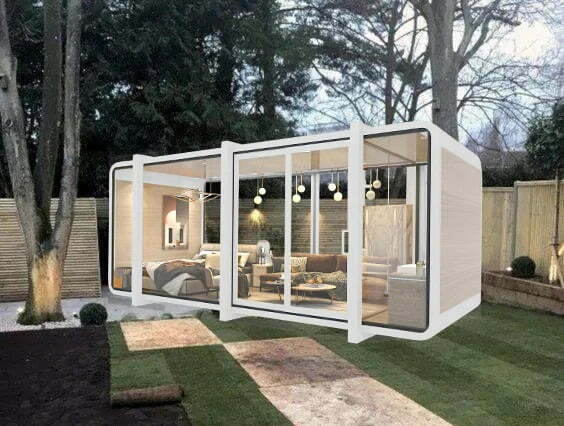 Yard ADU manufactures ADUs suitable for offices and homes. Due to the demand, the company is currently only building ADU offices. Glass-enclosed offices run as little as $28,900 and up.
Location: Los Angeles, CA.
Price range: from $28,900.
Backyard ADUs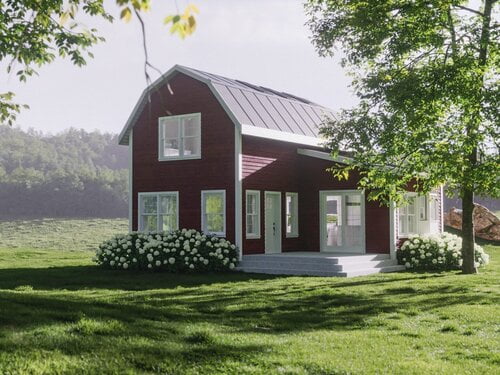 Backyard ADUs has offices in Massachusetts and Maine, and the company manufactures stunning prefab ADUs, mainly along the East Coast. The company focuses on custom design, so everyone gets the home they want. The company also follows industry best practices and efficient building methods.
You choose a basic design as a starting point and customize the loans to make the home meet your vision of a dream home. Prices vary tremendously based on style and size, but the small ADU L-line style 2-bedroom home runs $207,000.
Location: Massachusetts and Maine.
Price range: from $207,000.
Instant Living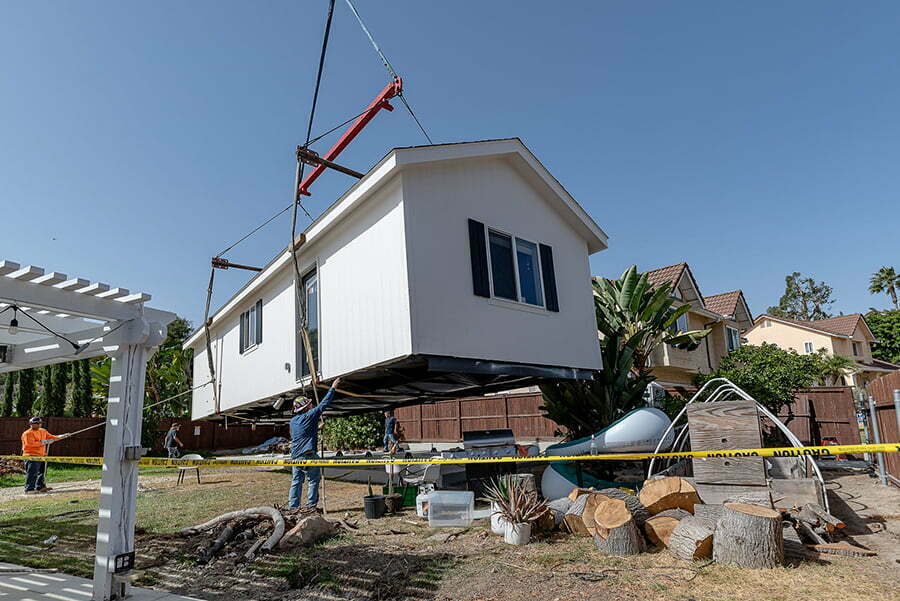 Instant Living includes everything in its pricing for you — like inspections, site work, appliances, installation, and follow-up customer service. The designs are carefully detailed to include the latest designer trends. The company's efficiencies result in lower costs and faster building.
The all-inclusive pricing is usually less than 35% of the price of traditional construction. The company is based in Nevada but serves homeowners across the United States.
Location: Nevada.
Related reading: