Last updated on January 15, 2023
These prefab office sheds are the best way to go about working from home if you want a separate workspace from your living area. Read on!
A prefab office shed is an ADU that you can put in your backyard and usually without a permit (check your local building codes.) It's a spin on the traditional shed.
Instead of a workshop or a storage shed, you get a small office in your backyard. A prefab construction means you can order it and get it delivered.
Depending on the type of unit, you can buy a kit or a turnkey solution. The cost varies accordingly (from $6,000 to $30,000+.)
For a cheaper ADU, you're not getting plumbing (no bathroom or kitchen) but you get a studio that can function as a perfect work room. High-end units may include these features.
Check the following list for your nearest location and price range.
Table of Contents
Studio Shed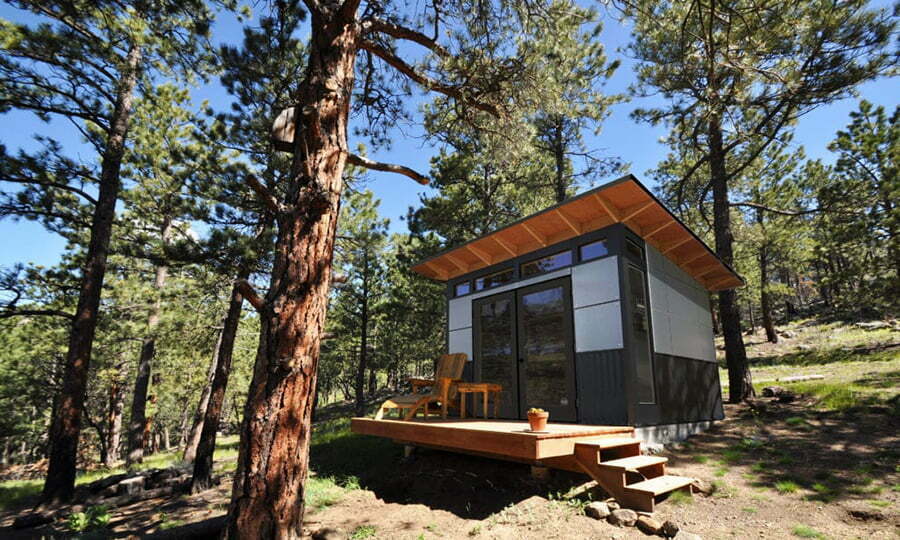 Studio Shed is a leading manufacturer of prefab sheds with a nationwide presence. Since 2008, Studio Shed has manufactured and delivered thousands of prefab office sheds to customers in different parts of the country.
The company makes a wide variety of sheds that can be used in the backyard as a home gym, bike storage, an office, or an art studio, among other things.
Sheds from the company differ in size from 120sqft up to 2,000sqft, depending on the application.
Location: Colorado.
Price: from $13,861.
LivPods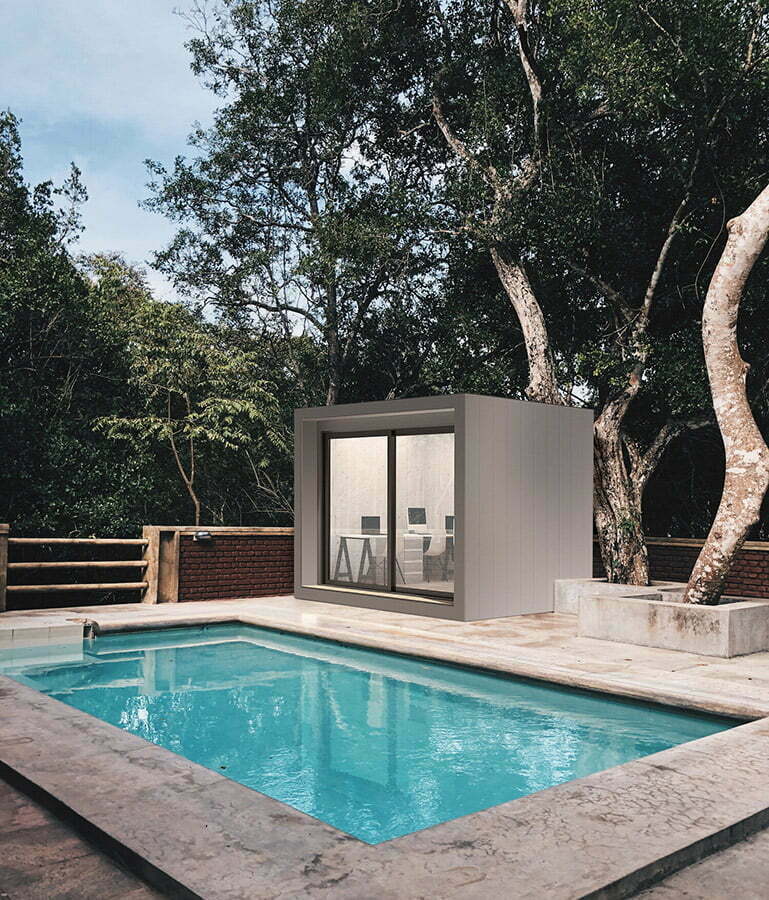 LivPods specializes in manufacturing custom prefab sheds to suit the unique needs of different clients. The company is renowned for manufacturing the most stylish sheds for clients worldwide.
They deliver throughout Canada and the US. Sheds are designed and built off-site and delivered to the site fully assembled and ready for use.
The company offers same-day installation, so you will not need to wait any longer once your order arrives. You can start using the shed as an extension of your home immediately.
There are three shed models from LivPods. These are LivSimply, LivOutside, and LivMore. They come in a variety of sizes and have different features.
Prices start from CAD 38,500 up to CAD 135,000, depending on size and features. Prices are inclusive of shipping, taxes, and installation cost.
Location: Canada & USA.
Price: from $30,000.
Kanga Room Systems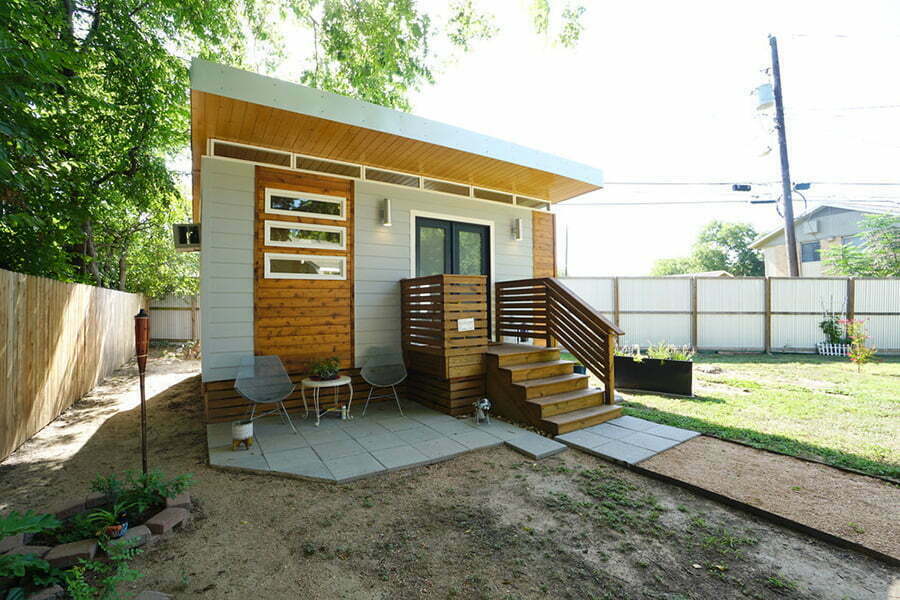 Kanga Room Systems designs and manufactures tiny homes, kit homes, and sheds for the Texas market but can deliver to surrounding US states.
Prefab office sheds from the company feature a revolutionary design and quality wood. They are durable standalone structures perfect for any home, ranch, industrial site, or business.
Prices differ from one unit to the next and from time to time, so be sure to ask about pricing directly from the company. Kwik Rooms are available in shell kits, installed shells, and turnkey buildings are available in Texas only.
Location: Texas.
Price: form $10,500 for a shell, and $21,600 for a turnkey prefab.
Drop Structures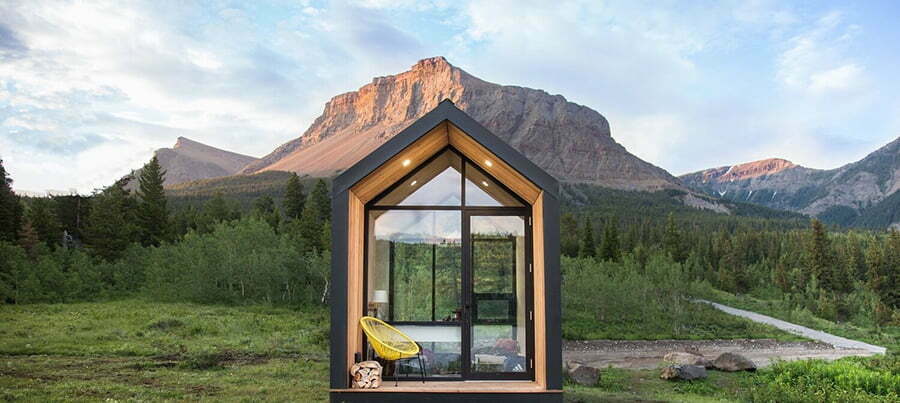 Drop Structures designs, manufactures, and delivers prefab sheds to the curb-side of your property. The company delivers throughout North America.
They make sheds that can be used as studios, backyard offices, business premises, and for glamping. Prices range from USD 28,000 to USD 34,500 for the mono mini shed.
Location: Alberta, Canada.
Price: from $28,000.
Modern Shed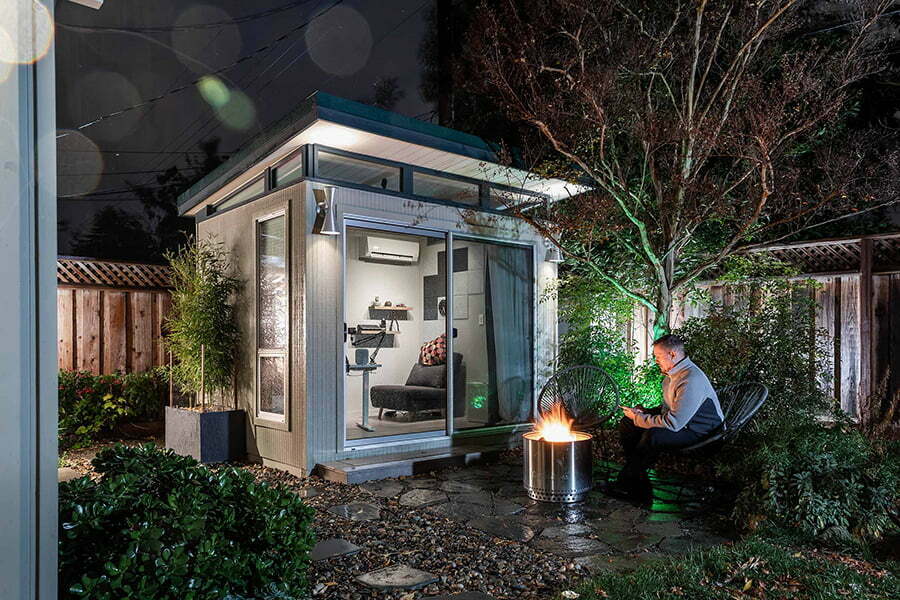 Created by builders and dreamers who were pragmatic problem solvers and idealists, the Modern Shed builds intentionally-crafted modern backyard studios.
All sheds are built to meet the international building code (IBC standards) and can be modified to meet the California Building Code, among other stricter jurisdiction-specific standards.
Sheds come in various sizes ranging from just 120sqft, perfect for backyard gyms, to 640sqft for portable dwellings.
Sheds are shipped flatly packed, saving space at the delivery point and reducing the number of trips needed to unpack them. Delivery takes place within five days of purchase.
Location: California.
Price: varies by design and region.
Buhaus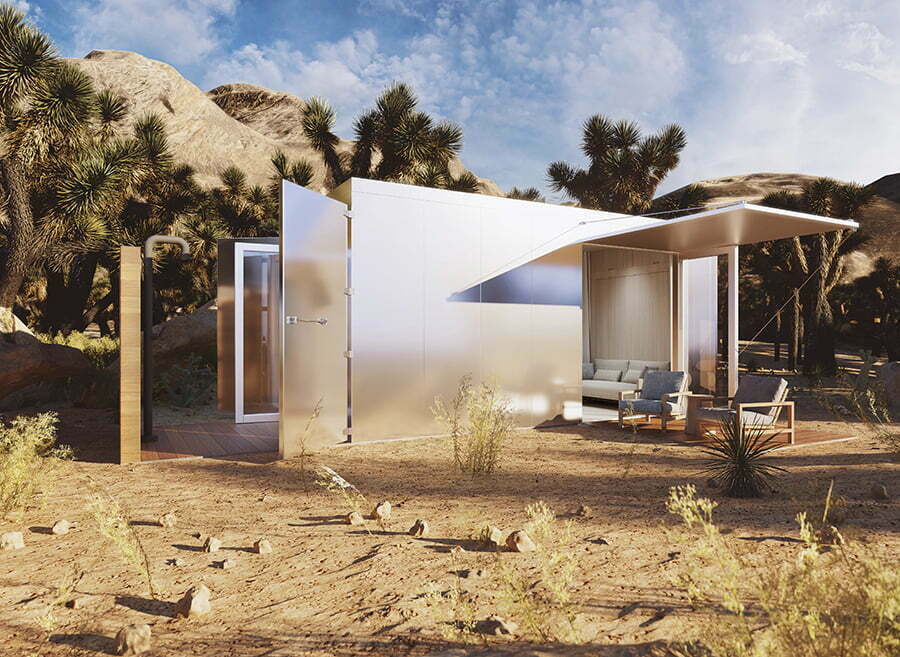 Buhaus focuses on designing and manufacturing sheds that combine utility and luxury.
The Buhaus is a 160sqft portable building that has a bedroom and bathroom. The unit is customizable, compact, and comfortable. The Buhom is a 3-container layout perfect for desert and forest homes.
It comes fitted with solar panels, which also provide the required shed when the sun gets too hot. Shed prices can be provided on request by the company.
Location: Malibu, California.
Backyard Eichler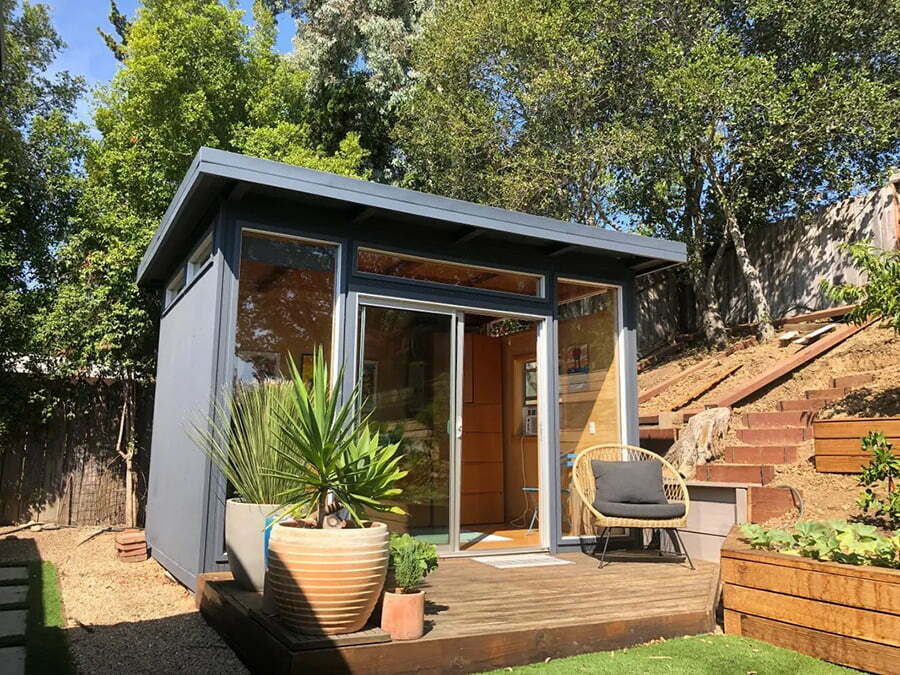 Backyard Eichler sheds are designed to meet the specific needs of the customer. The company makes mid-century modern sheds, studio sheds, and backyard office sheds.
The Essential Eichler Shed measures 12ft by 10ft, has sliding doors and windows, sheetrock walls, Eichler siding, internal electrical wiring, and is fully insulated. The unit costs $32,900 when fully installed.
Location: San Francisco, California.
Price: $32,900.
The Plus Hus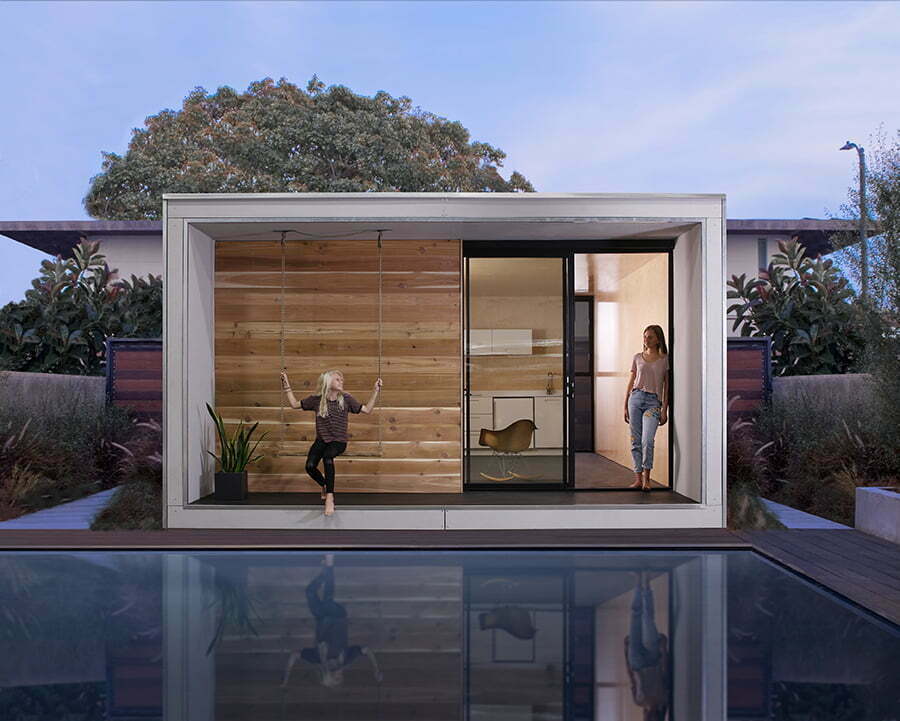 The Plus Hus makes a signature shed that measures 16ft by 20ft and is fully customizable. Sheds can be used as a man cave or she cave, home office, or an extra bedroom that can be rented out to generate rental income.
Sheds are available in various designs and are delivered flat packed for on-site assembly. A complete dwelling unit costs around $79,000. This does not include permits, contracting services, or site planning.
Location: Santa Monica, California.
Price: $79,000.
Sheds Unlimited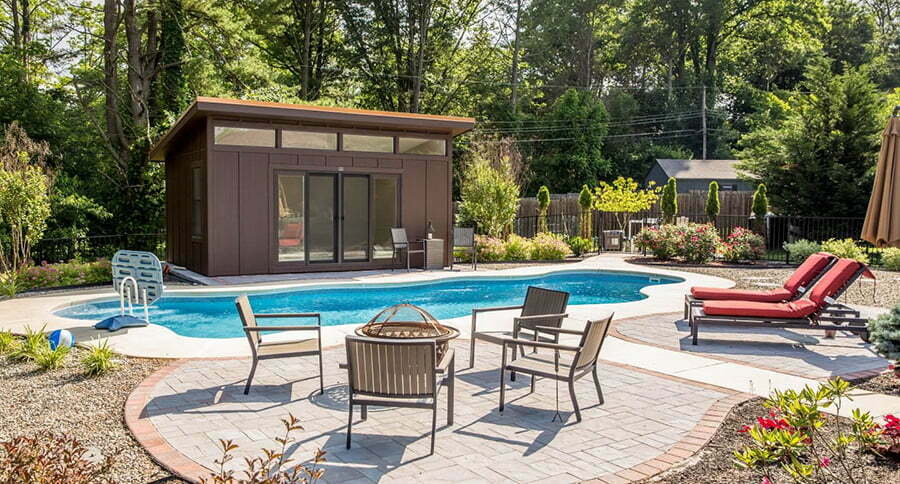 Sheds Unlimited designs and manufactures sheds to meet the needs of the client. The company has a shed builder tool on their website and an estimate builder, so you can use these tools to design your shed and get a quote.
An 8ft by 10ft shed costs $11,238 while a 12ft by 14ft shed costs $16,463. Sheds come with LP Smart Siding as well as a 50-year manufacturer warranty.
The Studio 1 Modern Shed from Sheds Unlimited is perfect for play, living, and storage.
Location: Morgantown, Pennsylvania.
Price: $11,238 to $16,463.
kitHAUS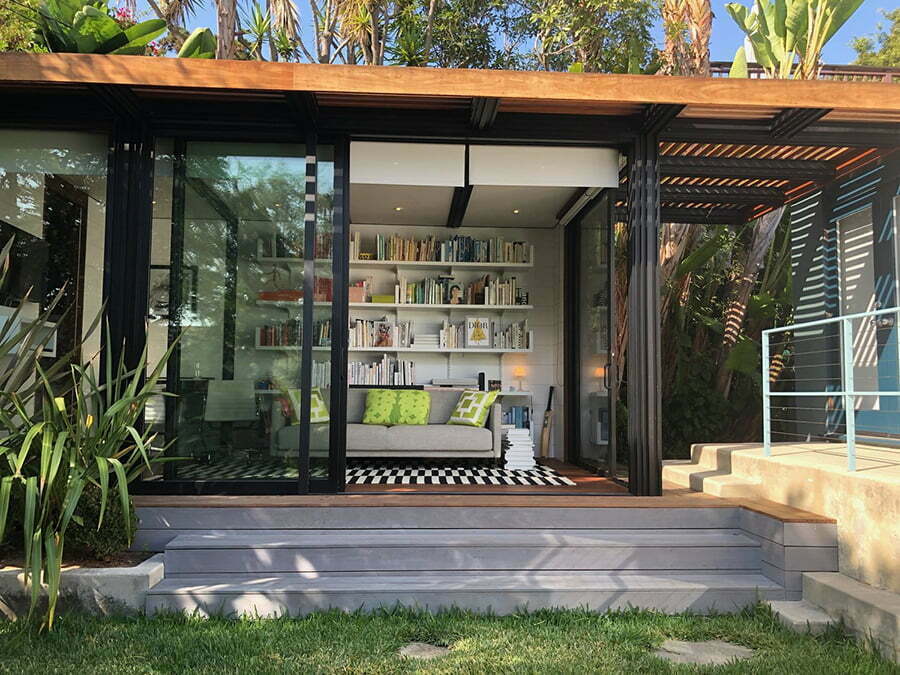 Established in 2005, kitHAUS has been disrupting the sheds industry ever since. The company manufactures the K3, K4, K5, K6, K8, and K9 sheds.
The K3 series can be used as a pool house, backyard studio, home office, playroom, or anything you can think of. K3 prices start from $32,000. All modules come with a 3-year limited warranty. Sheds are built to meet IBC standards.
Location: Los Angeles, California.
Price: from $32,000.
YardADU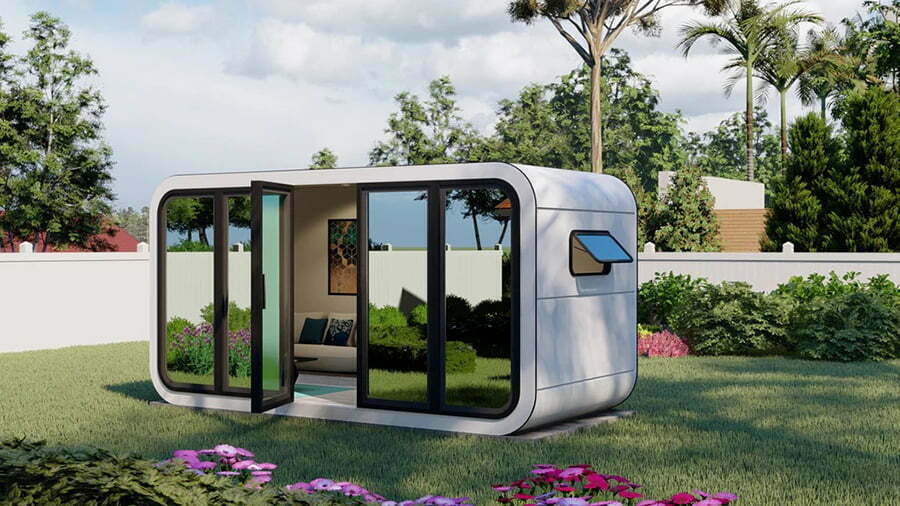 YardADU is renowned for making the best prefab office sheds. Due to the high demand for backyard office sheds, the company only makes these types of units at the moment.
You can order the Zen Office 01, a 103sqft backyard office studio assembled on-site and costs $30,900. There is also the Focus Office, which costs $28,900 and measures 120sqft.
Productivity Office is a new shed model that measures 120sqft and costs $28,900. Financing is available for as little as $349 per month.
Location: Carson, California.
Price: from $28,900.
Northland Sheds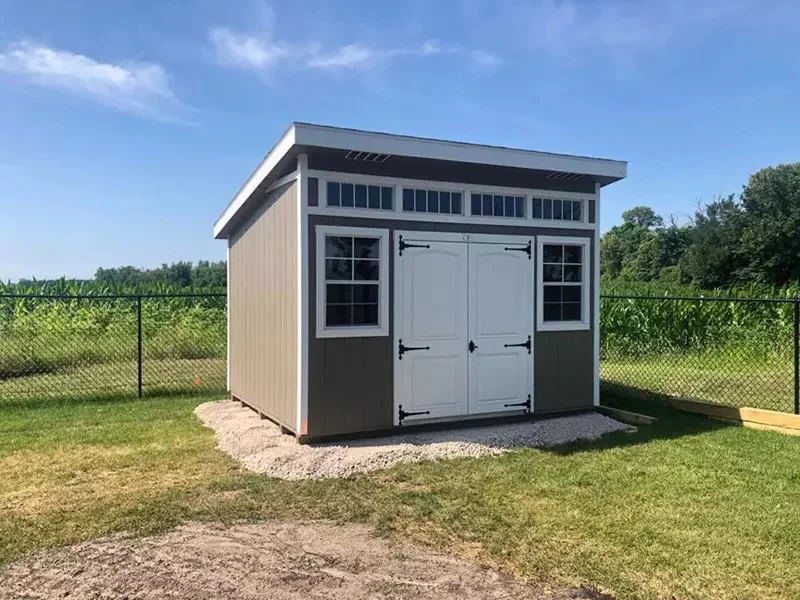 Northland Sheds designs and manufactures studio sheds for all kinds of applications. The shades have a modern look and are perfect for art studios, home gyms, home offices, and other hobbies.
You can choose a shed with either wood lap siding or wood panel siding. Each studio shed comes with a 50-year warranty on the siding. You can quickly get a free quote from the company and a convenient payment plan.
Location: Minnesota, Iowa, North Dakota, South Dakota.
Price: $6,092 to $8,059.
Aux Box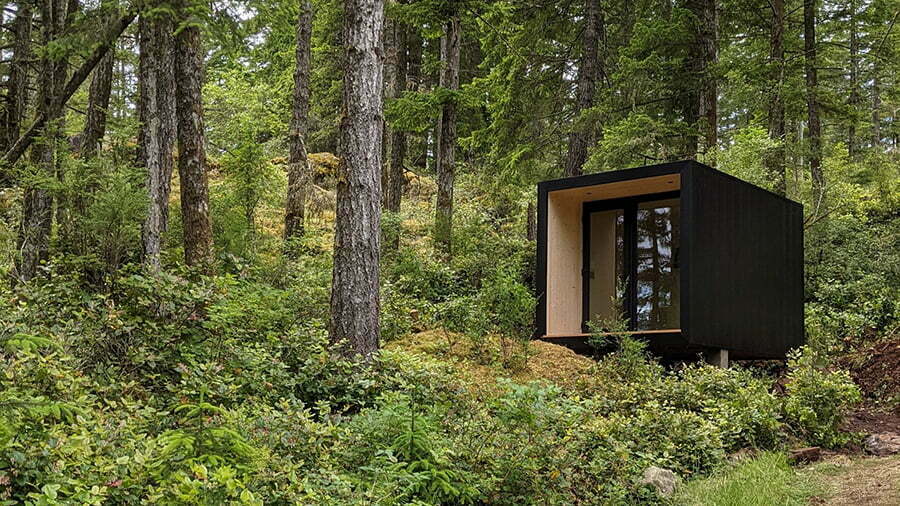 Aux Box is a team of contractors, carpenters, designers, drafters, and organizers. The company has three popular shed models; The 106, The 240, and The 146.
The auxffice is considered the best entry-level shed on the market and costs just $38,800, with a total living space of 57.5sqft. The company delivers throughout North America.
Location: Parksville, British Columbia, Canada.
Price: $38,800.
Twelve Cubed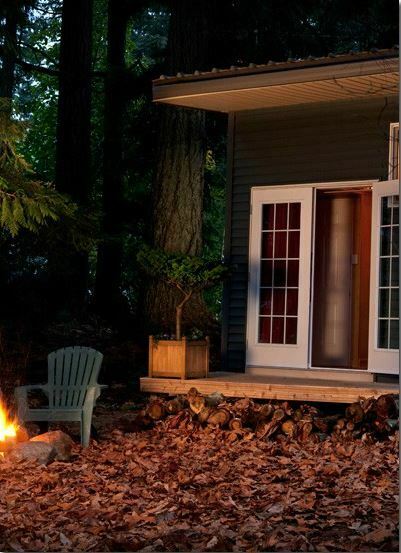 Twelve Cubed manufactures two types of sheds; the 10-cubed and the 12-cubed. These sheds are well-insulated and come with double pane windows and doors for maximum energy efficiency.
The Capuccino unit, also made by the company, is a more oversized shed with over 200 extra cubic feet of living space. A 12ft by 12ft finished cappuccino unit costs just CAD 24,500.
Location: Victoria, BC, Canada.
Price: $19,000.
Mini Office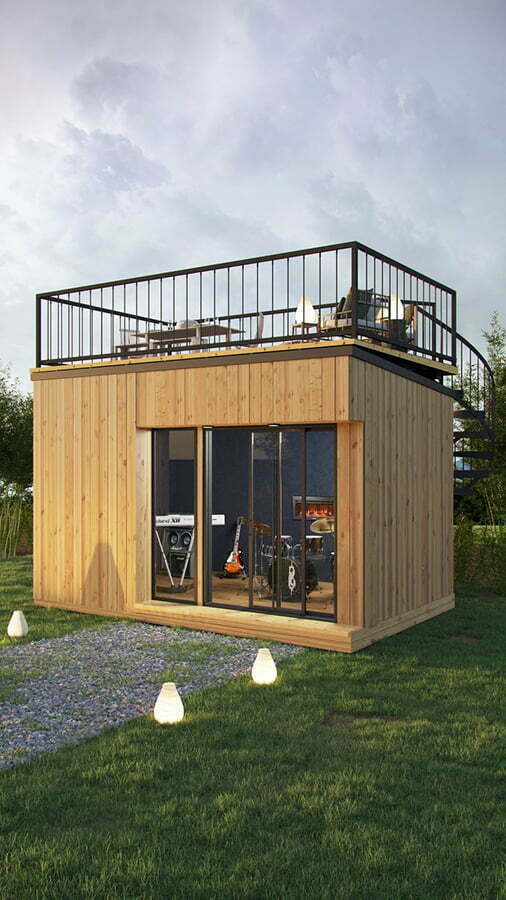 Mini Office manufactures mini office sheds in Great Valley, NY, and Marysville, WA, putting the company at a great vantage point to serve both the Canadian and American markets.
The turnkey backyard office pods allow you to separate your family and work altogether. Upon placing your order, you can expect delivery within 3-4 weeks if you are in Canada or the US.
The pods are engineered to withstand adverse weather conditions and easily relocate.
Location: Great Valley, NY, and Marysville, WA.
Price: $22,900 to $28,900.
Moonalabs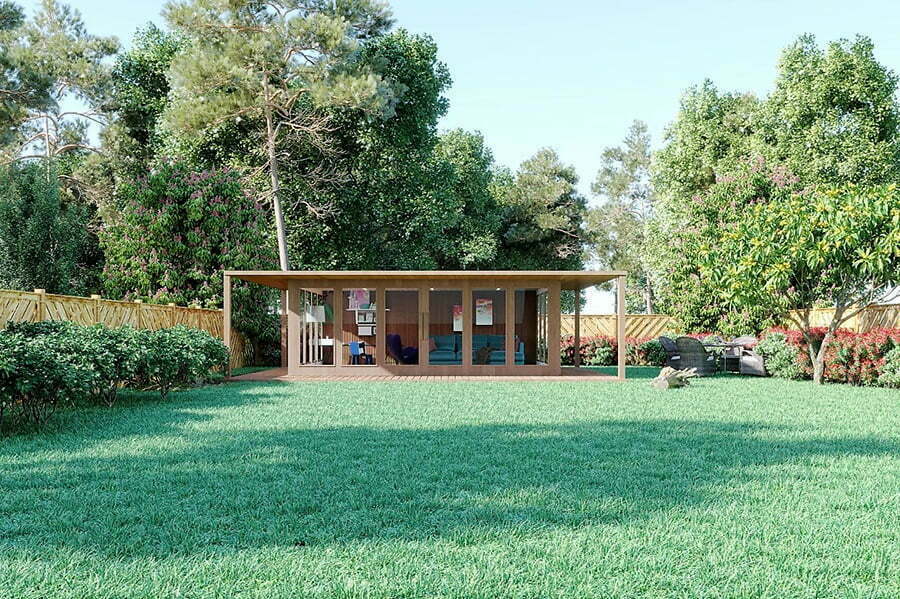 Moonalabs designs and manufactures the most elegant sheds on the market.
The sheds are made of steel, teak, and toughened double-glazed glass. These units are eco-friendly with full traceability of the materials sourced in-house or from third parties.
Moonalabs plants three trees for every tree that is felled to provide the timber required to build the prefab sheds. Every unit comes with a 10-year warranty.
Location: London, United Kingdom.
Price: $13,142 to 40,866.
Modeco Construction

Modeco Construction is a Brampton, ON-based manufacturer of prefab office sheds. The company uses light-gauge structural steel to make the most innovative and resilient spaces to suit your needs.
Manufactured offsite, units are delivered within 4 to 6 weeks. Prices start from CAD $24,500 for units measuring 82'x12′, 8'x10′ and 8'x13′.
Location: Brampton, Ontario, Canada.
Price: $19,000.
MOHO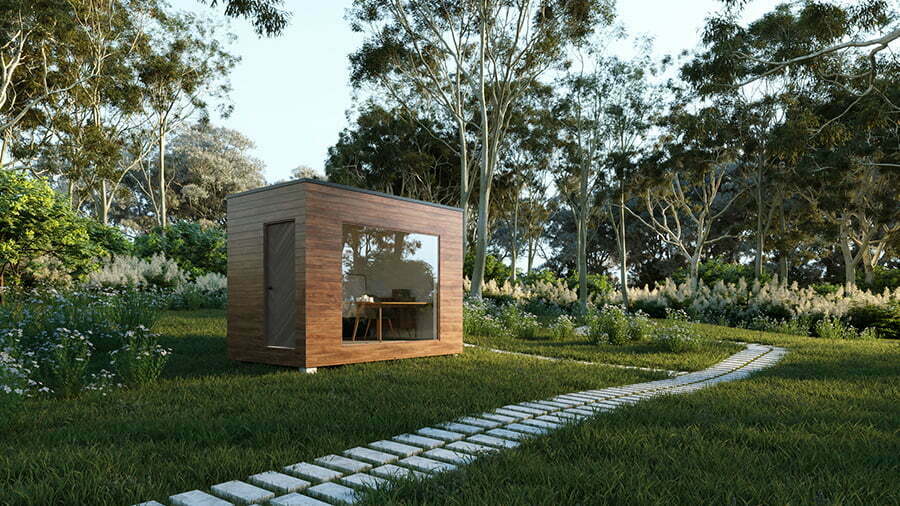 The MOHO mini studio can be used in a variety of ways. Whether you choose the MOHO cube or MONO recta, you'll have a great home office, workshop, art studio, or playroom.
These units can be installed in the backyard or even on the rooftop. Prices differ based on the features and the package required, whether it includes installation or not.
Location: Estonia.
Virtu Modular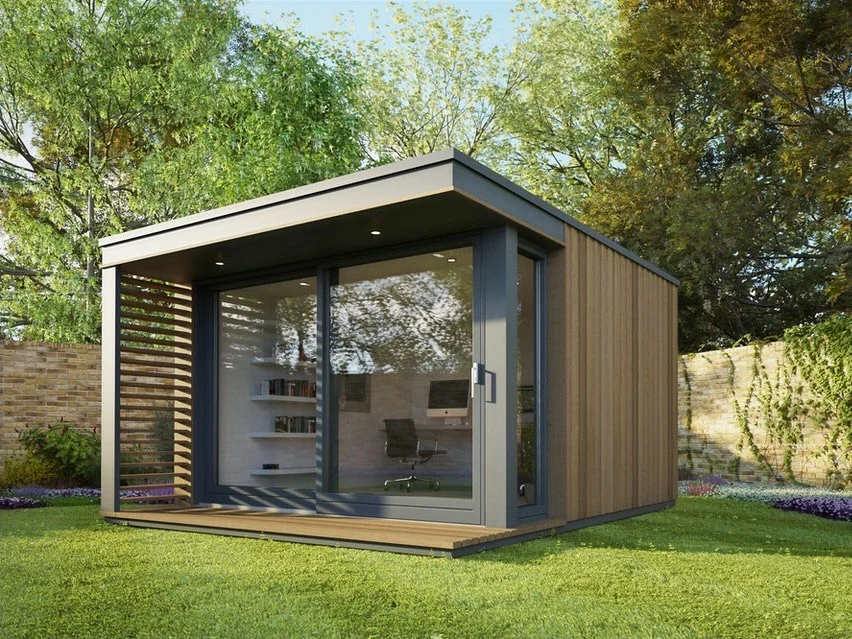 Virtu Modular is renowned for making the most stylish prefab offices. The Luxor model costs £17,995, which is an excellent value when considering the features.
With a length of 4 meters and a width of 3 meters, the shed has plenty of room for you to use. Other features include; an aluminum door and large toughened glass windows.
Location: London, UK.
Price: $22,000.
Hydda Living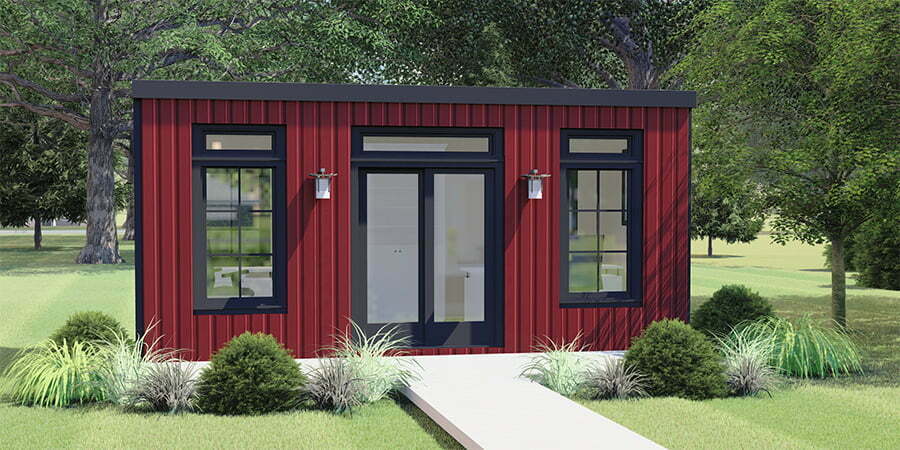 If you want a complete backyard office delivered to your home, you can choose one of the Hydda Living shed models. The Milton and The Monterey offer great value as they cost only $26,375 and $26,850, respectively.
The Fontaine and The Austin are the brightest and most distinguished of all the available models and cost $32,460 and $38,795, respectively.
Location: Bellefontaine, OH.
Price: $26,375 to $38,795.
Related reading: