Last updated on September 13, 2022
Are you looking for the right outdoor pool house for your home? Check out the top manufacturers and their prefabs.
Prefab homes and structures are used for many other purposes. They can be an ADU, a home office, a man cave or a she-shed, or an outside pool house. The choice is yours.
A prefab pool house is more cost-effective than a traditional stick-built pool house. Furthermore, it's also highly customizable to fit the look of your home and backyard.
You can match the exterior of your pool house to that of your home. It also adds value to your property.
This is our digest for the top prefab houses and their manufacturers nationwide.
Table of Contents
Sheds Unlimited Pool House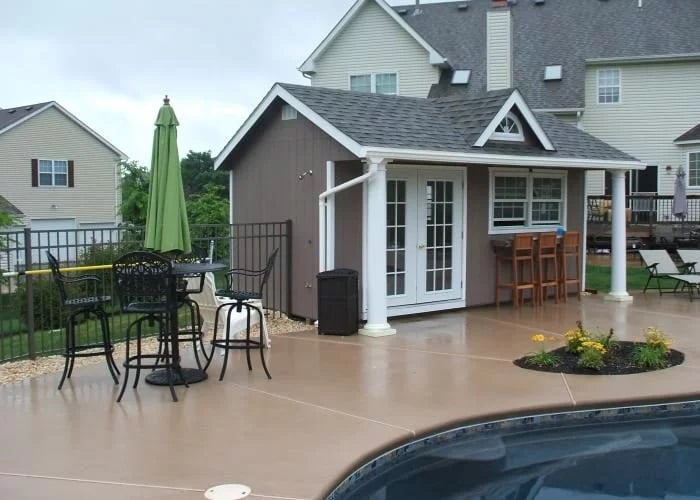 Sheds Unlimited is home to stunning sheds and pool houses. Add value to your home by installing an outdoor pool house complete with overhand pillars, a small dormer, and more.
Their Classic style pool house has a 6/12 roof pitch, a non-functioning dormer with a half-moon window, a front and back walla, insulated windows and shutters, and other features. There are three sample sizes for the Classic pool house. A 10×14 goes for $7,942, a 12×20 goes for $11,294, and the 12.x28 goes for $12,341.
Sheds Unlimited Modern Shed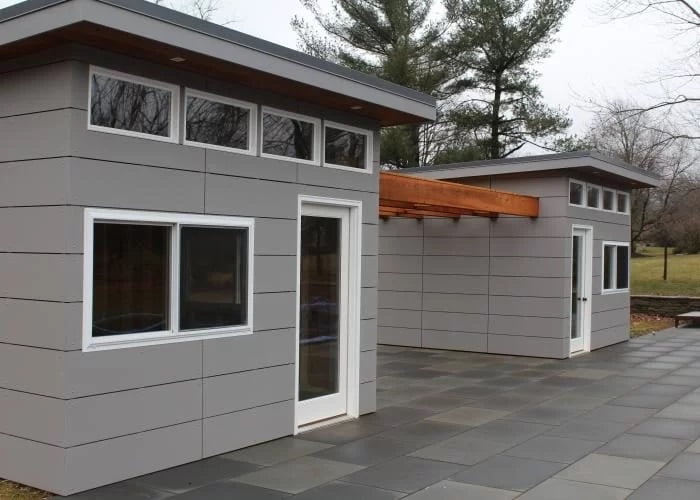 This Modern Shed is an elite modern prefab shed. It has a beautiful urban design making it a standout in your backyard. You can use the shed as an art studio, a man cave, or a home office. Price ranges from $14,620 to $31,027 depending on the size and the added features.
Summerwood Verana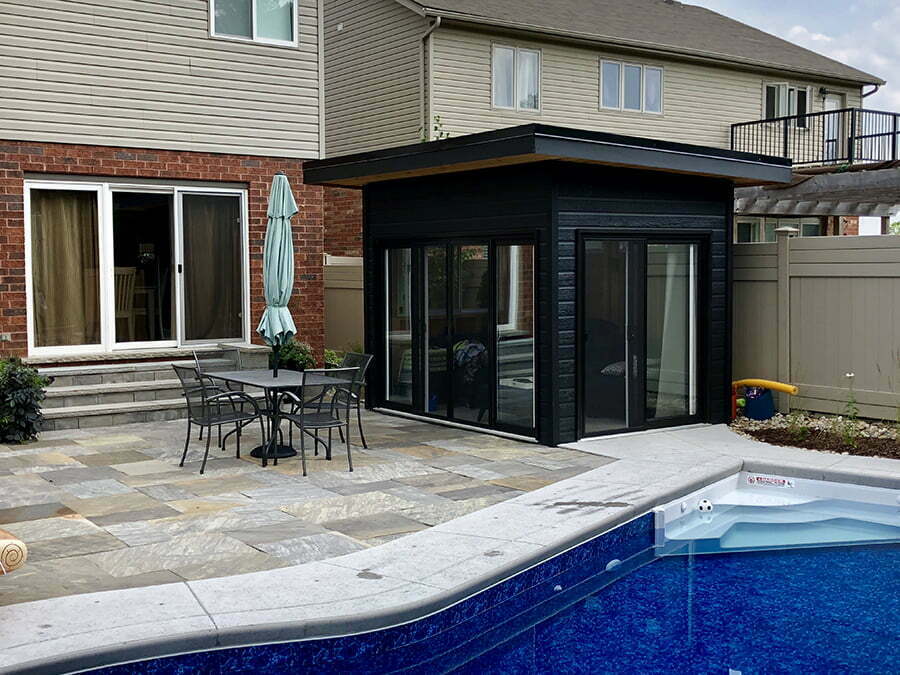 Summerwood Products designs buildings that last a lifetime. They have been in the business for over 33 years, and the accumulated years of experience helped build a reputable company.
They have several custom design pool houses, including the Verana. It's from their modern styles collection and is perfect for those looking for a sleek pool house. The Verana is offered in different floor areas from 70 sqft to 130 sqft. The base price starts at $4,496 to $97,421.
Summerwood Sonoma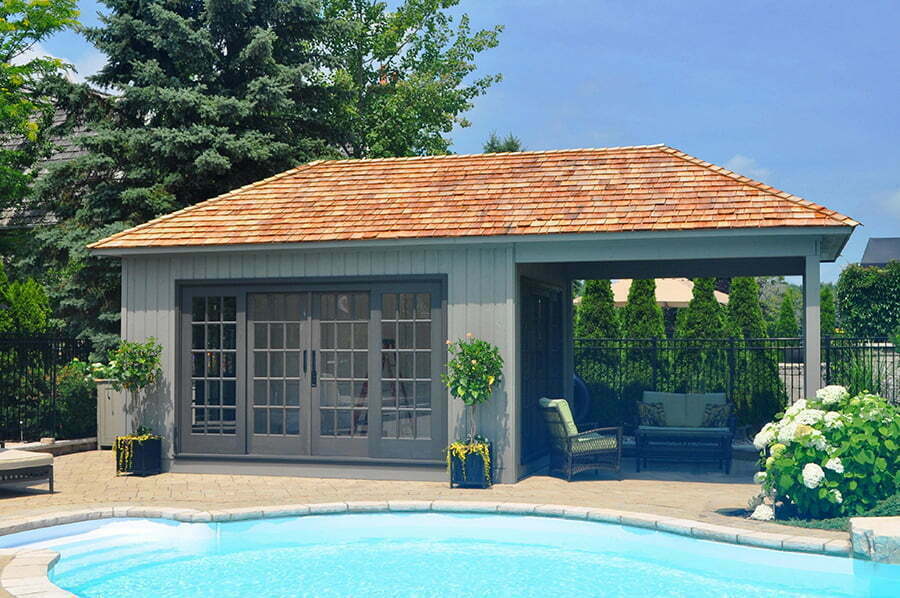 The Sonoma is a large custom pool house with beautiful double sliding doors and an extra roof overhang. It has a total area of 192 sqft and a base price of $12,146. It's a great area to dry the excess water and read a good book.
Limestone Trail Cabin
Limestone Trail creates timeless memories in no time. They have everything you need – sheds, cabanas, a gazebo, or a backyard guest house. Their structures are custom-made and made-to-order, so your pool house can be delivered in no time.
The Cabin Style base price is somewhere between $6,114 to $17,369 depending on the size you're going for. Included is the shade overhang, glass cupola with copper roof, compass wing extension, additional double door, and more.
Cedar Craft Cabana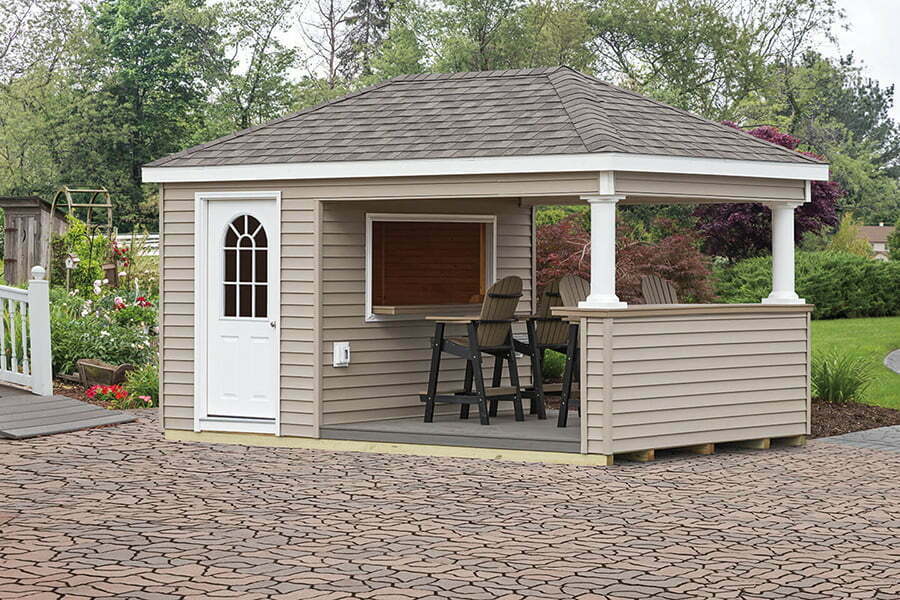 Cedar Craft has a 30-year of experience in architectural building. It's one of the best and go-to shed and pool structure manufacturers in the area. The standard sheds of Cedar Craft have two windows, double doors, and two gable vents to reduce condensation.
Their cabanas and outdoor bars are specialty sheds used by the lake, bead, or even in one's private backyard. They have five cabana options, including a 10×12 outdoor bar to a 10×16 outdoor bar.
Pleasant Run Structures Preston Pool Houses
Pleasant Run Structures give you the best outside houses for your backyard. They have pool sheds, garden and storage sheds, pavilions, pergolas, and more. All their structures have a ten-year structure guarantee ensuring that your pool houses are taken care of for a decade.
The Preston Pool houses have a timeless design that is perfect for a backyard retreat. It's one of their favorite designs, allowing hosts to entertain their guests without hassle. There's a bar, fridge to keep refreshments cols, and a kitchen.
Pleasant Run Structure Cabana Pool Bar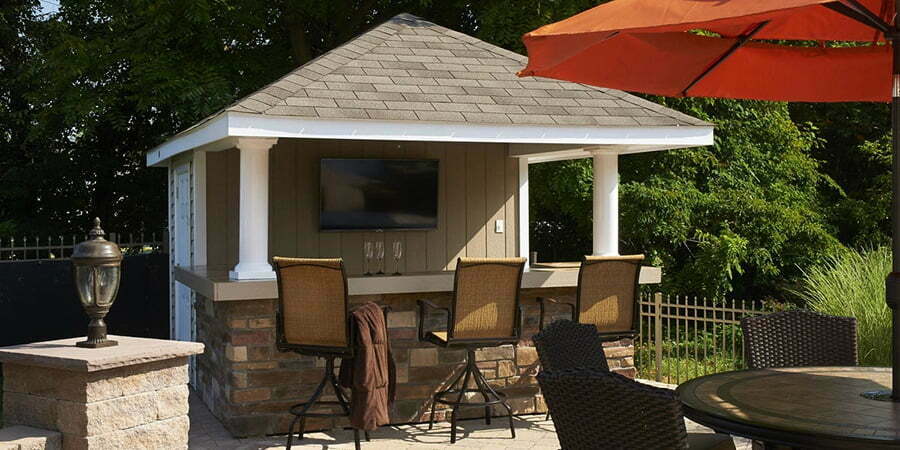 Cabana Pool Bars complete the pool experience for you, your family, and your friends. The Cabana pool house has several features, including storage, an open-concept floor plan, and a private area for changing. It's both a combination of entertainment and comfort. Sizes vary from an 8×10 to a 14×30 cabana.
Pleasant Run Structure Custom Pavillions and Pergolas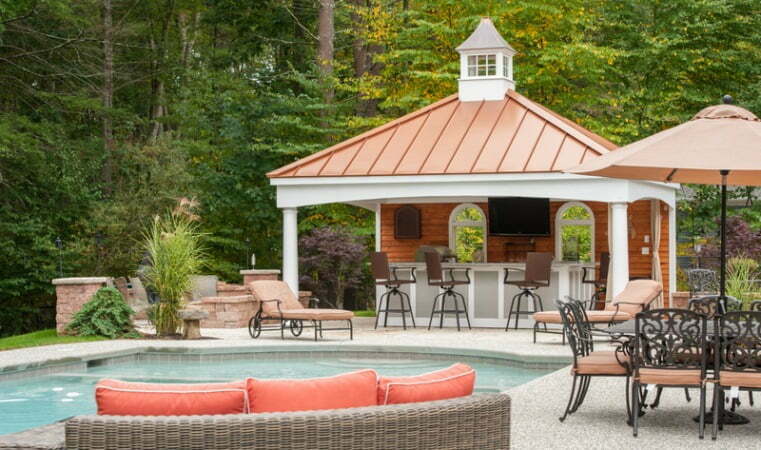 The custom pavilions and pergolas are great additions to your pool area as they provide a space for relaxation. The Poolside Pavillion 1 is customizable with a changing room and a bar. You can also change the pavilion's exterior to match your home's style, such as the siding, faux stone, bricks, and others.
Pleasant Run Structure Doherty Pool House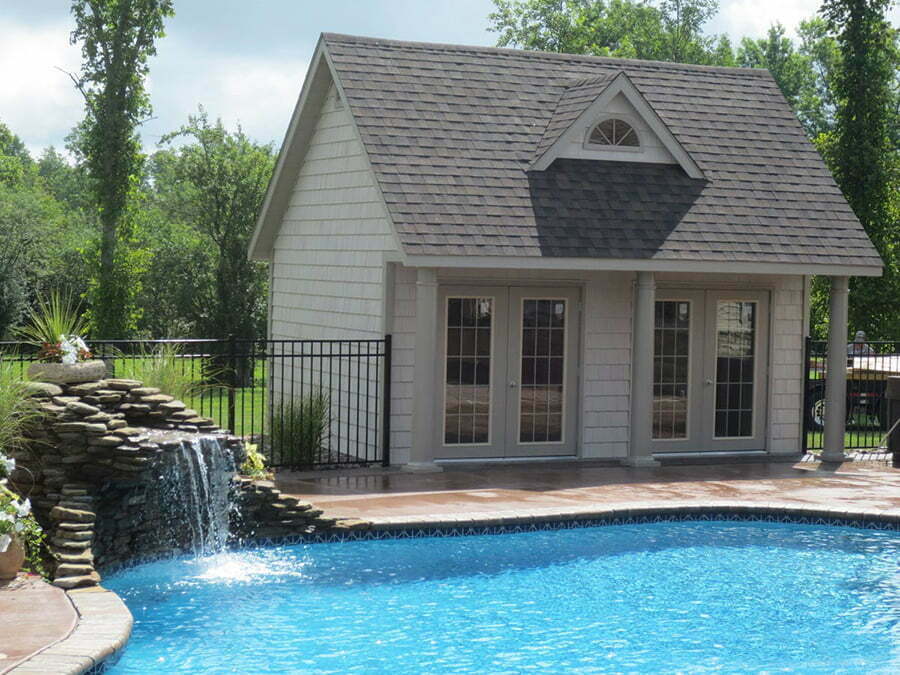 Doherty Pool Houses have that classic southern feel to them. It has a spacious design with double doors, windows for that natural light, and excellent ventilation. You can also upgrade and add more features to match your pool and home style. Size varies from 8×10 to 14×10.
Homestead Structures Avalon Pool House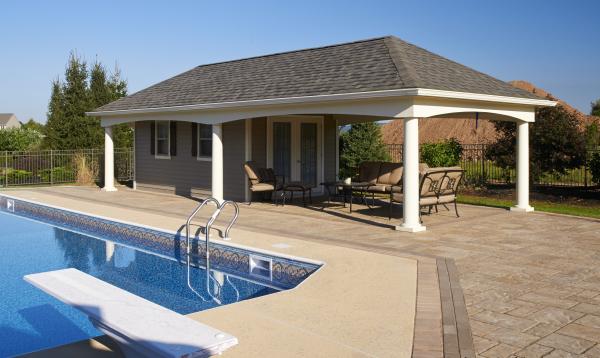 Homestead Structures enhance outdoor living by creating perfect shade structures. They build poolside pavilions and pool houses, garage studios, and more. The company is committed to building systems with only the highest quality materials.
The Avalon Pool House is a perfect backyard retreat for you, your friends, and your families. It's available in various sizes, from 10×16 to 16×24. The base price includes an A-frame roof, Miratec trim, a prehung single solid house door, and more.
Homestead Structures Siesta Poolside Bar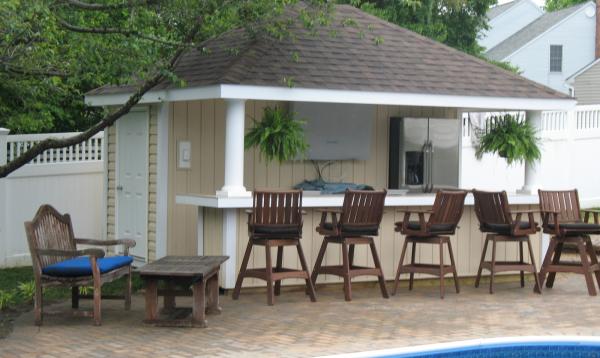 The Siesta Poolside Bar and Cabana is designed to give you privacy, storage, functionality, and comfort in one structure. It takes a traditional bar shed design to another level. Check out the site now for a quote.
Stoltzfus Structures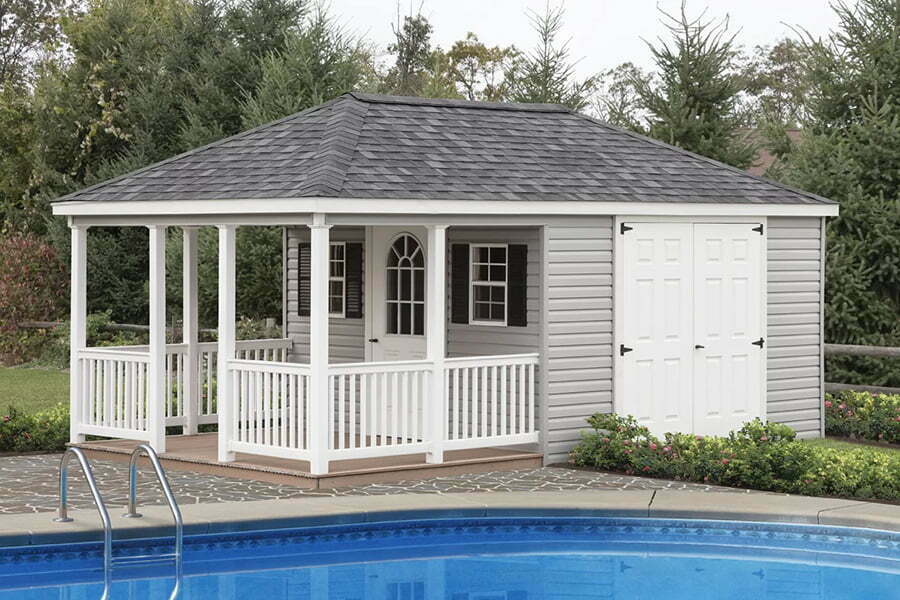 Stoltzfus Structures aim to make your dream pool house a reality. They have more than 45 years of experience and a five-year warranty for all their prefab structures. The Colonial Style pool house is perfect for entertainment. They also have an array of additional features for you. Sizes start at 10×16 to 14×40.
Stoltzfus Structures Grand Manor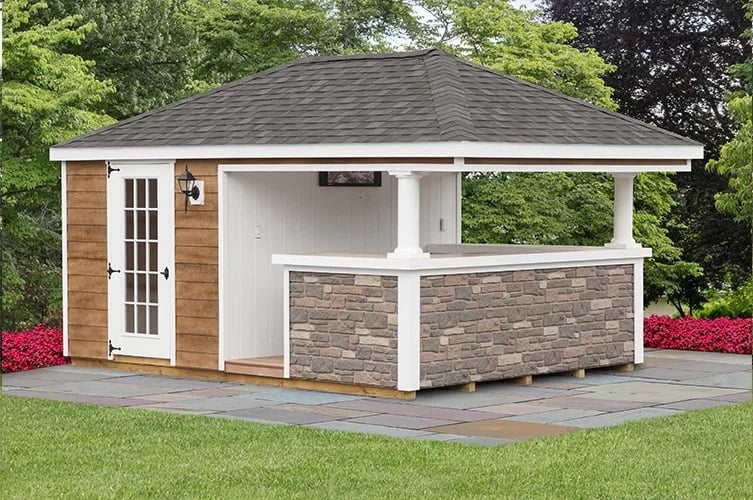 The Grand Manor is one of the few luxurious pool houses of Stoltzfus. Aside from the pool house, you can also use this as extra accommodation for your guests. Their 1-x12 Grand Manor price is as follow: wood – $17,920, vinyl and LP board batten – $19,400, and hardie plank – $20,140.
Stoltzfus Structures Poolside Oasis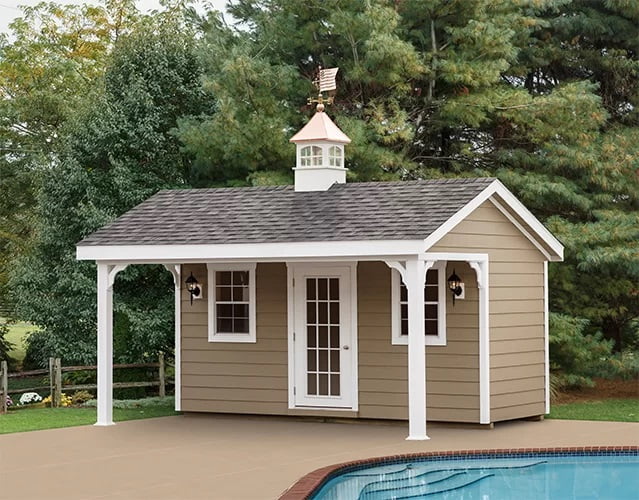 The Poolside Oasis is a smaller but significant structure to pass the summer. It is the same line as Royal Retreat prefab homes with trusses and interiors. The 12×14 oasis wood is $16,485. Reach out to their staff for a full quote.
Stoltzfus Structures Royal Retreat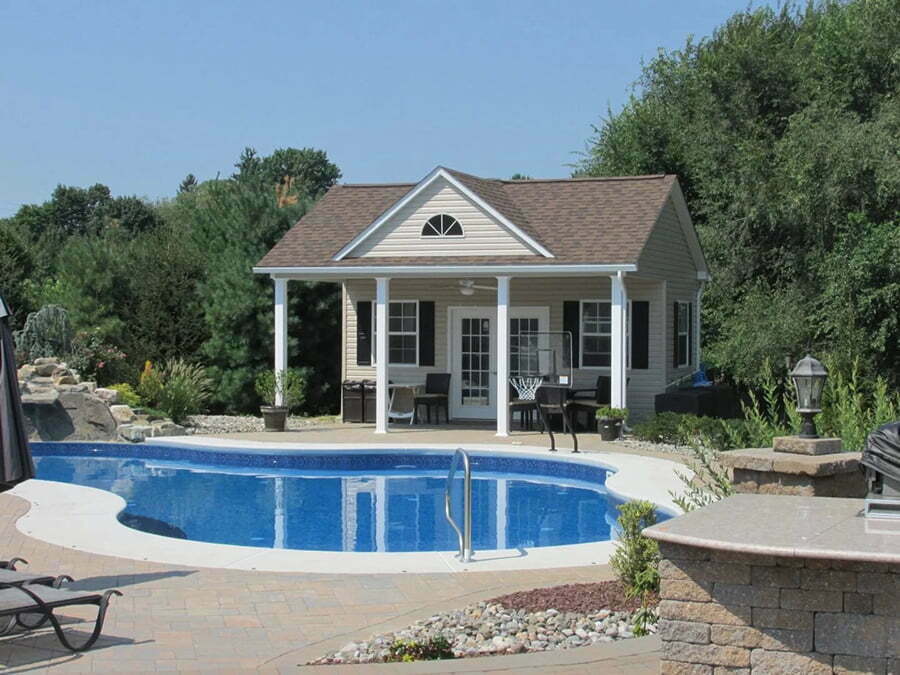 The Royal Retreat is a newer model of the pool house. It's perfect for relaxation, bbq nights, and grills. You can also add different features to fit your backyard look. A 16×16 Royal Retreat pool house made of wood is $18,125.
Kloter Farms Cape Shed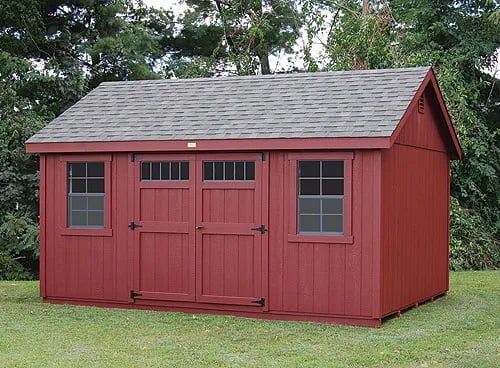 Kloter Farms is a leading outdoor structure and custom handcrafted furniture provider in the area. The company takes pride in providing clients with a personalized experience from the selection to the assembly and completion.
The Cape Shed is one of its best products. It's one of the unique structures of Kloter as it has an early-American architecture feel. A 12×16 cape shed has a base price of $7,445.
Kloter Farms Signature Vinyl Cape Shed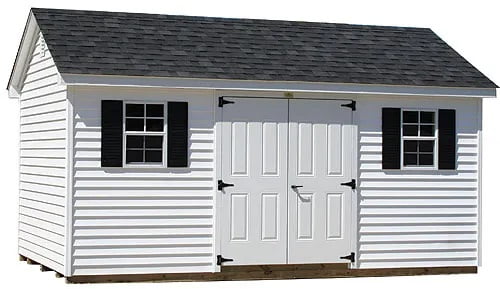 The Vinyl Cape Shed is an original Kloter Farm design made for quality, strength, and functionality. It comes with a double door and two windows. The base price for a 12×16 shed is $6,995.
Related reading: