Last updated on December 4, 2022
These types of prefab tiny houses are the most popular for sustainable living. Read on to find out what they are all about.
The eco-friendly living community is crazy about sustainable prefab homes. Especially those tiny houses that feature minimal environmental footprint.
Indeed, building a house from recycled materials, and implementing energy-efficient technologies is no longer enough. Staying minimal is the next step in being green. And if you run out of space, there are always the prefab additions to turn to.
So what are these types of tiny prefab houses? We are here to find out and list them. Perhaps this will inspire you and help you make up your mind about the kind of living and lifestyle you want to pursue.
Table of Contents
Prefab Tiny House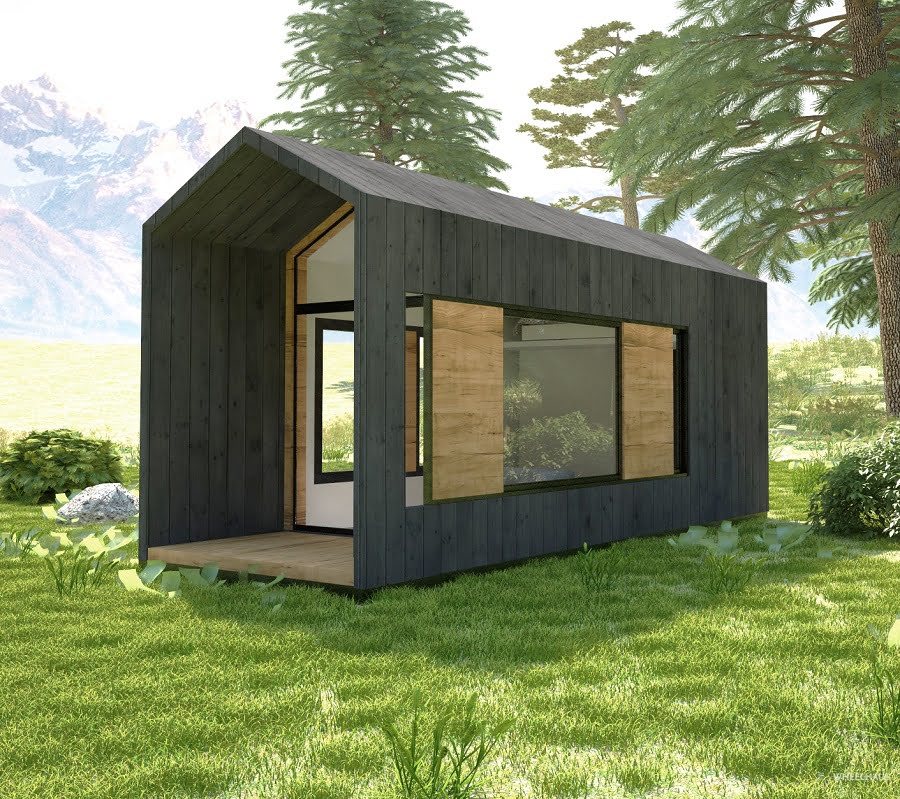 At 240 square feet, this tiny prefab house from WheelHaus is indeed the pinnacle of minimal living. It's a turnkey solution that can accommodate full-equipped housing, a guest house, or a workplace.
This marvel of Scandinavian style architecture features a modern design with oversize windows. Hence, the feeling of space is greatly improved even in such a confined space. This is further enhanced with a relatively big outdoor deck.
As the house is easily assembled with modular construction, it can be moved just as easily. This project is the perfect example of a sustainable tiny house and minimalist living.
Prefab Tiny House Kit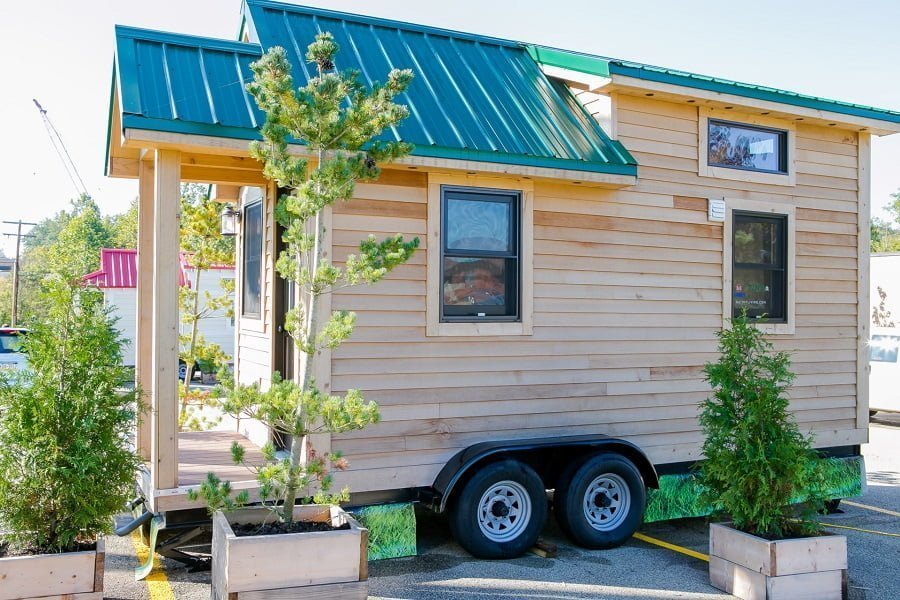 The idea behind prefab house kits is that you can build it with your own hands (with the help of your family). As a building project, it is simplified, and it requires you only to follow the instructions. As such, you get a tiny house like on the cover picture.
Such is The Roving project by 84 Lumber Company in their line of tiny houses. It's a green mobile home, so to speak. The house is on wheels, it can move freely as an RV, and you can build it using the kit provided.
The home is sustainable by the very concept from the inside out. It is even decorated in reclaimed wood siding to make the statement clear. You can be sure you're leaving minimal environmental footprint living in this home.
What else is included? LED lighting, cork flooring, low VOC paint, and composting toilet. These features make this tiny dwelling eco-friendly.
Prefab A-frame House Kits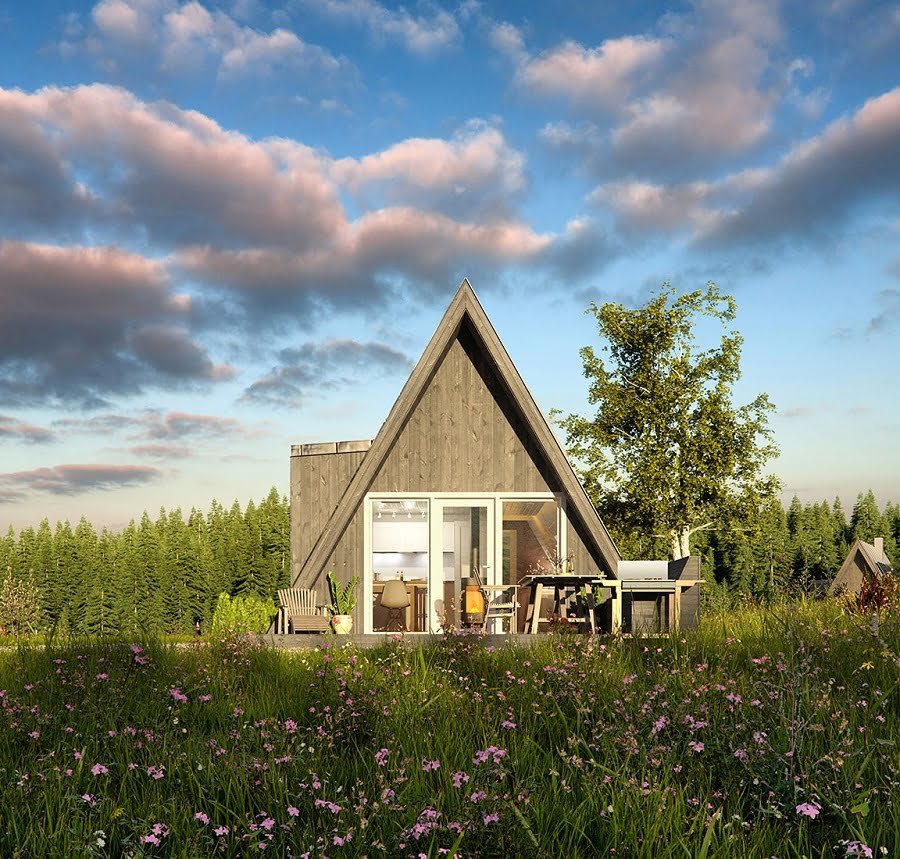 The A-frame is really popular in the sustainable tiny living community. Perhaps it's the sentiment to the small log cabin or the triangular shapes of a vacation home. In any case, this style of architecture is well received.
The Avrame DUO is one of the kits available for your A-frame tiny home. Its attractive shapes are sure to add interest and liven up the landscape in any space you build it.
As a prefab house, it is also sustainable and eco-friendly – you can even build it off-grid. You can use cabin additions to expand it.
Prefab Pool House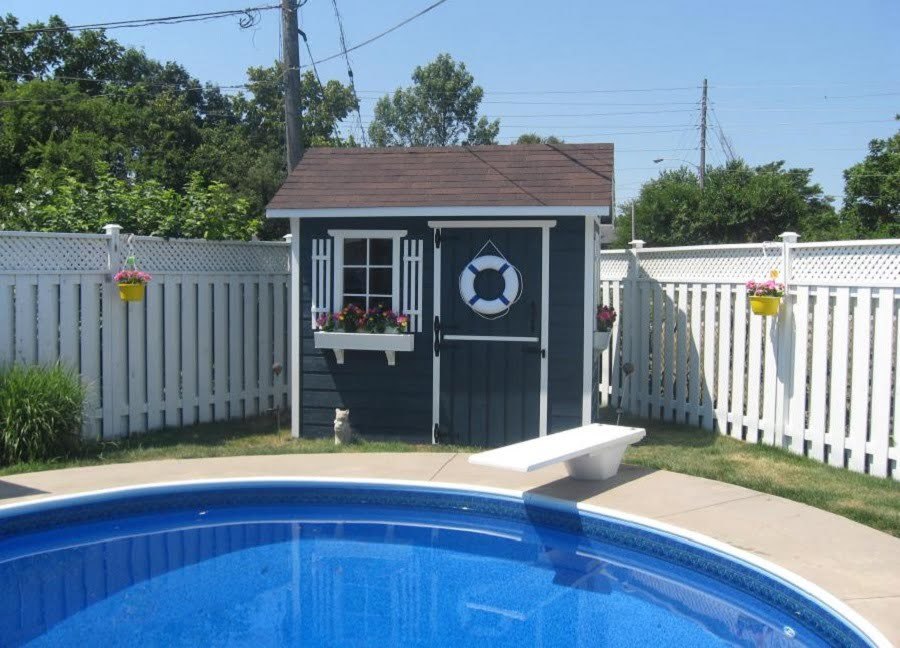 Forget your old pool-side cabana because these tiny prefab pool houses are here to change everything. If we're talking sustainable and appealing design, these are the buildings we want.
The Summerwood Palmerston is one of these designs that make modern pools pretty. As prefab technology allows, such a tiny house can be set up by any pool in any backyard. Yet, it's fully equipped to allow maximal storage.
Ok, so you will not actually live in one, as the design only aesthetically resembles a dwelling. Nonetheless, these are cute.
Prefab Backyard Guest House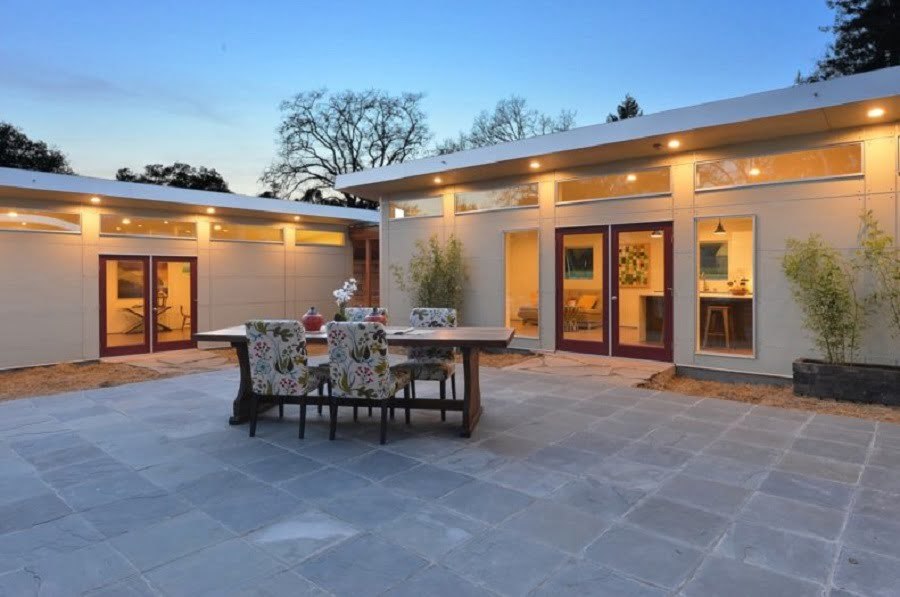 Your guests deserve a prefab guest house with a bathroom and kitchen. And this StudioShed solution provides a full-featured modular detached housing that's tiny but just enough for sustainable accommodation.
Actually, if you have enough backyard space, you could place any type of house on this list. But for the purposed of providing your guests with the ultimate hospitality, this project is an ideal fit.
Prefab Hobbit House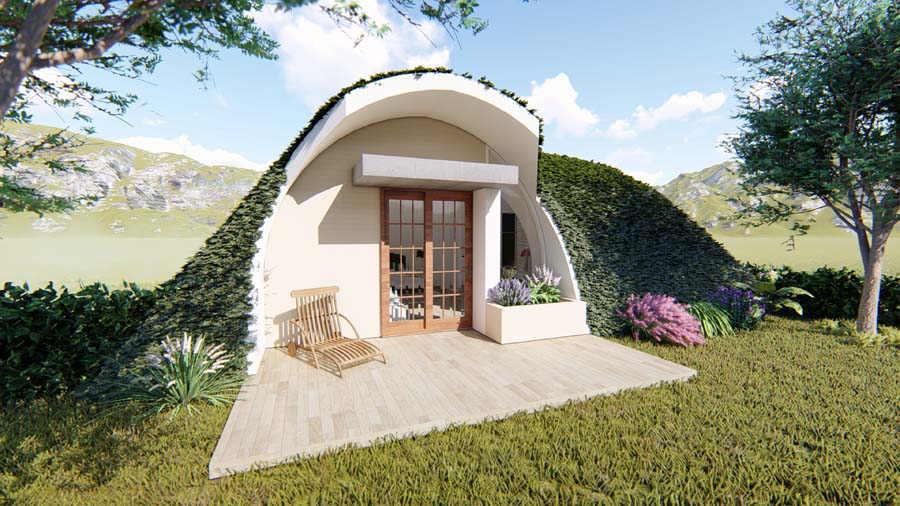 Green Magic Homes have made a name for themselves in whimsical housing. A fan of Lord of the Rings? Who wouldn't want to live in a Hobbit house?
It's not only for the eyes either. These houses are completely fit for full-time living, and they can withstand the weather. The soil-based roof and walls provide insulation as well as the whimsical looks.
All in all, the Hobbit House is a technological marvel. It's designed to be energy efficient and leave a minimal environmental footprint. For a tiny home, it's quite spacious too as the model plans start at 200 square feet and up.
Prefab Tiny Cabin
Another type of versatile, sustainable tiny housing is the prefab cabin. Don't be fool by its size though – these models can support full-time living with all amenities.
The most desirable use for a tiny cabin is, of course, vacation housing in your remote lot. It makes a highly affordable solution without having to spend a fortune on an old-fashioned vacation house.
It's all about sustainability too. So the Hobs (so-called small houses) by the Hobbitat Spaces are perfect for this type of minimalist living.
Tiny Shed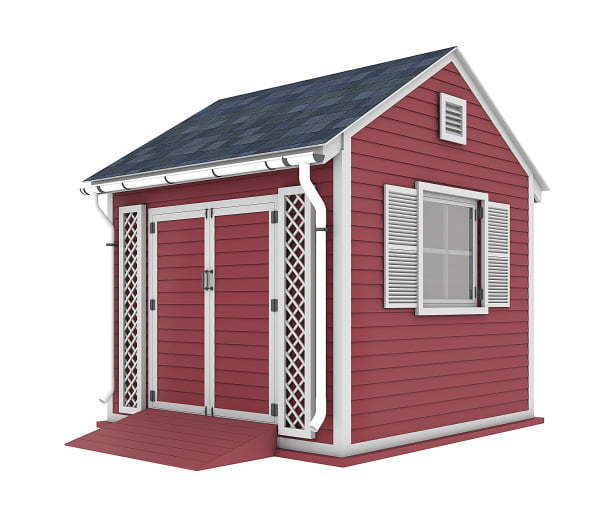 The shed has long been a staple of suburban living, but before you build one, you may want to consider your options (here's how to build a shed). That's because today's sheds are anything but yesterday's simple, one-room structures. They're highly efficient, modern additions that can be tailor-made to fit your needs.
For example, if you have a pool and would like a place to store your pool supplies, a poolside shed might be the perfect addition to your backyard. Built-in shelves, cabinets, and drawers make the most of the shed's limited space, and windows ensure that you can keep an eye on your pool equipment from the comfort of your back deck.
Prefab Beach House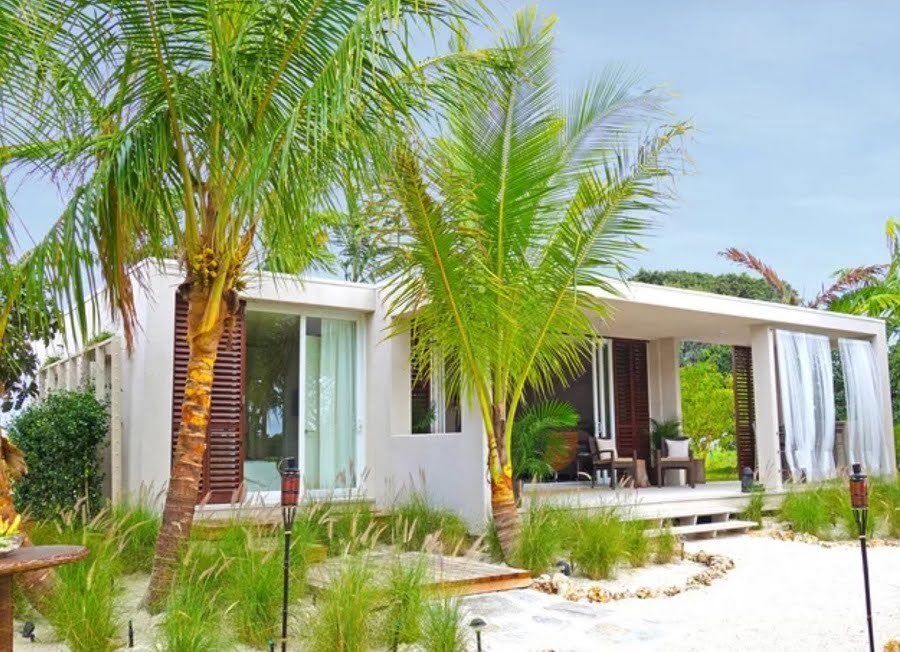 Continuing the vacation theme – who doesn't want a beach house that's cheap, efficient, and sustainable?
The extra requirement for this type of prefab homes is the ability to withstand the harsh weather that is subject to the coastal location. This example model form Cubicco offers that as it is built to stand against a hurricane.
You will also find all the features of modular homes and the stylish design to boot in this solution.
Prefab Glass House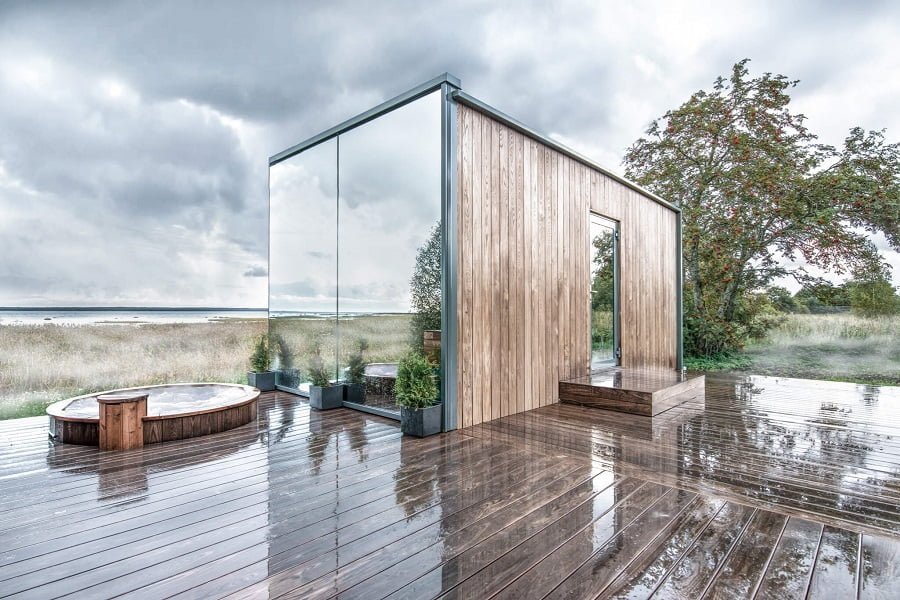 Glass and mirrors make an elegant modern design that looks luxurious without the price tag. That's the prefab housing by OOD. No doubt, the design is its biggest forte.
"Disconnect to connect" is their motto and it speaks about getting back and giving back to nature. This is the affordable minimalist living that sets the trends.
Prefab Container House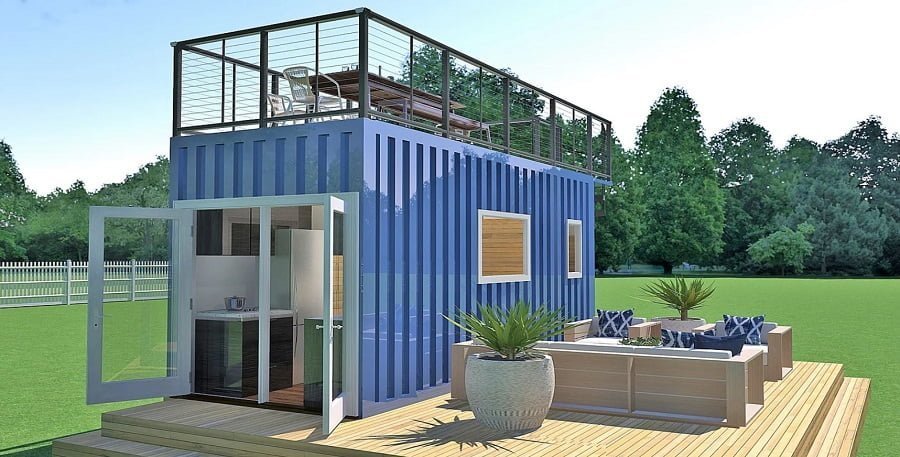 This type of prefab home requires a story of its own. But suffice to say, it's one of the cheapest ways to get on the sustainable living bandwagon.
As the prices for the shipping containers start from around $1,500, they provide an excellent cheap frame for the prefab house. Thus the price of these models can drop to $15,000, making them the most affordable and accessible.
Indeed, a small container can be designed as a prefab dwelling, and it can be used as any type of house from your backyard to a residential lot. Moreso, the modular nature of this type of design allows building the houses up to big housing (but that's a topic for another time).
Tiny Prefab House Manufacturers
On this list:
Related reading: