Last updated on June 26, 2022
Looking for tiny house storage ideas for your small home (possibly prefab)? These are your best choices. Read on to find out!
We talk a lot about prefab tiny houses because it's a sustainable and eco-friendly (i.e. green) way of housing. One challenge that comes inevitably with this type of living concerns storage. Granted, you probably want to minimize your stuff anyway, you still have the stuff to keep.
With the limitation of space available for storage come smart ideas. You have to use the room available to you imaginatively. This results in functional solutions that you can implement even in more conventional homes as well.
We have collected the key storage solutions so you can readily use them. Check these out.
Table of Contents
Smart Storage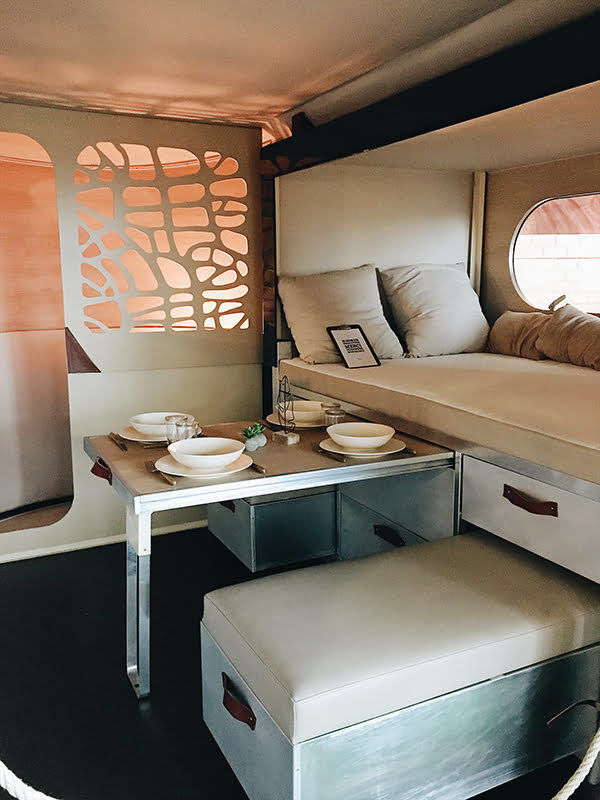 Tiny homes are great sources of smart storage ideas. Many of them solve space constraints by building high shelves from floor to ceiling. Seasonal items can be left at the top while commonly used items remain at the bottom.
Others use the steps or the area under the stairs to hold shoes, books, and other objects. Some carve out a hole on the floor to stash their tools or raise the platform to slide a bed underneath. Even dining areas can feature built-in chairs with hidden storage for kitchen items.
Here's a shortlist of smart storage ideas for small spaces:
Wall Storage Ideas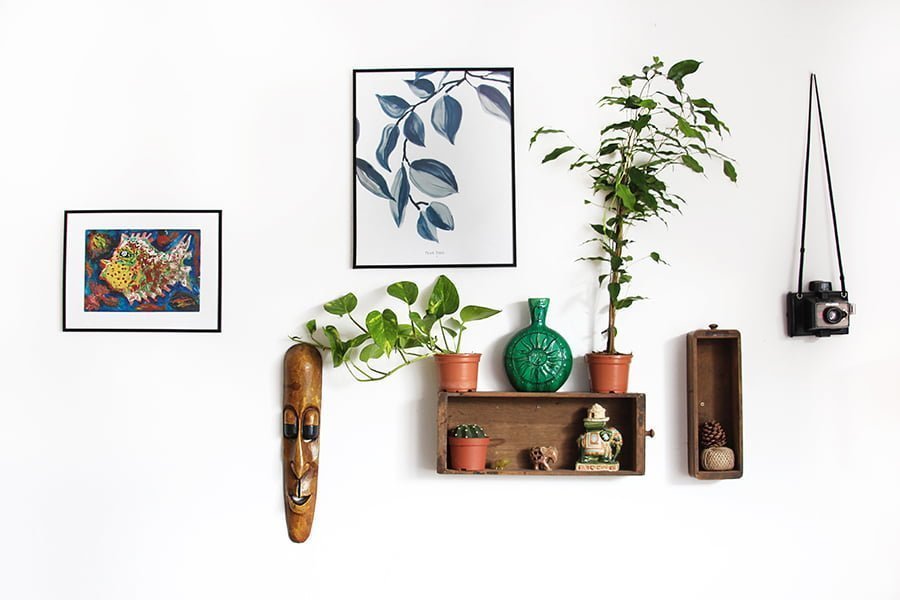 Here are some of the best ideas for tiny houses:
Turn plain walls into storage hubs with a few clever tricks.
Install a wall caddy near doors with compartments for mail, planners, and receipts.
Add hooks for keys, scissors, glasses, and other small items.
In bathrooms, suction cup holders are great for toiletries and similar products.
If you have slatwall PVC panels, then you can install hooks to hang even heavy items such as bikes, skis, golf bags, and the like.
The area around the bed can also be a prime location for large shelving. They can store books, toys, and collectibles.
Steel grids and perf boards can also be hung as tool organizers.
DIY Pull Out Spice Rack
Pull out spice racks are great because items are easy to reach, especially for kids and small people. You can buy them at furniture stores or have one customized by a carpenter.
Creating a DIY pull out spice rack is possible, too:
Measure your counter and divide this by the number of levels you want.
Use thick plywood to prevent sagging.
Prevent spills using wooden rails at the sides.
Even strings will do if you have a tight budget.
Attach a drawer handle at the front and castor wheels underneath for smooth movements.
Tiny House Bed with Storage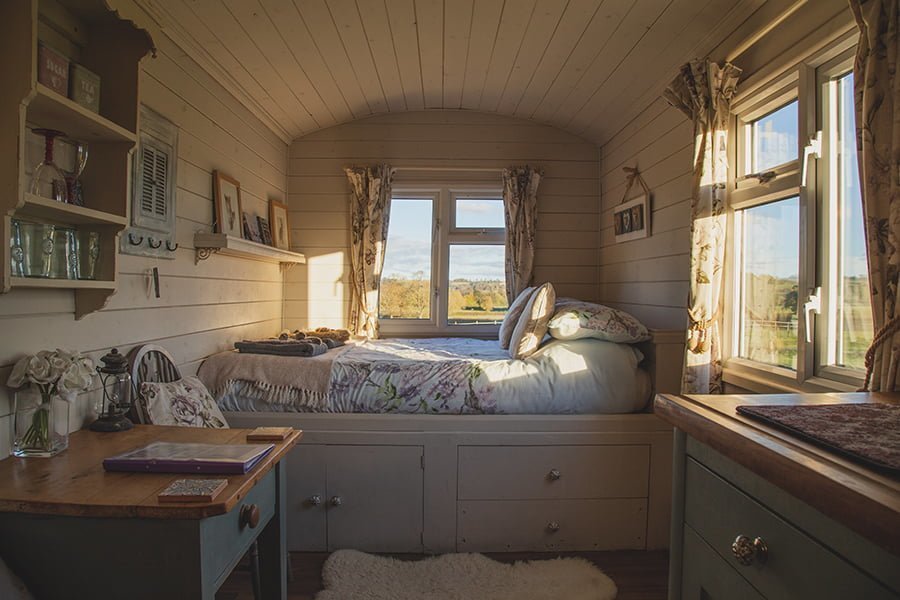 When you have a small space, you need to get creative with where you store your belongings. You could have a tiny house bed with storage underneath the mattress. Pull it up to reveal the hidden doors.
You can store seasonal clothes, valuables, and bulky items in this compartment. This storage area may also be designed to open sideways. Instead of one big box within the bed frame, you can have smaller drawers to organize clothes, camping gear, and so on.
Small Storage Cubes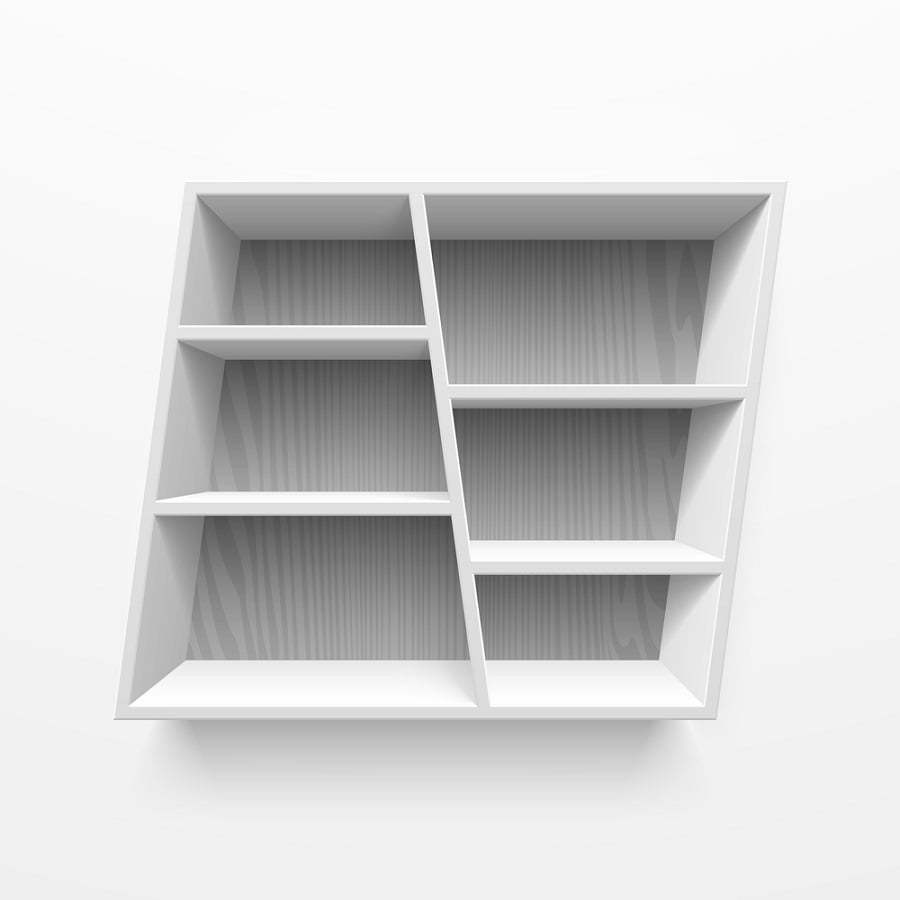 Small storage cubes are excellent additions in any home. At about a foot on every side, they have a good size for accepting most household items. They are incredibly versatile with the limit being one's imagination.
The cubes can be used as low-cost alternatives to bulky cabinets if you have a tight budget and tiny available spaces. Many are foldable so they can be put away when they aren't needed. Some can double as extra seating when entertaining guests.
Tool Storage Ideas for Small Spaces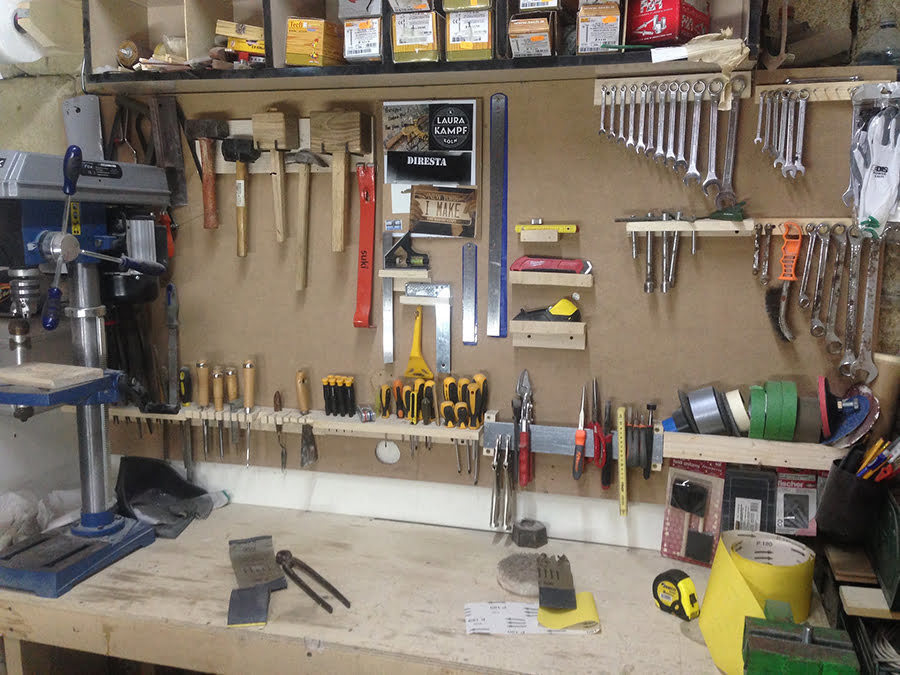 For small items like screws, bolts, nails, and the like, a clear glass or plastic jar should do just fine. Recycle the food containers in your kitchen. You can also take a cue from DIY pull out spice racks and use the same concepts to create a similar one for storing drills, wires, paints, fluids, and so on. If you have bare wall space, install a pegboard to hang saws, pliers, screwdrivers, and similar items.
Pull-down Shelf for Overhead Storage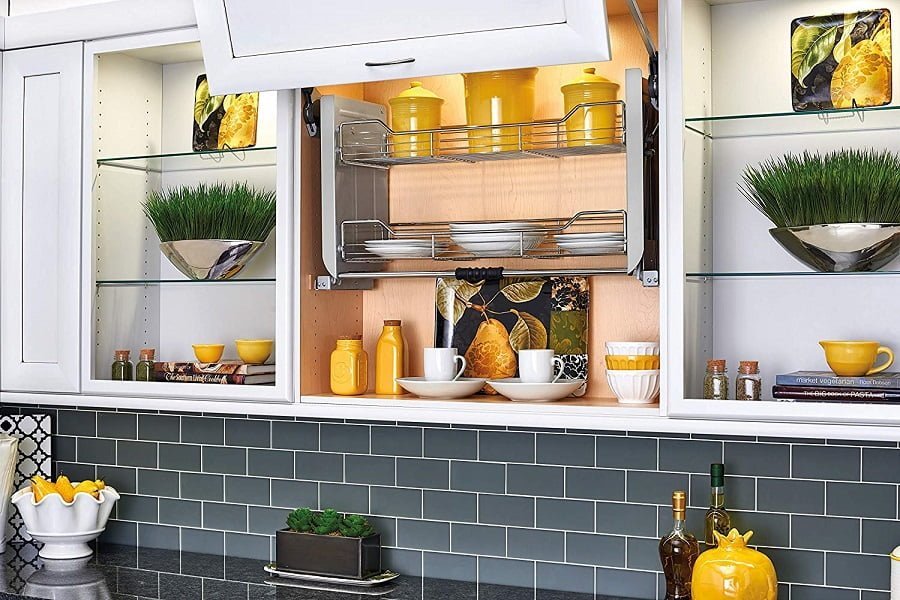 One problem with overhead storage is that items can be hard to reach. Older people can hurt themselves standing on a stool while looking for food items. Reduce risk and make things easier by installing a pull-down shelf for overhead storage.
This will lower the items in one steady motion so no tip-toeing is required. The metal brackets must be sturdy enough to carry a good load. The movement should be smooth while requiring little effort. Even ceramic plates can be store high up with this system.
Tiny Shelf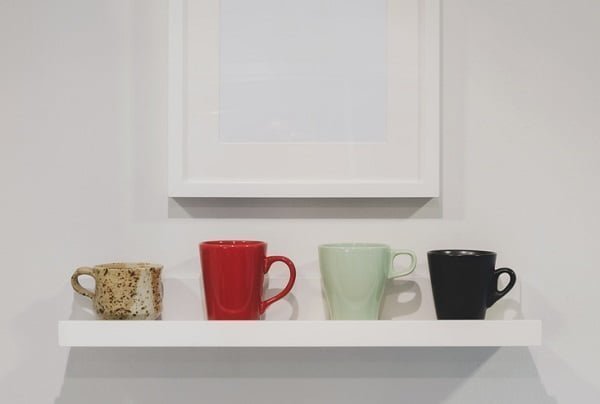 In a tiny home, every bit of space counts. You can turn corners into viable storage areas by installing tiny shelf units from floor to ceiling at 8-12″ intervals. Other parts of the house can benefit immensely from these diminutive shelves including bedsides where they can hold phones, books, glasses, or lamps.
Hidden Storage Ideas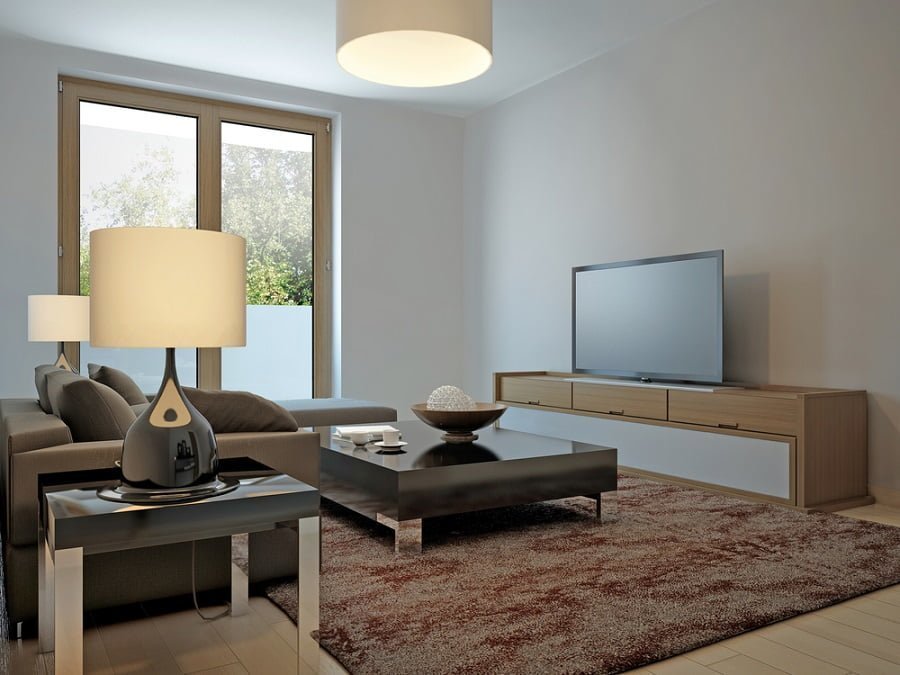 Multifunction furniture can hide items to reduce clutter. For example:
Side tables can house remote controls for the TV and media players.
The bed can hide clothes under the mattress.
Ottomans can store the children's toys.
Stairs can have closets underneath while picture frames can hide the house keys or even jewelry.
Look around the house and you might also come up with inspired hidden storage ideas.
Microwave Shelf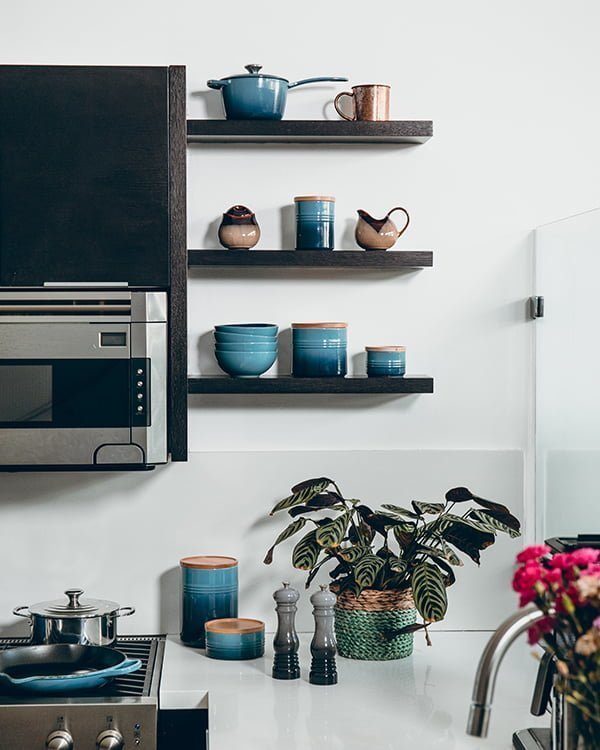 Most homeowners will simply place their microwave on the counter and call it a day. In a tiny house, however, you have such a small counter that you don't want to waste even a square inch. Microwave shelf ideas include placing it above on a hanging shelf or at the bottom cabinets. Some people place it on top of the refrigerators while others put it directly above the stove. These can be replicated for tiny house storage.
Tiny Storage Drawers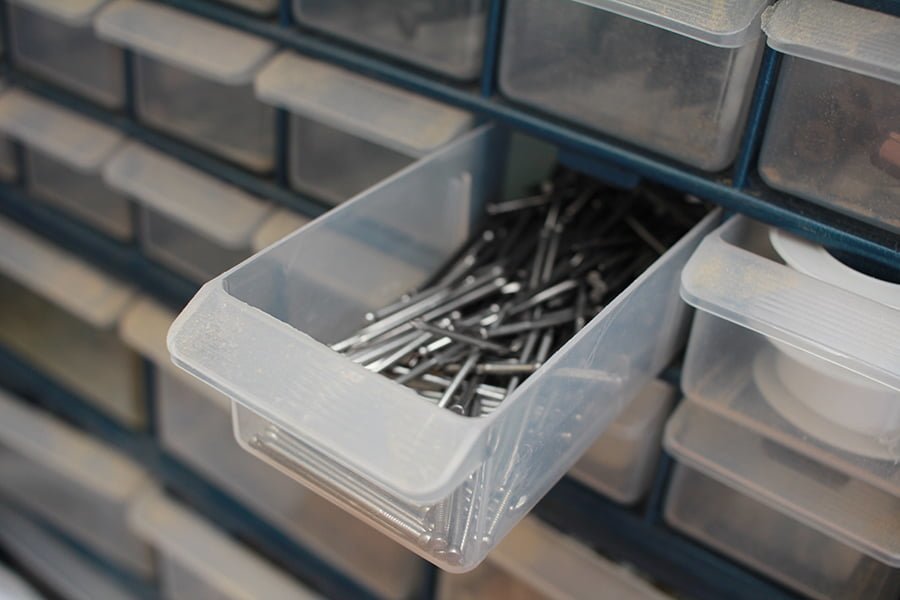 Tiny storage drawers are vital if you want to organize items such as medicines, screws, sewing materials, craft supplies, jewelry, hair ties, pens, drill bits, finishing tackles, accessories, and more. The best ones have multiple drawers using clear plastic materials to make it easy to spot what you need right away.
Tiny House Wardrobe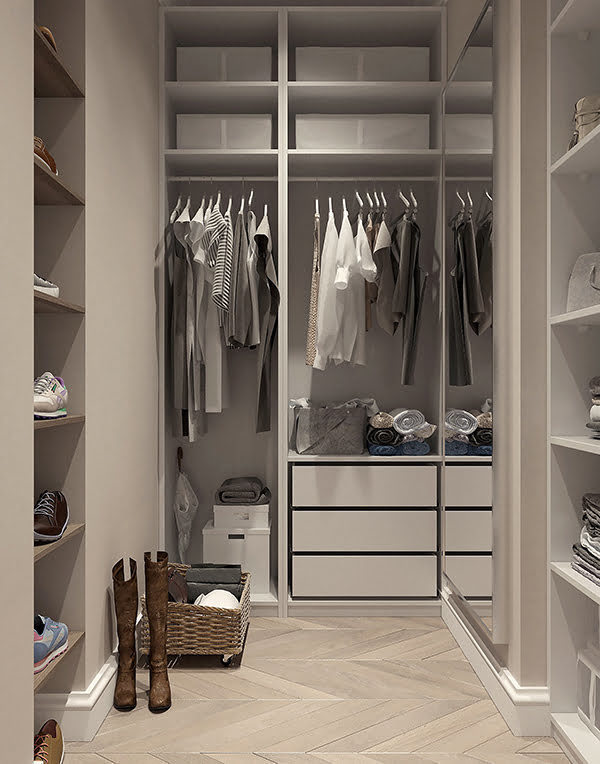 A tiny house wardrobe should make the most of the available space. Clothes can be hung high up to maximize the vertical height. You can use sticks to reach the hangers when you are picking items for your outfit. Wire baskets can also slide forward to reveal folded clothes, socks, and underwear. The key is to trim down the number of items from time to time so things can fit nicely.
Pull-down Ceiling Storage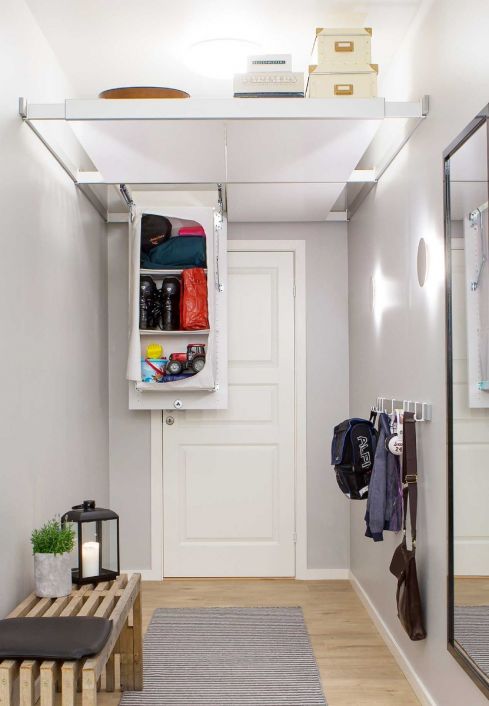 Large parts of the ceiling go unused. Since they tend to be low in tiny homes, it is possible to create pull-down ceiling storage. These compartments can hold shoes, notebooks, and other lightweight non-breakable items for safety. A string can hang from the storage door to make access easier.
Cabinets Under Stairs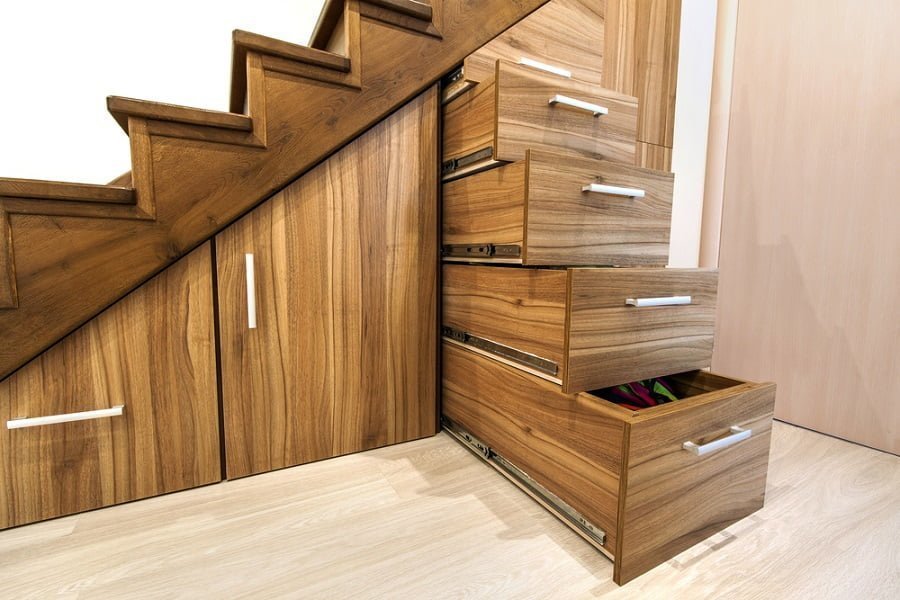 Tiny home owners often install cabinets under stairs. The steps are often taller and wider than in average homes so each can become its own compartment. These can hold a whole pantry or wardrobe, depending on the location and the needs of the occupants.
Under House Storage Ideas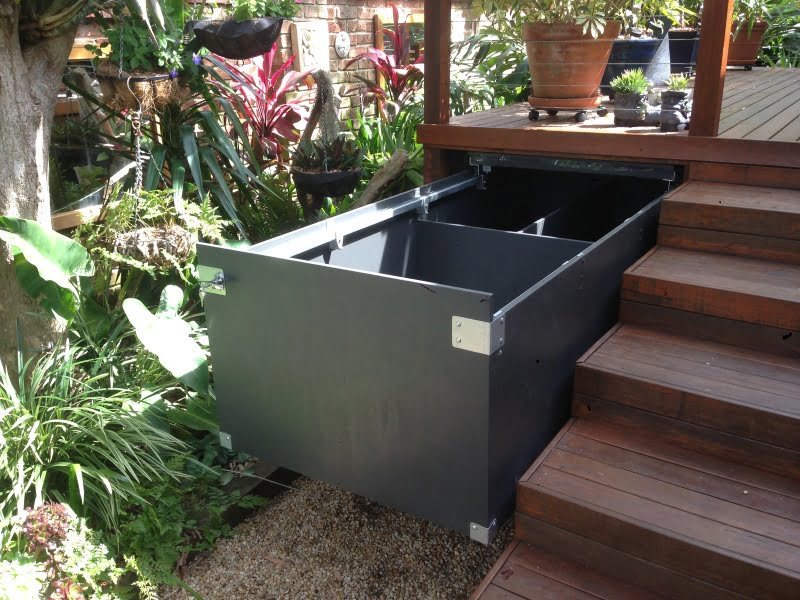 Consider under house storage ideas if the interiors are already full. Metal shelves can be hung from the base of the house to keep the items above the ground. This will protect them from rain and snow. Plastic containers can provide additional protection.
Related reading: