Last updated on October 12, 2022
Here are the most reputable companies that build beautiful A-frame prefab homes and provide kits to build them.
A-frame houses aren't just best sellers due to their modern and unique designs. People favor this structure because it's energy-efficient and allows owners to save more in the long run.
A-frame prefabs are usually cabins that you'd want to build as your retreat or an ADU in your backyard. But larger models can serve as a primary dwelling.
Modern prefab homes are versatile and cost-effective too. However, the cost still depends on the size and the additional features you decide to go for.
If you're looking for a stylish A-frame home for your family, for a weekend getaway, or for extra investment, then this digest will help you.
Table of Contents
AVRAME Solo Series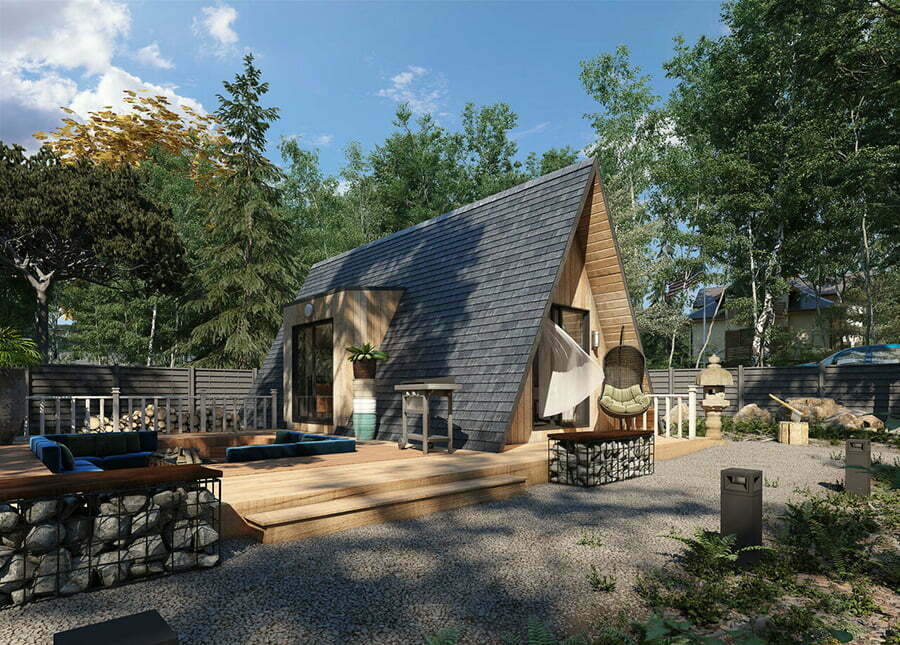 AVRAME comes at the top when we're talking about this type of prefabs. The company uses new technology to elevate A-frame houses.
This style has been around for ages and is still as popular as today. The best thing about A-frame houses is their unconventionally beautiful design, which also comes at a smaller cost.
The Solo Series houses are tiny A-frame homes best for rental units, hobby rooms, extra storage, and other things. This series has three floorplans, including Solo+ 100, Solo+ 75, and Solo+ 42. The size ranges from 182 sqft to 413 sqft.
AVRAME Duo Series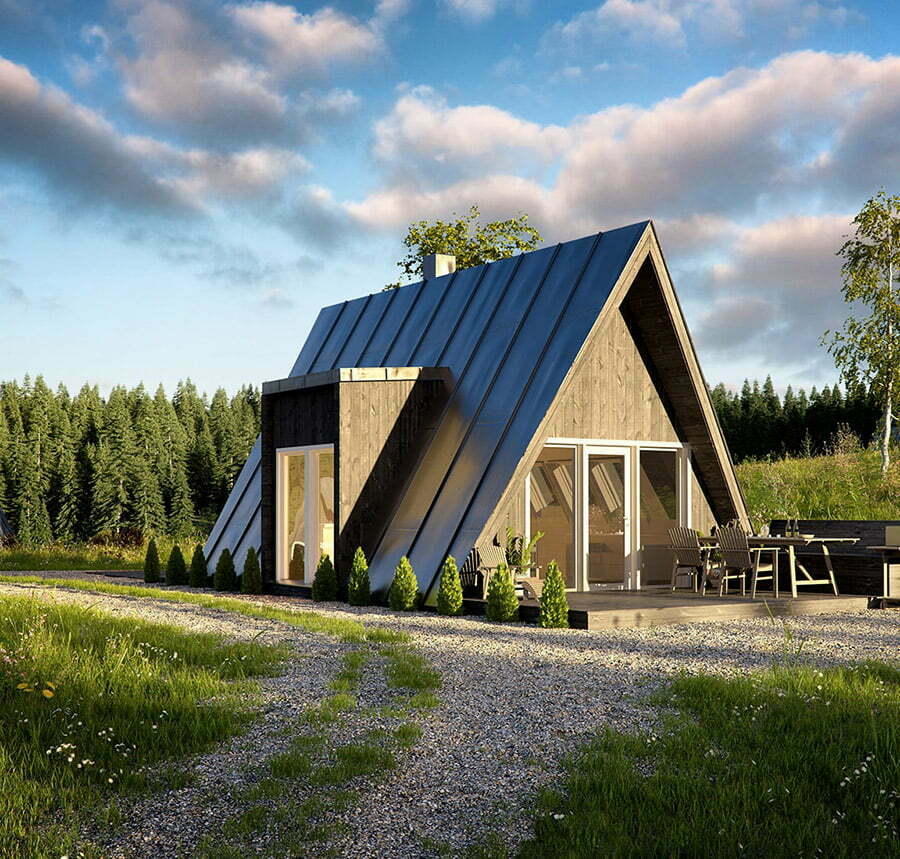 Homes in the Duo Series are more practical for small families or those who want a tiny home but come with all the amenities of a traditional house. These homes are also excellent choices for cabins, extra homes for family and friends, granny annexes, and more.
The size of homes in the Duo Series ranges from 322 sqft to 737 sqft. The series has four different home styles and sizes.
AVRAME Trio Series
The Trio Series from AVRAME are A-frame kit homes with customizable floor plan layouts to fit your family's needs. The series has five plans: Trio 57, Trio 75, Trio 100, Trio 120, and Trio 150. The home size range from 707 sqft to 1516 sqft. You can configure the prices and quotes on the site.
Everywhere Ayfraym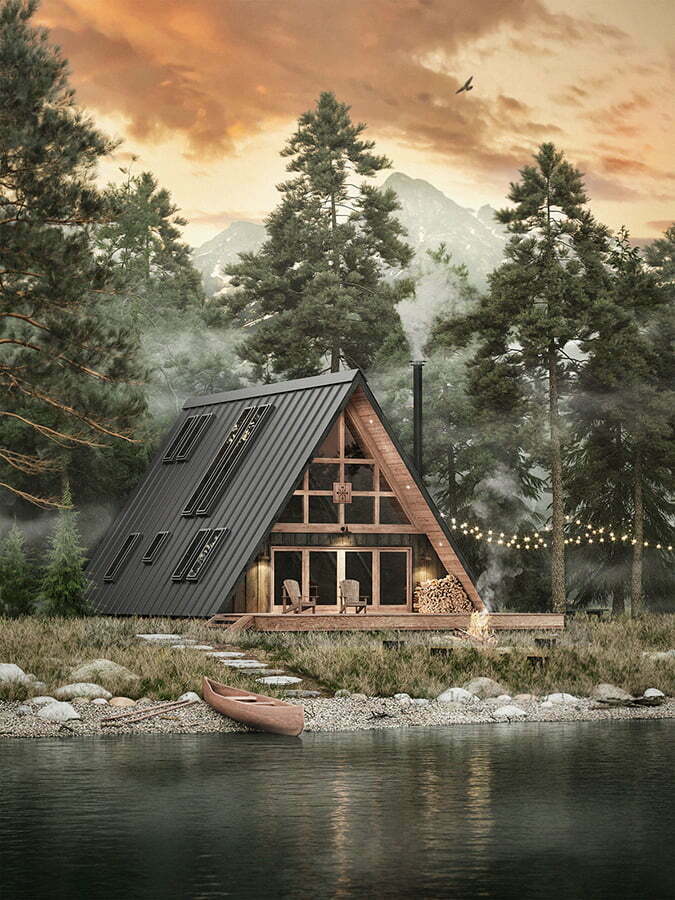 The Ayfraym model is a custom-designed A-frame home with three bedrooms and two bathrooms. The house features three large walkout decks. Additionally, the house has large custom windows perfect for all the natural light coming in.
There are also huge vaulted ceilings. The home has a total floor area of 1483 sqft. The first floor has 929 sqft space, and the second level has 483 sqft.
Everywhere Ayfraym Tiny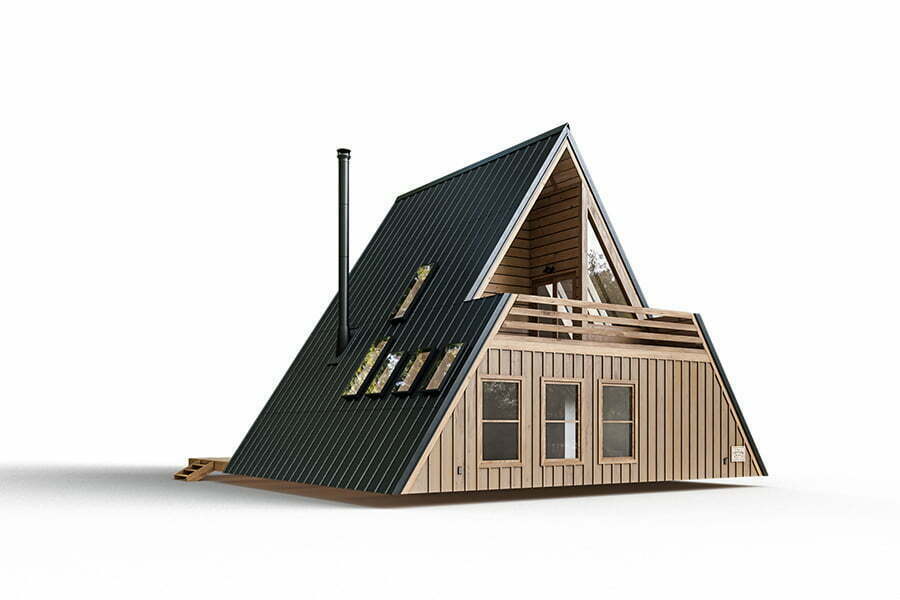 The Ayfram Tiny has the same structure as the usual A-frame models of Everywhere. However, this one is much smaller, with only one bedroom and one bath. The entire floor area is 859 sqft.
The first floor has a kitchen, bedroom, bath, living room, and deck. On the second level, you have the loft foyer and the deck.
Everywhere Ayfraym Plus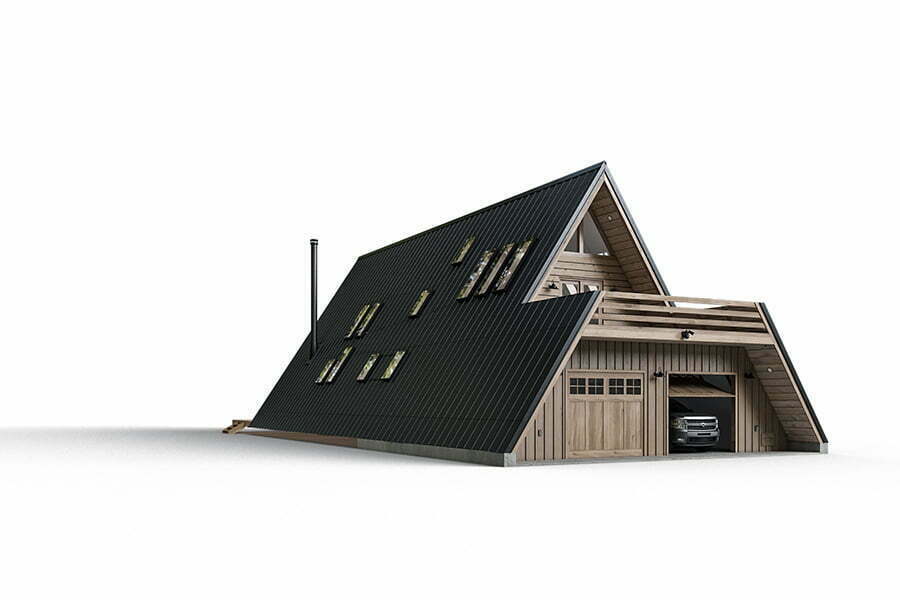 Ayfraym Plus is still a classic A-frame home, but it comes with an integrated two-car garage space and with more floor area on the second level.
On the first floor, you have the following: deck, kitchen, living room, dining, bathroom, bedroom, two-car garage, second bedroom, and a utility closet. You have a loft foyer, bathroom, third bedroom, and deck on the second level. In total, this model has 2074 sqft.
MADi M60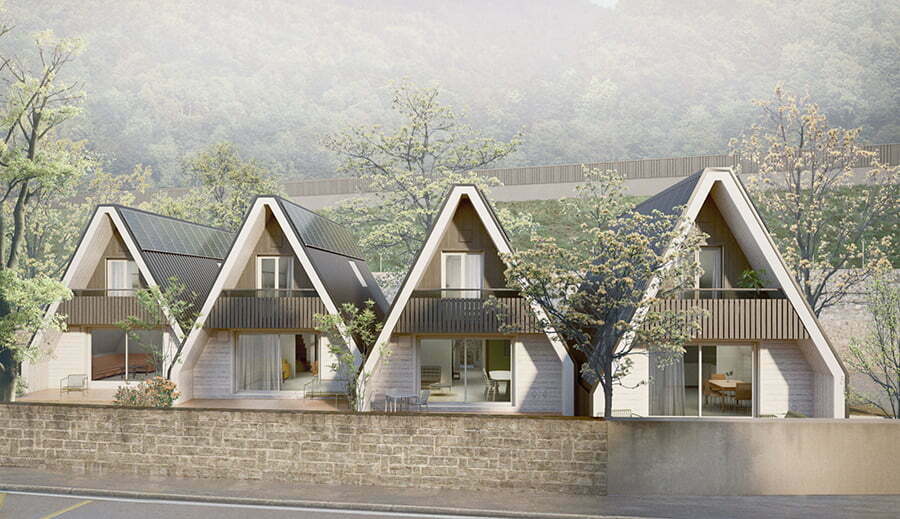 Buy a functional house for your family here with MADi. Every house model in MADi is fully customizable, comfortable, and energy-efficient.
The M60 model comes in three different floor options. Next is the M60 1, a 376 sqft home with a total price of $77,640. The M60 2 is a 753 sqft home with a total price of $118,893. Lastly, the M60 3 is an 1119 sqft home with a total price of $176,866.
MADi M45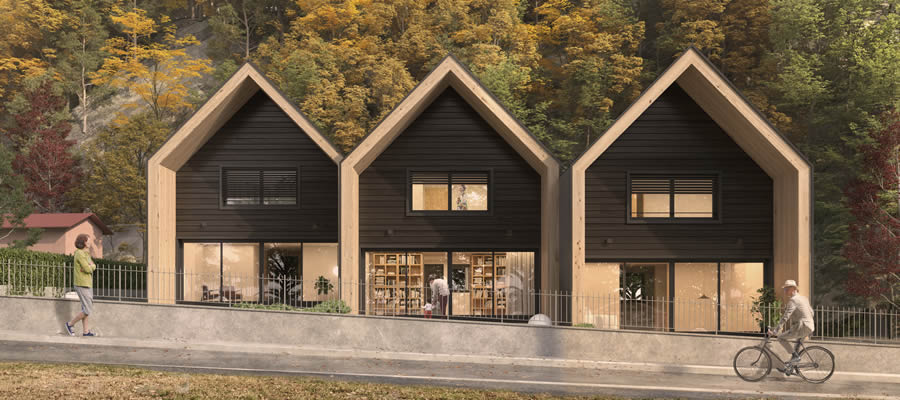 Similar to M60, the M45 model also has three options.
M45/1 – this model has a total area of 484 sqft with a total price of $116,953. The costs include transport and installation.
M45/2 – this model has a total area of 861 sqft and a total price of $177,930, including transportation and installation.
The M45/3 is the last model and also the largest among the three. It has a total area of 1291 sqft and costs $258,158.
DEN A-Frame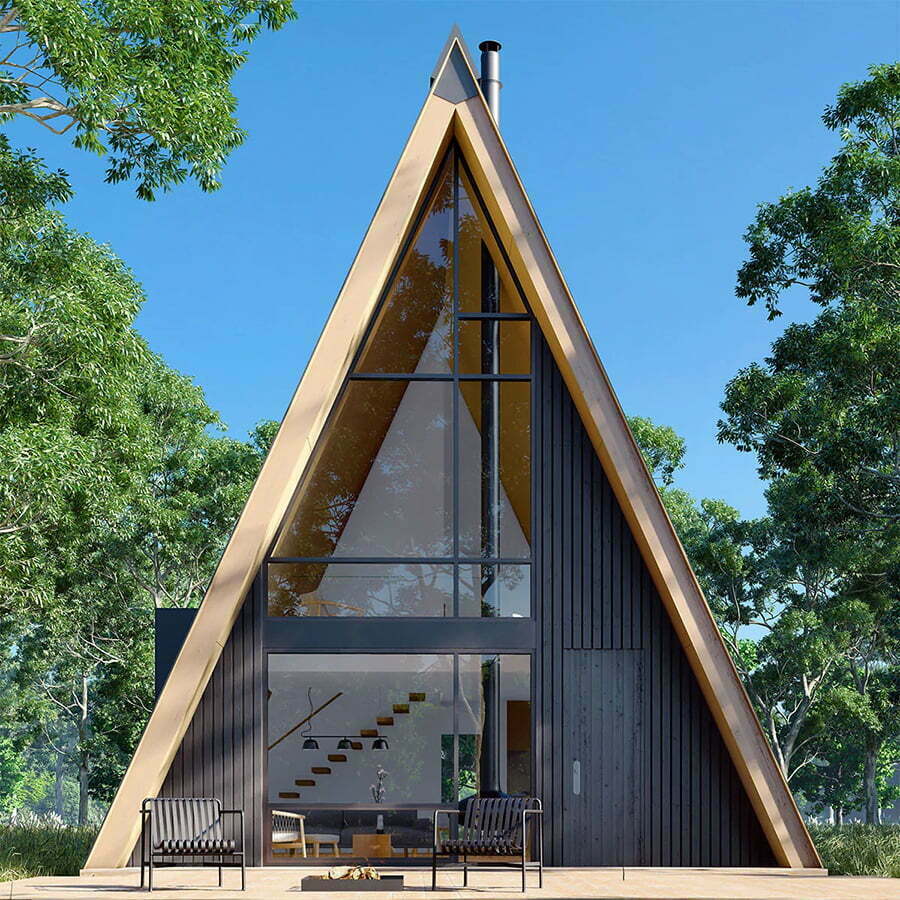 The A-Frame 2.2 is a cozy and stylish home from DEN. It's a two-bedroom house with a loft. The first level has a kitchen, living room area, bar counter, and a porch. The second level has a loft. It has a total of 1650 sqft, and the price can go up to $210K depending on features.
DEN A-Frame Family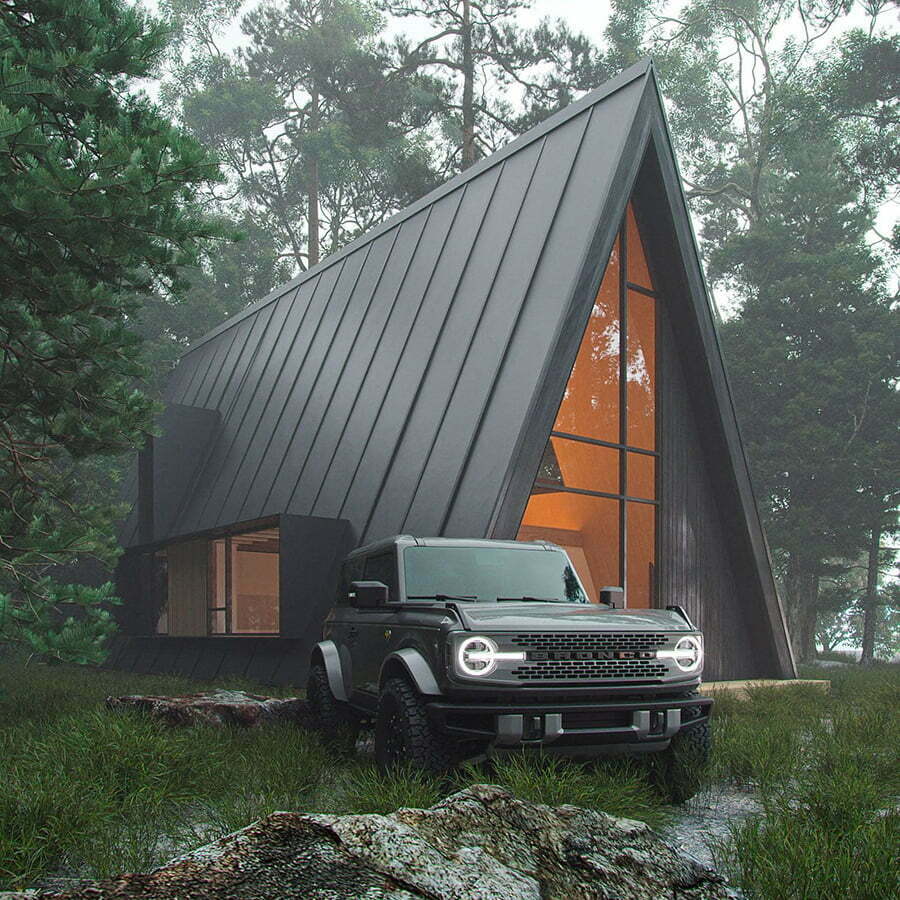 The A-Frame Family is perfect for a growing brood. It is a spacious home with 2146 sqft. It's elegantly designed and has three bedrooms, two full baths, and a primary upstairs bedroom. This home can sleep up to eight people.
DEN A-Frame Retreat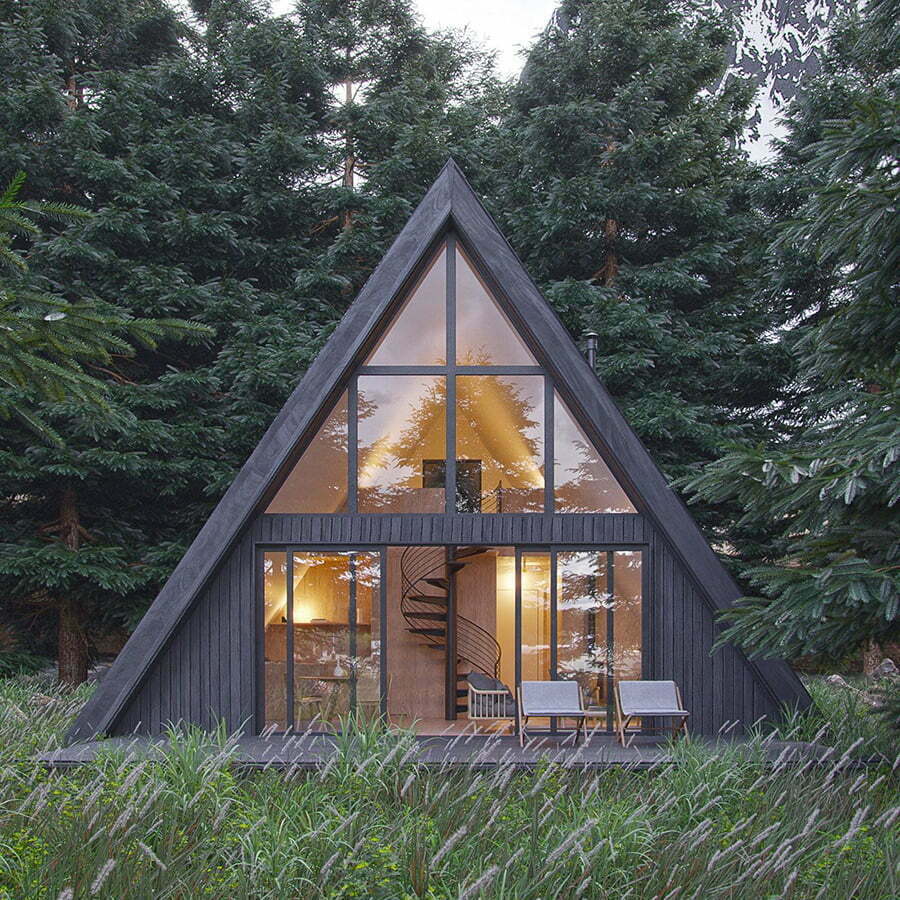 The A-Frame Retreat features a classically modern spiral staircase. It's highly efficient with all the features you want in a traditional home. The home has a total space of 800 sqft, can sleep up to six people, and boasts floor-to-ceiling windows.
DEN A-Frame Bunk Plus
This is your hotel in the woods, the A-Frame Bunk Plus. It features a spacious lofted bed alcove, an optional kitchenette, and more. It has a total area of 270 sqft, sleeps two people, and has a full bathroom.
DEN A-Frame House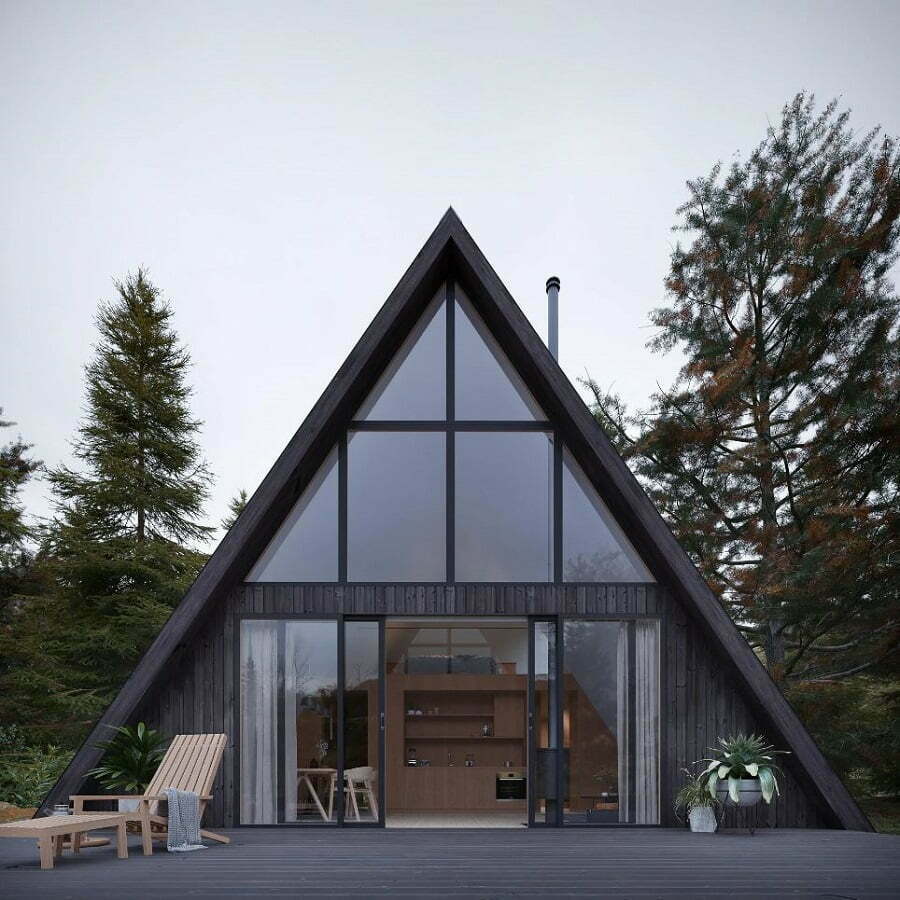 This isn't just another A-Frame home, and it's THE A-Frame House of your dreams. This home has a total space of 1000 sqft, sleeps up to six people, bunk beds, and a lofted main bedroom. It's a home that best maximizes the outdoor experience as it offers luxury, comfort, and leisure.
DEN A-Frame Weekender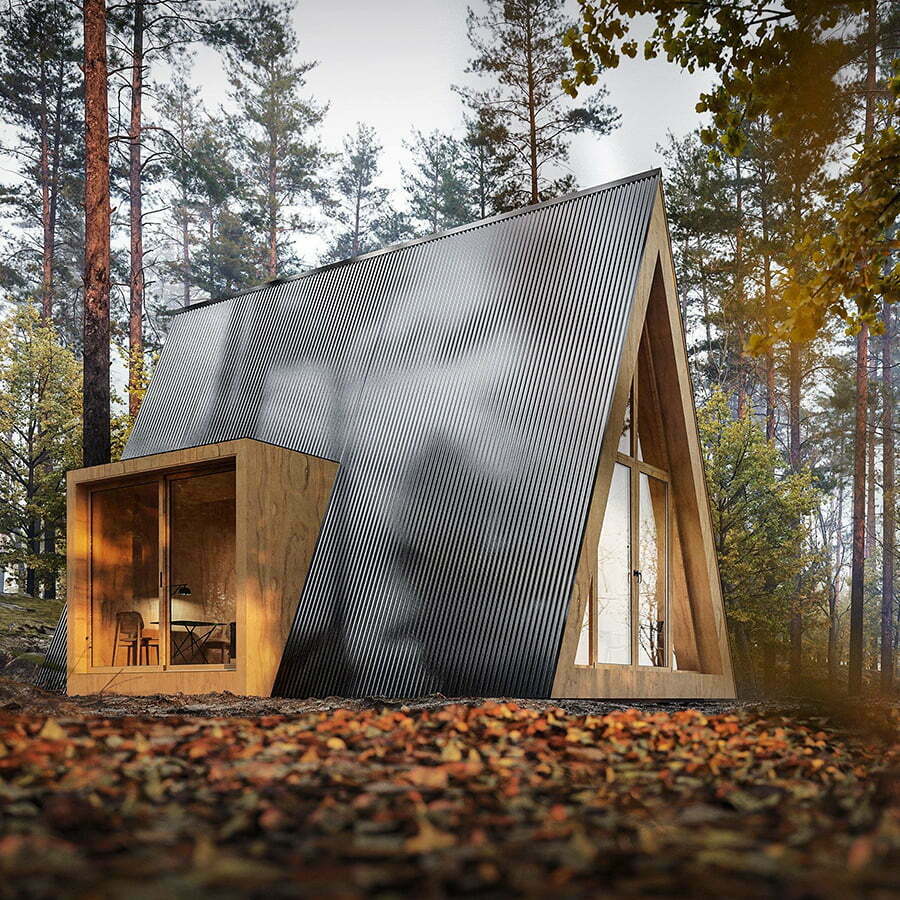 A tiny home for a modern-day wanderer. The Weekender has it all, luxury, comfort, and functionality. It has a total area of 415 sqft, has a central living space, a modern kitchen, and a full master bedroom.
LUSHNA Villa Massive
Lushna creates the perfect getaway. The goal is to add value and appeal to your environment by creating stylish, modern, and eco-friendly cabins.
The Villa Massive is a warm and intimated A-frame structure with an intimate bedroom style. It features a panoramic glass wall to give you that outdoor feeling while sleeping under the stars. It's built to last as well!
LUSHNA Nature Resorts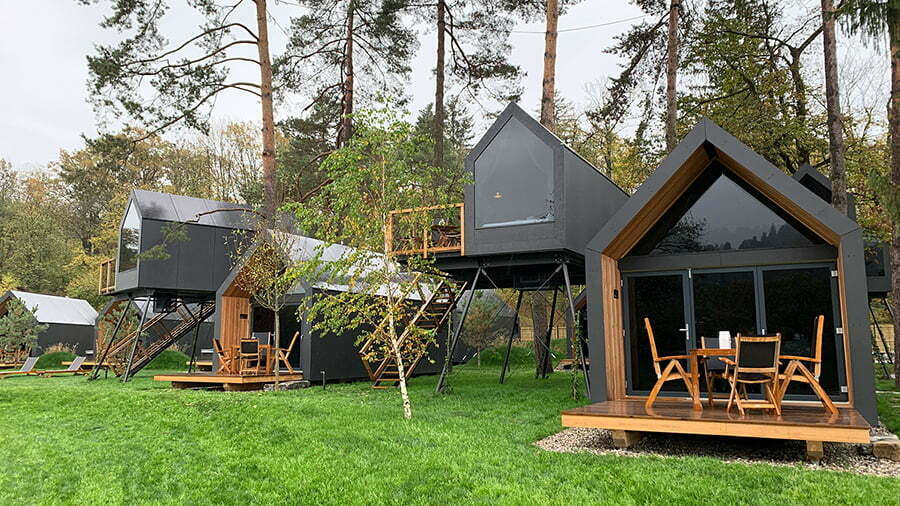 Nature Resorts is another beautiful offer from Lushna. This allows you to create a glamping site with the best vibe and cabins! The focus is on creating a symbiotic relationship with the surroundings and building inspiring experiences.
EcoCraft Athena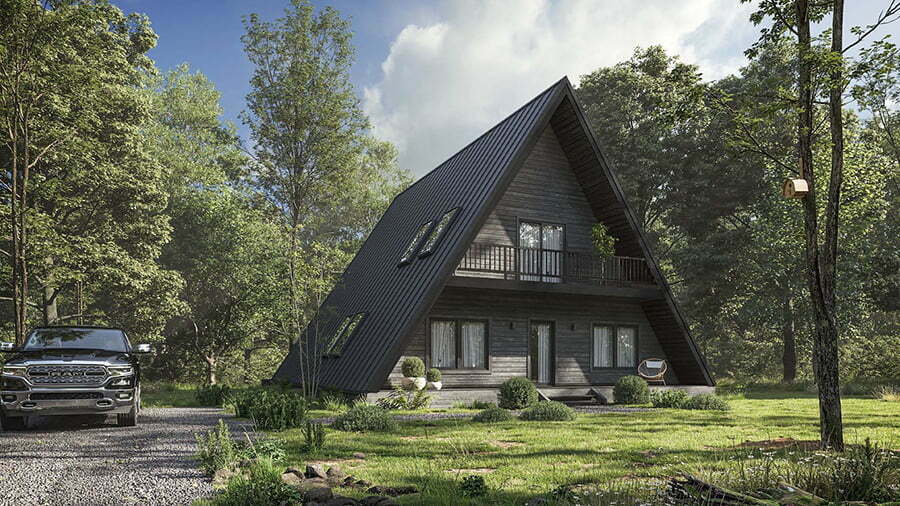 EcoCoraft gives you beautiful homes with traditional craftsmanship and modern construction techniques.
The Athena is a three-bedroom and two-bathroom home with a total area of 2071 sqft. It's an iconic A-frame home constructed with structural insulated panels. It has a total of three floors. The first floor has a spacious kitchen, living room, and vanity bathroom.
The second floor has the office and other storage areas. It also has a large bedroom. The third floor has more storage spaces.
Normerica Timber Homes Highland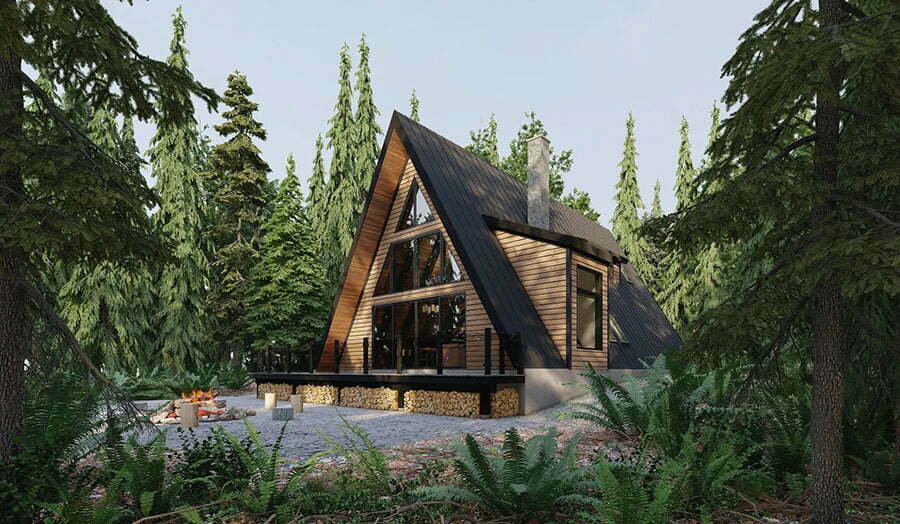 Normerica Timber Homes is Canada's leading company in manufactured timber homes. They've been in the business since 1979.
The Highland 4100 has a total area of 2488 sqft and a base price of 450K CAD. It's an A0fram home, an all-roof-no-wall structure that is both unique and modern.
This two-level home has three bedrooms and two full baths. It features large windows, a cathedral ceiling in the living room, a master bedroom with a loft area that can be used as an office, large decks, skylights, and more.

Related reading: