Last updated on September 11, 2023
These prefab cabins are perfect for your weekend getaway. And they cost much less than traditional cabins to build.
An off-the-grid cabin is a dream of many. Therefore, picking your getaway home is an important decision — and one that's a serious investment. The cabin isn't just somewhere you can go to for vacation purposes, too; it can also be a rental with extra income.
You can either build your cabin or buy a manufactured one. Prefab cabins are smaller than prefab cottages and traditional homes. However, they have all the necessary amenities of a home, including a kitchen with appliances, a bathroom, a living area, and a bedroom.
This is the digest for you if you plan to go to the prefab cabin route.
Table of Contents
Abodu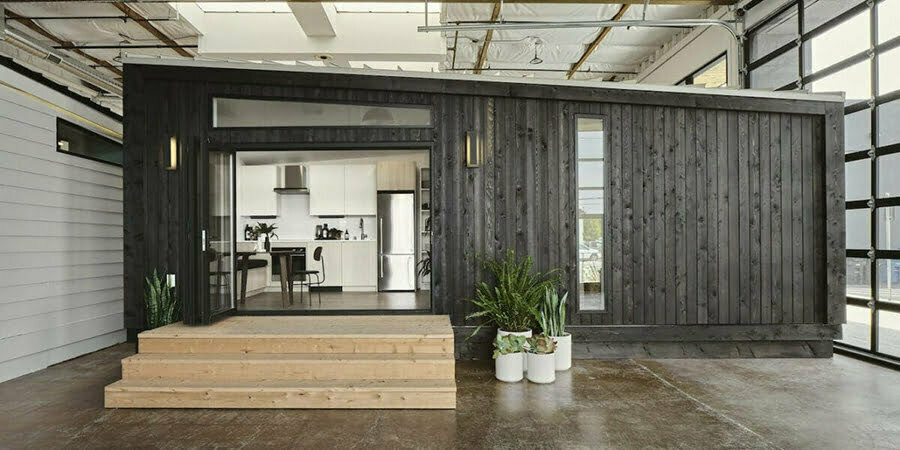 Abodu Studio ADU gives your small yard a big potential. The company's ADUs can fit even the tightest backyard. Despite the size, the accessory dwelling units come with full-sized living, kitchen, and bath. They also have cathedral ceilings – all in 340 sqft of living space.
The base price for the living units is $268,800, and this doesn't include utility updates, additional utility trenching, craning distance, demolition, permits, or taxes.
Avrame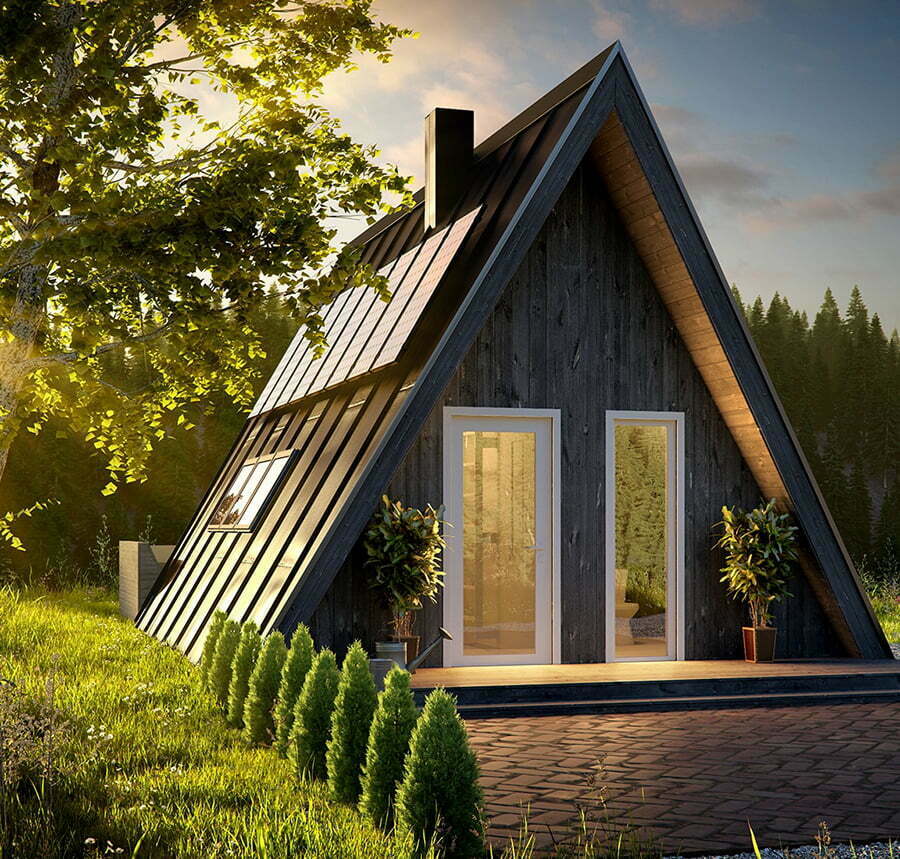 If you're looking for an off-grid and sustainable kit home, then Avrame is right for you. The Duo Series A-Frame compact kit homes are a practical choice for tiny and full-size homes.
These are best for summer cabins, granny annexes, home offices, starter homes, coffee shops, and more. The Duo 57 has a total living space of 322 sqft, one bedroom, and one bath. There are other floor plans you can check on the site as well.
BHC System 02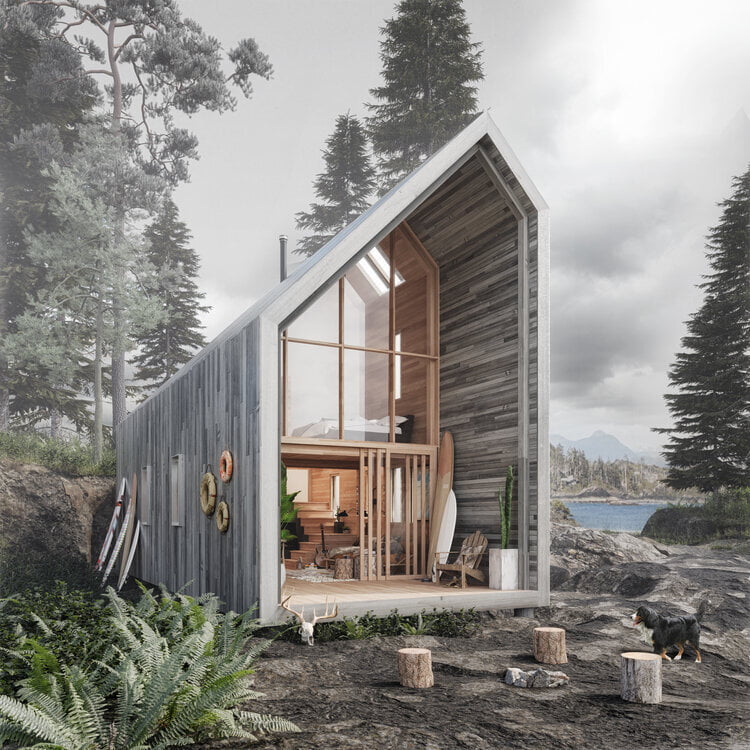 BHC builds award-winning designs and promotes sustainable manufacturing. The company is born from a deep appreciation of adventure and the outdoors. Their home is perfect for those who want to get one with nature.
The System 02 is an original Backcountry Hut concept inspired by the traditional alpine cabins. It's a two-storey unit with a space of 185 sqft and modules that combine to give you more flexible and wider options. The base price for System 02 is CAD 164,504. For the one with a deck and two modules, the base price is CAD 228,164.
BHC System 01
The System 01 combines rustic wilderness and true Canadian outdoor adventure. It has a total of 185 sqft. The base price for System 01 depends on the number of modules you use.
2 Module > $157,975 CAD
3 Module > $183,750 (layout A); $189,856 CAD (layout B)
4 Module > $251,322 CAD
Everywhere Ayframe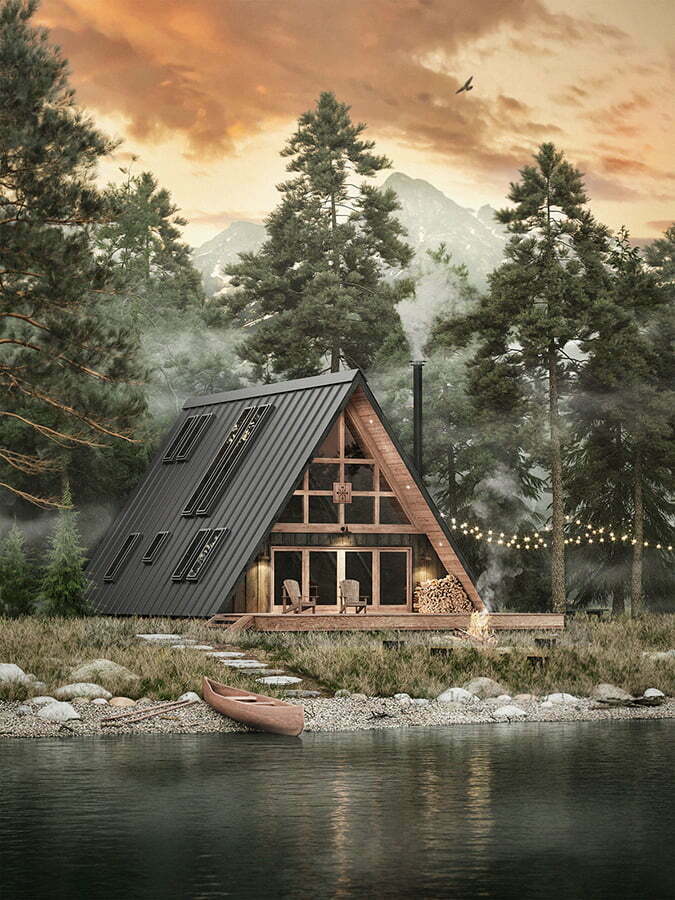 Everywhere reimagines the future of home construction. They have several options for you to choose from, including the following:
Ayfraym Plus
Ayfraym Tiny
Barnam
Galodge
Hutch
Grange
Flathead, and
Notch
The Ayfraym is a classic cabin design with three bedrooms and two baths. It features three large walkout decks, custom windows, and huge vaulted ceilings. It has a total living area of 1483 sqft.
Nomadic Shack Rack Shack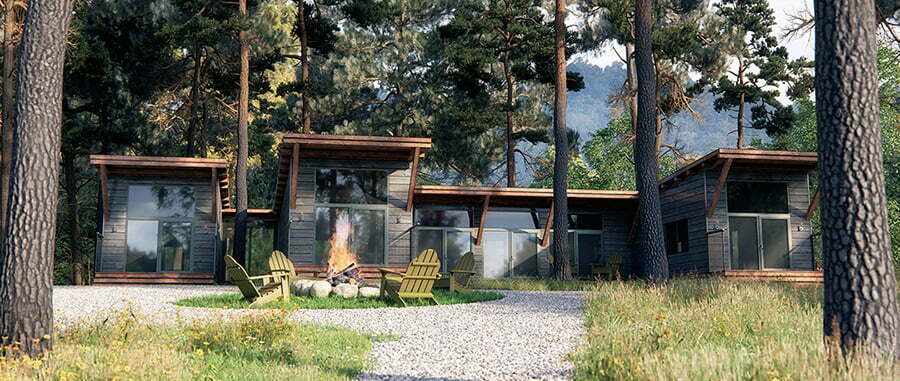 Nomadic Shack has customizable shacks to meet your individual needs. Each house is designed to give owners a connection to nature. Their homes are simple and clean and provide smart solutions to expensive housing today.
The Rack Shack is the largest structure in the Nomadic Shack series. It's perfect for hosting a retreat, family reunion, or a simple getaway. It has a total area of 2800 sqft, three baths, and five bedrooms. This home can sleep up to 14 people.
Nomadic Shack Quack Shack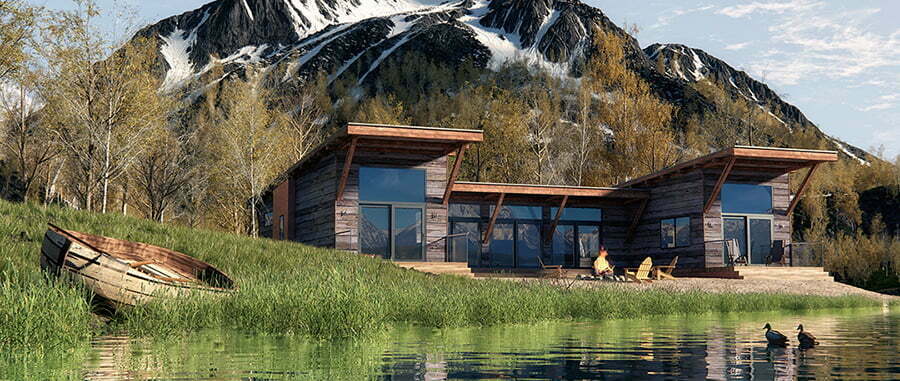 The Quack Shack is the original inspiration for the entire Nomadic Shack series. It has a total space of 1800 sqft, four bedrooms, and two baths. The house can sleep 12 people.
The Backyard & Beyond
The Backyard & Beyond builds small prefab cabins using high-quality materials. They are also affordable compared to contracting an onsite build. The company delivers prefab cabins to Blytheville, Jonesboro, Osceola in Arkansas, Cape Girardeau, Dexter, and other towns.
Zook Cabins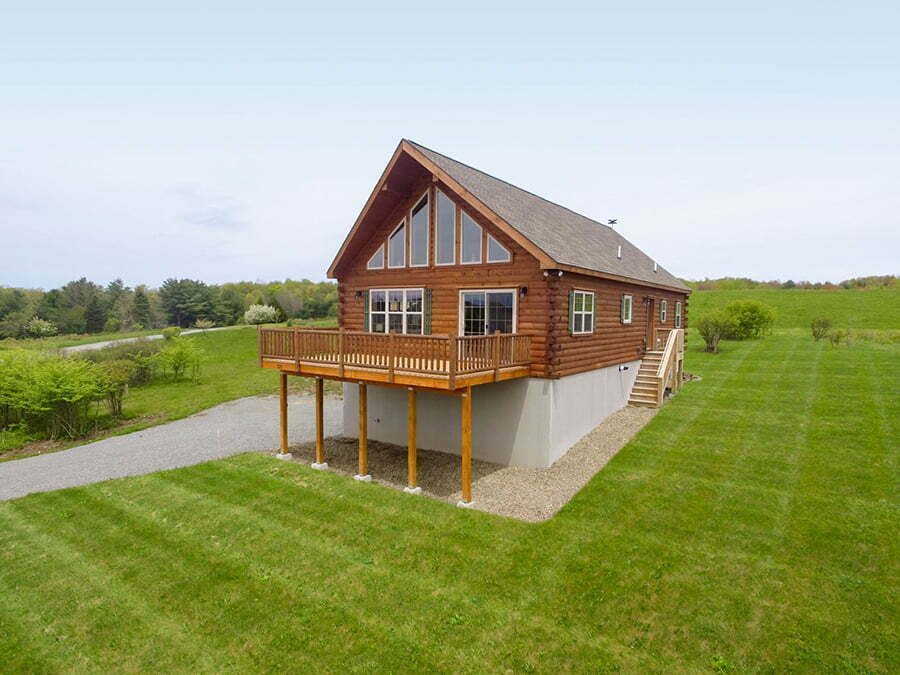 Zook Cabins is a leading manufacturer and retailer of log cabins and prefab log homes. It was founded in 2006 and is based in Atglen, PA. However, their log cabins are available for delivery throughout the US. The Cozy Cabins collection has some of Zook's best homes.
Aside from cabins, they also have park model homes and modern cabins. All these homes are built in a controlled manufacturing facility and are to be delivered and installed at your location.
Kanga Room Systems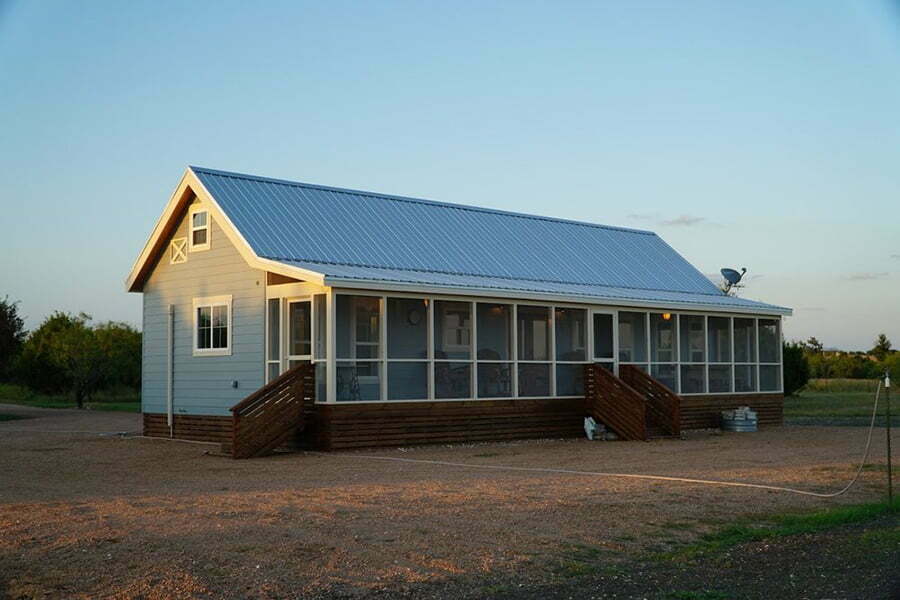 Kanga Rooms Systems provide some of the best-looking tiny spaces in the US. They have two classic styles: modern and cottage. The Cottage Cabins are designed to fit any place in the country without any local building authority requirements. Depending on the site, the cabins may be trucked in fully assembled. This means less work and faster installation time.
As for the pricing, a 196 sqft cottage has a shell kit base price of $27,600. The installed shell price starts at $43,900, and the turnkey installation starts at $95K.
Sierra Log & Timber Grizzly III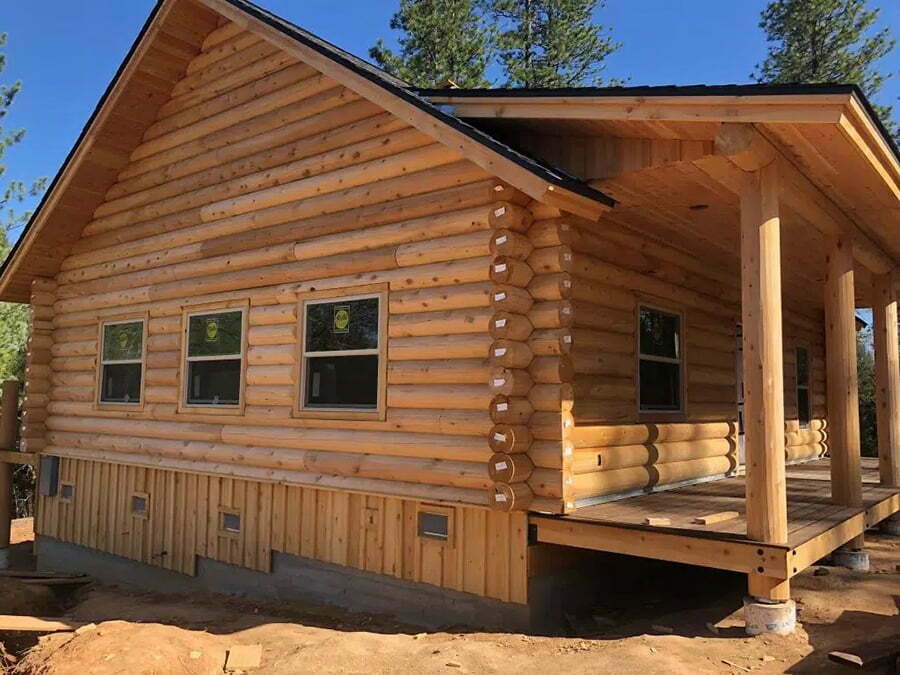 Sierra Log & Timber has over 25 years of experience when it comes to log home packages and home designs. They serve and deliver cabins through the US and are the country's largest provider of red cedar.
Grizzly III has two bedrooms, one bath, and one level home. It has a total living area of 1020 sqft. The ceiling is vaulted, making it durable and long-lasting. It's one of the most popular designs of the Sierra Log, with a front porch and rear deck.
Sierra Log & Timber Mt Rose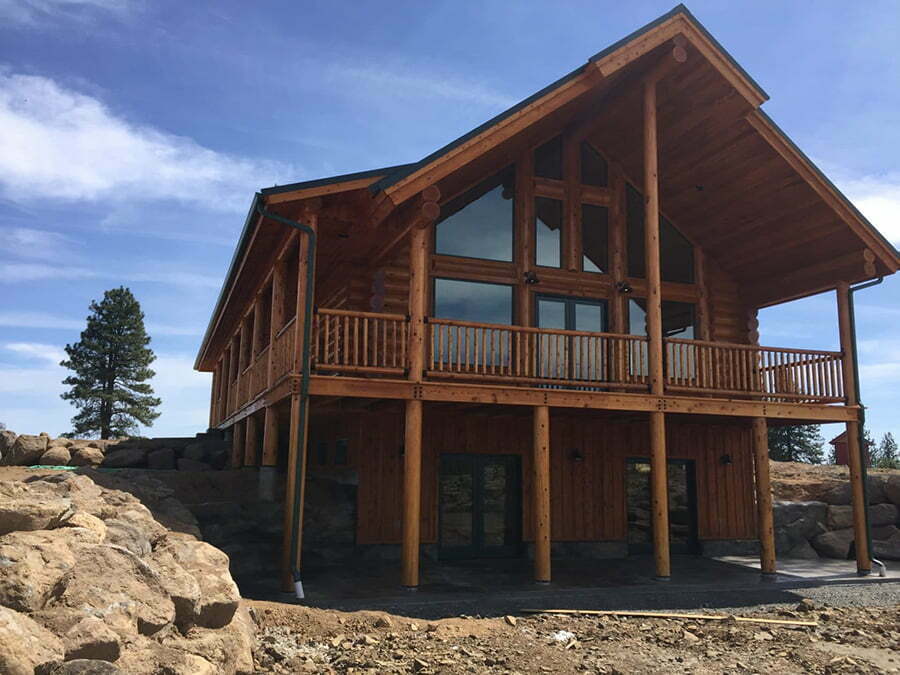 Mt Rose is a two-level home with three bedrooms, two baths, and a total living area of 1664 sqft. It's an upper-size getaway cabin and is the most popular choice for primary living. The size is perfect for empty nesters. It's designed for families with a great room, kitchen, dining, master balcony, laundry room, and more.
Forest River Quailridge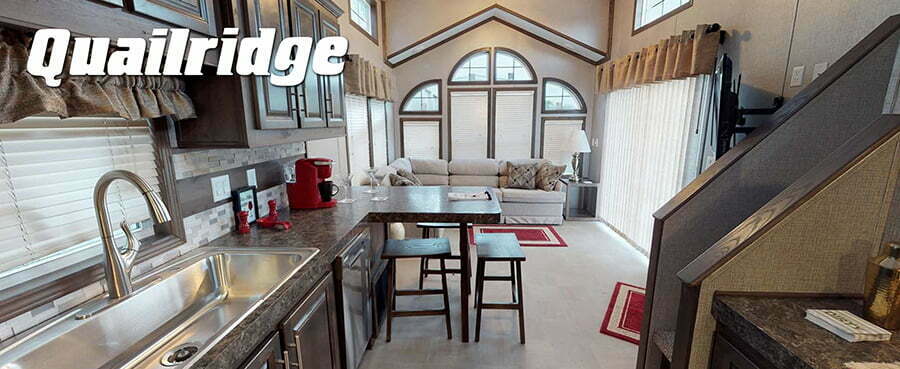 The Forest River builds the park model that fits any of your needs. Their homes are excellent camping destinations, with every space engineered and designed for maximum comfort and convenience.
The Quailridge 38FLA is designed to be aesthetically pleasing and functional. It's built to meet quality, satisfaction, and park model standards. Choose it for your perfect getaway or a family reunion.
Forest River Quailridge 39AKML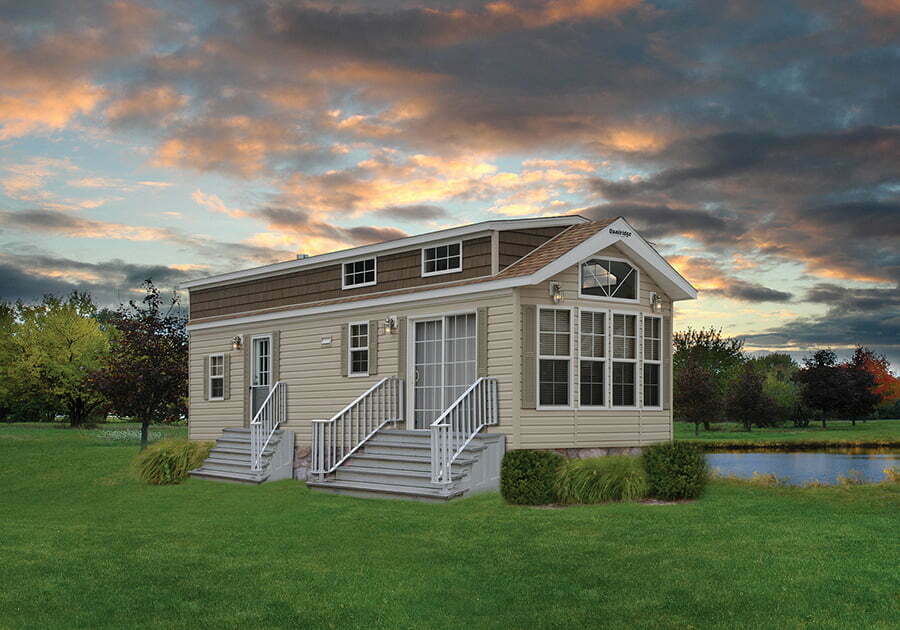 Quailridge 39AKML is a park model standard and an excellent investment for long-lasting value. It has a loft bed with a built-in angles cabinet on the side: a stairway to the queen loft bed, a full shower, and more.
Green River Log Cabins Riverview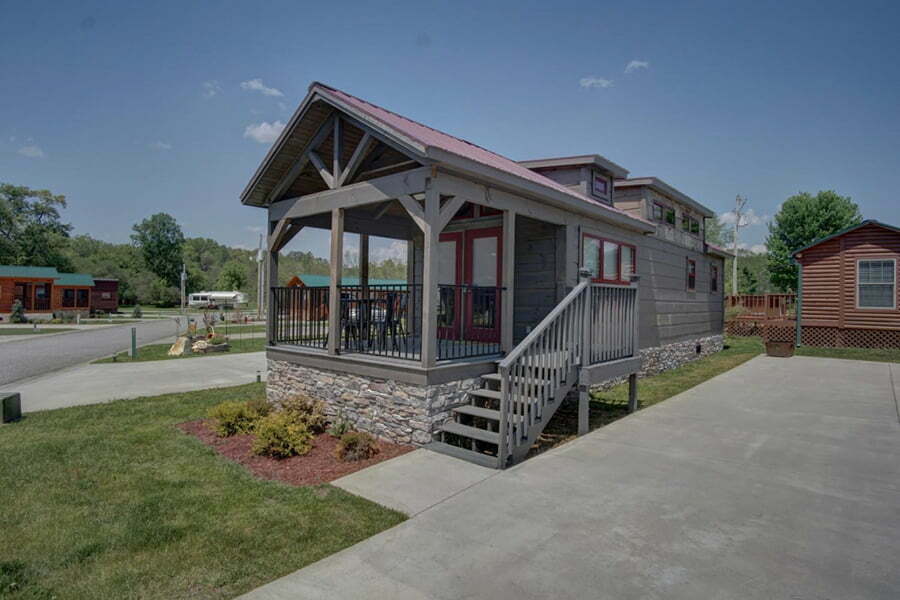 Green River Log Cabins are some of the most flexible products in the market, with various customization options available. They've been in the business for over 25 years and have built a total of 1576 cabins in 36 states in the US.
The Riverview is one of their featured cabins. It has a total space of 1400 sqft and a base price of $60,300. It's perfect for multi-family retreats and an ideal rental in RV camps/parks, campgrounds, and resorts.
Green River Log Cabins Top Line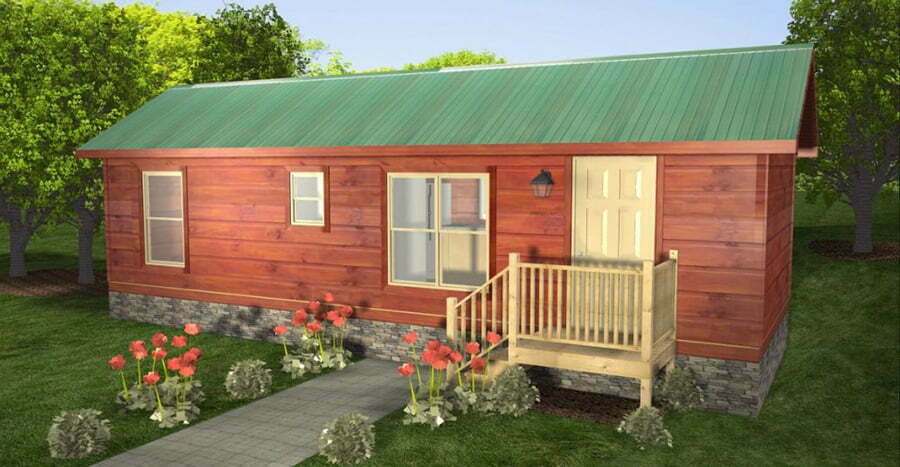 The Top Line is a one-bedroom park model with a base price of $57K. It has a total area of 399 sqft and an overall dimension of 12'x34. There are also several add-ons for you, such as kitchen features, the kind of countertops to go for, and more.
B Public Prefab
B Public Prefab provides panelized structure building envelopes for high-performance construction. Their homes reduce 80-90% of energy usage, 30% faster to finish, and save 95% of construction waste.
The Abbey is a base design for tiny and green homes. It can be used as a studio, cabin, or micro cottage. The standard options include a shed roof, a flat roof, or a pitched roof. It has a total living area of 590 sqft.
Summerwood Products Bala Bunkie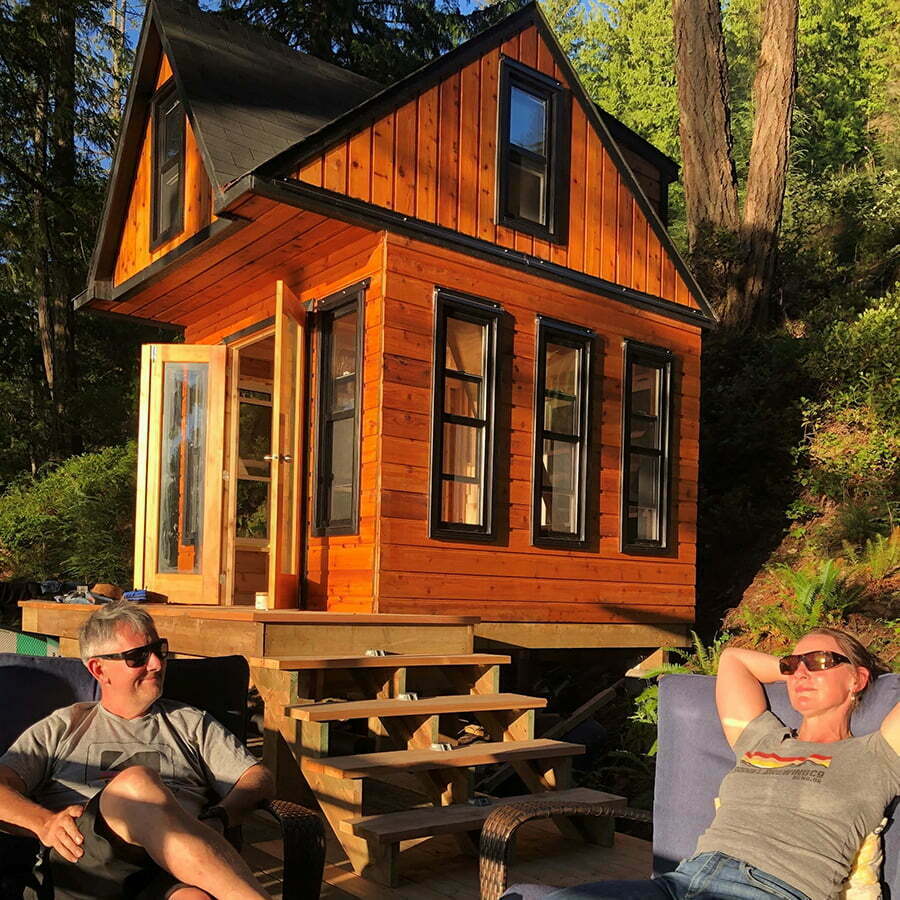 Summerwood Products has home offices, studios, garages, and sheds. It's one of the best home office and storage solutions providers in the US. It offers endless choices of design ideas to ensure that you get what you need and prefer.
The Bala Bunkie is a 10×10 bunkie and is one of the most popular cabin in Summerwood products. It comes with a 10/12 roof pitch and front and back dormers. It has tons of storage and spaces with a total area of 230 sqft. The Bunkie with 100 sqft living space has a base price of $11,231 to $15,296.
Summerwood Products Glen Echo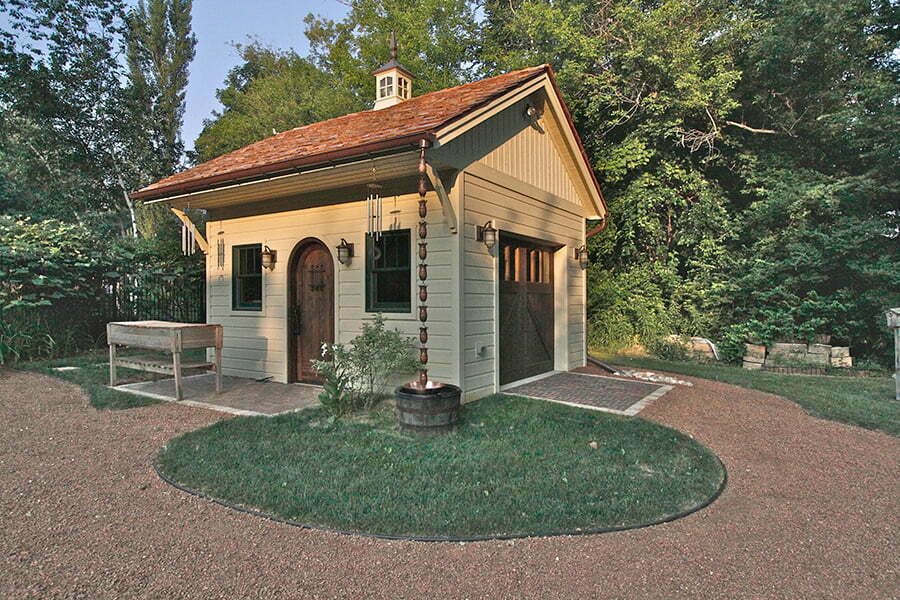 The Glen Echo gives you more space to work or relax with your family and friends. It has an extension of a gable roof and is available in 2 to 3 ft overhangs. It has a canopied porch area adding flare to your home. The size ranges from 35 sqft to 630 sqft.
Method Homes Cabin Series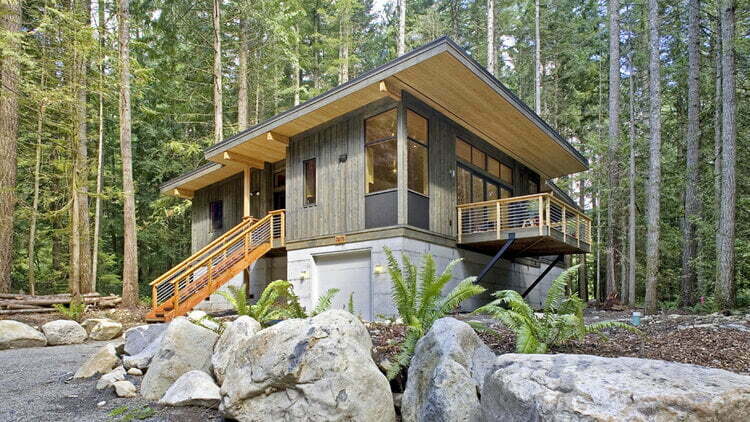 The Cabin Series is designed by Prentiss + Balance + Wickline Architects. The Model 1 in the series is an 1811 sqft home with two or three bedrooms, two baths, and four or five modules with a base price of $417K. The cabins typically range from 1200 – 2800 sqft, and all of these cabins are fully customizable.
Model 2 has 1298 sqft with two bedrooms, one bath, and three modules. The base price is $310K. The modular plus site is $580K.
Related reading: