Last updated on December 8, 2022
Here are the top manufacturers and their prefab homes over 500 square feet. These are small but no longer tiny homes.
Many today are moving into smaller, affordable homes. They are looking to downsize and change their lifestyles for a better and more sustainable way of living. Prefab homes are a great solution to the ever more expensive housing in this country.
Aside from that, prefab homes are great investments as well. Even with limited space, these small homes are customizable and can function as primary dwellings. Owners may turn them into vacation rentals, office studios, or other ADU.
Here's our digest of prefab homes that are 500 and more in total floor square footage (but they are smaller than 700 sq. ft.) If you want something bigger, check our digest of homes over 700 sq. ft.
Table of Contents
Jacobsen Homes ISW 4521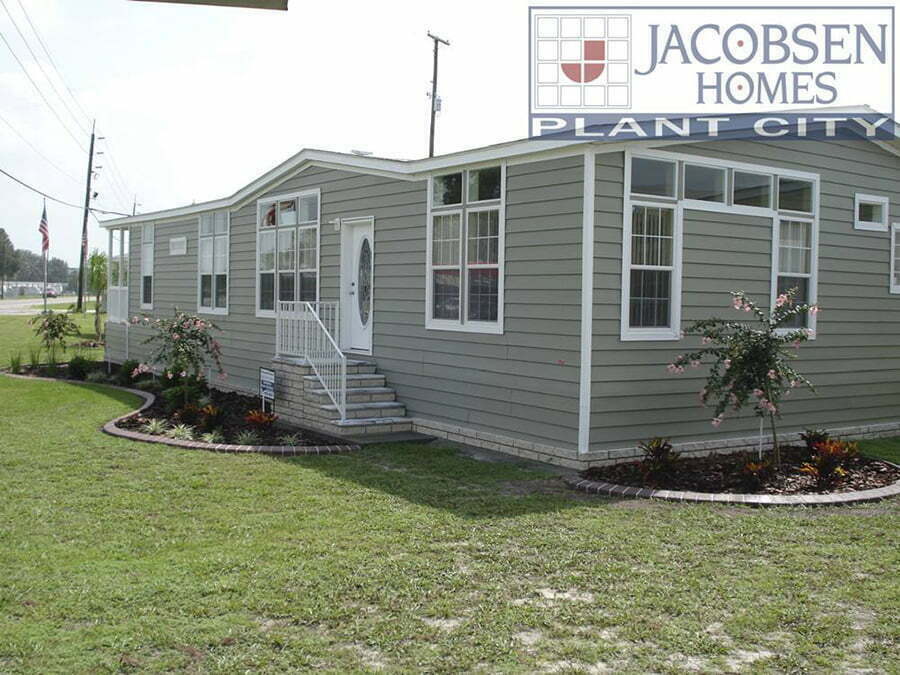 Jacobsen Homes of the Plant City is a manufactured home company that offers comfort, beauty, and affordability of all-in-one prefab homes. The goal is to give homebuyers the home of their dreams that accommodates their lifestyles.
One of their best homes is the ISW 4521. It's a mobile home with a total area of 693 sqft, two bedrooms, and one bath. It has an open floor plan with a spacious living area, bedrooms at both ends of the structure, and a dining room. The home is customizable too.
Jacobsen Homes DC 1371A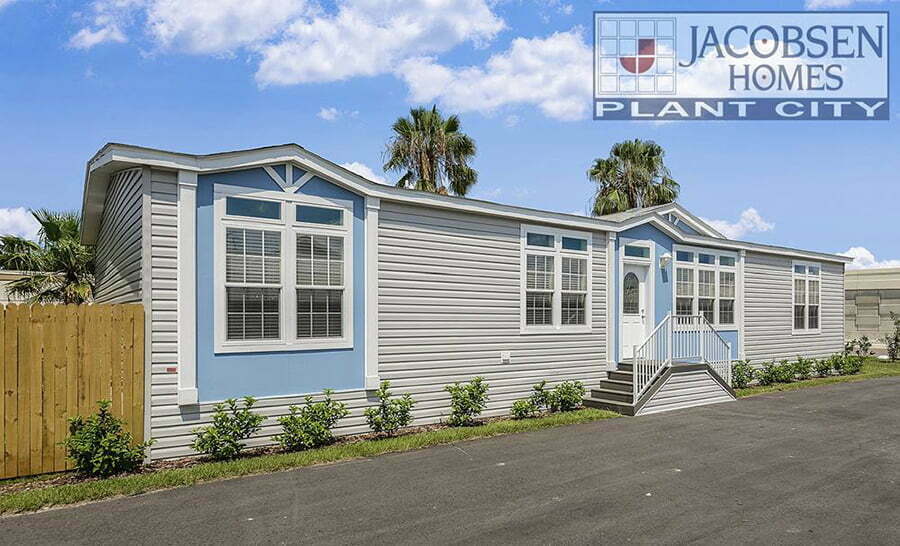 This is a smaller model compared to the ISW 4521. The DC 1371A is a 521 sqft home with one bed and one bath. It has a spacious living area and an entertainment corner too.
Jacobsen Homes ISW 4482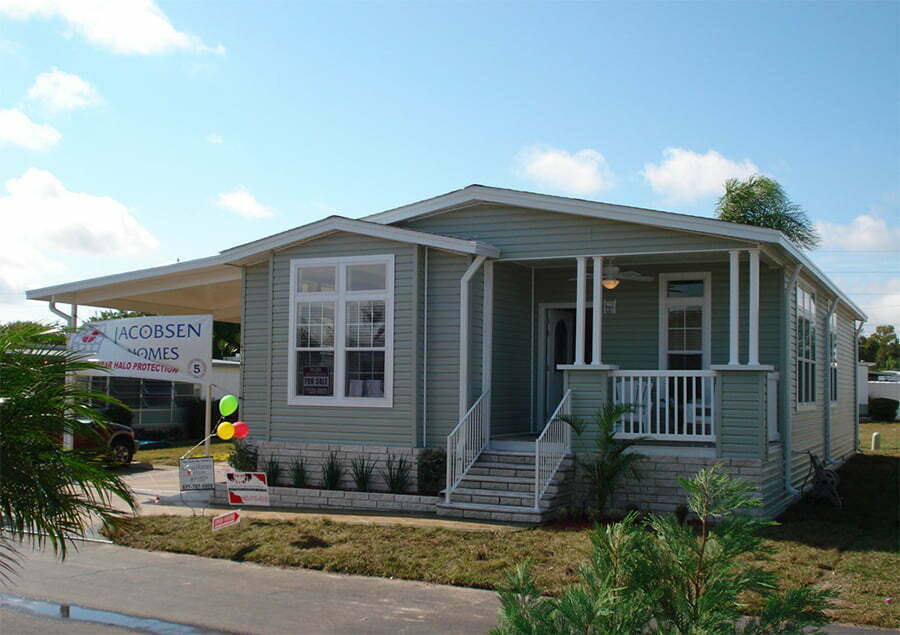 The ISW 4482 is a 640 sqft home with two bedrooms and one bath. It has a large living area, a beautiful kitchen, and a dining room. Bedrooms are located at each end of the home. Check out their team for a full quote.
Pacific Modern Homes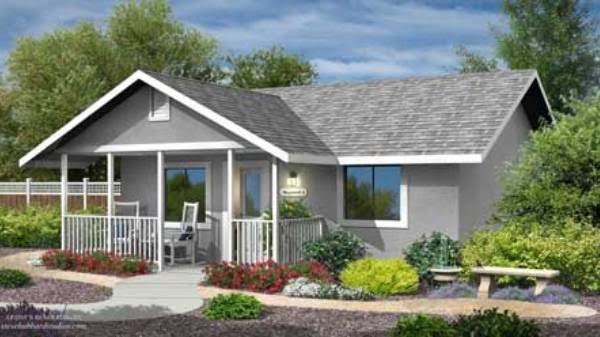 Pacific Modern Homes build better homes with efficiency and within your budget. It is one of California's premier penalized kit home manufacturers specializing in barns, kit homes, and garages.
The Maywood is a penalized kit home with a total living space of 600 sqft. It has one bath and one bedroom all in one level home. The base price is $42,665, with a minimum payment of $3,700. It has an open-style living room, and the kitchen has vaulted ceilings.
Allwood Outlet Avalon XL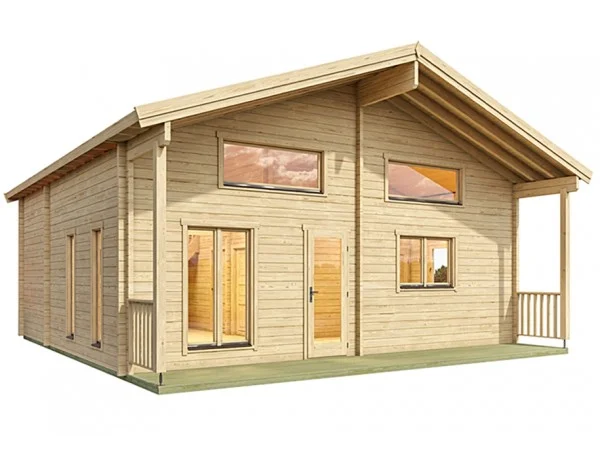 Allwood is an online retailer and teams up with Millwork and Engineered Wood products. It's a family-owned and operated business devoted to giving high-quality homes to clients at a reasonable price.
The Avalon XL is a cabin kit with a total living area of 740 sqft, 5676 sqft on the ground floor, and 173 sqft of additional space upstairs. This home is made from high-quality solid Nordic spruce wood. The Avalon is an excellent option for a guest house, granny flat, beach garden, and more. The base price is $52,990.
Unity Homes Nano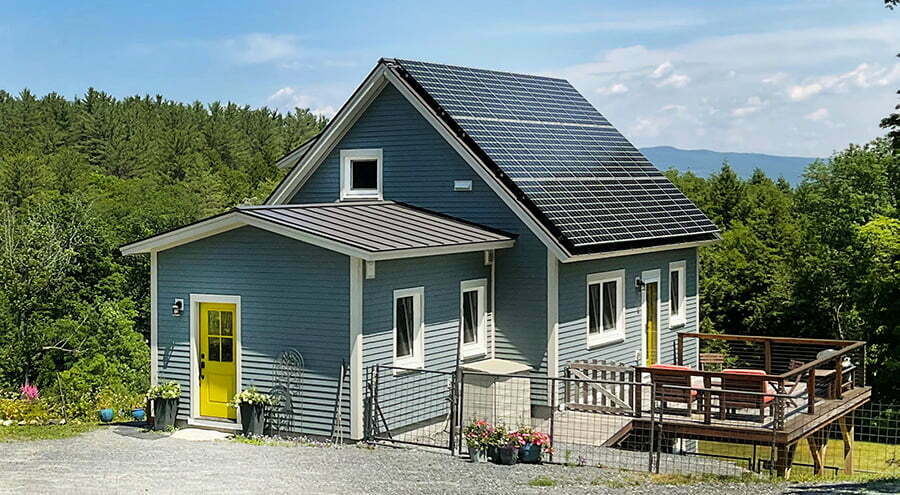 Unity Homes has experience when it comes to prefab and manufactured structures. Their designs are all flexible to allow homebuyers to custom-make their homes.
The Nano 2024 V has a total area of 565 sqft. It's a one-bedroom and one-bath house with a divided living and kitchen area. The home also has a little porch and a storage loft. The shell estimate is $110K, and the finished estimate is $276K.
Zip Kit Homes Big Sky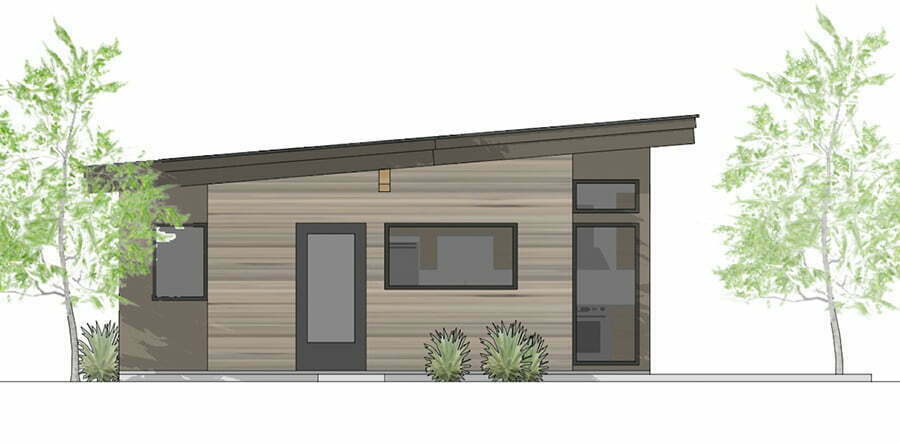 Zip Kit Homes build homes in the most efficient ways. It's a division of Timberhawk Inc. Their factory is based in Cedar City, UT, but they also serve in other states and areas. The Big Sky 600 is a two-bedroom and one-bath home with a total living area of 624 sqft. This home has a simple yet modern look that many are going for. It has a side-by-side master and guest room, a spacious living area, and a rolling island.
Wolf Industries Model E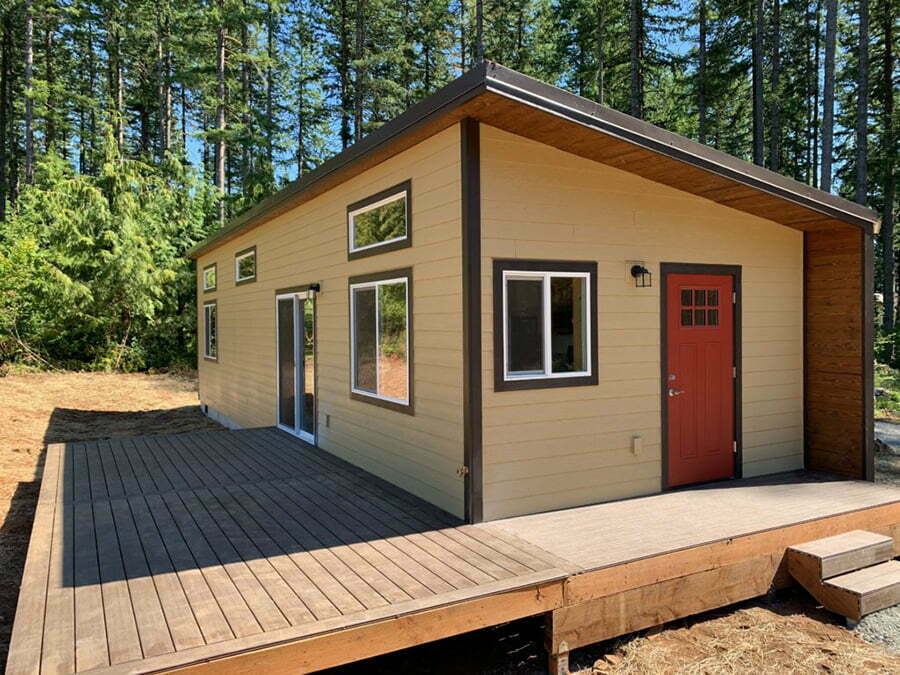 Wolf Industries is a leading manufacturer of prefab tiny homes and ADUs. Unlike a traditionally stick-built house, the prefab homes of Wolf Industries are far more affordable and scalable. They have several models to choose from.
Model E puts much emphasis on accessibility with a roomy floor plan. It has a total area of 615 sqft and a base price of $92,500. The bedroom can fit a king-size bed, and the base price includes vaulted ceilings, granite counter floors, an entire living room, and more.
Wolf Industries Model F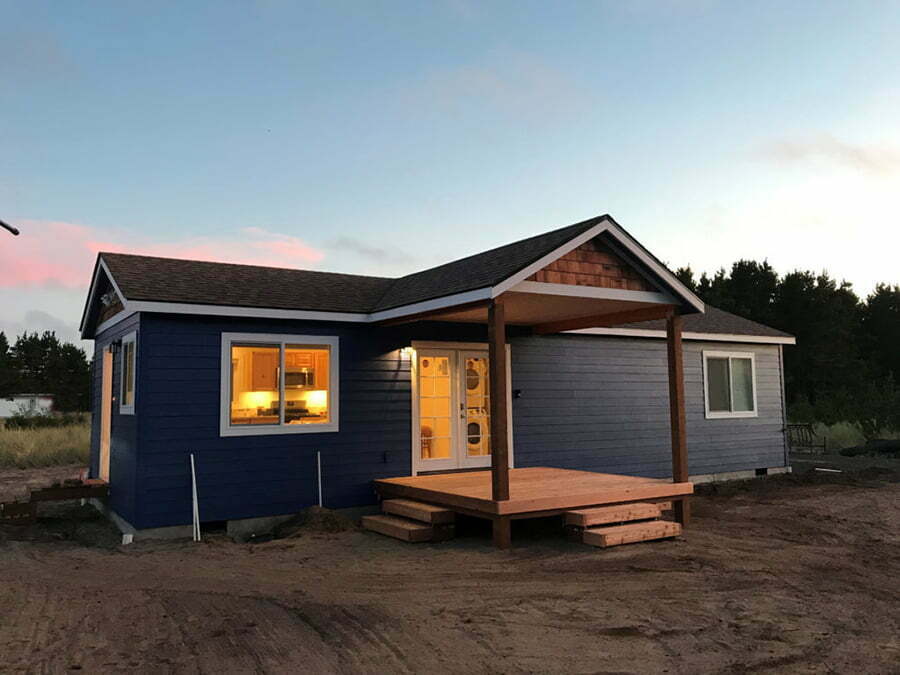 Model F is a tiny home with a spacious floor plan to fit four people. It can be modified depending on your preference and lifestyle. You can change the kitchen layout and the roof style and upgrade some features. The base price is $92,500 for 615 sqft.
United Dwelling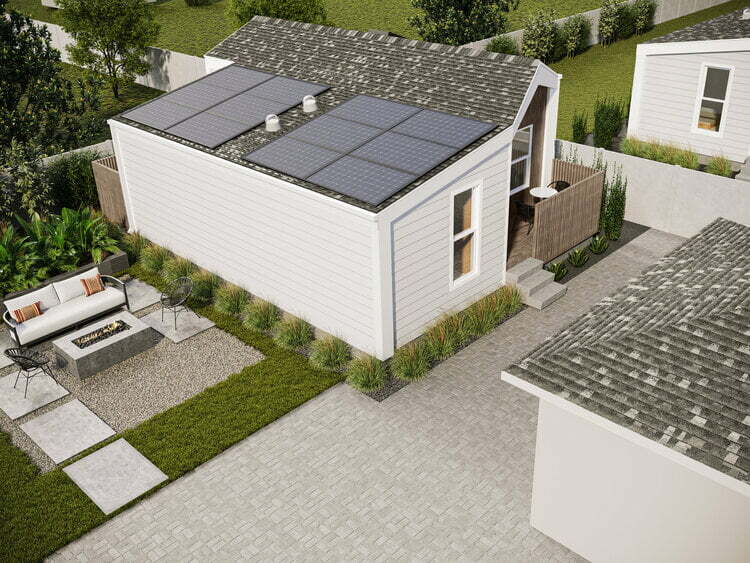 United Dwelling designs homes to maximize space, generate extra income, and increase your property's value. All of their units have solar panels and appliances as well. Their backyard homes have a total living space of 647 sqft and exterior dimensions of 24×32. This model has two bedrooms and one bath that separates both rooms.
Structural Modulars Tionesta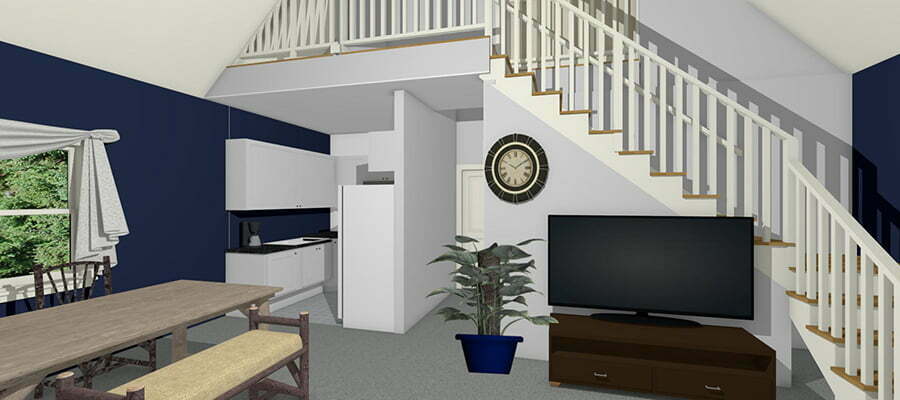 Structural Modulars build custom-made homes in Strattanville, Pennsylvania. Their goal is to provide clients with a perfect home for their lifestyle. Their services are available for clients in Western Pennsylvania, Ohio, New York, Maryland, and West Virginia.
The Tionesta has a total floor area of 672 sqft on the first floor and 170 sqft on the second floor. This floorplan is customizable. It has one bedroom and one bath. The home is excellent for those who want to downsize, invest in a rental, or look for an extra house for guests.
SteelBox Model 2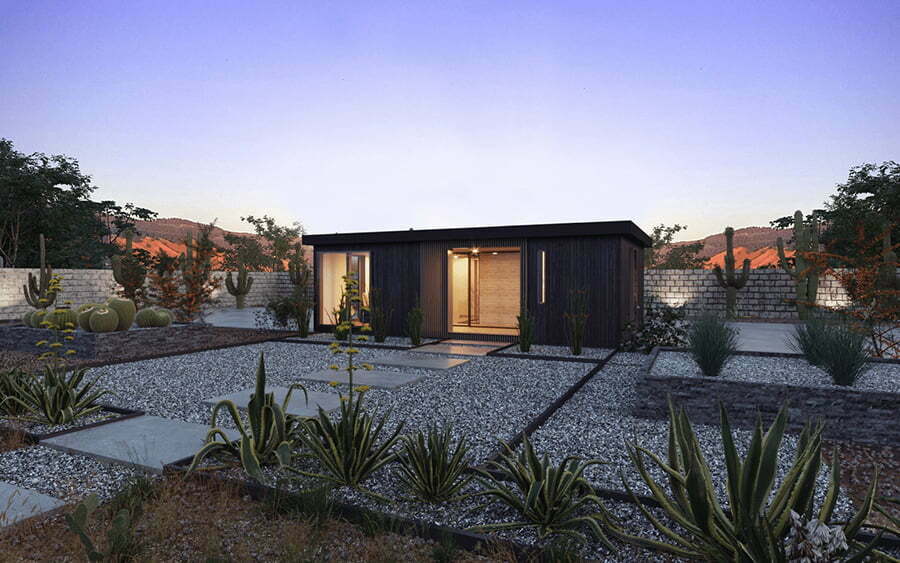 SteelBox is your company of choice when it comes to ADUs and other modular buildings that speak minimalism, modern, and chic. All their home models are designed for affordability and energy efficiency. There is no compromise of style and comfort for SteelBox.
Model 2 is a tiny home with 540 sqft living space. It has one bedroom and one bath. Its base price is $300/sqft. This home is an easy-to-build and easy-to-assemble prefab ADU that could be used as a granny flat, a home office, a studio, a man cave, and more. Standard features include flooring, cabinetry, wall finish, fixtures, and others.
Connect Homes Connect 2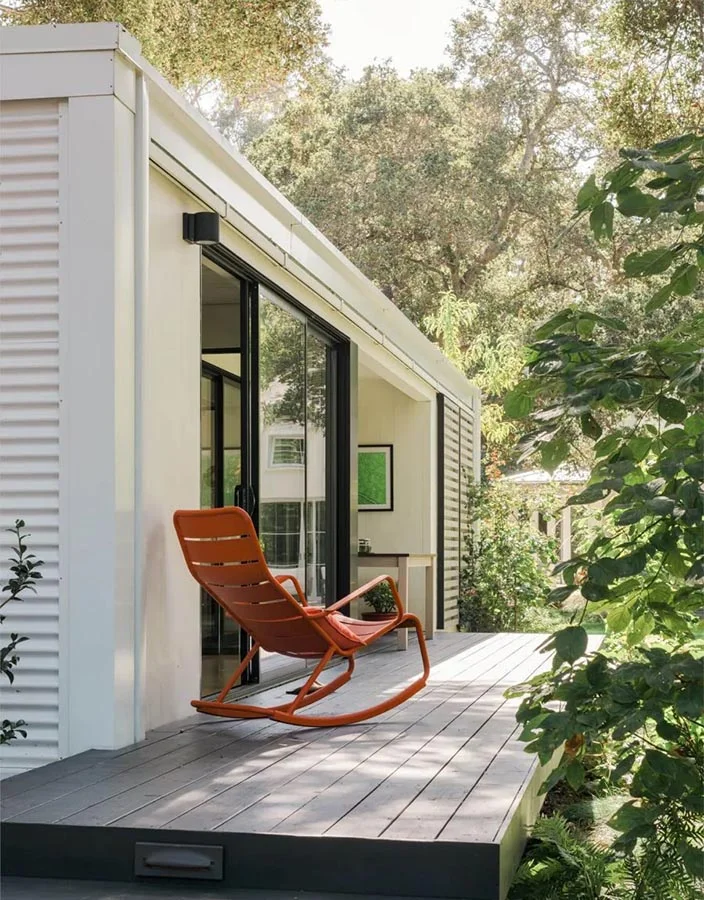 Connect Homes make modern living more affordable and accessible. The company wants to change how homes are built. Instead of using a costly process, they intend to use quality materials and efficient, seamless installation and assembly—all at a more budget-friendly cost.
Connect 2 is a 640 sqft ADU designed to give owners maximum comfort. It has steel frames for the glass windows and welcomes natural light into the house. It adds seamless space from interior to outdoor view. This model has one bedroom and one bath. The estimated price is $296K, including the design, production, installation, sales tax, and site work.
Go Logic Model 600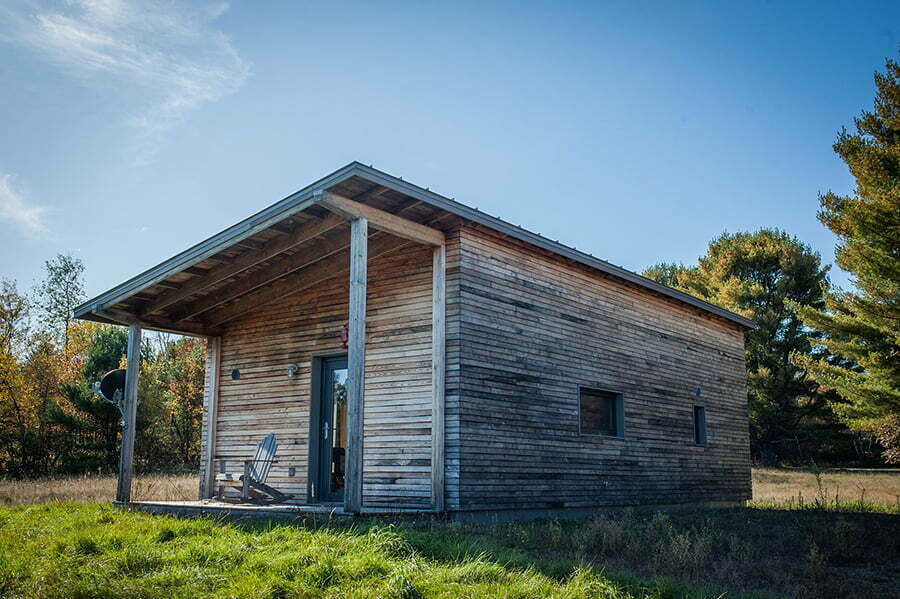 Go Logic is committed to a positive cause, to give excellent service to buyers and communities. The company wants to push boundaries by using modern architecture, environment-friendly materials, and processes to support communities. GO Logic is based on the coast and uplands of Maine, but its reach is beyond that.
The 600 Model is a single-story home with a combined kitchen, dining, and living space. It has one bedroom and one bath. The home model has a total area of 586 sqft and a covered deck of 86 sqft.
Plant Prefab LightHouse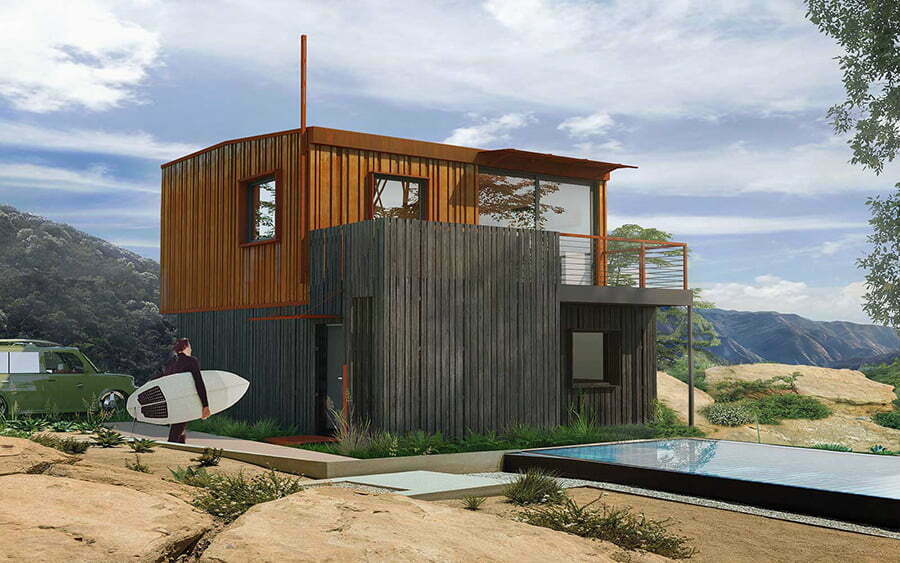 Plant Prefab has world-class design prefab homes and ADU. Granted, your manufactured structure is built to last. Their architects work with homeowners to design homes that integrate the health and well-being of the people in the future house.
The LightHouse LivingHome series is an ADU unit between 310 to 600 sqft and has one bedroom and one bath. The cost estimate is $505,200, including fabrication, site work, transport and installation, design, engineering, and permitting.
Inspired ADUs Commonwealth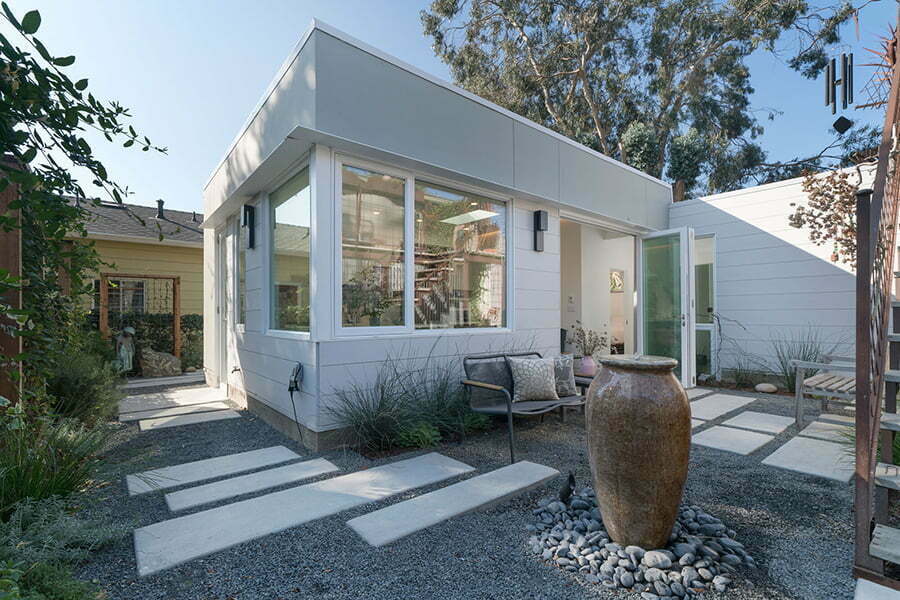 Inspired ADUs elevate backyard living to maximize your home experience. It's an award-winning manufacturer, especially with its ADUs that are not only dwelling units but are truly homes in many senses.
The Commonwealth is 583 sqft with an overall dimension of 22-3×26-2. This ADU design has a modern exterior and flat roof. It also has a generously-sized bedroom with closet storage, a sectional couch in the living area, and a wall-to-wall kitchen for easier food preparation. –
BluHomes Cabana 600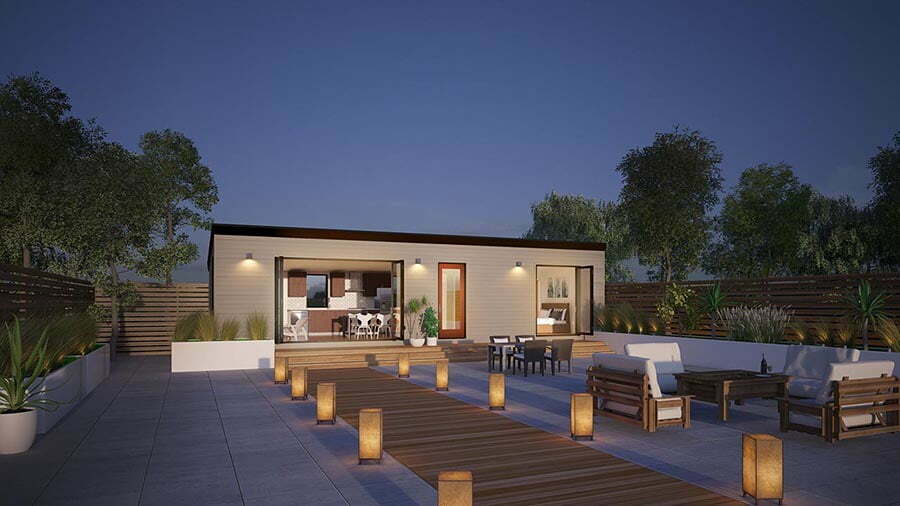 BluHomes is the future of the home building industry. It is a prefab home manufacturer that delivers high-quality homes, ADUs, sheds, tiny homes, and more. Furthermore, their homes are affordable and energy-efficient.
Cabana 600 is an ADU that's best as an extra space for your primary home. It is stylish, flexible, and serves more than one purpose. It has a standard kitchen that allows guests to prepare their food whenever they like. Cabana 600 has a total area of 605 sqft, has one bed, and one bath. The base price is $250K.
Orbit Homes Venus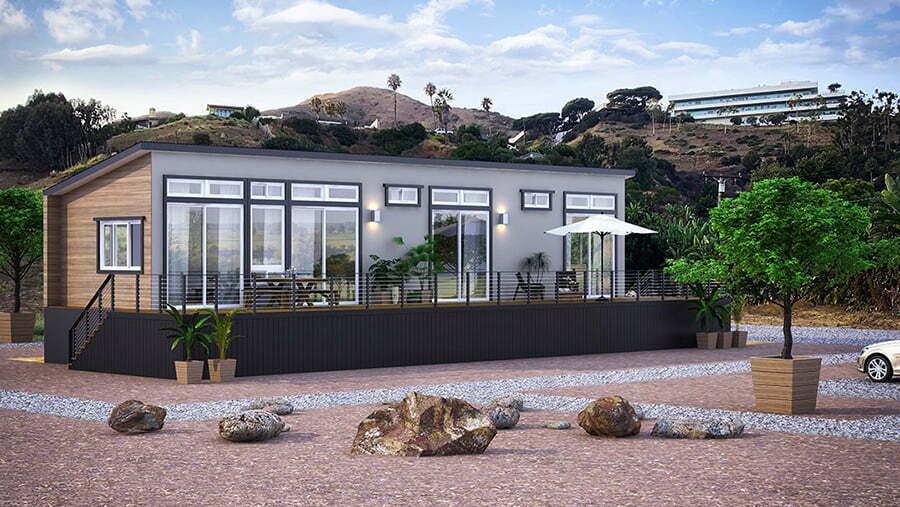 Orbit Homes is a prefab structure manufacturer that provides affordable, comfortable, and stylish homes to clients at an affordable price. All their homes can be used as ADUs, primary homes, rentals, and others. They have seven available floorplans for you to choose from.
Venus is an alternative dwelling unit with one bedroom and one bath. It has a total area of 480 sqft to 534 sqft. It's designed for that perfect weekend getaway, away from the hustle and bustle of the city. It has an open-concept floor plan for that seamless perspective from the dining, living, and outside spaces. The base price is $175K.
Champion Home Builders Urbaneer
Champion proves true to its name. The goal is to manufacture beautiful homes for every stage of the owner's life. Champion Homes take pride in their attention to detail. Rest assured, all your preferences and customization will be pushed through. They have various plans you can check out.
The Urbaneer 510 ADU is a 510 sqft dwelling unit with one bed and one bath. It has a movable partition between a murphy bed and the living space. It features a built-in oven, cooktop, and built-in dining area shelves.
Modular Direct 510 ADU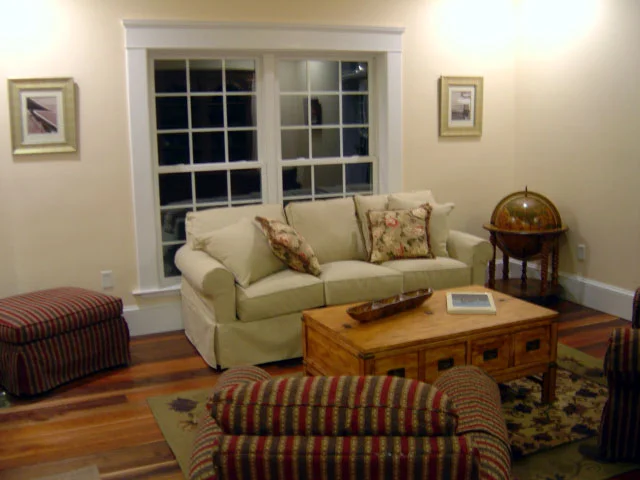 Modular Direct wants to help clients save more when building their dream homes. The company has a unique and time-tested program to help clients design their custom-made dwellings.
This model is a one-level living unit with a spacious living area. It has a total floor area of 510 sqft. The home has one bedroom and one bath. The base price is $66K.
Modular Direct 560 ADU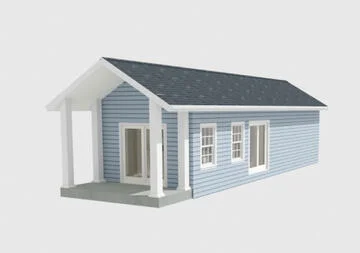 This model is larger by a few sqft. It has a total area of 560 sqft with one bedroom and one bath. The home is customizable depending on your preference. You can also add additional features to make your space a home. The base price is $74K.
Genesis Homes 560 ADU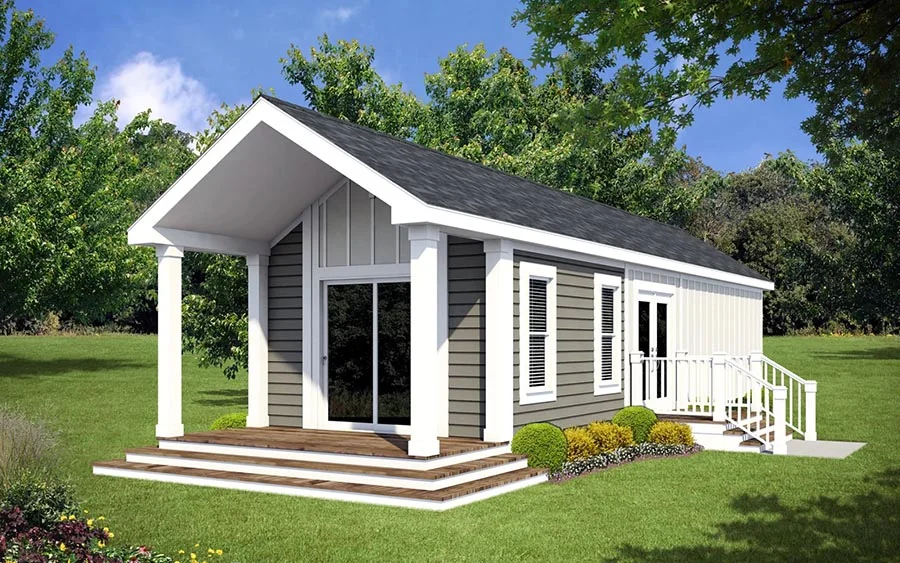 Genesis Home is a brand by Champion Home Builders to build innovative and affordable homes. They have a total of 23 manufacturing facilities across the US. The company has a team of professional engineers, designers, architects, and more.
The Genesis 560 ADU is a 560 sqft tiny home with one bed and one bath. It has an open kitchen space, pillars by the entrance, and a side porch. The space is customizable and has two options you can choose from.
Related reading: