Last updated on May 22, 2023
Own a small prefab home today. Check out the most reputable manufacturers of modular and prefab homes of over 700 sq. ft.
Sometimes, less is more. When it comes to owning a house, size truly matters. However, this still depends on your lifestyle, budget, and preferences.
Single families, young professionals, and home buyers looking for alternatives to traditional stick homes often find luck in small prefab homes (700 to 1,000 sq. ft.)
Go for a small prefab home that serves multiple purposes. You can use it as an additional office space, an in-law suite, a studio, or a rental investment.
Here's our digest of the best manufacturers of modern and affordable prefab homes over 700 but under 1,000 sq. ft.
Table of Contents
Villa H750
Villa creates architecturally designed homes at affordable prices. If you're looking for a house best for young professionals, starting fam lies, or as an investment, you can check out the floor plans in Villa.
The Villa H750 is a beautiful home with two beds, one bath, and a total living area of 747 sqft. It's a customizable home as you can turn the bedroom in o a den to accommodate more guests. You can also turn it into an extra home office. The starting price for this model is $138K.
Villa H800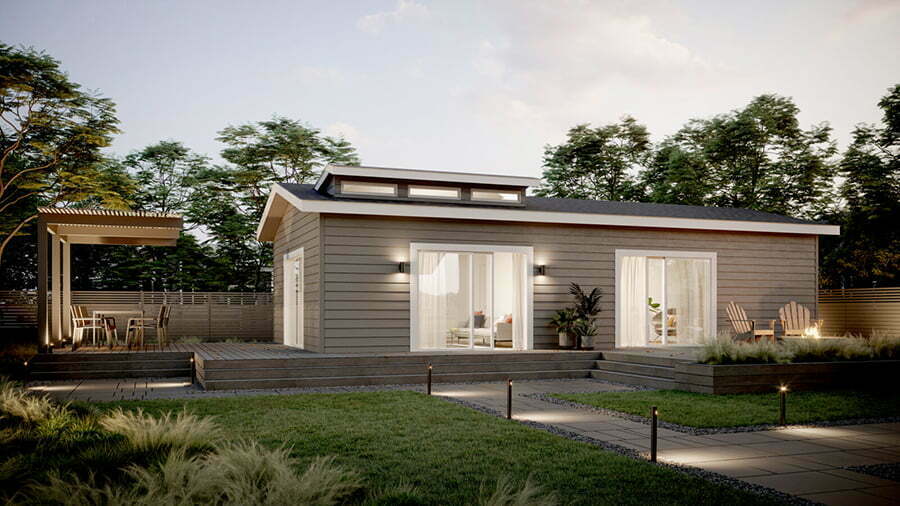 Villa H800 is a home with plenty of windows and space for sliding doors. It makes the indoor and outdoor spaces seem continuous. This house has two beds, two baths, and an area of 800 sqft. The starting price is $147K.
Trillium Architects Silver Fox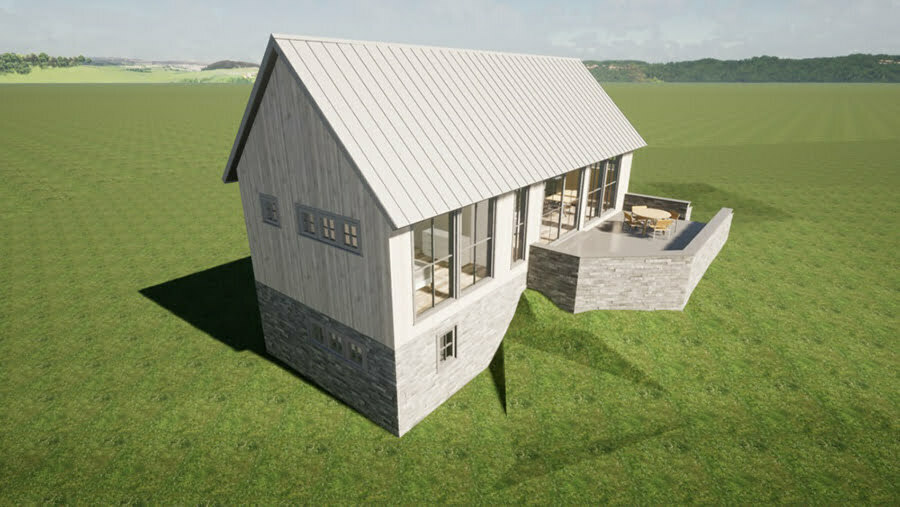 Trillium Architects is a full-service architectural firm specializing in passive houses, off-the-grid, and zero-net homes. It's an award-winning firm that won the Best Energy Efficient Home in the US in 2015 and 2016. The company is based in Ridgefield, CT.
The 800 SF Silver Fox is an 800 sqft home with an elevator. It has a built-in pantry, a veranda overlooking your surroundings, and a huge master's bedroom with a walk-in closet and a full bathroom.
Topsider Homes PD 0224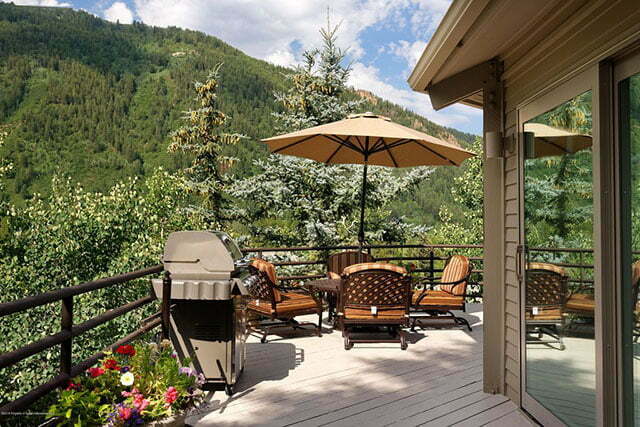 Topsider Homes has been a leader in custom design and prefabricated homes for over 50 years. They've been in the business since 1968 and have built a strong and reputable name in the industry. The company has many floor plans and collections to choose from. Some of them are as follows:
The PD 0224 is part of the Pedestal Collection. It has a total floor area of 700 sqft, with two bedrooms and one bath. The floor plan has a circular design with an attached porch for entertainment.
Topsider Homes PGE 0102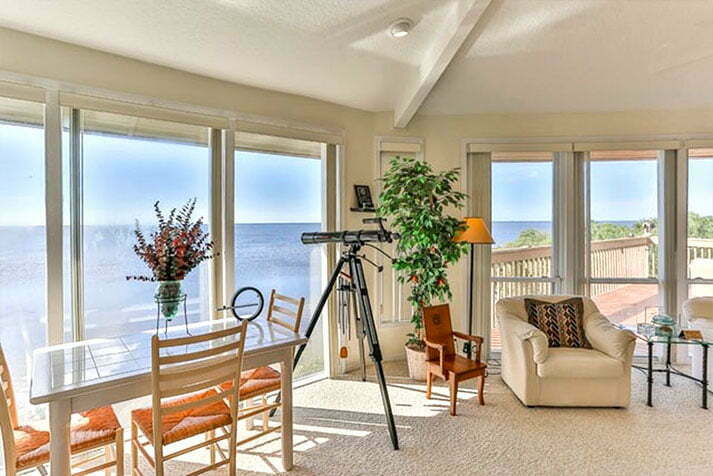 The PGE 0102 is a 730 sqft home with two bedrooms and one bath. It has a living, dining, kitchen, and laundry area. It also has a porch good for relaxing and hosting guests or friends. This is a one-story home included in the Topsider's Stilt Collection.
Topsider Homes PT 0322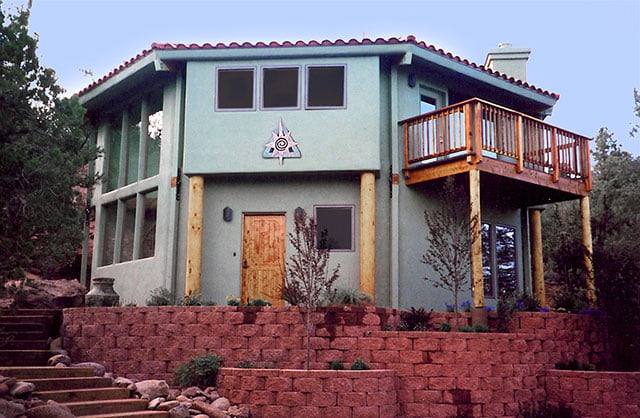 The PT 0322 is part of the Patio collection. It has a total living area of 800 sqft and has two bedrooms and one bath. It has an L-shaped kitchen and comes with a diner countertop style.
Teak Bali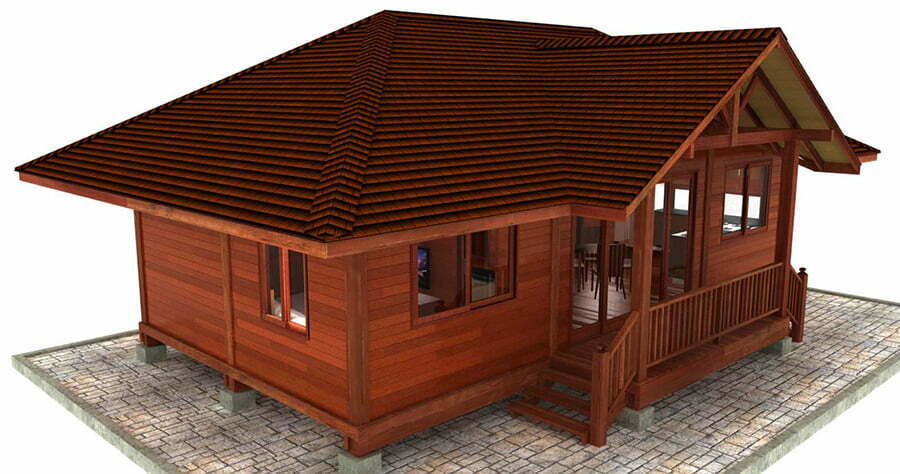 Teak Bali designs luxury hardwood homes. It's based in Bali and Hawaii, but they deliver globally. All their homes are 100% custom-made according to the buyers' specifications. Although you may have a style of your own, they also have floor plans you can check out.
Gandhi is a part of the Saint Kitts floor plan. The home is a rectangular structure with a longer linear axis for more openings and views. It has a total living area of 689 sqft, a lanai area of 97 sqft, and a ridge height of 18 ft.
Deltec Homes 912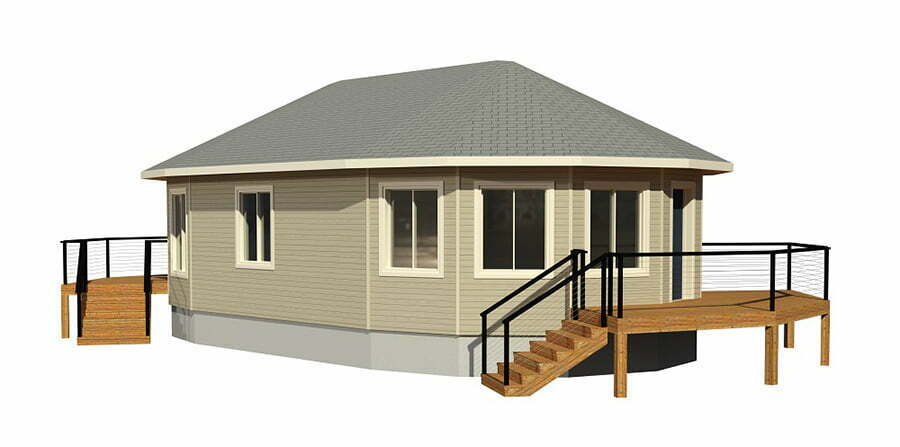 Deltec Homes is a design company that provides solutions to the changing social and environmental challenges in building homes. Their designs are ingenious, modern, and groundbreaking.
This home is a crescent chalet model with 912 sqft. It has two bedrooms, one bath, and a shell price ranging from $87K-$133K. There are available additional features you can add to this model as well. You can add energy walls, pre-painted sidings, pre-installed allure sidings, a d more.
Deltec Homes 746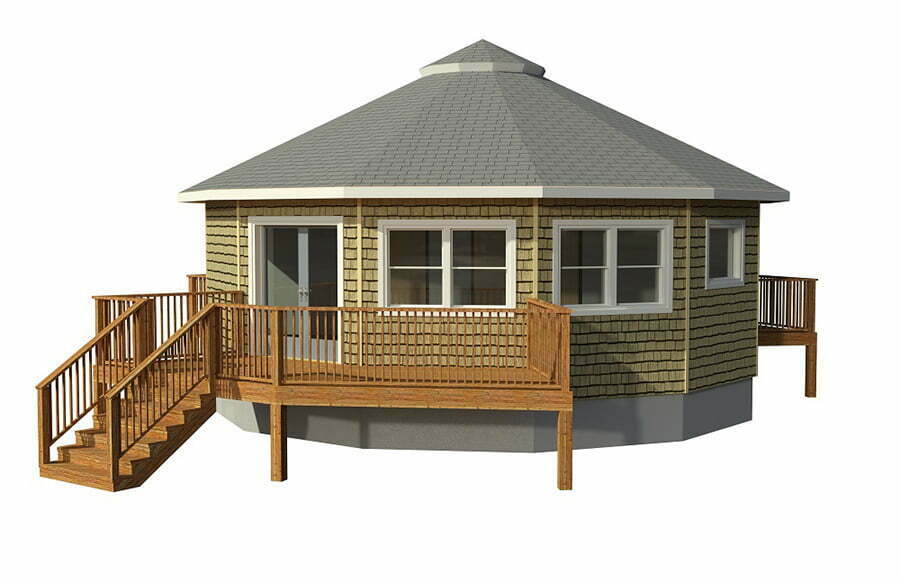 This model is part of the 360 Collection. It has a total area of 746 sqft with bedrooms and one bath. This floor plan shows how you can maximize the space to make it appear bigger than it is. The shell price starts at $83 to $130K.
Connect Homes Connect 3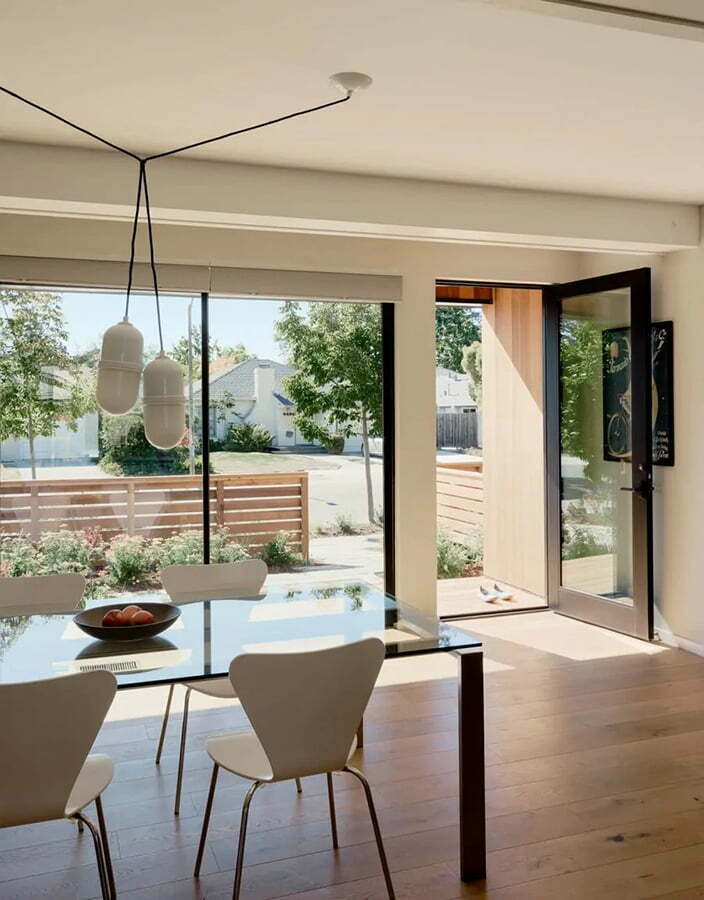 Connect Homes reconstructs the way homes are built. Through the years, traditional stick homes have dominated d the housing industry. However, the numbers are changing. These days, people want to save more and invest in prefab homes instead.
One example is the Connect 3 model. It's an ADU but can be used as a primary home. It has two bedrooms and an open-concept design that allows a linear perspective from the kitchen to the dining room and the living area. It has a total area of 960 sqft.
GO Logi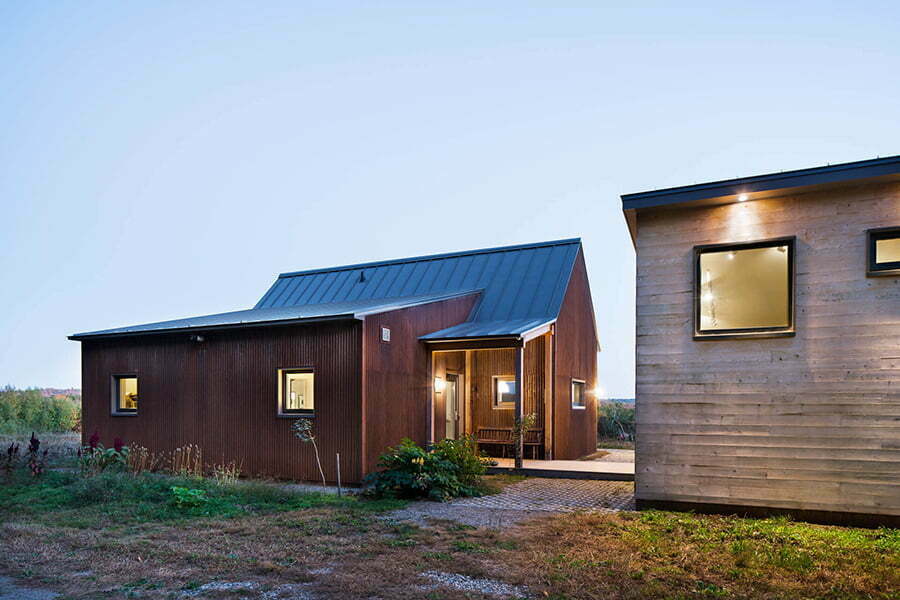 Go Logic creates the Go Home. Every home in their portfolio is made with the highest-quality materials, from their single-bedroom cottage to their four-bedroom homes. All the homes are customizable according to your specifications.
The 1000 Model plan B is a single-story home with a combined kitchen, living, and dining space. It has two bedrooms, one full bath, and a total living space of 1024 sqft. The home also has a laundry area and an entry porch.
BluHomes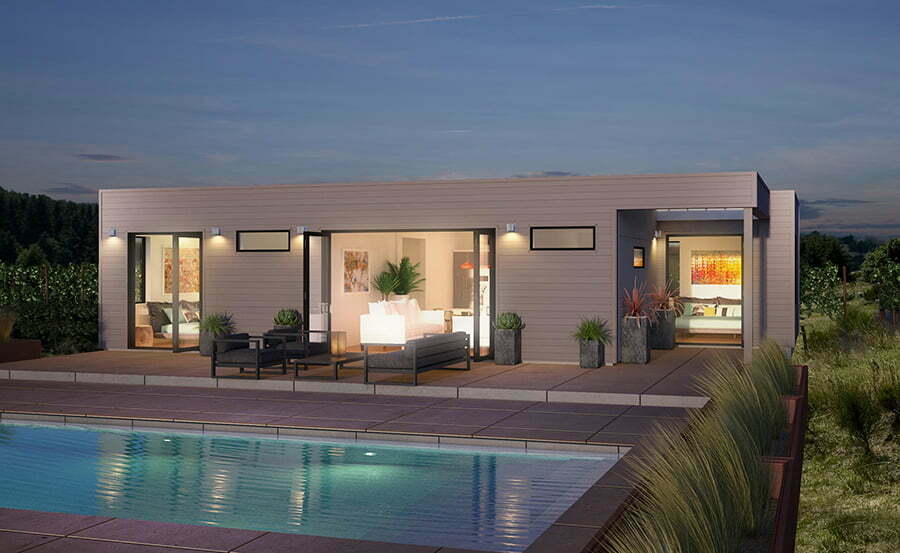 BluHomes is all about creating premium prefab homes with their award-winning designs. T e company has been designing innovative homes for the past decade. They take pride in their efficiency in building prefab homes, which only take less than three months. Custom-made homes take at least a year or more.
Origin 1000 is a 1,000 sqft home with two bedrooms and two baths. It is an open-content living design with a large kitchen, dining, and living space. It's perfect for growing families, a vacation home, or a rental. It has a starting price of $430K.
Oasys ADU 800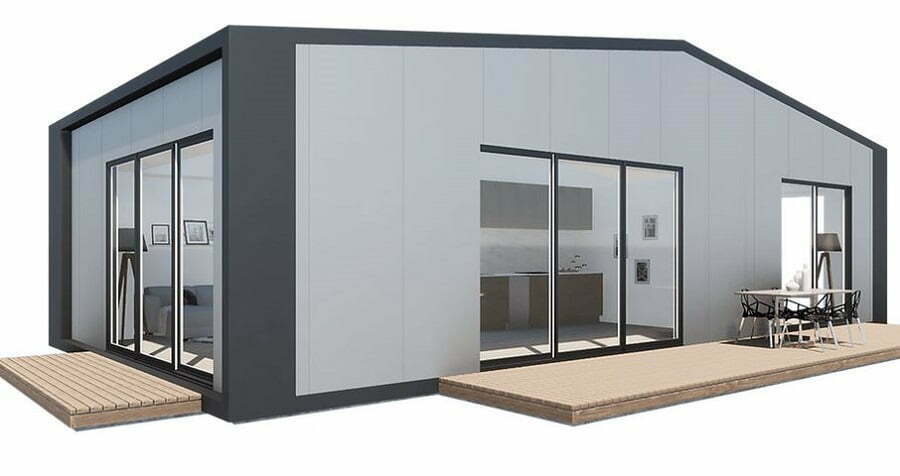 The Oasys was founded by an award-winning architect who revolutionized the event space. Their ADUYs range from 400 sqft to 1,200 sqft. These have flexible designs and can be tailored to your specific needs.
The ADU 800 is a pace designed for everyone. It's engineered to give you privacy, comfort, and stylish home. This model has a spacious bedroom, a walk-in closet, and a double-entry bathroom. It has five different layouts you can choose from. The estimate is $324K.
Digz2Go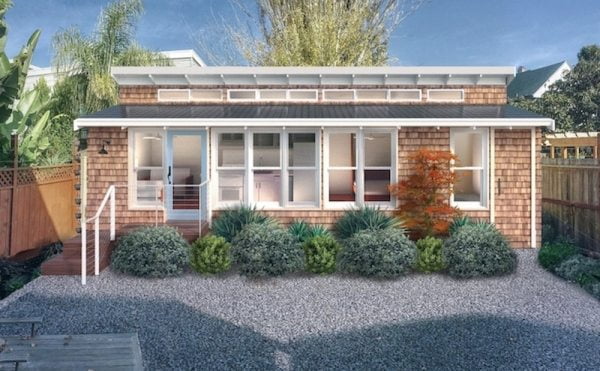 Digz2Go builds prefabricated homes in San Francisco. Aside from their prefab and manufactured homes, they also have ADUs. Here's a breakdown cost of their dwelling units:
300 sqft, 1 br/1 ba – $121,800
350 sqft, 1br/1 a – $142,250
700 sqft, 1 br/1 ba – $298,200
90 sqft, 2 br/2 ba – $383,400
IdeaBox Confluence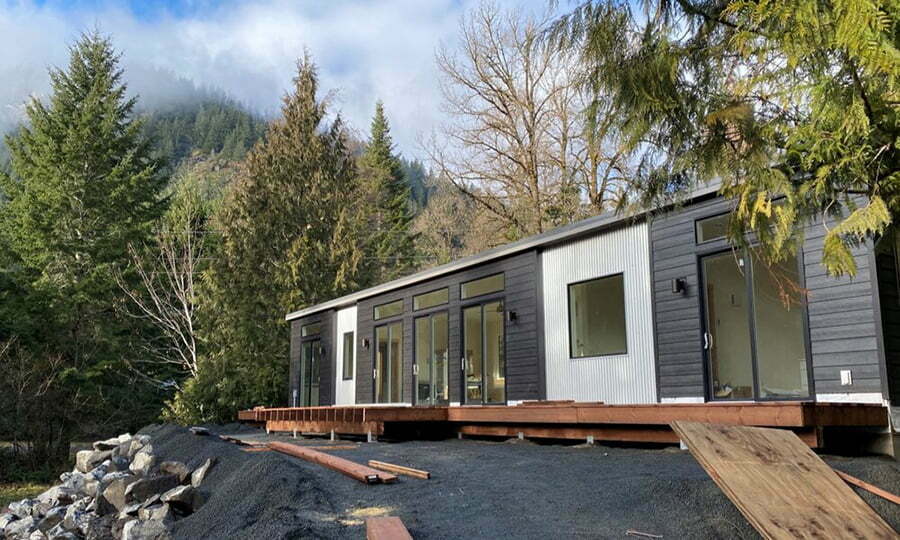 IdeaBox provides solutions for everything related to prefab structures. They aim to create architecturally-designed spaces that promote healthy work-life balance. The company is all about living in the moment. IdeaBox is based in Salem, Oregon.
Confluence is one of its featured floor plans. It is a two-bedroom and two-bath home with a total living area of 917 sqft. It's one of the very first designs of IdeaBox launched in 2016.
IdeaBox Haven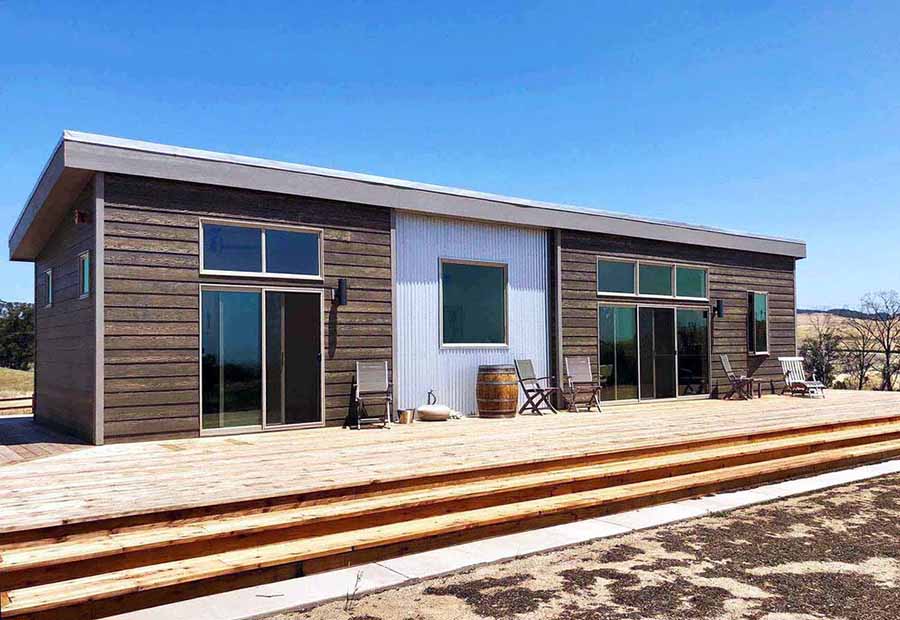 Haven is a one-bed and one-bath living unit with 781 sqft of space. This plan features a large entertaining island, a laundry area, and glass windows on all walls. Check out with the team for a full-price quotation.
StudioShed Summer Series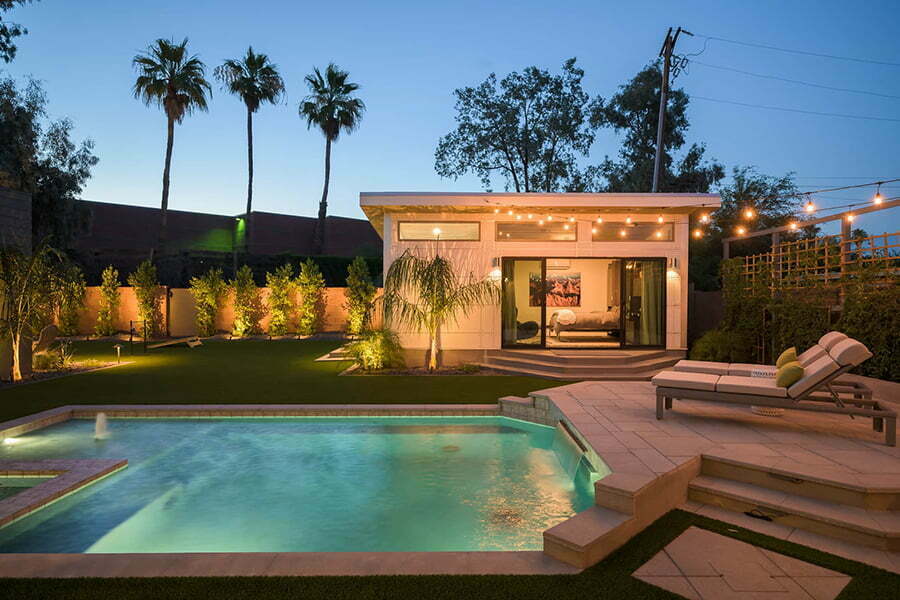 SudioShed's Summer Series is one of its best ADU models. These houses are perfect for guest homes, extra space for a garage, a home office, a backyard studio, or an ADU. The kitchen has a total area of 58 sqft, and the full bath is 39 sqft.
Modular Direct Braddock I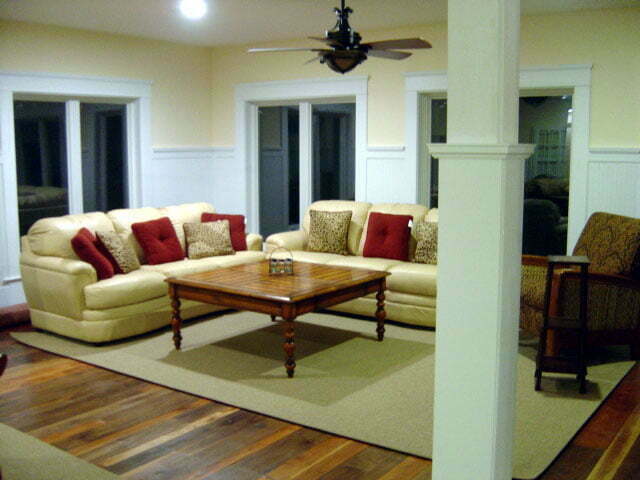 Modular Direct builds homes that let you save thousands of dollars. Unlike t additional stick homes, modular homes are far more affordable without compromising quality and design.
Braddock I is a two-level home with a total area of 980 sqft. It has three bedrooms and two baths. The second level houses the family room, the o fice or storage, a laundry area, the third bedroom, and an upstairs bath. The starting price is $98,900.
Modular Direct Ocean Isle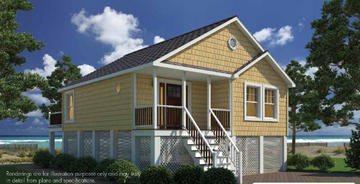 Ocean Isle is a one-level home with one bedroom and a half bath. It has two decks in both the back and front parts of the house. It has a total area of 756 sqft and a base price of $101K. It's a customizable home, and other options are available depending on your preference.
Genesis Homes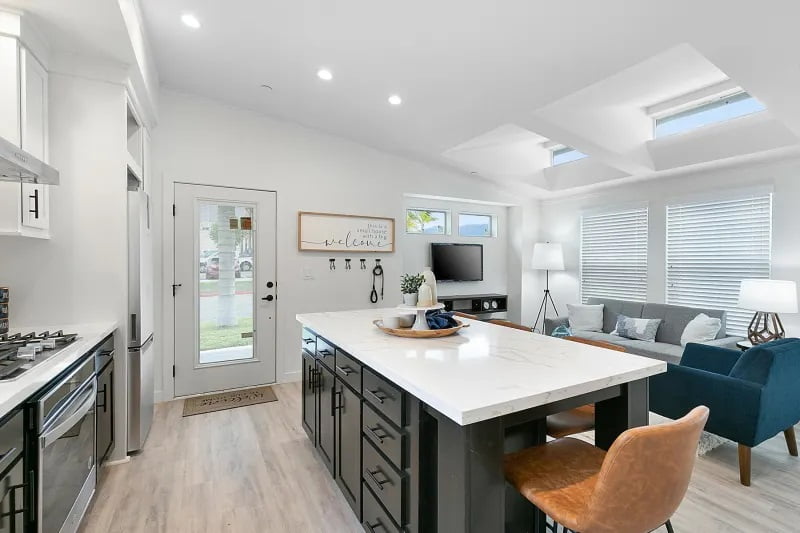 Genesis Homes has several floor plans in its portfolio. They have ADUs, single-family homes, and more. For example, the GS 2033H21AD1 is a modern accessory dwelling unit with a total area of 788 sqft. It has two bedrooms and one bath. It features a kitchen island, marble countertop, and ceiling windows for ventilation.
Inspired ADUs Fairview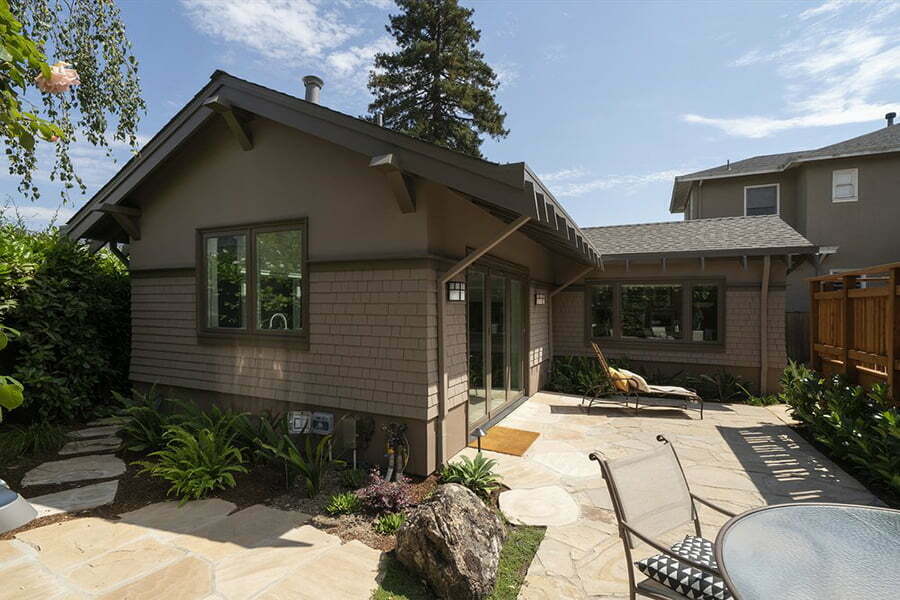 Inspired ADU elevated backyard living. Their units have elegant designs and smart features and adopt a cost-effective process. They have several floor plans for clients to choose from.
Fairview has a total floor area of 864 sqft. It's a T-shaped home to maximize the exterior space. It has a separate entrance for the office or the guest bedroom. Additionally, it has an accessible bathroom with privacy features.
Inspired ADUs Arch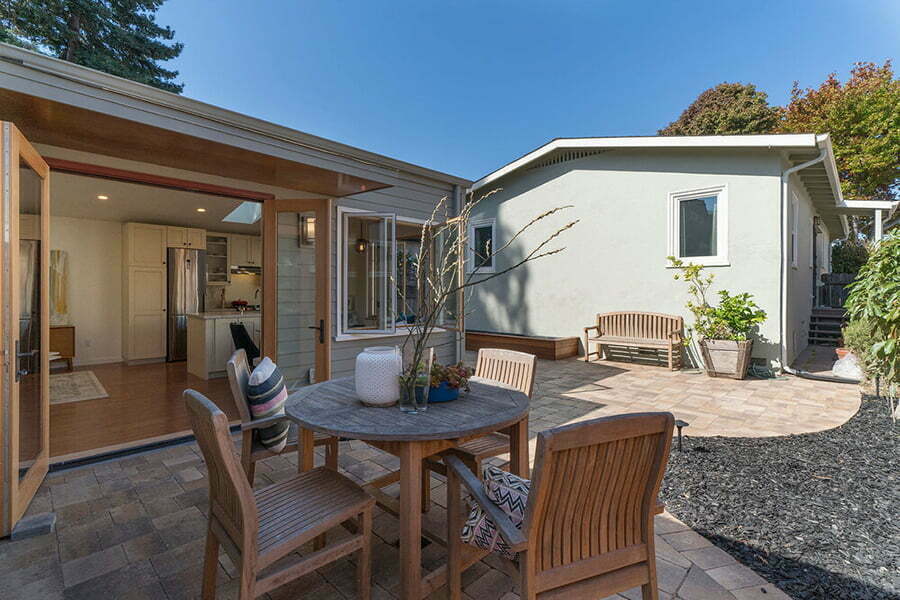 The Arch is a 756 sqft ADU with a full-sized closet, multiple windows, a washer and dryer, and more. It has two bedrooms with a full bath in between. Each bedroom of the Arch model is situated to provide privacy and, at the same time, easy access.





Related reading: