Last updated on January 24, 2023
These are the top off-the-grid prefab homes that will help you get the most energy-efficient and self-sustaining home possible.
Off-the-grid means that you're unplugged from the energy grid. You're out in the wild or wherever you are on your own. This means staying in a home with all the amenities you need — electricity, power, and more.
That's the most affordable option in the long run — a home that's self-sustaining. If you're looking for just that, then we've got the list for you.
Here's a list of manufacturers that have perfected their off-the-grid tiny homes, cabins, and pods.
Table of Contents
GreenFab 150 Off-The-Grid Cabin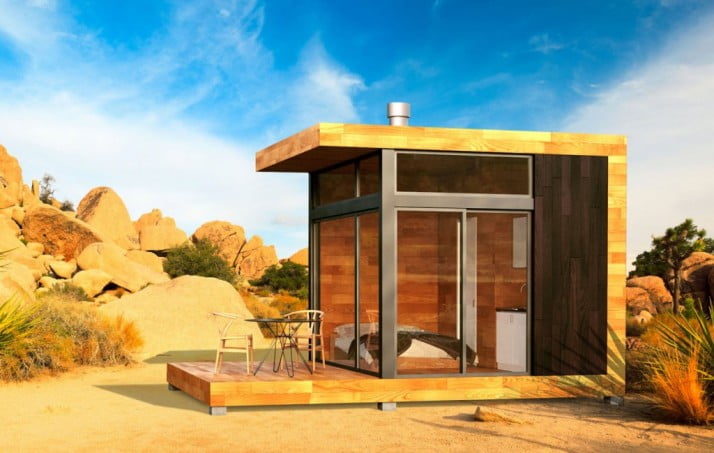 Green Fab is all about healthy and sustainable prefab homes for all. It is an architectural design firm specializing in prefab structures, panels, and other innovative housing techniques. The aim is to provide a house that is more than just a foundation and walls but a home for you and your family.
The 150 sqft off-the-grid cabin is tiny but has all the amenities you could fit into a one-bedroom space. It's a dedicated cabin for those with a wandering heart and adventurers in nature. The 150 sqft tiny space has a micro kitchenette and baths and could even be custom-made up to 510 sqft to have two bedrooms.
Green Fab 510 Off-The-Grid Cabin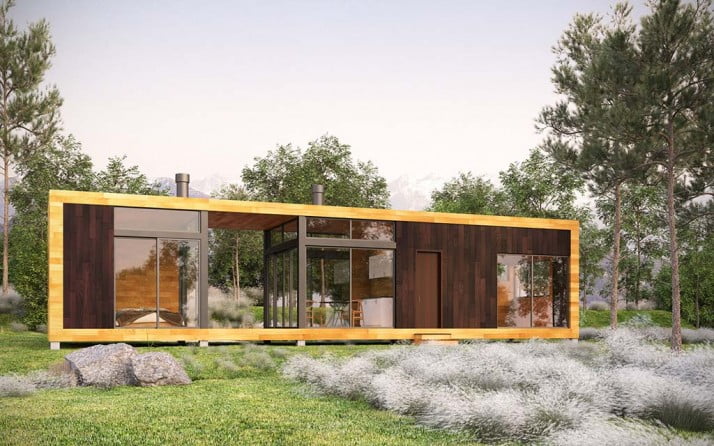 The 510 Off-The-Grid is the biggest among the three cabins from Green Fab. This cabin adapts to all kinds of environments; maybe it is the beachside, mountainside, or in the suburbs. The 510 sqft cabin has up to two bedrooms, one bath, and a micro kitchenette. This is an upgrade from the 150 sqft Off-The-Grid cabin.
Green Fab 360 Off-The-Grid Cabin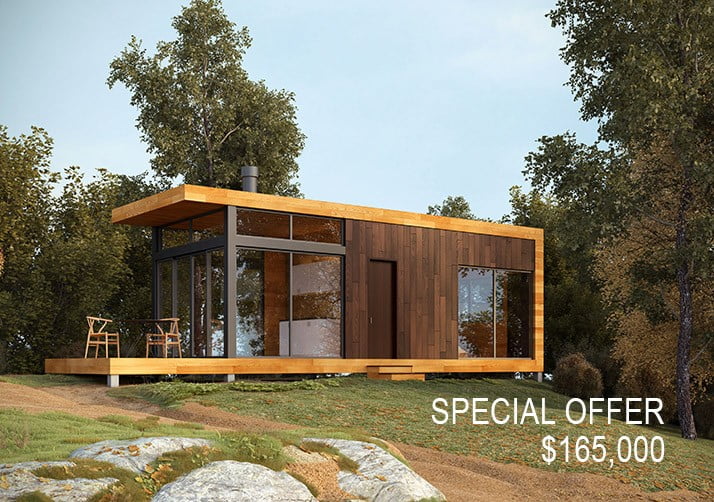 Aside from the designing and construction, Green Fab also helps buyers assess properties. They give our full feasibility using off-the-shelf design. The company also helps with the customization and permit processing.
Another beautiful cabin on the list is the 360 Off-The-Grid house. As the name stands, it has 360 sqft, one bedroom, and one bath. It's up for a special price of $165K. This unit is also available in 490 sqft options. The tiny cabin fits almost any surrounding and is perfect for those who love the wild.
Green Fab delivers this home throughout the neighboring areas and Seattle region without shipping cost.
Specht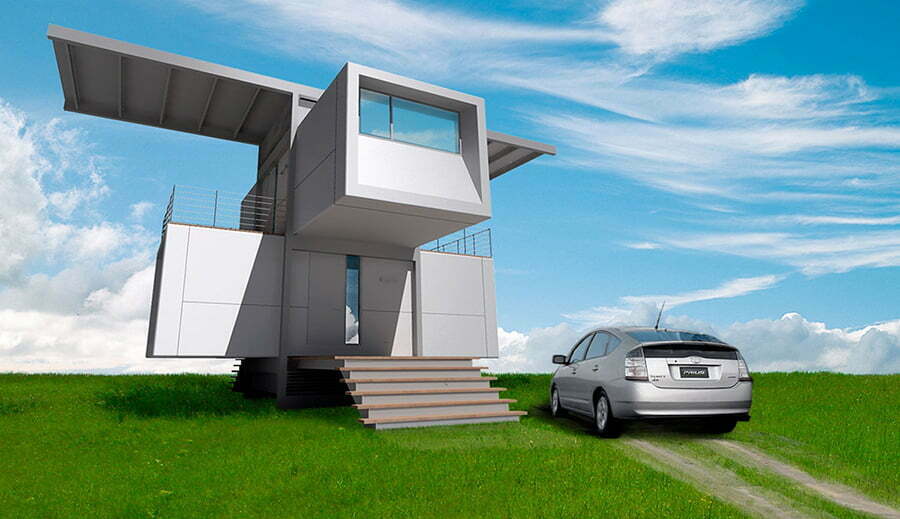 Specht shoots for extremely minimalistic and modernist designs for its homes. The zeroHouse is a prefabricated home easily assembled, shipped, and moved in. This has all the amenities you find in a home. It features a full kitchen, bedrooms, baths, and other elements.
The selling point of zeroHouse is that it generates power, has its waste-reduction process, collects and stores rainwater, and more.
There's no mention of the price and square footage of the house. However, you can check in with their team to get that information.
Green Modern Kits R1 Residential
Green Modern Kits design and build the homes of your dreams. The company is founded by three individuals – Casati, David Day, and 3 North. Together, they made the Green Modern Kits as it is today. They have offices in Richmond, Virginia, and San Francisco, Ca.
The R1 Residential is a two-story home with four bedrooms, two full baths, and one half-bath. The first floor has a total of 1196 sqft while the second floor has 832 sqft. You can choose an optional bath on the first level. This home has a total floor area of 2028 sqft.
You get a bare-bones kit, and you can finish the home with a local contractor. There are windows, cladding, and doors available for purchase as well. The systems and features include primary heating, secondary heating, cooling, plumbing, and much more.
Green Modern Kits Casa Ti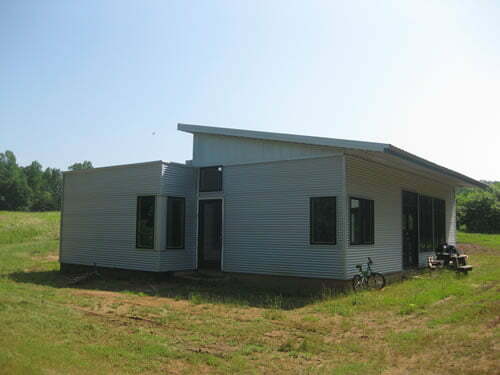 The Casa Ti is another Green Modern Kits creation. It has a total living area of 1200 sqft. This is a beautiful modern house that's perfect for a middle-class budget. The key to this house is living green and outdoors.
Hence, there is so much space for activities and entertainment. There's also an energy-efficient fridge on the kitchen island. For families who don't favor huge freezers, the space can also be turned into a stove/laundry/off-grid system for you.
Haus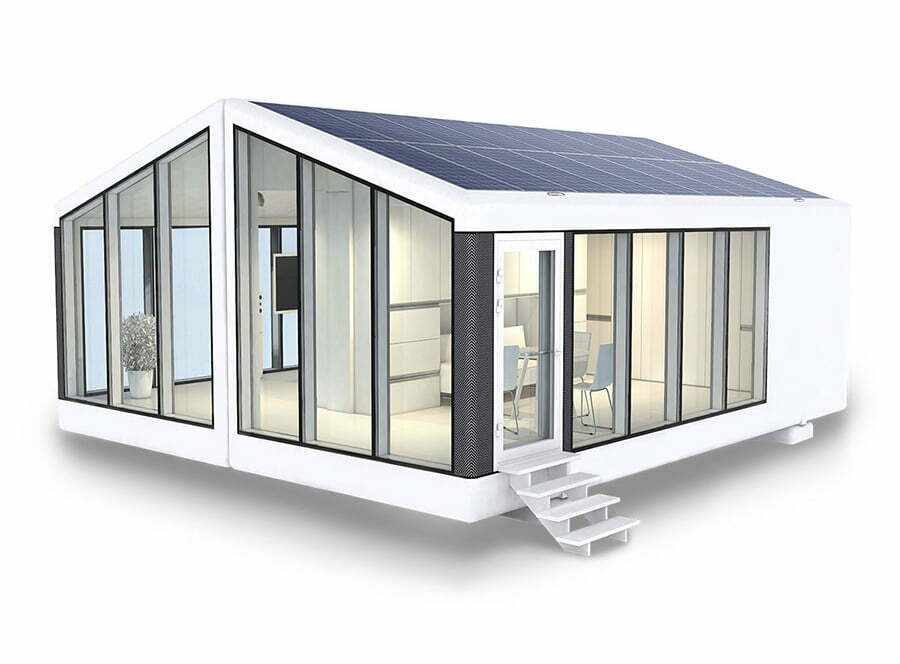 The M2 model is a beautiful glass house. It's modern and sleek and comes with two bedrooms, a kitchen, and a bedroom. This prefabricated home is 100% equipped and assembled. There are also different color themes to choose from.
The Magic white with a base price of $499,990. The Stardust and the desert powder themes come with an additional $8,990.There are four layouts available, all with 800 sqft of space. Check out the site for the four options you have. Order it today and expect delivery by June 2023.
Ark Shelter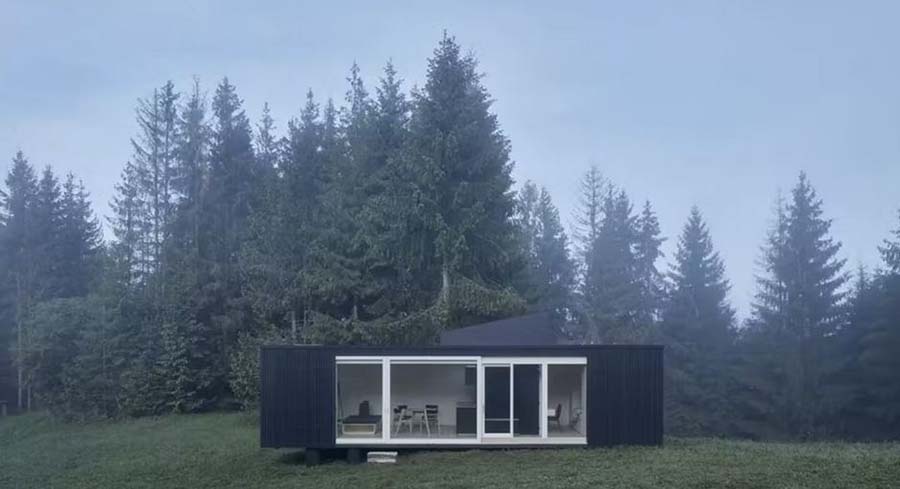 Ask Shelter is known for its sustainable and premium modular homes. Their homes have zero-impact designs and are perfect for any location. Regardless of where you put it, the house blends into nature. The house becomes part of its surroundings.
They have six different Ark structures that allow you to connect with nature and all its elements. The homes are made of high-quality materials, durable and solid.
Deltec Homes Solar Farmhouse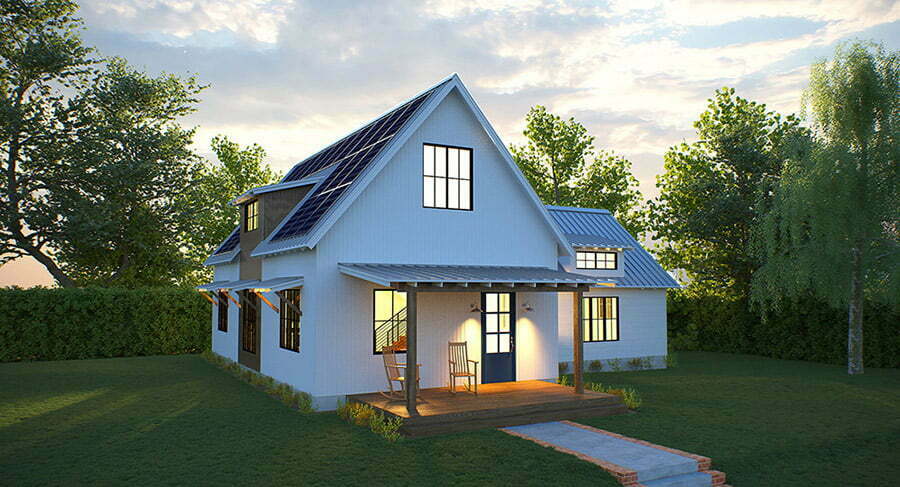 Deltec Homes is a design company that delivers solutions to the changing social challenges of modern housing. The company was founded in 1968, and since then, it's been making waves in the prefabricated manufacturing industry.
The Solar Farmhouse is part of the Renew Collection and is a classic farmhouse with all the modern amenities and functionalities. It has two floors with a total living area of 2,029 sqft.
There are three bedrooms, two full baths, and one-half bath. Features include a WebTec floor system, energy wall, covered front porch, predesigned floor plan, energy remodeling, and more. The turnkey price for this home is between $600K to $810K.
Deltec Homes Ridgeline A and B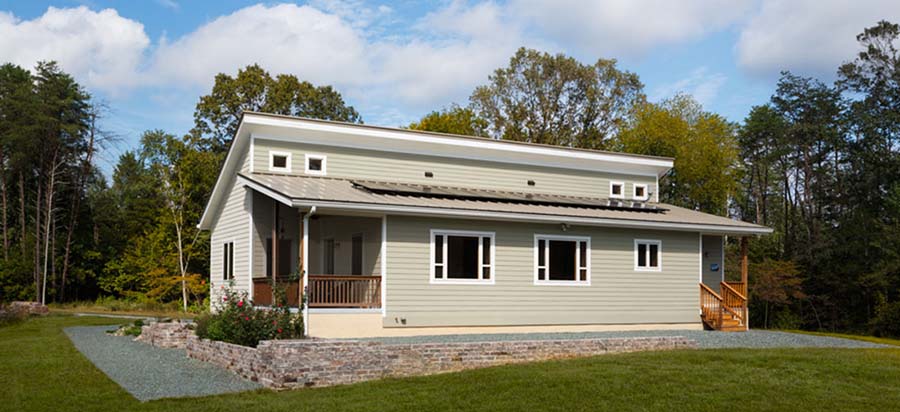 The Ridgeline A and B models are also part of the Renew Collection. This model is one of Deltec's most famous homes, as it has huge glass windows and walls, vaulted ceilings, and high clerestory windows. All these features contribute to the airiness and coziness of the home.
Ridgeline has two floorplan options with a total living area of 1536 – 1572 sqft. Ridgeline has a turkey price of $510K to $720K. There are three bedrooms, a mudroom, and an open living, dining, and kitchen floor plan. This house has three porches for relaxation.
Modern Tiny Living The Nugget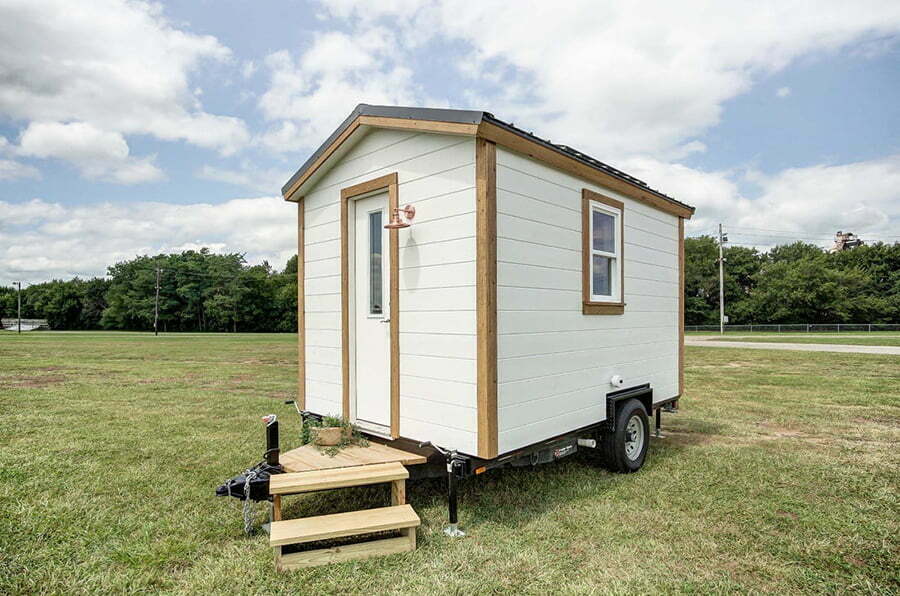 Modern Tiny Living is all about creating unique visions for new homeowners. It's about the experience, the growth, and the stories of families living in their prefabricated homes.
The Nugget, for example, is the definition of a true micro home. It's designed for complete off-grid capability with all its 12-foot height. It's the best option for a weekend getaway, a quick vacation home, or just an escape from busy city life.
It has one bed, a mini kitchen complete with custom cabinetry and fridge, a bath/laundry, and an HVAC system.
Jamaican Cottage Shop Solar Cabin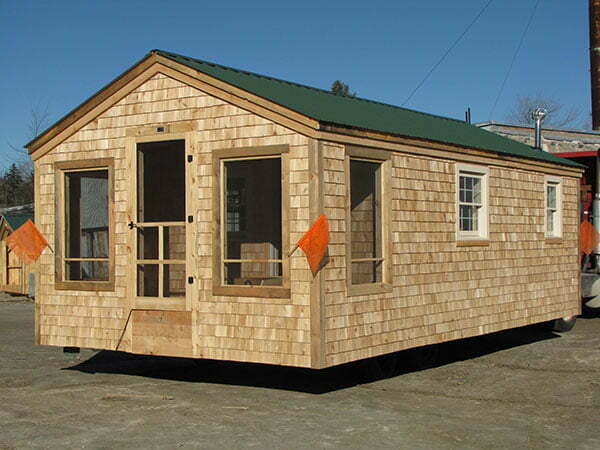 The Jamaican Cottage Show was established in 1995. All their homes are created to last and for buyers/owners to fall in love with their homes every day. The company is based in Vermont but delivers wherever you are. Just check their website to see how their delivery works.
The Solar Cabin is an off-the-grid home. It's fully assembled, and turn-key build for you. This tiny home has a full insulation package, wood package, wood stove, plumbing, and a solar electric package.
It comes in three different sizes: 14×20, 14×30, 14×26. It features four-season insulation to let you get comfortable all-year-round!
EcoCapsule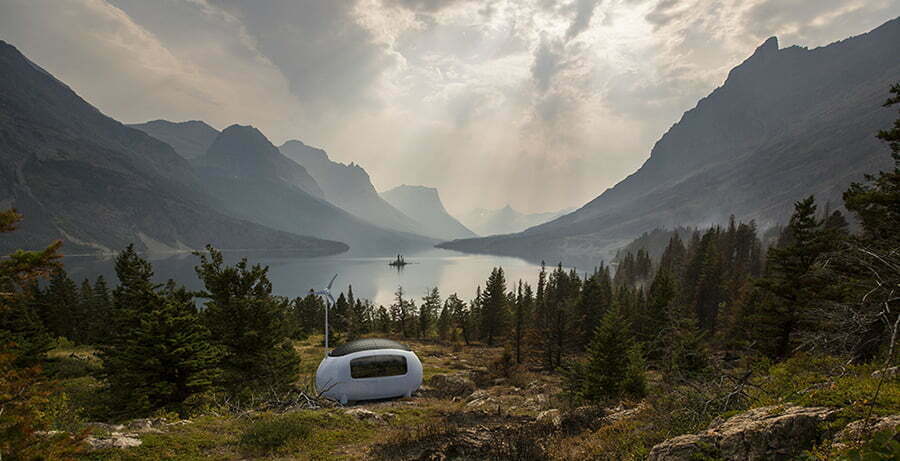 EcoCapsule creates fully off-the-grid self-sustainable pod. Stay anywhere you are, in any remote place, and still have the best experience, like living in a luxurious hotel.
These ecocapsules can be used as a cottage, a pop-up hotel, mobile office, even a research station, and more. It can be whatever you needs it to be. The starting price for the ecocapsule is $102,710.
Lloyoll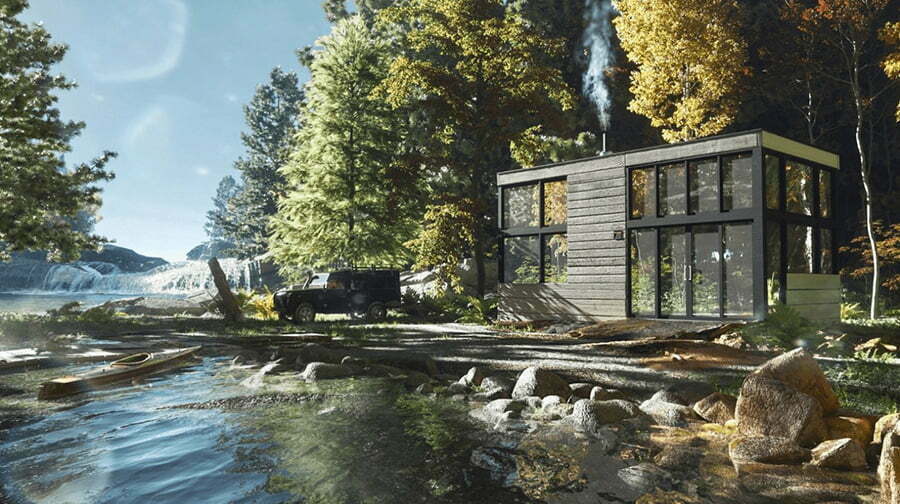 Lloyoll lives by its mission, to provide home for every season. They have three most famous styles, the Skali, Sitka, and the Salti. These homes are hand crafted loft-style prefab structures aimed for premium living.
This manufacturing delivers anywhere in North America. Their homes typically has the following features:
Windows and doors by Andersen
Energy Efficient LED Lighting
Stuv's Wood stove
Adorner Designer Dimmers
Modco Pacific Homes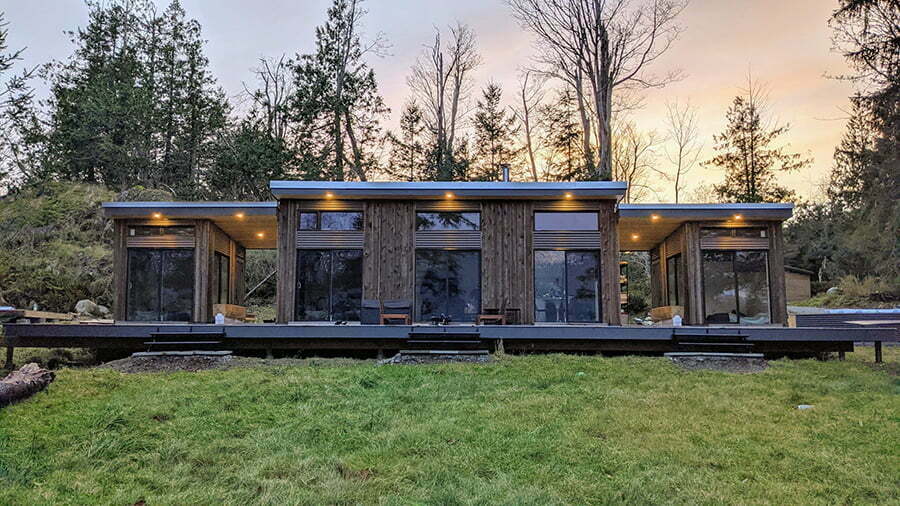 Modco Pacific Homes build remote site homes and manufactured structures for on and off the grid environment. Their off-grid homes are solution of modern environmental challenges, space, overuse of energy, and others.
With prefab homes, it's easier to put in solar arrays, generators, and waste reduction system. The company is based in British Columbia, Canada. Check out their site and see if they deliver in your area.
iOHouse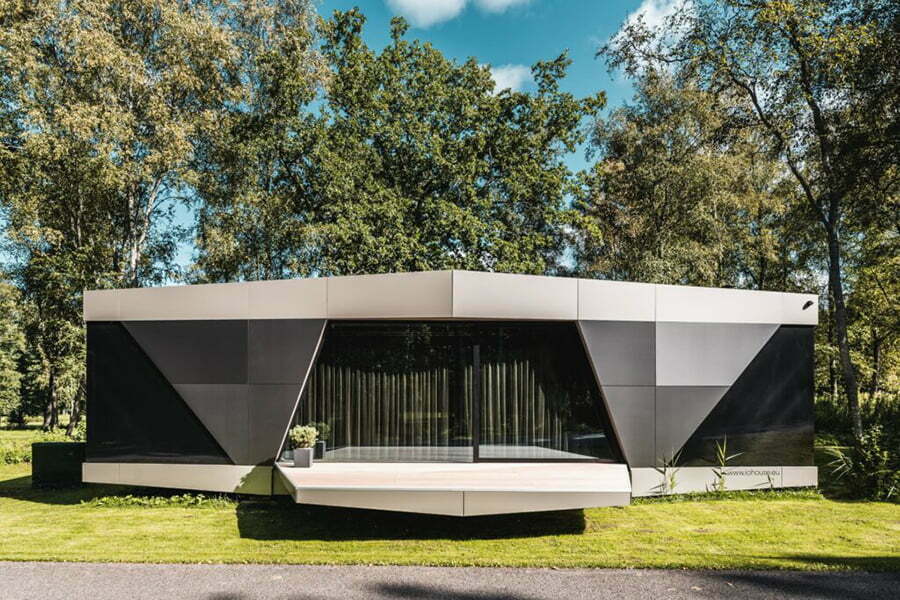 iOHouse creates high-quality and sustainable buildings. It uses modern-concept to fully immerse buyers and owners with the off-the-grid experience. The Space model all has the necessary systems you need to live like usual. It has water, electricity, heating, and wifi. All these are in a smart device to help you manage your lifestyle.
The Space gives you all the conveniences of a modern home with very minimal to zero ecological footprint.
Related reading: