Last updated on December 5, 2022
Consider these small (under 1,000 sq.ft.) but comfy prefab homes for your next dwelling or an investment. Read on!
Prefab homes aren't much different from traditional homes. They have all the amenities you need in a home but many upsides. Prefabricated structures can be mobile, tiny and large, customizable, and more affordable.
With home prices rising and real estate booming, it isn't easy to build a home with less budget. These homes are not tiny but smaller than the usual five-bedroom houses. Homes under 1,000 sq. ft. usually come with up to 2 bedrooms and 2 baths. They are ideal for anyone who wants to downsize or build a rental home.
Here's a list of top manufacturers of high-quality, uniquely-designed, durable prefab homes under 1,000 sq. ft. in total floor size. Check this list for bigger homes if you prefer, or this list of smaller homes over 700 sq. ft.
Table of Contents
BrightBuilt Home Sidekick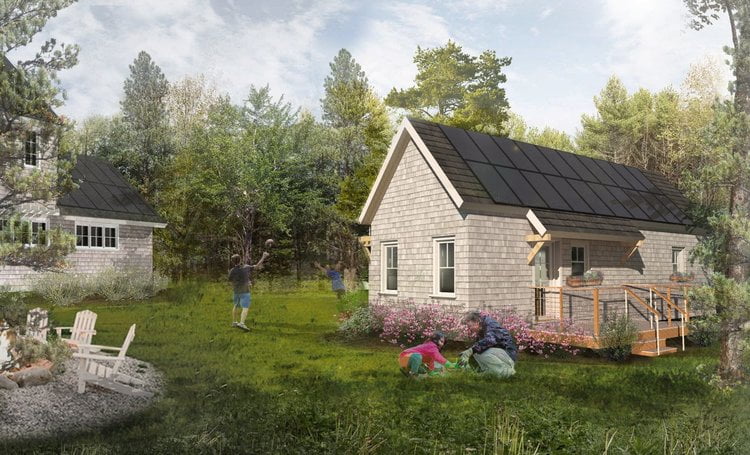 BrightBuilt Home is based in Portland and with a tagline that says Beautiful Sustainable Attainable net zero-ready homes. Since its founding, the company has proven true to its mission. Today, they create revolutionary and forward-thinking home projects for their clients.
Sidekick is one of their many designs. It's a perfect solution for those looking for added living space. It has a total space of 742 sqft, with one to two bedrooms and one bath. Sidekick uses low-maintenance materials, is solar-powered, and has zero-energy bills.
BrightBuilt Home Barn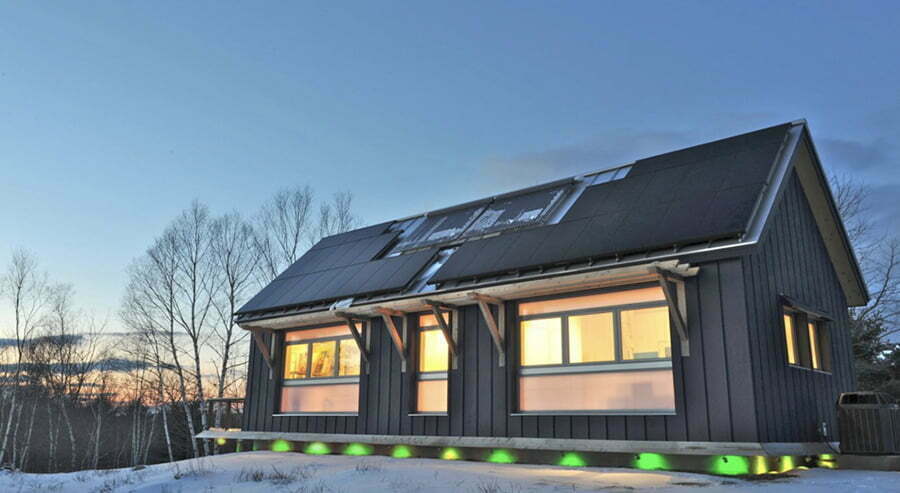 BrightBuilt Barn is another gem with up to two bedrooms, up to two baths, and a total space ranging from 680 sqft to 960 sqft. It's designed to have options for leisure, living a compact lifestyle, and extra space for work.
Plant Prefab Sunset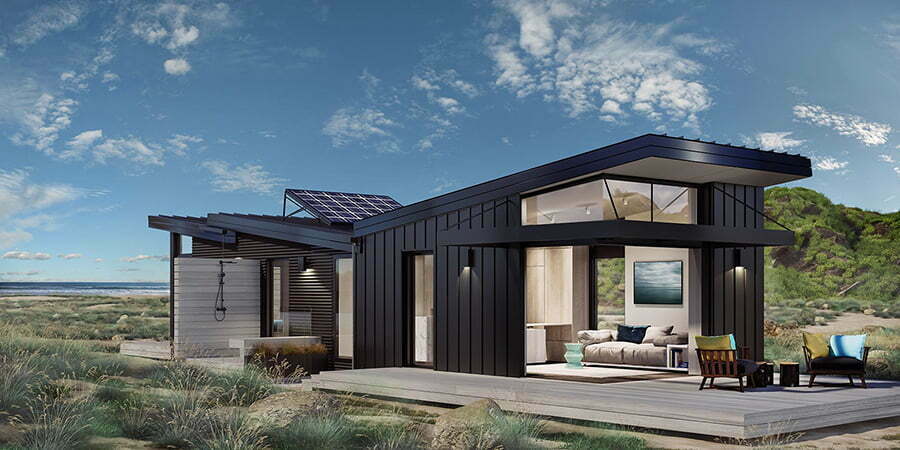 Plant Prefab creates easy-to-build and efficient homes. These are prefabricated structures that are custom-made, high-quality, and sustainable. The company has a Plant Building System to deliver various typology houses. They have ADUs, multi-family dwellings, and more. Their factory is located in Rialto, Cao, and Ontario.
The Sunset Bud LivingHome Series has a total of 445 sqft to 1200 sqft with up to baths and up to two bedrooms. The price is $508,800, including the fabrication, site work, transport and installation, design, engineering, and permitting.
Plant Prefab LightHouse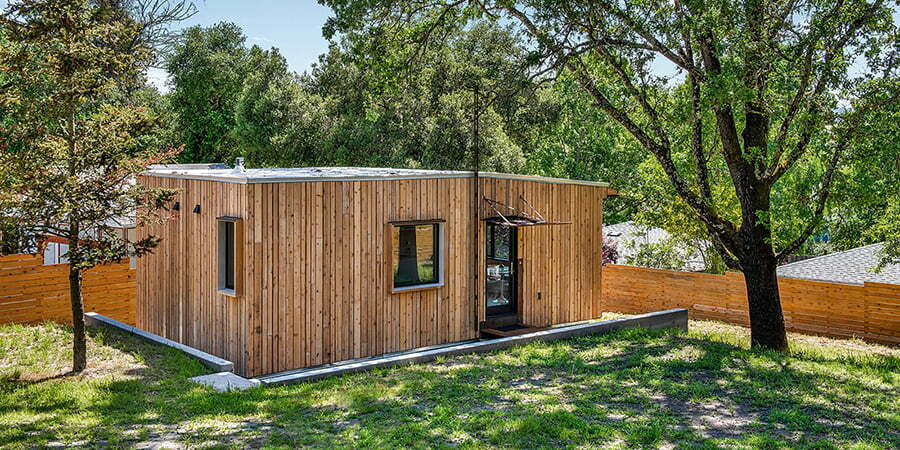 The LightHouse LivingHome ADU has a total size of 423 sqft with one bedroom and one bath. It's the first lightHouse ADU built and includes a custom kitchen, laundry room, and flexible storage.
Plant Prefab LivingHome 10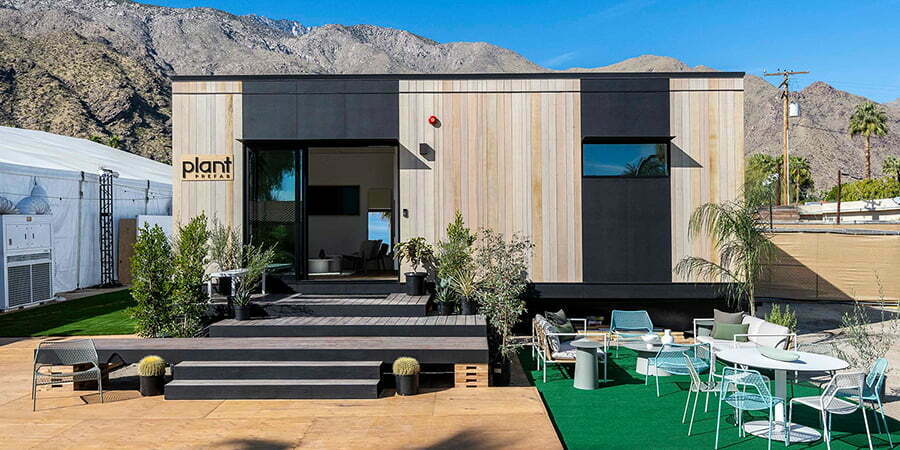 The LivingHome10 ADU has a total size of 496 sqft with one bedroom and one bath. The design is based on the LivingHome 10 series, but this time, it also doubles as an accessory dwelling unit. You can turn it into an Alexa-enabled smart home if you want! This home has several available upgrades.
IdeaBox Haven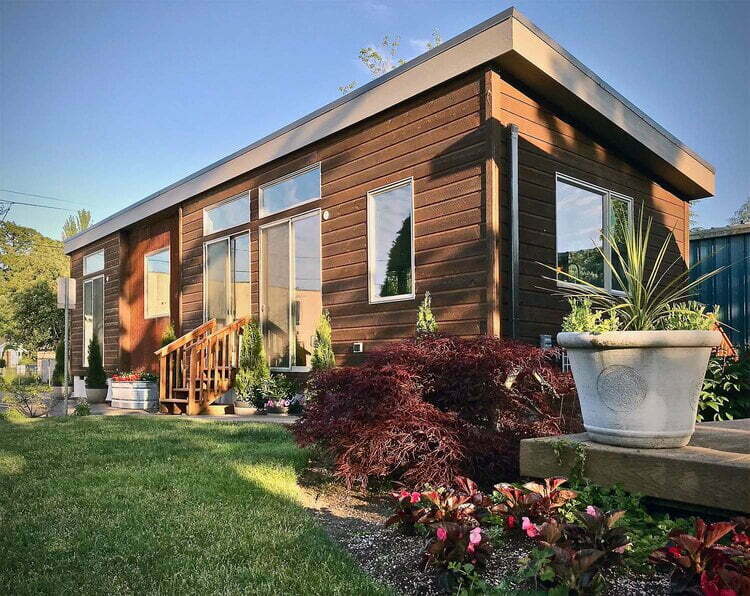 Ideabox of Salem, Oregon, has modern prefab solutions for the right amount of budget, design, and quality. The company wants to simplify housing without compromising the experience and lifestyle of its buyers. It's all about modern architecture, energy-saving, and prefab homes.
Haven is one bed and one-bath home with a total floor area of 781 sqft. It has a large living area, laundry with a folding counter, and wall-to-wall windows for that natural light. The cost varies on additional features, delivery, and other things. However, the total cost includes the house cost and site installation.
PrefabADU Elisabeth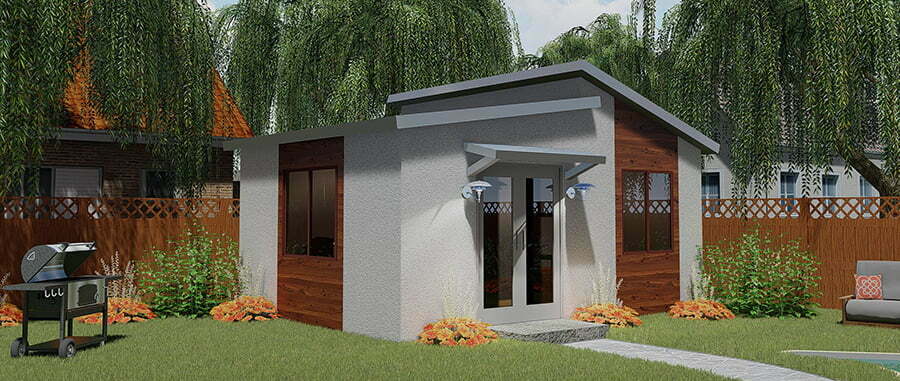 PrefabADU has the most affordable ADU in the market today. The price ranges from under $45k to $100K. If you're looking for a budget-wise accessory dwelling unit, then PrefabADU is one of the best choices.
Elisabeth is an example of their ADU model. It has an area of 300 sqft with one bed and a bath. It also has a kitchenette and can be built in just 90 days from foundation to final installation.
RadLab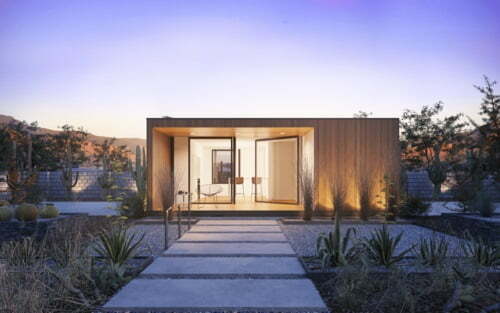 RadLab is committed to paving new ways for architectural designs. It is based in San Diego, but they also serve other states. They have containers, modular, boutique hotels, and commercial and residential prefab structures.
Model 2 is a one-bedroom and one-bath home with a total area of 480 sqft. It has a private sleeping space divided between the kitchen and living area. It also has a decent-sized storage space and a patio.
Method Homes Quilcene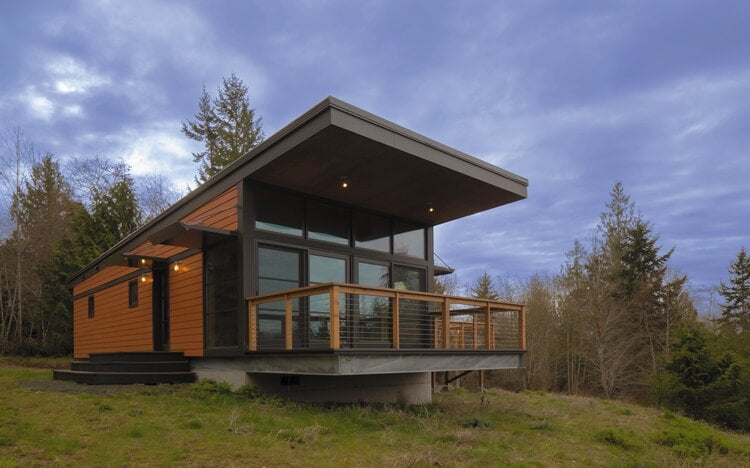 Method Homes was founded in 2007 in Seattle, WA, and is one of the award-winning manufacturers of prefab homes. They have experienced artisans creating their modular structures with efficiency, beauty, and quality.
The Quilcene is a residential prefab structure with one bedroom and one bath. It's a perfect getaway home when you want to escape the city and enjoy the view of the mountains or the night sky. It has a full glass wall that gives that amazing view and all-natural light. It has a total area of 655 sqft.
Method Homes Marrowstone Island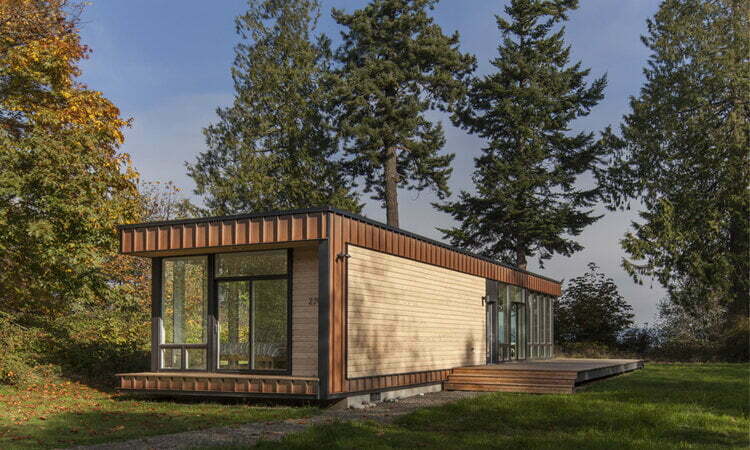 The Marrowstone Island is an Elementa 1 model with an 825 sqft floor area. It has one bedroom and one bathroom with generous window walls and decking that connects the indoor and outdoor space seamlessly.
Thimble Homes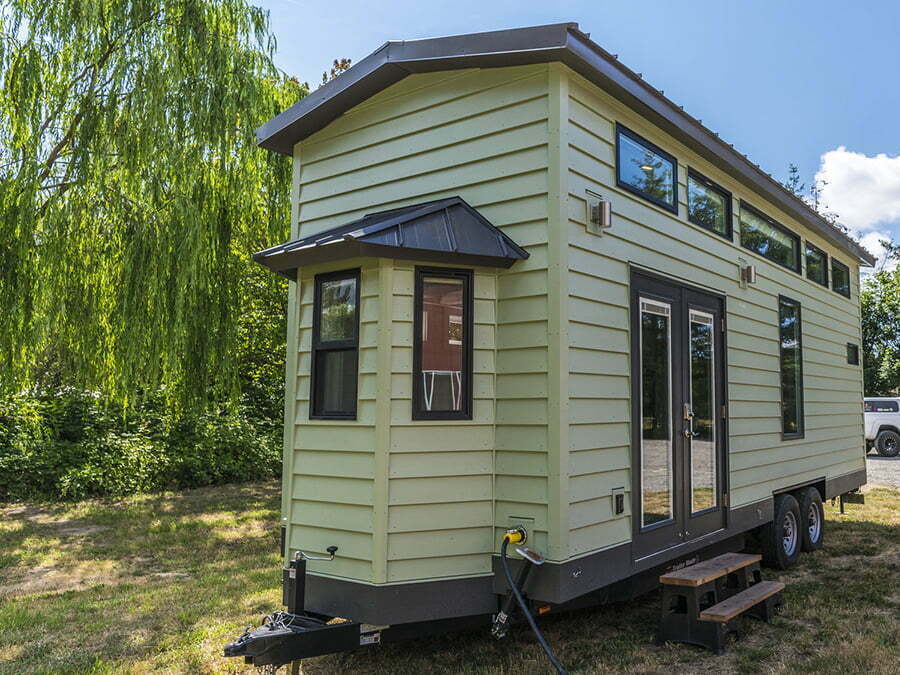 Thimble Homes give you high-end tiny living at its best. Their tiny homes feature complete electrical and plumbing, custom storage solutions, hand-picked bathrooms, kitchen hardware, and more.
The Amata is a tiny mobile home that goes for $140K. It has one king loft and one twin loft bed; a living room turns into a bedroom on the main floor, a bath, and a kitchen. It has all the needed amenities in a traditional home. The Amata has a total interior space of 324 sqft.
Tiny Mountain Houses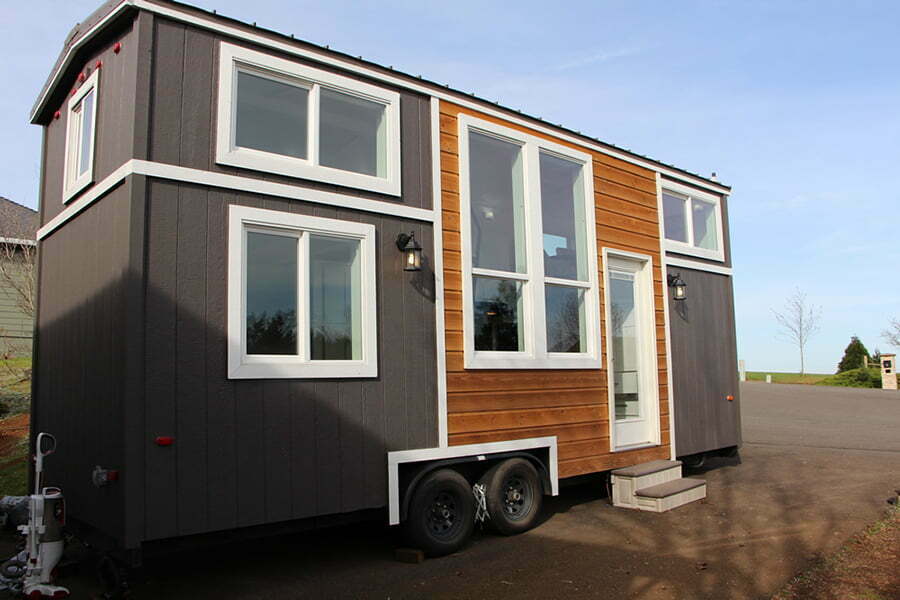 The Tiny Mountain Houses in Silverton, Oregon, promise comfort and style in one. You can bring your tiny home anywhere from the backside to the woods. It can be a beach home or a prefab cabin in the woods! It doesn't sacrifice quality, affordability, and craftsmanship.
The Castle Peak is one of Tiny Mountain's beautiful models. It has a total of 335 sqft with two to eight sleeping areas. This tiny home includes a media area that could be repurposed into a den, dining area, bedroom, or whatever suits your lifestyle. The base price is $83,305.
Clayton Homes Fairpoint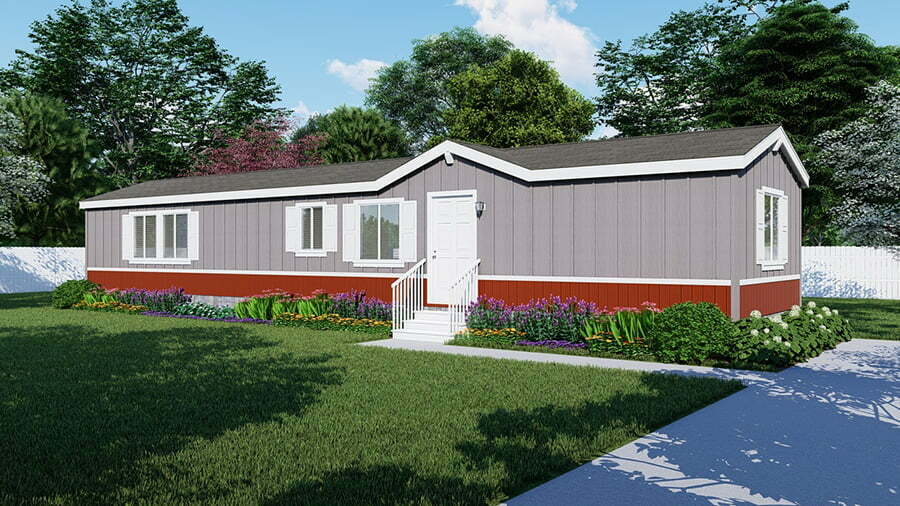 Own a Clayton home today and enjoy a modern home with energy-efficient features. You can even personalize it according to your needs. Clayton Homes has various floor plans you can check. Filter the search to your location, budget, size, and other features. With 14 different stores in Tenessee and 700 locations nationwide, you'll surely get the home of your dreams in no time.
The Fairpoint model has a total area of 810 sqft with two beds and 2 baths. It features a breakfast bar, a dining room, pantry, utility room, and foyer.
Clayton Homes Santa Paula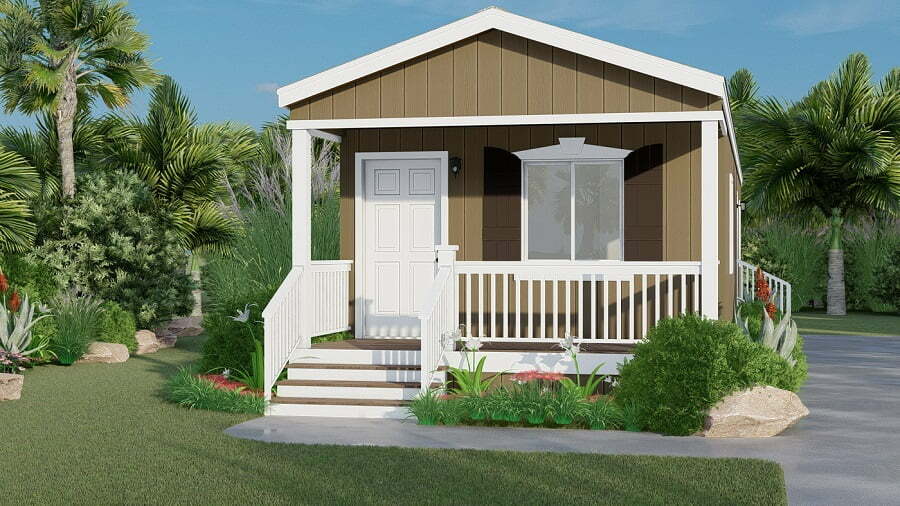 The Santa Paula model is a bit bigger with 840 sqft, two beds, and two baths. It has an open floor plan, breakfast bar, kitchen island, and utility room. Prices vary, so it's best to check in and call them to ask for an estimate.
Bert & May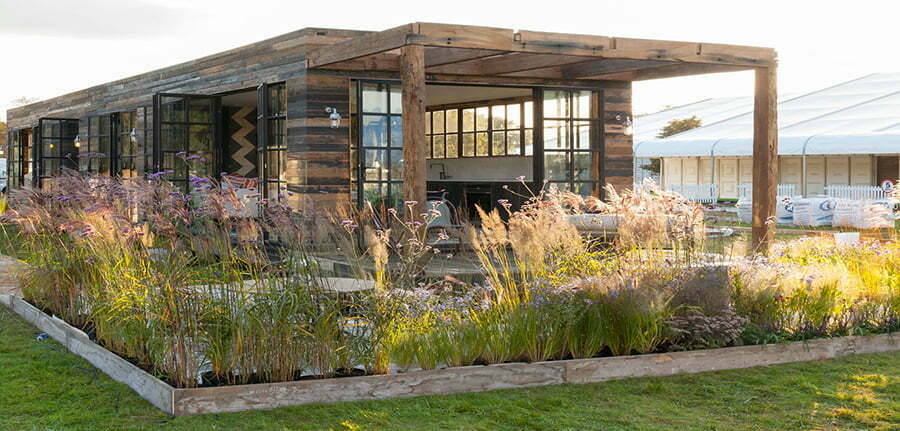 Bert's prefab boxes are best for those who want to add more living space, improve their lifestyle, and add value to their property. These are pre-built, so it only takes 14 weeks from foundation to installation. Their big box design has a total area of 670 sqft, costing $175K. It has two bedrooms and features ultra-thin framed windows, eco-friendly insulation, and more.
GreenFab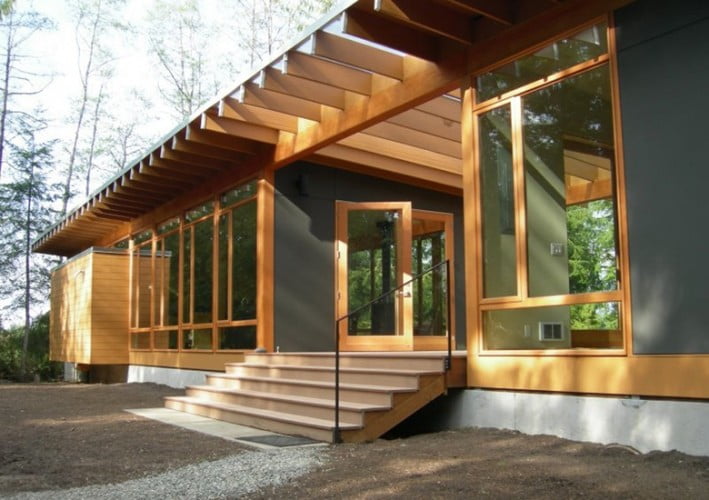 Greenfab promotes healthy and sustainable prefab homes in Seattle, WA, and other states. If you still don't have your final design preferences, you can ask Greenfab to help design the home for you.
The Island Cabin has 1,000 sqft with two bedrooms and one and a half baths. It is simple and modern. The perfect home for adventurers like you.
Custom Modular Direct Rangeley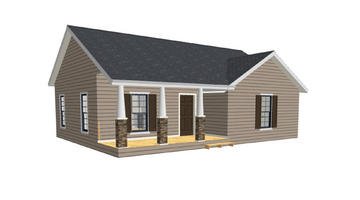 At Custom Modular Direct, you get a unique and time-tested program for your modular home. Their homes are energy-efficient and follow the local and state building codes. They have an excellent track record of satisfied customers. That alone tells you the kind of service they have.
The Rangeley home design has an area of 884 sqft with two bedrooms and one bath. The base price is $99K. It comes with a spacious living area and a porch.
Custom Modular Direct Wentworth
The Wentworth home design has a total area of 818 sqft with two bedrooms and two baths. The base price is $109,300.
The cost doesn't include freight, taxes, and state labels.
Cripple Creek Cabins Creekside Manor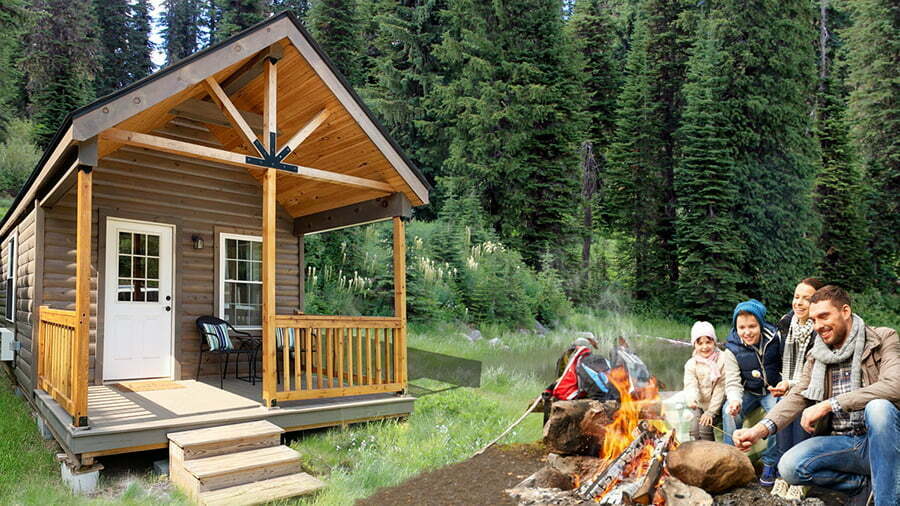 Cripple Creek Cabins is perfect for those looking for homes to invest in. It's both a home and a business opportunity. Their prefabricated homes are durable, budget-friendly, and in style.
The Creekside Manor model has a base price of $85,455 and a total area of 567 sqft. The living space area is 360 sqft. It's a perfect cabin home for a weekend getaway, a rental property, or a permanent home. It has an open living room and dining room. Past the kitchen is the spacious bedroom with closets.
Cripple Creek Cabins Bear Ridge Cabin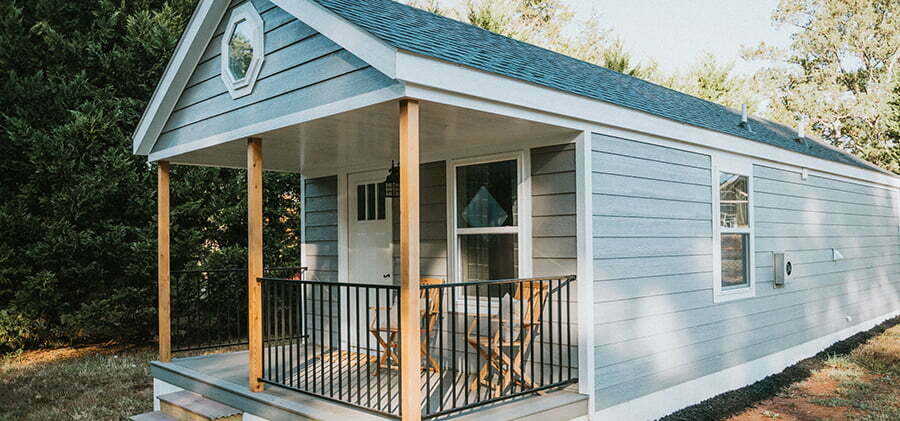 The Bear Ridge Cabin is another modular home that's built to last. It has a total living space of 476 sqft and a base price of $107,750. It's their biggest modular home with the additional covered porch. It also has a loft for extra bed space.
Related reading: