Last updated on February 28, 2022
Prefabricated steel frames are an often-used structure to build a manufactured home. Here is everything you need to know about them.
Steel frames are durable and easy to manufacture in factories, thus making them ideal for modular homes and transportation.
Prefabricated steel frame homes are rapidly growing more and more popular and taking their rightful place as critical choices for home builders who want secure and efficient homes. Building a prefab steel frame home is relatively easy when ordering a kit customized to your preferred design.
The steel frame pieces fit tight tolerances that ensure a secure framework. The kit can include insulated panels pre-wired for electricity. You get all the necessary framing materials and panels needed to build your home on your chosen site.
Table of Contents
The Pros and Cons of Prefab Steel Frames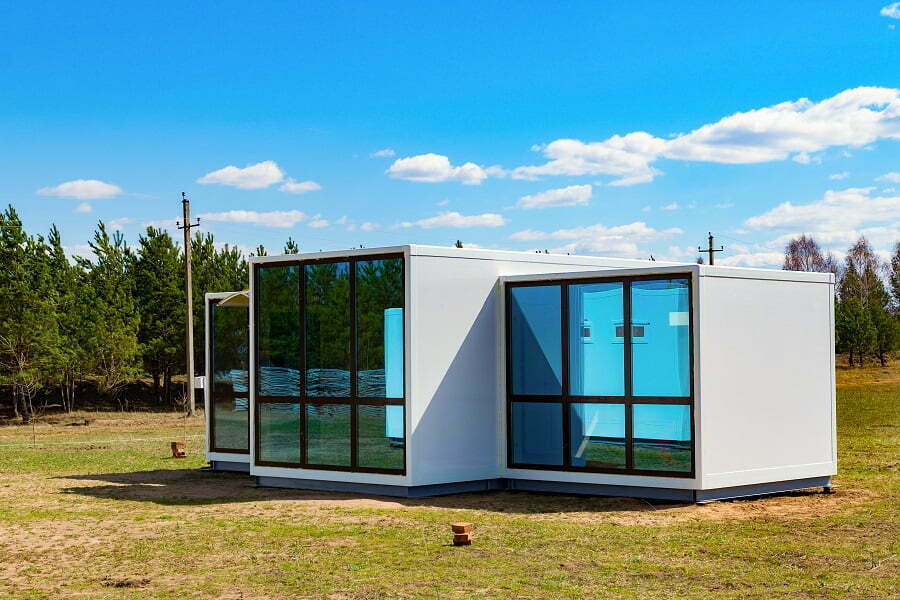 The advantages of prefabricated steel frame homes include increased durability and tremendous built-in safety features that speed the building process. These features include:
Steel frame that's directly grounded
Resistant to mold, termites, household pests, fungus, etc.
Discharge capability of grounding damaged electrical wiring
Strong enough to withstand Level 9 earthquakes and 150 mph winds
Resists water damage
A home frame that won't burn in a fire
Stainless steel doesn't warp or expand, so your investment is protected and retains its resale value.
The drawbacks of a prefab steel frame home include a weakened insulation ability. You also need some special tools and skills to construct the frame properly. Steel framing isn't the most energy-efficient conducting material because it absorbs heat from home.
Prefabricated Steel Frame Home Designs
Popular home designs using steel frames include homes with a modern flair. Many home designs incorporate metal and glass for an ultramodern look in tiered housing designs.
Metal and concrete designs can incorporate modern concrete designs that showcase custom molded shapes and bright colors that won't fade or need repainting.
Popular designs include an open and airy Brazilian-style home with a strong foundation as a counterpoint to the light but the durable upper part of the home.
Steel Frame Kits
Steel frame kits can incorporate your 3D custom designs. The kits themselves are surprisingly lightweight for stainless steel framing, and every framing component is designed for easy lifting into place. You can choose framing kits for small homes or build a modern mansion.
Steel Frame Prefab Materials
Almost all materials used in modular homes can be used in steel frame prefab homes. Steel frames support lightweight and heavy materials with equal efficiency. You can create most prefab homes with concrete, steel, and wood — even light and airy homes with one or more glass walls. Wood, steel, and concrete are critical materials that have been used in homes for centuries.
Each of these materials provides benefits and challenges. Wood is light and strong, but it's subject to water damage, rotting, and pest invasions. Steel is strong, heavy, and more expensive than other framing materials, but it is ideal for sturdier homes, especially homes incorporating multiple stories in the construction process.
Concrete is the heaviest material, but advanced shaping and molding techniques have made it a suitable — and even prized — option for unique decorative designs. Most homeowners limit concrete to foundations, structural support, and special decorative features.
Steel Frame Prefab Building Process
The building process for a prefab steel frame home goes quickly, but you might need help or advice for assembling the steel frame. Your home usually arrives at your building site between 80% and 95% complete. Prefab homes take 3 to 4 months to prebuild and 2 to 8 weeks to finish on your site. That's assuming you've already laid the foundation and received all construction permits.
The prefabrication process minimizes the time needed for on-site work without sacrificing craftsmanship. The first part of the job is to assemble the steel frame. More and more homeowners choose steel framing despite a higher cost than wood because of its greater durability and resistance to mold, water, pests, and insect invasions. Steel requires few major repairs and almost no maintenance.
The precision of prefab building means that you don't have to deal with material waste and construction delays. The prefabricated parts of your home go together perfectly if you follow the instructions. The parts meld together in perfectly synchronized order. Even if you choose a customized design, it won't take any longer to assemble the premanufactured sections of your home.
Structure
The structural versatility of steel frames allows you to customize your home's design in many ways. You can design your home on many levels to add architectural interest and build as large as you like.
LTH Steel Structures
You can add landscaping and buildings to your property with LTH steel structures. LTH buildings are manufactured by a company in Cumming, GA. You can use these structures as workshops, garages, home offices, plant conservatories, or anything you choose. You can even build a home gradually, incorporating LTH additions as your budget can afford.
Traditional Structure
You can also install traditional structures on your grounds to complement your home. Wood like bamboo matches any design and is perfect for pergolas, gazebos, poolside structures, and gardening sheds.
Basic Structure
Basic structures include redwood pavilions, picnic areas, carports, storage facilities, and garden igloos that can double as a greenhouse.
Concrete Structure
Concrete structures are perfect for adding decorative features, fountains, all-season patios, and secure storage spaces for garden tools.
Construction Time
You can usually build your prefab steel frame home in only three months from start to finish once the prefabricated sections are ready. The prefab work could add 3 to 4 months, but custom designs don't take long. That's considerably less time than traditional building, which generally takes at least a year to design and build your home.
Prefabrication speeds the process, eliminates on-site errors, and makes delivery dates more accurate and reliable. However, the pre-fitting approval process can be slower than expected in some areas.
Cost
The cost of a prefab steel frame home can be estimated by the cost of any prefab home using your preferred construction and finishing materials. Stainless steel frames cost more than wood frames, but a house made entirely of steel only costs between $30 and $60 per square foot. Finishing costs run between $25 and $50 per square foot. That makes all-steel homes the greatest bargain available. Houses composed of multiple materials run considerably higher.
FAQ
Are steel framed homes better?
Steel framed homes are superior because they are stronger, lighter, and faster to construct. They are also safer and easier to transport. Though they are more expensive.
How long do steel frame homes last?
A properly constructed steel frame home will last 50 years or more. It depends on how well maintained it is. If you want to extend its life, make sure that you keep up with regular maintenance.
Are modular homes built on a steel frame?
Often, modular homes are built on steel frames. Modular homes are prefabricated modules that are assembled on site. They are not shipped in pieces, so a sturdy steel frame is a big advantage.
Are steel homes cheaper to build?
Steel homes are more expensive than wood frames. But their strength, durability, and speed of manufacturing often make up for it.
Are metal homes safe?
Metal homes are extremely strong and durable. They are fireproof, earthquake-proof, and hurricane resistant.
Related reading: