Last updated on July 28, 2022
Prefab sandwich panels are a type of manufactured composite structure that consists of insulation material sandwiched between two sheets of metal or engineered wood.
They are an ideal building element of most types of prefab homes. They provide the panelized structure and insulation at the same time. They cut the cost of prefab building significantly, especially with the rise of 3D printing, where this technology is becoming prevalent.
Together with the frame, these panels make a prefab shell that can sometimes be bought to be finished on the site. It's a way to cut the costs and they may come as part of a prefab home kit. See how panelized homes compare to modular counterparts.
Let's discuss the different types of sandwich panels, their properties, and how they are used in manufactured home construction.
Table of Contents
What Is a Prefab Sandwich Panel?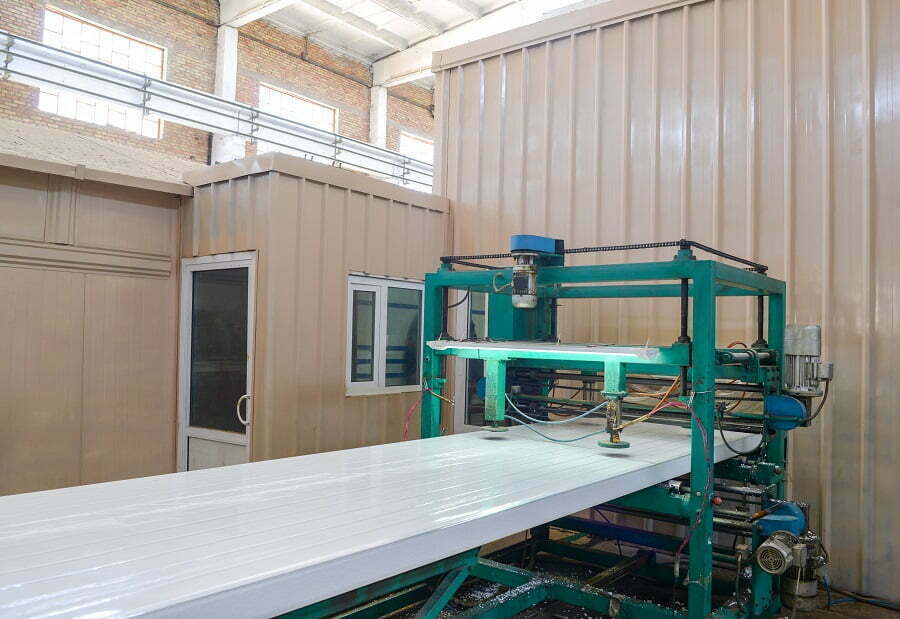 A prefabricated sandwich panel is a composite structure made of two materials. One material is sandwiched between two similar materials. Most sandwich panels have an insulating layer sandwiched between two metal sheets or engineered wood boards. The inner core provides both structural support to the panels and thermal insulation.
Prefabricated sandwich panels are an important part of prefab homes (they are usually used with steel frames). They are desirable because of their cost-effectiveness, impressive strength-to-weight ratio, and heat insulation properties.
Where Prefab Sandwich Panels Are Used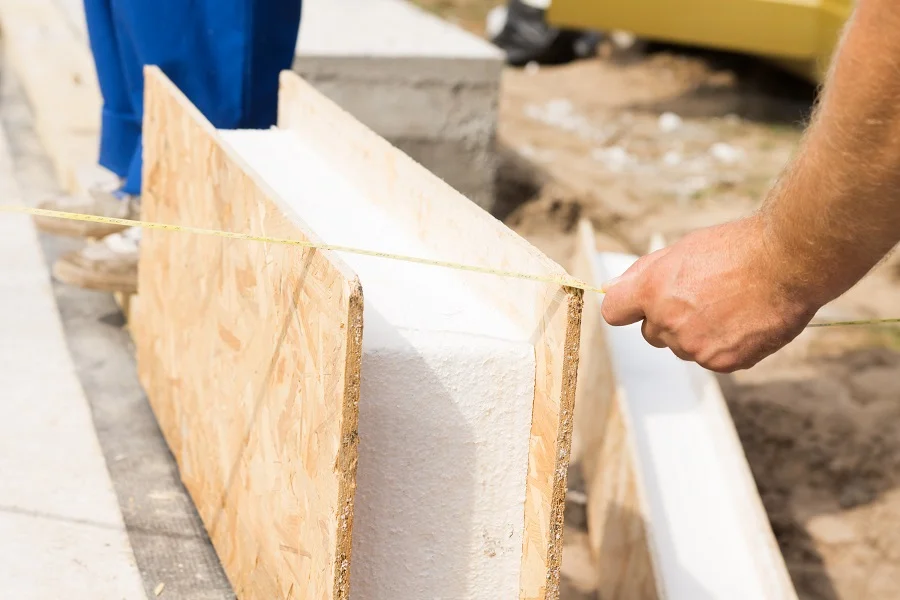 Prefabricated sandwich panels are used in residential, commercial, and industrial buildings to partition spaces and exterior walls as an alternative to masonry. For their manufactured nature, they are an integral part of prefab buildings.
They can also be used for roofing and ceilings. Generally, prefabricated sandwich panels are used to construct the building envelope in prefab homes, warehouses, office buildings, cold storage facilities, and other types of structures requiring high-energy efficiency.
Polyurethane Core Sandwich Panels
The best sandwich panels in the industry have a high-density polyurethane core sandwiched between galvanized or aluminum corrugated core. These panels come in various thicknesses, including; 40mm, 50mm, 75mm, and 100mm thicknesses. The effective width of these sandwich panels is 1 meter, while the length can range from just 2 meters up to 12 meters.
These panels are desirable because of their strength and fire resistance properties because polyurethane foam is non-flammable. They also rank highly in acoustic insulation, so if you are worried about both heat and noise, these panels will serve you well.
Panels with an EPS Core
Some sandwich panels come with an EPS core. EPS stands for expanded polyester panels. This material is made up of polyester and 98% air. It is important to note that air is an excellent insulating medium when not circulating. EPS boards come in a variety of thicknesses and densities. The thicker and denser the sandwich panels, the lower the thermal conductivity and the better the insulating properties.
EPS boards are known to have impressive compressive strength. EPS is light in weight and is easy to transport. It is fireproof and resistant to both heat and cold, making it the perfect insulating material to sandwich in between aluminum sheets to make sandwich panels.
3D Printed Biopolymer Panels
Since 3D printers were invented, they have found new uses with every passing day. Nowadays, 3D printers make components for the construction industry, such as biopolymer panels.
3D printing has made it possible for manufacturers to develop complex structures that are not possible with other manufacturing options. Biopolymer panels are made up of a composite of foamed bioplastic derived from cellulose and wood. The material is 3D printed to make printed biopolymer panels.
Fiber Reinforced Polymer Core
Sandwich panels with fiber-reinforced polymer cores have impressive strength and stiffness, making them suitable for sandwich panels. The lightweight material has low smoke emission and toxicity. This sandwich panel core is resistant to liquids, humidity, sand, and vibration, among other things. The core is fire resistant and has low flammability.
Panels with an ACP Core
ACP stands for Aluminum Composite Panels. These panels are made by sandwiching a non-aluminum material between two flat coil-coated aluminum sheets. The core can either be thermoplastic polyethylene. These sandwich panels are normally used for interior and exterior walls and cladding of buildings and ceilings. While polyethylene may be a great insulating material, it is not fire-resistant.
Honeycomb Structures
These sandwich panels have a core that's shaped like a honeycomb. The design is meant to reduce weight while improving heat insulation without compromising the strength of the material. The face sheets sandwiching the honeycomb can be metal, such as aluminum sheets. Honeycomb structures can be up to 30 times stiffer than metallic sheets.
Structural Insulated Panels
These panels are also known as SIPs. These are high-performance building systems meant for both interior and exterior walls. They are made by sandwiching insulating foam core between two OSB boards. They are manufactured to suit almost every type of building system. SIPs are strong and lightweight. The standard width ranges from 4 feet up to 24 feet. These panels come in various thicknesses ranging from 4 inches to 12 inches. The length ranges from 2.4m to 6m. They can be used in the wall, roofing, and even the ceilings of buildings.
Strength and Maximum Load
Sandwich panels have immense structural strength. They have an impressive strength-to-weight ratio, so they can bear a lot of weight without collapsing. Sandwich panels come with different specifications. The thickness and density of the core and the type of face sheets used will determine the maximum load.
Be sure to check the maximum loads that different sandwich panels can support before placing an order. Fortunately, prefab home manufacturers know how best to design structurally sound and strong buildings using sandwich panels.
Thermal Resistance
Thermal resistance is basically the ability of a material to resist the transfer of heat from one point to another. Sandwich panels usually have insulating materials sandwiched between the face sheets, with high thermal resistance. This means that they can make a building more energy-efficient. The thermal resistance of sandwich panels depends on the type of core, thickness, and density of core used.
Acoustic Insulation
Sandwich panels offer superb noise insulation. Different sandwich panels have different noise insulation characteristics. If the building is in a noisy area, the ideal sandwich panels should have the highest acoustic insulation rating.
Panel Joints
It is not easy to find a panel that covers the entire wall perfectly. Usually, several panels have to be joined together to achieve this objective. The panels must also be secured to the ground. There are many types of panel joints that employ bolts and even glue to secure joints. SIP panels are usually joined together using an insulated spline fitted inside.
Insulated Roof Panels
The most popular and most effective option for making a building more energy-efficient is using insulated metal roof panels. These panels help make the interior of buildings warmer in winter and cooler in summer, regardless of outdoor temperatures. They are simple to install, durable, cost-effective, and offer impressive acoustic performance and design flexibility.
FAQ
What is the meaning of sandwich panels?
A sandwich panel is a composite structure consisting of two or more layers of metal or engineered wood glued together with a layer of rigid insulation. It is commonly used as a building component because it combines the advantages of wood and insulation.
What is a roof sandwich panel?
Roof sandwich panels are similar to roof cladding, and they are designed to cover the whole surface of a roof. They are often preferred over traditional roof tiles because they provide better insulation and protection against water damage.
Is the sandwich panel good?
Yes, sandwich panels are very good. They are extremely durable. Depending on your requirements, they are available in various sizes, shapes, and designs.
How strong is a sandwich panel?
Sandwich panels are solid. They can withstand extreme weather conditions such as wind, rain, snow, and hail. They can support heavy weights and are resistant to fire.
Where are sandwich composites used?
Sandwich composites are widely used in the construction industry. They are used to construct walls, roofs, floors, and ceilings. They are also used to build fences, sheds, and other structures.
Why do we need sandwich panels?
Sandwich panels combine the benefits of both wood and insulation. They are highly durable, long-lasting, and attractive. They are also cost-effective and eco-friendly.
Related reading: