Last updated on July 31, 2023
One of the prevalent problems with prefab homes (specifically smaller ones) is storage space. How to get more and how to use the space efficiently? Get your answers here.
Your storage options will vary depending on the size of your prefab home. The tiny homes don't leave much room for additional units so storage space has to be designed from the beginning. Meanwhile bigger homes will leave you unused space that you can utilize later on for storage.
We have assembled a list of storage ideas specifically for prefab homes of all sizes. Use these if you feel that you can use more room to put things away. Even if your prefab is a small mobile home, you will find some ideas you can use.
Let's dig into it!
Table of Contents
Built-in and Hidden Storage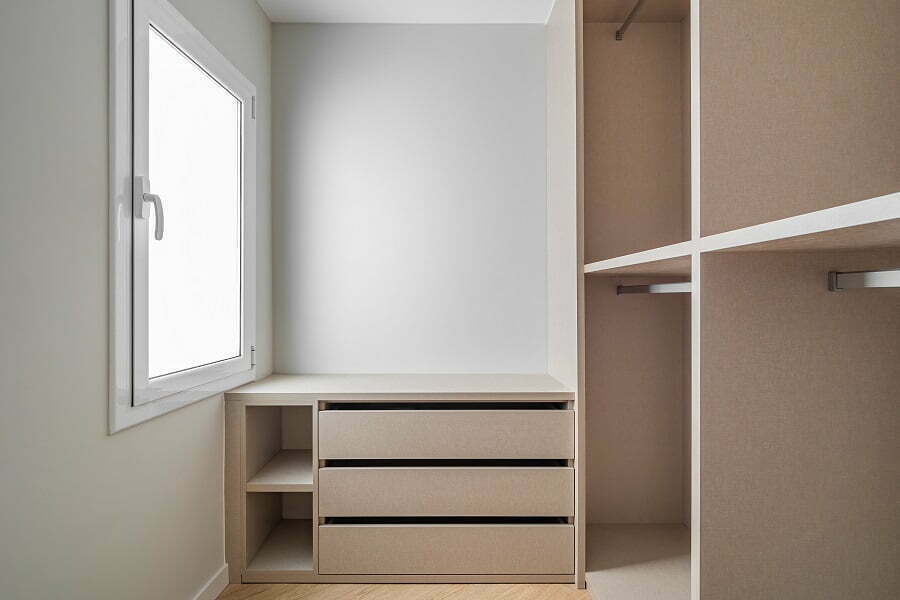 After having your prefab home built and assembled, you need to identify and use storage areas effectively to ensure you do not create clutter in the house a few days after moving in. After all, people are constantly buying more stuff, but they rarely dispose of what they have, so where will all the old stuff go when the new arrival?
Well, prefab homeowners can consider hidden storage. It is usually planned and built by design in the construction phase. For instance:
You can install elegant storage shelves on the door leading to a hidden storage room.
You can also have storage around the bathtub.
You can keep all your bathing soap, hairbrushes, books, shampoos, and the likes in this hidden storage area.
A storage cabinet behind the mirror above the dining area sink is also a great idea.
Kitchen Storage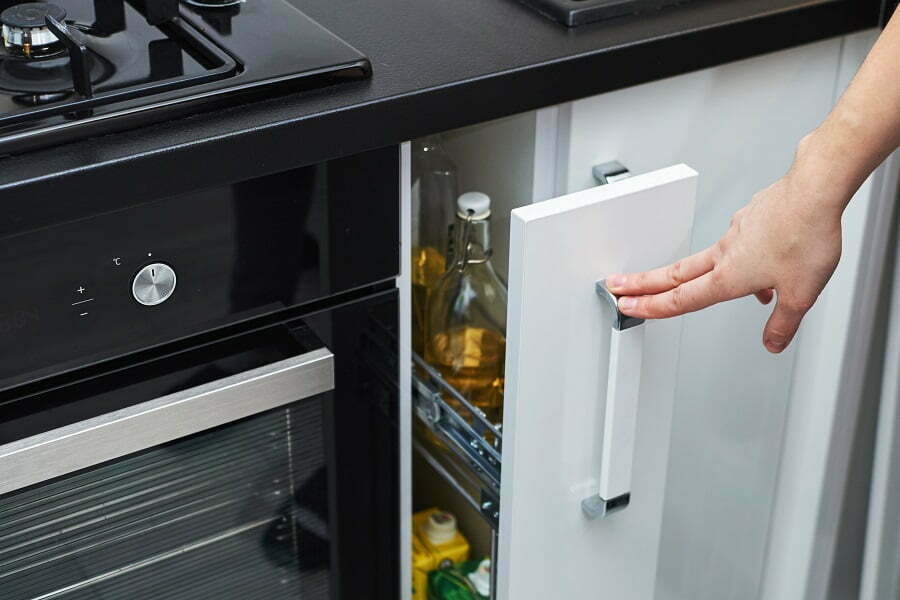 Cooking utensils, cooking supplies, ingredients, and other types of items found in the kitchen need to be kept away when the kitchen is not in use. The cabinets under the kitchen sink and countertop can serve this purpose.
Other ideas:
Additional storage can be found in the wall-mounted kitchen cabinets.
If you have a kitchen island, storage cabinets and drawers can be installed around the island to provide more storage space.
Be sure to add more railing, shelving, and hooks if you need additional kitchen storage in your prefab home.
Your kitchen pantry should also come with cabinets, shelves, and hooks on all the walls to ensure you have enough storage area to stock up your food supplies for the whole season or even longer.
Be usere to use the unused space between cabinets and appliances. There are always gaps for narrow pull-out shelves.
Bathroom Storage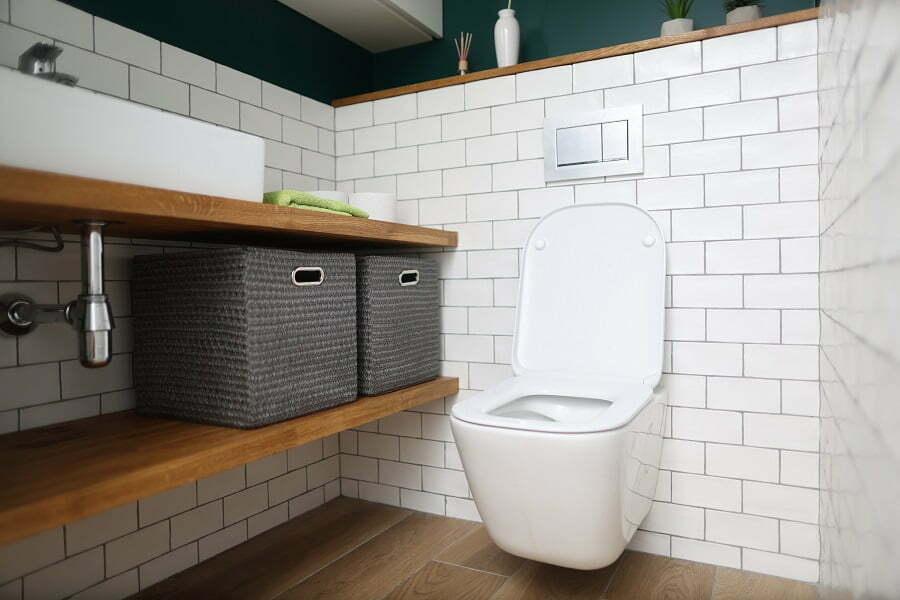 Bathrooms usually have very little space for storing items, so there is a need to utilize space efficiently. This is especially true in the case of prefab bathroom pods.
One storage idea has already been mentioned above; having storage cabinets around the bathtub.
You can also install storage cabinets above the bathroom sink.
Additional shelves on the wall can increase the storage capacity for your bathroom supplies.
Be sure to also install a cabinet under the bathroom sink for storing toilet rolls and other types of bathroom supplies.
Under the Bed Storage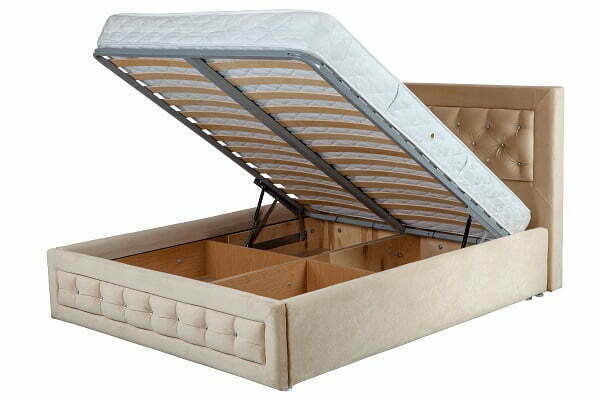 The space under the bed can be utilized effectively as a storage area. Many modern bed designs come with drawers under the bed. If your bed already has drawers, be sure to utilize them effectively.
If not, you can decide to use rolling wooden storage boxes. These boxes are easy to pull out and push back in because they have rollers, so you will not have difficulty using them. Be sure to have the faces of these boxes decorated to ensure they add to the decor of the room, in addition to increasing your storage space.
You can buy and install color-coordinated toy storage plastic bins in the kids' room. These bins can be organized based on what they contain inside.
Another bedroom storage option is to use storage baskets. Many elegant storage basket designs are large enough to store a lot of stuff but small enough to fit under the bed.
Multi-Purpose Storage Units
You can purchase multi-purpose storage units to increase the storage in your prefab home. This can be installed in the bedroom, living room, or even the kitchen if sufficient wall space exists.
These are free-standing units with shelves from the bottom to the top. Some units even have cabinets that can be locked. They come in various designs, so be sure to compare the available options before deciding to place your order.
Modular Shelving
Many prefab home designers and builders usually make prefab homes with modular shelving. When assembling the prefabricated home, the builder can put up the shelves you need to increase storage capacity.
However, there is usually additional provision for more shelf space, so it will be easy for you to install additional modular units if you need more.
Wall Hooks
One of the best small prefab home storage ideas is to use hooks. These can be installed on the wall strategically, and items hung from those hooks.
Kitchens often need multiple hooks for hanging cooking pans and other types of utensils.
Hooks are best used with railing, so you can install metal or wooden rails on the wall and hang the hooks from those rails. This can quickly increase the storage room in your kitchen.
Exterior Storage Ideas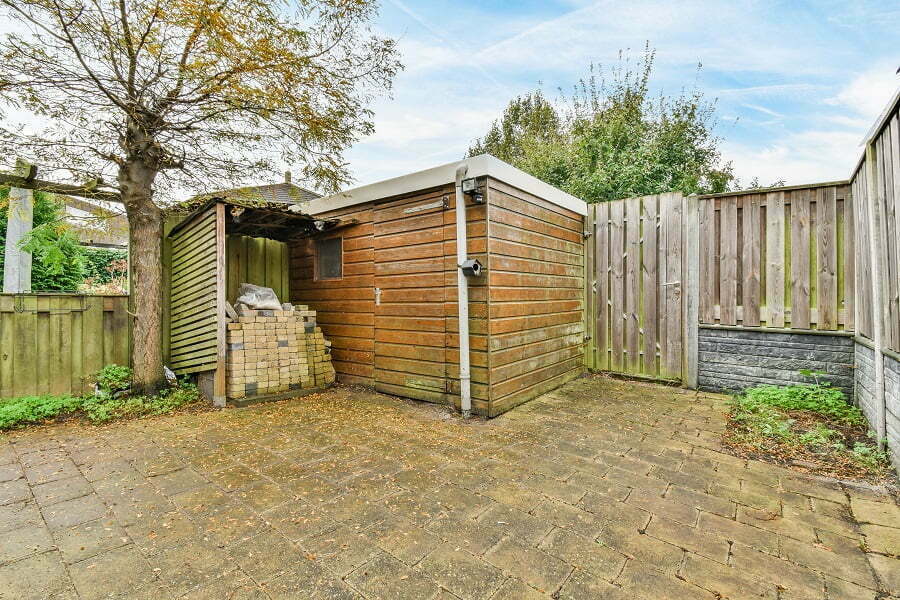 While you can make good use of the space in your prefab home by increasing storage options inside the house, there is a limit. That is why having exterior storage is crucial. Some items cannot be kept inside the house, so exterior storage is crucial. Keep reading to learn more about exterior storage ideas you can consider.
Storage Sheds
Whether you have a site-built home or a prefabricated home, a storage shed can be an excellent addition to your property. Most prefab home builders usually have tiny sheds for sale, so you can order a tiny shed and have it delivered to your property. Seasonal clothes, skiing gear, bicycles, and larger items can be kept in the storage shed.
Under the Home
The floor of a prefab home is usually raised, so there is usually a lot of space under the home. Be sure to take advantage of this space by using it as a storage area. Any metallic, plastic, or wooden item can be kept under the house.
Window Seats
Instead of keeping flowerpots inside the house, consider placing them outside on the window seat. This will free up space in the house. Some items can also be hung from the window seat. Books, pillows, and neatly folded blankets can also be stored on the window seat.
Storage Containers
While your storage container is installed in the backyard, it is cheaper to rent a secure storage container at a self-storage facility. Any item you do not use regularly can be stored in the storage container.
Pegboards
A pegboard can be an excellent addition to the kitchen. You can keep most of your cooking utensils on the board to make cooking easier and free up space in the kitchen.
The Space Under Stairs
There is usually a lot of space under the stairs. You can install shelves and a cupboard under the stairs to increase the amount of storage space in the prefab home. This space is often ignored and left unused or underused.
Make the Most of Your Closets
Closets should have shelving, drawers, cabinets, and railing for hanging clothes on hangers. Every inch of space in the closet should be utilized to ensure you get the most out of your closet.
FAQ
How do I get more storage in my mobile home?
You can add extra storage in your mobile home by installing a small shelf above the door frame. This will give you additional storage space.
How do you maximize space in a single-wide mobile home?
In a single wide mobile home, you can maximize the space by adding an extension onto one side of the home. The added length will provide more living space.
Do mobile homes have storage?
Yes, they do. Mobile homes have built-in storage solutions like closets, pantries, and built-in storage units.
Related reading: