Last updated on January 27, 2023
Barn-style homes or homes that are converted from a barn are getting more and more popular. You can get them in prefab too. Here are the top options currently available.
The post and beam construction lends itself to prefabrication easily and makes this style of housing all the more attractive. You get to enjoy high ceilings, open spaces, and a rustic sense of cozy living.
Luckily, a number of prefab manufacturers offer packages of factory-built barn homes that you can order to your land lot. Note that a prefab barndominium is also a barn-like home, but it's specifically made of a steel frame (and often entirely of steel.)
Here they are in no particular order.
Table of Contents
Timberlyne Predesigned Home Packages
Timberlyne prefab barn homes come in four framing options: post-frame, post and beam, full or hybrid timber frames, and mass timber. Full frames provide elegant frame exposure throughout your home, but hybrid frames often provide lower construction prices.
Regardless of your choice, the company, located in rural Nebraska, can ship the prefab packages anywhere in the 48 contiguous states from its Nebraska and Texas offices. Costs range from $300 per square foot and up, depending on the design.
Location: Nebraska and Texas.
Price range: from $300 per square foot.
Barn Pros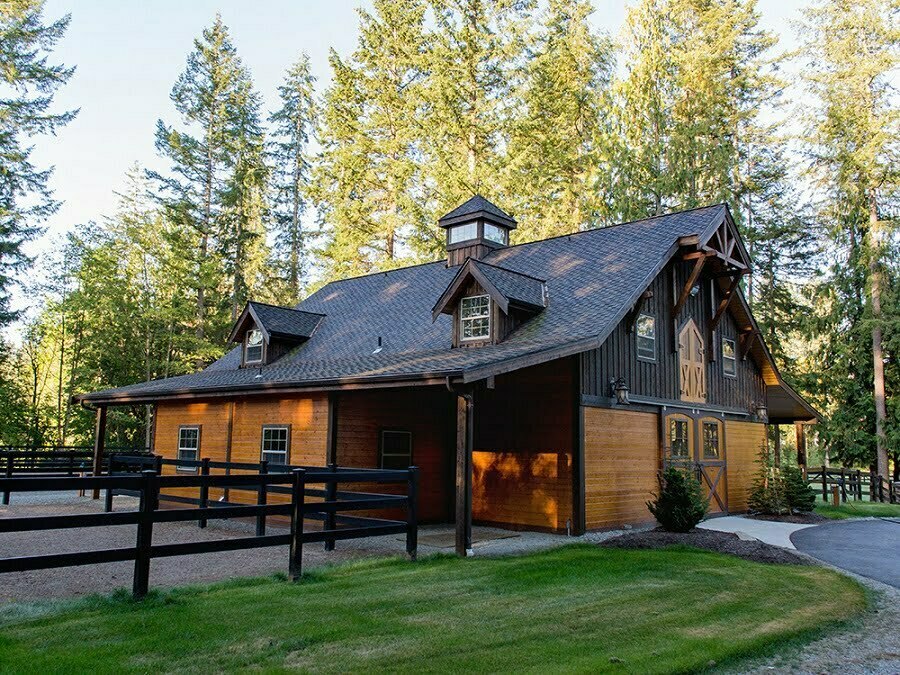 Barn Pros uses a streamlined process. The process enables the company to ship your prefab home anywhere in the country in weeks instead of months. You and your builder have control over the process to personalize your home's design from a range of stunning templates that include Denali barn apartment homes, the Equestrian, Journeyman, High Sierra, and many other styles.
You can choose from man caves, permanent family home designs, mother-in-law accommodations, and other styles. Barn Pros homes run between $225 to $350 per square foot for kits to build prefab barn homes.
Location: Monroe, Washington.
Price range: $225 to $350 per square foot.
Scandia Hus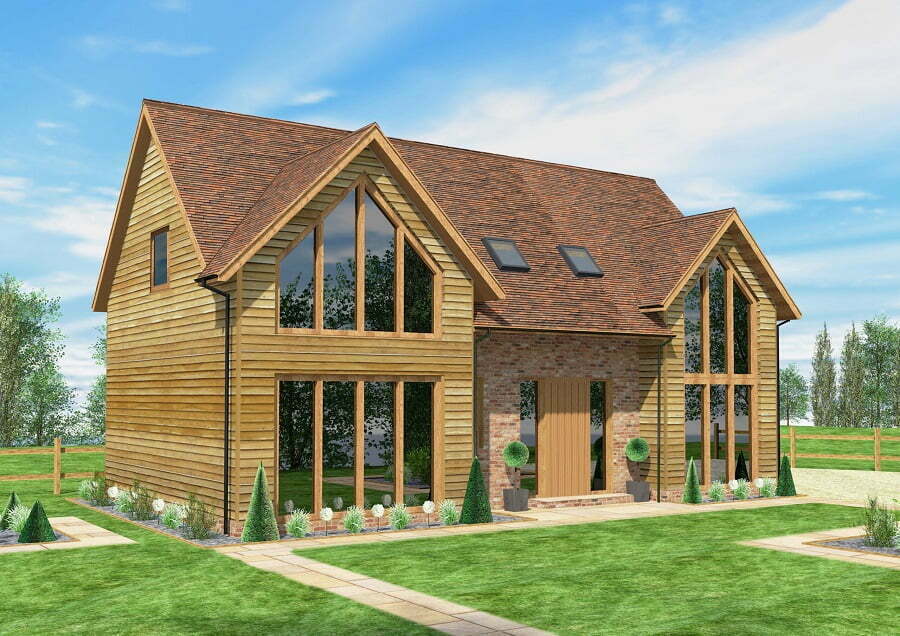 Scandia Hus is headquartered in Scandia, Minnesota, but the company uses a UK manufacturer that ships prefab packages worldwide. The company generally focuses on contemporary styled homes, given the increasing popularity of prefab barn homes in the United Kingdom.
The styles combine the benefits of timber frame construction with the advantages of modern technology to produce energy-efficient, charming homes. Self-building kits run from $225 to $275 per square foot. Choosing a main contractor results in a price between $275 and $350 per square foot.
Location: Scandia, Minnesota.
Price range: $225 to $350.
DC Structures Barn Home Kits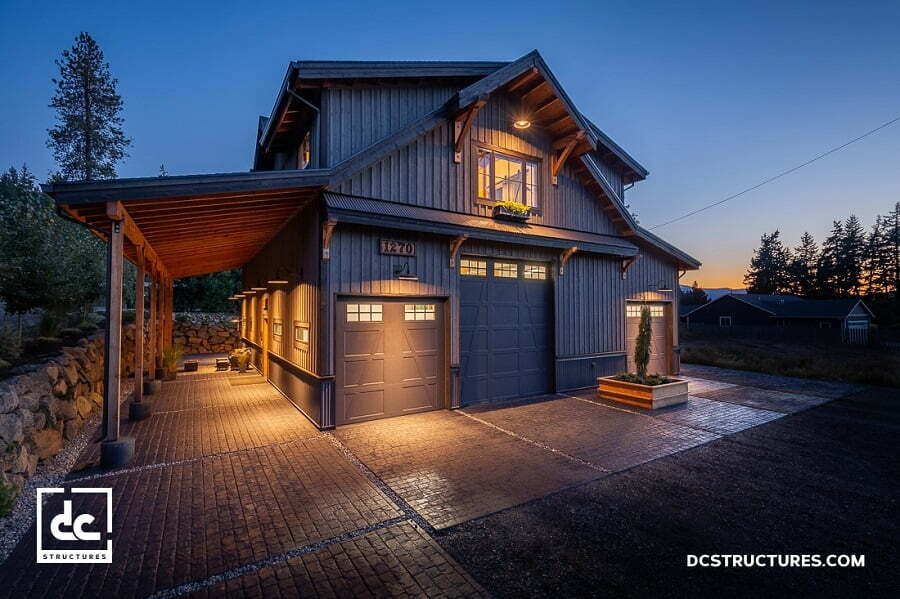 Structures Barn Home Kits supplies all the components you need to assemble the critical frame of your barn-style home. These include windows, doors, hardware, Douglas fir posts and beams, ready blueprints, and exterior wall packages based on the style you choose.
DEC Structures ships its full line of building kits anywhere in the country with the promise of customer satisfaction. Barn kit costs range from $38,485 to $200,000 and up, based on shipping distance, selected finishes, intended use, etc.
Location: Damascus, Oregon.
Price range: $38,485 to $200,000+
Yankee Barn Homes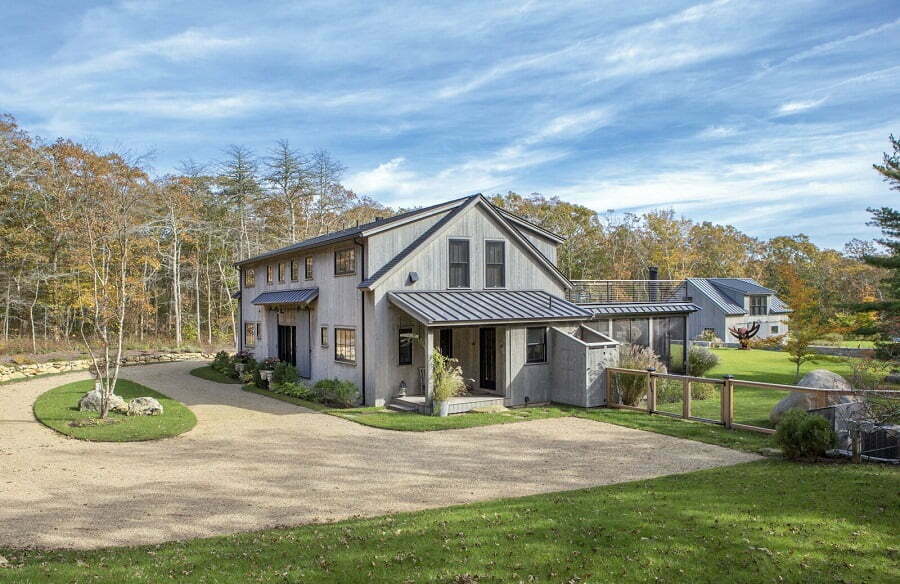 Yankee Barn Homes designed barn homes for more than 52 years, long before they became so trendy. You can choose from contemporary and traditional home decorating styles or even create your hybrid design. A dedicated representative will guide you through the designing, permitting, and building processes.
Choose how much timber and other materials to use based on different floor plans or a custom build. Panelized designs make it possible to ship barn home prefab kits almost anywhere, but the cost is unpredictable.
Each design is engineered to a particular building site, regional building costs, and various levels of prefabrication and construction services. Shell packages run between $90 and $120 per square foot, and the typical project runs about $250 per square foot.
Location: Grantham, New Hampshire.
Price range: $90 to $250.
Youngman Lovell Modular Homes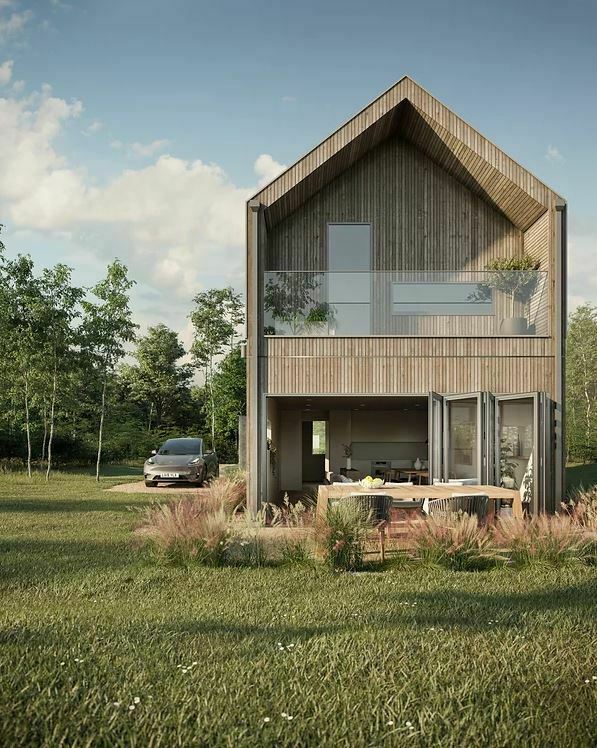 Youngman Lovell Modular Homes focus on challenging the design status quo architecturally and technologically. The company's barn home prefab designs strive for carbon neutrality in an affordable package. Generally, company designs average 90% lower energy usage than traditional home construction.
All building materials are sourced from sustainable resources. The ancillary construction services usually serve the people of the UK, but the company is happy to discuss designing a prefab barn home building with people living elsewhere.
Location: London, England.
Davis Frame Co.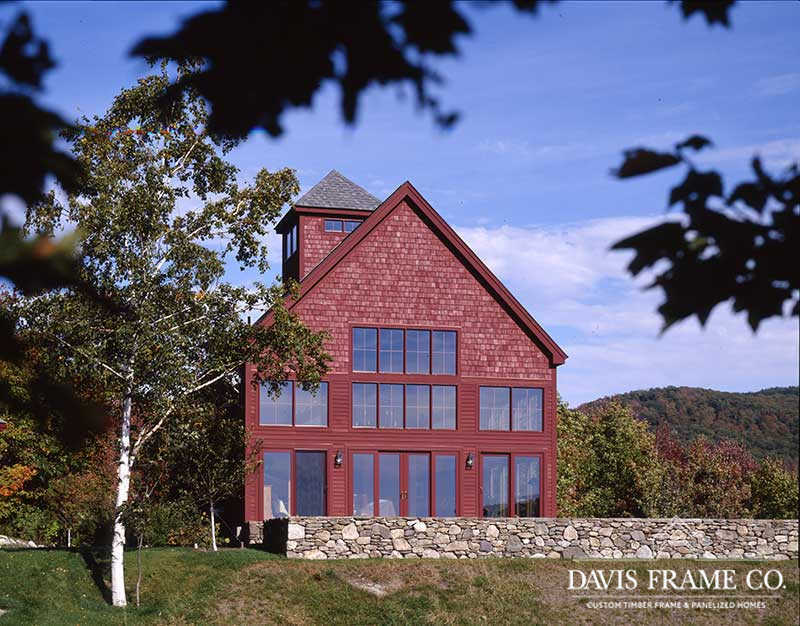 Davis Frame Co. sells classic New England barn, farmhouse, colonial, and homestead building kits that can suit any architectural or decorating style. The company features more than two dozen barn home styles that use specially crafted timber and unique frames for all budgets. You can even make architectural modifications during the design phase.
The cost of Davis Frame Co. barn home kits varies considerably based on shipping location, design, and size, but the range is from $200 to $400 per square foot.
Location: Claremont, New Hampshire.
Price range: $200 to $400 per square foot.
Hansen Buildings Pole Barn Home Building Kits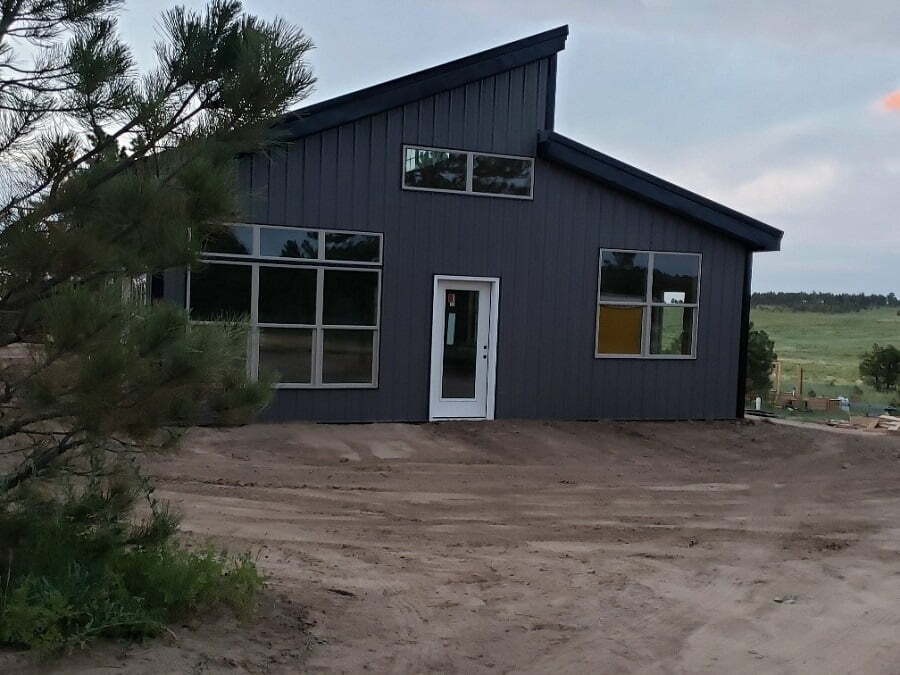 Hansen Buildings Pole Barn kits have revolutionized pole barn home designs, which were once considered bland. Today, the designs have the aesthetic appeal of sleek, ultramodern housing without using metal poles. The materials and components come in kits that can be shipped anywhere and are easy to assemble for most people.
Costs are highly affordable and average between $7,000 and $75,000. Of course, these costs don't include foundation prep and finishing touches.
Location: Browns Valley, Minnesota.
Price range: $7,000 and $75,000.
Alternate Dwellings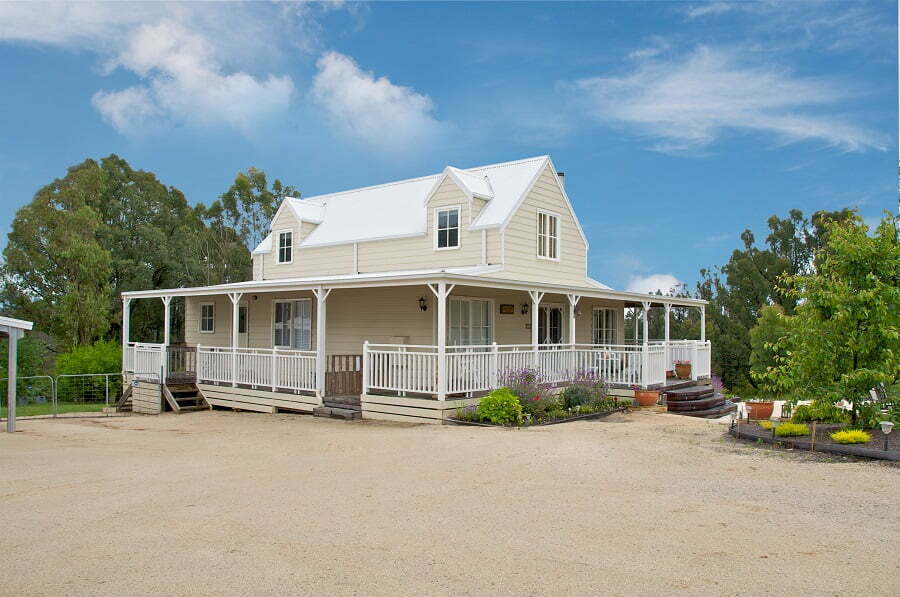 Alternate Dwellings offers various kits and designs to suit your budget, lifestyle, and building preferences. The company offers you the following options:
Plans Only: This option affords you design copyright protection for your design of a barn-type home.
Fully Built and Fitted: This option offers a turnkey approach that includes design, fabrication, shipping components, permitting, building, and finishing services.
Kits: You receive all the components, plans, and materials you need to assemble your home.
Build to Occupancy: An Alternate Dwellings construction team remains on the site until you receive a Certificate of Occupancy.
Location: Victoria, Australia.
Metal Pro Buildings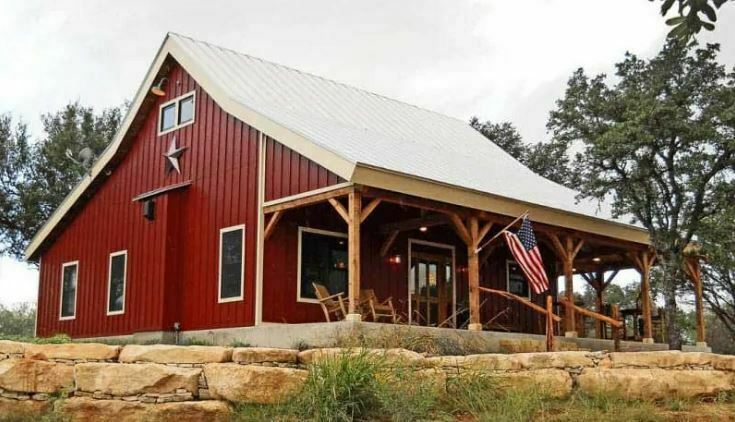 Metal Pro Buildings, provides prefab kits for pole barn houses that serve many residential living needs while also providing storage for machines, supplies, equipment, and vehicles. The advantages of using these barn kits include dramatically lower building costs, modular add-on capabilities, and design flexibility.
The simplified construction process utilizes vertical poles or posts for structural support. You can save money on cheaper metal construction costs that cut up to 60% of traditional costs, but your maintenance costs will run higher.
Location: North York, Ontario, Canada.
Tiny Barns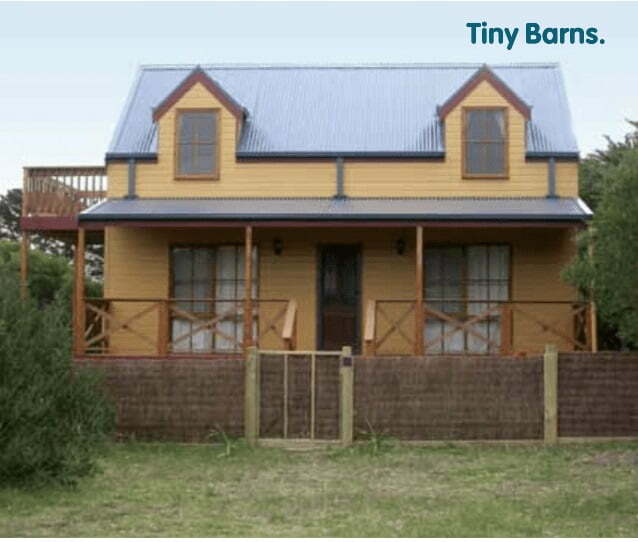 Tiny Barns offers you a more comprehensive range of customization options — such as building the frame only or fully finishing the project. You can also employ Tiny Barns to build until you receive a certificate of occupancy, an increasingly popular choice.
The gallery of home designs mirrors the styles of full-sized barns but on a smaller scale designed for one or two people. The average costs are considerably more affordable based on smaller square footage and reduced shipping costs.
Location: Morwell, Victoria, Australia.
Country Carpenters
Country Carpenters offers pre-engineered barn homes capable of becoming a legacy homestead. The designs include spacious post and beam carriage houses and New England-style country barns. The designs can be personalized based on your preferences using a precut iconic timber frame, how-to diagrams for building the project yourself, and the freedom to choose your builder.
The average cost of Country Carpenters barn-building kits varies depending on design, square footage, and any customization options. The company ships prefab components all over the United States, United Kingdom, and Canada.
Location: Hebron, Connecticut.
Price range: $14,000 to $60,000+.
Legacy Post and Beam Homes
Legacy Post and Beam offers some of the highest quality building kits in the United States. Post and beam barn-style homes are more affordable and considered at the top of trendy designs. The company uses exposed rough-cut Douglas-fir beams to accentuate the country style and timber frame construction.
The average cost of Legacy Post and Beam Homes follows industry averages of between $125,000 and $400,000 for turnkey building services.
Location: Fremont, Nebraska.
Price range: $125,000 and $400,000.
Clayton Boyd Luxury Barns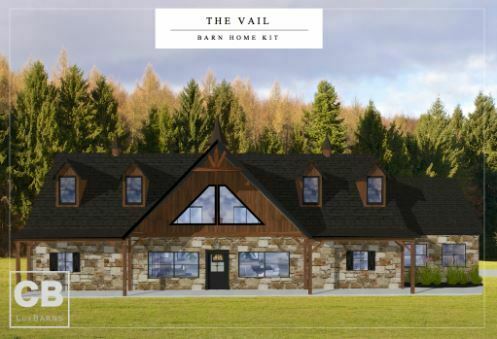 Clayton Boyd Luxury Barns can personalize its designs to deliver a one-of-a-kind dream home. Luxurious barn-style homes feature vaulted ceilings, attractive framing, and vast interior spaces perfect for a primary residence, guest house, or weekend getaway.
Their pre-built prefab component system includes all necessary hardware, doors, windows, trim, siding, framing materials, and blueprints, and we ship anywhere in the United States. Costs are lower than traditional ground-built homes and usually average between $76,500 to $190,500 for the core components.
Location: Valley View, Texas.
Price range: $76,500 to $190,500.
Related reading: