Last updated on October 30, 2022
A prefab in-law suite is a type of prefab or modular home addition that you can build as a cheap housing option for aging family members.
You may also hear it referred to as an accessory dwelling unit (ADU), granny pod, granny flat, or in-law apartment.
The components are made in a factory where each piece is cut to precise dimensions. The pieces are delivered by truck and assembled on site. You can put these together yourself or hire a contractor to do it for you.
These self-contained units come in a wide variety of sizes and design options. You are sure to find one that matches your requirements.
Table of Contents
The Pros of a Prefab In-Law Suite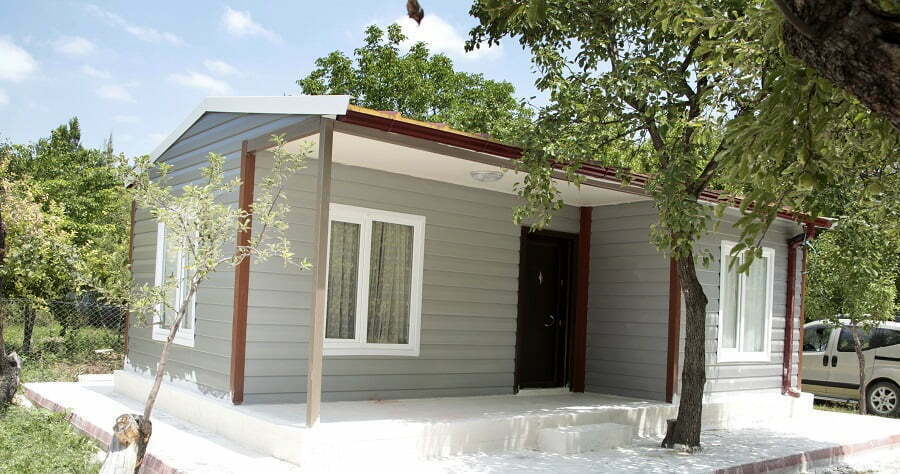 Prefab suites are ideal solutions if you want to build a new dwelling fast. You can assemble everything like pieces of a puzzle that fit well together. There is no need to measure and cut materials, so less effort is involved.
It also means that there is less waste on the construction site. It is a cost-efficient and eco-friendly way to build. The lower labor requirement also adds to the savings.
If your property is in a remote location, this might be better than conventional construction. It reduces the pressure to find contractors willing to work in the area.
The Cons of a Prefab In-Law Suite
Prefab homes are only feasible if you already own land with ample free space. Remember that the build may lead to a cramped backyard, so check the dimensions to ensure everything fits nicely.
Although prefabs may cost less overall, you may need to pay more upfront depending on the prefab company's payment schedule.
On the bright side, you are likely to pay less interest with this arrangement. Just make sure that you are financially prepared for the project before starting.
Find the Right Spot for Your In-Law Suite
Do you find it challenging to live in a multi-generational household? You are not alone. The noise and lack of privacy are known to cause friction and stress.
Ensure considerable separation between the main house and the in-law suite to mitigate these issues.
Think about how to route the connections for utilities, as well.
Beware of obstacles such as trees and uneven terrain.
Ensure that there is a direct line of sight from one structure to another for safety and security.
Ideally, the path towards the in-law suite should be flat and easy to access since seniors tend to have mobility issues.
In-Law Suite ADU
An in-law suite accessory dwelling unit is a smaller secondary house in a property with a bigger main house for the family. The additional living space enables in-laws or relatives to stay nearby on a temporary or permanent arrangement.
The suite has its own toilet, bath, kitchen, laundry, dining area, bedrooms, living room, and other facilities needed for independent living.
If you are planning to build an ADU, check whether you have ample space for the structure and see which available options are within your price range.
Modular In-Law Suites
The number of multi-generational households is increasing because of changing cultural norms, lingering economic instability, and practical considerations. If your family is contemplating living together in a single property, find an arrangement that would be comfortable.
There might not be enough room in the house, but the backyard is wide enough for a cottage. Modular in-law suites present a compelling solution that is fast and easy to build. The grandparents can move in quicker, and perhaps they can take care of the children while the parents are at work.
In-Law Suite Addition
An in-law suite addition is a great way to accommodate your senior family members. It may be accomplished in different ways:
Converting existing spaces into living quarters.
Extending the house horizontally to make new rooms.
Building a separate in-law suite within the property.
The last one is gaining traction because it solves space needs while ensuring everyone's privacy and independence. The distance between the main home and the new suite is the best form of noise insulation, allowing each home to watch and do whatever they want without disturbing the other.
Utility Connections
Plan the utility connections for the prefab in-law suite you wish to build. Most seniors want to live independently despite the proximity to their families. Make sure that they can cook and clean for themselves.
Brush up on the local building codes in your area to learn how to deal with this. You may need to apply for permits to get new electricity, water, gas, cable, and Internet lines.
These will enable better consumption monitoring and reduce stress on the existing systems. Hire professionals to install the wiring and plumbing for safety. Consider providing the suite with its own HVAC system for optimum comfort.
Cost
The cost of pre-fabricated in-law suites will vary based on several factors. You need to consider the size of the home, the number of bedrooms, the number of bathrooms, the inclusion of a garage, and the structure's footprint.
The suites also come in various finishes and optional accessories. The smallest models have under 500 square feet of floor area. These are good enough for one or two occupants.
Some prefab models can go up to 3 bedrooms and 1,200 square feet or more. Consider the cost of delivery and assembly, as well. Experts estimate that modular builds cost 5-25% less than traditional construction.
You're looking at $40,000 to $125,000 for an ADU prefab in-law suite, but a small unit can cost as little as $15,000.
Related reading: