Last updated on August 4, 2023
Looking to build a garage addition to your home? Use these ideas to plan and design your new addition. Read on!
Building a garage addition is not trivial. You have many choices to make. Starting with choosing between a detached to an attached bump-out garage to the size that can be three-car and even larger.
On top of it all, your new garage addition can have a dwelling space and storage space. If you build it as an ADU, you will be able to use it as a guest room, home office, or shed.
How much will this set you off? We estimate as little as $6,000.
Use the following ideas to plant your new garage.
Table of Contents
Attached vs. Detached Garage Addition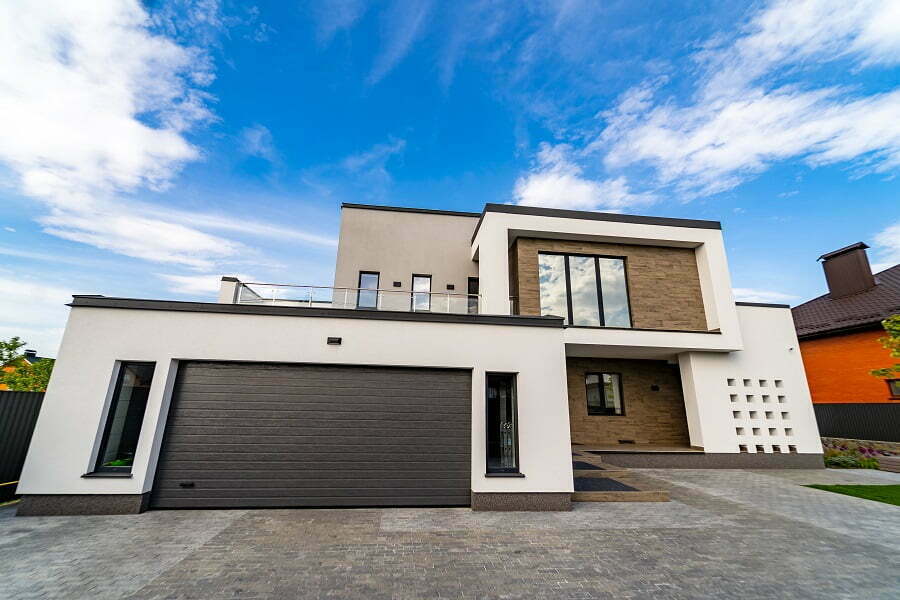 An attached garage is connected to the house, allowing direct and easy access from the main house. On the other hand, a detached garage is usually a standalone structure separate from the house. An attached garage offers convenience in that it can be accessed without leaving the house. This can be advantageous during bad weather or emergencies. It is also less costly.
A detached garage, on the other hand, will cost more to build, but it will offer more safety from exposure to carbon monoxide fumes. A detached garage can also be a more private space for an office or a hobby room. Building on top of the garage will also allow you to extend space for a guest room or separate living quarters.
Garage with an ADU
Most American garages are built with an ADU or accessory dwelling unit. This extra space often has a different function in that it can be used as an extra guest room, a home office, a tool shed, or a mini-apartment. This permanent structure is used to expand the existing structure or create living space for another person. It can even be used as a small shop or home-based store.
Barn Garage
A barn garage is a rustic addition to a home. The large structure requires a large-enough space in the front or backyard. Still, it can be an excellent build if you want to expand or provide enough parking space for multiple vehicles, including larger ones such as RVs, campers, tractors, or trailers.
Barn garages offer both vertical and horizontal space expansion. A two-story garage, for example, provides enough room for storage or a home office, a loft, hobby/recreation room, or studio apartment.
A barn garage is usually made of steel, and it can even function as a prefab barndominium.
Carport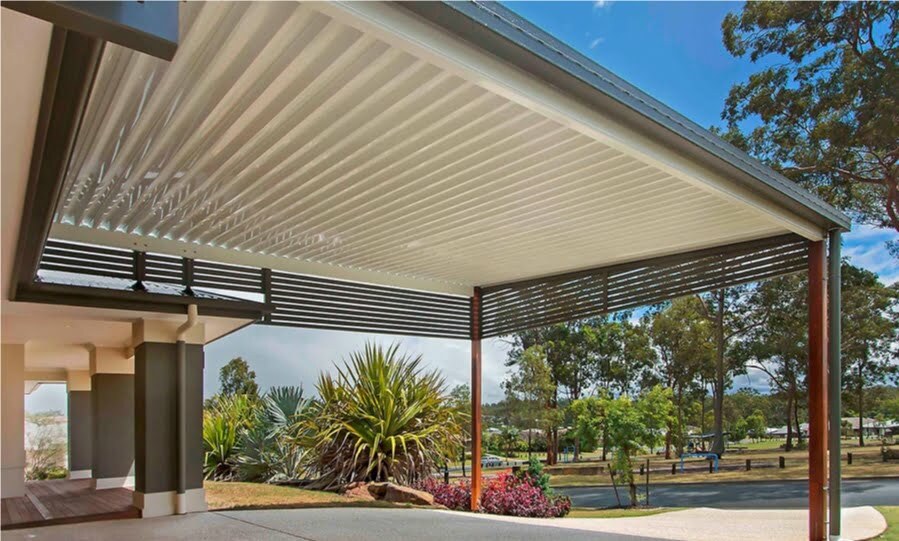 A carport is an excellent alternative to a closed garage if space is an issue. Carports have at least two sides open, allowing easy access but excellent protection from the elements.
Carports are easy to build, generally inexpensive (depending on the size and materials used), and suitable for most types of vehicles. A carport is also an environmentally-friendly option that does not require using light during the daytime or electric power to close or open the garage door. 
Shown above is one of the carports from Trueline that are easy to build, generally inexpensive (depending on the size and materials used), and suitable for most types of vehicles.
The Layout of the Garage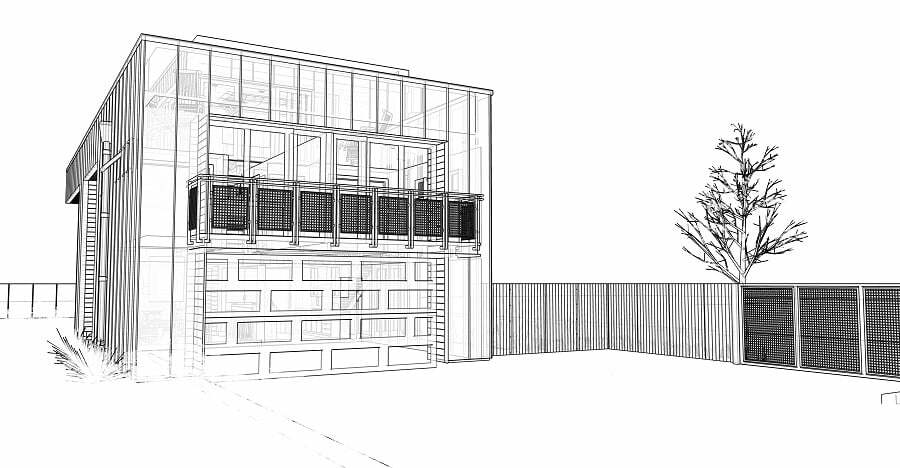 The garage's layout must be carefully planned to maximize space and avoid issues with safety and convenience. A garage will be housing your car, which is easily one of the most expensive investments you will ever make aside from your home. With a good layout, you are assured that your vehicle is housed sufficiently and that there is enough room for other items.
Size of Garage Addition
If you currently own multiple cars, you should know how important garage space and layout are. Generally, the minimum garage space you need is about 10 x 18, although a roomier garage would be about 12 x 20 at the minimum. This will, of course, depend on the size of your vehicle. If you have a small, compact car, you will need less. You could build a broader or longer garage, depending on available space and your preferences, since this will offer you more space for storage.
For a two-car garage, consider an 18′ x 20′ structure at the very least. The space could be increased to 20′ x 20′ or 22′ x 22′ to allow more room. Again, for a three-car garage, build wider with a 32′ x 22′ structure at the minimum. There are other options if you prefer a more oversized garage.
Construction
There are a few construction considerations for a garage addition. These include the size, design, layout, and structure. A solid foundation is necessary for building an even surface for your car to park on. If you need a reliable load-bearing foundation, concrete is a good option.
As for columns, consider strength and impact resistance. Concrete and steel are two great options that could withstand the elements and allow for reliable load-bearing if you intend to build a loft or a second story.
If you intend to use the upper portion of the garage for storage or any load-bearing purpose, consider installing steel beams or trusses to help support the weight of the framework.
Storage
It is not uncommon for garages to be used for storage. Storage space is often integrated into the design of the garage to make room for various objects, tools, and equipment. Not all garages have sufficient built-in storage, which means this is a great garage addition project to undertake.
Living Space in a Garage Addition
Maximizing garage space by using it as living space is an excellent idea for homes that need extra space. This is a vertical build in many cases, often as a loft or a second story. Living space above or within the garage is the perfect solution for creating a more private space separate from the main house. This space could be used as a bedroom, a living room, a recreation room, or a home office.
Insulation
Insulation is a necessary component of a well-built garage. It adds an extra layer of protection against changes in temperature, which is a concern in specific regions that experience extreme weather. Insulation is best measured by a professional and could be a DIY project only for a homeowner who understands the correct way to install it.
Utility Connections
Power connections are a key component of proper garage design and layout. The most important things to consider are the type and number of connections needed and their location. They must be installed in spots that offer easy access but must be safe from water leaks and flammable objects.
Permits and Zoning
A permit is required for specific garage addition work, such as electrical work, plumbing, structural changes, and the addition of new structures. Replacement of garage doors and windows and any work involving the HVAC system will also require a local permit. It is also a good idea to check the zoning laws in your area to determine if a building or modifying a structure will violate any regulations.
Driveway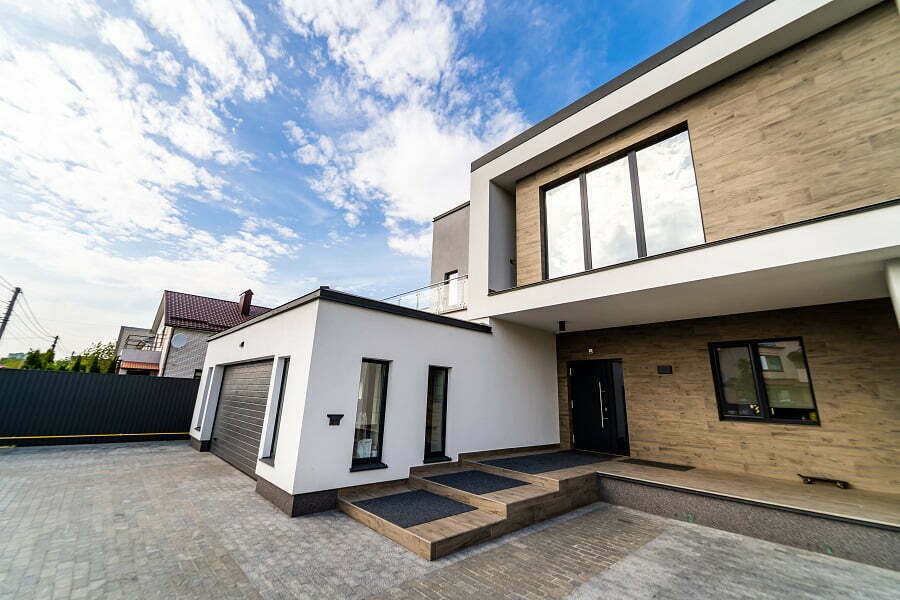 When planning for a garage addition, do not neglect space for the driveway. If you have been using space such as a carport on your property, the current driveway may already be sufficient. Otherwise, consider allowing for enough room to allow you to drive safely to and from the garage and the street.
For this, allow a minimum of 10′ wide for the driveway if the way is clear and there are no obstacles. If there are walls, shrubbery, or trees on the side where the driveway will pass through, allow for at least 14′ wide space. Double this figure if you have a two-car garage.
Best Time to Add a Garage
Experts agree that the ideal time to build a garage addition is during late winter or early spring. The conditions prevalent during these seasons allow for easier digging if you need a foundation built. The air is also dryer, which means it will be more comfortable to work.
Summer and early fall are the ideal time for roof installation. The higher temperatures allow for the sealant to set more quickly. By fall, any work done on the garage addition should focus on the interior to prepare the space for the holidays.
Roofing
Asphalt shingles remain pretty popular as roofing material for garages because they are affordable and look good, but they are also durable. There are also good options such as composite shingles, concrete or clay tiles, wood shingles, and roofing membrane.
When choosing the type of roofing for a garage addition, consider the climate in your area, the immediate environment, and the existing material, color, and design of your house.
Cost
The cost of building will impact your budget and vice versa. In general, you can spend a minimum of about $6,000 to about $60,000 for the build. Keep in mind that the cost will depend on the size of the garage, the materials you choose, the design, and the season. Most garage work occurs during the spring season, which means there is likely an increase in labor demand, which could increase the cost.
FAQ
Is a garage addition worth it?
Yes! A garage addition improves the value of your home by increasing its curb appeal and adding additional storage space. It makes your home more attractive, but it also makes it easier to sell when the time comes.
How much does it cost to add on a 24×24 garage?
A 24×24 garage costs between $10,000 and $15,000. This includes the excavation, foundation, framing, construction, and finish work.
Is it cheaper to add on to a garage or build a new one?
It's cheaper to add on to an existing structure than build a new one. However, if you want to maximize the use of space, then building a new structure would be better.
How much value does a detached garage add?
You will be able to get about 65% of the value during the sale. That will add to your total property value.
Related reading: