Last updated on April 6, 2023
Are you looking for the most energy-efficient housing? These octagon prefab homes might be the right choice.
Octagon houses are designed to have eight symmetrical walls. It's ever unique and, at the same time, very energy-efficient because it's easy to heat and ventilate.
The downside to this uniquely-shaped home is the complicated roof construction (almost as complicated as the round prefab). Thus, it is more expensive. It's why people choose prefab octagon homes. Prefab homes are more affordable and easier to assemble and deliver.
Check out this digest of impressive octagon prefab homes.
Table of Contents
Topsider Homes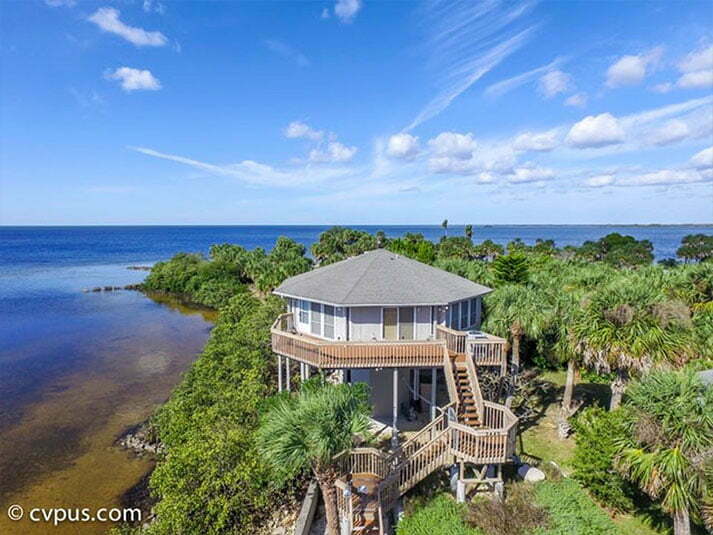 Topsider Homes is your go-to manufacturer company if you're looking for beautiful resort, residential, and commercial prefab structures. It has an extensive catalog of floor plans, interiors, garage plans, hurricane homes, and so much more.
The company offers homes throughout the country, but its headquarter is in Clemmons, North Carolina. Here are some examples of designs.
From the Piling Collection, one of the featured designs is PG 0416. This octagon home has a total floor area of 1135 sqft, three bedrooms, and two baths. It also features a living, dining, kitchen, and laundry area.
From their Classic Collection, one of the featured homes is CM 0310. It's a massive home with a total living area of 2180 sqft. This octagon home has four bedrooms and three baths. Other features include living, dining, kitchen foyer, and laundry areas.
This home comprises two octagon structures connected by a foyer or a living area. It also has a deck that connects to buildings.
Continental Kit Homes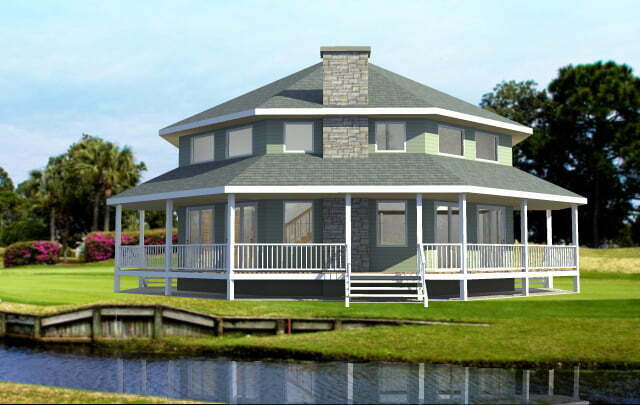 Continental Kit Homes has been a subsidiary of California Builders since its founding in 1976. The company has pre-engineered homes of fabricated steel metals connected via one continuous system. These are also hurricane-resistant homes ensuring that your home is safe from natural disasters.
Their services include Geodesic Domes, Cabin, Polygonal, and Pedestal homes. All these homes are then categorized into different series, such as Cabins and Recreational, Traditional and classic homes, and more.
From their Classic Collection is the Henderson, with a 595 sqft floor area. It's a one bedroom and one bath home. It's a tiny space compared to others in the series, but it has all the amenities you'd find in a home.
There's also a half wrap-around deck perfect for relaxation, entertaining guests, enjoyable BBQ nights, and more.
Another design is the Martin. It's a diadem home with a total living space of 1810 sqft. It has three bedrooms and two baths. The center takes the family area. There are also separate living, dining, and kitchen spaces.
Hex House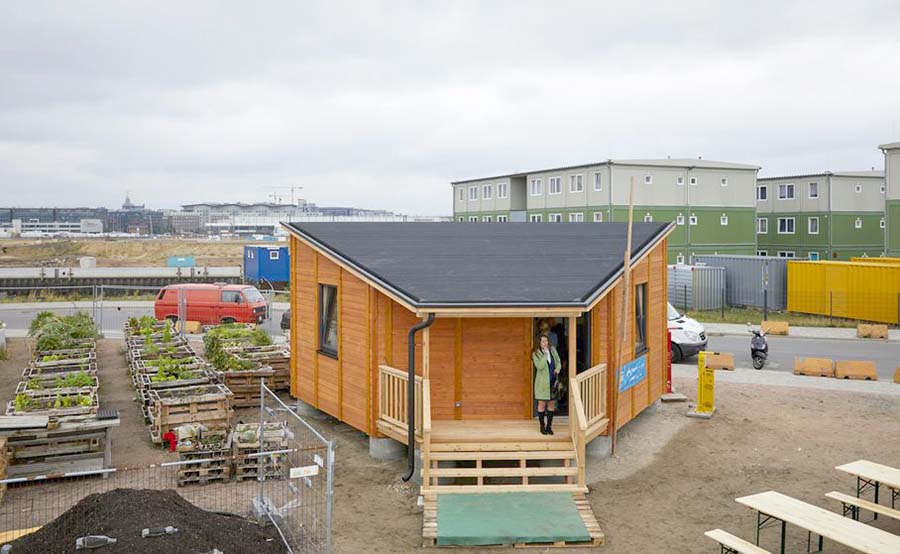 Hex House has all the kinds of units you want for an octagon home. They also come in different sizes to give you options based on your budget or lifestyle.
Hex House creates homes that are easy and affordable to assemble and deliver. They have scalable modular design homes and are customizable based on your climate. If you're environmentally friendly, this option is for you, too, as these prefab structures are sustainable and leave a small carbon footprint.
They have three units available; single unit, double, and triple.
The single unit is about 510 sqft in space. It has two bedrooms placed on the back side of the structure. The entry door opens to the living area with a folding dining table. The home also features a kitchen with modern utilities and a bath with a shower. If you want to relax, you can do so outside on the porch!
The double unit plan is much bigger with 1020 sqft space. It has two octagon structures with three bedrooms and a bath. It has a massive kitchen with a counter and a separate dining area. There's also a big porch perfect for socialization.
The triple unit home has a total of 1530 sqft in total. It has three bedrooms, with the primary bedroom occupying one whole unit, complete with its master shower and a mini living area. This house has a modern kitchen, a five-seater dining table, and a spacious living room. It's perfect for a big and growing family.
Sculptor House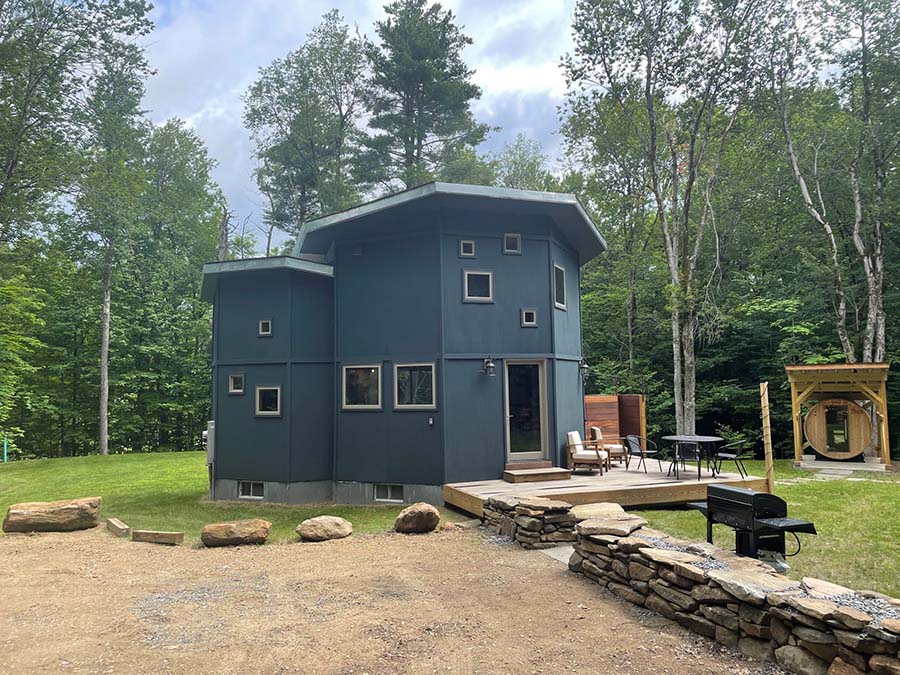 Sculptor House reimagines house buildings for today and the future. These houses are perfect for those who are environmentally conscious homebuyers. The kits have energy-efficient features, complete with a heating and cooling system.
The company has over three decades of experience in terms of housing, vernacular architecture, and hybrid home designs. They are based in Blue Ridge, Amherst, VA. They also have tours by appointment in the exact location.
Sculptor Homes have two octagon home designs, the Amherst and the Becket.
Amherst 3.1 is a 450 sqft home. The main living space is 300 sqft, and the loft is 150 sqft. The starting price for Amherst is $65K.
Becket 3.5 has a total living space of 570 sqft, 300 sqft for the main space, 150 sqft for the loft, and 120 sqft for the foot base addition. The additional space is for the extra bed, bath, and living space. The starting price for Becket is $80K.
Both homes have unique features, such as mold, mildew, and moisture-resistant panels. There's also the traditional galvanized metal roofing.
Multi-Facetted Homes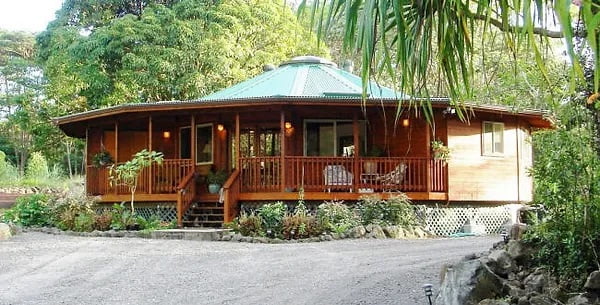 Multi-Facetted Homes celebrates its thirty-three years of experience. Through the years, it continues to innovate and adapt strategies that improve its home-building approaches. The goal is to create not just houses but homes. Recently, the company opened two custom homes in Hawaii islands.
MF homes are unique and elegant and have natural Cedar building systems. These are custom-built homes with panelized prefab exteriors that assemble in days.
Here are some of their featured homes.
The Hale-8s is an octagon home, a classic Cedar cottage with open-beam Redwood and Cedar ceiling. It's a one bedroom and one bath with shower house. It features a cupola and a beautiful covered lanai.
This design also comes with an extended floor plan. The bedroom is bigger, with a kitchen and a living area. There are also two entry stairways for easier access to the outside. The starting price for Hale-8 is $35,600.
Another design is Hale-12. This is a bigger option with a total space of 1115 sqft. The living area is 655 sqft, the loft has 286 sqft, and the covered lanai has 278 sqft. The starting price is $102,400.
This home has one bedroom and one bath. It features a kitchen, dining room, laundry area, and a great spacious room.
All of MF's homes are fully customizable and come with extension areas.





Related reading: