Last updated on July 21, 2023
Here's our digest of some of the most efficient prefab-round homes from the most reputable manufacturers. Read on!
One of the best things about prefab homes is their unique designs and how it's so flexible in terms of floor plans. Homeowners can choose the design, tweak it, and change it based on how they like their dream homes to be.
Furthermore, round prefab homes are energy-efficient too. The caveat is that they are more expensive to build due to their unique structure (they are even more complicated than octagonal homes.)
Here's a list of beautiful and impressive round-type prefab homes. Check them out and see the best one you like.
Table of Contents
Deltec Homes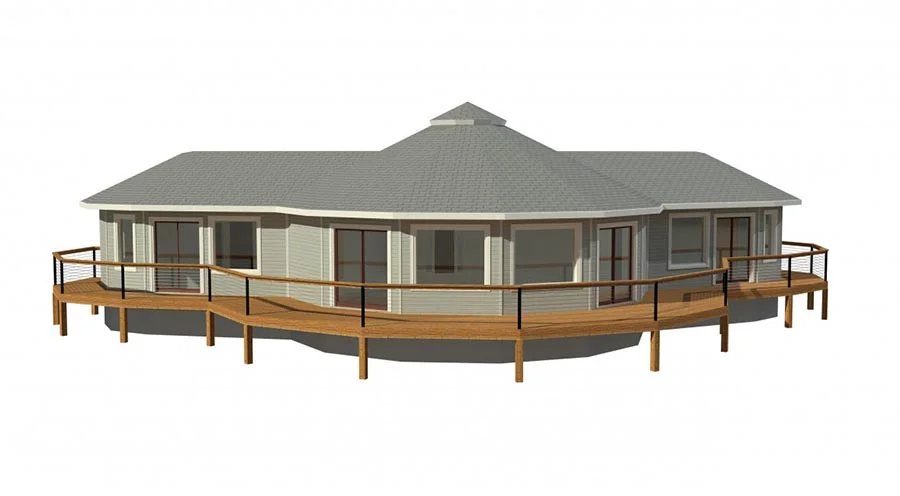 Deltec Homes changed the way homes are built by using different perspectives. Their homes have unique angles and shapes; more so, 83.8% of the materials used are diverted from landfills. The company takes serious care of the environment and ensures that their homes have less impact.
It's a design company founded in 1968 and has been family-owned and operated since then. The headquarters is in Asheville, NC, but their homes are delivered wherever the customers are. Check out the following round-style prefab homes from Deltec Homes.
Deltec Homes – 700 sqft+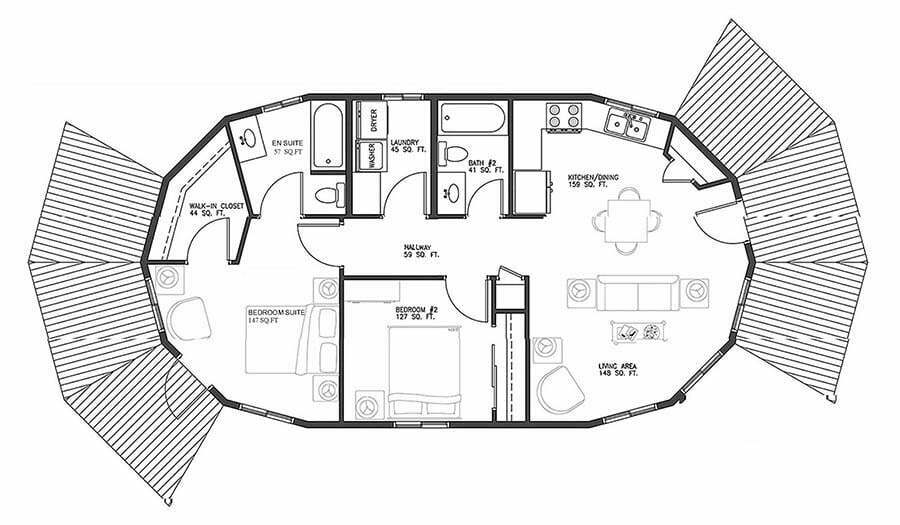 This home is part of the 360 Collection series. The Crescent Chalet is a unique concept home. This round home has a total living space of 912 sqft. There are two bedrooms and two full baths. There's a living area, a kitchen, and a dining. There are also two porches at the front and rear ends of the house.
The primary bedroom has a spacious walk-in closet. The shell price is between $93K to $141K. However, the turnkey price is between $330K to $550K.
Deltec Homes – 1100 sqft+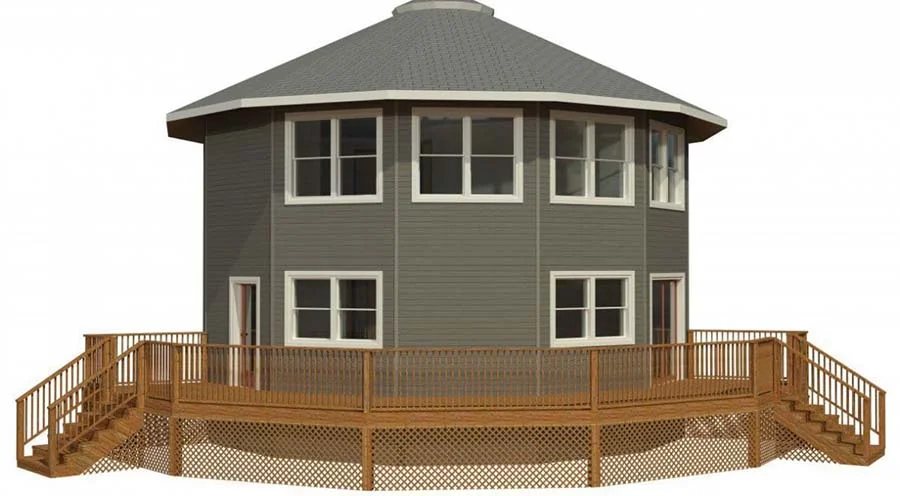 Another Deltec creation is their custom Classic round house. This particular home model has a total space of 1752 sqft, three rooms, one full bath, and one-half bath. It's got a spacious living room, kitchen, and a separate dining area.
The shell price for this home plan is between $168K to $240K. All the homes in this series and their catalog are customizable to let you create the best floor plan of your preference.
Deltec Homes – 2300 sqft+
The last model we have from Deltec Homes is from their biggest floor plans. This home has 5034 sqft of space and is about three stories high.
The first level has a mechanical room with HVAC systems. There's also the guest bedroom, the recreation room, a kitchenette, and a guest bath.
The second level has another bedroom with a full bath; and his and her vanity. There's also another kitchen with a countertop/eat-in space. There's also one full bath and one-half bath. There is a veranda out front for relaxation.
The third level has two sitting areas and three beds. There's another veranda and a hall. Features include a WebTec floor system, a self-supporting roof system, pre-installed Typar weather barrier house wrap, and more.
Mandala Custom Homes – Tamarack Series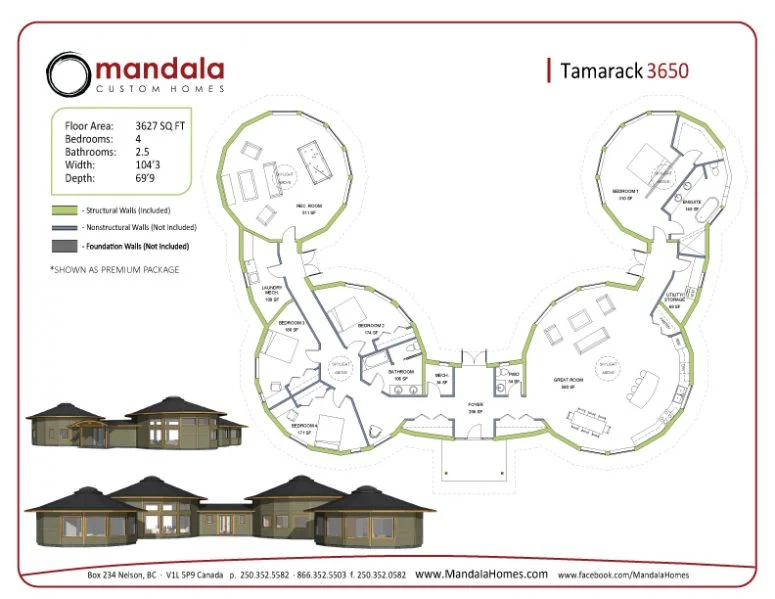 Mandala is for those looking for unique dwellings for their families. These homes are environment-friendly and energy-efficient. It's the first company in British Columbia's first energy star-certified home in 2011. If you're looking for a home with traditional designs but modern approaches, then check out Mandala Custom Homes.
The Tamarack Series has four Mandala circles. It has a total of 3627 sqft, has four beds, two full baths, and one-half bath. A hallway connects the four Mandala circles. There's the main entrance, too, that separates the four circles in the middle. You have two huts on either side of the entrance.
Mandala Custom Homes – Aspen Series
The Aspen series has nine home models. Typically, the design is a single-round Mandala home but differing only in size. The smallest is 900 sqft in total space, and the biggest goes up to 3500 sqft.
For example, Aspen 900 has two rooms and one bath. It has a covered entryway and a foyer. The house has beautiful huge glass windows to welcome the natural light into the home. The 900 sqft house has a skylight, a kitchen with modern appliances, a great room, and more.
Dream Design Build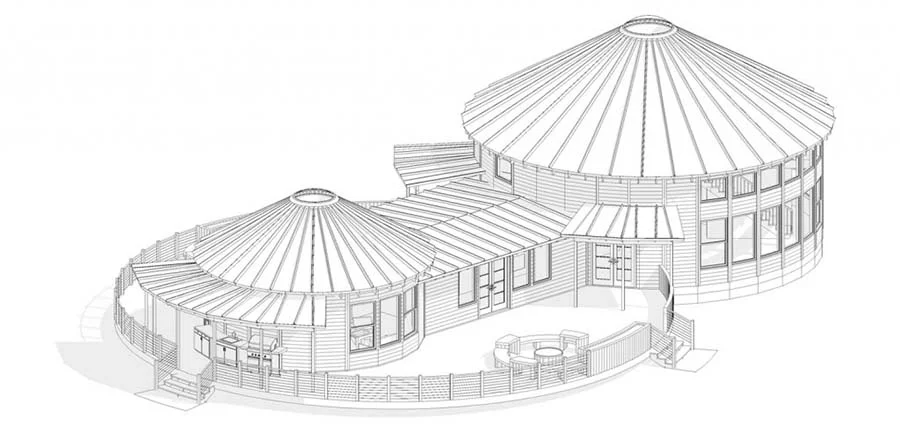 Dream.Design.Build. is another prefab manufacturer with unique house designs and styles. The company offers design services, building plans, and a team of expert consultants for any consultation you needs you may have.
Matthew Smith founded the company. Before this, he was a designer for Smiling Woods Yurts, and all his experiences are poured into his own design company.
For example, the 25ft yurt designs. There are four plans in this series. Design 1 is a studio yurt with a bath. It has a mini kitchen, a living room, and dining. This floor plan features a wrap-around porch.
Another 25 ft yurt comes with a covered entryway and back exit with a quaint veranda. It's an open floor plan home with a bed, a bathroom, a dining area, and a kitchen.
This yurt has all the amenities you need in a home. It's a perfect hut if you want to get away from city life and enjoy the environment, wherever the mountain or lake your yurt is.
Continental Kit Homes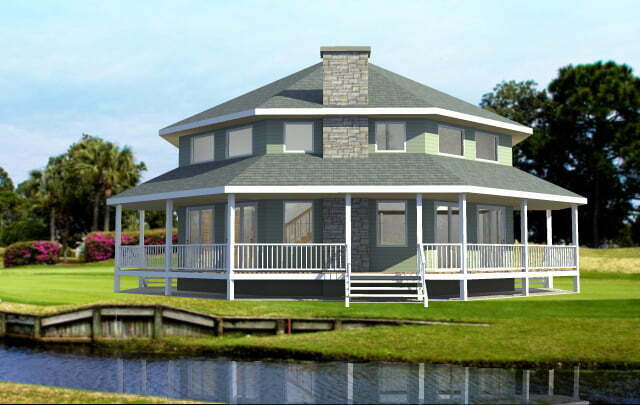 Continental Kit Homes provides all the assistance you need for your prefab dream home. It's a subsidiary of California Builders and has been a privately owned company since 1973. With their approaches and methods, they're able to reduce labor costs and increase the speed of construction.
They build posts & beams, and structures based on their client's preferences and budgets.
CBI Kit Homes has over twenty round-style modular homes. Carson is a 330 sqft home with a bed, a full bath, a kitchen, and a living area. It also features a beautiful deck perfect for relaxation, reading a good book, or enjoying a good wine.
Another home model is the Douglas, a 520 sqft home. It has a primary bedroom, a full bath, and a living area. There is also a kitchen with modern appliances in it. It also features a wrapped deck for your BBQ nights with family and friends.
Lofty Pods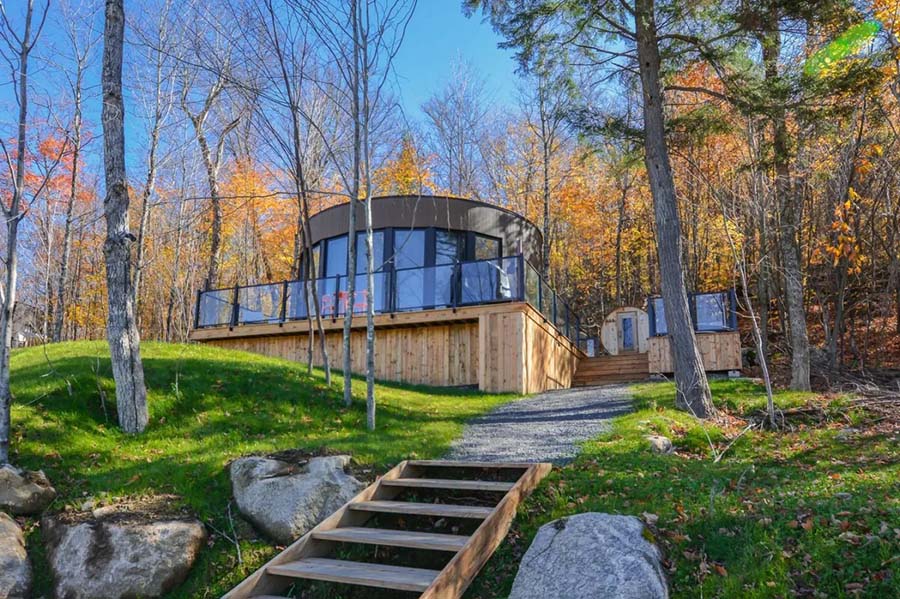 Lofty Pods is all about modern designs, superior quality, and fast building methods. The company has several series in its catalogs, such as its Ushuaia, Sky Po, Mini Antarctica, and Round Pods.
The Open Space pod is similar to the Round pod model with open floor plans. It's designed without walls to let you see everything wherever you are in the house. There's a bedroom, a living area, and a kitchen. There are so many windows for all the natural lights in!
This home is a one-level structure with 26ft in diameter, a 9ft ceiling, and more. Check out the site for more options.
Smiling Woods Yurts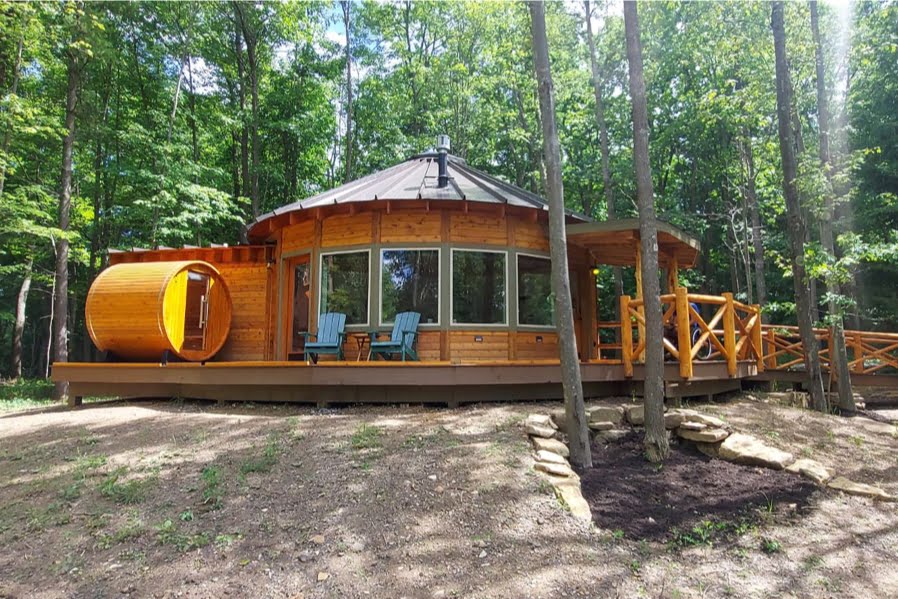 Smiling Woods Yurts offer beautiful round home kits with high lofted ceilings and cable and compression ring-supported ceilings with open floor plans. They are fully engineered to the location of build and are all wood and metal construction. In other words, a permanent home permittable everywhere. Smiling Woods ship continent-wide.
Related reading: