Last updated on October 6, 2021
So you're on a journey of sustainable construction or want to save on a home improvement project? Here's where you can find building materials for free.
While building a house entirely from free and recycled building materials is rare, it can still happen. And if you're willing to spend some time and try your luck at finding some free materials, you can cut your costs and improve sustainability significantly.
For example, reclaimed bricks are not cheaper than new materials, but if you can get them for free, you're cutting down costs even after you take building wastage into account. Using wooden pallets and scrap wood in your interior projects can also trim those costs.
Where and how you look for these free building materials determines your success. So here are a handful of places to look for.
Table of Contents
Construction Waste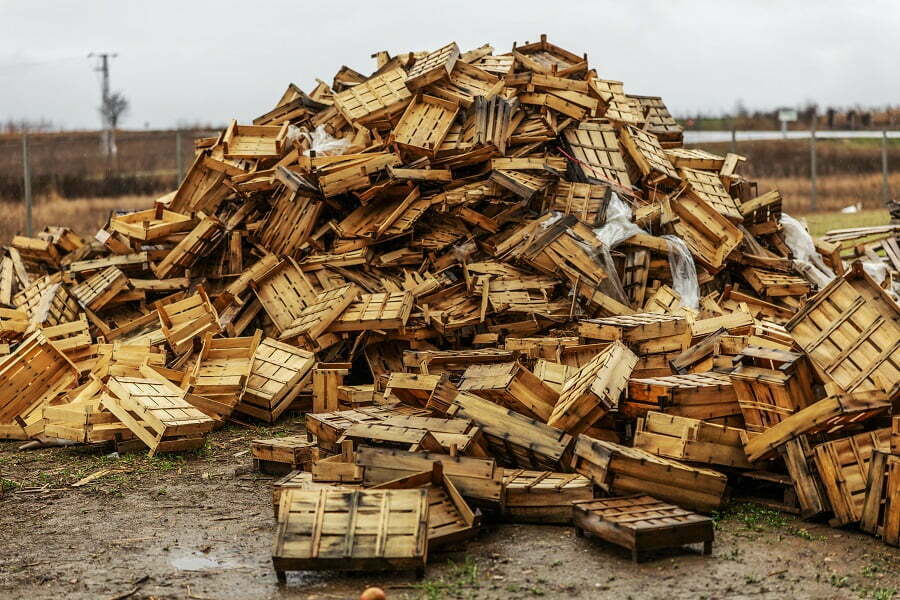 People often have construction debris, such as wood pallets, concrete blocks, bricks, etc. They often take these materials to the landfill. Offer them to take the materials yourself and free up their backyard or construction site. It's a win-win for everyone. If you pick up stuff, you don't find a use for, you can always take it to the recycle center yourself.
Craigslist and Facebook Marketplace
You might not think twice when posting a listing on Craigslist looking for free building materials, but many people do. If you're lucky enough to receive several responses, you'll save money by getting multiple offers.
And don't forget to look under the "free ads" section of Craigslist. Often, homeowners put up signs saying they're giving away materials, so make sure to take advantage of this opportunity.
Find Auction Houses
Auctions often sell used goods at very reasonable rates. Check sites like eBay, Amazon, CraigsList, and Kijiji to search for auctions near you. But if you don't want to pay for it, look for materials that go unsold. These usually go to the recycle center or a landfill, and you may find opportunities to take them yourself.
Freecycle
This site allows users to list items they wish to share, and then other members can pick them up for free. This is a great way to get building materials for free.
Visit Building Reuse Centers
These organizations buy discarded material and turn it into usable products. They include everything from lumber to drywall to windows.
Demolition Listings
These are listings from the owners of the house that is going to be demolished. The homeowners will often open the home to anyone willing to do their demolition work and get free items.
Put Out an All-call for Materials
Post fliers announcing your desire for certain kinds of materials. Point out that you want to get free materials that people don't need.
Barter and Trade
Trade other materials and items in exchange for what you want. You might have something that you don't have use for and vice versa.
Friends and Family
Ask friends and relatives for help. It doesn't matter how small the project is; everyone loves helping others.
Tear-down Sites
Some communities offer incentives to those willing to tear down abandoned structures. In some cases, property owners will even cover the cost of removing the structure.
Residential Construction Dumpsters
Most municipalities require that residential construction waste be placed inside a container before being taken to the landfill. Look online to learn about available options in your area.
Local Warehouses
Your local warehouses might have some old pallets they don't need anymore. Talk to them about the opportunity to take them off their hands for free.
How to Get Free Building Materials
Here are a few tips and tricks on how you can get the building materials you need for free:
Look for free materials on Craigslist and Facebook Marketplace. It's rare but you can get free materials locally.
Ask around about yard sales and garage sales in your neighborhood. People will generally give away things because it takes up space in their house or garage.
Freecycle is a website where you post what kind of stuff you are looking for and others can sign up as "givers" to help you fill those needs. It works like an online swap meet – everyone wins.
Post flyers advertising your need for specific types of supplies. People might be looking to get rid of stuff and all you have to do is pick it up from their backyard.
Contact your city government offices and ask if they run programs offering assistance with home repairs.
Start a blog asking for donations from readers.
Create a fundraiser page on Kickstarter or Indiegogo.
FAQ
How do you find local materials?
There are plenty of ways to get started: ask neighbors for advice, search Craigslist for postings offering free stuff, post flyers advertising your needs, contact local businesses, and ask whether they would be interested in giving you supplies.
What are low-cost building materials?
Low-cost building materials may seem complicated to come by, but there are still lots of opportunities to score deals. Here are just a handful of ideas: free wood pallets, used bricks, recycled glass bottles, scrap metal, old tires, wood scraps, etc.
Related reading: