Last updated on March 8, 2023
Here are four more options you can consider to light up your outdoor living space. Read on!
String lighting is all the rage when it comes to landscape lighting, and it's easy to see why. String lights are versatile, inexpensive, and add an irresistible, charming glow that's perfect for illuminating your patio as a party-ready spot or adding a twinkling glow over a pool or spa. But these lights aren't the only option eager homeowners have to shed a little glow on their outdoor living areas.
While string lights provide instant ambiance and radiance to an outdoor space, there are plenty of other professional lighting options that are perfect for highlighting some of the most special features of your property. Whether you're looking to improve after-dark navigation with hardscape lighting or you're showcasing a special planting group, statue, or water feature, here's an introduction to some of the top outdoor light fixture styles on the market.
Table of Contents
Hardscape Lighting Accents Paved Surfaces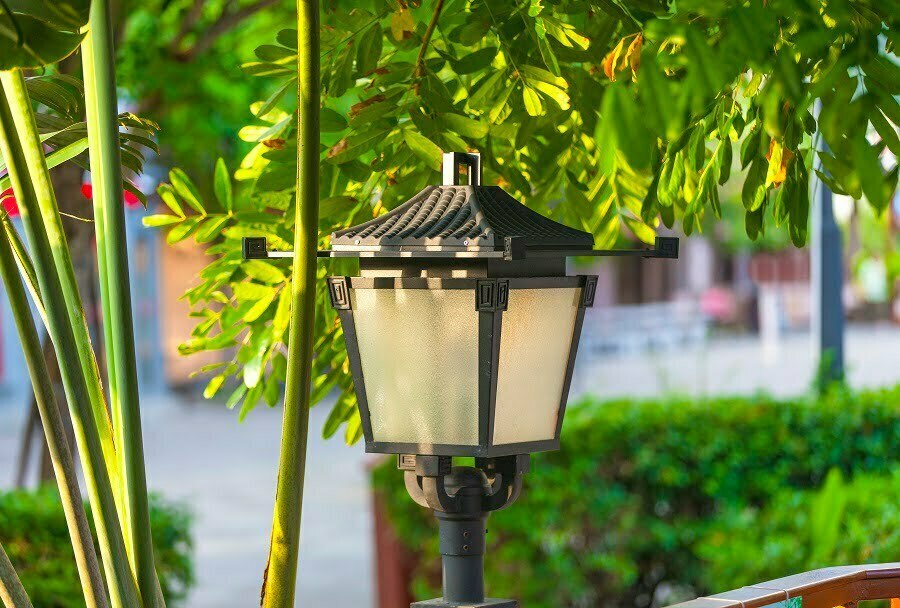 No matter the size or material of your patio—concrete, asphalt, brick, or stone—hardscape lighting is important. It's one of the first things that greets you and your guests, providing a warm welcome every time you step outside after dark.
The right lighting for your patio depends on many factors. How big is it? What's the landscape like around it? What features need special illumination? Lining the patio with pathway lights is one effective strategy. If you're looking for something low-profile yet very effective, lining the edges with in-ground paver lights is another great option that defines the borders of the paved area, providing a sure-footing for guests after the sun goes down.
Sconces and Bullet Lighting Add a Perk of Light
Need just a touch of light to enhance gardens, highlight unique hardscape features or illuminate a fountain or statue? Both sconces and bullet lights are directional lights that can cast a bathing glow of illumination or a bright flash of light.
Many homeowners use sconces for outdoor kitchens or as fence lighting. They can be mounted on any vertical surface, including walls, columns, and posts. Use an open-bottomed sconce to direct light downward, to illuminate all the action on a patio, or bathe a walkway with light.
Bullet fixtures shine a focused moderate- to high-intensity beam that's ideal for showcasing a special plant, statue, or architectural ornament. Bullet lights can be recessed into the hardscape, the landscape, or attached to a base, giving you the flexibility to easily adjust the light's direction.
Water Feature Lighting Creates Ambiance
A water feature of any size or style adds instant magic to a garden. Whether you have a fountain, pond, or pool—or you're planning to have one soon—consider lighting these features carefully. Floodlights or spotlights are ideal for highlighting the beauty of a fountain, creating a glowing effect from the bottom up.
Of course, if you've made the investment in a beautiful pool, you'll want to have adequate lighting to enjoy it to the fullest after dark. Submersible lights fit seamlessly within the perimeter of your pool, while recessed hardscape lights provide illumination for the pool deck. Water feature lighting creates instant beauty after dark, helping you safely enjoy your outdoor spaces, (including pool areas) well after the sun goes down.
Walkway and Deck Lighting Aid in Navigability
Your property likely has several hardscape features in addition to its patio and driveway. From cobblestone paths to paved steps, brick fire pits to stone retaining walls, hardscape adds context and function to any outdoor living space. The right lighting strategy ensures that these special features are never missed, particularly after dark. According to professionals at Blingle in Marietta, "Walkway and deck lighting can highlight the beauty of your home's architecture."
Hardscape lighting can be used for a variety of purposes, including:
Path lighting to offer sure footing and create a glowing ambiance for twilight strolls.
Step lighting to provide illumination on walls beside stairs or on the front, vertical face.
Patio and deck lighting to set the mood in your outdoor living space.
There are many styles of fixtures suitable for hardscape lights. In particular, well fixtures offer a low-profile way to illuminate hardscape elements, especially in high-traffic areas like paved patios and pathways. They're recessed right into the hardscape, providing illumination underfoot without any obstruction.
Careful placement of these fixtures ensures your hardscape elements, particularly navigable ones like paths and steps, are well-lit for maximum safety and aesthetic appeal, all at once.
Bring It All together in a Well-lit Outdoor Oasis
Landscape lighting should never be an afterthought. It offers much more than a way to highlight the unique features of your home, garden, and outdoor space—a comprehensive lighting strategy makes your space accessible and appealing for you and your guests. Get creative and use landscape lighting to show off your property's very best features and enjoy your outdoor space to the fullest after the sun goes down and the stars come out.
Related reading: