Last updated on May 8, 2022
Here's a quick guide to cleaning ten popular types of floors. Read on!
Floors are such a magnificent element in a home, with different textures, colors, and styles. The floor is the ultimate cover to save you from injuries, smoothing out construction marks, etc. Cleaning these floors can be a hassle, even if you are a perfectionist. There will be dirt building up, grim on the edges, and one wrong move can ruin the floor completely. Not every material will be clean by itself and in this busy world, skimming through resources is the last thing you want to do.
If you're stuck with this dilemma, don't worry. In this article, we will be talking about various ways to clean floors efficiently. Moreover, we will discuss how to clean every type of floor, from ceramics to rarer ones like asphalt. So that you don't have to waste time trying to figure out and preserve the beauty of your sustainable home. Let's begin.
Table of Contents
Concrete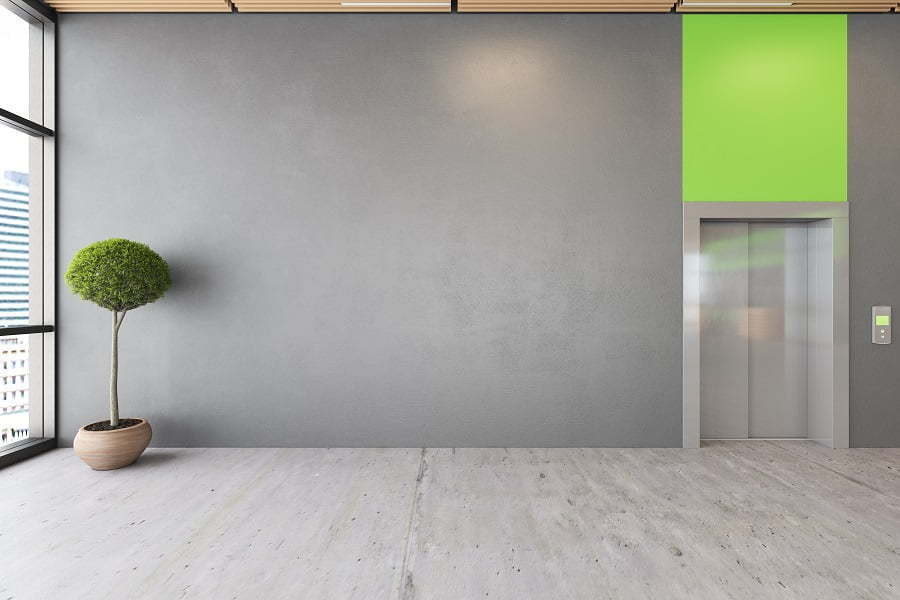 Concrete is a porous material. Meaning dirt and grime can penetrate it quickly and cause damage. First, you should seal the concrete floor to avoid an alarming mess. If there happens to be dirt, clean it with an all-purpose cleaner. Use kitty litter to absorb the sticky and oily mess, spreading it around and cleaning it with a broom, and finally with water. Use sponges and mops if you use cleaners and allow them to dry.
Marble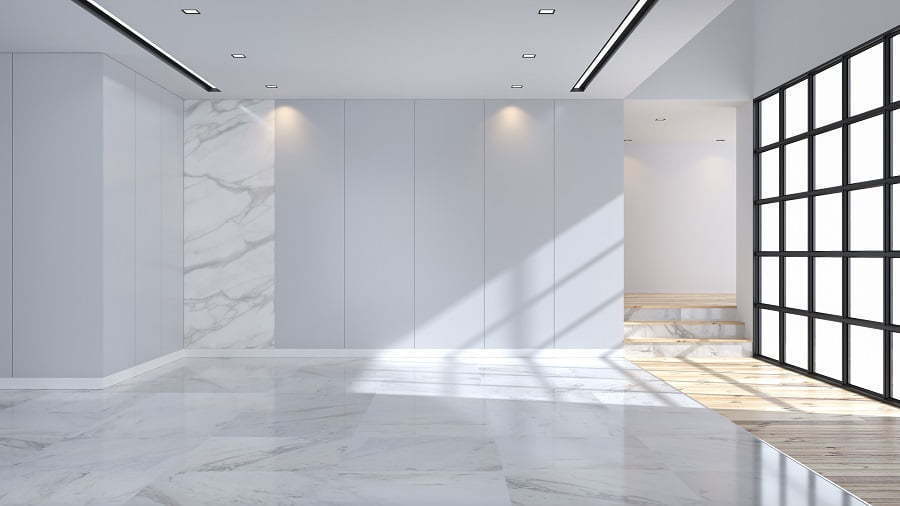 Similar to the first material, unsealed marbles are also porous. Unpolished marble is not dirt-resistant either. You can clean the mess with an all-purpose cleaner but if you don't find it nearby, use fabric softeners. Use 1 cup of fabric softener to 2 liters of water. Clean the dirt surrounding it and then use a water-based polishing wax to bring back the shine. If you are using paste wax, test it out first to make sure it doesn't discolor your floor.
Carpet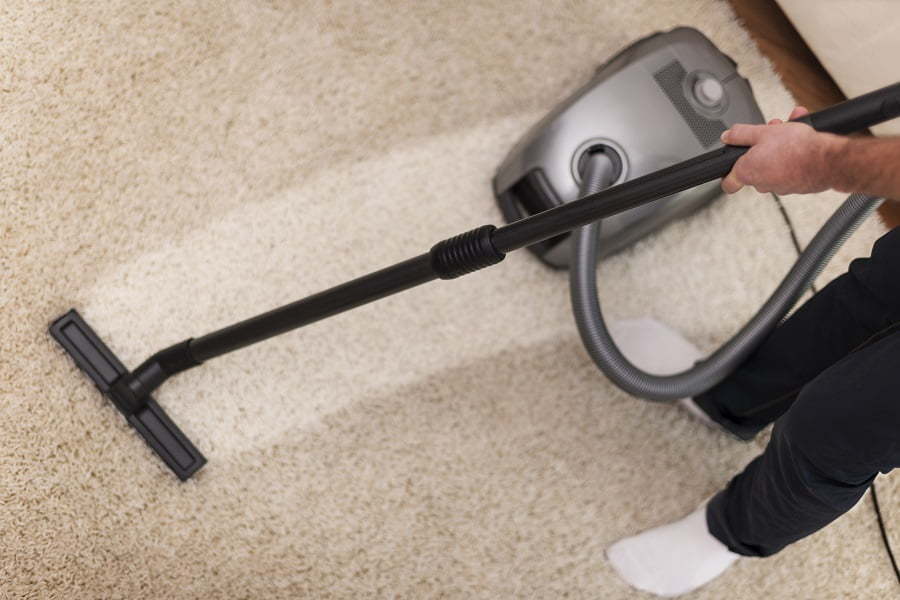 Surprisingly, even though this doesn't count as an actual "floor" many homes tend to layer carpets to cover the floor. These woolly, fuzzy warm fabrics are comfortable to walk on. However, they can be intimidating to clean, as one wrong move can wear them out! First, clean the dirt with a vacuum cleaner. Clean any spills with vinegar-water spray. Always rub to remove the stain gently. Gums can be removed by rubbing an ice cube on them. If possible hang the rug outdoors and beat it with a broom to remove the dirt build-up on it. The heat from the sun also kills germs and pests, so that's a bonus you can always take advantage of (and you can get a chance to vent your anger and be stress-free, that's always nice.)
Ceramic Tile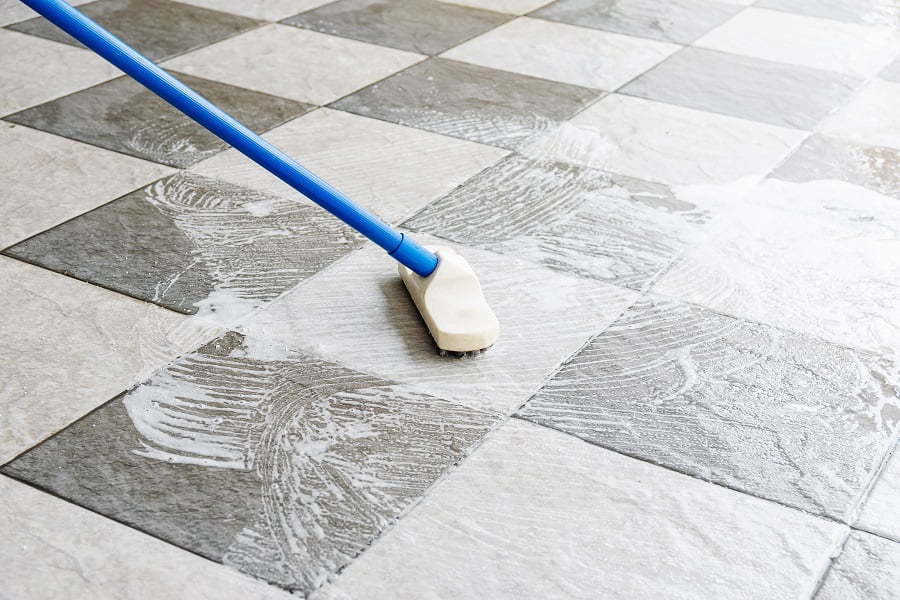 Ceramics also tend to be porous when it's not glazed. If you have your floor glazed, then there is nothing to worry about as it is resistant to stains. In unglazed ceramic floors, make sure abrasives, strong acids, and soaps are not used. Dilute your cleaner liquid with a little water to be on the safe side and stop damaging it, dry the floor with a soft cloth. Strip the ceramic once every year, reapply the wax, and rinse it well afterward.
Vinyl Floors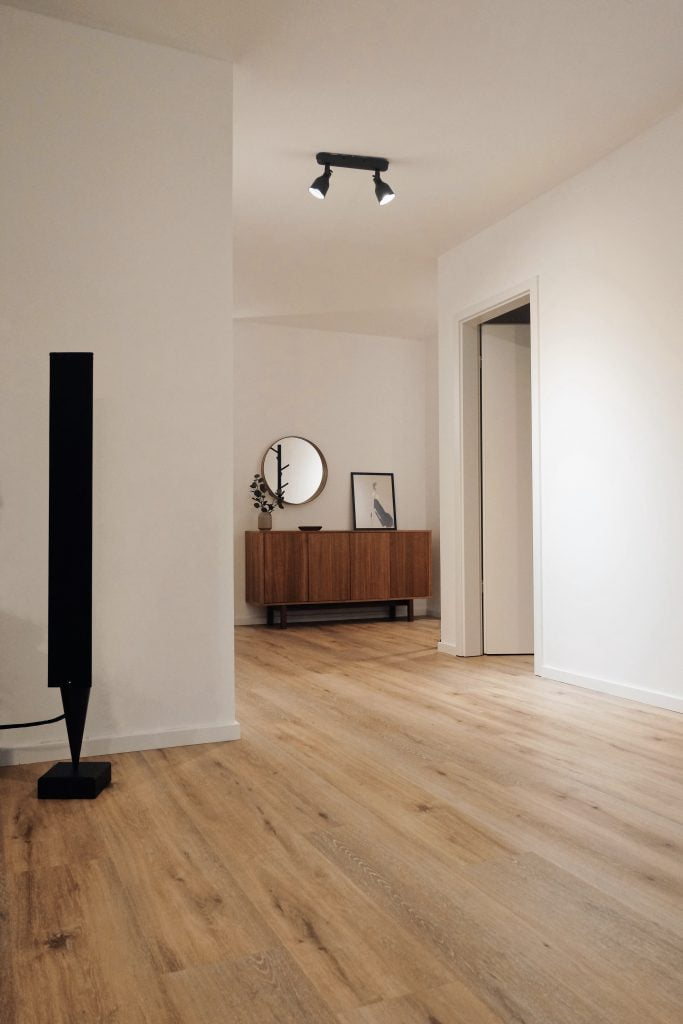 To preserve vinyl floors, they must be kept moisture-free as much as possible. When spills occur, act on them immediately otherwise they can start ruining the texture. Clean the spill using a non-abrasive wipe or a towel gently, without damaging the lamination of the material and the adhesive it is stuck on to. Avoid washing the floor! Moisture is its biggest enemy. If you do notice mop streaks when you're done wiping the floor, you can go over again using a solution of white vinegar and water (drying it off completely!). To make your job easier, you can always purchase a vinyl floor cleaning machine and never worry about damaging it again. 
Hardwood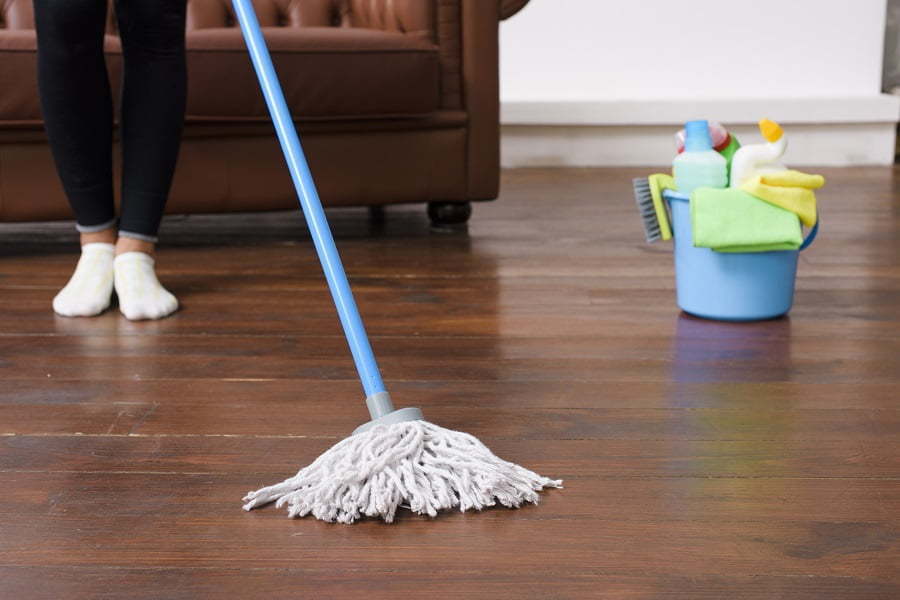 Hardwoods are one of the most common materials used on floors. The best way to clean is, at first, to determine whether it is sealed or not. If you don't know, try this technique. Rub your finger over the floor. If you see a smudge, then it's unsealed and vice-versa. In case it's sealed, the only thing you need to clean it is water. Mopping it every week to get rid of the dirt is enough. For unsealed floors? Let's get in-depth with it.
First, dry mop, and vacuum the floor to remove buildup of dirt, debris, pet hair, and so on. Next, conduct some research on cleaners designed for unsealed floors. Better to be safe than sorry. Then wipe your floor gently with it and dry completely. Sealed floors with a penetrating finish need to be cleaned carefully, as it absorbs water. The way you can detect it is by feeling the texture. If it feels bumpy or grainy, it is sealed. 
However, if you don't know what kind of finish has been done on your floor, just mop your floor with a mix of soap and hot water. Make sure not to flood it with water to prevent the floor from wearing out. Avoid using abrasive, strong acids and soaps. Use a cloth to completely dry it off as water could start making the floor weak.
Linoleum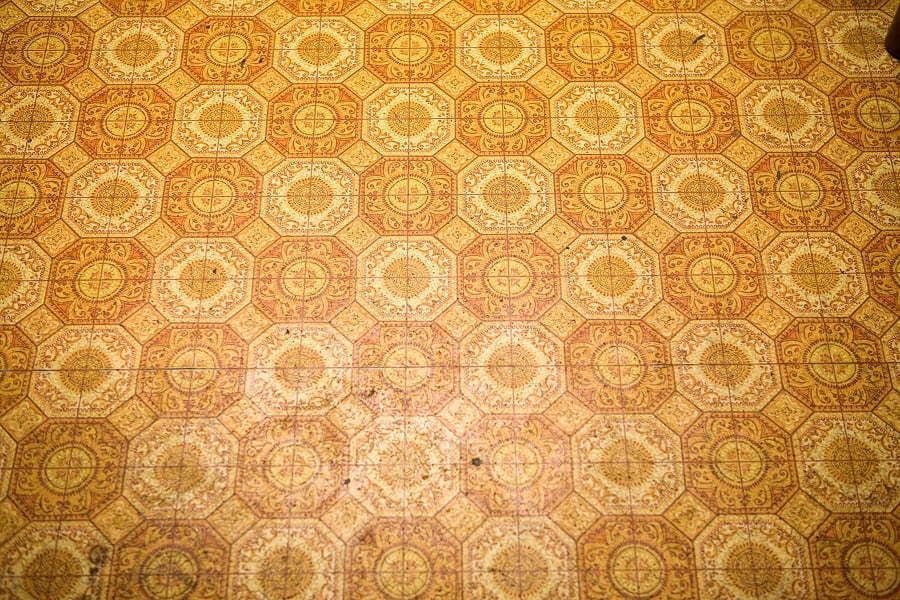 Linoleum is a hard floor and can take up a toll without any damage for a long period. Like any hard floor, the simple rule to follow is, vacuuming the dirt, and using lint rollers to pick up hair and fuzz. Clean the sticky mess with a towel and repeat the process every day. 
However, for a more deep clean effect, use a mild detergent or dish soap with one gallon of water and sweep the floor with the damp mop. Make sure the mop isn't dripping water as moisture can affect the linoleum gravely. After you have finished going over the floor, clean off the solution with cold water using a rinsed mop to get rid of the soap residue. Lastly, use a towel to completely dry it. Keep moisture away as much as possible.
Brick Flooring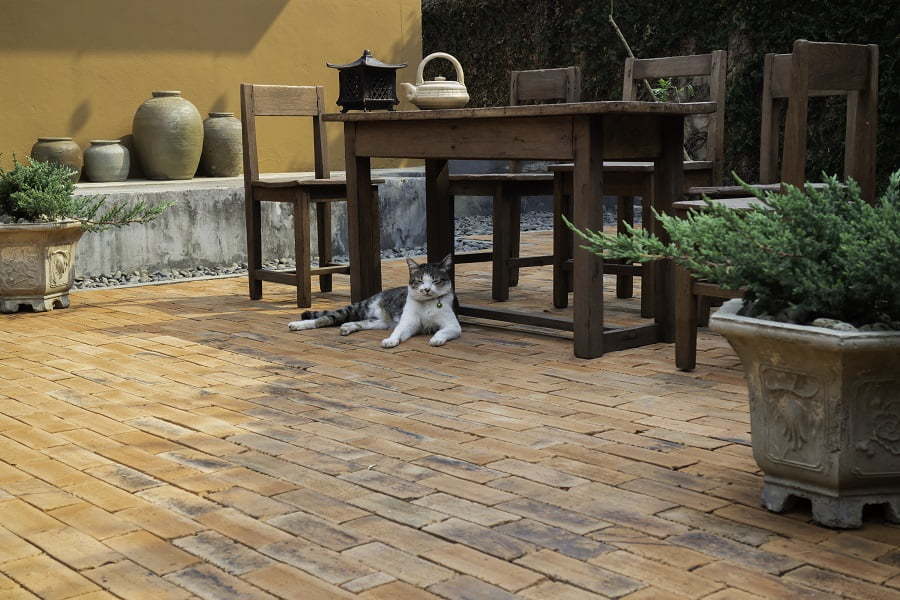 Bricks tend to be porous so make sure to get the seal first. This is important. Next, vacuum the dirt off the floor and mop afterward. To bring back the luster, use a mix of vinegar and water and sweep the mixture across the floor, working your way gently and making sure the mop is not dripping. Do not use any type of strong acids, soaps, and abrasives, and work your way gently.  
Asphalt Tile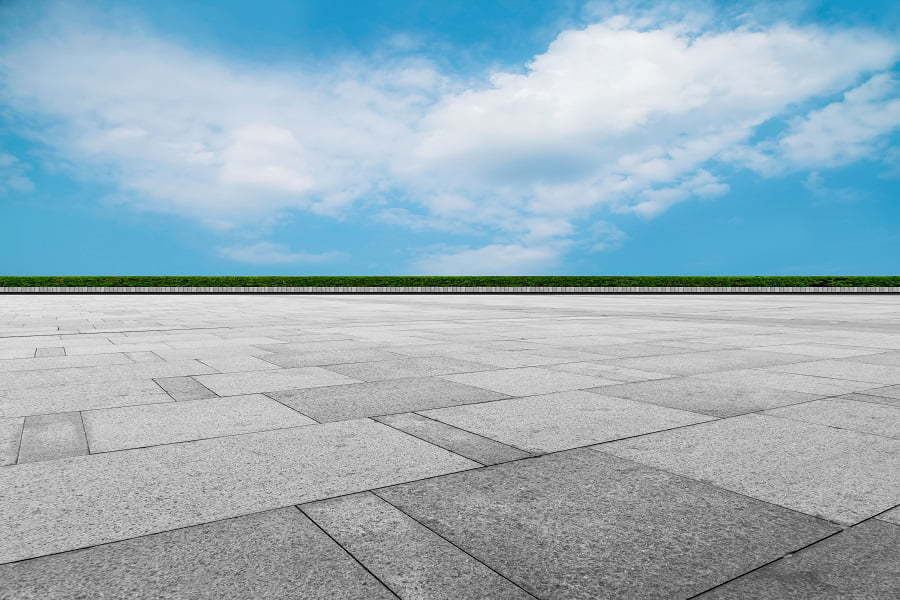 Putting your recycled asphalt into use and using it for your floor is quite impressive. It is not the most common material for homes, but don't worry about the cleaning issue. Try to mop every week with 1 cup of fabric softener mixed with 1 liter of water. Make sure not to use too much water as it can ruin the adhesive and grout it out. To remove stains, use steel wool and wax designed to polish floors. Finally, wipe it with a damp cloth and let it dry.
Flagstone Flooring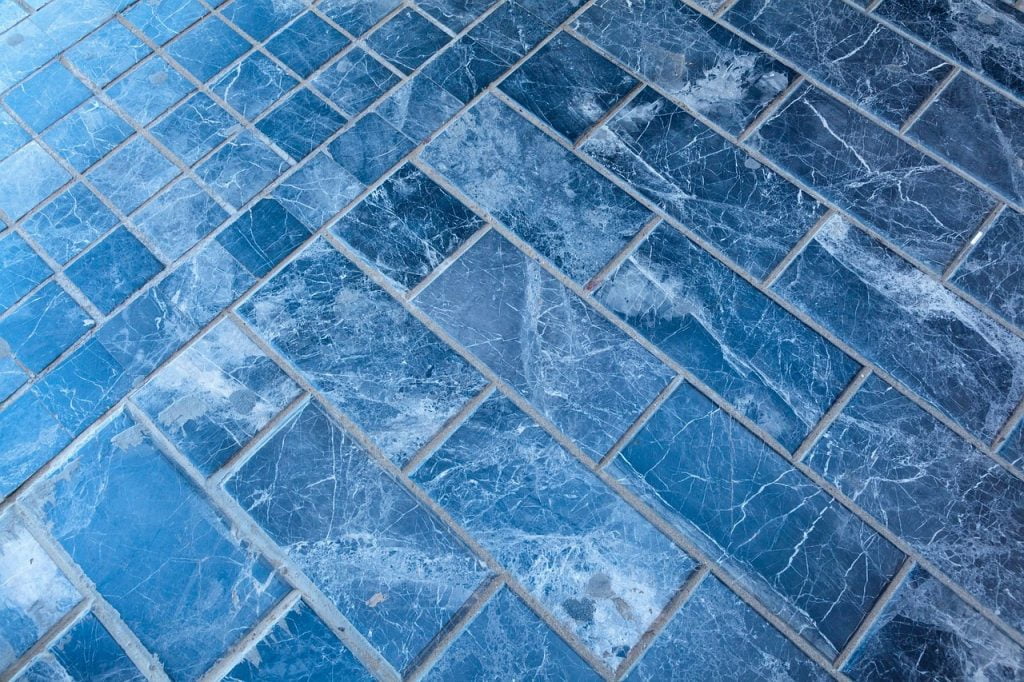 Stones from nature can come with different textures which can be quite rough on your feet, making it uncomfortable to walk. So before you do anything, first, seal the floor up. Next using an acrylic floor finish and a wool pad, apply it all over the floor to maintain its structure. Lastly, always make sure to strip it once a year and reapply the finish, cleaning the floor every week with the same fabric-water mixture or cleaners designed for this particular flooring.
A General Rule
No matter what you do or how you clean the floor, it is always important to leave some work for the experts. To word it better, try to get your hands on floor maintenance service in your area. The fun fact is that you can hire them any time to do the work, or even get it done before the holidays if you feel fancy. It is good for the floor and keeps it damage-proof and healthy. Purchase soft cleaners for your floor. Strong acids and soap can be powerful and easy to clean, but they can cause prolonged damage to your floors. Never stop researching and keeping your options open when trying to decide which cleaner is best for what type of floor. Always good to have some backup when things mess up and not knowing how to figure it out. 
Takeaway
There you have it. How to clean almost every type of floor in your house. Follow along with these tips, and it can help you keep your floor tidy, free of harmful diseases, and stop any future disaster. These materials follow simple criteria that are easy to follow, so you don't have to spend your precious time stressing about it. Remember, your floor can either make or break the game so taking care of it is a must for every household. Thank you for reading!
Related reading: