Last updated on October 5, 2022
This is our digest for Japenese style prefab homes that are minimalist but energy efficient and sustainable.
The Japanese-style prefab housing is famous for delivering customization options through holistic management. Manufacturers almost always go for minimalistic architectures and sustainable and energy-efficient approaches.
These companies are world leaders in innovation and using targeted marketing strategies to satisfy clients, it's no surprise why people are interested in getting their very own Japanese-inspired prefab home.
We want you to be in the loop as well. Check out these uniquely-designed Japanese prefab homes.
Table of Contents
Haiku Houses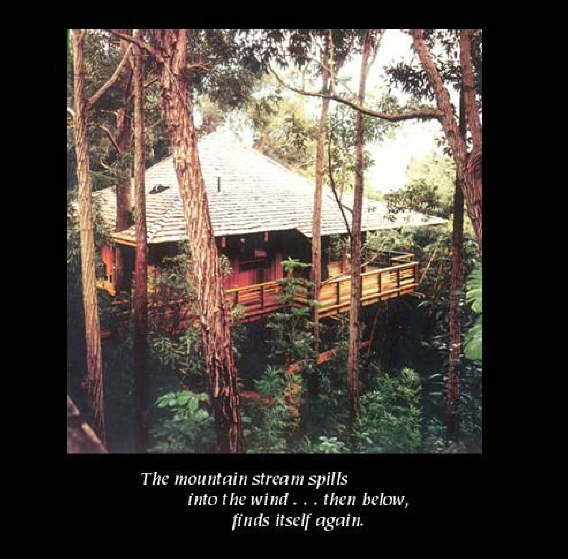 Haiku Houses have been in the industry for over 45 years. They serve clients throughout the United States, even in Great Britain, France, the Netherlands, and the Caribbean. Its reach is global, and for good reasons. They make sure that their homes are suitable for any climate.
Haiku is, in fact, a form of poetry. However, it quickly became a philosophy for FL Wright for all his designs and architecture. The founders of Haiku Houses favor simplicity, elegance, and uninterrupted beauty. Thus, looking at Haiku Houses give you that peace and tranquility that not many houses exude.
Haiku House Models
Haiku Houses have a total of sixteen structural models to choose from. These are all flexible according to the client's needs, budgets, and lifestyles.
The Grand Pavillion
This is a one-story home with three bedrooms, two full baths, and a den. It has a total living area of 2145 sqft and a veranda area of 1300 sqft. The veranda surrounds the entire house.
This space gives you enough room for entertainment, relaxation, hosting BBQ nights, and so much more. This home is a perfect option for those who love looking at the environment and enjoying nature.
Eagles Nest
This is the perfect home for coastal areas. The Eagle's Nest features a living room and a study on the upper level of the house. It has three bedrooms and one and a half baths.
It also has a sizeable primary bedroom and cantilevered verandas like the Pavillion. The home has a total interior space of 1680 sqft and a veranda space of 900 sqft.
Muji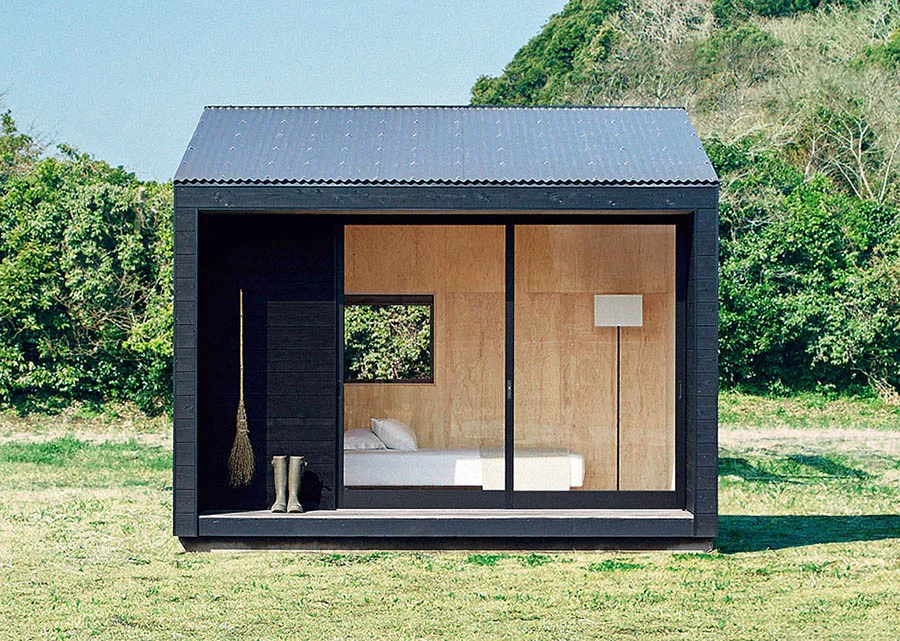 Muji offers you a special little place that's all your own. The beauty of Muji houses is their ability to blend into nature, whether in the mountain or by the beach. The home opens to so many possibilities.
Muji Huts are notable for three reasons: it's space-efficient, use traditional craftworks, and has a simple and classic design.
The interior of the huts is only 9msq, but the porch is big enough for 3-4 people to socialize, chat, drink good coffee or wine, and more. The glass doors let the natural light flow and flood into the unit.
Furthermore, this tiny hut uses the same foundations that traditional homes use. It has raft foundations that provide strength and prevent ground moisture.
Yokoso Japanese Gardens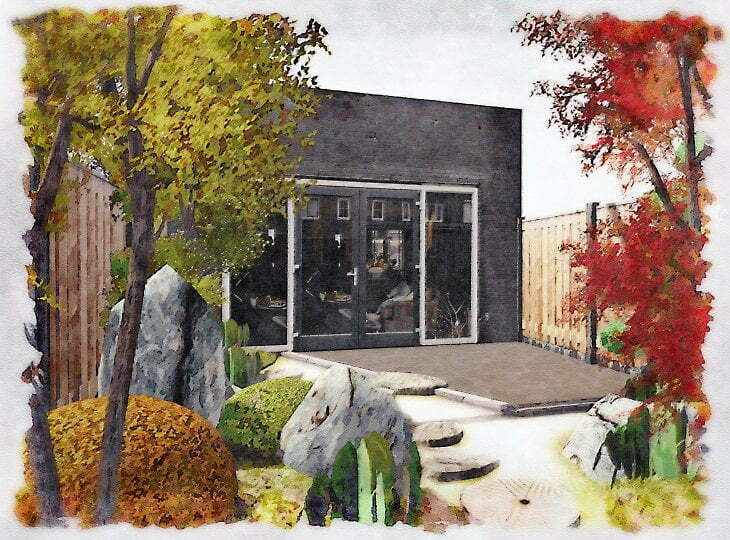 Yokoso Japenese Gardens is not only one of the premier garden centers but is the largest and most authentic garden center outside of Japan. Japanese gardens have gained traction over the years, and many Western architects and landscape artists adapt the design to their creations.
There is now an increasing demand for Japanese garden designs for their homes, traditional woodwork, and Japanese antiques and artifacts. However, Yokoso isn't only infamous for its garden sites and structures. The company is also sought after for its prefab homes.
Country House Zenkei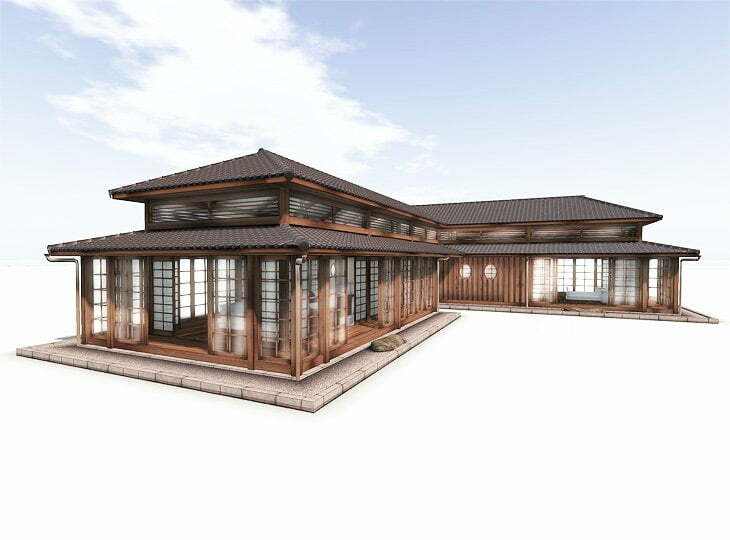 The Zenkei is a country-house-style prefab home. It's designed to consist of two separate spaces. They call these spaces cocoons. The inner cocoon has double-insulated translucent shoji-style sliding doors. The outer cocoon or engawa also has sliding doors with double insulated glazing.
With ceramic roof tiles, the Zenkei gives off that overall Japanese feel. The entire home consists of interconnected modules of 900x600cm.
Yokoso Furi Damu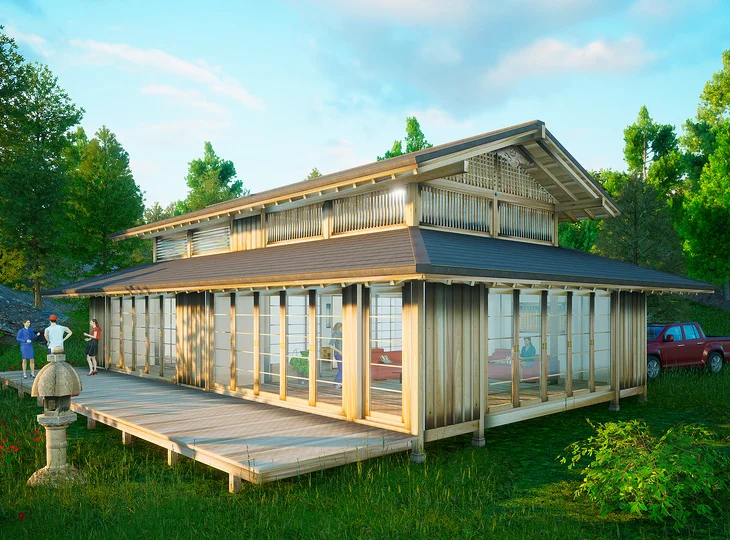 The Furi Damu is another Japanese-themed prefab modular pavilion from Yokoso Japanese Gardens. Furi Damu has an interior space of 1390×760 cm, and it's the perfect bungalow style or guest house.
There are options available. For example, you can add a partition wall to separate the open spaces into sections. You can put a divider and have a bedroom, a shower room, a toilet, and a kitchen. It features a smart wall system, fixed walls, and walls with siding doors.
Yokoso Jounetsu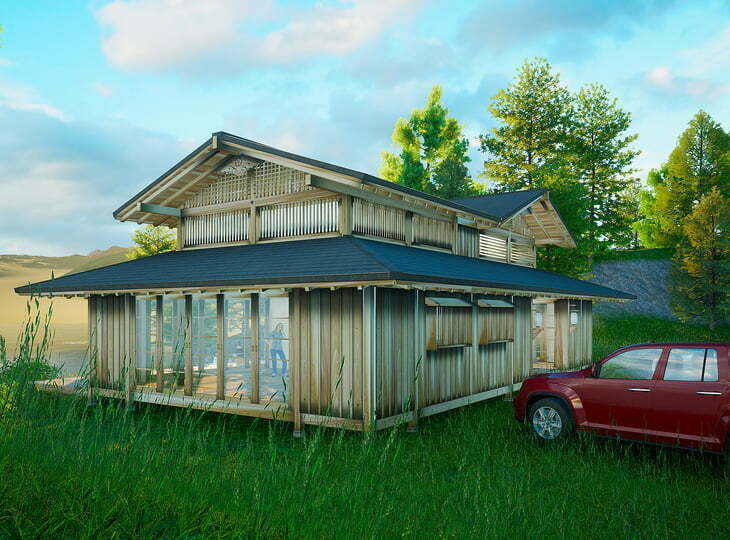 The Jounetsu is a prefabricated Japanese-style pavilion or bungalow. It's the smallest one among the original prefab modular housing of the company.
The structure has an available interior space of 1190×660 cm, and it offers you much space for your workshop, studio, or home office. The options are endless! It's the perfect prefab structure if you want the luxury of air and natural light going in and out of your tiny space.
All prefab structures from the Yokoso Japanese Gardens are built-to-order. They have several configurations to choose from, but they also have the standard many already like.
YumiSteel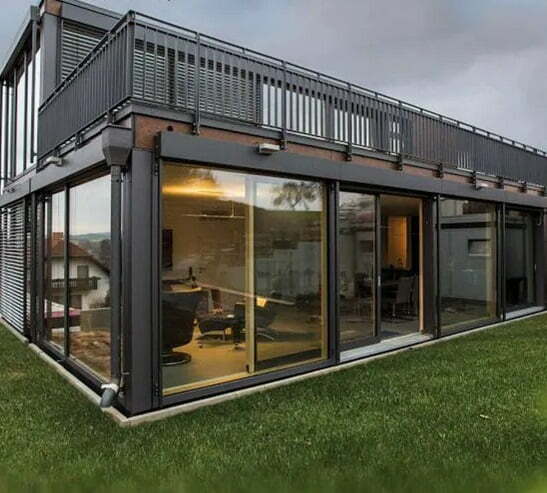 YumiSteel makes life better by building better. It's the leading manufacturer of steel structure products. They have insulated roofs, wall sandwich panels, corrugated steel roofs, and more. With over 29 years of experience, they now lead the industry of civil construction.
Aside from their high-quality materials, they also provide prefabricated buildings, container homes, and Japanese-style modular houses.
Japanese Style Modular House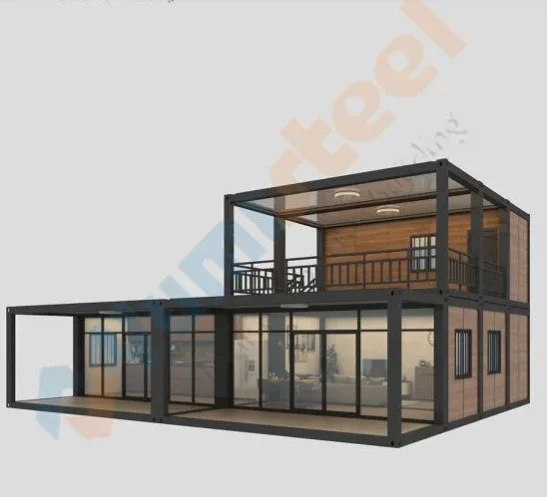 This container-like home but in Japanese style, has a large porch for all your outdoor activities. It's designed for that seamless space from the inside part of the home to the outside.
The home is a two-story house with the most authentic Japanese traditional home feel. The home uses 20ft containers and features an external staircase to get to the bedroom on the house's first level.
Why a Container House with YumiSteel?
One of the best things about a container home is its insurance against natural disasters such as hurricanes and earthquakes. They are even resistant to fire.
YumiSteel's products are made of mineral wool sandwich panels, which are great for heat insulation. Additionally, the panels are coated with PE coating to help keep their surface resistant to chemicals.
Another thing about a container home is that it's environmentally friendly. Most of the structure is already done in a controlled factory setting. This reduces waste and ensures that every process is according to schedule.
There are also customization features. You can make it specific to your needs and preferences. This makes all the difference!
Related reading: