Last updated on October 29, 2023
Are you ready to raise your home's elegance levels and increase its value, too? Renovating your staircase could be a smart way to achieve both.
It can be daunting trying to navigate all of the renovation options that are available for staircases, so we've put together some helpful tips on how best to renovate stairs without breaking the bank or wasting resources.
We'll provide suggestions about enhancing design elements while spending minimal time and money, making this an ideal remodeling job for homeowners looking for fast results with maximum impact. So if you're getting ready to make your main stairway into something truly special, read on!
Table of Contents
Install Safety Features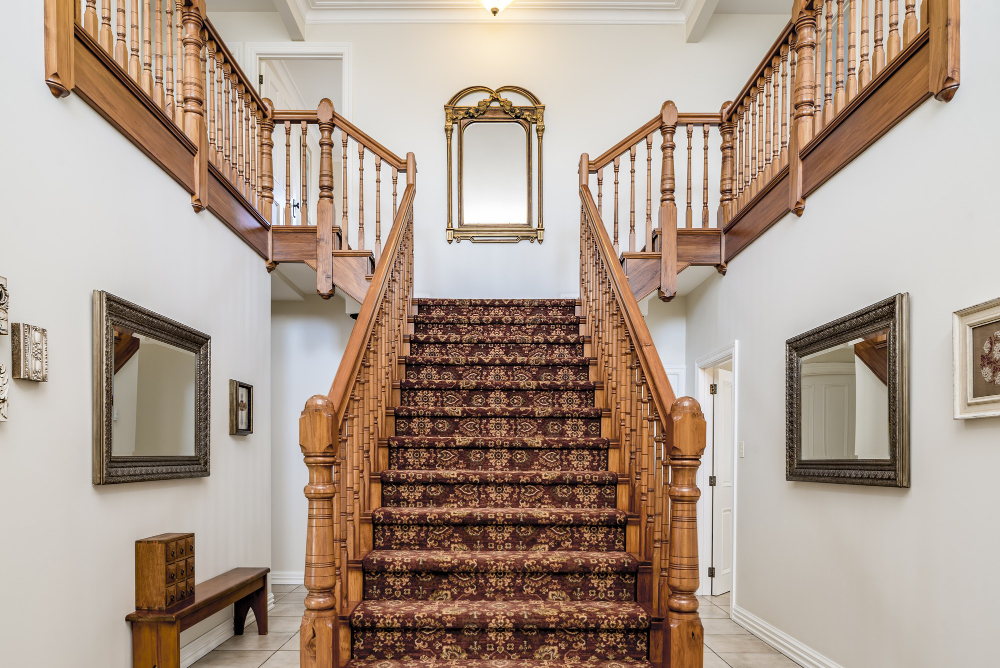 If your main staircase is made up of bare, unadorned elements, you might want to start by adding safety features. Depending on the type of home construction and materials used for the stairs, this could involve updating handrails or installing slip-resistant treads.
Many options are available to fit any budget and style preference – from sleek metal handrails to classic wooden ones. Make sure to also address any loose or damaged steps and secure them properly.
From iron balusters to glass balustrades, there are a multitude of choices for adding both safety and style to your staircase. When choosing safety features, keep in mind the overall look and feel of your home to maintain a cohesive design.
Experiment with Paint or Stains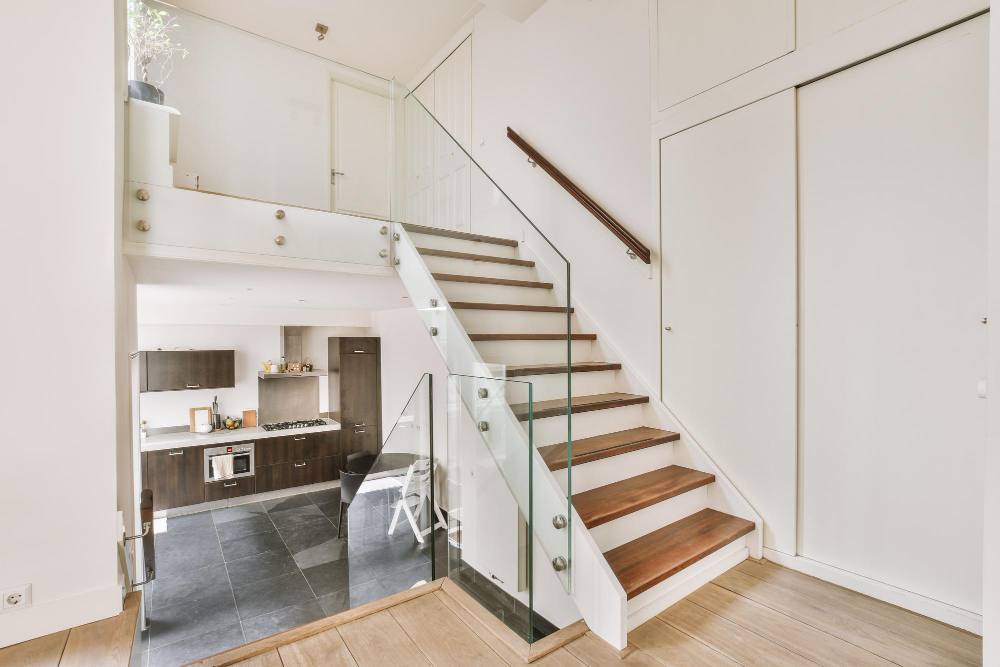 Another way to elevate the look of your staircase is by utilizing paint or stains. Depending on the type of wood used in your stairs, you can either enhance its natural beauty by staining it in a darker color or completely transform it by painting it a different hue.
If you want to create an eye-catching focal point, consider painting each step a different color or adding intricate patterns with stencils. You can even use metallic paint for a touch of glamour. Be sure to choose high-quality products that will withstand foot traffic and provide adequate grip to prevent slips.
Create a Statement with Standout Stairs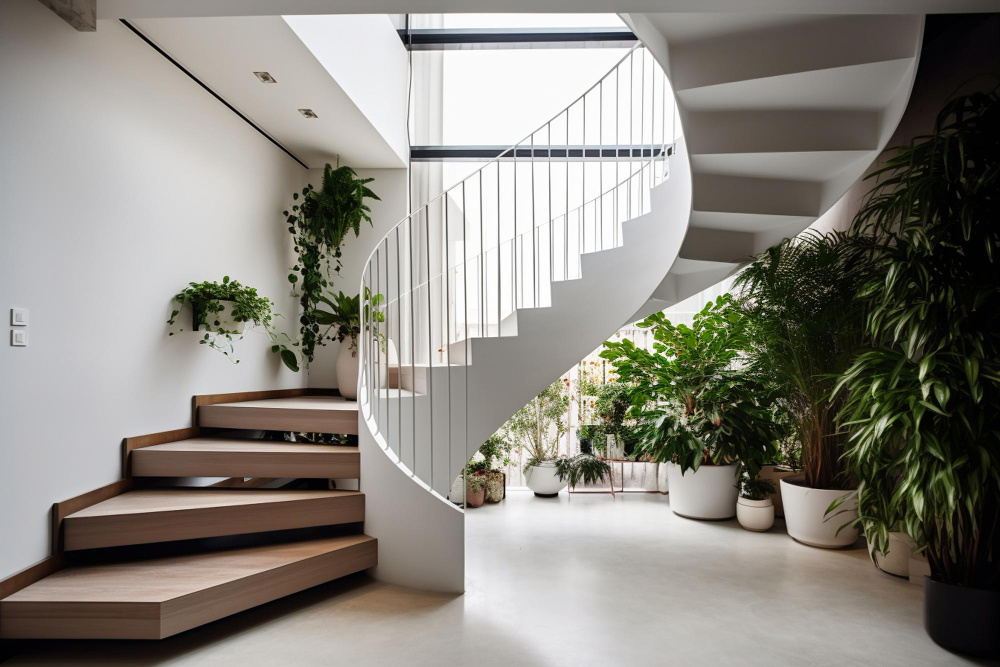 There's no denying that the first thing anyone notices when entering a home is the staircase. It's the centerpiece of any entranceway and sets the tone for the rest of the house. So, why not make it stand out with a design that's both eye-catching and stylish?
Whether it's a grand, sweeping staircase or a more minimalistic yet dramatic one, there are so many ways to make your stairs the focal point of your home. Choosing materials like natural wood, sleek metal, or even glass can also add an extra touch of sophistication. With standout stairs, your home is sure to make a memorable first impression.
Maximize Your Space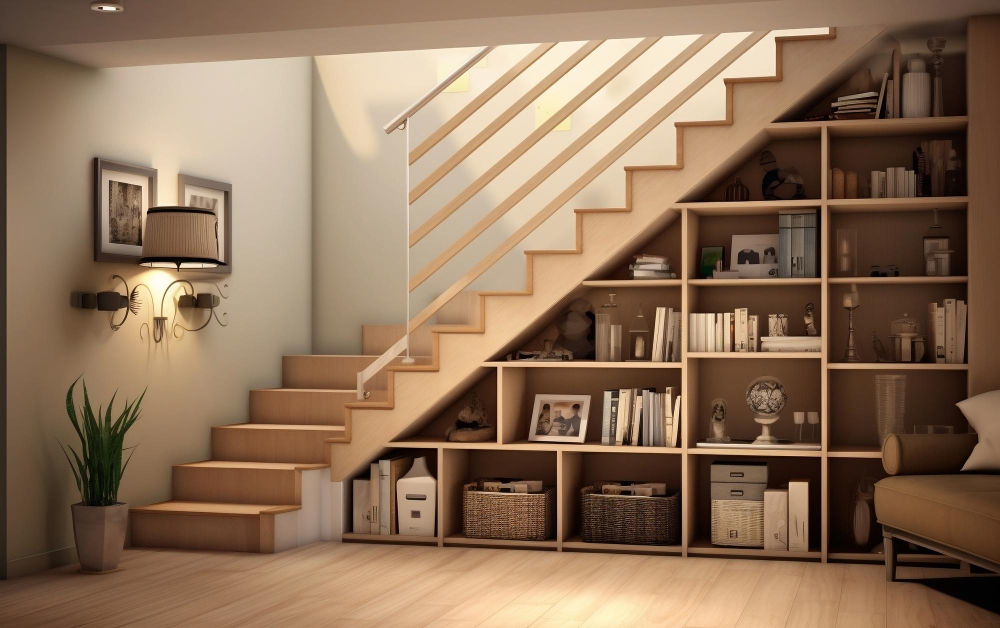 Are you tired of clutter and feeling like there's never enough storage space in your home? Look no further than underneath your stairs! This often-underutilized area can be transformed into a functional storage solution.
Imagine having stacks of books neatly organized, or a spot to store your off-season clothing and shoes. The possibilities are endless, and best of all, it won't cost you a lot of money to get it done. So, don't let that space go to waste any longer. Maximize your square footage and simplify your life with the addition of storage under your stairs.
Consider Adding Lighting
Walking up or down a staircase at night can be a bit daunting, especially when it's pitch black. However, adding soft lighting to your staircase can not only make it easier to navigate but can also add some extra charm to your home's decor.
With a wide range of lighting options available, from classic wall sconces to contemporary LED strips, you can choose the perfect style to complement your home's interior design. Adding lighting to your staircase is a small change that can make a big difference in the safety and ambiance of your home.
Utilize Professional Services
When it comes to installing new staircases or undertaking a major renovation, it's always best to seek the help of professionals. Not only do they have the expertise and experience to ensure proper installation and maximum safety, but they can also offer valuable design advice and recommendations.
They can also work with your budget to find cost-effective solutions without sacrificing style. By utilizing professional services, you can be confident that your staircase renovation will be completed efficiently and correctly.
Staircase renovations can be an integral part of updating your home's interior, both aesthetically and functionally. With a variety of considerations to make and materials to choose from, it can be difficult to know where to start.
Keep in mind the key elements when renovating stairs – create a statement with standout stairs; maximize your space; install safety features; invest in quality materials; consider adding lighting; and utilize professional services when needed.
Taking these steps will ensure your staircase is not only beautiful but safe and secure for years to come. So don't wait any longer – start planning your staircase renovation today and add a touch of panache to your home!
Related reading: