Last updated on May 13, 2022
A glider swing is a wonderful addition to any outdoor space. It allows you to relax and unwind with the soothing motion of being swung back and forth and also gives your children the chance to play safely while under the watchful eye of an adult.
Aside from being perfect for individuals who need some extra movement during their day, many people find them very calming as well. This is the ideal way to end your day with a cool drink and a long sunset, letting the stress of work or school fall away.
Let's learn more about why this outdoor living trend is so popular.
Table of Contents
Wood Double Glider Swing Weight Limit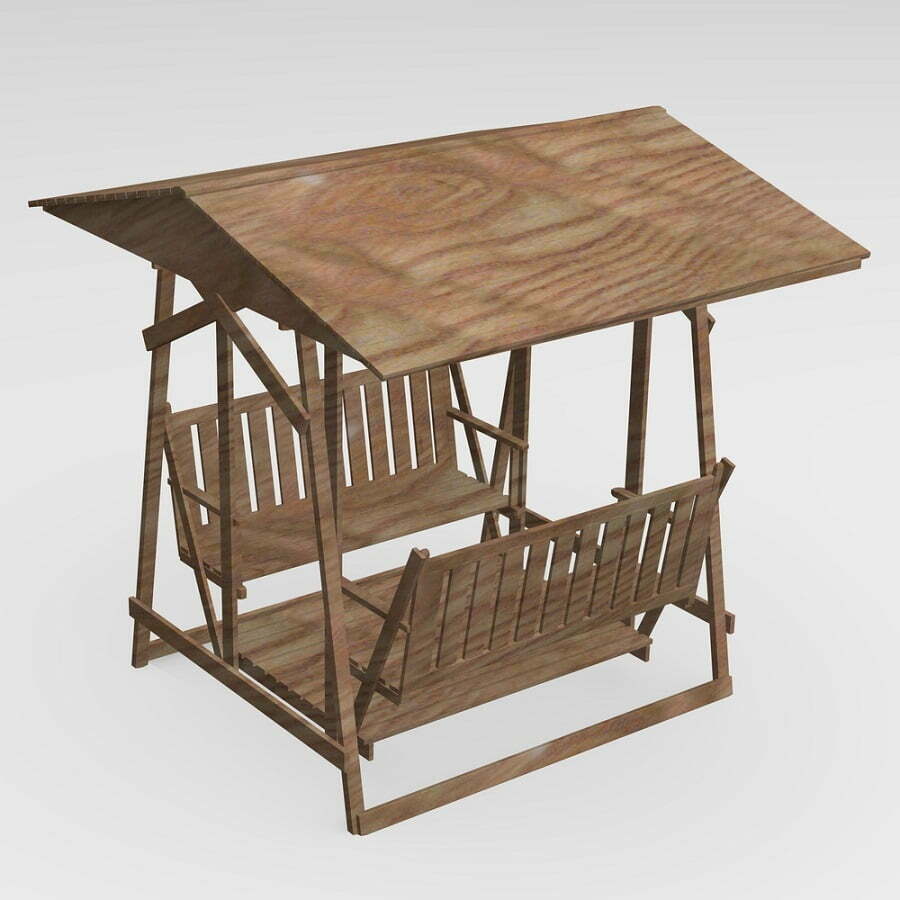 Double gliders are designed to hold two people at a time, so the weight limit of these gliders is usually 500 pounds or more. However, there are other models designed for more people or reinforced to handle the extra weight. This particular double glider swing has been tested to hold up to 1,400 pounds which are way more than 4 average-sized adults.
This way, you can have a pair of grandparents relaxing as they wait for a family meal and still have enough space and capacity for the grandkids to jump on lamps and get tickled to death. A quality glider improves your physical wellness by getting you outside to enjoy the fresh air.
Wooden Double Glider Swing with or without Canopy?
A canopy is a popular option for a double glider swing because it can provide the added shade and protection you need from harsh sunlight or frequent rain. The goal is to find a canopy that is easy to take on or off and can be quickly stored away when you are on vacation or during long weeks of storms.
This is especially a great option for those that live in areas with all four seasons. You wouldn't want to expose your valuable double glider swing to frequent snow or ice storms. The more you maintain the quality of your swing, the longer it can be used to celebrate all those special family occasions, from graduations to baby announcements. This particular canopy is designed to withstand winds up to 55 MPH.
How Many People Can Enjoy a Double Swing Set Glider?
The double glider swing can comfortably fit two adults on each bench. It is possible to fit more than 4 people total, but it will be a tighter fit. If you plan to have more than 4 people, you should consider the weight limit of 1,400 pounds.
In addition to having plenty of space for 4 adult passengers with ample legroom and back support, this product also features comfortable armrests on both sides of the bend. This allows riders to sit back with a drink or a good book and glide away those hot summer afternoons in the shade.
Is it Hard to Maintain an Outdoor Covered Glider Swing?
No, not at all. A glider swing is very easy to maintain. In fact, the best cleaning method is simply wiping it down with a slightly damp cloth before you use it. If you are going to keep your glider swing outdoors, then you may want to consider covering it during the winter months or if there are large amounts of snowfall in your area.
This glider comes in either unfinished natural wood or varnished. Both can be easily maintained with a simple treatment once per year. The best way to keep the glider safe and looking fantastic is to use a canopy during those months when it is too cold to be outside, or there is excessive rainfall.
Is it Hard to Assemble Cedar Double Glider Swing?
If you have ever tried to assemble furniture, you probably know it can be a difficult task. But the cedar double glider swing is surprisingly easy to assemble. The instructions are clear, and all the tools required for assembly are listed in the instructions. This makes it possible for most people to put together without any help from others or from professionals like contractors or carpenters.
The assembly process itself can take a little bit of time, depending on how many people are involved in putting it together (although most people should be able to do it themselves). The only tools required are a rubber mallet (or a hammer), drill (or screwdriver) with a square-head bit, ratchet with 9/16", 7/16", 11mm, and ½" sockets, and a tape measure.
Where Can You Set Your 4 Person Glider Swing with Canopy?
You can set it in your yard, patio, porch, or deck. The glider is made of high-quality wood and constructed to last. This item is perfect for use in any season because of its UV-resistant treatment on all sides, which makes the wood last longer than other products that fade away after one summer season. You can also add personal cushions for a bit of extra comfort.
Most people like to use their double gliders in places where they have a fantastic natural view of a water element or can watch all the activity around the neighborhood. That is why they are frequently popular with homes with a porch or front yard area. Any placement that adds a little extra sunlight to your daily routine will help decrease inflammation and support your ability to fight off infections. An excellent benefit to a glider swing.
Why People Love Face to Face Gliders and Swings
If you're considering a double glider swing, it's essential to know that this design offers many of the same benefits as a single glider swing. After all, these swings are still built for two people to sit face-to-face and enjoy the outdoors together.
This type of swing is an excellent way to spend time with your partner in their own yard or on your porch. Since we live in such a busy world today, it's easy for couples—and families—to lose touch with each other over the course of a busy day. A double glider swing can help remedy this by providing a place where couples can relax and enjoy each other's company with no distractions from phones or television screens.
Simply put: there's no better way than sitting side by side and face to face while enjoying the weather and outdoor environment of your neighborhood.
How Many Years will a Double Lawn Glider Last?
There is no precise length of time to set for the durability of your wooden double glider swing. The lifespan of the item is also dependent on how much it is used and how well it is maintained. The more you take care of your glider and keep it stored safely in the winter months, the more years you will get out of this investment for your family to enjoy.
This particular glider is made from cedar, a durable material, and reinforced with treatments that ensure a longer-lasting result. It also can hold up to 1,400 pounds, which is quite a lot of weight that you should not have to worry about anything other than sitting down to relax.
The Takeaway
A double-facing glider swing is a great way to enhance the overall look and function of your home or business. You get a comfortable place to sit where families can share some much-needed togetherness while enjoying the sunlight and outdoor living spaces. It is easy to assemble and will have you kicking back with some iced tea in no time.
Related reading: