Last updated on May 1, 2023
The zero-energy prefab homes are the most sustainable type of dwellings. Here are the best of them.
Prefab zero-energy homes are homes that use only the energy that they produce. This may be via solar or wind power and other things. These homes are not just beautifully designed and durably built. These dwellings are progressive, innovative, and the best for the environment.
One of the best advantages of prefab homes is affordability and speed of manufacturing. With advanced technology and energy-efficient approaches, we now have sustainable dwellings for generations.
Here's our list of manufacturers building zero-energy homes today and for the future.
Table of Contents
GO Logic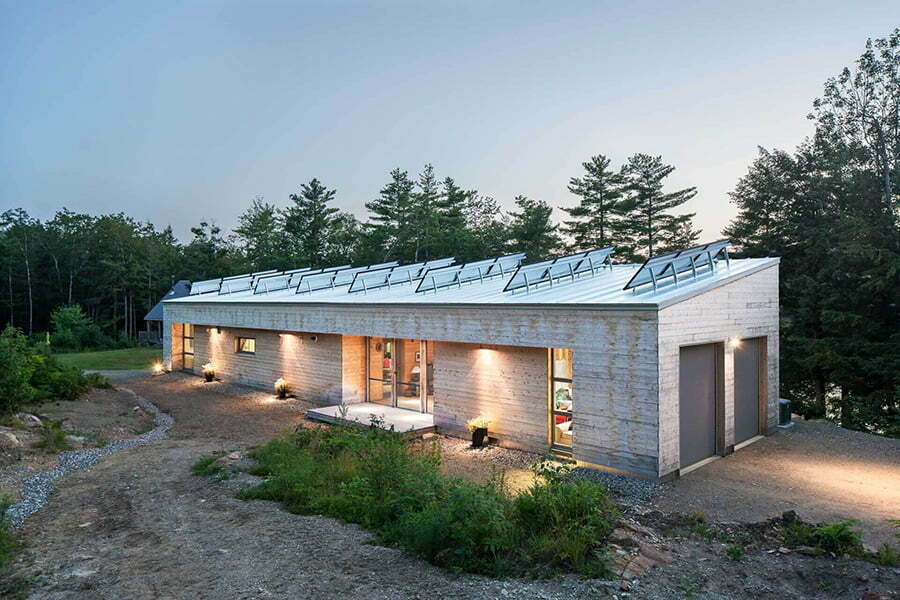 Go Logic brings you updated house-building processes for their prefab homes. They combine elegance, minimalism, and industry-leading performances to create beautiful, environment-friendly homes. Their homes have a modern design and are created for comfort and efficiency.
The 1700 Model is a single-story home with a combined kitchen, living, and dining space. This home has three bedrooms and two full baths. A covered entryway is also perfect for a relaxation spot, a laundry closet, and an exterior storage area.
This low-impact home has a total area of 1691 sqft. It's fully customizable to meet your preference, budget, and land area.
Net Zero Design – Studio/Cabin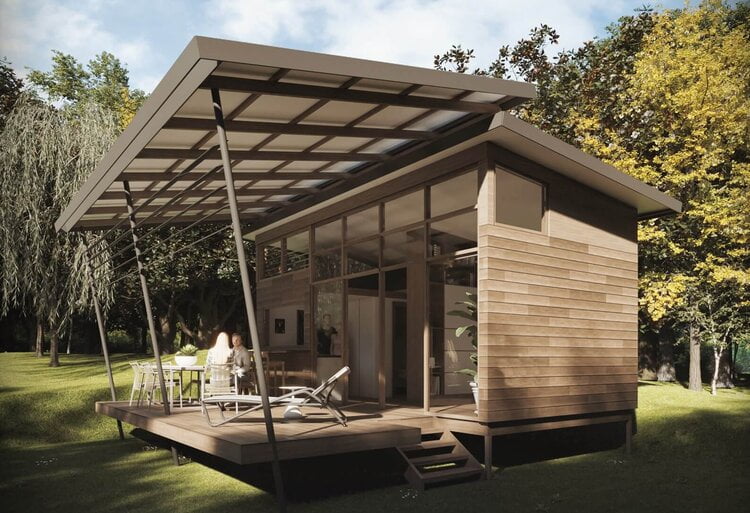 The studio or cabin homes are a Net Zero Design creation. They are from the Net Zero Design series, which aims to build homes that don't compromise the environment.
This is one of their smallest home design, with only 25 m.sq. living area plus its deck. Additionally, the deck is removable. It's a perfect home for various purposes, including a retreat, a home office, an art/yoga studio, a man cave, and more. The choice is yours, and it's endless.
The studio/cabin also has other awesome features, such as the raised structure for ventilation and insulation. Therefore, you have a warm space during the winter and a cool one during the summer.
Net Zero Design- Secondary Dwelling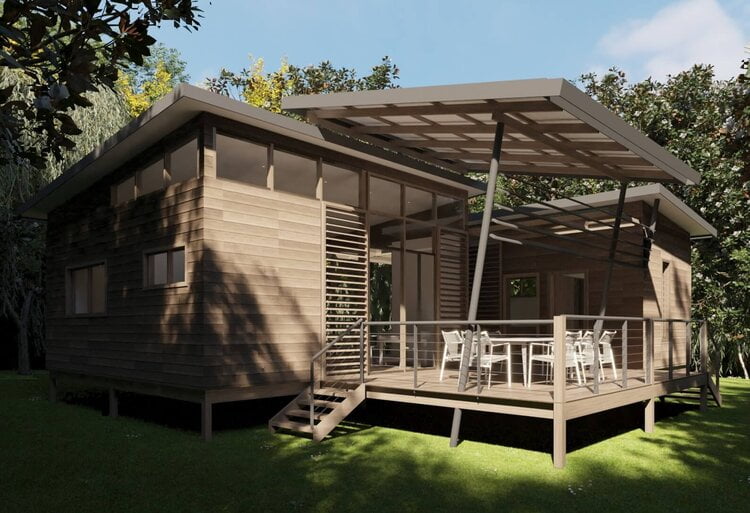 Secondary Dwelling is also another Net Zero Design. This home is perfect for maximizing your space for accommodation. It's also a great rental for those looking for extra income.
Ocean Shores project designs the home with one thing in mind, climate control. It has an open floor plan for that perfect transition from the outside space to the inside area. There are fully cross-vented living and bedroom areas too.
This secondary dwelling has a total area of 60 m2 plus the 35 m2 deck or breezeway.
Net Zero Design – Residence Home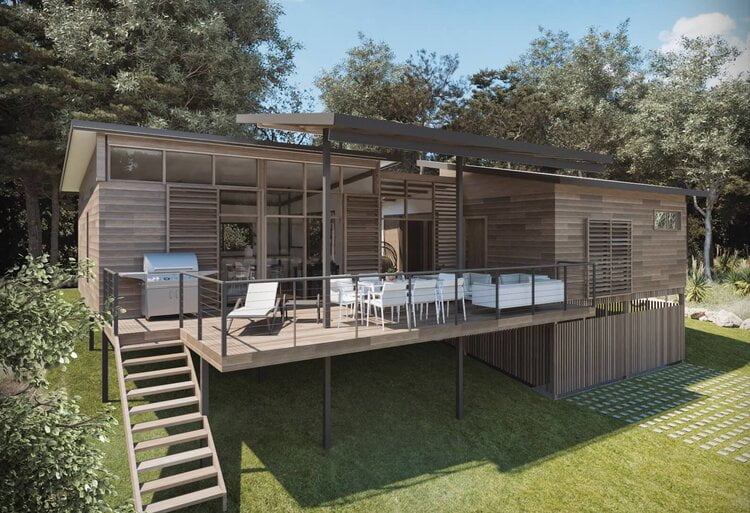 This Net Zero home is a beautiful residential home with a view to the south. A Byron Shire home inspired this home, situated on a hillside with access from the south. This home gives owners the best views of the south side of the house.
It has two bedrooms, two baths, and a great deck for relaxing and connecting with the outdoors. Other home features include full-height sliding glass doors for that natural light equally distributed throughout the house. The clerestory windows in the first bed also allow for additional daylight.
Charis Homes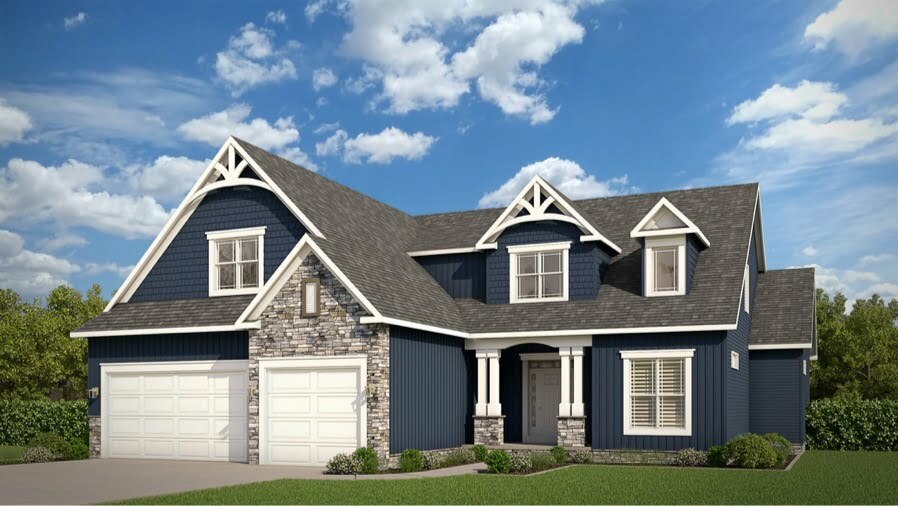 Charis Homes gives you the building today for the best tomorrow. They have healthier and more efficient homes designed for maximum comfort and less carbon footprint. There are several floorplans in the catalog you can check out too.
Blue Ridge is a gorgeous 2,535 sqft home with an additional 998 sqft finished basement. It has five bedrooms, three full baths, and one-half bath. Like all the other home designs in Charis, Blur Ridge is a Zero energy-ready home with Insulated Concrete Form the basement for comfortable temperature all year round.
Another example is the Bergamo. It has a smaller living space with 2,249 sqft, three bedrooms, two baths, and three car garage. Other features include a covered front and rear porch perfect for relaxing, viewing sunrise and sunset, a mudroom, and more.
Deltec Homes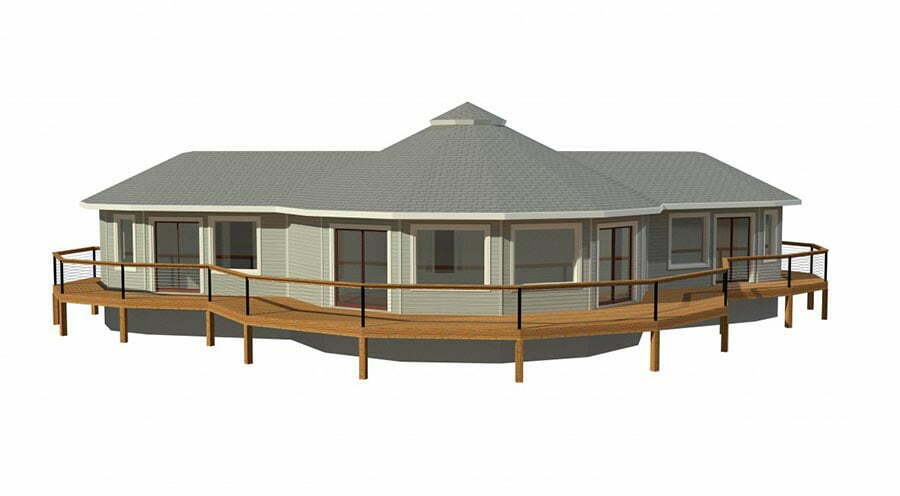 Deltec is where you find some of the best homes for your family and the planet. Aside from beautiful home plans, they also offer homebuilding seminars, Deltec 101s, and virtual tours.
Ridgeline A and B are two different homes with two floorplans. These homes have a total sqft ranging between 1536 sqft to 1572 sqft. The base price for Ridgeline A is between $156K and $168K, and the base price for Ridgeline B is between $160K and $172K.
These homes have passive solar layouts complete with modern aesthetics. It has glass windows, a vaulted ceiling, and high clerestory windows in every bedroom for more natural light and great ventilation. Ridgeline is one of Deltec's most popular home designs.
CABN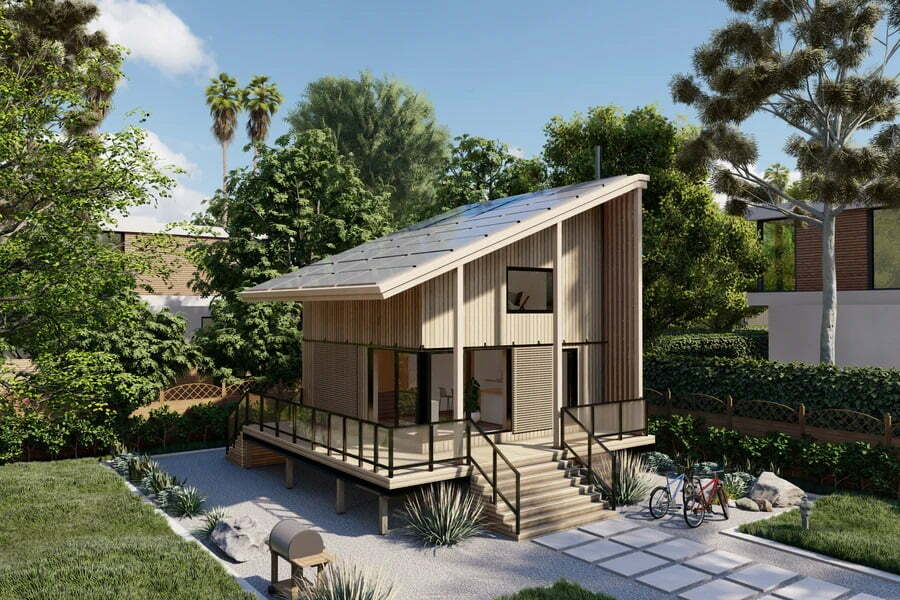 CABN is your go-to manufacturer if you're looking for sustainable and net-zero homes. They use varied intelligent building design, fabrication, and assembly methods for their homes. These houses are cost-efficient, aesthetically pleasing to the eyes, and combine energy-modeled and renewable technology.
Son.DER is a two-bedroom unit. It's a 750 sqft model with many options available based on your needs and preferences. It's a perfect home for young families, weekend getaways, or retirees.
This home is surrounded by a 255 sqft deck shaded with a special CABN roof pitch. Check out CABN for a site assessment. This includes land review, permitting, and design consideration to customize your cabin according to your land area.
Method Homes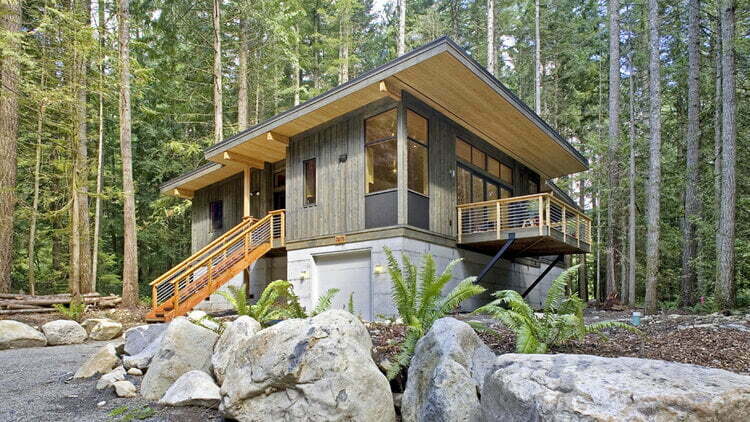 Method Homes give you responsible designs and construction. Their sustainable design of homes is core to their home plans. This is how they build perfect living conditions for all their customers. These are not simply prefab houses but homes where families live, make memories, grow healthily, and more.
Their M series mixes Prentiss, balance, and Wickline Architecture. The homes have multiple interior and exterior finish options for all clients. The M loft has a base price of $258,540. It has 834 sqft for the dwelling area and another 124 sqft for the deck area. This single-story home has one bed, a loft space, and one bath.
ZeMod Delaware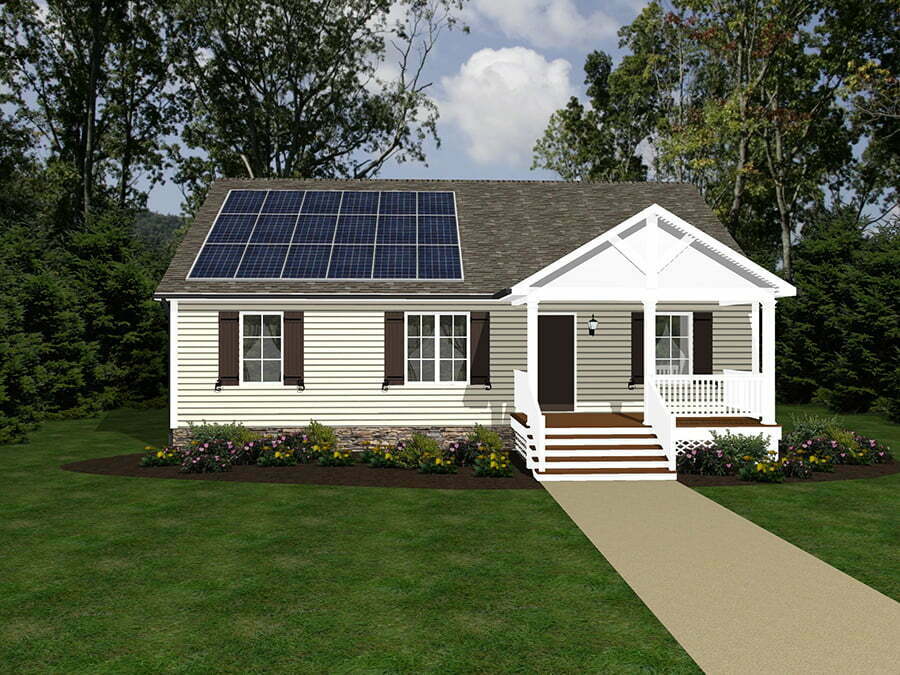 ZeMod is Delaware's number-one manufacturer of Zero Energy Modular Homes. They have durable construction and solar electricity, giving you a home that lasts over time. The best part is that you save more money in the long run.
Sundial is a 1204 sqft home with two bedrooms and two baths. This home has the standard features of all ZeMod homes, including solar electricity, high-performance doors and windows, Energy Star appliances, insulated walls, and more.
Other optional features of the Sundial are upgraded cabinets, an additional porch, a deck, and bamboo floors for the living space. You can recreate and customize your home according to your budget and preference.
Vermod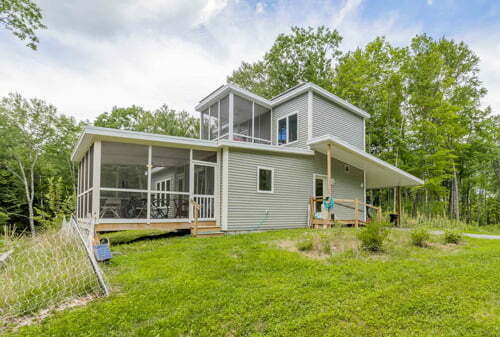 Vermod is about affordable, zero-energy-ready, healthy, and durable homes. Their homes are built according to national and state building specifications. Therefore, these homes have perfect insulations, air-tightness, and other key requirements to achieve zero-energy-ready status.
The company has several designs for you to choose from. Here are a few.
The Safford is a three-bedroom house with two baths. This home has 1022 sqft and comes with a deck. There's an extra space for your home office too. Other features include a utility area, a spacious kitchen with modern appliances, a living area, and more.
Wally is another Vermod creation with just one bedroom and bath. It has a kitchen, living area, and a utility room with a washing and dryer. It's perfect for bachelors, young professionals, an ADU, or other for other uses.
Catskill Energy Homes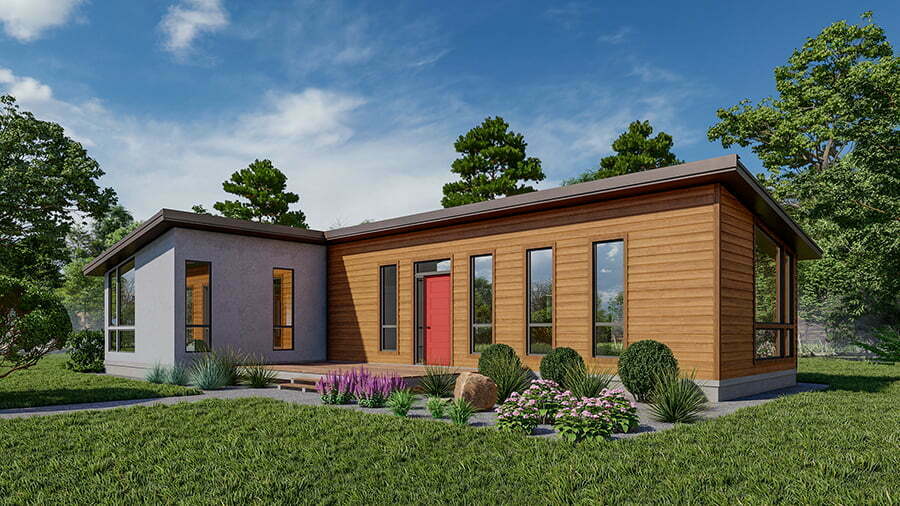 Catskill Energy Homes give you custom-made prefab homes with the latest energy-saving techniques. Thus, a home that's sustainable today and for years to come. Their homes have reduced costs, are built quicker, and are of high quality.
The L House is a beautiful creation with 958 sqft. It has two beds, a full bath, a kitchen and dining room, and a living space. It has all the amenities you need in a home.
Related reading: