Last updated on January 5, 2023
New bedroom furniture is a major purchase, but many people don't think about what happens to all of the used furniture we throw out. In fact, there are over 12 tons of furniture waste going to landfills every year. As people look for cheaper and more budget-friendly options for their bedroom furniture, doing so actually causes more furniture waste because it wears out so quickly.
You might spend more on your bedroom set to get it made of durable materials, the overall savings of both money and resources can add up quickly. Here are some things to look for to make sure you are getting a sustainable bed set.
Table of Contents
Choose Natural Materials Over Synthetics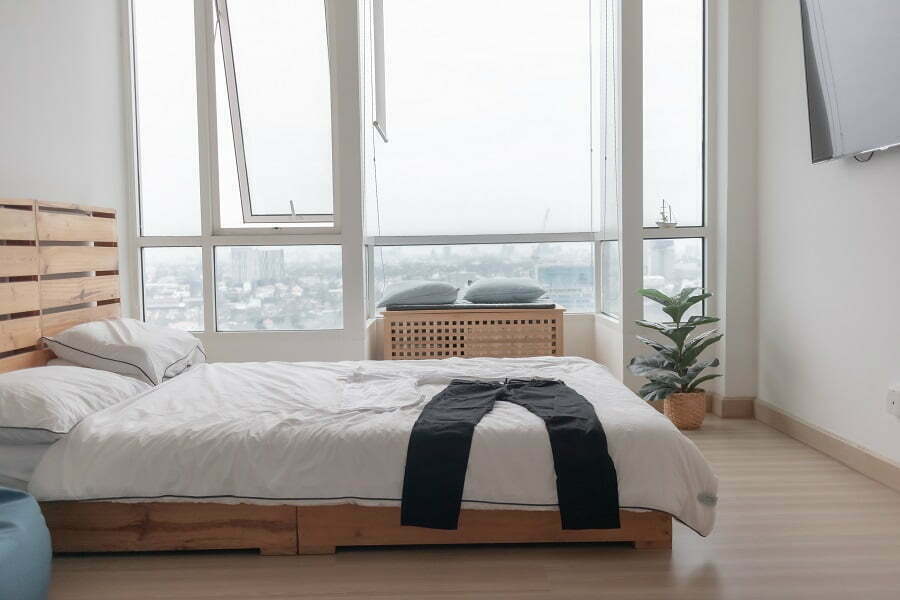 If you want to have a sustainable bed set, you'll need to choose natural materials that biodegrade over time. This means getting a bed frame, headboard, and footboard that are made primarily of solid wood, free from polyester padding or upholstery. Natural fibers like cotton, rattan, and wool will deteriorate more quickly than vinyl or plastics but ultimately leave no trace behind.
Look Closely at the Materials Used for the Bedroom Set
There are some types of materials used for bedroom furniture that you need to be aware of in order to make the best decision. Engineered wood is a very good budget-friendly alternative to hardwood solids. Engineered wood is strong enough to last several decades, but costs a fraction of the price of similar solid wood furniture.
However, you need to be careful about what this furniture is finished with. Many of the bed sets available today have wood veneers layered over the engineered wood. Those veneers wear out over time, and at a much faster rate than the engineered wood beneath them. You can still refinish most furniture by removing the veneer and replacing it, but be aware of this possibility.
Look for High-quality Drawer Construction
When you find a furniture set you like, make sure it is going to last and can be repaired. Quality drawers that can stand up to the weight of some clothing, like denim, should be made with a tongue-in-groove construction of at least ¼ inch plywood. This allows the drawer to hold a heavier weight, while also making it easy to repair the drawer if needed.
Another thing to look for in the drawer construction is the mechanism used for the door slides. Door slides that are coated to protect against dust and moisture (which lead to rust), as well as those made with the ball bearing hardware, are going to last for decades without the need for replacement.
Stop Thinking of Furniture as a Consumable Item
In the end, the best way to make sure you get sustainable furnishings for your home is to stop thinking of furniture as a consumer product. Our society is allowing more and more product categories to be considered throw-away items. When you think of your bed sets as an investment rather than something to be replaced later, it really puts things in perspective.
Related reading: