Last updated on November 9, 2023
Your bathroom is more than just a functional space. It is your spa, a serene retreat where you begin and end each day. However, a dated, drab bathroom can drain the relaxation from your routine.
In this guide, we will explore simple ways to transform your bathroom from ordinary to extraordinary, creating a modern oasis that not only meets your needs but also elevates your home decor. Let's dive into the world of bathroom makeovers that inspire tranquility and exude modernity.
Table of Contents
Upgrade Your Fixtures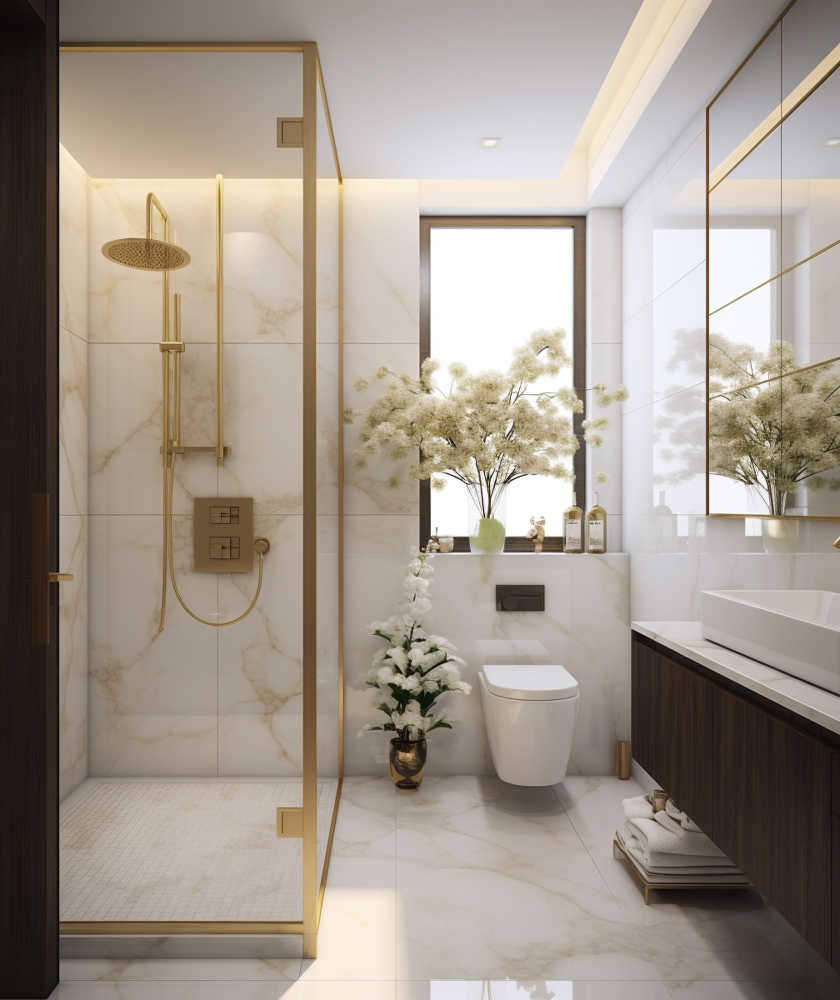 One of the quickest ways to modernize your bathroom is to upgrade your fixtures, especially the taps. Taps are the unsung heroes of your bathroom, affecting both the functionality and aesthetic of the space.
You need to get taps for modern bathrooms that are visually appealing but also efficient and durable. Various styles are available in the market, from sleek and minimalist to bold and industrial.
Opt for finishes like matte black or brushed gold for a contemporary touch, or choose chrome for a timeless appeal. Furthermore, consider water-efficient taps, which are not only environmentally conscious but also sleek and modern in design. Remember, a small change like this can have a significant impact, instantly refreshing your bathroom's look and feel.
Install a Floating Vanity
Installing a floating vanity is another surefire way to give your bathroom a modern makeover. Unlike traditional vanities on the floor, floating vanities are mounted on the wall, creating a sense of space and openness. Additionally, they offer a sleek, streamlined look that fits perfectly into a contemporary aesthetic.
You can select from various design options, from minimalist single-sink models to larger vanities with ample storage space. Furthermore, by adding under-vanity lighting, you can boost the "wow" factor and add a touch of luxury to your bathroom. Overall, a floating vanity not only enhances the visual appeal of your bathroom but also contributes to its functional efficiency.
Incorporate Smart Technology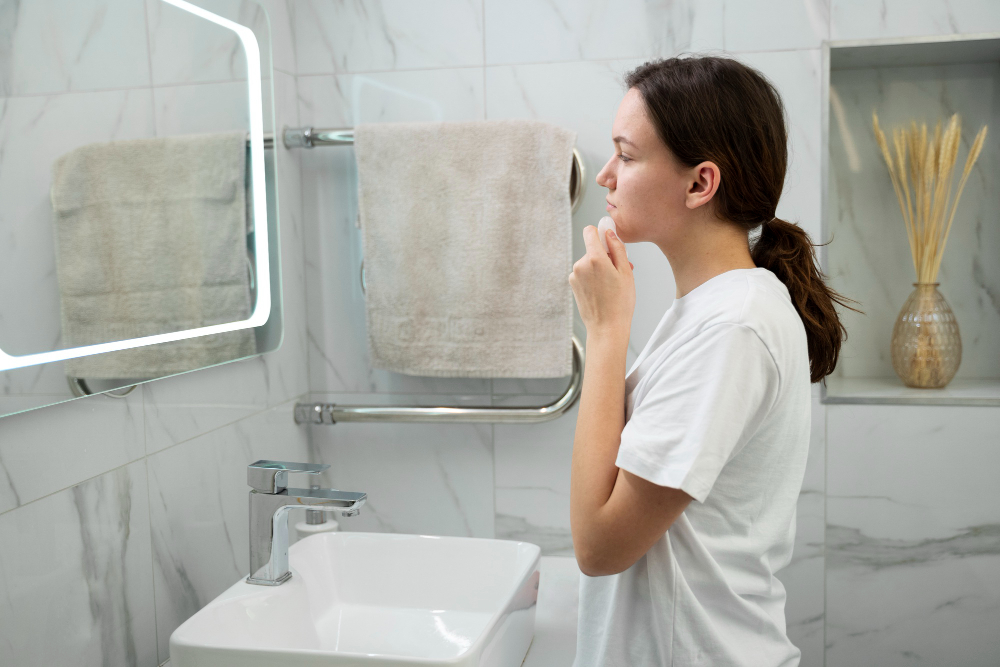 Technology has revolutionized every aspect of our lives, including how we use our bathrooms. High-tech features like digital showers, smart mirrors, and automated lighting systems can transform your bathroom into a futuristic haven. A digital shower allows you to personalize your shower experience, controlling temperature and flow with precision.
Smart mirrors can feature built-in lighting anti-fog capabilities and even integrate with your home assistant for news updates or music. Automated lighting can set the mood and be controlled with motion sensors or voice commands. Integrating these smart features enhances convenience, creates a spa-like ambiance, and truly brings your bathroom into the 21st century.
Embrace Minimalism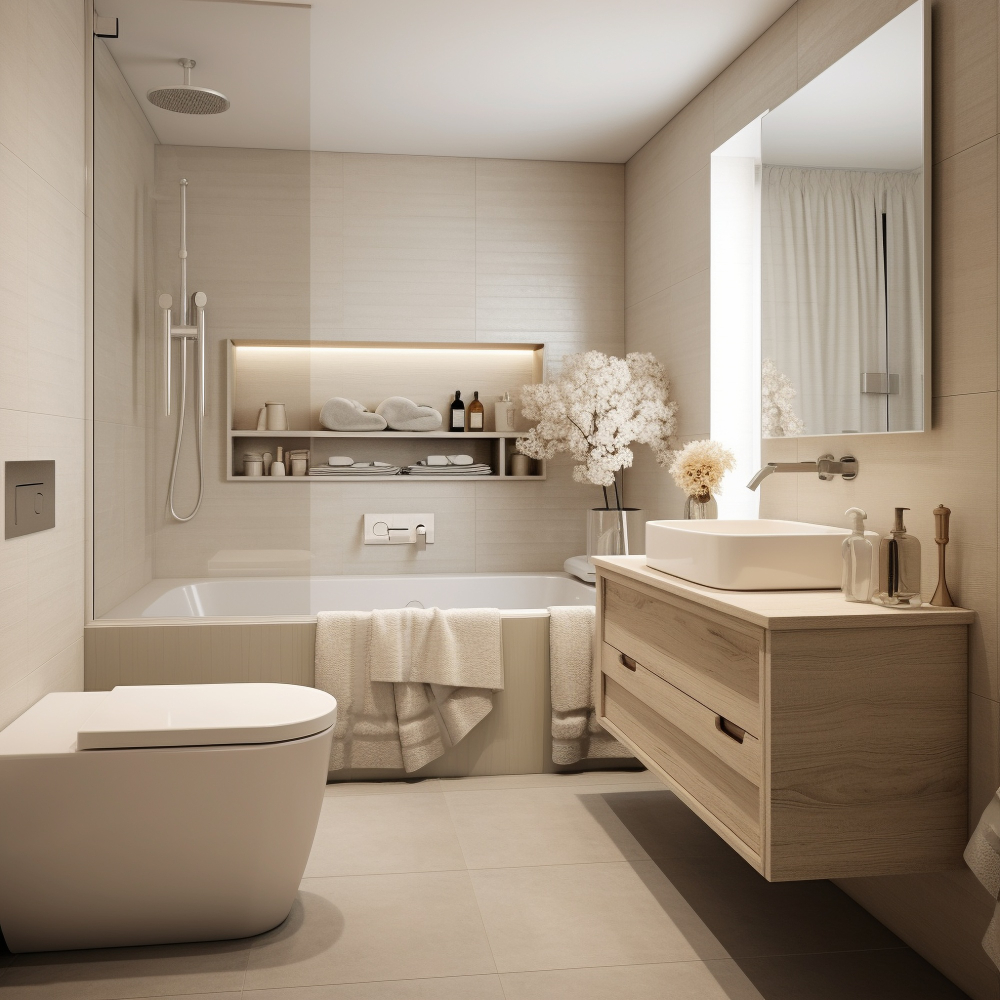 Modern bathrooms are all about clean lines, clutter-free spaces, and simplicity. A minimalist design scheme focuses on simplicity, favoring a clean, clutter-free space that can instill a sense of calm and tranquility. This can be achieved by reducing excess and focusing on the essentials, incorporating streamlined storage solutions to hide away toiletries and keep your surfaces clear.
Color palettes are neutral, with accents of texture or natural elements to add depth and interest. High-quality materials and finishes are crucial to ensure that the simplicity of the design doesn't slip into starkness. Ultimately, a minimalist bathroom is a timeless choice that combines style, functionality, and relaxation.
Add a Frameless Glass Shower
A frameless glass shower is the epitome of modern bathroom design. It creates an open, seamless look that visually expands your space and allows natural light to filter through. Additionally, it adds a touch of luxury and sophistication to your bathroom. Frameless glass showers come in various styles, from simplistic clear panels to textured or frosted options for added privacy.
By ditching the traditional shower curtain or door, you create a clean and modern aesthetic. Furthermore, it's easier to clean and maintain, contributing to the overall efficiency of your bathroom. Adding a frameless glass shower is a subtle yet impactful way to elevate your bathroom's design and bring it into the modern era.
Get Some Wall Art
Injecting a touch of personality into your bathroom can be as simple as hanging some wall art. This is a quick and easy way to modernize the space and make it feel more inviting. Consider selecting art pieces that reflect your style and complement the color scheme of the room.
Abstract paintings, black and white photographs, or even a framed poster can add a unique touch. Remember, bathroom art should resist humidity and moisture to ensure longevity. One pro tip is to place your art at eye level for maximum impact.
Giving your bathroom a modern makeover doesn't have to be an overwhelming or expensive task. By incorporating these simple tips, you can create a space that is not only functional but also stylish and serene.
Remember, small changes like upgrading your fixtures or adding wall art can make a big difference in transforming your bathroom into a modern oasis. So, don't wait any longer – start implementing these ideas and turn your bathroom into a sanctuary that inspires relaxation and rejuvenation.
Related reading: