Last updated on November 16, 2023
When creating a beautiful home, style, and sustainability can go hand in hand. A chic décor doesn't have to be achieved at the expense of the environment.
As we become more conscious about our planet's health, finding ways to incorporate sustainability into our homes is not just a trend but a necessity. This guide will inspire you to weave sustainability into your home's aesthetic, turning your living space into a stylish sanctuary that respects and protects our planet. 
Table of Contents
Choose Eco-friendly Materials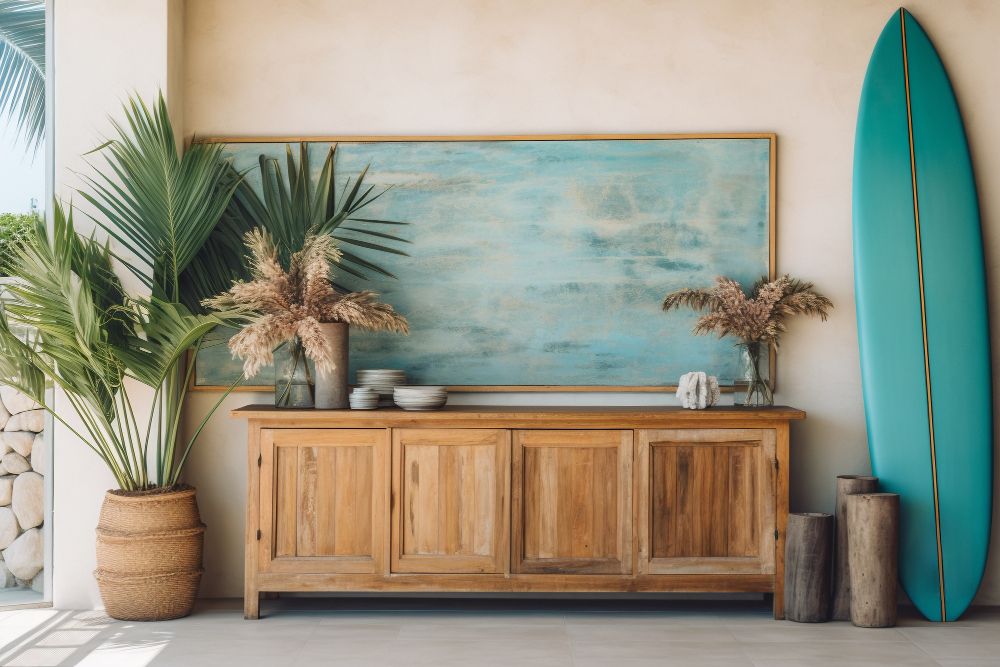 Opting for eco-friendly materials is a major step towards achieving sustainable yet chic home decor. Consider the materials ' origin and environmental impact when purchasing furniture, flooring, or decorative items. For instance, seek out furniture made from reclaimed or recycled wood, which reduces deforestation and adds a unique, vintage charm to your decor.
Also, consider materials like bamboo and reclaimed wood for picture frames, which can add a touch of nature and texture to your walls while being environmentally friendly. Folks from https://www.easyframe.co.uk/ offer a wide range of sustainable picture frame options to enhance your decor while aligning with your eco-conscious values.
Remember, every small selection you make contributes to a larger, more sustainable goal.
Invest in Energy-efficient Appliances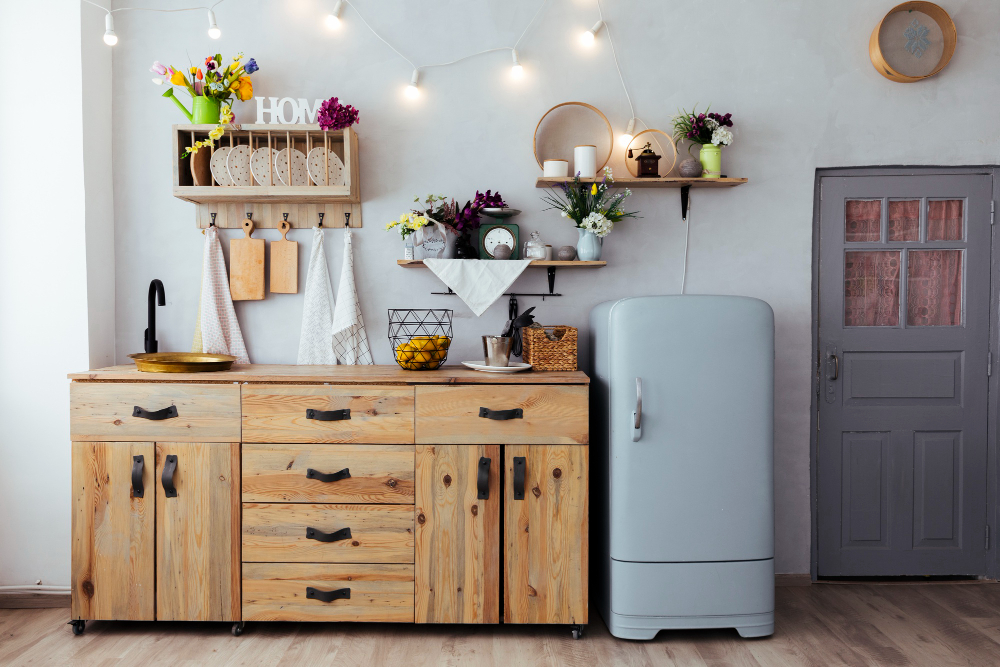 Modern appliances often come with energy-efficient features. These appliances, including refrigerators, washing machines, dishwashers, and air conditioners, are designed to use less energy, thus reducing both your carbon footprint and electricity bill. Energy Star-rated appliances, for example, use 10-50% less energy and water than their conventional counterparts.
While they may cost more upfront, the long-term savings on energy bills and their positive environmental impact make them a worthy investment. Furthermore, the sleek and modern designs of many energy-efficient appliances can enhance the visual appeal of your home, seamlessly blending sustainability with style.
Incorporate Plants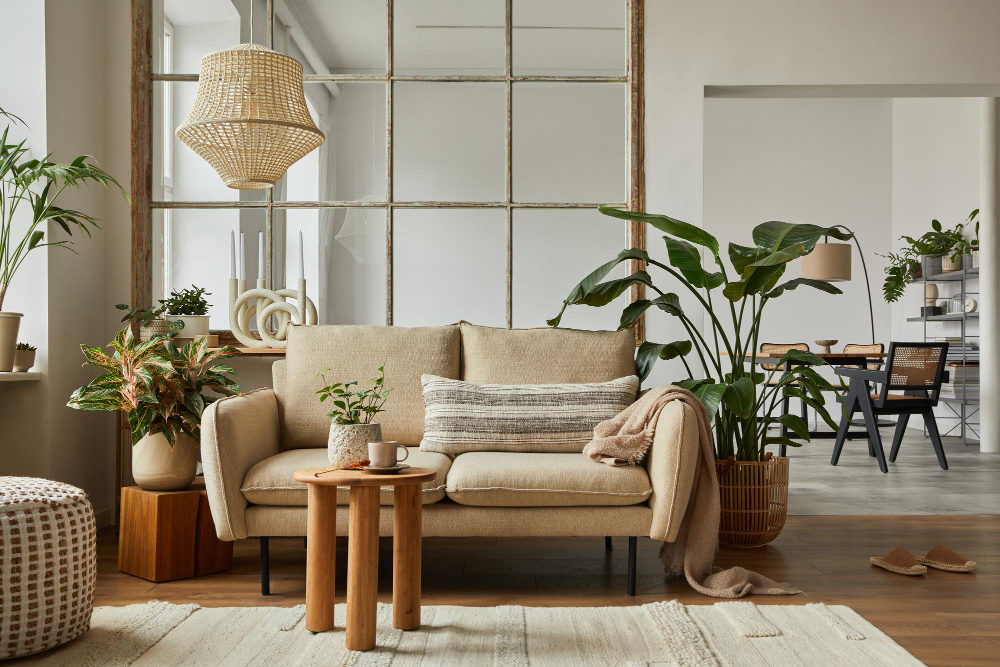 Indoor plants enhance air quality and bring your home a fresh, natural aesthetic. They offer multiple benefits: removing toxins, releasing oxygen, and creating a calming environment that reduces stress.
They also remind us of our connection to nature and our responsibility to protect it. Choose from various indoor plants with varying care needs, from low-maintenance succulents and snake plants to more demanding ferns and orchids.
Arranging them in sustainable, recycled planters can further enhance your decor. You can place plants on windowsills, hang them from the ceiling, or use them as table centerpieces, effortlessly blending them into your home's aesthetic.
Additionally, using herbal plants like rosemary, basil, or mint in your kitchen brings in a fresh, natural element. It provides you with homegrown herbs for cooking, further reducing your carbon footprint.
Embrace Natural Light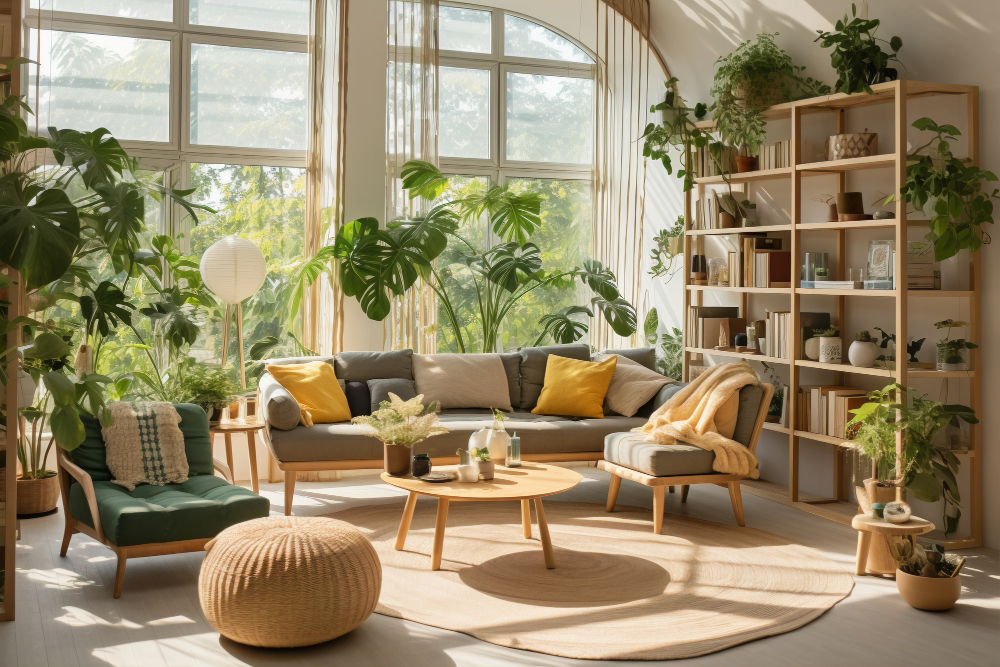 Embracing natural light is a crucial aspect of sustainable, chic home decor. Maximizing sunlight reduces dependence on artificial lighting, saving energy and creating a warm, inviting ambiance that enhances your home's aesthetic. Consider installing large windows, skylights, or glass doors to allow more sunlight into your home.
Light-colored curtains or blinds can also help reflect light into darker corners of the room. Additionally, mirrors strategically placed across windows can amplify the amount of sunlight in the room, creating an illusion of a larger, brighter space. Not only does this approach contribute to sustainability, but it also creates a calm, serene environment that is such a hallmark of chic home decor.
Buy Second-hand or Vintage Decor
Choosing second-hand or vintage decor is a great way to maintain style and sustainability. They add a unique touch to your home and promote reusing and recycling, which are essential in the fight against waste and overconsumption. Vintage items carry a rich history and character, adding unexpected charm to your decor.
Buying second-hand items reduces demand for new products, minimizing the environmental impact of production and transportation. Thrift stores, online marketplaces, and estate sales offer gently used high-quality decor. Sustainability doesn't mean compromising style; with a keen eye and patience, you can find vintage pieces that align with your aesthetic and ethical values.
Opt for Minimalism 
Embracing minimalism is an effective way to achieve sustainable and chic home decor. It's not just about decluttering and simplifying your living space but also being mindful of the items you bring in and their environmental impact. "Less is more" reduces waste and encourages conscious consumption, ensuring that every item in your home serves a purpose and adds value to your life.
Invest in timeless, high-quality pieces that match your aesthetic instead of constantly chasing trends and accumulating unnecessary items. Intentionally arranging furniture and decor creates spaciousness and balance in your home's design. Embracing minimalism contributes to sustainability and cultivates calm and mindfulness in your living space.
Creating a chic home while embracing sustainability requires mindful choices and practices. By incorporating eco-friendly materials, energy-efficient appliances, plants, natural light, second-hand or vintage decor, and minimalism into your home's design, you can achieve a stylish yet sustainable living space that reflects your values and respects our planet.
Remember, every small step towards a more sustainable lifestyle significantly impacts the long run.
Related reading: